Sweet Potato Kale & Black Bean Quinoa Salad
Sweet potato kale and black bean quinoa salad. Tossed with a simple garlic vinaigrette and nutritional yeast for a nutritious light meal that's packed with flavor.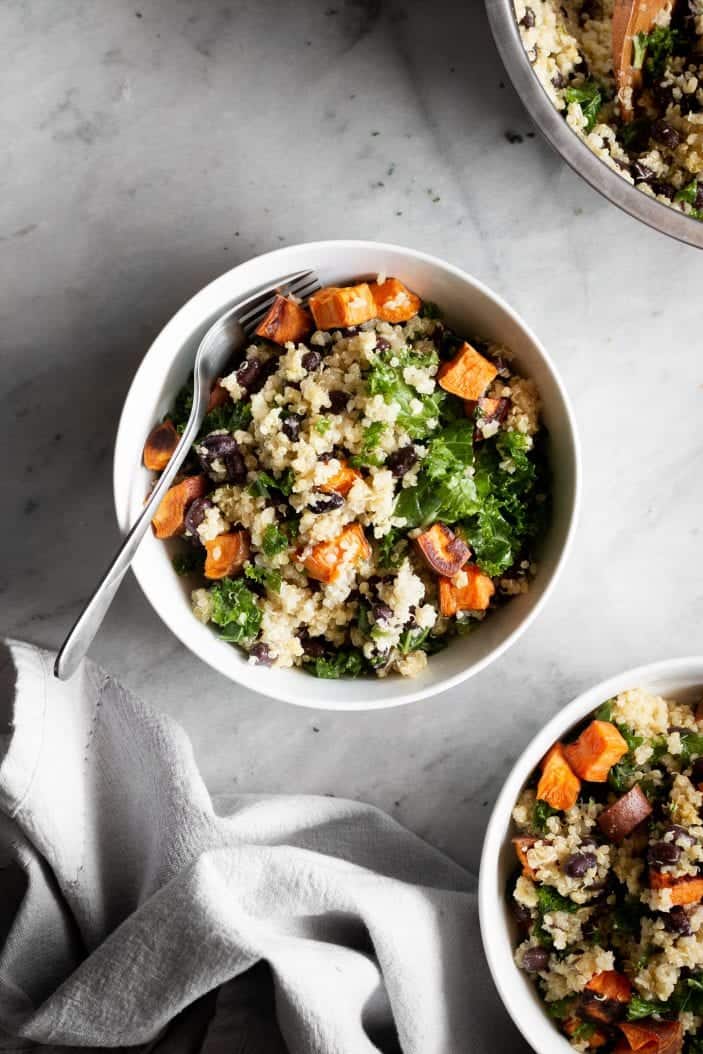 I love a good quinoa salad. Especially when it involves roasted sweet potatoes and black beans, two of my favorite ingredients.
I originally made this salad for my eBook that's coming out in a little over one month. I was excited about this recipe until I realized I already had 2 other quinoa salads in the eBook… Like I said, I love a good quinoa salad.
So instead of having 3 quinoa salads, I decided to share one with you today. Seems fair, right?
In case you missed it, I shared some exciting details about the eBook on Instagram this past weekend! You can find the cover photo and details on what's included in the eBook in this post.
Also, I'm happy to say that I'll have 3 free recipes (2 from the eBook and 1 you won't fine anywhere else) available at the end of August! I'll update you on the details on how to get the free recipes. You don't want to miss it!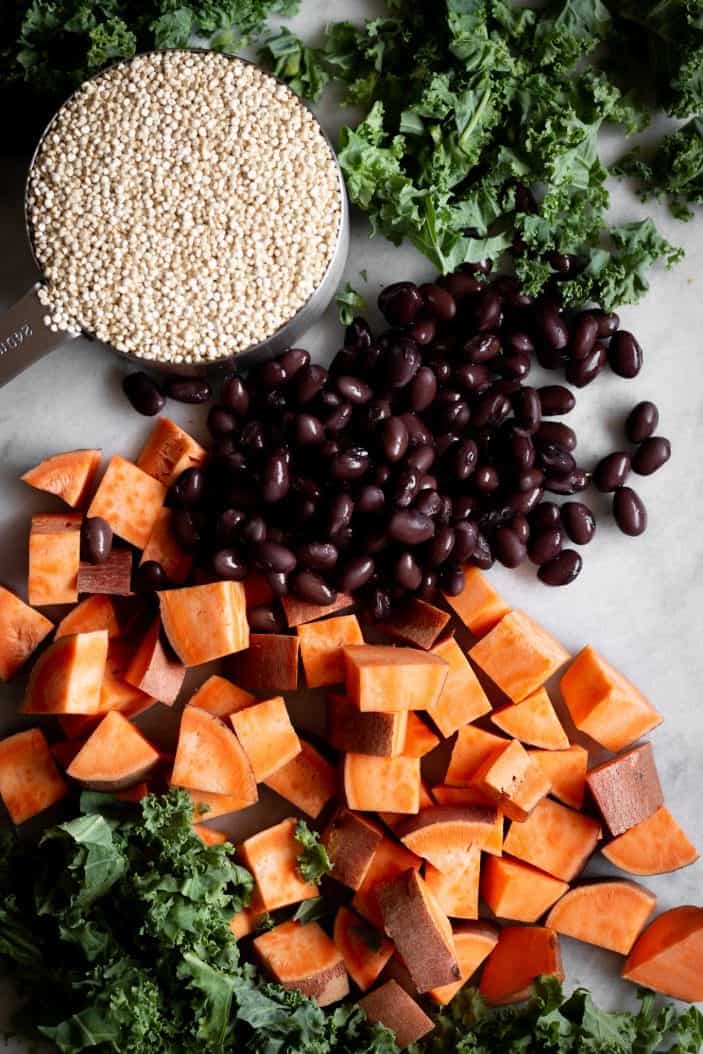 And now back to today's black bean quinoa salad.
Here's how it works:
Start by roasting the sweet potatoes. While the sweet potatoes are roasting, you can prepare the rest of the recipe, which is basically just cooking the quinoa and preparing the sauce. The vinaigrette is a simple mix of oil, lemon juice, apple cider vinegar and garlic. Wisk it all together and toss it with the quinoa, black beans, kale and sweet potatoes.
It's so simple. Everything is done in the time it takes you to roast the sweet potatoes. In other words, it's done in 30 minutes.
Roasted vegetables add so much flavor and the sweet potatoes pair perfectly with kale and black beans. I hope you'll love it as much as I do.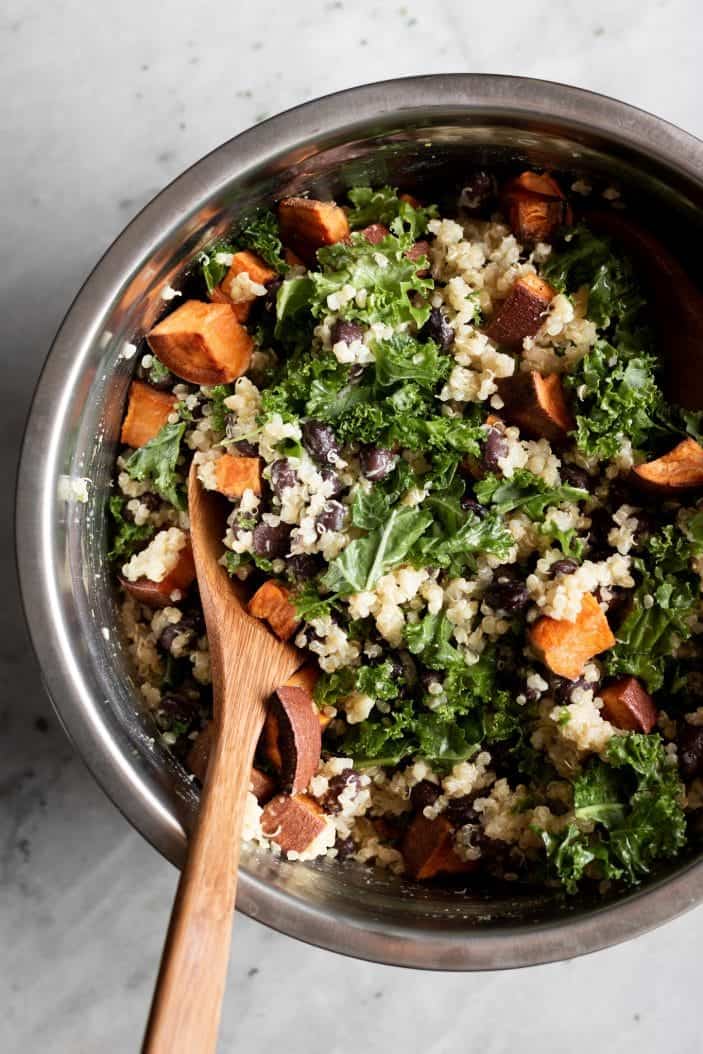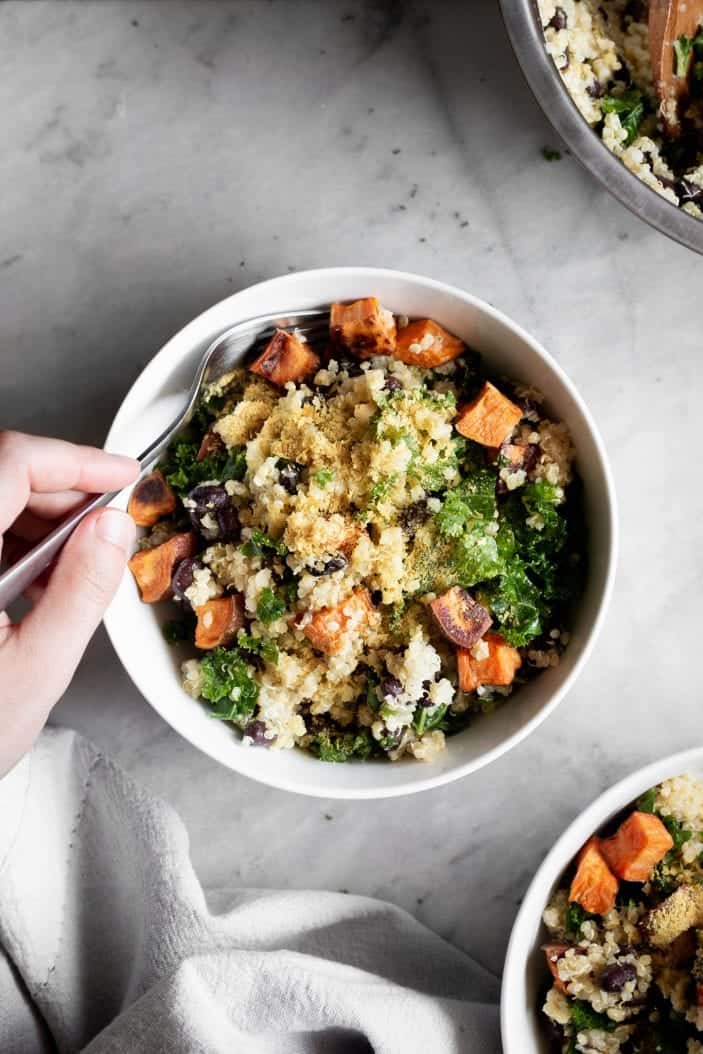 Looking for other quinoa salads? Check out my Greek quinoa salad, southwestern quinoa salad or summer quinoa salad with Dijon vinaigrette!
If you try this recipe, make sure to tag your photo #unsweetenedcaroline on Instagram, Facebook and Twitter! Don't forget to also tag me @unsweetened.caroline on Instagram so I can see your creations!