Vegan Berry Cheesecake Cups (No Added Sugar)
Nourishing vegan berry cheesecake cups. These cups are sweetened with fruit and are vegan and gluten-free!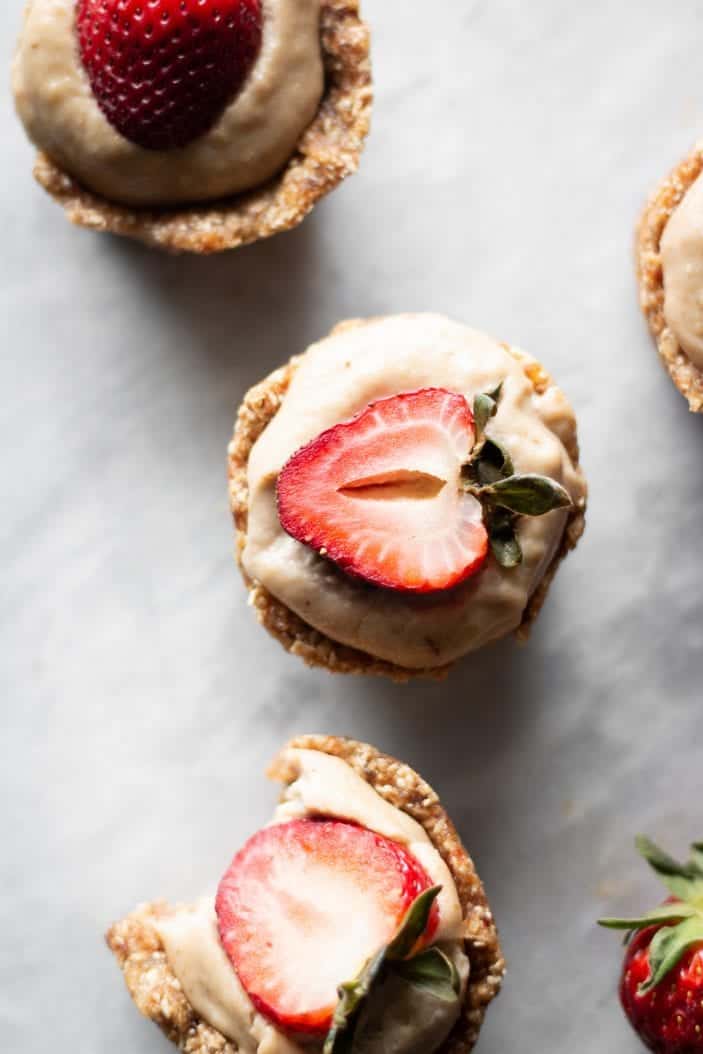 Meet my new favorite dessert: vegan berry cheesecake cups. Rich, creamy, perfectly sweet and… Vegan, gluten-free and sweetened with fruit.
Is that even possible?! Yes, turns out it is.
Before you get all excited (you get excited about healthy recipes too, right?), I'll start by saying that it doesn't taste exactly like a traditional cheesecake. HOWEVER, it's the next best thing. In my opinion anyway.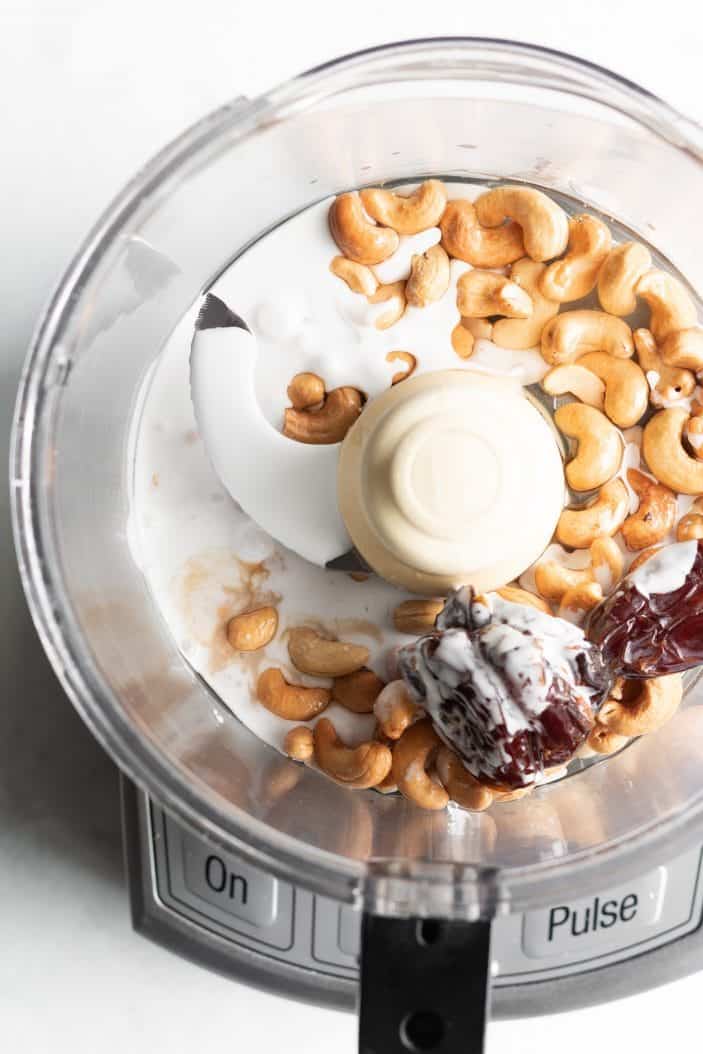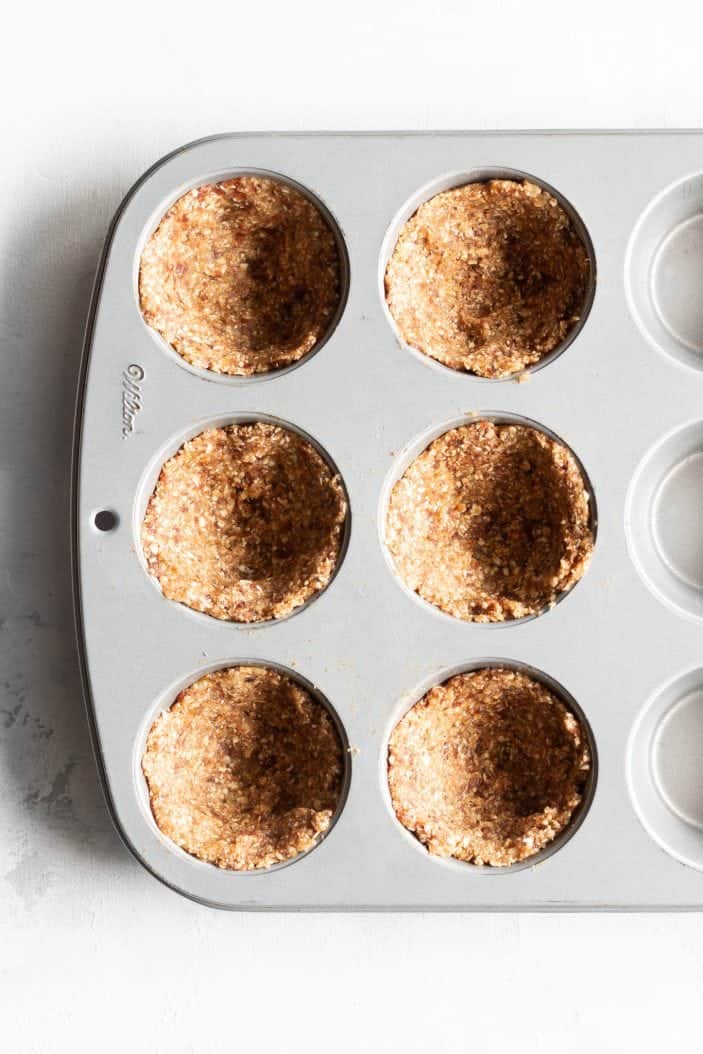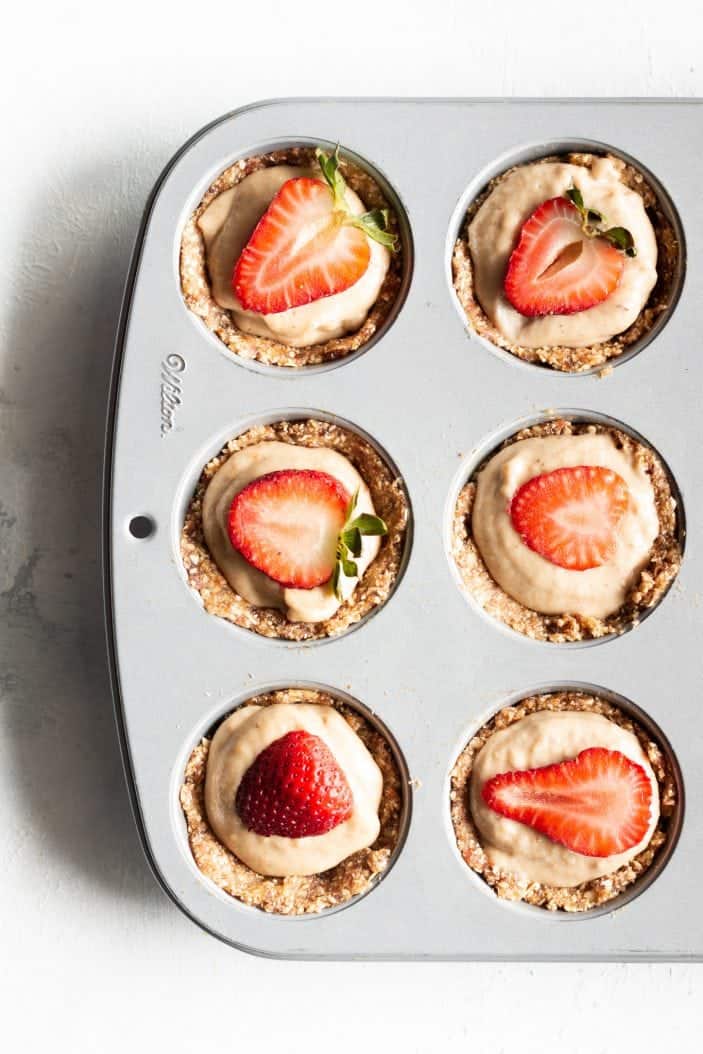 So yes, here's my new favorite dessert.
What's in it exactly? Mostly nuts and dates. My two favorite ingredients, obviously.
Unlike most vegan cheesecake recipes, this one does not require you to soak any cashews. With a good blender, you can get away with dry roasted, unsalted cashews in the cheesecake filling. Otherwise, you can try soaking the cashews overnight (you might just need to reduced the liquid a bit).
Here's how it goes:
The Crust is made from nuts (I love walnuts, but any other nut should work), dates, oats and a touch of vanilla.
The filling is made of cashews (I haven't tested any substitutions here), dates, coconut milk and vanilla.
Now, this is not a low-fat recipe. This is as indulgent as a sugar-free dessert can get without chocolate. It's made with lots of nuts, dates and high-fat coconut milk. But you know what? It's delicious and still made with wholesome ingredients. We should all enjoy treats sometimes without guilt. Just maybe try not to eat it all in one sitting.
If you want a similar recipe, but chocolate flavored, you can try my mini cookie dough chocolate mousse cups!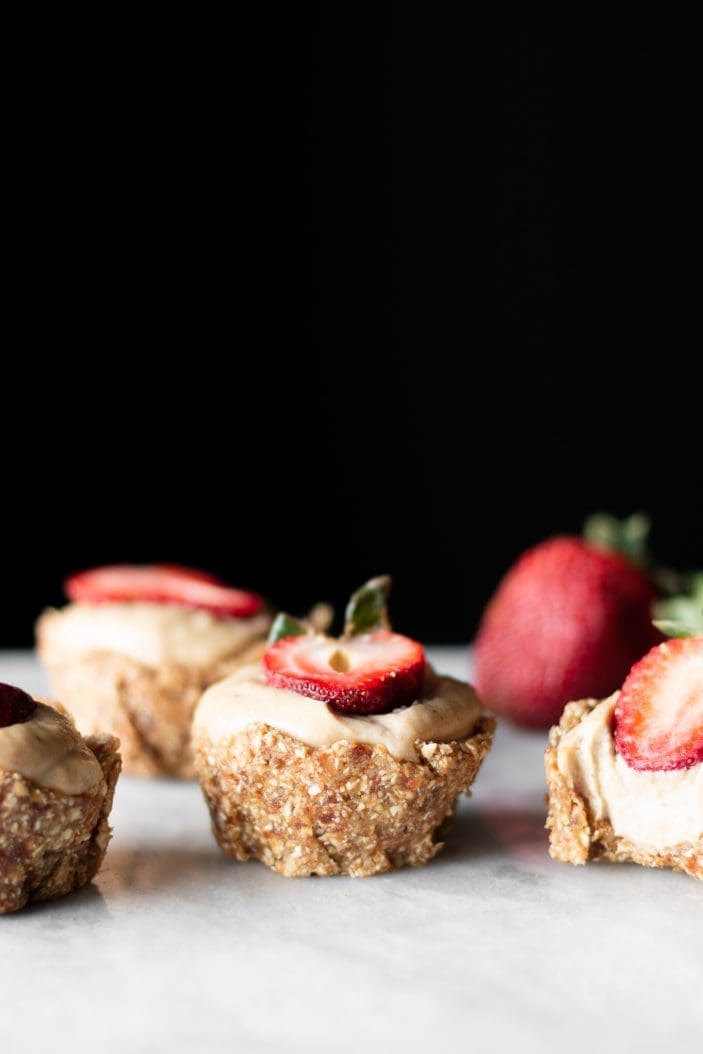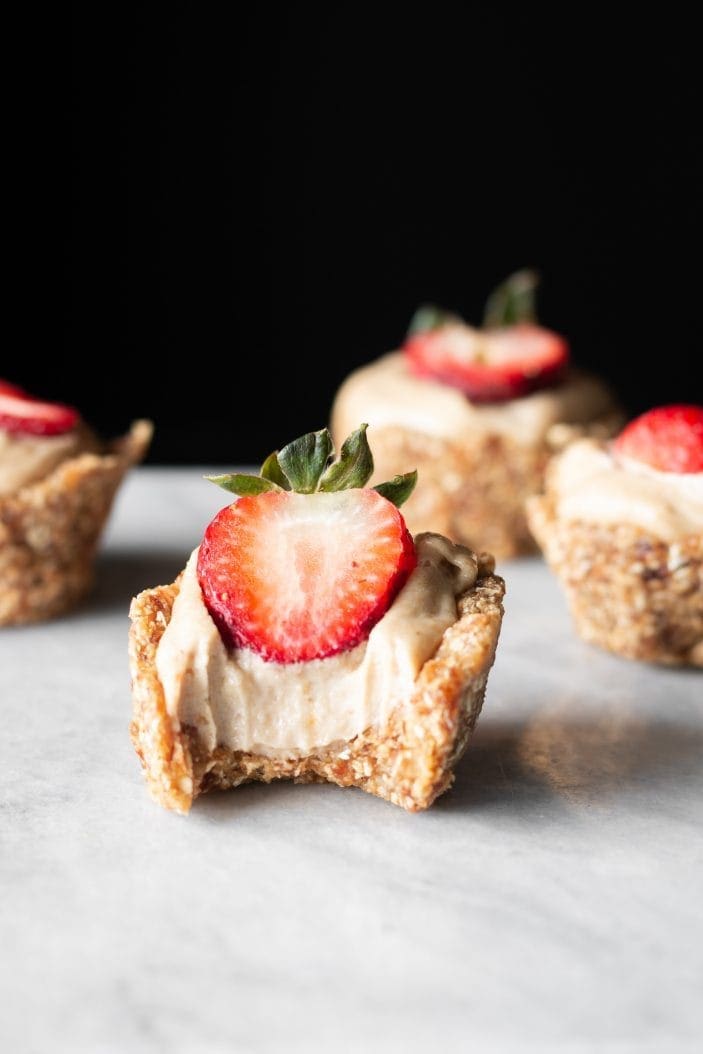 Watch How to Make It:
Vegan Berry Cheesecake Cups (No Added Sugar)
Decadent, yet healthy, these cheesecake cups are made with wholesome ingredients, including dates, nuts and oats. They're free of added sugar, vegan, gluten-free and absolutely delicious!
Ingredients
Fresh berries,

for topping
Cups
1

cup

Medjool dates,

pitted

1

cup

rolled oats

1/2

cup

walnuts or nuts of choice

1/2

teaspoon

vanilla extract

1/4

teaspoon

salt

2

tablespoons

water,

as needed
Cheesecake Filling
1

cup

cashews,

raw or dry roasted unsalted

3/4

cup

canned full-fat coconut milk

3

tablespoons

coconut oil,

melted

1/4

cup

Medjool dates,

pitted

1/2

teaspoon

vanilla extract
Instructions
Prepare the Cups
Add the dates, oats, nuts, vanilla and salt in a food processor. Process until it forms a fine crumb. Add water, 1 tablespoon at a time and process until the mixture sticks together when pressed.

Press the mixture to the bottom of a muffin pan forming little cups (makes 6 in a regular sized muffin pan). Place in the fridge while you prepare the filling.
Prepare the Filling
In the same food processor (there's no need to clean it, but remove crumbs), add the coconut milk, cashews, coconut oil, dates and vanilla. Process until smooth, up to 5 minutes. Scrape the sides as needed.
Assemble the Cheesecake Cups
Scoop the filling into each little cup. Top each cup with fresh berries of choice.

Refrigerate for at least 1 hour to let it firm. Enjoy straight from the fridge.
Notes
To remove the cups from the muffin pan, use a butter knife around the cups to loosen them. The cups can get a little sticky, but I found this worked well. 
Use fresh berries of choice in this recipe. If you want more fruit flavor in this dessert, you can spoon some mashed berries on top instead. I tried it with both fresh strawberries and frozen, thawed mashed strawberries.
You can also make this recipe using a square glass dish and made them into bars. A smaller dish would be best to have thicker bars.
If your blender is weak, it might not lead to a creamy filling if not soaking the cashews. If this is the case, you can soak the cashews and reduce the amount of coconut milk. Start with 1/2 a cup and increase as needed. The mixture should be slightly thick and easy to spoon into the cups.
If you make these vegan berry cheesecake cups, be sure to leave a comment and/or give this recipe a rating! I love to hear from you guys. And of course, if you try this recipe, don't forget to tag me on Instagram!