Cherry Chia Jam (No Added Sugar)
Cherry chia jam with no added sugar. Because what else was I to make with 20lbs of fresh Okanagan cherries? Yesterday, I asked you guys on Instagram which recipe you wanted to see on the blog today and this is what you chose. Cherry chia jam over pasta salad. Ask and you shall receive. So as you requested, I'm sharing my favorite cherry chia jam this Friday. This is recipe 2 of my cherry series (there's no such thing, but there probably should be at the rate at which I'm using cherries at the moment). Nevertheless, I shared this cherry yogurt tart last week, now this cherry jam and you can expect one more cherry recipe before the end of summer. I can't help it, cherries are my absolute favorite… Fun fact: the color of this jam is the color of our wedding. This is a special jam (not really, but I like to think so). For starters, there's no added sugar. Zero. Only cherries for sweetness, which is all you really need. This cherry jam is also the easiest jam there is. 2 ingredients, 20 minutes and one pot is all you need. Yes, I just said two ingredients. Cherries and chia seeds… And water if you want to get technical. Also vanilla if you want to get fancy, but I just skipped it this time.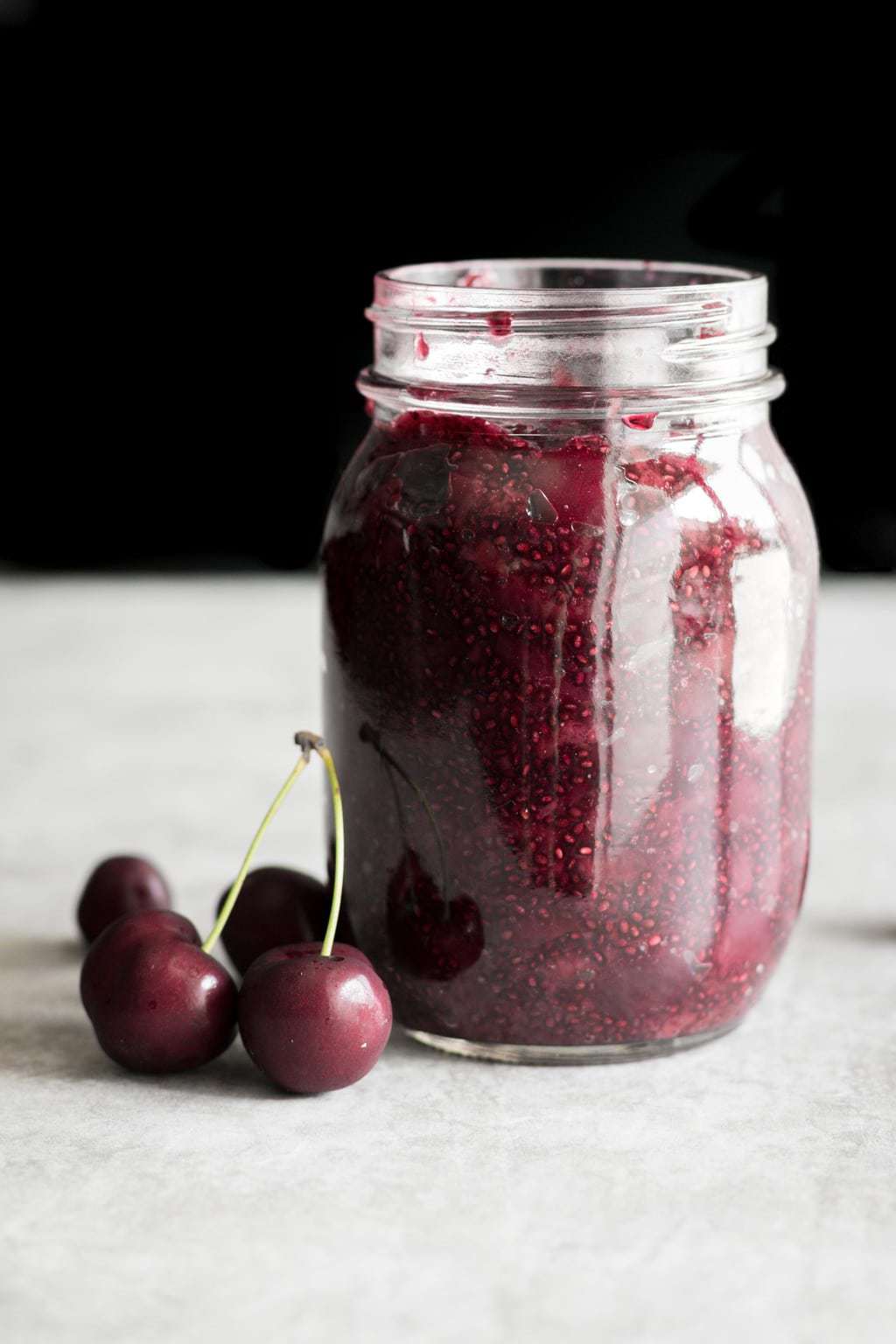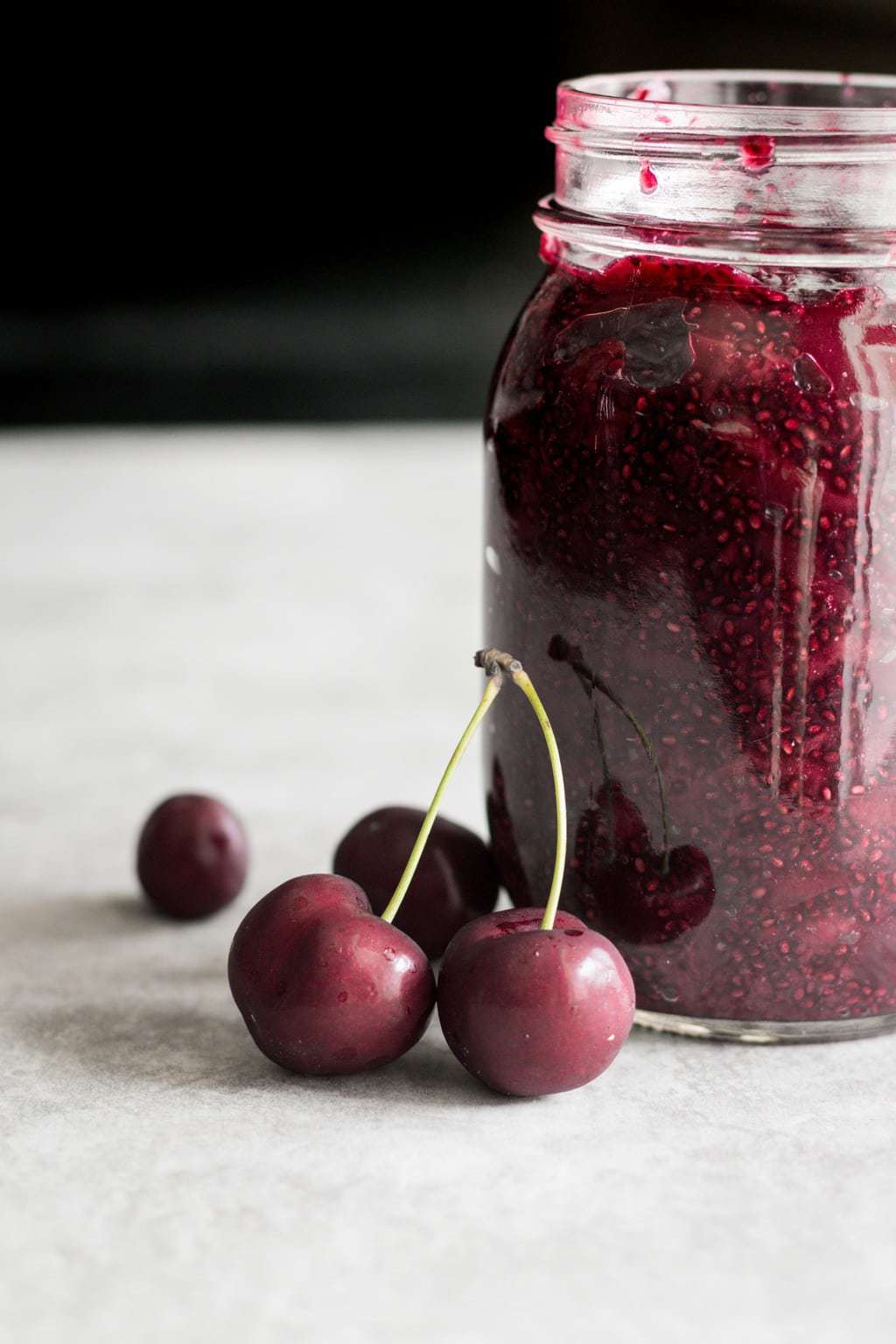 Have you ever made homemade jam? It's SO easy and way better than any store-bought jam. This particular jam contains no added sugar and has a good dose of healthy fats and fiber from the chia seeds. Here's how simple it really is:
Add the cherries and water to a saucepan and bring to a boil.
Mash the cherries.
Add the chia seeds, turn down the heat and let simmer for 20 minutes.
It doesn't get easier than this. You can also kick it up a notch and add a touch of vanilla or a pinch of fine grain sea salt. I should also note that this recipe can be adapted for basically any fruit. That being said, it's a must-have recipe for summer!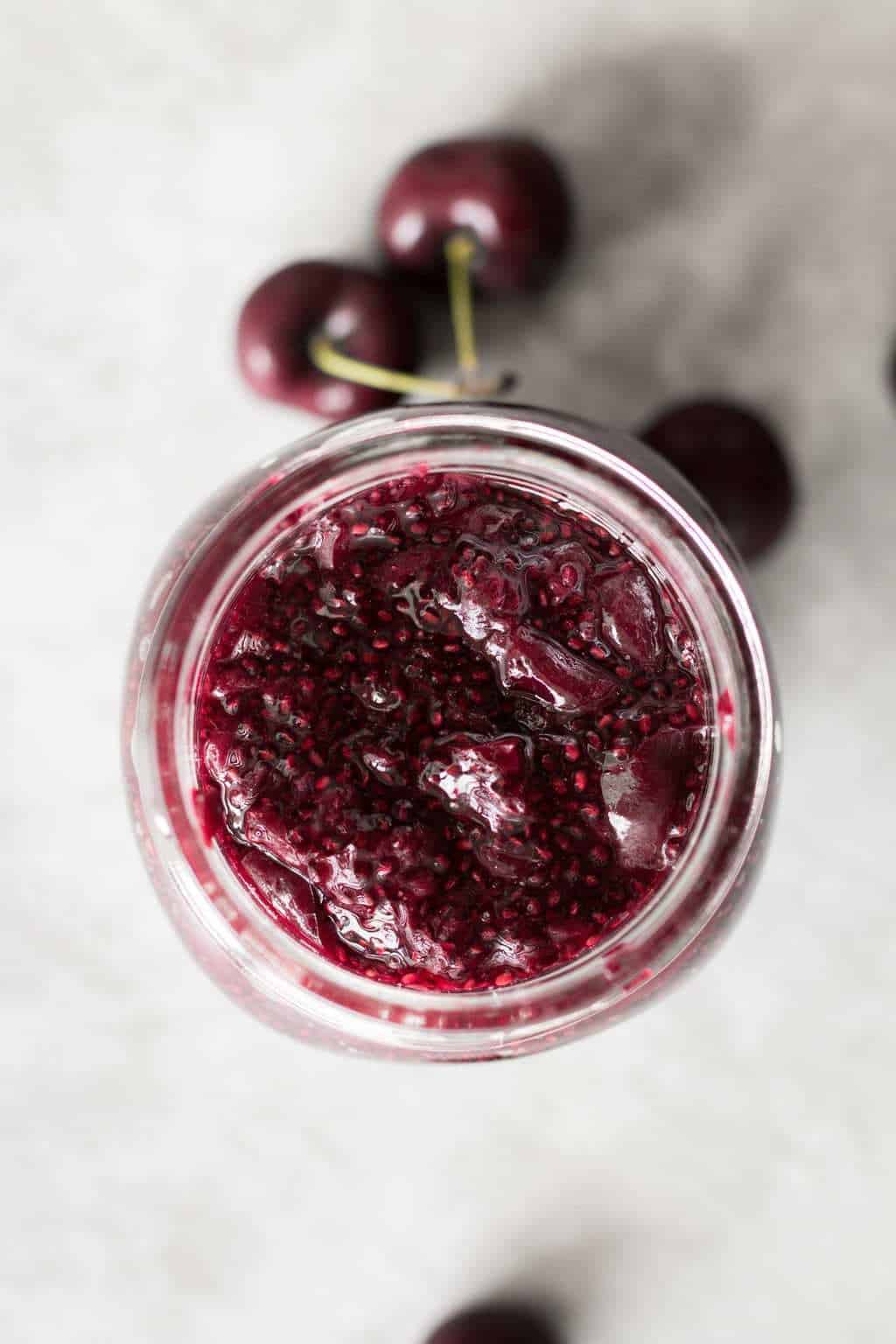 Cherry Chia Jam (No Added Sugar)
Cherry jam sweetened with fruit only. Because that's all you really need. Made with 2 ingredients only: cherries and chia seeds. The end result? A naturally sweetened, thick jam with a healthy dose of fiber and healthy fats!
Ingredients
4

cups

sweet cherries,

pitted

1/4

cup

water

1/4

cup

chia seeds
Instructions
In a medium pot, bring the water and cherries to a boil over high heat.

When it reaches a low boil, mash the cherries until desired consistency. I like to leave a few chunks.

Reduce heat to low-medium. Stir in the chia seeds and let simmer, covered for 20 minutes or until the water has been absorbed, stirring occasionally. The jam will continue to thicken after cooking, so don't worry if it doesn't get as thick as you'd like.

Store in a mason jar (I filled about one jar and a half), in the fridge for up to 2 weeks.
Notes
Add a touch of vanilla and salt if desired.
You can also use frozen cherries, but note that the cook time may be affected.
Feel free to make this jam using other fruits!
If you try this recipe, make sure to tag your photo #unsweetenedcaroline on Instagram, Facebook and Twitter! Don't forget to also tag me @unsweetened.caroline on Instagram so I can see your creations!