Caramelized Banana Oatmeal
Caramelized banana oatmeal. In this simple and delicious breakfast, bananas are caramelized in orange juice and served on top of warm oatmeal. Serve it with peanut butter or your other favorite breakfast toppings.
My go-to oatmeal has always been my peanut butter banana oats. It's easy, delicious and satisfying and I didn't think anything could ever replace it as my favorite. That was until I made this caramelized banana oatmeal.
I will admit, the fact that it requires one extra dish means I will continue to make my easy peanut butter oats more often, but these oats will be around over the weekends. It's a delicious twist on my favorite breakfast.
I serve the bananas on warm oats cooked with plant-based milk and chia seeds for added fiber and healthy fats. I highly recommend serving it with peanut butter for protein and flavor. Bananas and peanut butter are truly the best combination!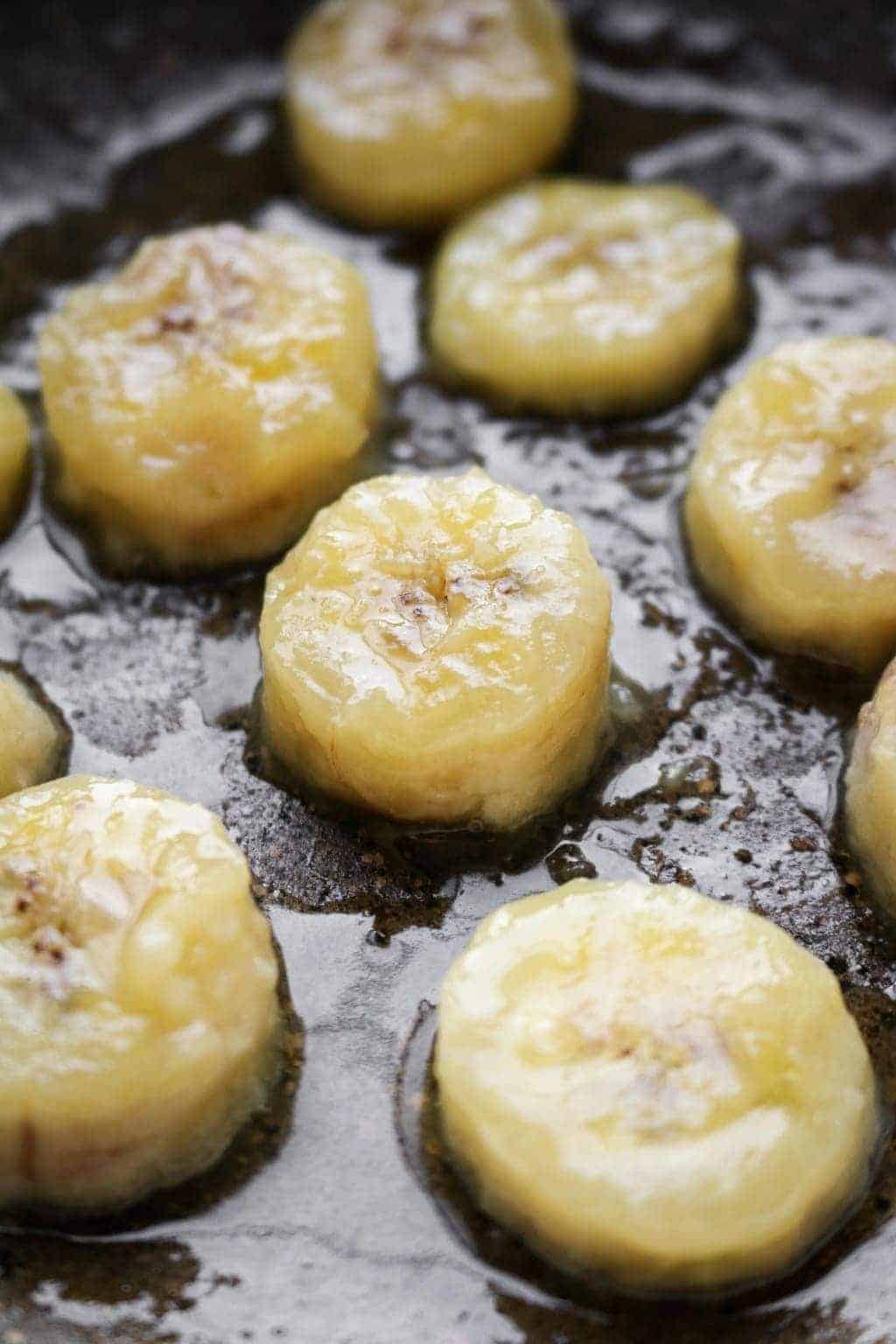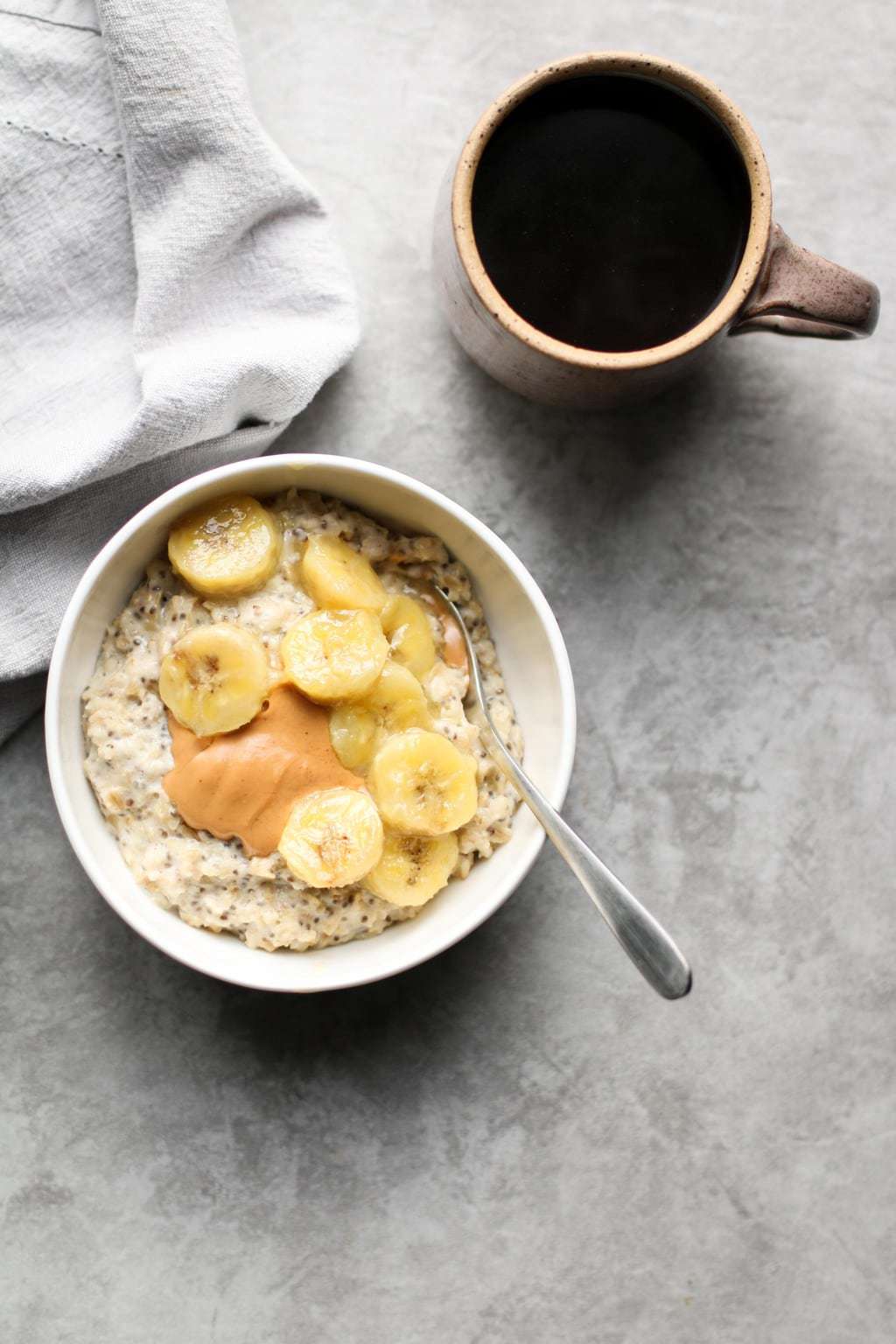 How to Caramelize Bananas without Added Sugar:
To caramelize the the bananas without added sugar, I use orange juice. Yes, orange juice has natural sugar, but it doesn't add up to a lot of sugar in this dish. It also adds a delicious flavor to the caramelized bananas.
You can certainly use sugar instead of orange juice and serve regular caramelized bananas with your oatmeal. There's absolutely no problem with adding sugar to your oatmeal! In this recipe, we're just using the juice for flavor and for a little something different.
All I do is add a small amount of vegan butter/margarine and orange juice to a non-stick pan. I layer the sliced bananas and cook for approximately two minute on each side. That's it! You've got some caramelized bananas. It's the best, especially when used as a topping for oatmeal. Just try it, you won't regret it.
More Vegan Oatmeal Recipes: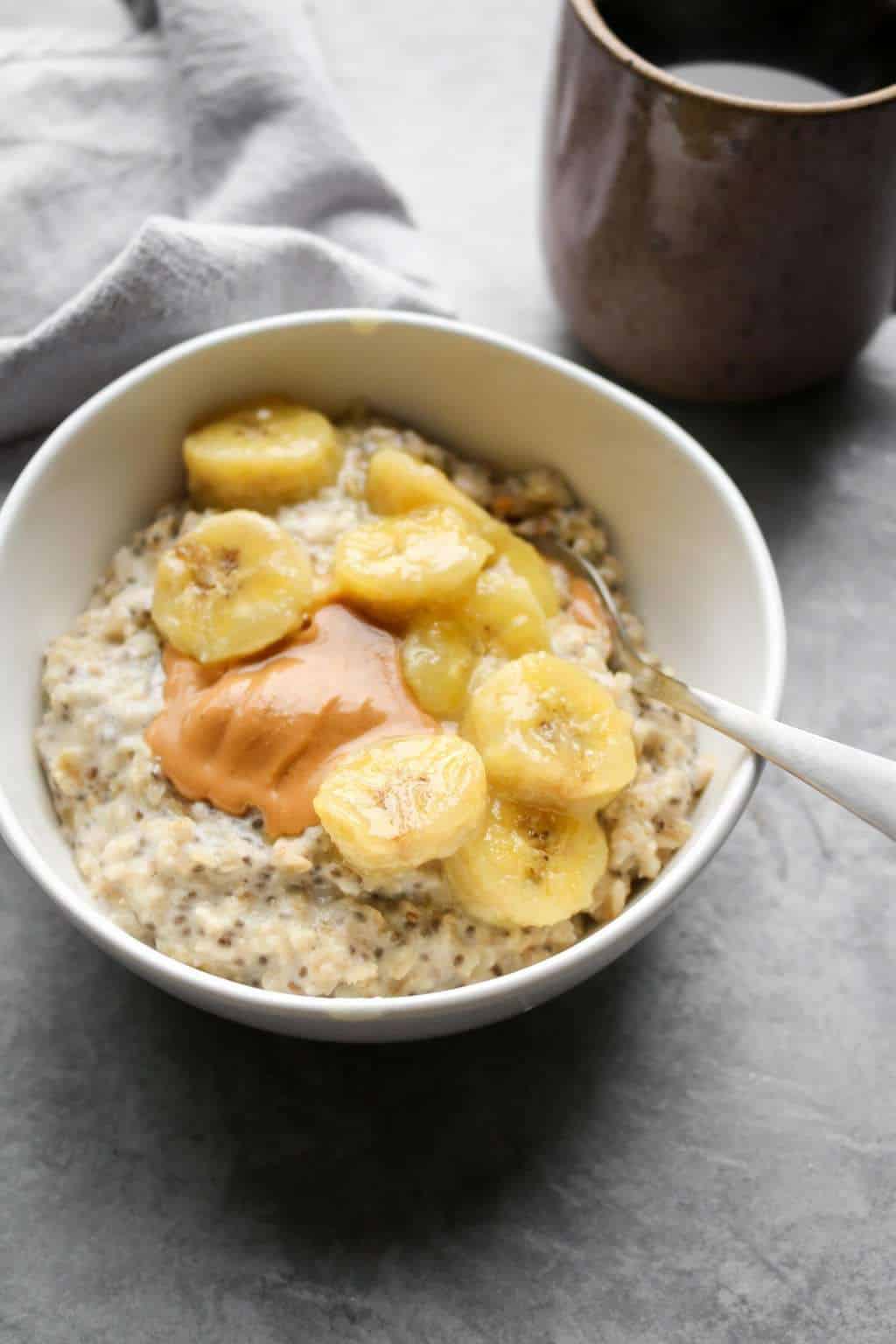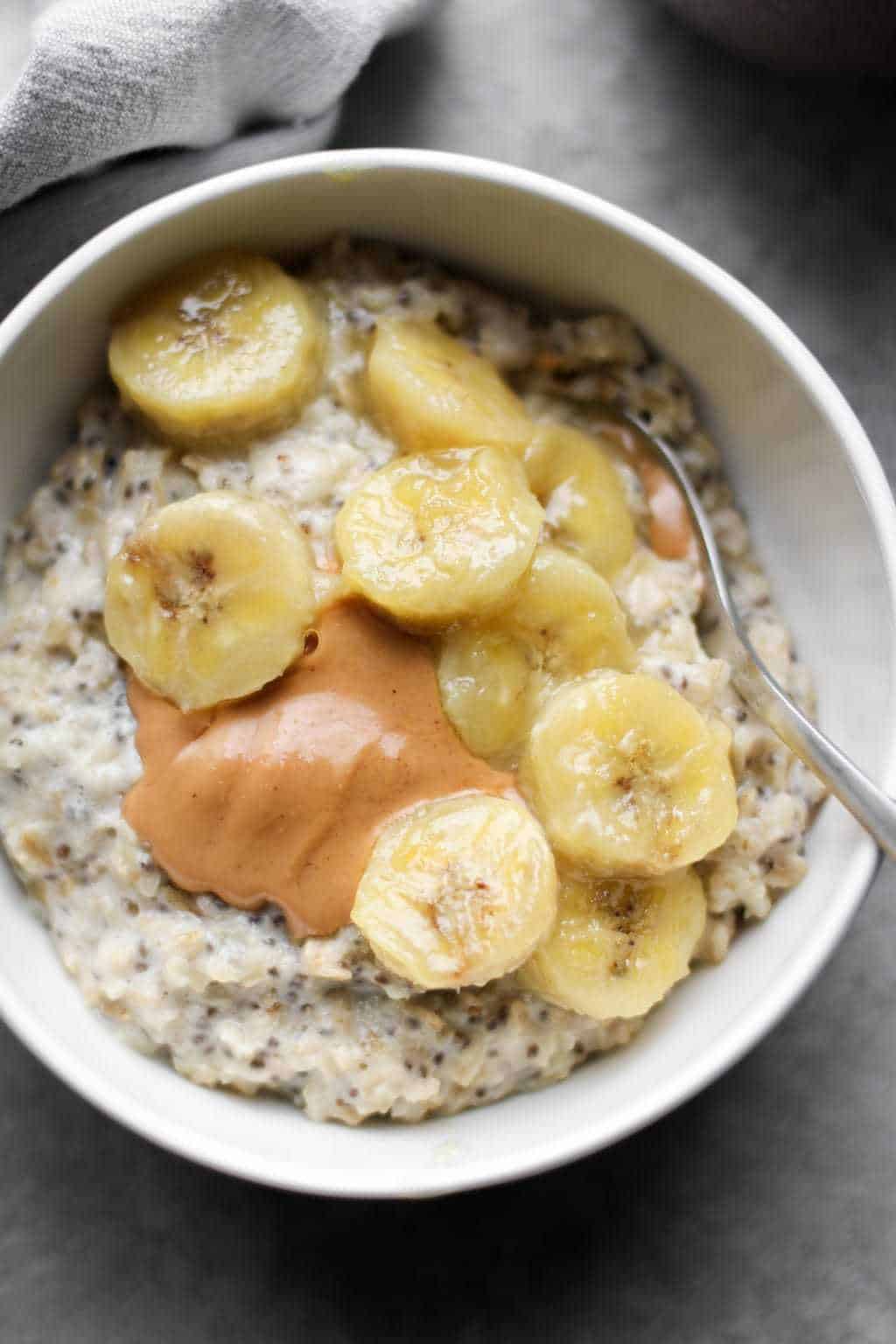 Caramelized Banana Oatmeal
These caramelized bananas aren't like any other! These are caramelized with orange juice. All you need is a few extra minutes to cook the bananas while the oatmeal cooks. 
Ingredients
Oatmeal
1

cup

rolled oats

1

tablespoon

chia seeds

2

cups

milk of choice (I used unsweetened vanilla almond milk)
Caramelized Bananas
2

medium

bananas

2

tablespoons

orange juice

1

tablespoon

soft margarine or coconut oil
Instructions
For the Oatmeal
In a small saucepan, add your oats, chia seeds and milk. Bring to a boil over high heat, then reduce heat to medium-low. Simmer for 5 minutes, stirring often, until the oats and seeds have absorbed the liquid and the oatmeal has reached desired consistency.
For the Caramelized Bananas
Meanwhile, heat the margarine or oil in a skillet over medium heat. Add the orange juice and let it sit for a few seconds before adding the sliced bananas in a single layer. Cook the bananas for 2 minutes on each side to gently caramelize and soften.

Top your oatmeal with the caramelized bananas. Stir in the oatmeal before eating to sweeten it. Add other toppings of choice. I like to top it with Sunbutter or peanut butter.
Notes
If you're like me and you never buy juice, use the juice of a fresh orange.
If you make this caramelized banana oatmeal, be sure to leave a comment and/or give this recipe a rating! I love to hear from you guys. And of course, if you try this recipe, don't forget to tag me on Instagram!