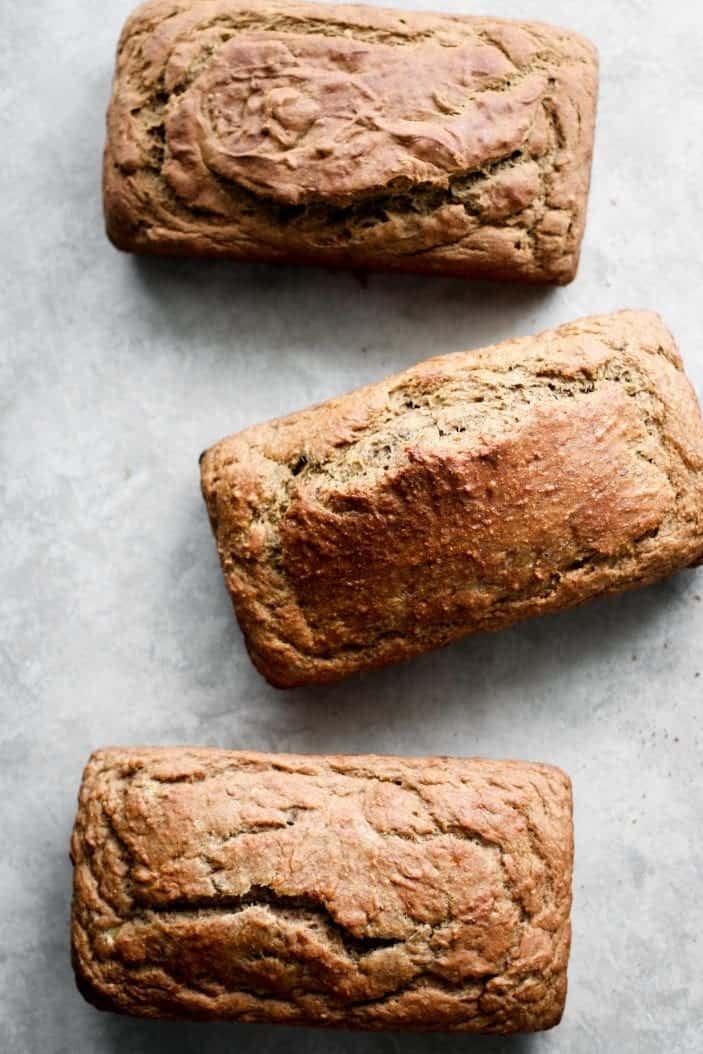 Fruit-Sweetened Breakfast Banana Bread
Banana bread has got to be one of my favorite desserts. Notice here that I said dessert. I'm aware that banana bread is often seen as breakfast food, but I tend to eat it as a snack or dessert.
I wanted to try making a banana bread that would be healthy enough for breakfast. This recipe has been on my mind for a while now and I regret every second I waited before giving it a try – It's truly life changing.
It turns out that banana bread can be perfectly sweetened with bananas only! Now, I should specify that this bread is NOT sweet enough to be considered dessert for most of us. It is however, perfectly sweetened to be eaten at breakfast or as a snack with a thin (or thick) layer of sunflower seed butter, peanut butter, almond butter or margarine/butter. Think of it as eating a sweeter version of toasts in the morning. I must say, it's also delicious eaten on its own and it does taste sweeter once it's cooled off – It's still delicious eaten warm with melted butter. YES.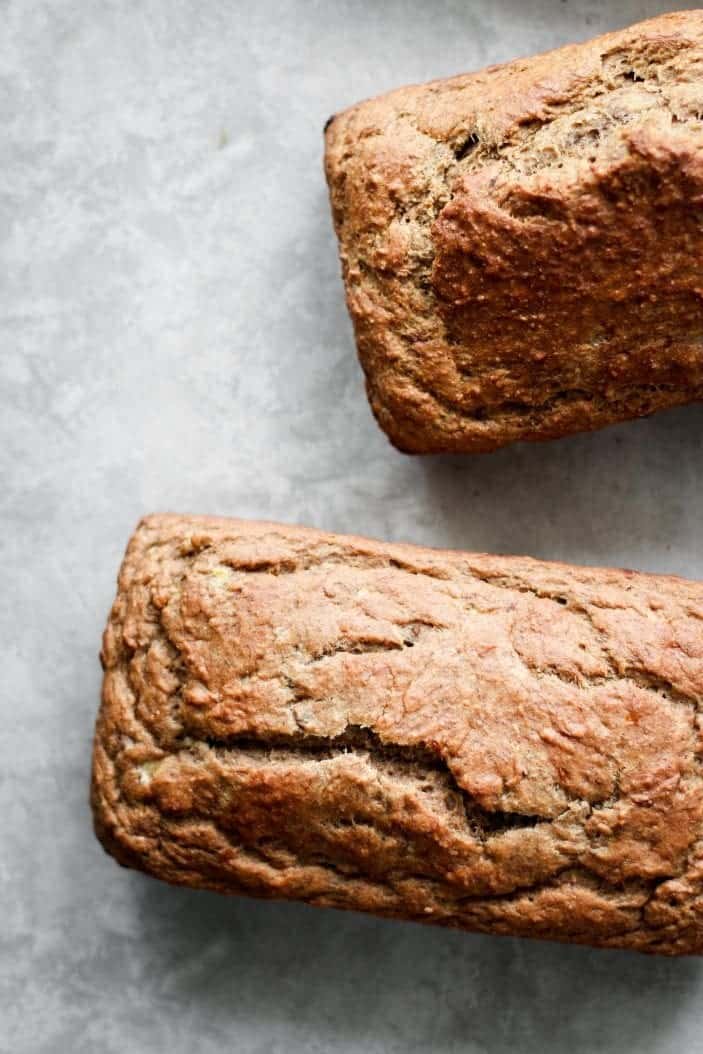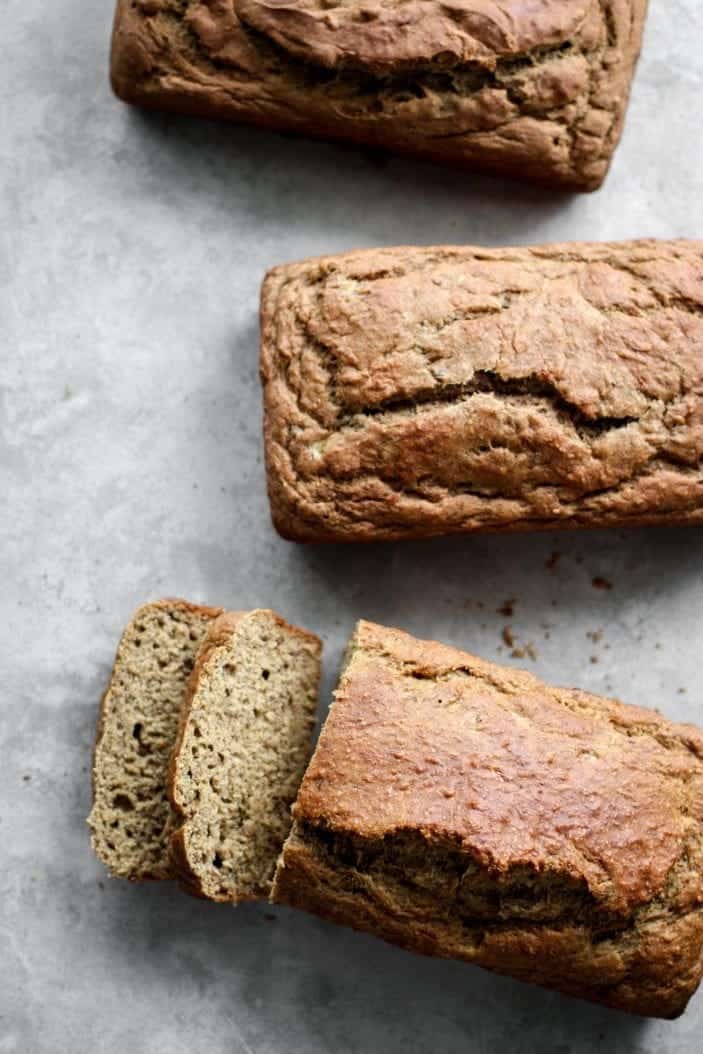 The best part about this recipe, other than the fact that it's sweetened with fruit, is that it's highly versatile! Here are the 8 variations that have been tested with success:
Spelt flour
Buckwheat flour
Whole wheat flour
All purpose gluten-free flour
With oats
Egg-free (vegan)
Using olive oil
Using coconut oil
Each variation had slightly different results, but all were perfectly delicious! The only noticeable difference was that the egg-free version, the buckwheat version and the all-purpose gluten-free version raised a little less. Really, that wasn't a big deal and it tasted just as good to me and my recipe testers (my roommate and Shaun of course). My number one choice would be to use spelt flour, an egg and olive oil, but it all depends on what I have on hand. If you're wondering, yes, I did try all of these variations in the last couple of weeks and yes, my freezer is full of banana bread. I love it.
Now, before I leave you to the recipe, I'll talk a little bit about the process. This bread uses only one bowl, 15 minutes of preparation and 45 minutes of baking. Once you decide which version you're making, start by mixing all your wet ingredients in a large bowl. Continue by adding your dry ingredients to the mix (don't overmix!) and transfer the mixture to a lightly greased loaf pan. You can also top the loaf with a sprinkle of chopped walnuts or a sliced banana. All you need after that is the patience to wait 45 minutes before biting into a warm slice of gooey banana bread. Waiting is always the worst, isn't?
Note: A reader tried them as muffins and they turned out great! Simply bake them 15-18 minutes at 350°F. Another reader tried them with chocolate chips (Yum!). I love seeing what you guys come up with and thank you for sharing your results. 🙂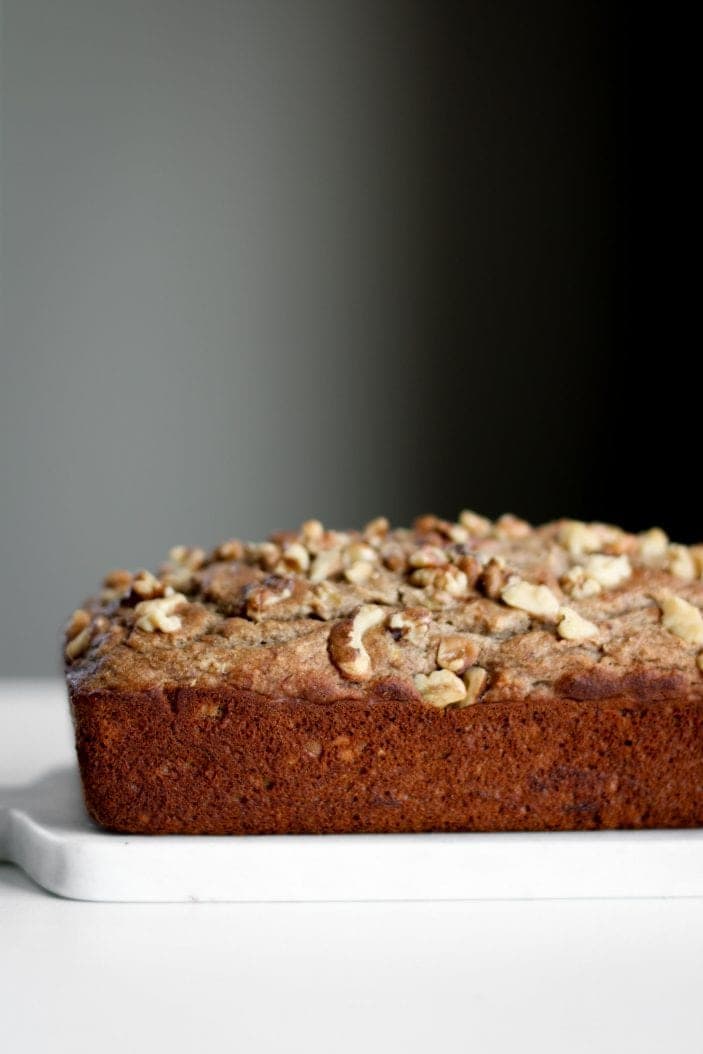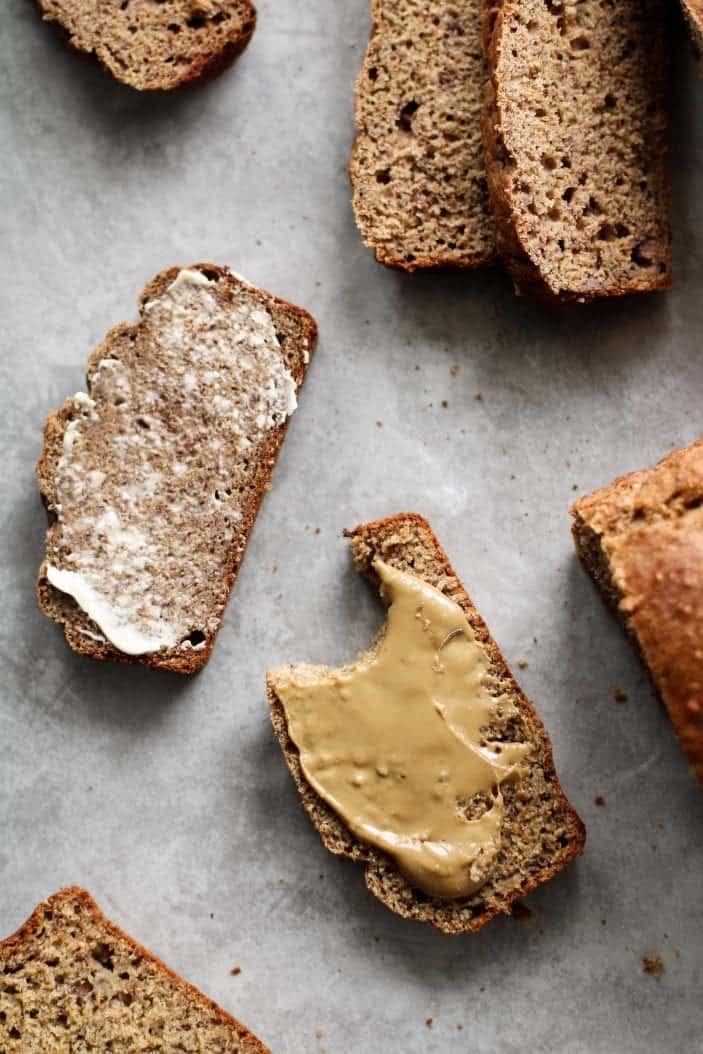 Fruit-Sweetened Breakfast Banana Bread
Gooey banana bread with no added sugar... Could there be anything better? This healthy loaf is versatile and perfectly acceptable for breakfast. Serve it cool or warm with a layer of sunflower seed butter, peanut butter, almond butter or simply butter. It's perfect for breakfast or a healthy snack or dessert.
Ingredients
Wet Ingredients
3

large

overripe bananas (about 1 3/4 cup),

mashed

1/4

cup

unsweetened almond milk

(or other milk)

1/4

cup

olive oil or melted coconut oil

2

teaspoons

vanilla extract

1

egg
Dry Ingredients
2

cups

spelt or whole wheat flour

1

teaspoon

baking soda

1/2

teaspoon

baking powder

1/2

teaspoon

salt

1/2

teaspoon

cinnamon
Instructions
Preheat oven to 350F. Lightly grease a loaf pan with oil or butter/margarine.

In a large bowl, Mash your bananas. Whisk in your milk, oil, vanilla and egg.

Add your dry ingredients to the wet mixture and mix all together.

Transfer the mixture to your greased loaf pan. Bake for 45 minutes or until cooked through. The bread should be firm on the outside, yet moist on the inside.

Let it cool 5-10 minutes before slicing.
Notes
For a vegan option: Replace egg with 2 additional tablespoons of milk.
For a gluten-free option: Replace flour with same amount of light buckwheat flour or all-purpose gluten-free flour
You can replace 1/2 cup of the flour by 1/2 cup of rolled oats if desired. The results are similar.
Store in an airtight container or bag at room temperature, in the fridge or in the freezer.
Make sure not to overmix the batter. This can affect the texture of the bread.
A big thank you to all 10k of you following me on Instagram. Your support means a lot. 🙂
If you try this recipe, make sure to tag your photo #unsweetenedcaroline on Instagram, Facebook and Twitter! Don't forget to also tag me @unsweetened.caroline on Instagram so I can see your creations!