Roasted Potato Pesto Salad with Spicy Chipotle Chickpeas
Roasted potato pesto salad with spicy chipotle chickpeas. Another delicious vegan recipe for you guys!
I'm almost halfway through my vegan month and to be honest, it doesn't feel different from my usual diet. That doesn't mean it's not a bit challenging at times. The most challenging change for me was to omit the milk in my coffee. While I don't usually drink cow's milk anyways (personal preference and a slight intolerance), I do add a touch of whole milk in my coffee every morning. Almond milk, coconut milk and soy milk are not the same. Nope. I just can't tolerate the taste in coffee. So far, I've been using cashew milk, which tastes the best in coffee in my opinion. Vegan creamers would be an option, but all the ones I've seen so far contain sugar… If you're reading this and you have any recommendations for vegan coffee creamers or milks, please let me know!
Other than coffee, a vegan diet has been an easy shift from my usual "flexitarian" diet. I thought I would miss yogurt a bit more, but to be honest, I don't. I make sure I have plenty of snacks around. Cheese on the other hand, is a little harder. I've been enjoying vegan parmesan and vegan cheese sauce in the form of my vegan queso – If you haven't made it yet, you NEED to try it.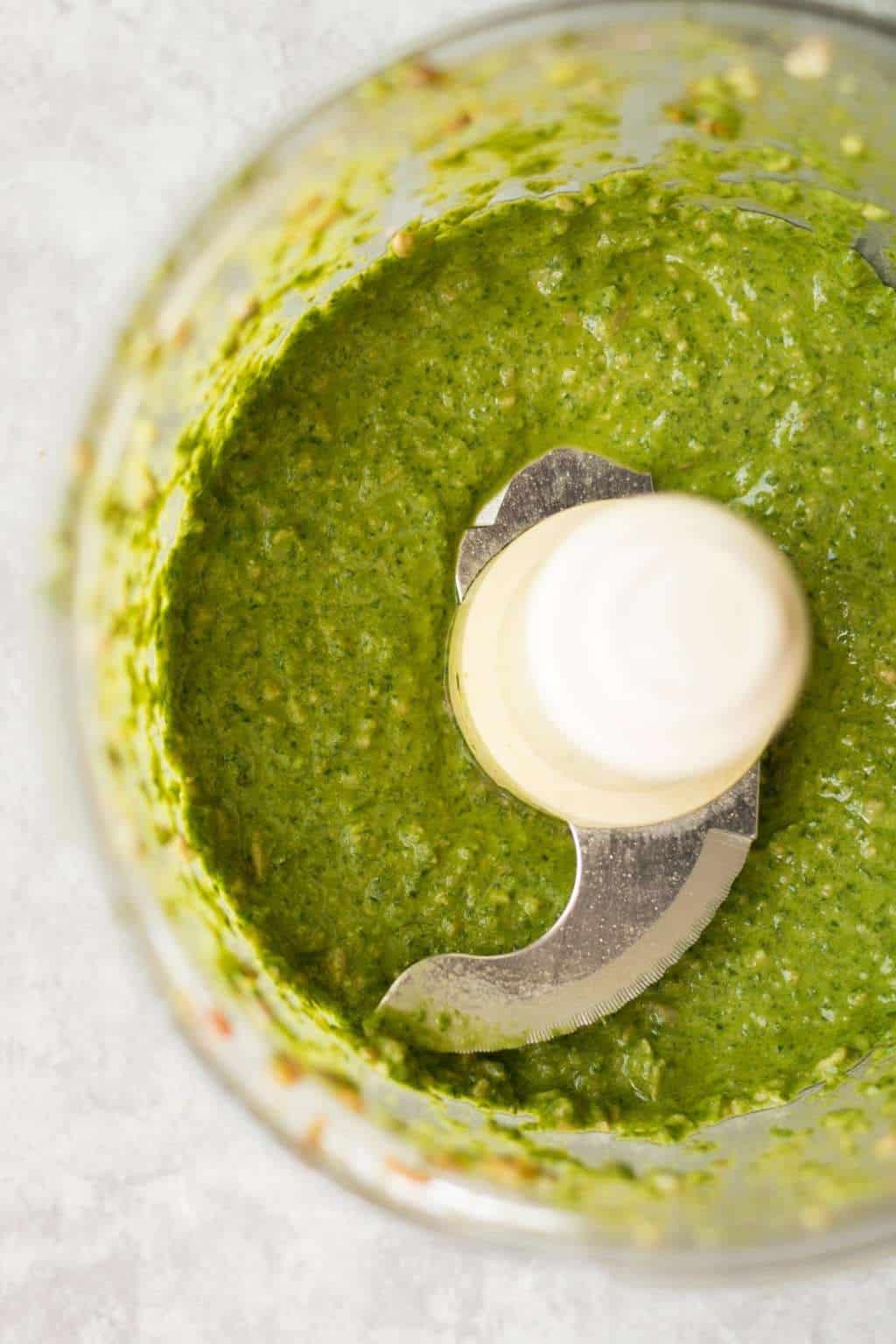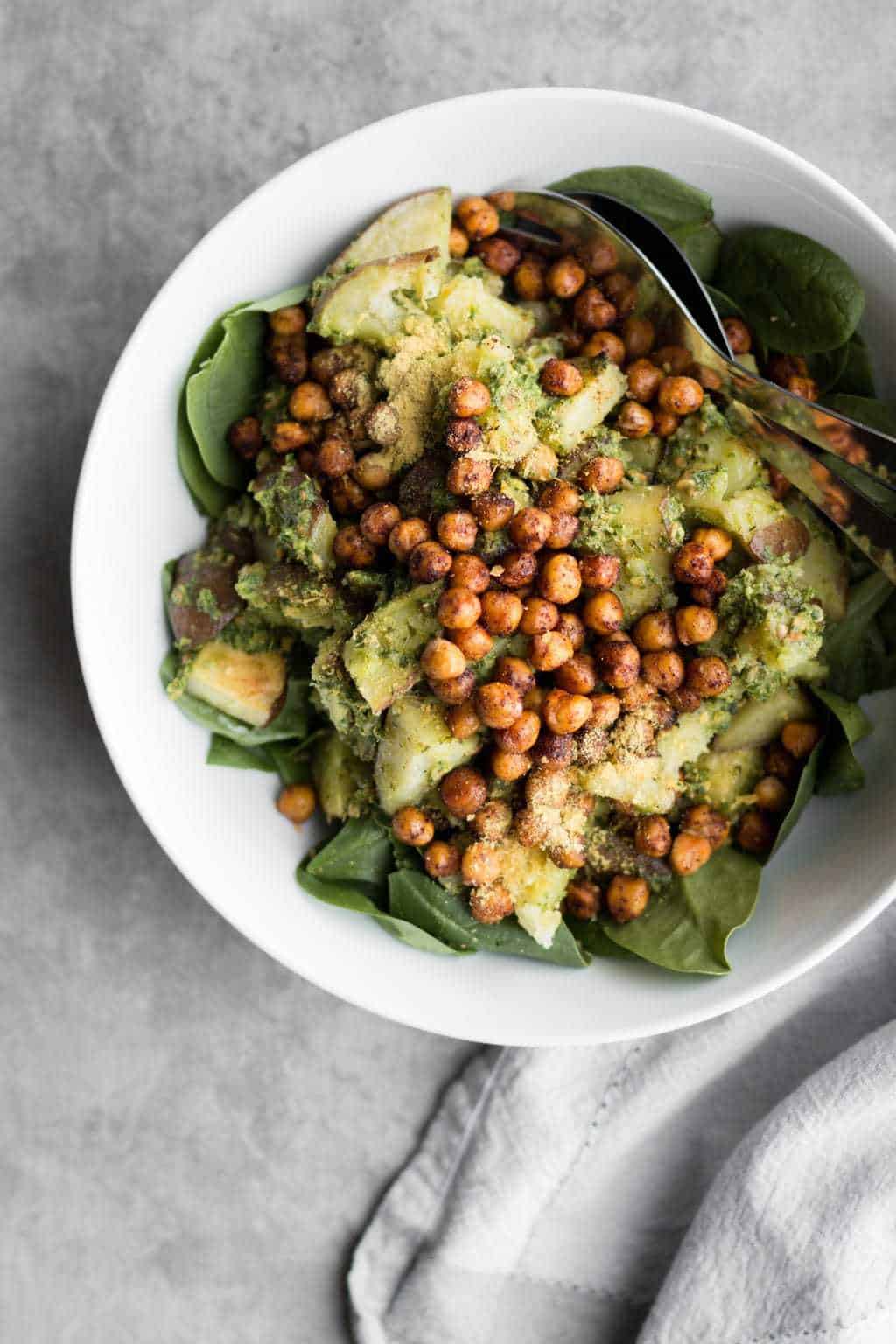 Now, I'm here to share a new vegan recipe. This roasted potato pesto salad with chickpeas has been my favorite lately and I hope you'll love it too! It's the perfect blend of summer and comfort food. There's just something about roasting vegetables that makes them so much better. And then there's pesto.
This vegan pesto is made without parmesan of course, but trust me, you won't miss it. I went for roasted sunflower seeds here to make it nut-free, but feel free to substitute them with any nuts you'd like. I tried sliced almonds and it was delicious as well.
Just make the pesto while your potatoes and chickpeas are roasting, then evenly cover your potatoes with pesto, top with chickpeas and nutritional yeast (for a bit of a cheesy taste and a protein and vitamin B12 boost).
As for the chickpeas, I decided to go for something spicy. I find that chipotle pairs well with the basil pesto, but if you prefer a plain lightly salted roasted chickpeas, that would be good too. I can't tolerate much spice myself and this here is as spicy as I'll ever go or else I won't enjoy it. That means that if you like spicy food, this probably won't be much spicy for you, but if you really can't tolerate it, then stick to salt and oil.
This is a recipe to make for a summer barbecue, to whip up for a quick weeknight or weekend meal or to serve at potluck with friends. It can be eaten cold or warm (although I do prefer it when fresh and warm). All I can say is that you need this salad in your life.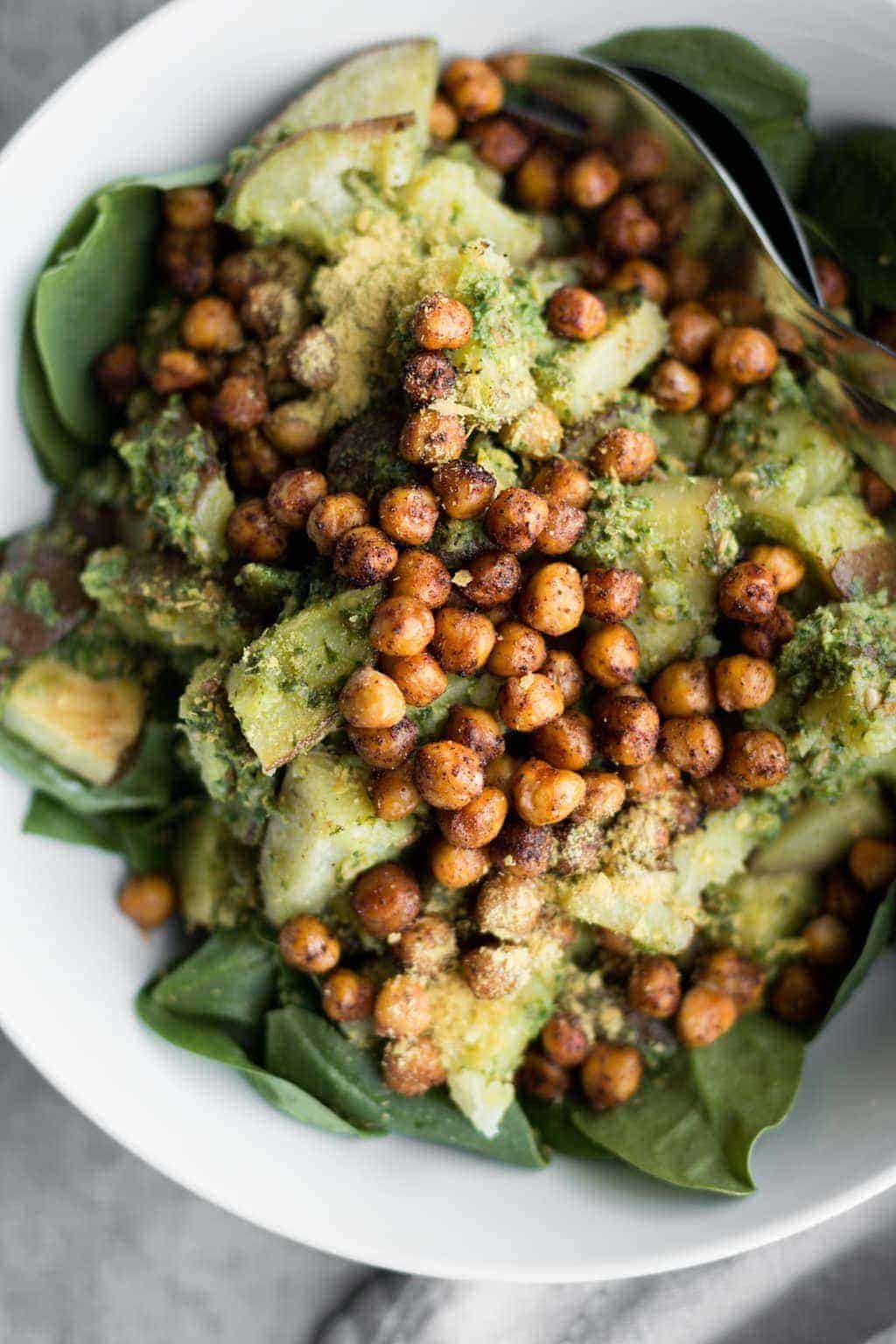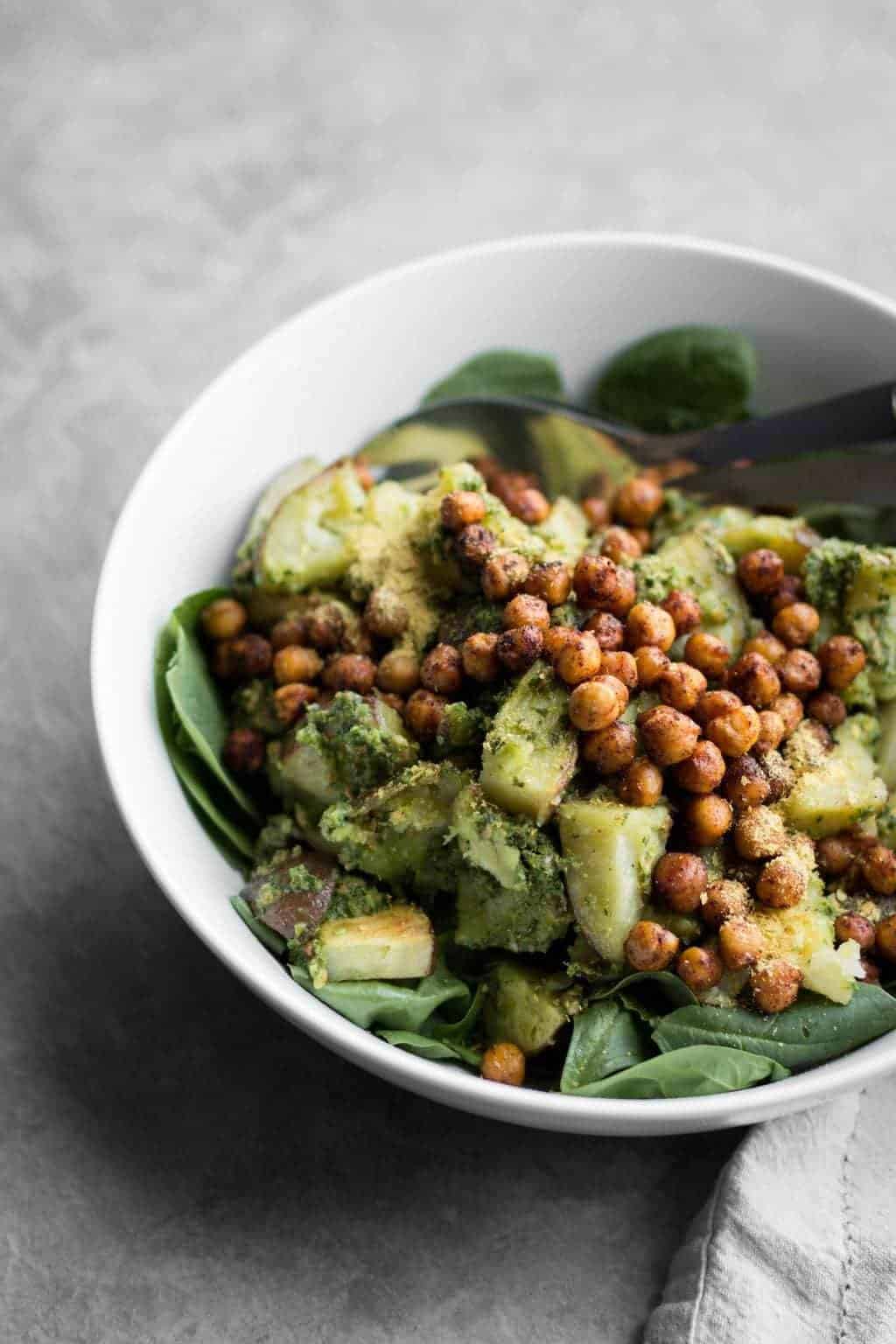 Roasted Potato Pesto Salad with Spicy Chipotle Chickpeas
A comforting, yet healthy vegan salad that's perfect for summer. Made with roasted potatoes, pesto sauce and spicy chipotle chickpeas, sitting on a bed of spinach. Bring it to a barbecue as a side dish or have it as an satisfying entree at home.
Ingredients
5

medium

potatoes,

diced (about 5 cups)

1

cup

chickpeas

1/2

teaspoon

chipotle powder

1/2

teaspoon

smoked paprika

2

tablespoons

olive oil

2

handfuls

baby spinach

Nutritional yeast for topping

Fine grain sea salt to taste
Pesto
1/4

cup

raw sunflower seed

1/2

cup

fresh basil,

packed

1/2

cup

baby spinach,

packed

1/4

cup

olive oil

2

tablespoons

lemon juice

1

large

garlic clove

1/4

teaspoon

fine grain sea salt
Instructions
Add your potatoes and chickpeas on a baking sheet (two separate sheets if needed). Drizzle with oil. Sprinkle the chickpeas with chipotle and paprika and rub to cover evenly. Sprinkle with salt if desired. Roast for 40 minutes at 400F or until lightly golden.

Meanwhile, make the pesto: Spread the sunflower seeds on a baking sheet and roast for 4 minutes at 400F in the oven with the potatoes and chickpeas.

In a small food processor, process all of the pesto ingredients, including the roasted sunflower seeds, for 30 seconds or until desired consistency.

Assemble the salad: In a large bowl add the roasted potatoes and pesto. Stir to coat the potatoes evenly. Serve on a bed of spinach and top with spicy roasted chickpeas and a sprinkle of nutritional yeast.
Notes
If you're not a fan of spicy food, omit the spices with the chickpeas and sprinkle with salt only.
You can make the pesto 2-3 days in advance if desired to make it easier the day of. Alternatively, you could use store-bought pesto.
If you try this recipe, make sure to tag your photo #unsweetenedcaroline on Instagram, Facebook and Twitter! Don't forget to also tag me @unsweetened.caroline on Instagram so I can see your creations!