Roasted Carrot & Chickpea Buddha Bowl
I love Buddha bowls. There's something about throwing all of your ingredients together in a bowl that I love. Maybe because it's simple or maybe it's the roasted vegetables that I love so much. This roasted carrot and chickpea Buddha bowl is an example of the meals I make on a regular basis.
When I cook without making a specific recipe, I rarely make the same thing twice. I usually just use whichever ingredients I have left in my fridge and hope for the best. This meal is a perfect example of a meal I'll make at home when I'm not following a recipe. I love roasting vegetables and making a bowl with hearty ingredients and a flavorful dressing. I made this one a few weeks ago when I was running low on groceries. The only vegetables I had left were carrots and parsley. I always have some rice in the house, which turns out was the only grain product I had on hand that day. I then started thinking of recipes I could make with those ingredients and came up with a bowl (or plate) of rice with roasted carrots, chickpeas, parsley and a tahini lemon dressing. Nothing sparks up my creativity like an empty fridge!
I'll explain the recipe a little bit before I fill you in on what I've been doing lately.
The recipe is a pretty much self-explanatory. You start by cooking some rice, then while it's cooking, cut up your carrots, toss them in oil with the chickpeas and roast everything together for 35 minutes. While everything is cooking, make your dressing by whisking together tahini, lemon, water and garlic. When all the ingredients are done cooking, spoon some rice at the bottom of the bowl and top with your roasted carrots, chickpeas, parsley and dressing. That's all!
Now, for the life update. I feel like it's been a long time since I talked about what's going on in my life on the blog. If you're not interested, then just skip ahead to the recipe, I won't be offended (only because I won't know). I'm happy to say that I only have 7 weeks of internship left before I graduate and become a registered dietitian (candidate)! I'm done with the food management portion of my internship and I recently finished the clinical portion as well. This means that I'm done working in the hospital kitchen and with the hospital patients for the remaining of my internship.
For the next 5 weeks, I'm working in Public Health in community nutrition. I'll be working on projects targeting different populations instead of working one-on-one with patients. I love it! I love dressing up and working in an office in the city. Then for the last 2 weeks of my internship, I'll be working in a grocery store. That could mean cooking classes, grocery store tours, presentations, etc. It's exciting! And then after June 23rd, I have no idea what will happen. It's a little scary. All I can do is hope that everything falls into place. 🙂
Okay, I'm done talking. Now I'll leave you to the recipe. I hope you'll enjoy it!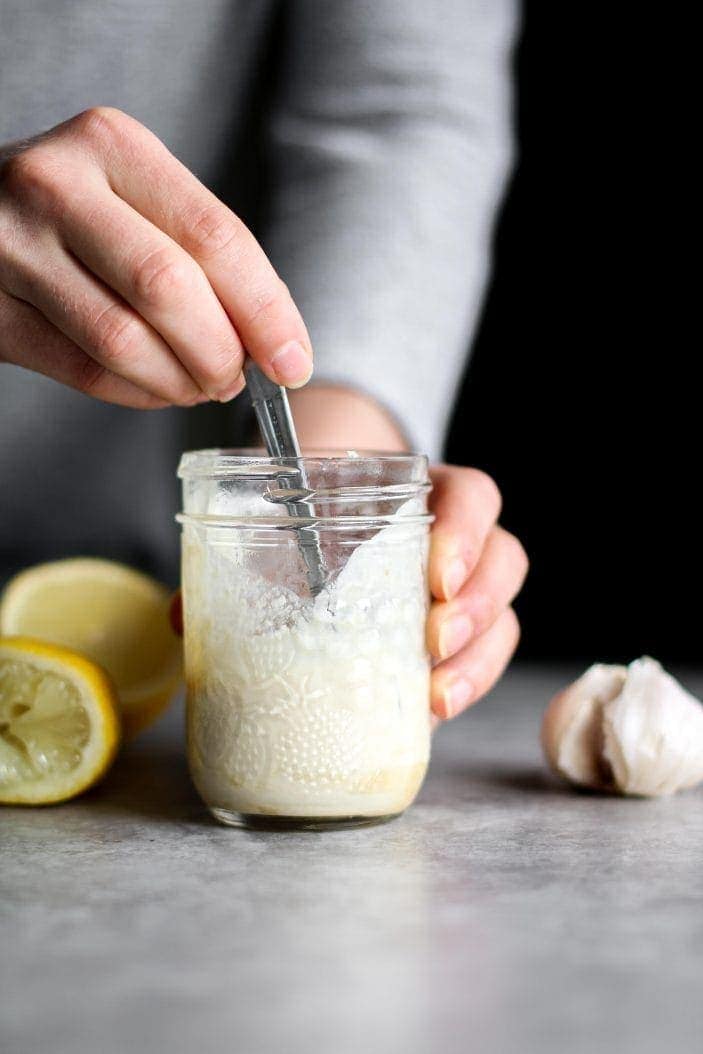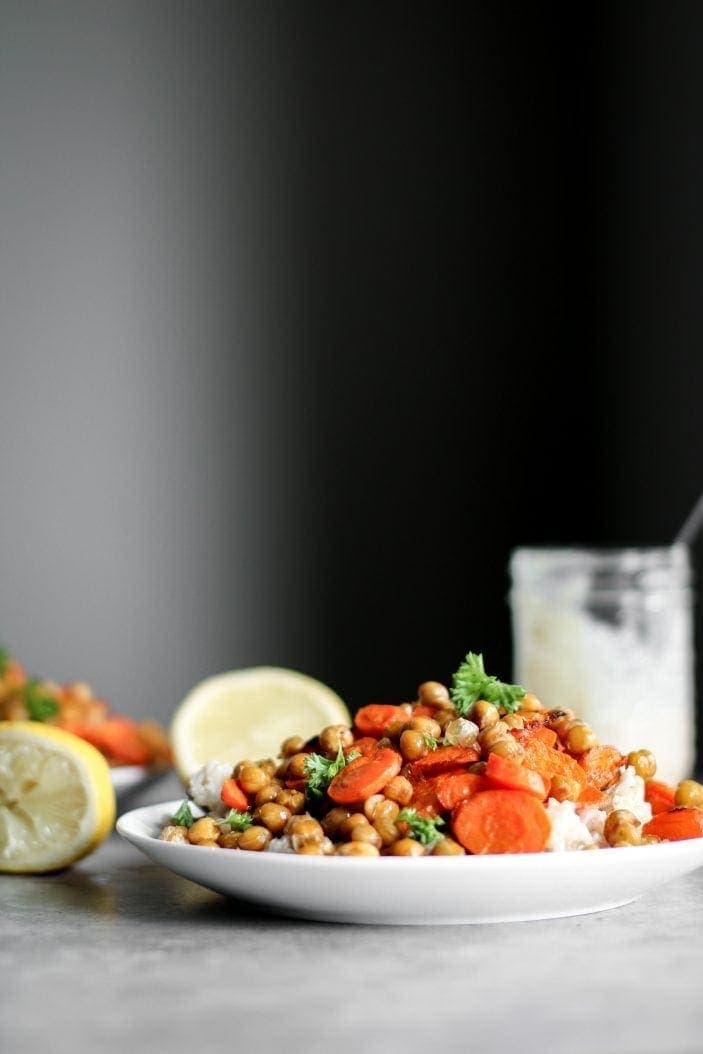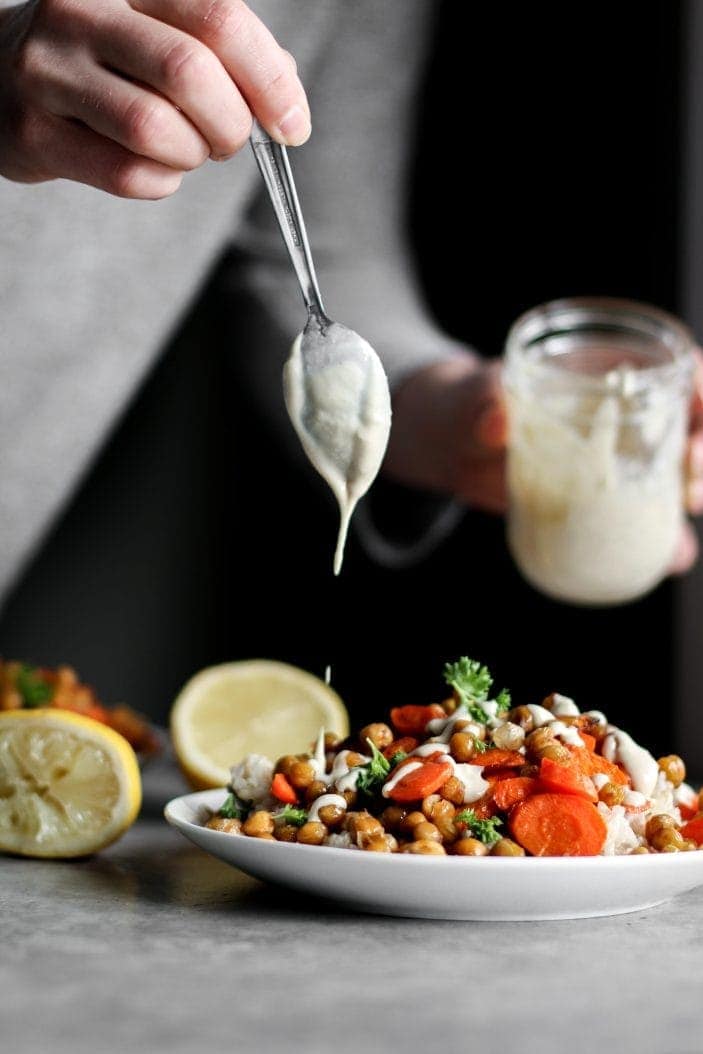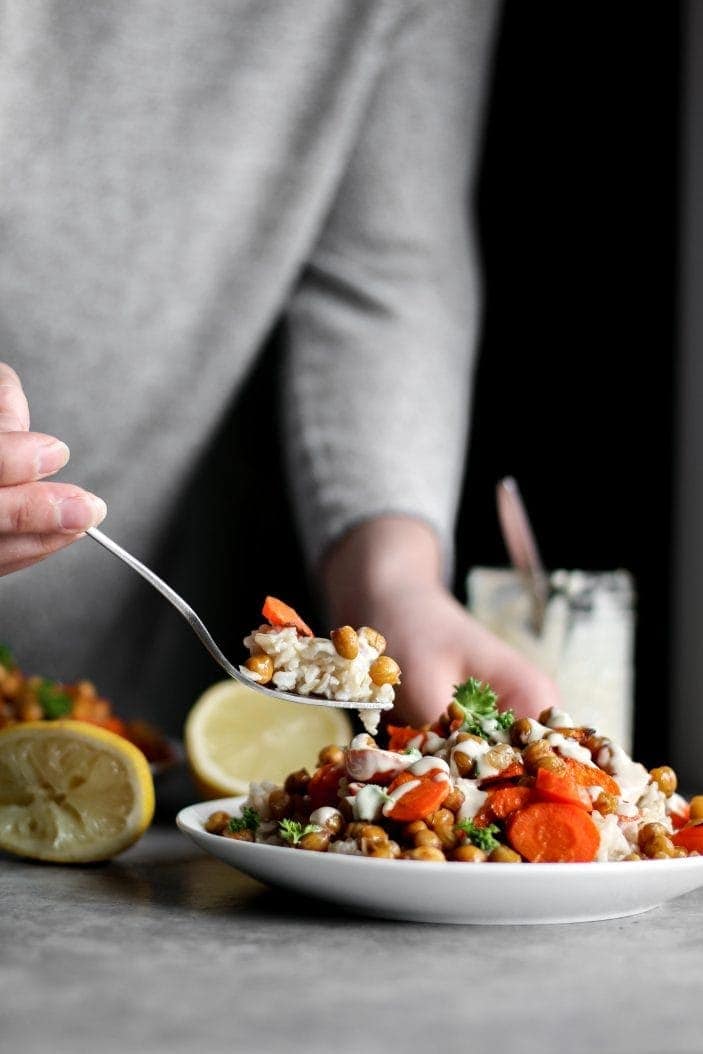 Roasted Carrot & Chickpea Buddha Bowl
This simple buddha bowl requires only 7 everyday ingredients and 20 minutes of work. Toss together some rice, roasted carrots, chickpeas, parsley and an easy tahini dressing for a delicious healthy weeknight dinner.
Ingredients
1

cup

long grain brown rice

(or rice of choice)

2

cups (540ml)

canned chickpeas,

drained and rinsed

4

cups

carrots,

peeled and sliced

1 1/2

tablespoon

olive oil

1/2

teaspoon

fine grain sea salt

Fresh parsley

(optional)
For the Tahini Dressing
2

tablespoons

runny tahini

1

tablespoon

lemon juice

1

garlic clove,

grated

2

tablespoons

water
Instructions
Preheat oven to 400F.

In a medium pot, bring 2 cups of water to a boil. Once the water is boiling, add the rice and a pinch of salt. Cover and reduce heat. Let simmer for 40 minutes. When your rice is done, turn off the heat and let sit, covered until your other ingredients are ready. Add salt to taste.

Meanwhile, peel and slice your carrots. Place on a baking sheet with your chickpeas. Toss in the olive oil and 1/2 teaspoon of salt, then roast for 35 minutes.

While your vegetables are roasting, prepare the dressing. In a small bowl, whisk together tahini with lemon to form a thick paste. Then whisk in the water and grated garlic. Add more water as needed.

Once everything is done cooking, add your rice, roasted carrots and chickpeas in a bowl. Top with fresh parsley as desired and dressing.
Notes
Keep leftovers in the fridge in an airtight container.
If you try this recipe, make sure to tag your photo #unsweetenedcaroline on Instagram, Facebook and Twitter! Don't forget to also tag me @unsweetened.caroline on Instagram so I can see your creations!