Roasted Brussels Sprouts with Garlic Pecans
Roasted Brussels sprouts with garlic pecans. The most addictive holiday side dish.
I don't know about you, but brussels sprouts are one of my favorite vegetables. In my opinion, they're seriously underrated. Steamed they're okay, but roasted? I could eat the whole pan.
I think that's the key if you don't like vegetables. Try them roasted and it will change your mind.
These brussels sprouts aren't only roasted, but they're also topped with toasted salty and garlicky pecans. Those pecans are what takes these brussels sprouts to the next level. It's what makes them even better for your holiday feast. Trust me.
I first used these toasted pecans in this savory sweet potato casserole last year. I loved it so much that this year, I had the idea of adding them to brussels sprouts. Best. Idea. Ever.
This time, I skipped the rosemary, but you could certainly add some if you'd like. Also, you can totally skip the pecans if you'd prefer and have regular roasted brussels sprouts. While the pecans are what makes this dish special, I understand that some people may be allergic. If that's the case, you could also try using pumpkin seeds instead.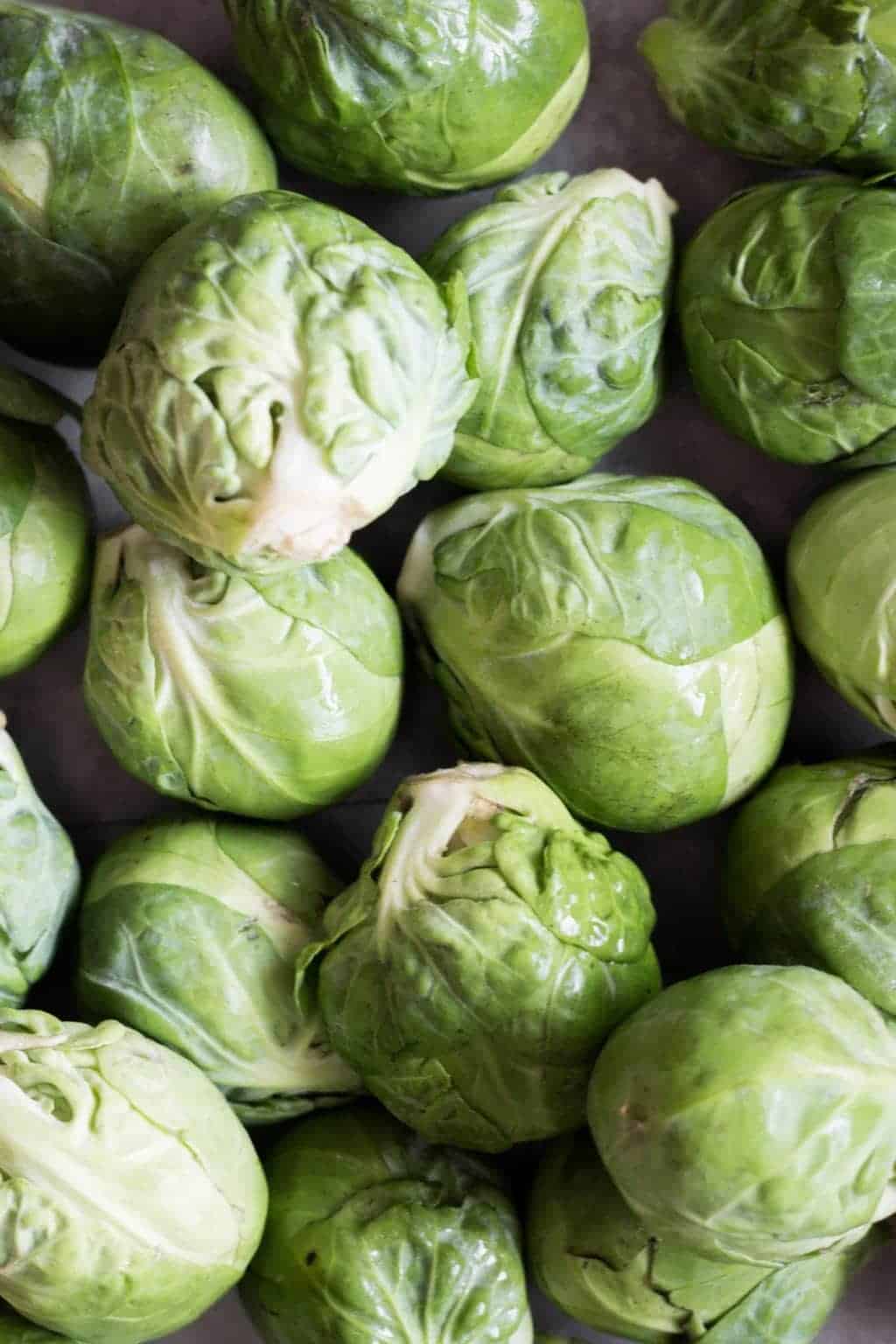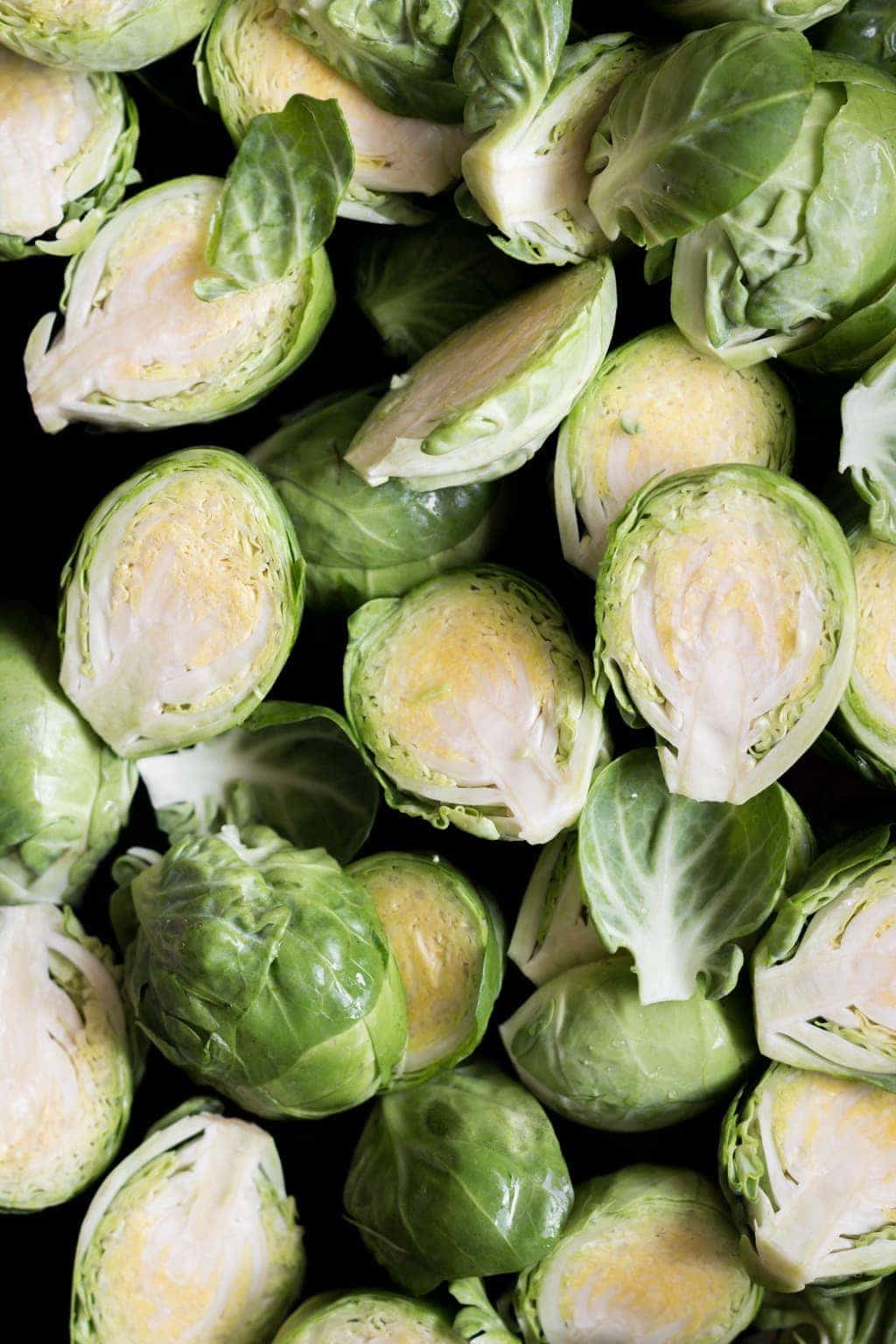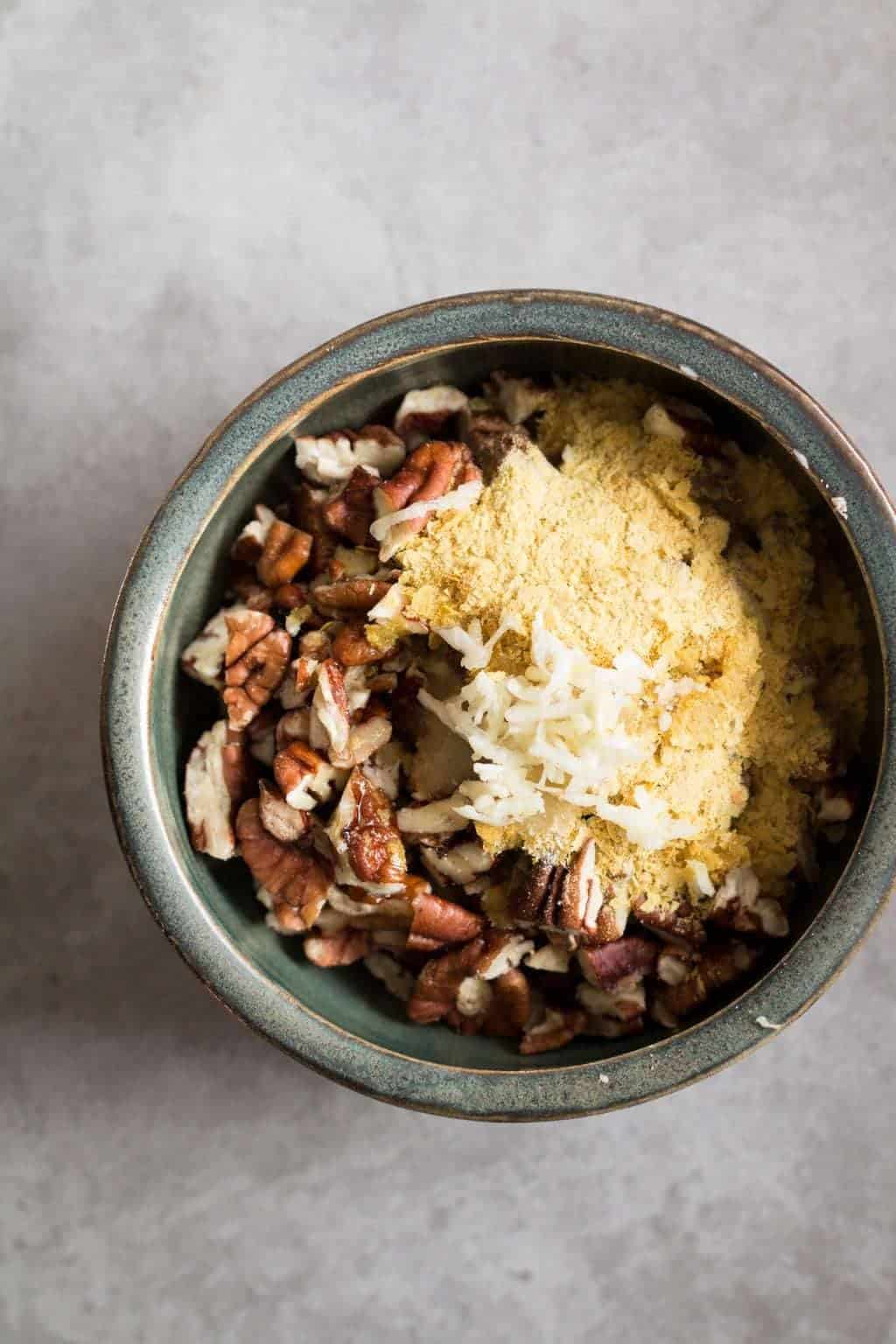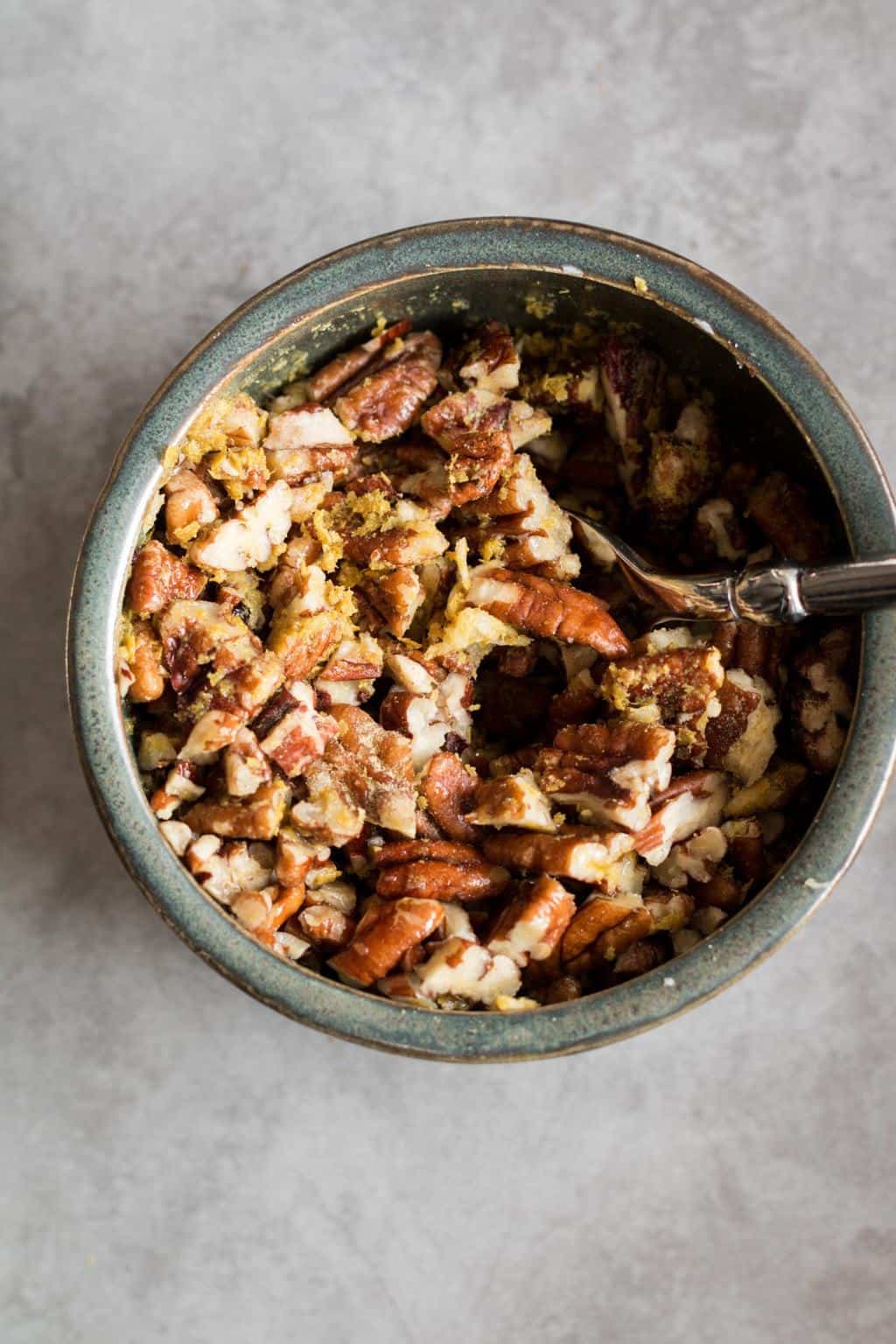 Before I leave you to the recipe, I want to say thank you for all of your support on my first Ebook! I've had so many positive comments and it makes me so happy.
If you haven't downloaded the free Ebook already, all you need to do is subscribe to the blog! Subscribe here and you'll get the Ebook sent to your inbox to download. It includes 10 vegan and sugar-free holiday treats. Just in time for the holidays!
And now, you have a new delicious veggie side for all of your holiday dinners as well. Not that you need a special occasion to make these sprouts.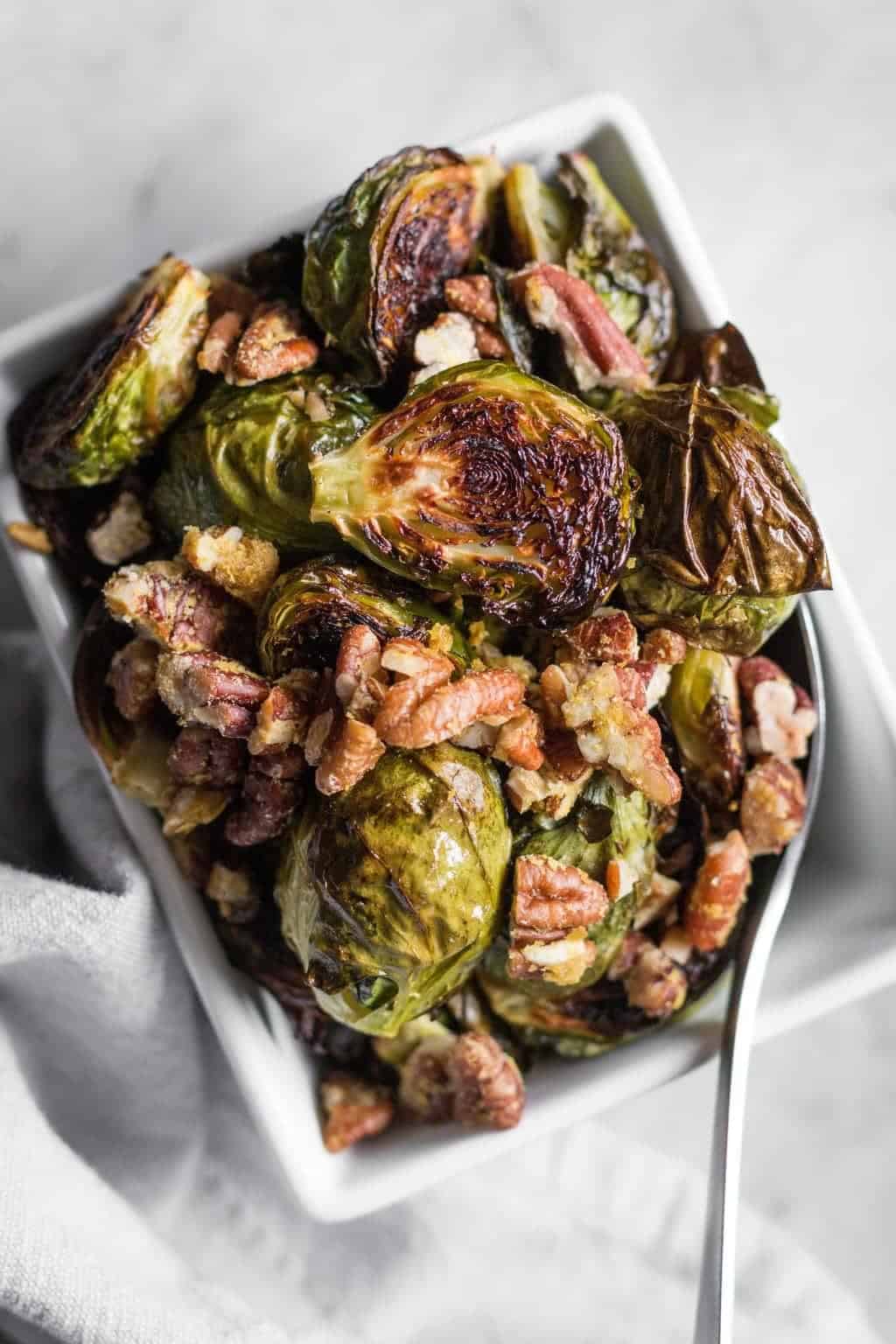 Roasted Brussels Sprouts with Garlic Pecans
Addictive roasted brussels sprouts served with toasted garlicky pecans. Serve as a side dish for the holidays (or any day). This healthy vegan side dish is full of flavor and requires less than 15 minutes of preparation.
Ingredients
8

cups

brussels sprouts,

trimmed and halved

1

tablespoon

oil

(I use avocado oil or olive oil)

Salt to taste
Garlic Pecans
1

cup

pecans

1

large

garlic clove,

minced

1

tablespoon

nutritional yeast

1

tablespoon

olive oil

1/4

teaspoon

fine grain sea salt
Instructions
Spread the trimmed and halved brussels sprouts on a baking sheet. Drizzle with oil and toss until evenly coated. Sprinkle with salt to taste.

Spread the brussels sprouts in a single layer, cut-side down on the baking sheet.

Roast for 20-30 minutes until perfectly roasted and crisp on the outside. Keep an eye on them during the last 5-10 minutes of cooking to avoid burning. The size of the brussels sprouts will affect the baking time. I like to keep mine closer to the 30 minutes to get them crispier.

While the sprouts are roasting, prepare the garlic pecans: In a small bowl, mix all the ingredients together. Spread on a baking sheet and toast for 5 minutes at 400F. You can wait for the sprouts to be done or you can add them during the last 5 minutes of cooking.

Top the roasted brussels sprouts with the garlic pecans. Enjoy!
Notes
This dish is best served immediately.
If you try this recipe, make sure to tag your photo #unsweetenedcaroline on Instagram, Facebook and Twitter! Don't forget to also tag me @unsweetened.caroline on Instagram so I can see your creations!