Quick Lunchbox Southwestern Quinoa Salad
Today I'm sharing a quick lunchbox Southwestern quinoa salad because lets face it, school starts in 3 weeks.
I can't believe summer is almost over. I'm seeing backpacks and school supplies at the front of every store and a part of me gets excited for back-to-school, even though this is my first year NOT going back to school! I think part of me doesn't realize it yet.
Yes, I was that person who loved school. Honestly, if I could be a university student for the rest of my life, I would. Weird, I know. I must say, what I miss most about university is having the freedom to organize my own time. I loved going to class in the morning, finishing before noon and being done for the day. Of course I had to study every waking moment, but at least I could organize my own time and stay home most of the day. No 8 to 4. That's what I miss most about university.
I also enjoyed packing for a day at the library, listening to music and ticking off tasks from my agenda, one by one. Studying at a coffee shop with friends… I think I'm forgetting the torture of staying up until 1 am to cram for an exam though. I definitely did not like school at that time. I must have erased that from my memory.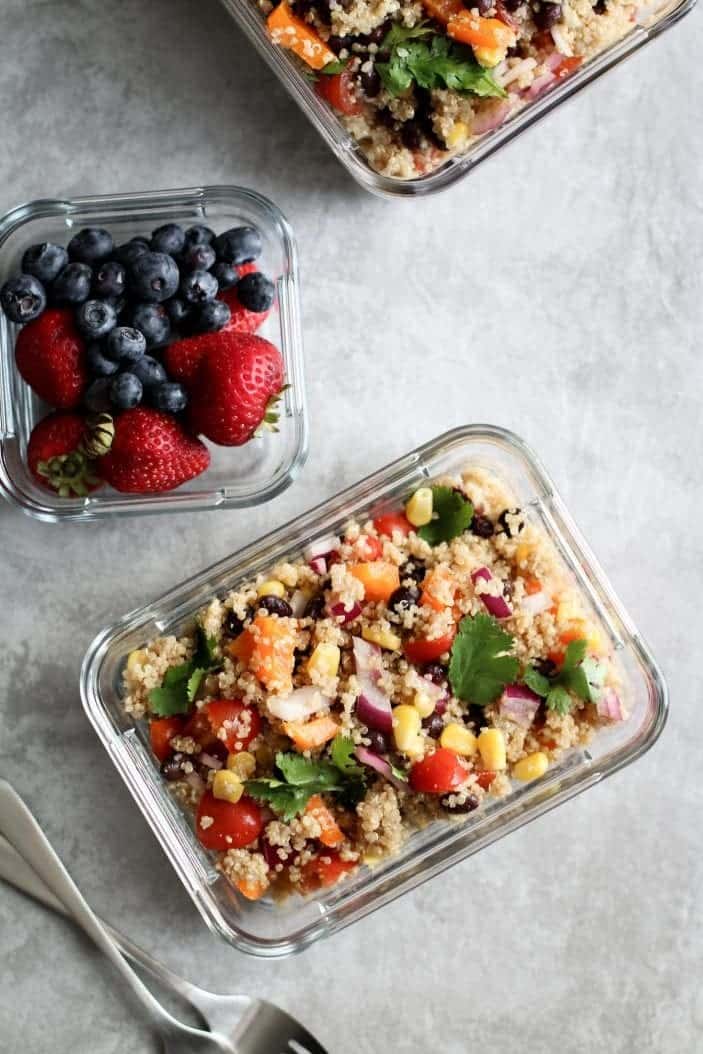 Enough about that. Lets get back to the recipe.
Today's recipe is a back-to-school recipe (obviously). One of my favorite lunches to bring to school or work is a quinoa salad. It's quick and easy to make, plus you can eat it cold and it's a lot more filling than most salads. You also don't have to pack the dressing separately from the salad. It can be mixed together without getting soggy!
This particular quinoa salad was actually created as part of an internship project. I had to create a salad recipe to sell in the hospital cafeteria and I ended up creating 2 quinoa salads. This Southwestern quinoa salad and a Greek quinoa & chickpea salad. Both have been my favorite quinoa salads ever since! I can't believe I waited almost a year to share this one, but I think back-to-school is the perfect time to share it. Quinoa salads are just so perfect for a lunch box!
Like I said, I made both as part of my internship and gave free samples in the cafeteria. I had great feedback, so you can be sure that this salad was liked by many testers!
The best part? It can be prepared in the time it takes for you to cook quinoa. As in less than 20 minutes. Simply set the quinoa to cook and cut out all of your vegetables at the same time. When the quinoa is done cooking, you can toss it in a large bowl with all the other vegetables. Technically you only have 3 vegetables to cut – one bell pepper, grape tomatoes and a red onion. I use frozen corn, which can be added to the salad in its frozen state. It thaws quickly when you add the warm quinoa. The beans can be rinsed and tossed in. The dressing is made from only 4 ingredients and can be tossed in the salad directly. You don't need a second bowl to mix it in. All you need is lime juice, ground cumin, salt and olive oil. No garlic to mince!
Finally, you can add some chopped fresh cilantro and avocado if desired! Note that the avocado may turn brown in the lunch box, but the lime juice can help a little with that. It would taste just as good, brown or not!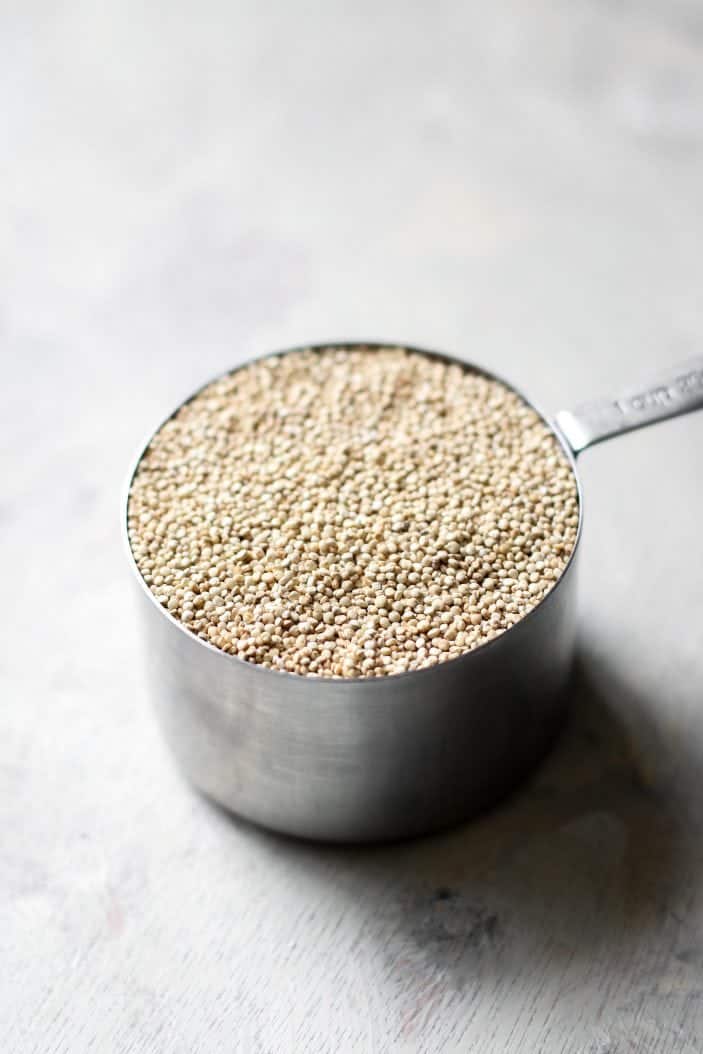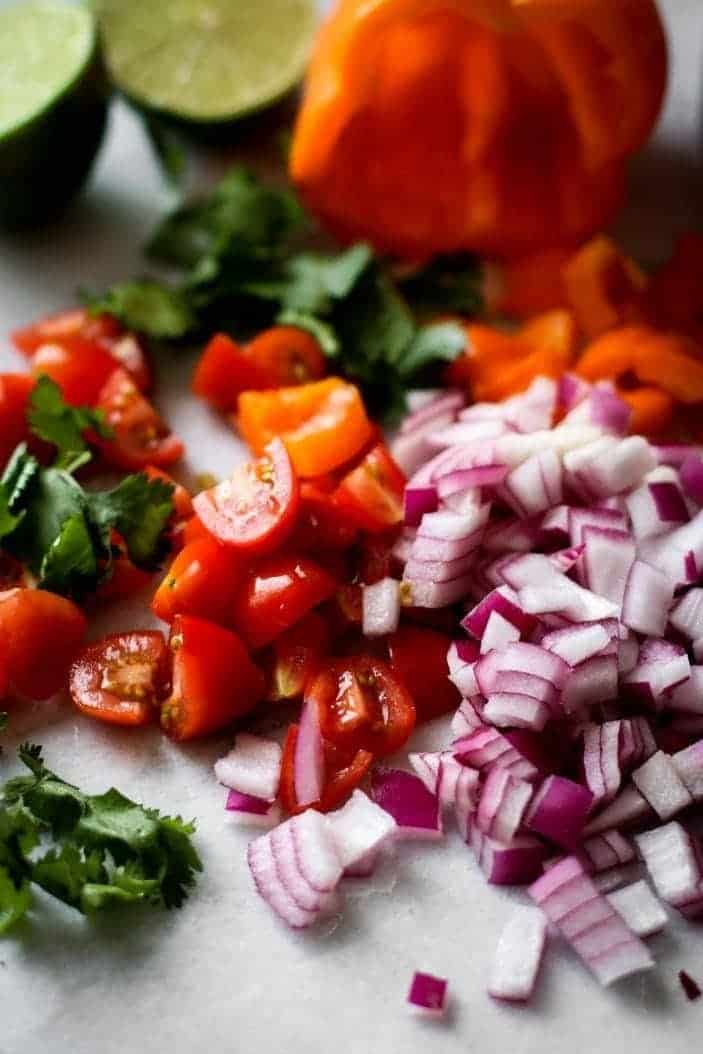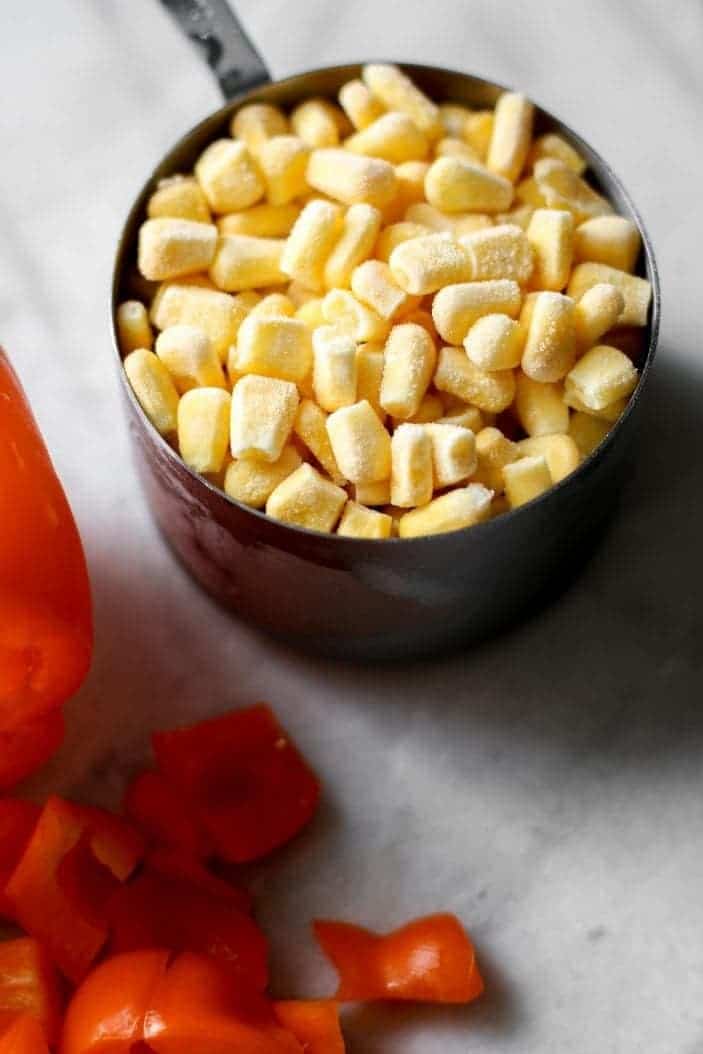 There you have it. A quick Southwestern quinoa salad that can be made in 20 minutes. I suggest making it on a Sunday to enjoy as quick lunches all week. This batch makes a good 5 portions – More if you use it as a side salad. I like to have it as a main meal since the beans and quinoa make it a very filling, high protein salad. Add some fruit in your lunch box and maybe a handful of nuts and seeds and you've got one of my typical lunches.
I hope this quick salad will be one of your go-to lunches this year. It's certainly one of mine!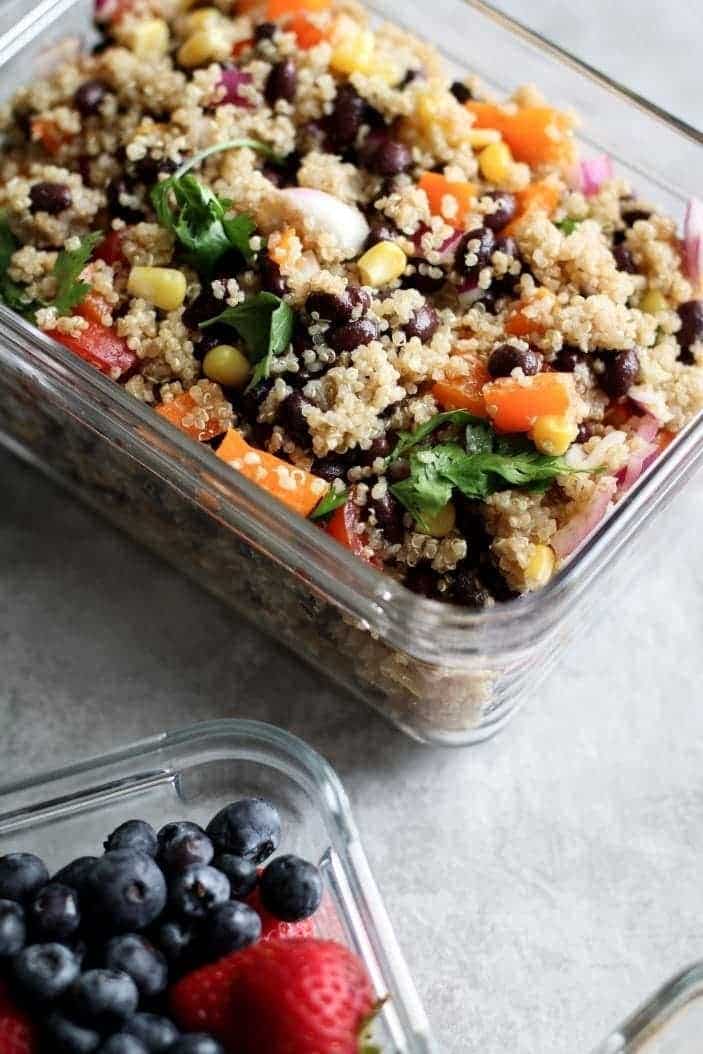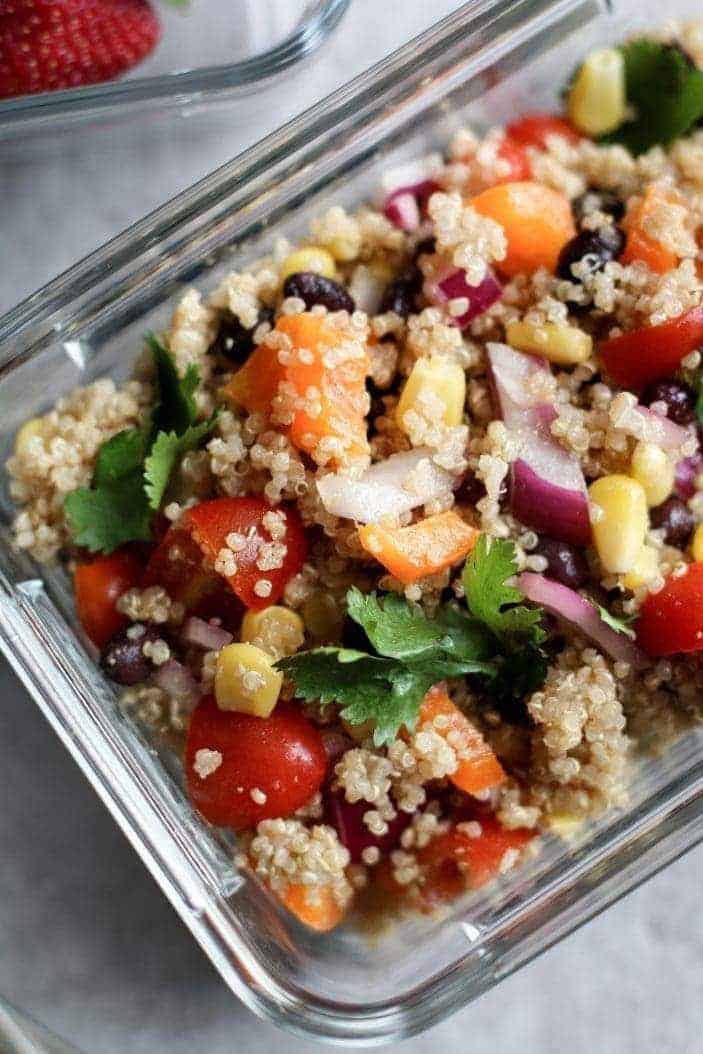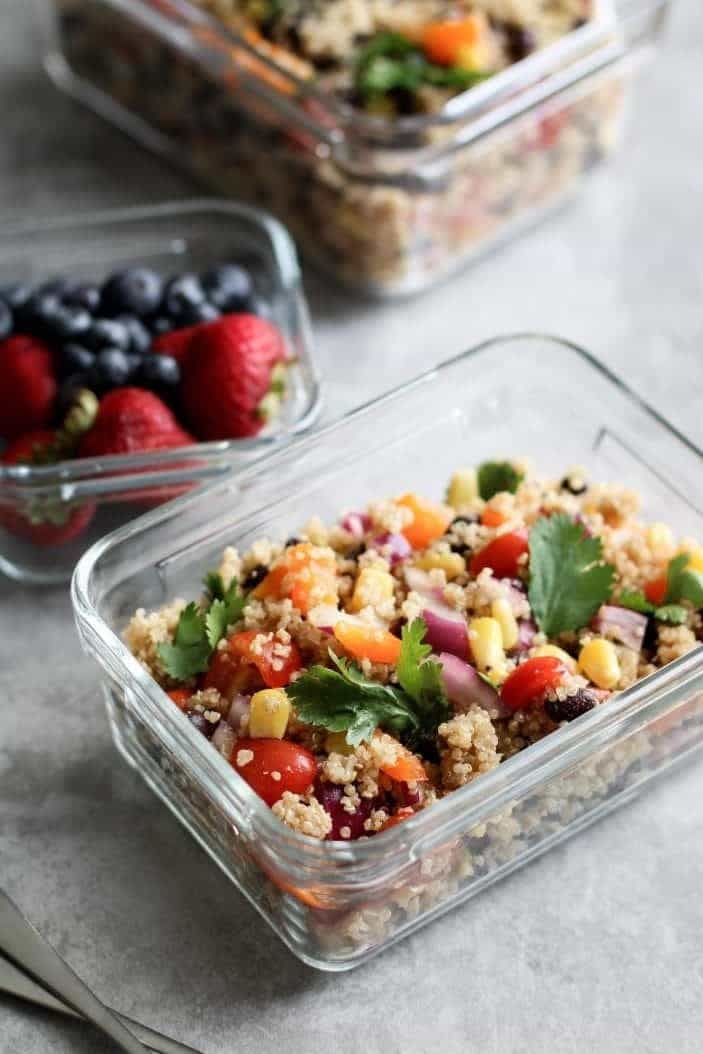 Quick Lunchbox Southwestern Quinoa Salad
This quick Southwestern quinoa salad can be made in under 20 minutes and makes for a perfect lunch at work or school. The black beans and quinoa make it high in protein and fiber, which will make you feel full for hours. Top it with some avocado and cilantro to make it a very flavorful and healthy meal.
Ingredients
1

cup

quinoa,

dry

1

(540 ml) can

black beans,

drained and rinsed

1

cup

frozen corn

1

cup

red onion,

finely diced

1

cup

bell pepper

(red, yellow or orange), diced

1

cup

grape tomatoes,

quartered

1/4

cup

extra-virgin olive oil

1/4

cup

lime juice

1

tablespoon

cumin,

ground

1/4

teaspoon

fine grain sea salt

Cilantro and diced avocado for topping

(optional)
Instructions
Cook the quinoa: Add your quinoa with 2 cups of water in a small saucepan. Bring to a boil over high heat, then reduce to low heat and simmer for 15 minutes, covered.

Meanwhile, chop your onions, bell pepper and grape tomatoes. Add to a large bowl, along with your frozen corn and black beans.

Add your cooked quinoa to the bowl with your vegetables. Add your oil, lime juice, cumin and salt. Toss everything together.

Top with chopped cilantro and diced avocado if desired. You can eat this salad warm or cold. I personally prefer it cold.
Notes
If using avocado, I recommend adding it just before serving as it will turn brown with time. If bringing this salad in your lunch box, you can add the avocado the morning of and drizzle with a bit of lime juice to minimize browning.
Feel free to add more cumin or salt to taste.
I use frozen corn in this recipe. It thaws quickly when tossed with the warm quinoa. You could also use canned corn if preferred.
If you try this recipe, make sure to tag your photo #unsweetenedcaroline on Instagram, Facebook and Twitter! Don't forget to also tag me @unsweetened.caroline on Instagram so I can see your creations!