Pumpkin Cupcakes with Chai Cream Cheese Frosting
Today, I'm happy to be sharing a delicious holiday treat:  Pumpkin cupcakes with chai cream cheese frosting.
Yes, I said CHAI cream cheese frosting.
Here's the thing. Most of the recipes you'll find here are vegan/vegetarian, sweetened with fruit and made from unprocessed food. Sometimes though, we need to treat ourselves a bit. For that reason, I decided to make us a little treat for the holidays.
Don't get me wrong, these pumpkin cupcakes are still far healthier than most cupcake recipes you'll find out there. The cupcake itself is not only made with whole wheat flour, but it's also sweetened with dates. You'll also find some healthy fats, pumpkin puree and of course, an abundance of pumpkin spice. This results in a moist and delicious high-fiber cupcake with no added sugar. What I added on top is the real treat.
I wanted to add a cream cheese frosting and I spent some time trying to figure out a way to make it a little healthier. I thought about yogurt, cashews, coconut cream…. But in the end, I decided to go with real cream cheese. It's not something I often have, but I wanted to make this recipe extra special for the holidays. Trust me, it's such a delicious addition to this cupcake! Cream cheese and pumpkin go perfectly together.
To take it to the next level, I added some chai spices to the frosting. And guys!? It's the best cupcake I've ever had! Sugar-free or not!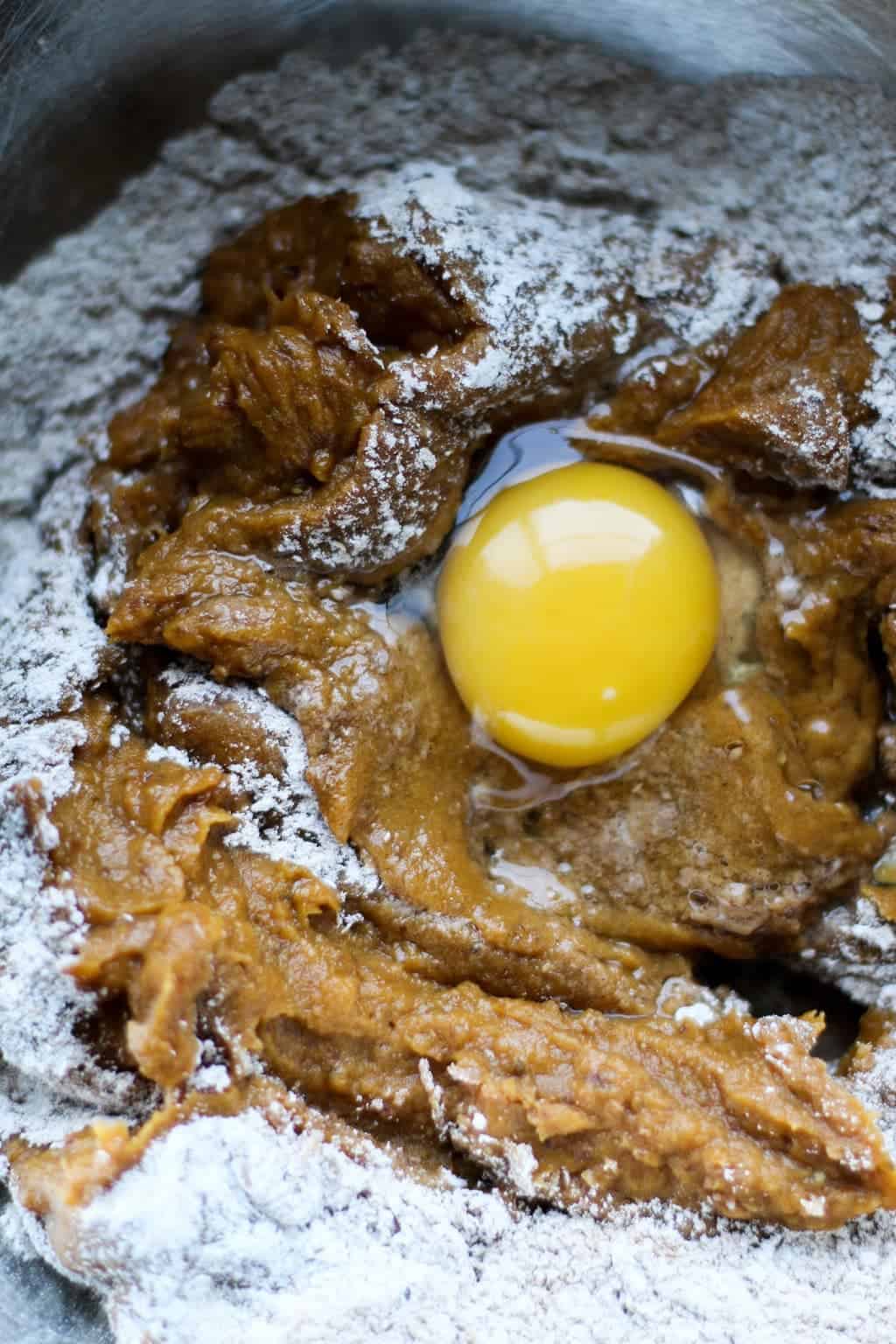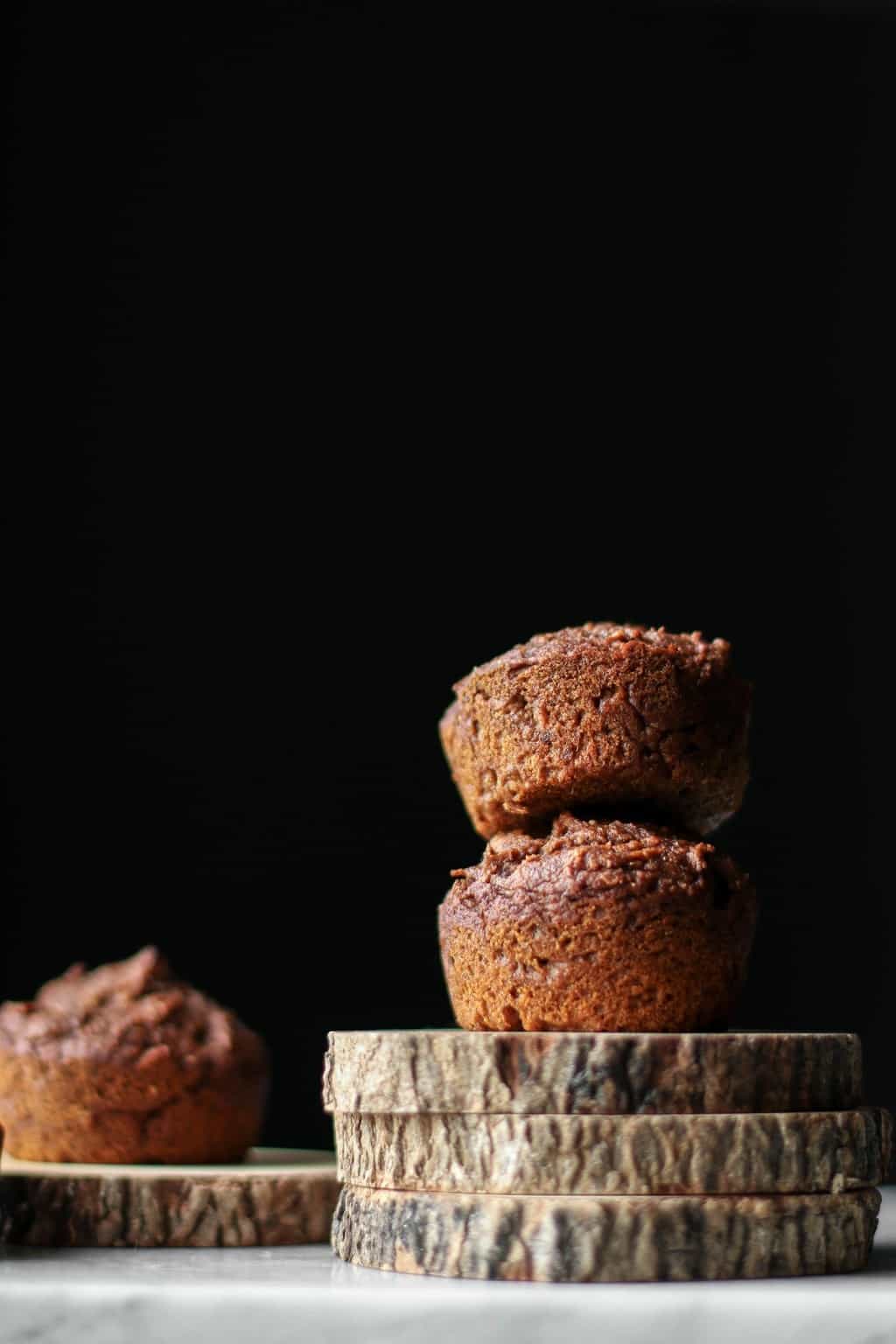 If you're vegan, don't worry, you can still enjoy these little pumpkin cupcakes! I did try them once without the egg and believe me, they turned out very similar to the original. I simply added 2 additional tablespoons of water to compensate for the loss of moisture from the egg. I know water won't do the same as an egg in baking, but due to the pumpkin puree and dates, the cupcakes turn out equally moist and delicious. They still raised similarly to the egg-version as well. To make them vegan, you would also have to use vegan cream cheese. Or you could easily omit the frosting and eat them like muffins. I mean, they're basically muffins with frosting.
As for a gluten-free version, I haven't tested one yet. However, they're based off my pumpkin bread recipe, which originally uses buckwheat flour. That being said, feel free to try them with the same amount of buckwheat flour.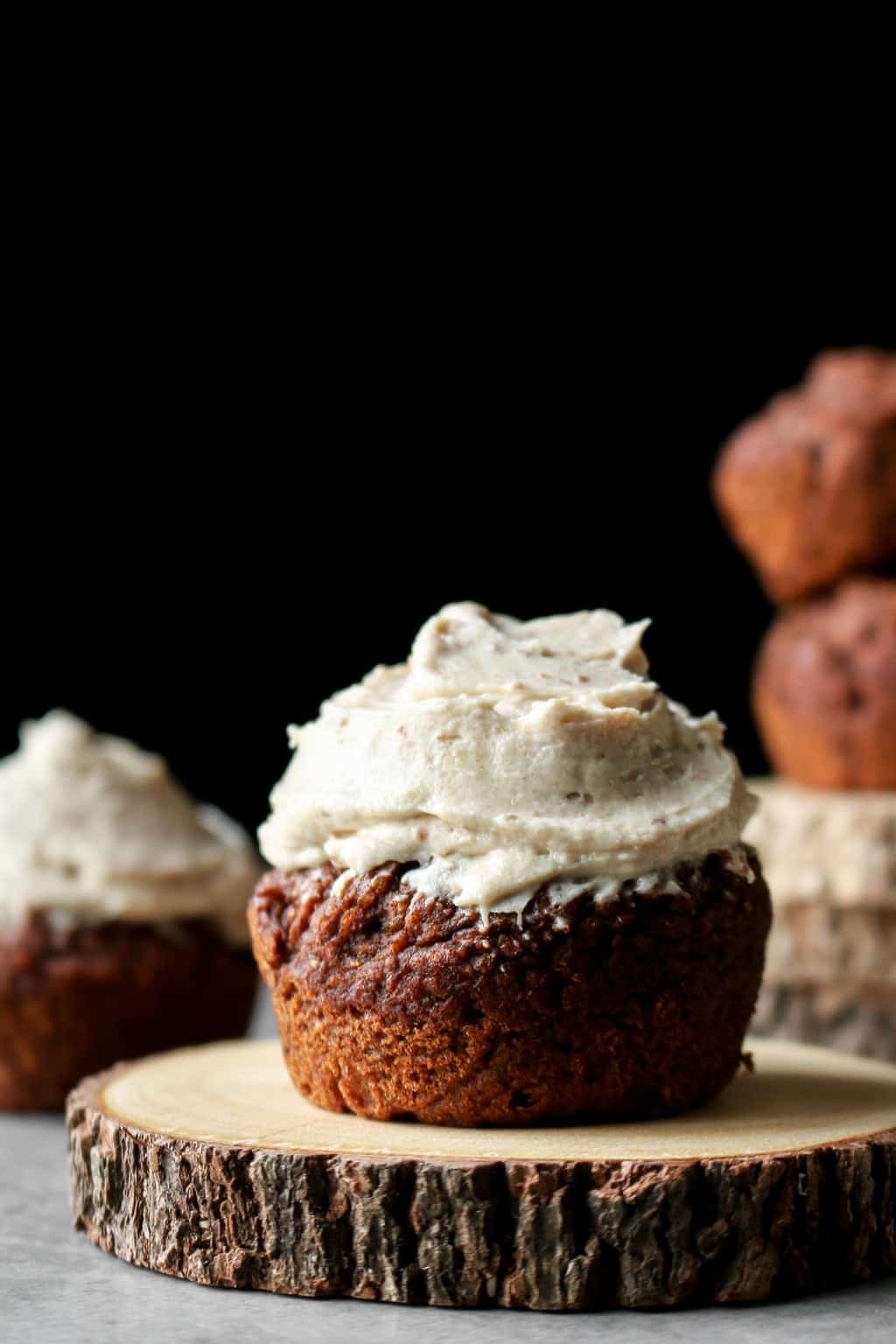 Shaun and I have been going a little crazy for these cupcakes. Shaun has asked for spoonfuls of cream cheese frosting on its own… I don't blame him, it's the best part!
These cupcakes would be the perfect (secretly healthy) addition to any Thanksgiving or Christmas dinner. I made some last weekend and we enjoyed them while putting up our Christmas tree. Yes, I'm in the Christmas mood early this year! As I'm writing this, I'm listening to Christmas music by our Christmas tree. I have dinner in the oven and I'm waiting to eat my second pumpkin cupcake of the day for dessert. 🙂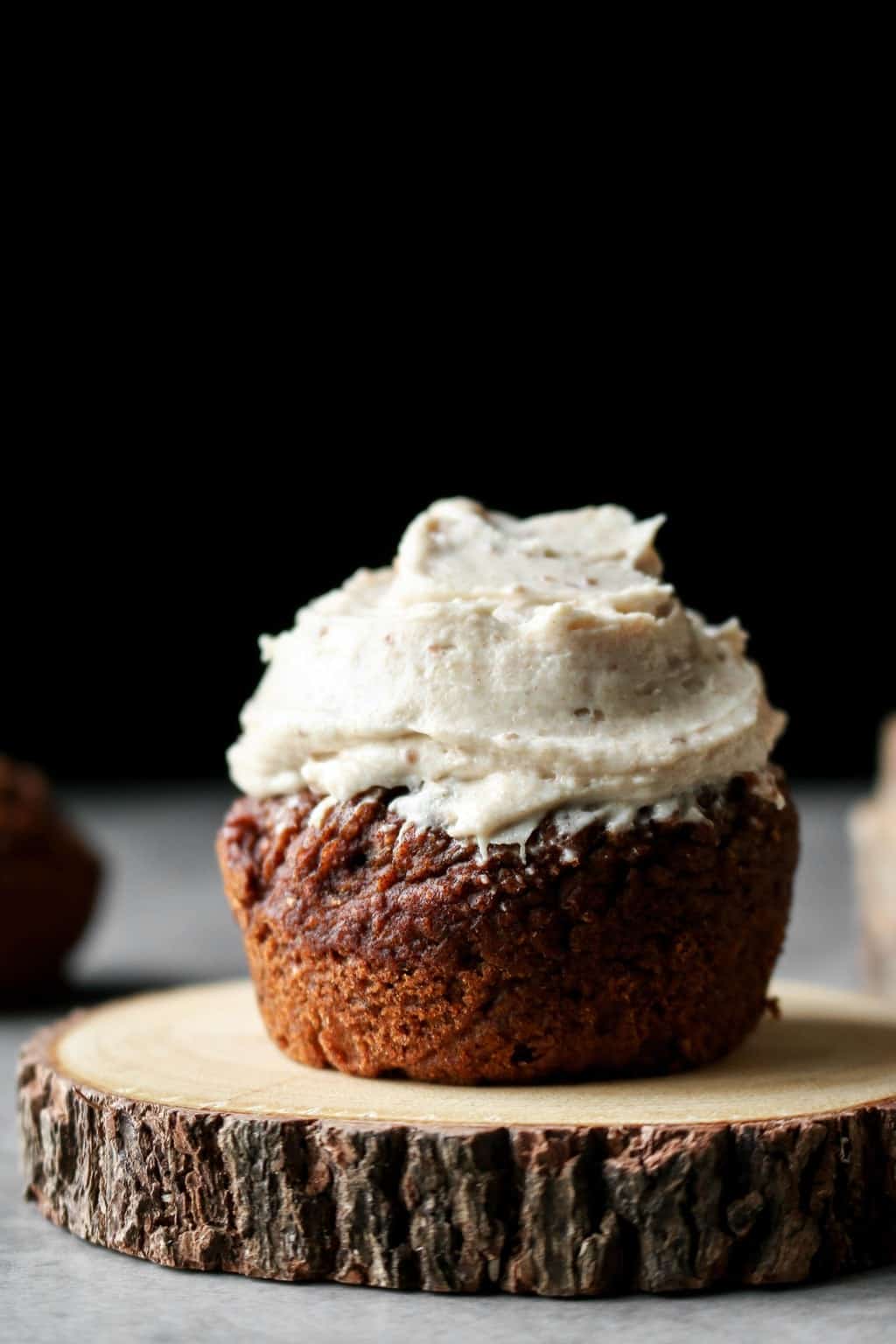 Pumpkin Cupcakes with Chai Cream Cheese Frosting
These delicious pumpkin cupcakes are sweetened with dates only, which makes them refined sugar-free and extremely moist. Top them with a thick layer of chai cream cheese frosting for a real holiday treat.
Ingredients
Wet Ingredients
1

cup

pumpkin puree,

canned

1/4

cup

water

1/4

cup

oil of choice

(olive, canola, melted coconut or avocado)

1

cup

Medjool dates,

pitted

1

large

egg

(or 2 additional tablespoons of water)

1 1/2

teaspoons

vanilla extract
Dry Ingredients
1

cup + 2 tablespoons

whole wheat flour

1

teaspoon

baking soda

1/2

teaspoon

baking powder

1

tablespoon

cinnamon,

ground

1/4

teaspoon

ginger,

ground

1/4

teapsoon

nutmeg,

ground

1/4

teaspoon

fine grain sea salt

Pinch ground clove
Chai Cream Cheese Frosting
1

block (250g)

original cream cheese

1/4

cup

Medjool dates,

pitted (or maple syrup to taste)

1/4

cup

soft margarine or butter

2

tablespoons

milk

(I used unsweetened vanilla almond milk)

1

teaspoon

vanilla extract

3/4

teaspoon

cinnamon

Pinch

each of

nutmeg, all spice, clove and cardamom
Instructions
Preheat oven to 350F. Lightly grease a muffin pan or use cupcake liners.

In a food processor, add all the wet ingredients, except the egg. Process until smooth, about 1 minute. Set aside.

In a large bowl, mix all the dry ingredients. Stir in the wet mixture from the food processor and the egg. Stir until combined.

Spoon the mixture equally into 9 cupcake liners or muffin tins.

Bake for 20 minutes of until a toothpick inserted in the middle comes out dry.
For the Frosting
In a food processor, add all the frosting ingredients and process until smooth, about 1 minute.

Try the frosting and adjust to taste, adding more dates or maple syrup as needed.

Using a knife, spread the desired amount of frosting on each cupcake. Alternatively, use a piping bag to add the frosting.
Notes
The frosting in the recipe is very lightly sweetened. If you're use to sweeter recipes, you may need to increase the amount of dates or add maple syrup to taste. Make the frosting, taste it and adjust before adding it to the cupcakes!
To make this recipe vegan, use vegan cream cheese and substitute the egg with 2 additional tablespoons of water.
To make it gluten-free, you can try substituting the flour for equal amounts of buckwheat flour.
Unused frosting can be kept in the refrigerator for up to one week in an airtight container.
Keep the decorated cupcakes in the refrigerator. They can also be stored in the freezer.
If you try this recipe, make sure to tag your photo #unsweetenedcaroline on Instagram, Facebook and Twitter! Don't forget to also tag me @unsweetened.caroline on Instagram so I can see your creations!