Pumpkin Bread (Gluten-Free, No Added Sugar)
If you're looking for a last minute Thanksgiving dessert, I've got one for you! Last week I shared my Lentil Pot Pie and now I'm sharing the most delicious pumpkin loaf I've ever made. Make both and you'll have a great vegetarian feast!
I was talking about pumpkin recipes with a friend (@veganeatstoronto) and she told me about a delicious pumpkin bread recipe from Detoxinista. She usually used this recipe and made a few modifications, so I thought I'd give it a try as well. I also had my pumpkin cookies in mind while trying this loaf. What I ended up with is a recipe similar to my cookies, but with a different texture. Good news: Unlike my cookies, this loaf is gluten-free!
I started by adding all my wet ingredients in the food processor (other than the egg). I blended my Medjool dates, pumpkin puree, melted coconut oil, water and vanilla until I had a smooth and creamy mixture. I then mixed all of my dry ingredients in a medium bowl, including light buckwheat flour as a base and cinnamon, nutmeg, ginger and cloves which gives this loaf a delicious fall flavor. I transferred the pumpkin mixture to the bowl with my dry ingredients, added the egg and mixed it all together. I baked it for 45 minutes and voila! It's not too complicated is it?! And of course you can make it the day before and serve it for Thanksgiving (that would be today I suppose, so maybe not?). I guess I'm a little late for Thanksgiving recipes. On my defense, we celebrated Thanksgiving almost a month ago in Canada. 😉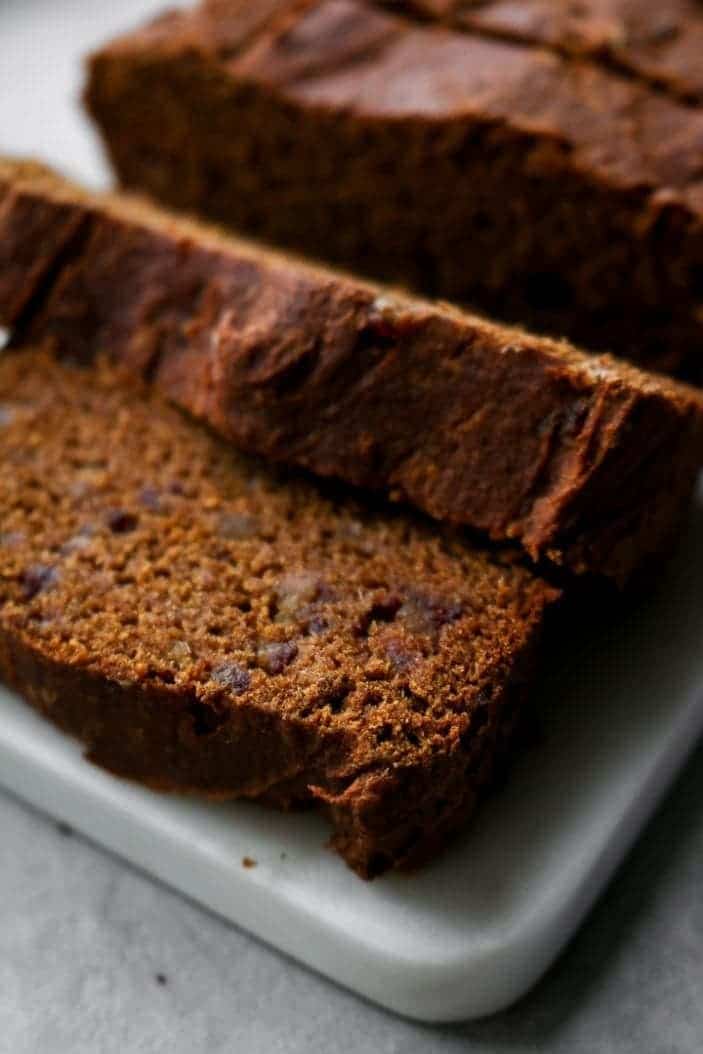 For those of you who aren't celebrating Thanksgiving tomorrow, don't worry, you don't need any special occasion to make this bread. Every day is pumpkin bread day for me! Seriously, I just make it on the weekend and enjoy a slice as a snack every day of the week. It goes great with a cup of coffee in the morning.
I suggest eating it straight from the oven with butter/margarine. It's the BEST. If you want to take this treat to the next level, crumble it over a bowl of chocolate chai nice cream (like the one I shared on Instagram). Just follow my nice cream recipe, add a pinch of cinnamon and nutmeg and swap the peanut butter for almond or sunflower seed butter. It's the ultimate treat!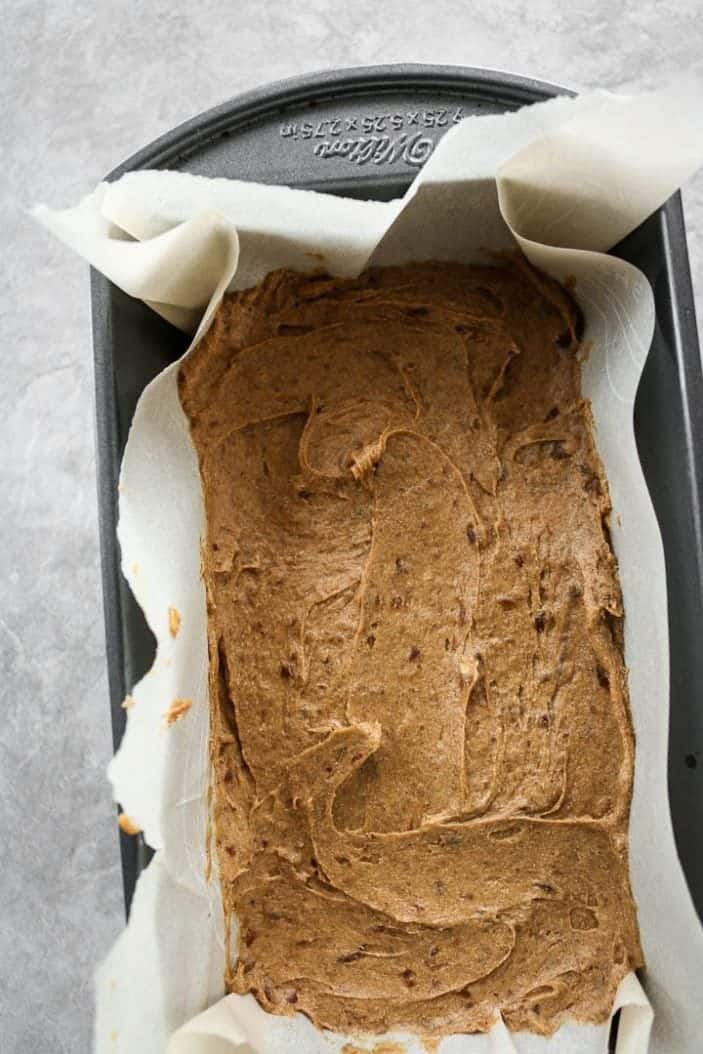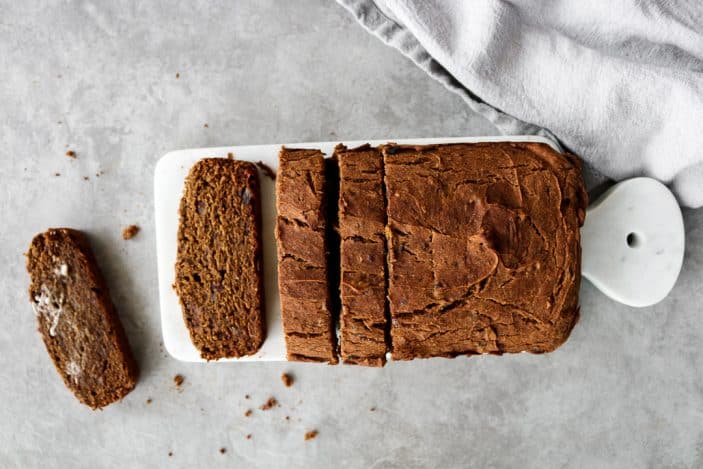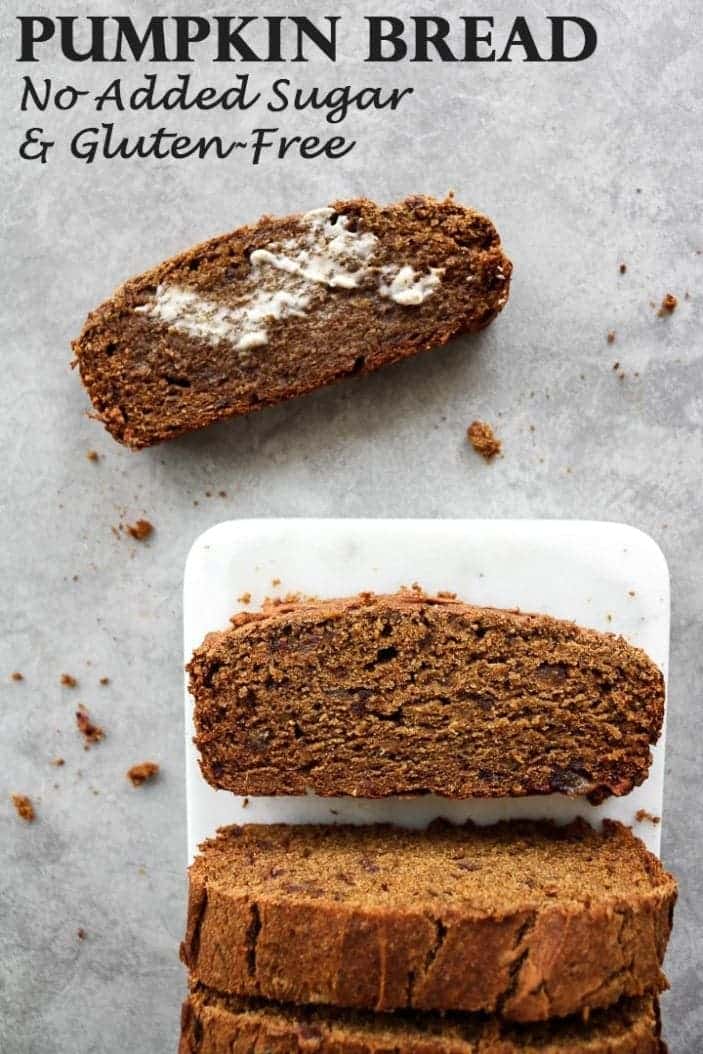 Looking for more pumpkin recipes? Try my Pumpkin Pie Smoothie bowl and my Spelt Pumpkin Cookies. Clearly I'm all about pumpkin lately.
Pumpkin Bread (Gluten-Free, No Added Sugar)
This pumpkin bread is so sweet and satisfying, you would never guess that it's sweetened with dates only. And did I mention it's gluten-free?! Buckwheat flour, pumpkin puree, dates, coconut oil and an egg makes this loaf surprisingly light and moist while cinnamon, nutmeg, ginger and cloves gives it a lovely fall flavor. I suggest eating it straight out of the oven with butter or margarine. Who knew sugar-free bread could be this good?!
Ingredients
1

cup

pure pumpkin puree,

canned

1

cup

Medjool dates,

pitted

1/4

cup

water

1/4

cup

coconut oil,

melted

1

large

egg

1 1/2

teaspoon

vanilla extract

1

cup

buckwheat flour

1

teaspoon

baking soda

1

tablespoon

baking powder

1

tablespoon

cinnamon,

ground

1/2

teaspoon

ginger,

ground

1/4

teaspoon

nutmeg,

ground

1/4

teaspoon

fine grain sea salt

Pinch of clove,

ground
Instructions
Preheat oven to 350F. Line a loaf pan with parchment paper.

Add your pumpkin puree, water, melted coconut oil, Medjool dates and vanilla in a food processor. Blend until smooth. Set aside.

In a large mixing bowl, whisk together your flour, baking soda, baking powder, cinnamon, ginger, nutmeg, salt and clove.

Stir in your wet ingredients.

Add your egg and mix everything together.

Transfer to your prepared dish and bake for 45 minutes or until a toothpick comes out clean.
Notes
Store in an airtight container or plastic bag at room temperature or in the fridge for 3-4 days or in the freezer.
For a vegan option, omit the egg. You can replace it with a 2 tablespoons of water, but the texture might change.
If you try this recipe, make sure to tag your photo #unsweetenedcaroline on Instagram, Facebook and Twitter! Don't forget to also tag me @unsweetened.caroline on Instagram so I can see your creations!