No-Knead Whole Wheat Seeded Bread
No-knead whole wheat seeded bread… The perfect recipe to make this snowy weekend.
Yes, we just got another snow storm. The third one in 3 weeks and somehow they all fell on a Thursday. I'm just hoping this is the last of it – I can't wait for the spring weather to finally arrive! For now though, I'll just keep spending my weekends inside, staying cozy and baking. Maybe going for a hike in the snow. If your weekend is just as snowy (or maybe rainy), you need to make this bread. Not that you need an excuse to make fresh bread.
Seriously though, if you're scared of making homemade bread, this is the recipe for you. Honestly, I made homemade bread for the very first time last January. Before then, I figured making bread was time-consuming and not worth the effort. Boy was I wrong!
I decided to make my first loaf of homemade bread in January after one of the nurses I work with was saying she had started making bread. She said she was surprised I had never tried it and it got me thinking – Why haven't I? I looked for easy fool-proof bread recipes and I stumbled onto this easy no-knead bread. If there's one bread recipe to start with, it's a no-knead bread. Everyone seems to be into sourdough bread lately, but I wasn't ready for that.
For my first loaf, I wanted to try a white loaf to test the recipe as is. It was such a treat! As good as it was, I wanted to develop a whole wheat loaf that I could make weekly. Ideally with seeds as I love to have a bit of texture in my bread (keep in mind, the seeds are 100% optional!).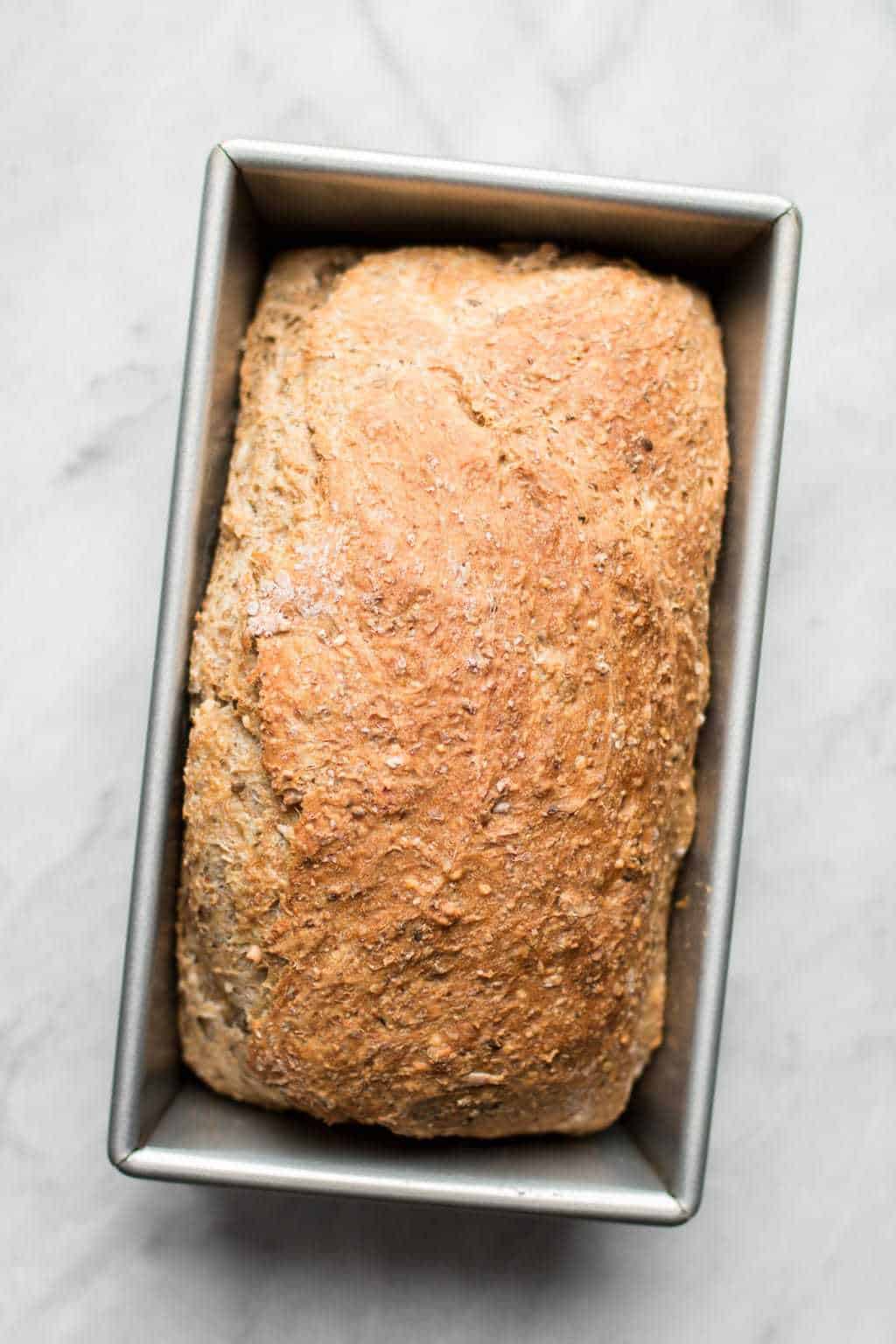 The other issue I came across is that a round loaf is not ideal for sandwiches. For that reason, I wanted to make sandwich bread. After testing a few loafs per week since January, I finally came up with a recipe I love. I'm sharing two methods today, one for sandwich bread and one for a round loaf. Here are your two options, both using the same ingredients:
1. Dutch oven round loaf: Here, you bake the bread in a covered enameled Dutch oven. The Dutch oven is placed in the oven while it preheats, the bread is then cooked for 30 minutes covered and 15 minutes uncovered.
2. Sandwich loaf: There's no need to preheat the loaf pan. The bread is simply transferred to the pan and baked for 35 minutes uncovered.
Both methods will result in a delicious loaf with a crispy exterior and a soft interior.
As I said, the ingredients are the same for both methods and the dough is prepared the same. All you need to do is whisk the whole wheat flour, seeds, instant yeast and salt in a large mixing bowl. Stir in the water, making sure the flour is incorporated into the water. The dough will look a bit weird, but trust me, it's normal! All you need to do now is cover the bowl (I like to use a plate instead of plastic!) and let it rise overnight or for at least 12-18 hours.
The next morning, your dough should be significantly bigger and should have bubbles. It will be very humid, but that's okay. I then sprinkle the dough with flour and form a ball with lightly floured hands. Leave the ball covered for a second rise while the oven is preheating. If making the sandwich loaf, I like to transfer the dough in the pan while the oven preheats. While the dough continues to rise, it will take the shape of the pan. You could let the dough rise like this for a few hours before baking, but I don't usually bother.
I hope this recipe convinces you to try homemade bread. Trust me, it's so much easier than it looks!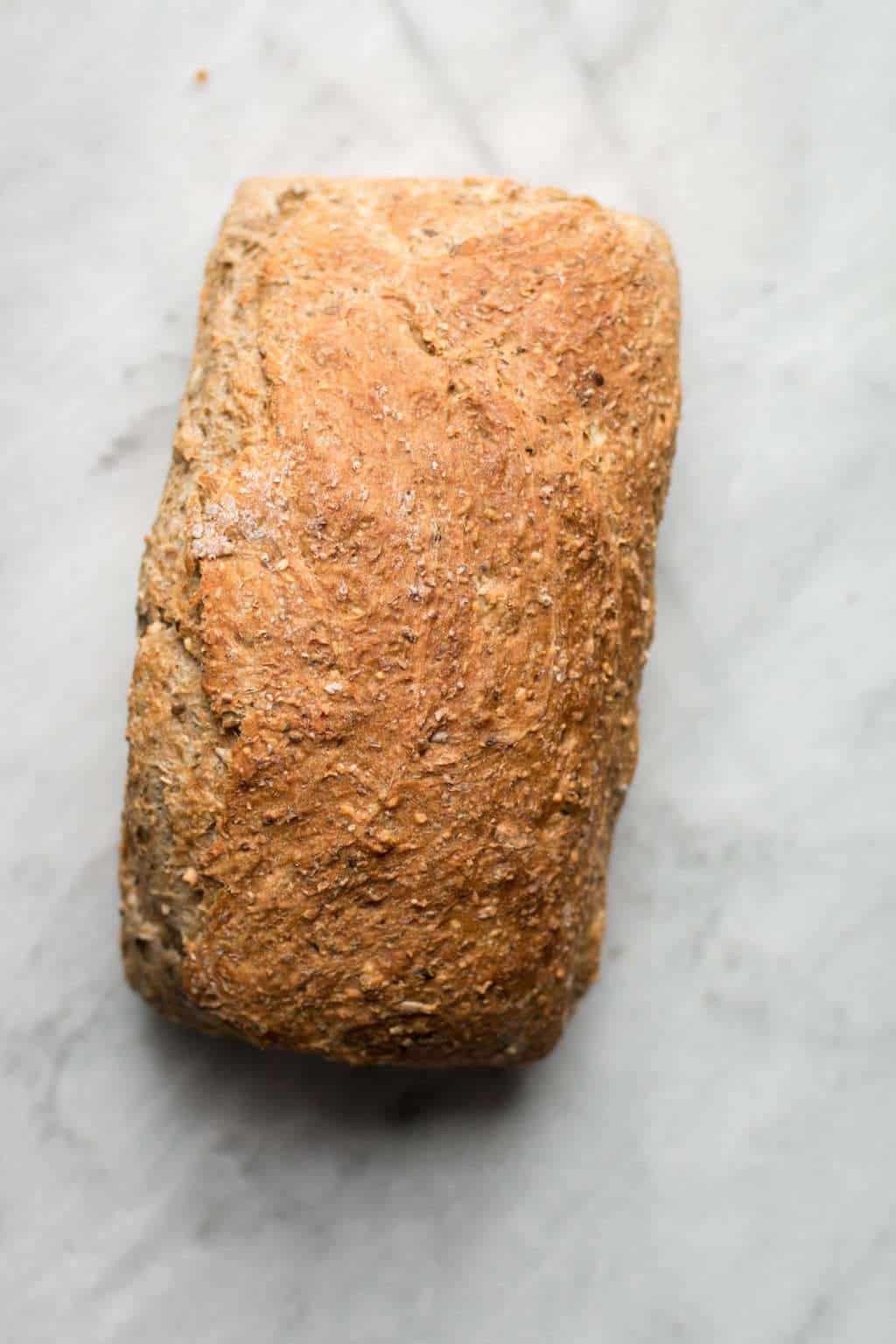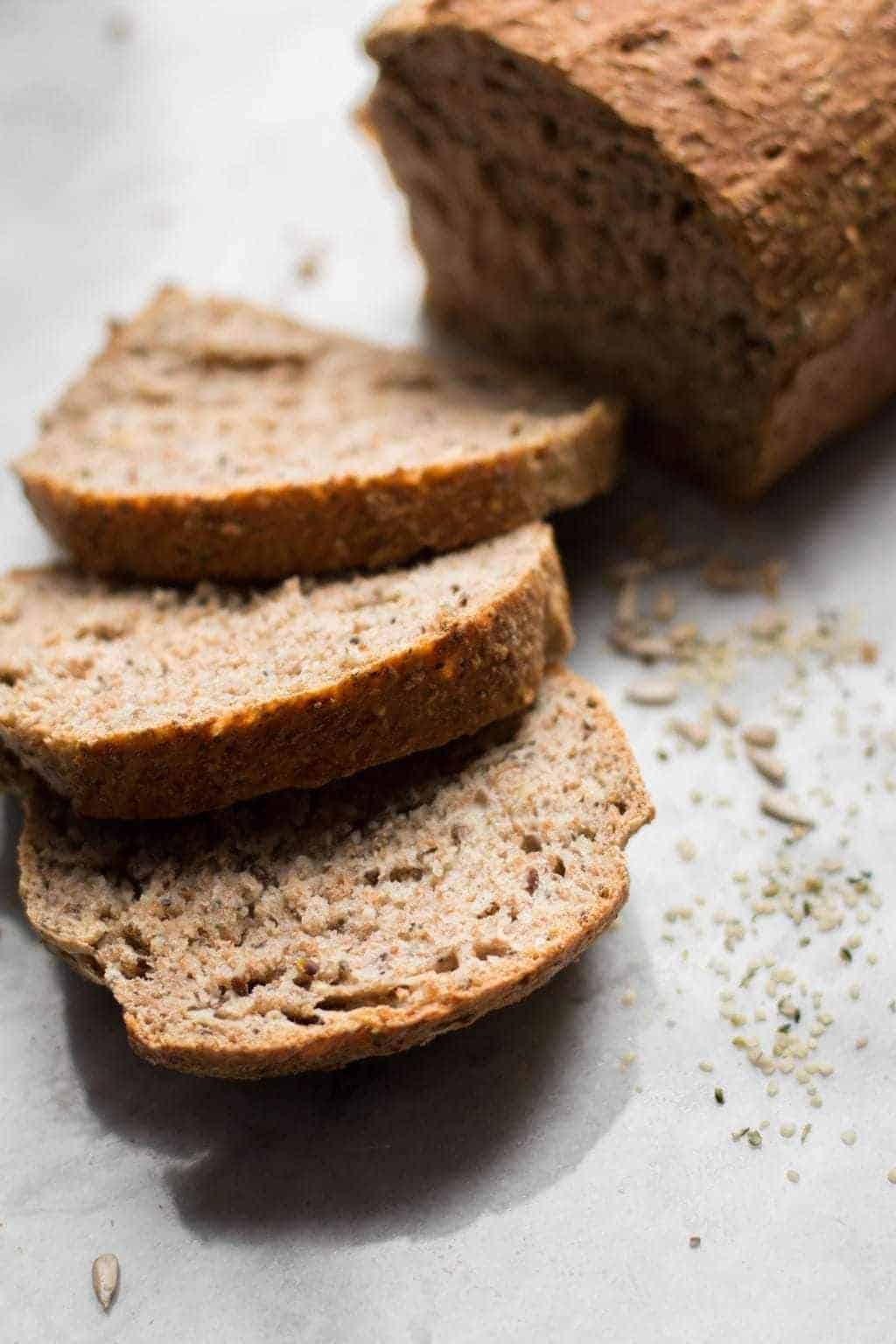 No-Knead Whole Wheat Seeded Bread
Easy no-knead bread made with whole wheat flour and added seeds. There's no kneading involved, all you need is to let the dough rise overnight. You have the option to make it as a sandwich loaf or a round loaf. Either way, this bread is hard and crusty on the outside and moist on the inside. It's the easiest healthy homemade bread you could ever make.
Ingredients
4

cups

whole wheat flour

1/2

cup

seeds of choice,

I like sunflower seeds, hemp seeds and sesame seeds (optional)

1

teaspoon

instant yeast

1

teaspoon

salt

2

cups

water

(room temperature)
Instructions
Prepare the Dough
In a large mixing bowl, whisk together your flour, seeds, instant yeast and salt. Stir in the water until a thick dough forms, making sure all the flour is incorporated. Cover with a plate or plastic wrap and let rise 12-18 hours overnight at room temperature.
The Next Day
Uncover the dough. At this point, it should be a lot bigger in size. Sprinkle a small handful of flour on top of the dough and with floured hands, form the dough into a ball. Although the recipe is no-knead, I usually knead it a few times here to incorporate the flour and form the ball, but it's not necessary, as long as the dough holds together in a ball and the flour is well incorporated.
Dutch Oven Method
If baking the bread into a round loaf, place the enamel coated dutch oven into the oven while it preheats. Once the oven is preheated, remove the dish from the oven and transfer the bread to the dish (lined with parchment paper). Bake for 30 minutes covered, then 15 minutes uncovered.

Bread Pan Method
If making a sandwich load, transfer the dough into the bread pan. Cover (I use a towel here) and let it rise until the oven is preheated or let it rise a few more hours if you have the time. Once the oven the preheated, bake the bread uncovered for 35 minutes.
Notes
To avoid getting a soggy bread, let it cool on a cooling rack - This protects the bread from humidity that forms when left in the pan.
You can make this recipe using white flour if preferred. 
To avoid cracking in the crust, you can use a serrated knife to cut a few slashes on top of the dough.
It's important to note that the measurements are done by scooping flour into the measuring cups with a spoon, then leveled to the cup. Do not measure by scooping the measuring cup directly in the flour as you will end up with a larger amount of flour.
If you try this recipe, make sure to tag your photo #unsweetenedcaroline on Instagram, Facebook and Twitter! Don't forget to also tag me @unsweetened.caroline on Instagram so I can see your creations!