No-Bake Walnut Granola Bars
No-bake walnut granola bars. A new granola bar recipe to my already extensive list of energy bites and bars. I can't help it, they're my all-time favorite snack/dessert.
These walnut granola bars are simple and require only 6 ingredients (7 if drizzling with chocolate) and less than 15 minutes. There's really no better granola bar than homemade. Plus, they're so much healthier than the sugar-laden pre-packaged bars you find at the store. These walnut granola bars in particular are packed with fiber from dates, oats, nuts and seeds. Also, they offer some omega-3s and protein for a balanced snack.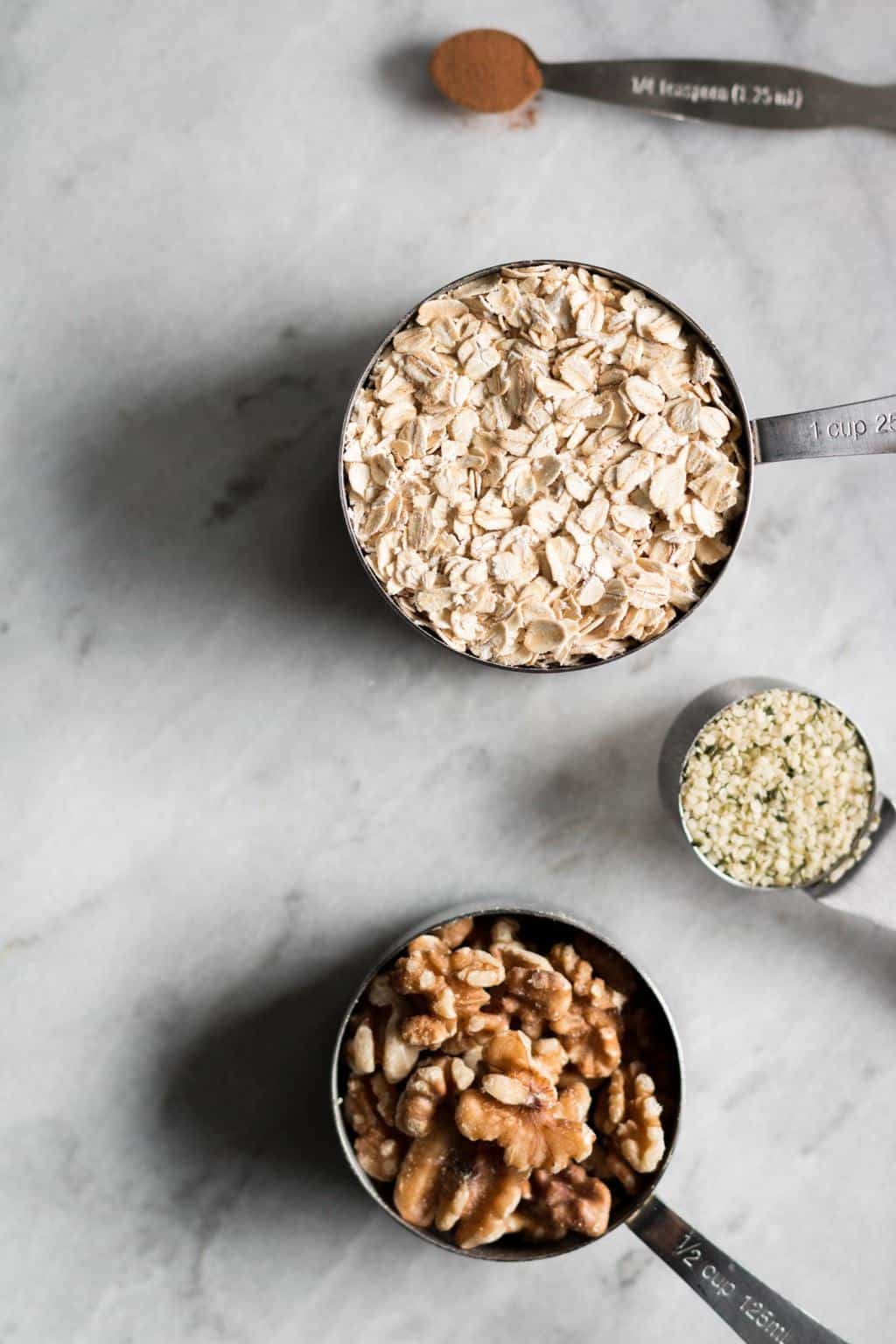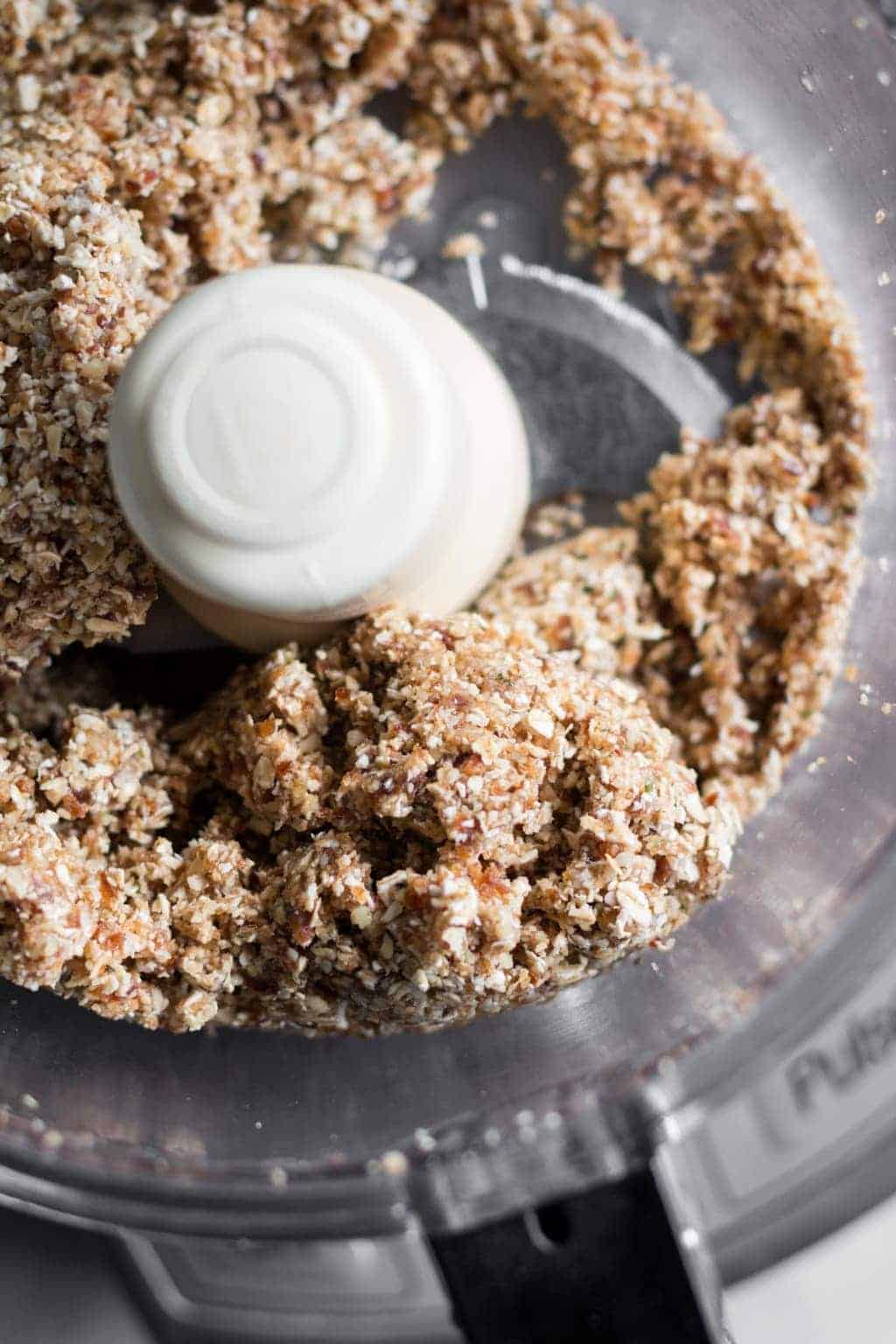 It's been a very long week around here. I've been in bed for 3 days fighting a bug that Shaun passed on to me (gotta love cold and flu season). We're both recovering now after eating bland food all week. I must say, I'm craving all the flavorful, veggie packed recipes I've been avoiding all week. Rice and toast get old very fast.
I'm just so happy to be feeling better after this long week and I'm ready to get back in the kitchen this weekend! I'll be shooting more recipe videos and finalizing the recipes for next week. I have two great savory recipes coming your way.
If you have some time in the kitchen this weekend, try making a batch of these walnut granola bars for healthy snacks! They can easily be added to your weekend meal prep and if you're like me, you probably have all the ingredients in your pantry already. And don't worry, the recipe is adaptable. You can easily swap the nuts for more seeds or try different nuts. I'll have to try them with pecans next time.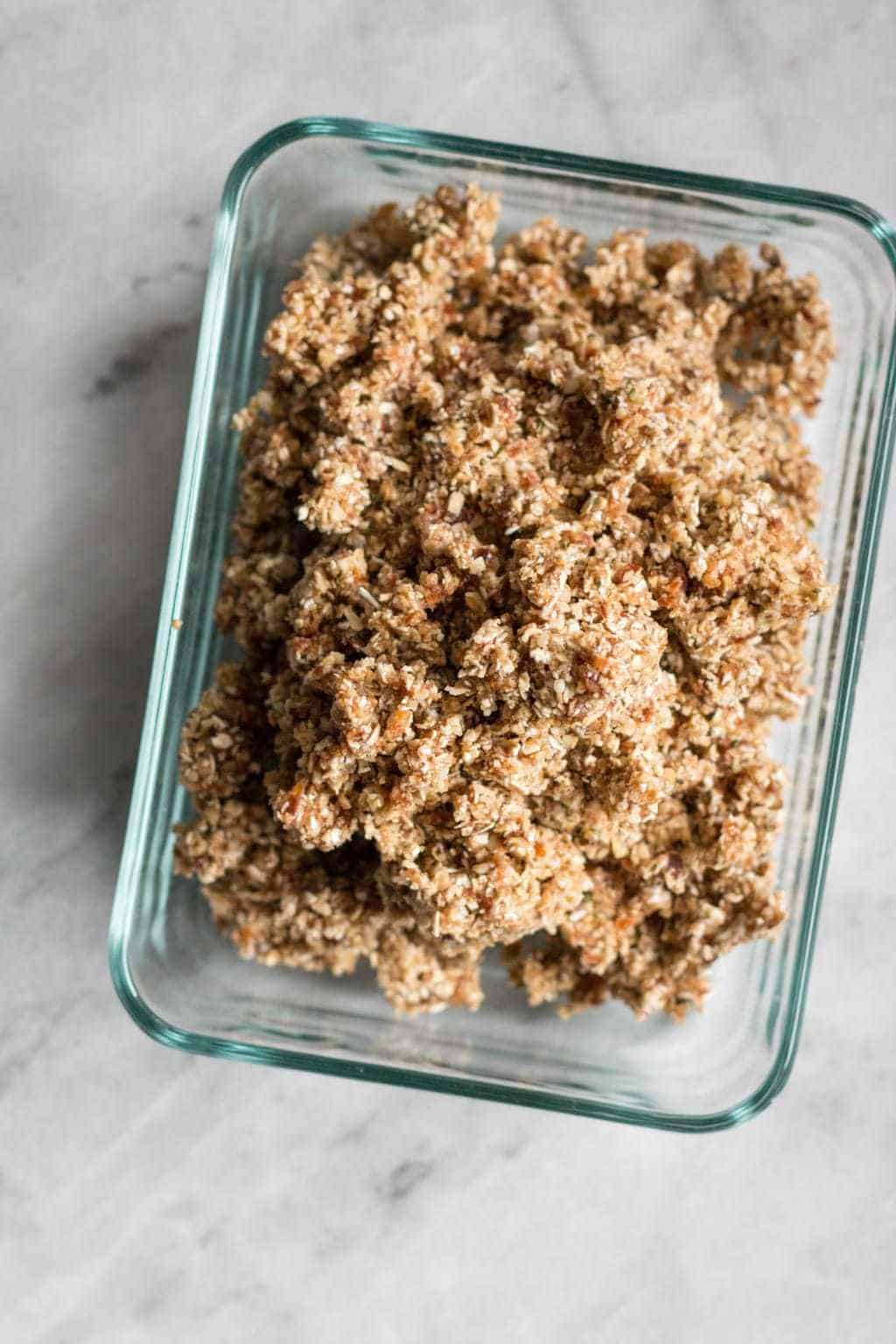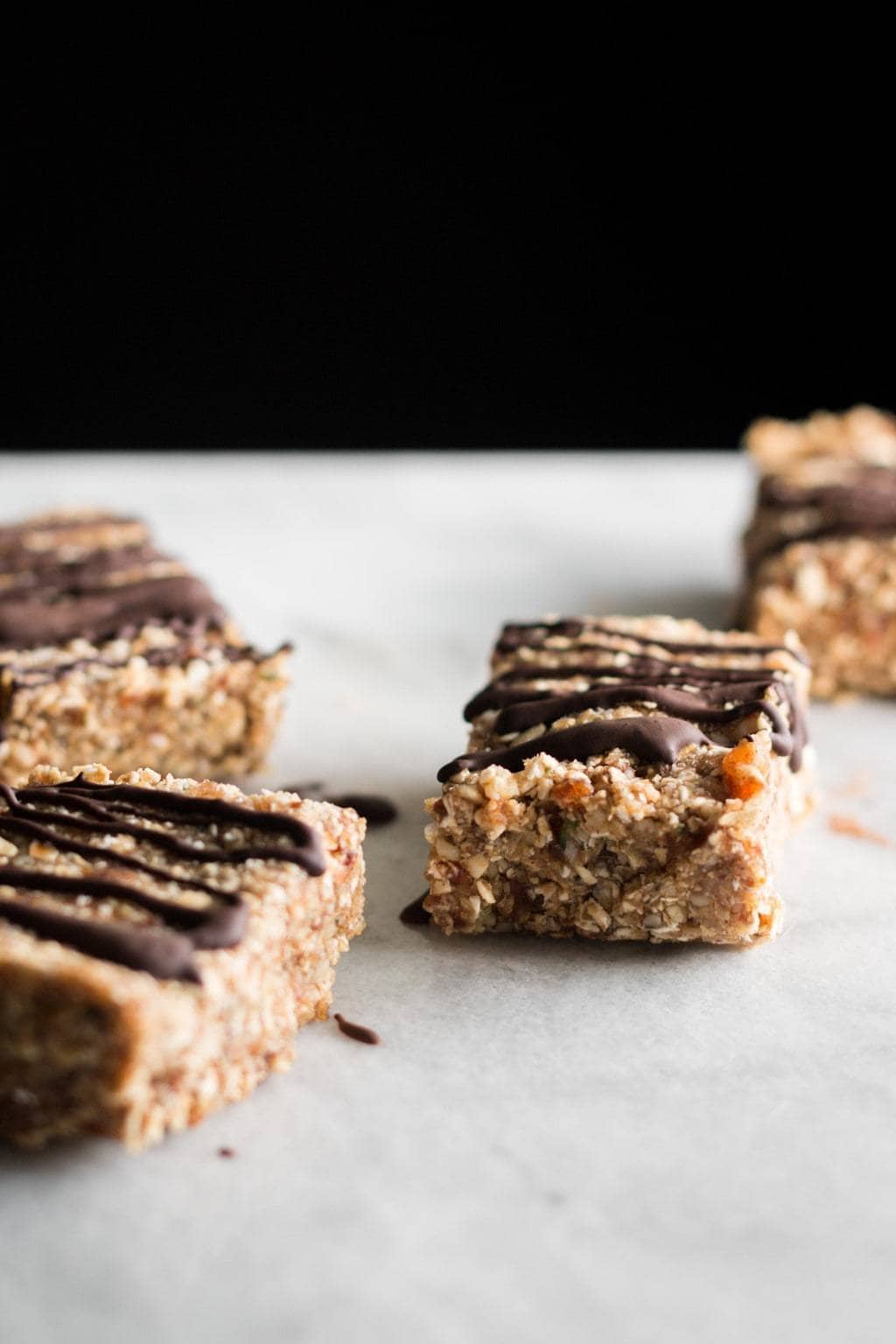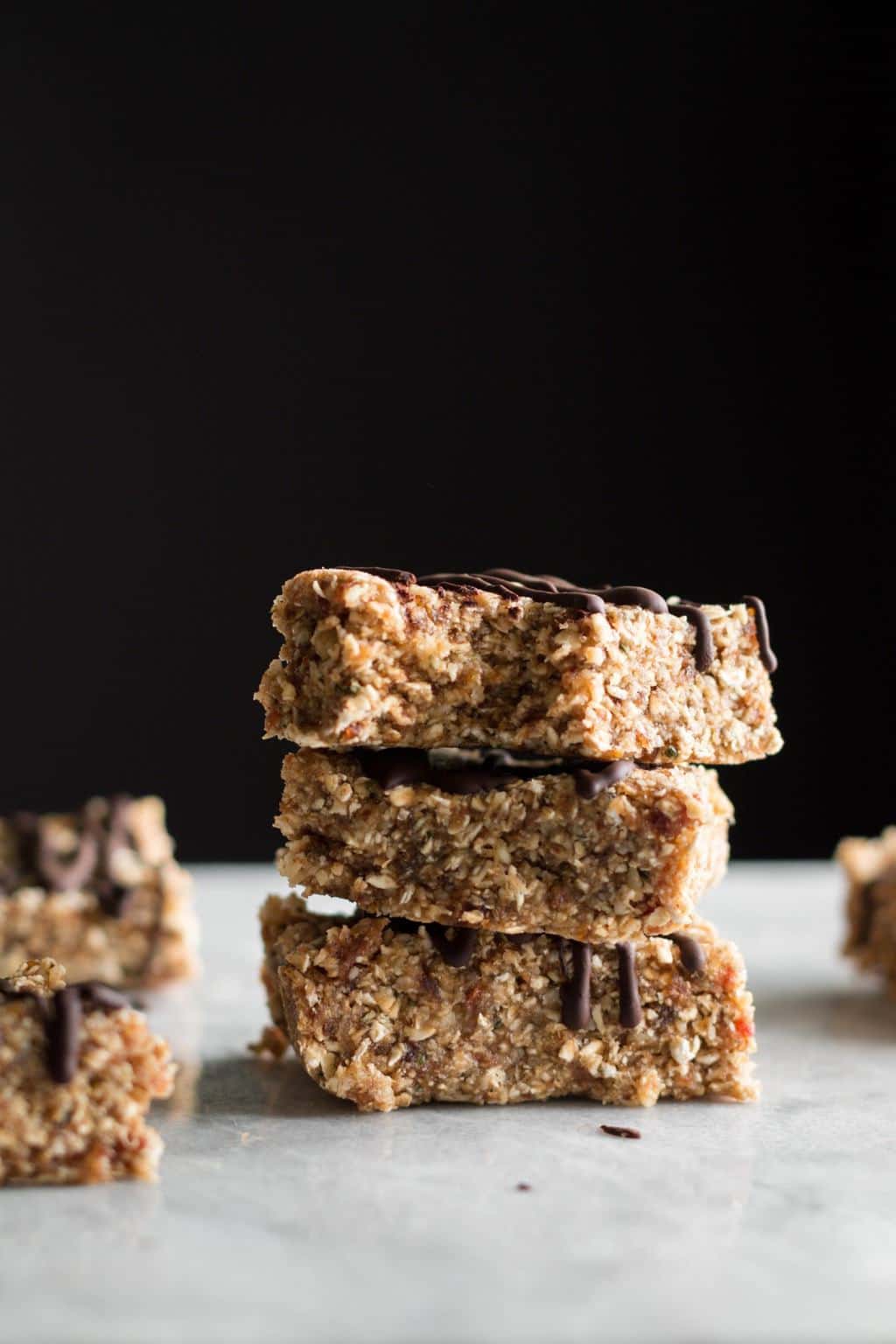 No-Bake Walnut Granola Bars
Simple no-bake granola bars requiring only 6 ingredients and less than 15 minutes. With a recipe like this, there's no excuse not to make your own healthier granola bars at home. They're sweetened with dates and filled with fiber from nuts, seeds and oats.
Ingredients
3/4

cup

Medjool dates,

pitted

1 1/2

cup

rolled oats

1/2

cup

walnuts

1/4

cup

hemp hearts

1

teaspoon

vanilla extract

1/4

teaspoon

cinnamon

Pinch of salt

3

tablespoons

water,

as needed

Unsweetened or dark chocolate,

for drizzling (optional)
Instructions
In a food processor, add dates and pulse a few times until chopped.

Add your oats, walnuts, hemp hearts, vanilla and cinnamon. Process until the mixture sticks together when pressed, adding water as needed. It will depend on how dry your dates are, I usually need around 3 tablespoons.

Press the mixture at the bottom of a dish. Drizzle with melted chocolate if desired.

Store in the fridge or freezer. I like to use glass tupperware containers, which can be closed and stored in the freezer. These bars can be eaten straight from the freezer.
Notes
This recipe is very versatile. Feel free to switch the nuts and seeds for ones you have on hand. To make it nut-free, you could replace the walnuts for sunflower seeds.
If you try this recipe, make sure to tag your photo #unsweetenedcaroline on Instagram, Facebook and Twitter! Don't forget to also tag me @unsweetened.caroline on Instagram so I can see your creations!