Italian Bean & Vegetable Soup
Italian bean & vegetable soup. Inspired by the popular minestrone soup, but without the added noodles.
When I created this soup, it started out as a minestrone. While it was delicious, I wanted a soup that was mostly a source of protein and vegetables, without the added carbs. Not that carbs are bad here, but I always love having bread with soup…. For that reason, I wanted my soup to be lighter.
So this is what I ended up with: a flavorful soup that's light and perfect when served with a good slice of bread.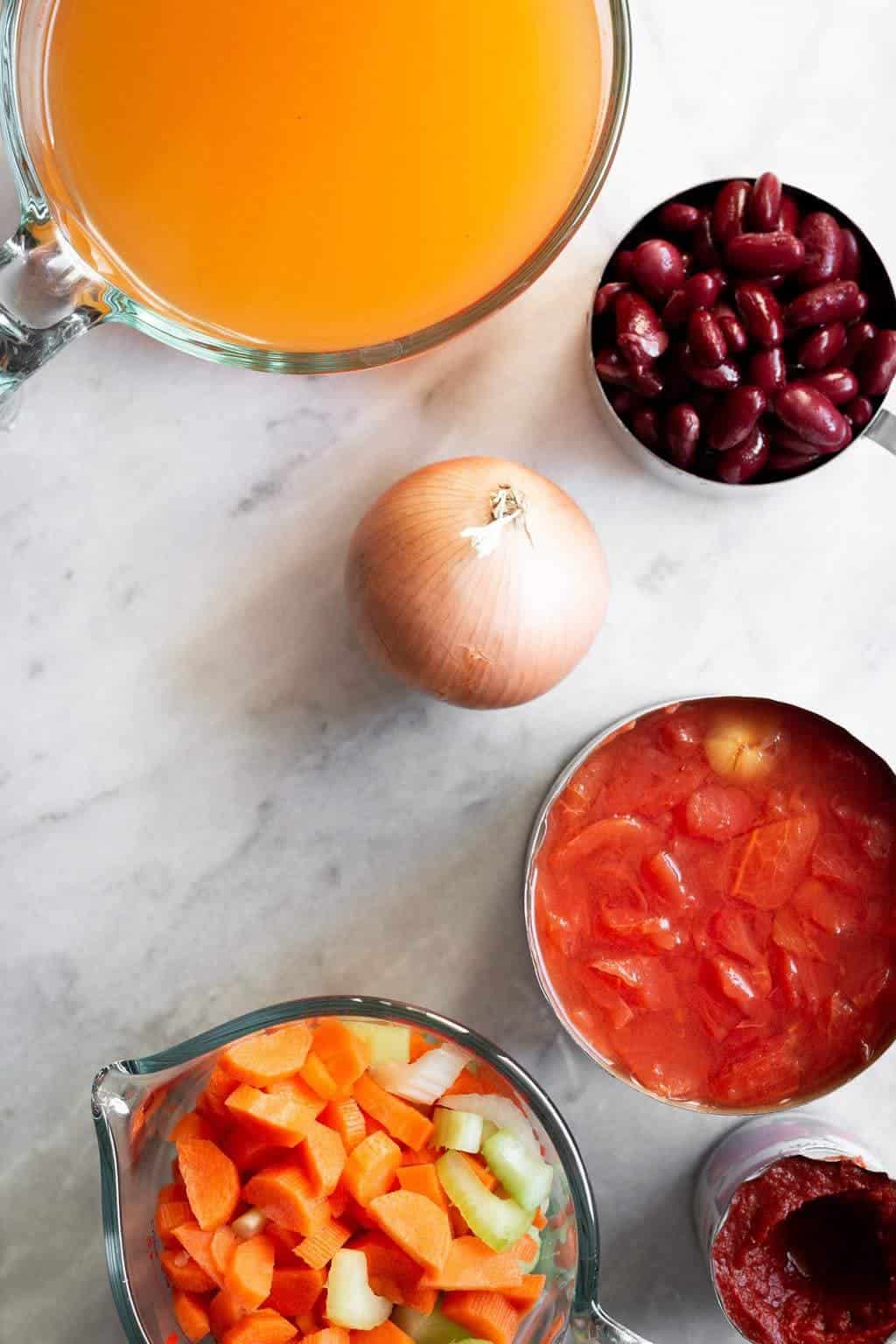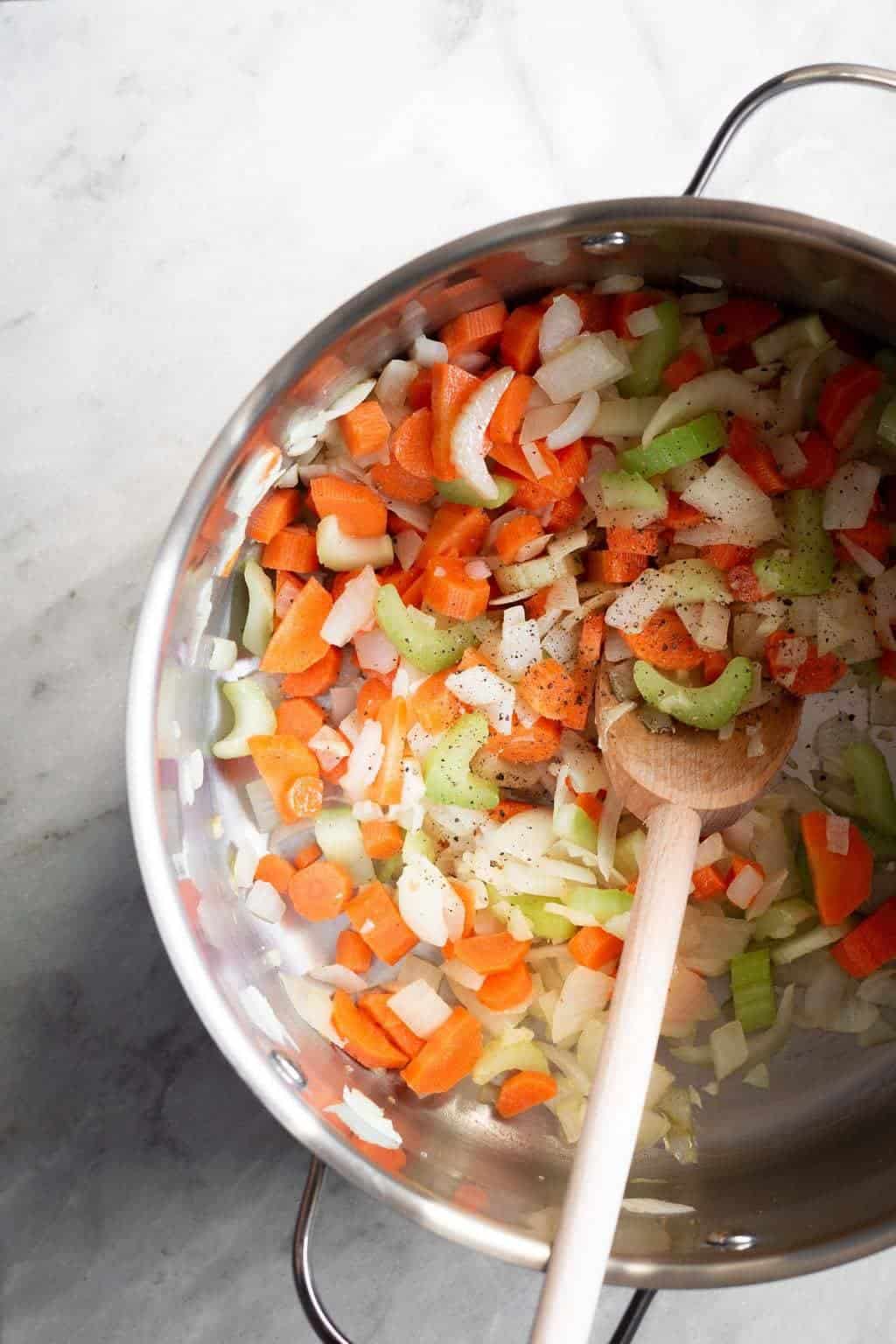 When I was a teenager, I spent a day with my grandmother, learning how to make homemade soup. She wasn't following a recipe, she simply explained how to make a soup from scratch. Everything from blanching the tomatoes to making her own flavorful broth. This soup reminds me of my grandmother's recipe.
My version is a little quicker to make thanks to store-bought diced tomatoes and vegetable broth. I also replaced the chicken for beans to make it vegetarian. It may not be made completely from scratch like my grandmother's delicious soup, but it's a great recipe when you're short on time.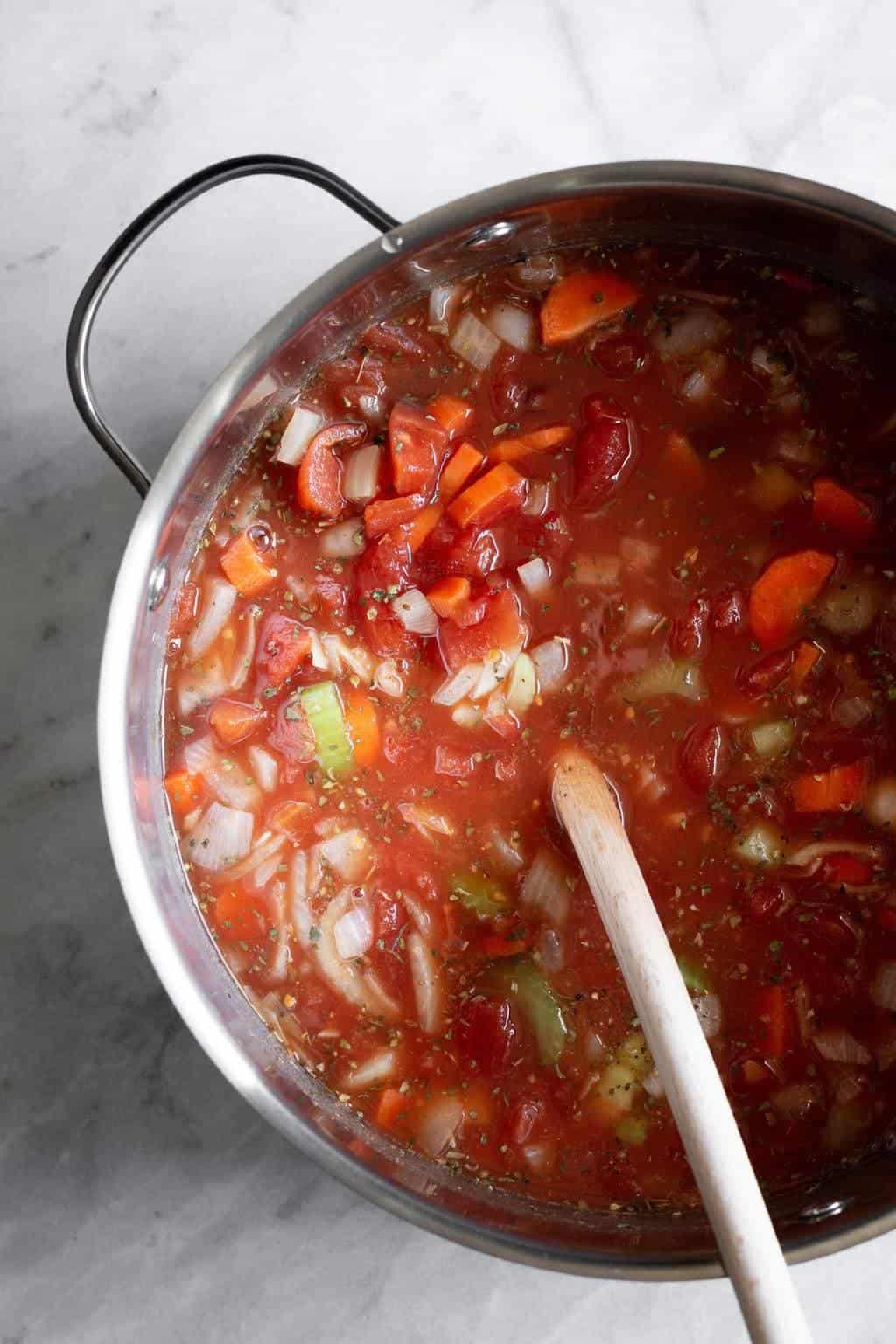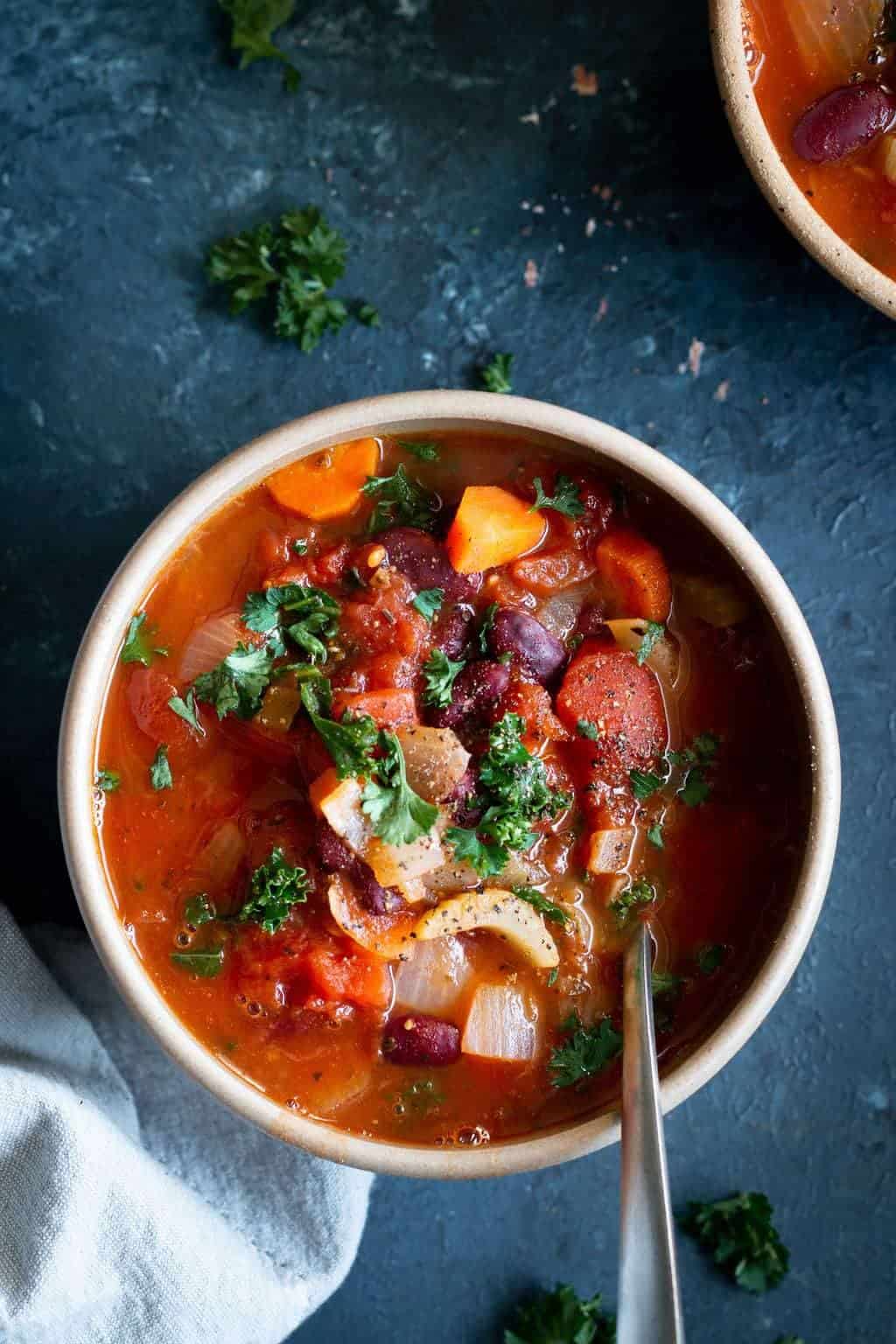 I have two simple methods to make this soup.
Method 1: Stovetop
This method requires a little more time, but is perfect for when you need something on the table within an hour. First, you sauté your vegetables. Then, you add the herbs, tomatoes, broth and beans. Finally, you let it all simmer for 35 minutes until the vegetables are soft. All you need is 20 minutes of preparation and minimal attention to your pot of soup.
Method 2: Slow Cooker
This method is best if you want dinner ready when you get home from work or at the end of a long day. It requires only 20 minutes of preparation in the morning before you let it cook together all day. No stirring required.
Whichever method you choose, you'll end up with a flavorful and light vegetable soup.
The best part about this recipe? You can use your vegetables of choice. Carrots and celery are easy options (and celery adds a nice flavor), but you can easily add some chopped green beans, peas or even potatoes! If you have vegetables that are about to go bad, throw it in the soup!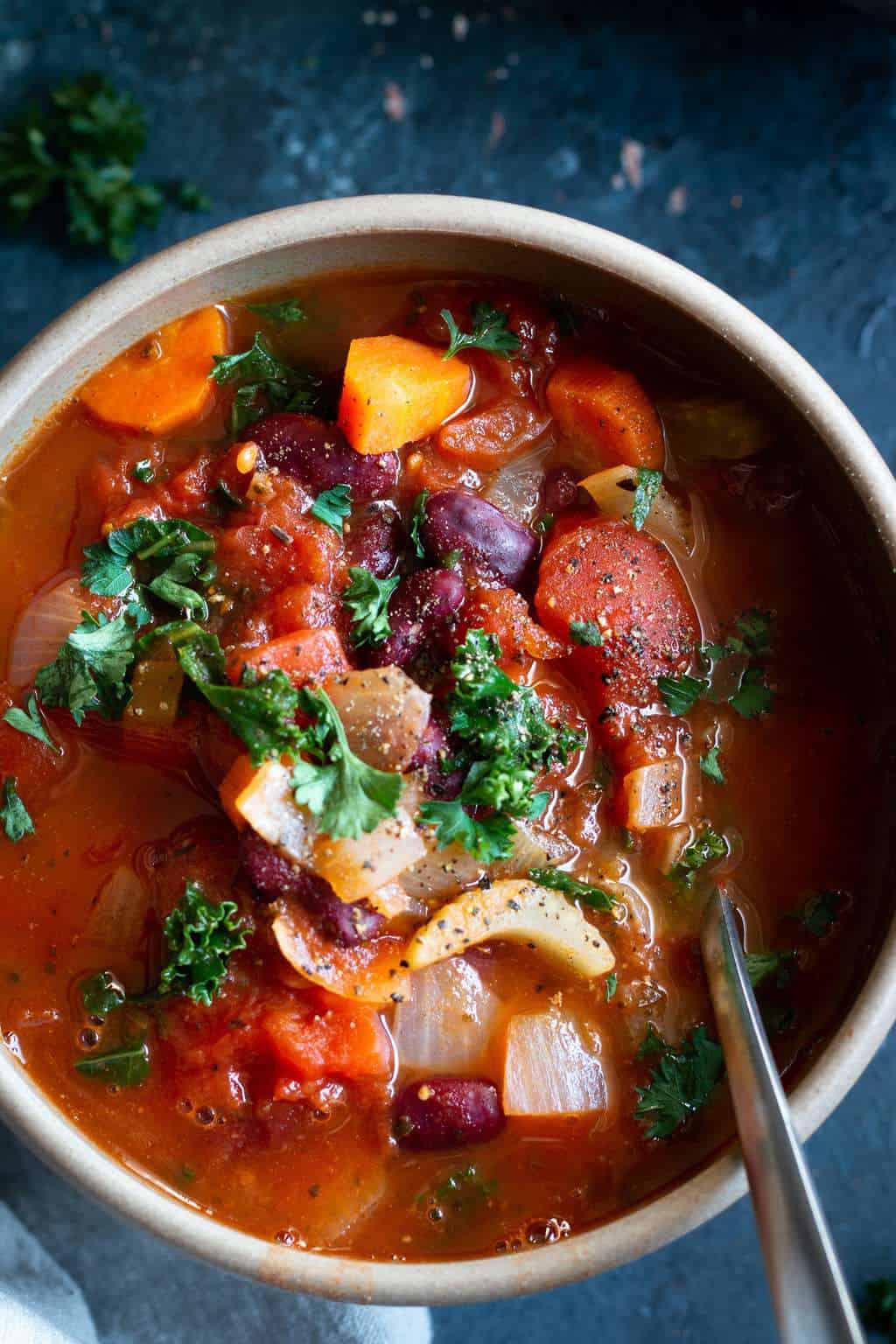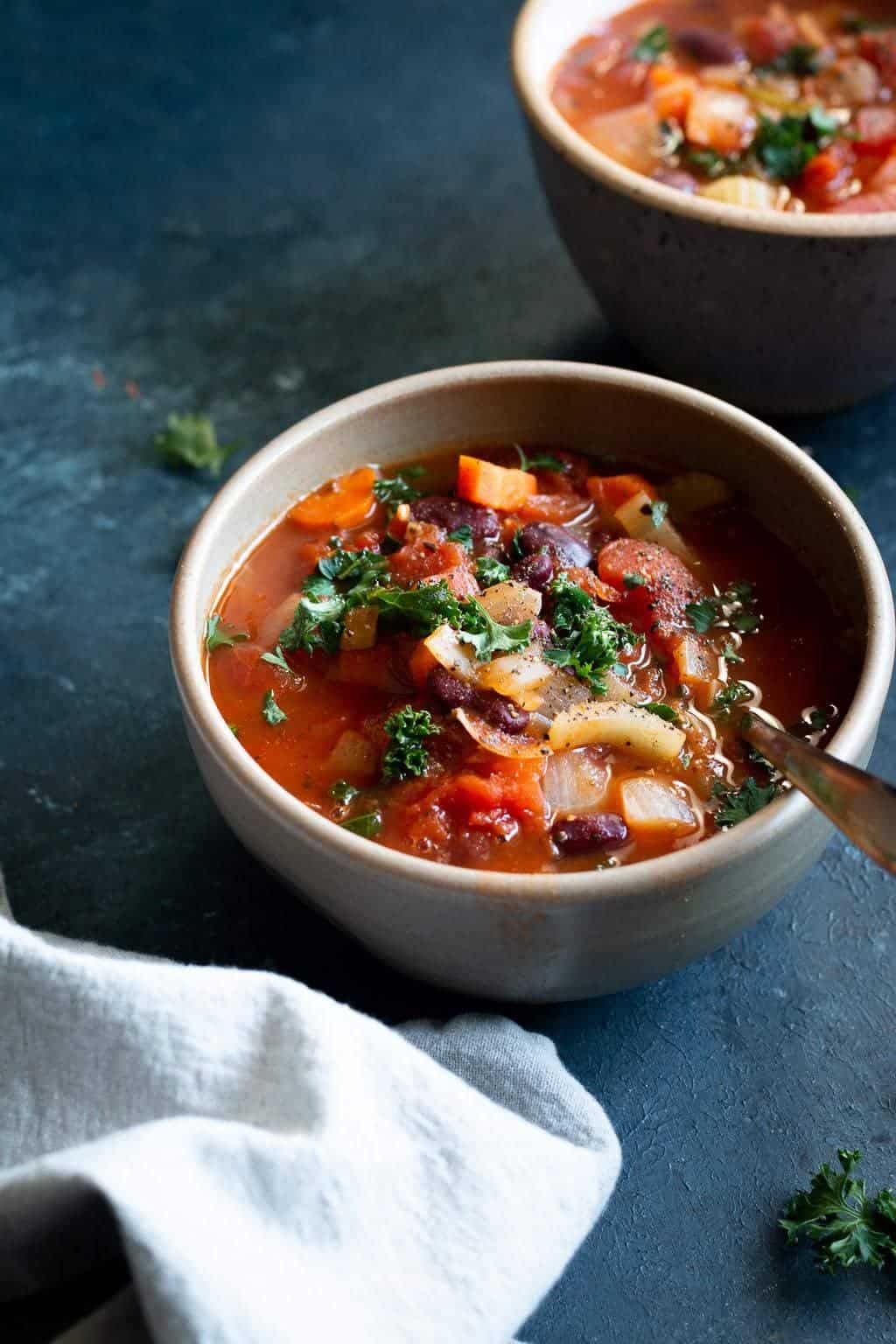 Italian Bean & Vegetable Soup
This simple soup is inspired by the popular minestrone soup. It's packed with italian flavors and makes for a delicious, light meal. Serve it with bread or crackers if desired!
Ingredients
1

tablespoon

olive oil

1

medium

yellow onion,

diced

2

garlic cloves,

minced

2

stalks

celery,

sliced

4

carrots,

peeled and sliced (about 2 cups)

1

can (156ml)

tomato paste

1

can (796ml)

diced tomatoes with juices

2

cups

cooked dark red kidney beans

(see note)

4

cups

vegetable broth,

no salt added

1/2

teaspoon

thyme,

dried

1

teaspoon

basil,

dried

2

teaspoons

oregano,

dried

1/2

teaspoon

salt,

or more to taste

Pepper to taste

1

large handful

spinach

(optional)
Instructions
Stovetop Method
In a large saucepan, heat oil over medium heat. Add the onion and garlic and cook until soft and fragrant, about 5 minutes.

Stir in the carrots and celery. Cook for another 5 minutes.

Add the thyme, basil, oregano and salt. Cook for 1 minute, then add the tomato paste, diced tomatoes, beans and broth.

Bring to a boil over high heat, then reduce heat to medium and let simmer, covered for 35 minutes or until the vegetables are cooked. Stir in the spinach in the last minute of cooking.
Slow Cooker Method
Add all the ingredients (except the spinach) in your slow cooker. You don't need the oil in this method. Stir to combine.

Cover and cook on low for 6-8 hours or on high for 3-4 hours until the vegetables are cooked. Stir in the spinach and let it cook one minute until soft.
Notes
Store in airtight containers in the fridge or freezer. 
You can use canned beans or beans cooked from scratch. If using canned beans, start with one can. You can add more beans if you'd like to increase the protein in this soup.
The cooking time will depend on the size of your vegetables. I recommend slicing the carrots and celery thinly and possibly cutting the larger slices in half.
Feel free to switch the vegetables in this soup to use up what you have.
If you try this recipe, make sure to tag your photo #unsweetenedcaroline on Instagram, Facebook and Twitter! Don't forget to also tag me @unsweetened.caroline on Instagram so I can see your creations!