Hydrating Super Green Smoothie
Over the past year, I got 3 bad colds where I lost my voice for days. This is when I created this hydrating super green smoothie.
That last cold happened in the same week we learned we were moving to British Columbia. I had 2 interviews and needed to work and prepare for our move. Needless to say I was a bit desperate to get my voice back at that point. Perfect timing, right?
That week, I was drinking this smoothie daily. A smoothie I had created earlier that year when I had lost my voice the first time (the same week Shaun proposed – I really choose the best times!). My goal was mostly to stay hydrated (which I hoped would help with my dry, irritated throat) and to get in some fruits and vegetables. No fancy "superfood" powders or high doses of vitamins here. Just some fruits, vegetables, healthy fats and water, which to me, is all you need to fight a cold.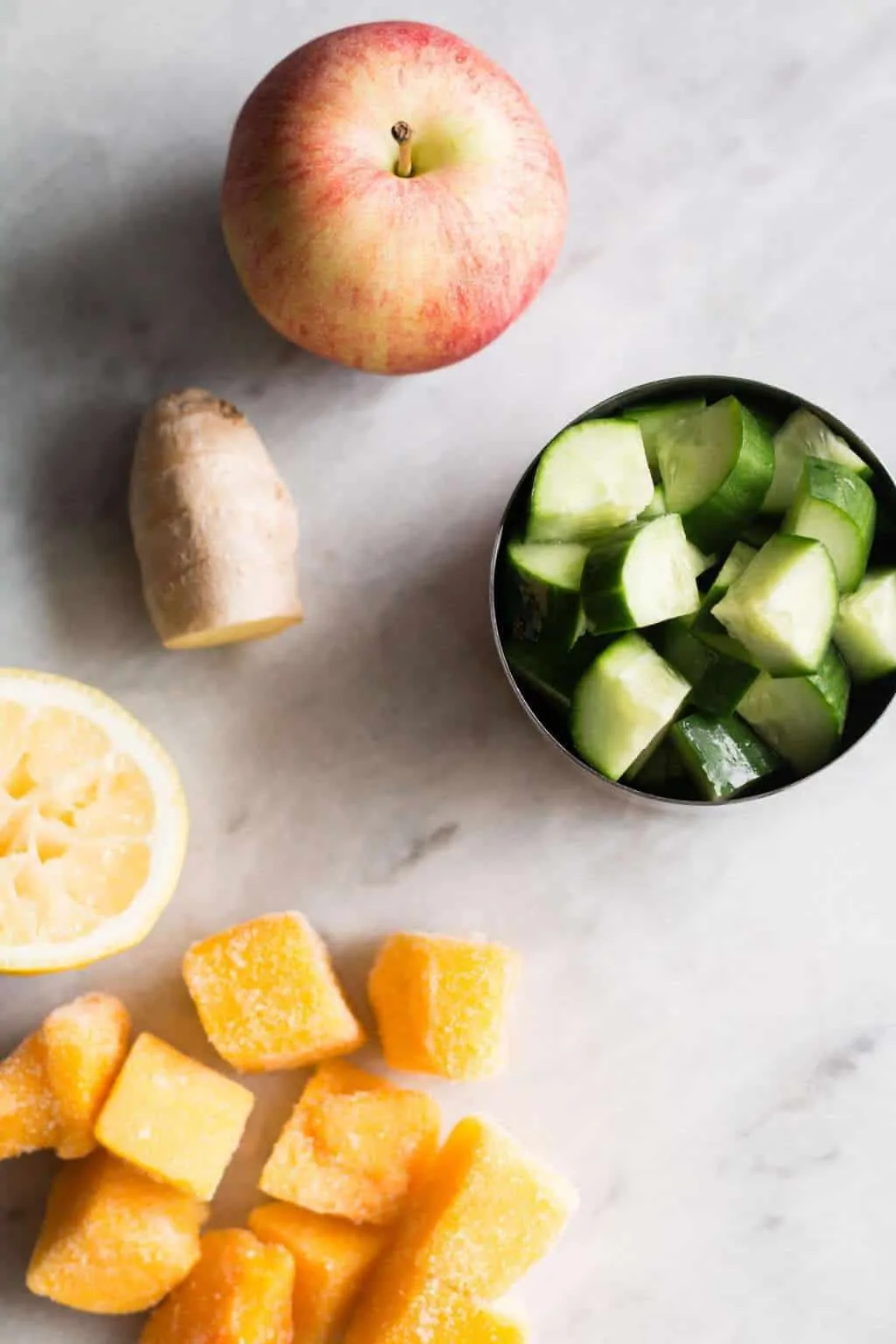 Here's what I included:
Apple
Frozen mango
Ginger
Lemon
Leafy greens
Cucumber
Hemp hearts
Water and ice
Here's what you get:
3 servings of vegetables
3 servings of fruit
Healthy fats
A small dose of plant protein
Lots of fluids
To sum it up, you get a good dose of vitamin C from the mango (no need for a supplement), healthy fats and protein from the hemp hearts, water for hydration and lots of other vitamins and minerals. I also added the ginger and lemon for a kick. Stuffed nose? This should do the trick.
Whether you have a cold or not (and I hope for you that you don't), this smoothie is a great way to stay hydrated during summer. You could also use coconut water for a fresh change. It's also great for sneaking in some fruits and vegetables into your day, which I think most of us can use any time of the year. Yes, it does contain 3 servings of fruit, which can be considered a lot of sugar in one sitting, so if this is a concern for you, then make 2 servings out of it.
The best part is, this smoothie can be kept in the fridge for up to two days without turning bad. It stays smooth and delicious and doesn't turn brown, which tends to happen with banana-based smoothies.
This smoothie can actually pass for a thick juice when kept in the fridge. For that reason, I like to make this large batch and divide it into mason jars to drink over the next few days. If you don't want leftovers and you have no one to share it with, then simply make a half-batch. Or drink the whole thing.
The weather here in Vernon is a lot warmer than I'm used to, which has made me crave smoothies more than usual. With this heat and smoke, I need all the refreshing drinks I can get!
Also, I probably don't have to tell you that cold and flu season is on its way, so I suggest you keep this recipe on hand to use as needed. Trust me, it's the best drink when fighting a cold or when you need that little hydration and nutrient boost.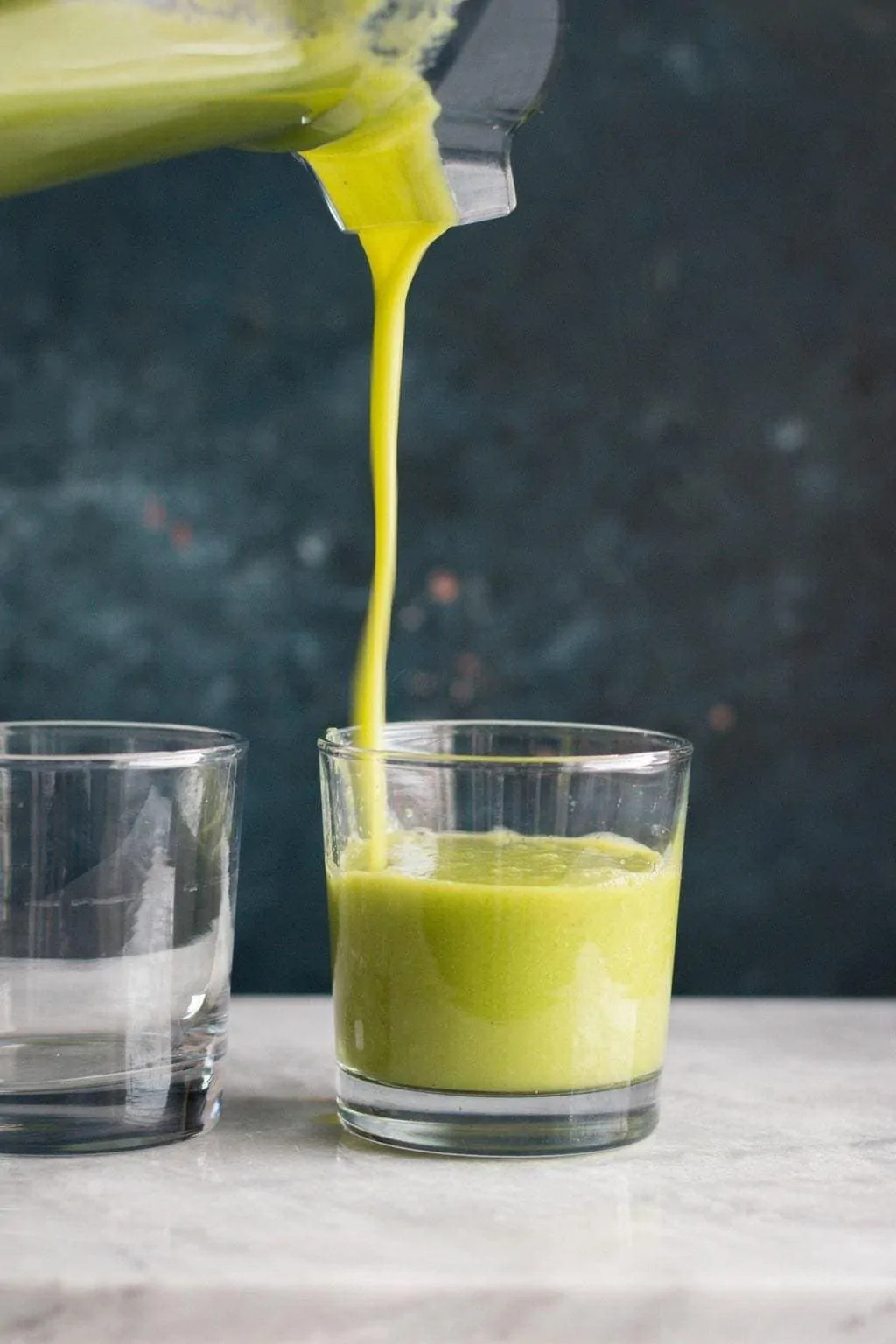 Hydrating Super Green Smoothie
A delicious, fresh and hydrating smoothie with a kick. Filled with nutritious ingredients, such as apples, mangoes, kale, lemon juice, ginger, cucumbers and hemp hearts. It's a great drink when fighting a cold or when spending your days outside in the heat.
Ingredients
1

cup

kale,

packed

1

medium

apple,

sliced (you can leave the peel)

1

cup

mangoes,

frozen

1

cup

cucumber,

sliced (about 1/2 a medium)

1

tablespoon

lemon juice

1/2

tablespoon

ginger

1

tablespoon

hemp hearts

3/4

cup

water

3-4

ice cubes
Instructions
In a high-speed blender, blend all the ingredients together until smooth.
Notes
Drink immediately or store in a jar for up to 2 days in the fridge. This smoothie doesn't turn brown when stored in the fridge. The texture will be similar to a thick juice.
If you try this recipe, make sure to tag your photo #unsweetenedcaroline on Instagram, Facebook and Twitter! Don't forget to also tag me @unsweetened.caroline on Instagram so I can see your creations!