Healthy Caramel Peanut Butter Apple Slices
We went apple picking last weekend and I'm finally sharing my first apple recipe of the season: Healthy Caramel Peanut Butter Apple Slices.
Things have been busier than ever over here. Not only am I studying for my dietetic exam that's coming up this November, but I also started my new full time position at the hospital, which obviously takes up all of my time during the week. I absolutely love working in diabetes education, but training is always stressful and I can't wait to feel a little more settled and comfortable in my new position. On top of that, we finally started wedding planning (!!!), which doesn't leave much time to work on the blog and even less time to relax.
When I say wedding planning, I mean pinning a bunch of stuff on Pinterest and looking for our venue. We're actually visiting our first possible wedding location tonight! It's the cutest little barn in Sackville, New Brunswick. I'm not going to put my hopes up too soon, but I have a good feeling about this place. I never felt excited about any of the other places we considered, but I definitely am excited for this one. I always wanted a rustic or outdoor wedding. If you're from New Brunswick, please let me know if there's a good wedding venue in the area. I'm also looking for a good wedding photographer, so any recommendations are appreciated. 🙂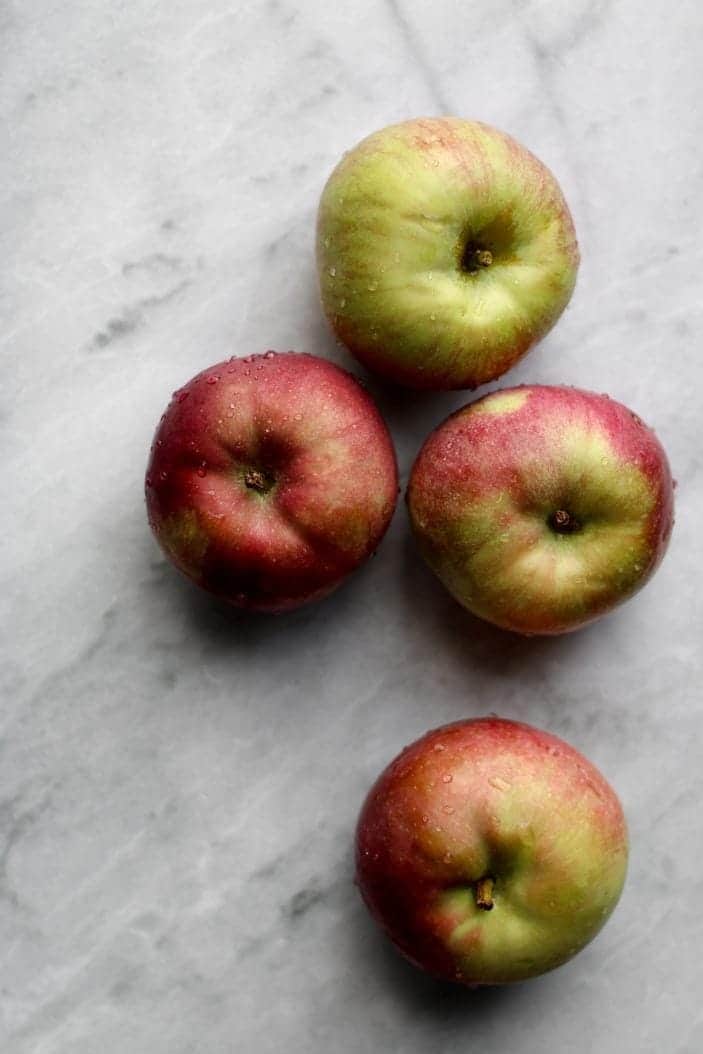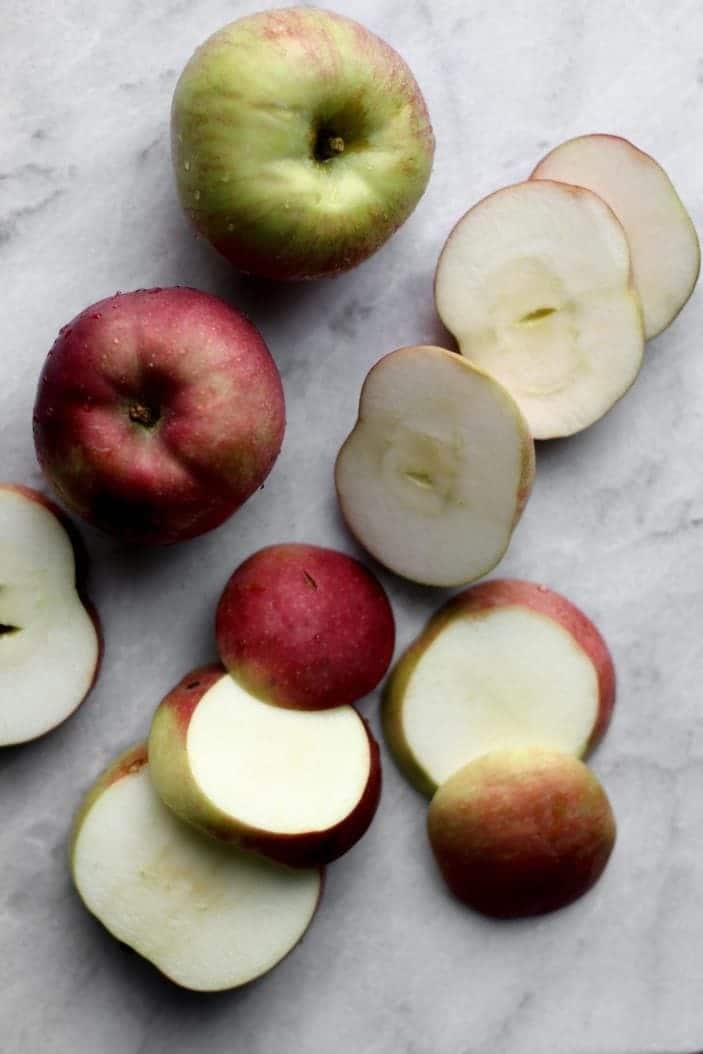 Due to our current busy schedule, coming up with new blog posts has been a little difficult in the last week. I've been struggling to find the time or inspiration to create new recipes. I also started realizing that our new apartment is not made for food photography. I was used to having corner apartments, which meant we had an abundance of windows and light. Our new place only has 2 windows, which are on the same wall. This means that I have exactly 3 hours of good lighting per day, which of course, falls at the same time I'm at work. The light is perfect from 9 in the morning until noon. Before then, it's too dark, which results in dark, pictures with blue tones. In the afternoon, the sun hits directly in the windows, which results in a harsh light that's not ideal for photography.
This leaves me with exactly 6 hours per week for photography. That's right, the weekend mornings… Considering we're not gone for the weekend. That's the problem with working full time, plus keeping up with a blog.
I have to say though, I've been having a lot of support from all of you lately. Your comments and positive responds to my recipes make this hard work completely worth it! Thank you!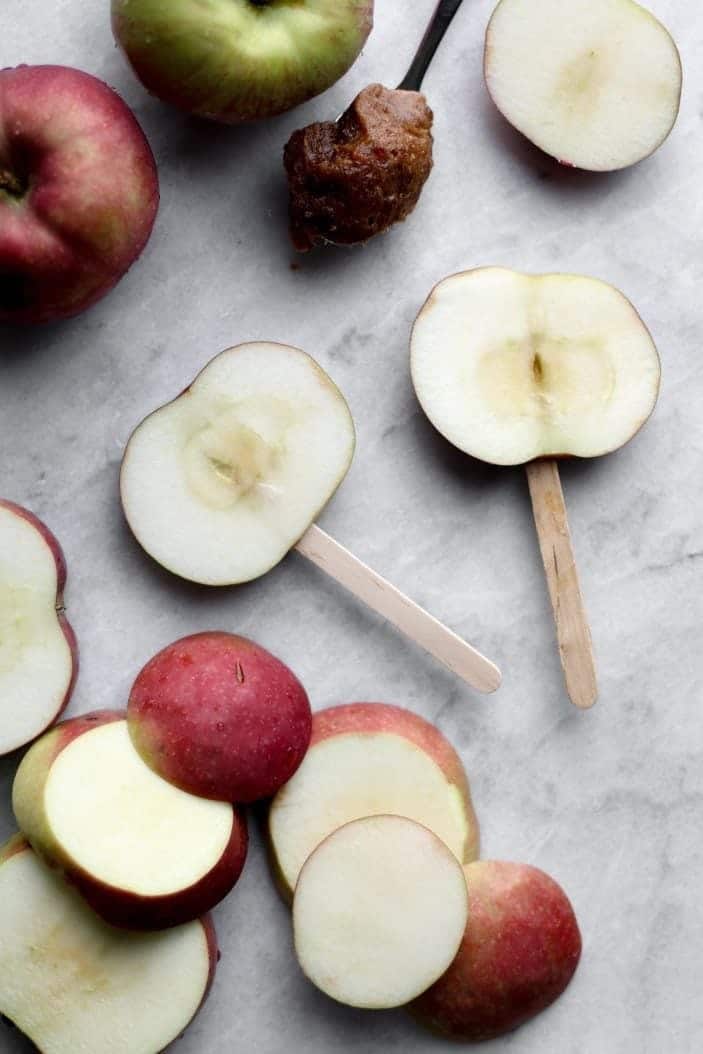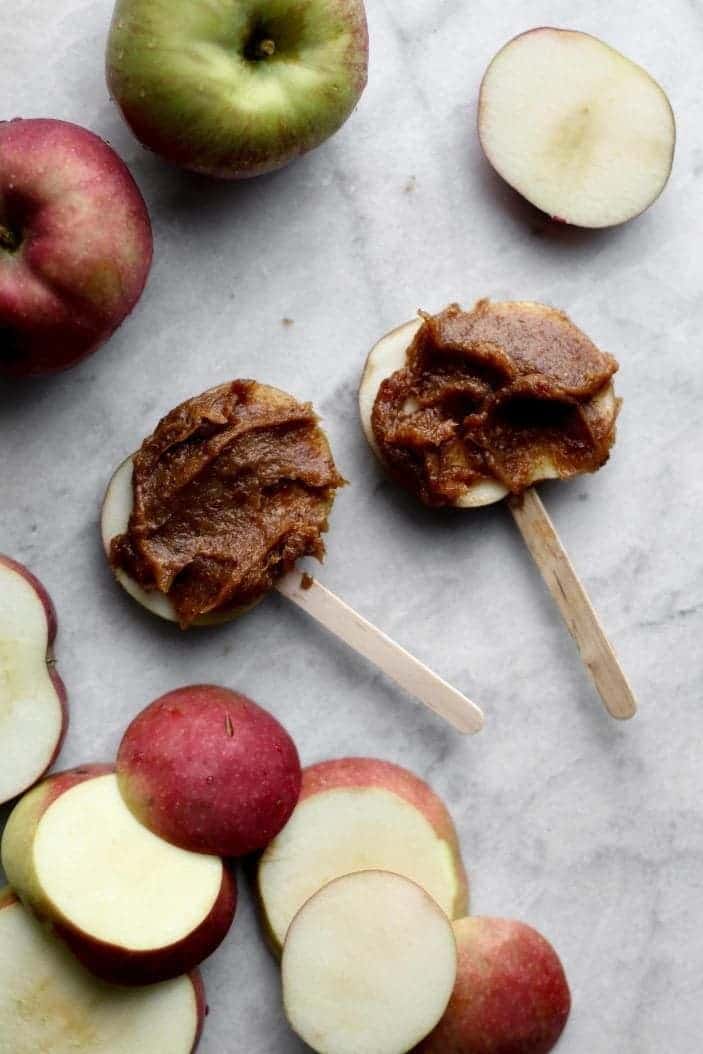 I'll stop complaining. Let's talk about the recipe instead.
This is a recipe that I had in mind since last year, but of course I wanted to save it for fall. It's my take on the not-so-healthy caramel apples. Not only is this one healthier, but it's also A LOT easier to eat. Am I the only one that hates eating caramel apples? They're messy and awkward to bite into. Mind you, they are delicious! I just thought I'd make something a little easier to eat.
It all starts with the date caramel. If you've never tried date caramel before, you're missing out! It's everything that you love about caramel, but with less added sugar and more fiber and nutrients. It's also very simple to make. All you need to do is toss some pitted Medjool dates with coconut milk (or other milk) and vanilla in the food processor, then process until you get a smooth caramel. The Medjool dates are key here for a perfect caramel taste and texture. I find that the cheaper dates (deglet noor dates) are dry and not as sweet. If you want though, you can soak these in warm water for 30 minutes or so until they soften. It may not give you the same result, but it does work in a pinch. I recommend trying it with the Medjool dates first, then making it with the other dates after if preferred, for a cheaper option. Lets be real, Medjool dates are not cheap!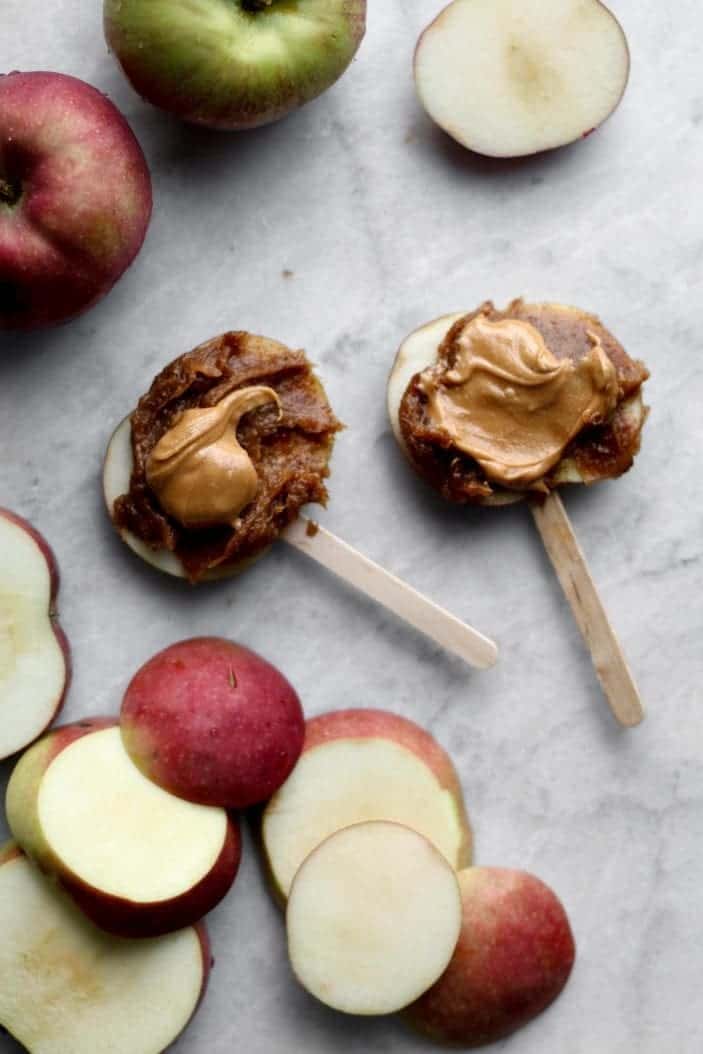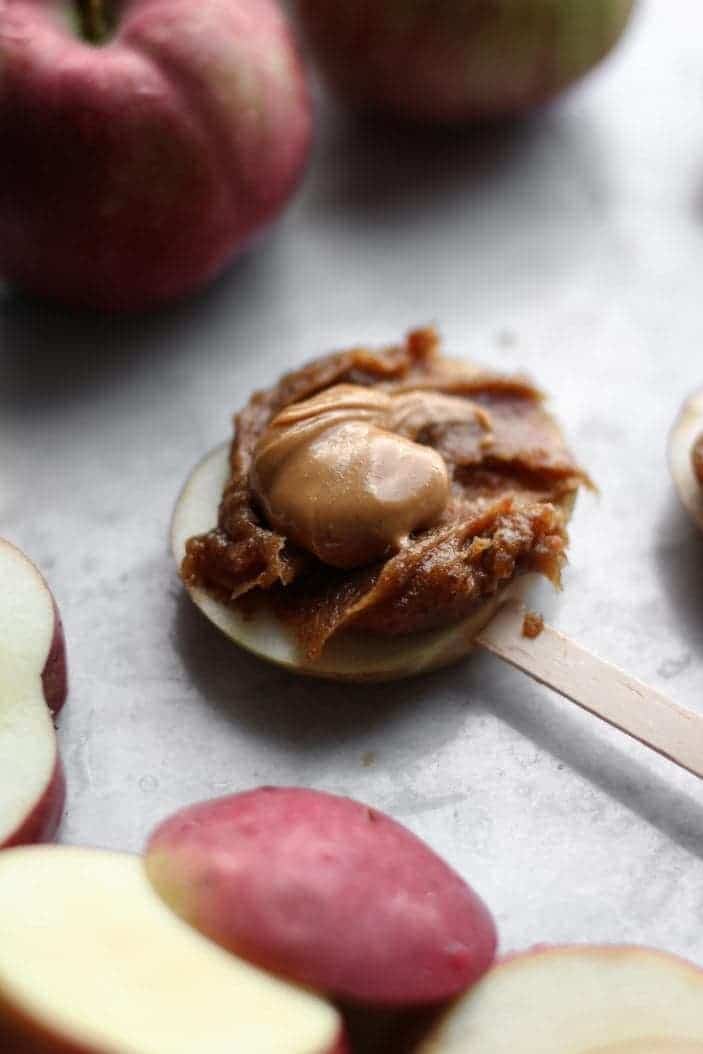 When you're done with the caramel, you can start cutting the apples. I suggest doing this step right before assembling the caramel apples as they do brown with time. Note that they are still delicious the next day when stored in the fridge in an airtight container.
Each apple should make 4 good slices. Make sure they're thick enough to insert a Popsicle stick. I usually just cut two slices on two opposing sides of the apple. I recommend cutting the rest of the apple into sticks and dip them into the date caramel (plus peanut butter!).
Once you're done cutting the apples, add a thick layer of date caramel. I'll admit that the date caramel is a little hard to spread on the apples evenly as it doesn't stick to the apple. Do as best as you can. My messy caramel layers were perfectly delicious, pretty or not! The next layer is the peanut butter. I use organic salted peanut butter from bulk barn, but any natural peanut butter would do.
Finally, add a drizzle of melted chocolate and other toppings of choice. I added chopped almonds, but peanuts, shredded coconut or cocoa nibs would be great too. Use your imagination – Or whatever you have on hand.
This isn't a specific recipe, other than the date caramel. Feel free to switch the toppings to your liking and have fun with it! I'm sure kids would have fun decorating their own (of course, what do I know about kids). I hope you had some time to go apple picking this season. If so, I can't think of a better way to use those fresh apples. Well, this and a good apple crisp (my favorite).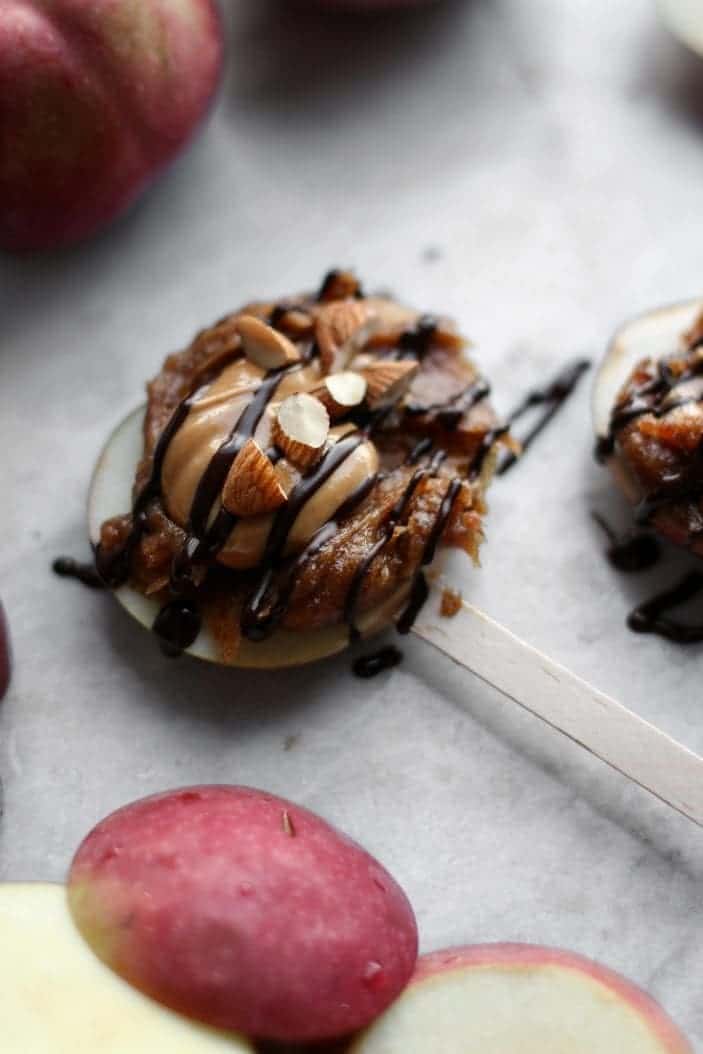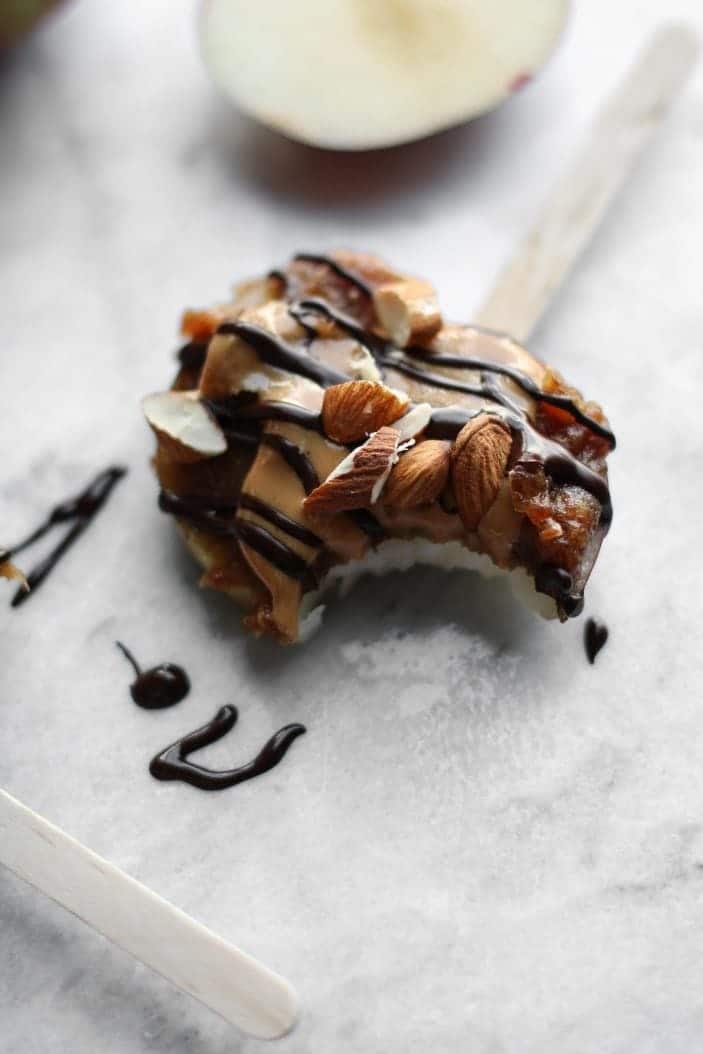 Healthy Caramel Peanut Butter Apple Slices
A healthy take on the classic caramel apples. These apple slices are made with date caramel for a sugar-free treat that's high in fiber and nutrients. Add some peanut butter for protein and flavor, then top with other desired toppings, such as chopped almonds, chocolate, unsweetened shredded coconut or cocoa nibs. The best part? They're a lot easier to eat than whole caramel apples!
Ingredients
2

apples,

sliced

8

tablespoons

date caramel,

(recipe below)

8

teaspoons

peanut butter

Unsweetened or Dark chocolate

Almonds,

chopped
Instructions
Line a baking sheet with wax or parchment paper.

Start by slicing the apples. You should be able to make 2 slices on 2 opposing sides of the apple (4 slices total per apple). Make sure the slices are thick enough to insert a Popsicle stick. Insert a Popsicle stick in each slice and line them on the prepared sheet.

Spread approximately 1 tablespoon of date caramel on each apple slices, more or less depending on the size of the slice.

Then, spread 1 teaspoon of peanut butter on each slice.

Top with a drizzle of melted chocolate, chopped almonds or other desired toppings. Press the toppings into the caramel/peanut butter, making sure they stick.

Place the apples in the refrigerator until the chocolate has hardened and the caramel has set, approximately 20 minutes.
Notes
The recipe uses approximately 1/2 of the batch of date caramel. However, I don't recommend making a half batch as it won't process as well in the food processor in smaller quantities. Use the leftover date caramel for dipping apples or add it to oatmeal, desserts, etc.
Store in the fridge in an airtight container. These are best eaten immediately as they can brown with time. However, they're still delicious a day after.
Date Caramel
This easy caramel is made from dates and coconut milk, making this treat high in fiber and nutrients. Plus, it's done in less than 5 minutes using a small food processor! Add it to desserts, oatmeal and more!
Ingredients
1

cup

Medjool dates,

pitted

1/4

cup

low-fat coconut milk,

canned

1/2

teaspoon

vanilla extract
Instructions
In a small food processor, add the dates, coconut milk and vanilla. Process for 2-3 minutes until smooth, scraping down the sides as needed. The caramel should be thick, yet easy to spread.
Notes
Store in an airtight container in the refrigerator for up to 1-2 weeks.
This recipe makes 1 cup of date caramel.
If you try this recipe, make sure to tag your photo #unsweetenedcaroline on Instagram, Facebook and Twitter! Don't forget to also tag me @unsweetened.caroline on Instagram so I can see your creations!