Curried Roasted Carrot & Cauliflower Soup
The past two days have been gray and wet and I've been craving some cozy soups – This curried roasted carrot & cauliflower soup was just what I needed.
Soup has been a big part of my diet over the last few stressful weeks. I'm feeling more and more anxious with my dietetic exam coming up in exactly one month now. There's something comforting about soup and I've been turning to this easy meal now more than ever.
I honestly haven't felt this anxious in two years and I did not miss this feeling. For this reason, I'm trying to prioritize self-care a little more – Something that I sadly ignored over the last few months. It's sad how we need to feel stressed to realize how important self care really is. Or at least that's how it seems to be with me!
Over the past two weeks, I've been prioritizing exercise and sleep a little more. My body is craving exercise. Something to burn off the stress I've been feeling lately. To get more exercise with my limited amount of free time, I started going for a run instead of a hike a few times a week. I'm going out in the trails anyways, so might as well kick it up a notch and sweat a little more. I did that for the last 2 weeks and it feels great! I'm usually going directly after work (it's now getting dark at 7!) and I run anywhere from 20 minutes to an hour. I just run in the trails until I'm tired. No music. Just me and my thoughts. That way, I get intense exercise and time in nature, all at the same time!
I always loved running in the trails (not on the streets). I'm not sure why I don't do it more often, but I'm enjoying my new routine for now. We'll see how long it lasts once winter comes.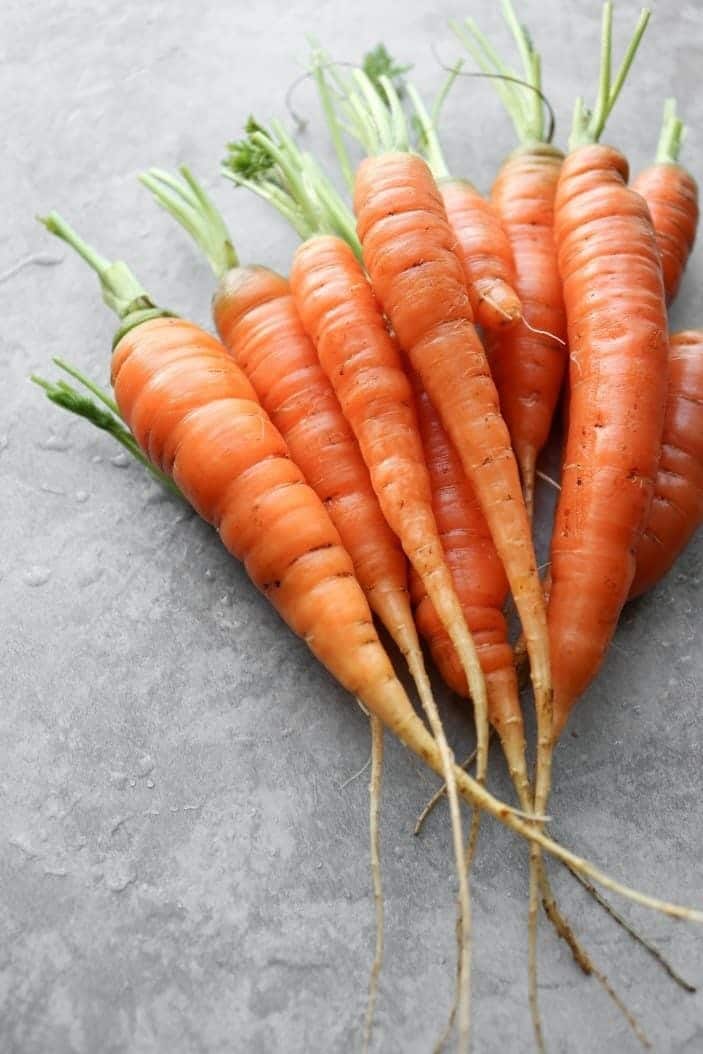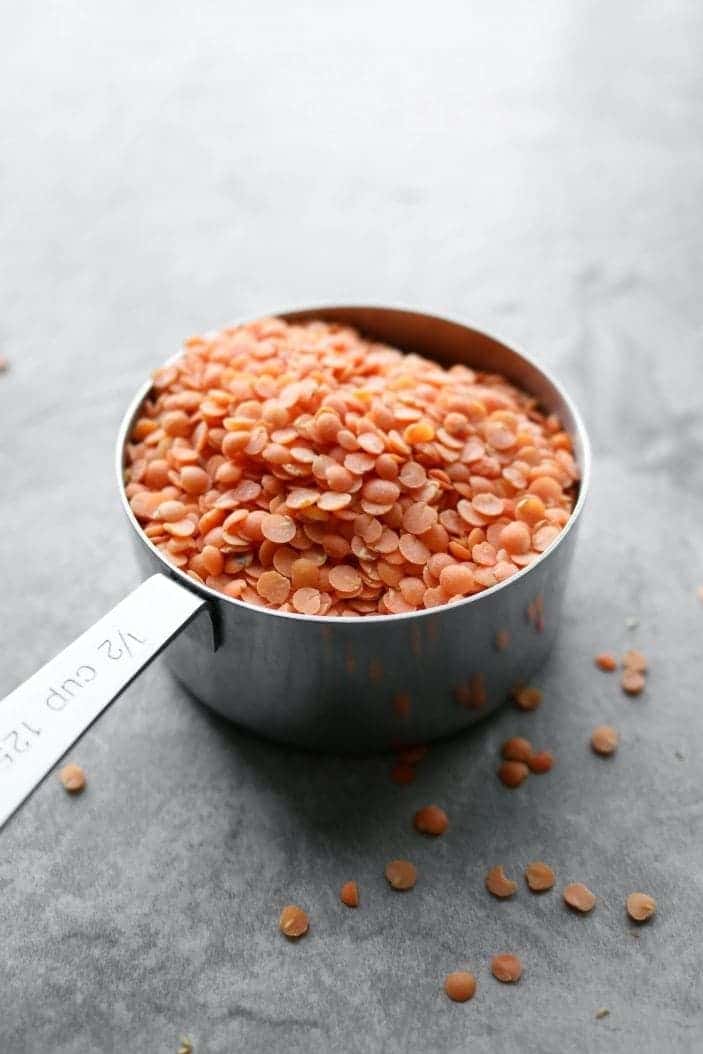 Getting back to this carrot & cauliflower soup.
This soup can be done in 3 steps. The first step is to roast the vegetables. Cut up your carrots and cauliflower and toss them in oil. Sprinkle with salt (approximately 1/4 teaspoon) and roast them for 25 minutes.
While the vegetables are roasting, you can move on to the second step. This step consists of cooking your onion, garlic and ginger in a medium pot. Then add your spices, broth and lentils and let everything simmer for 15 minutes, covered. By the time the 15 minutes are over, your vegetables should be about done as well.
The final step can be done two different ways. First, you can simply transfer the vegetables to the pot, add the coconut milk and blend everything directly in the pot using an immersion blender. This would be the easiest way, but if you're like me and you don't own an immersion blender, you can transfer everything to a blender. I blend everything in my large Vitamix, but if you have a smaller blender, you may have to work in batches. This soup makes approximately 8 cups.
Top it with roasted chickpeas or roasted pumpkin or squash seeds for a little protein boost.
I can't get enough of this soup! Creamy and filled with roasted vegetables and a light curry taste… It's the perfect healthy way to warm up on a cold fall day! I hope you'll enjoy this soup as much as I* do!
*I would say we, but Shaun doesn't like soup… or sweet potatoes. I'll never understand him.
Oh well. More for me!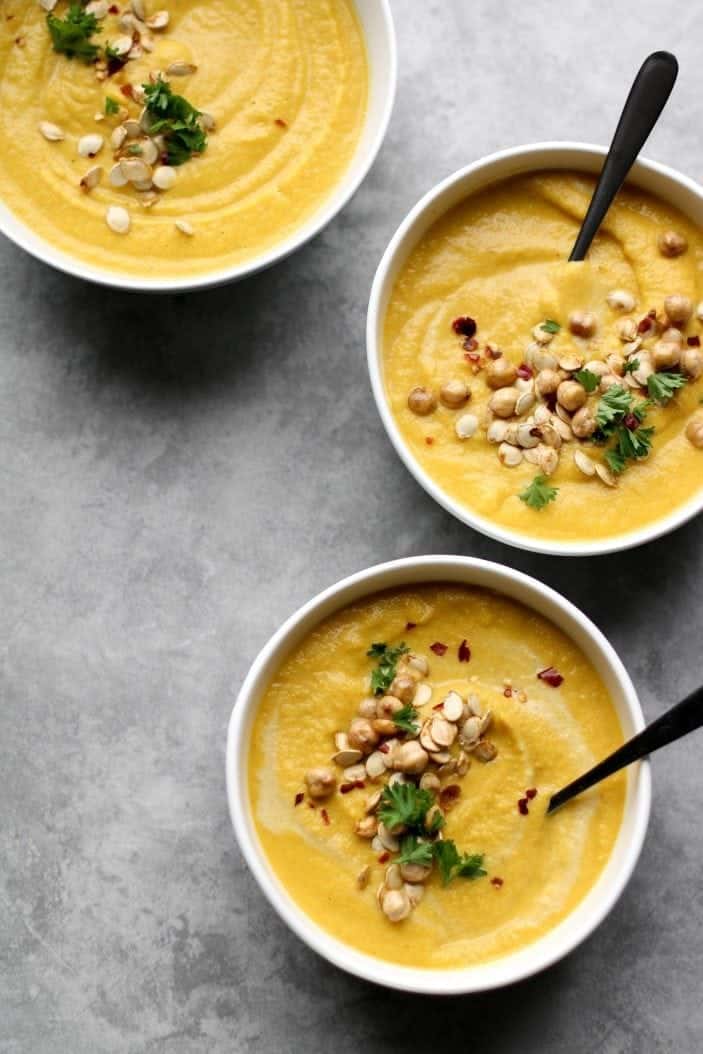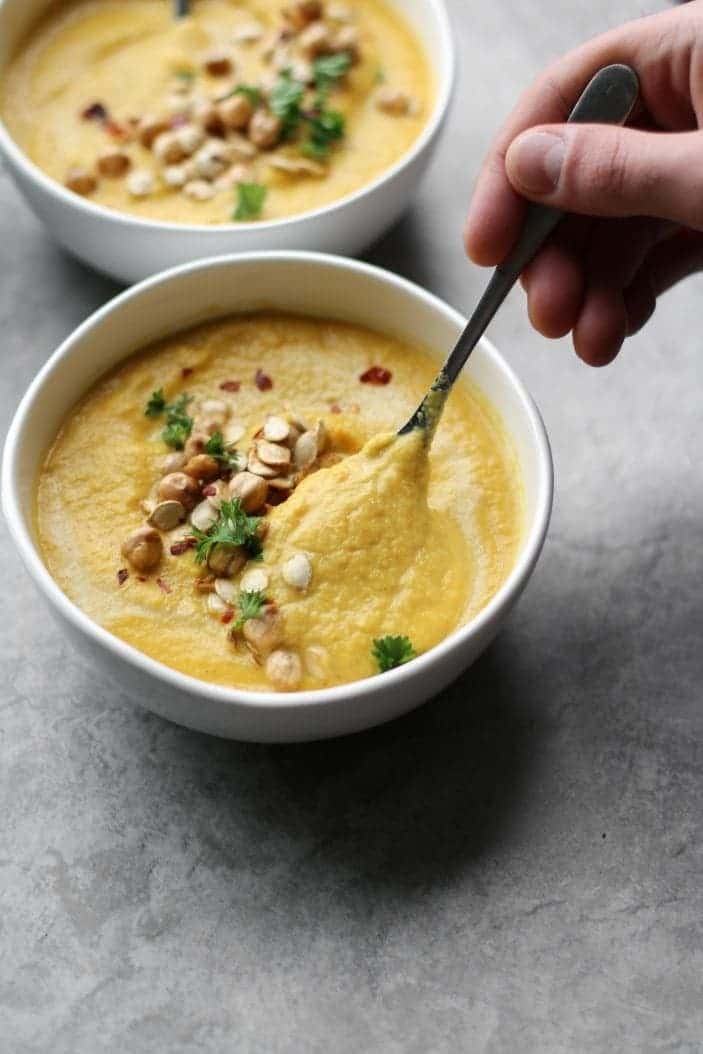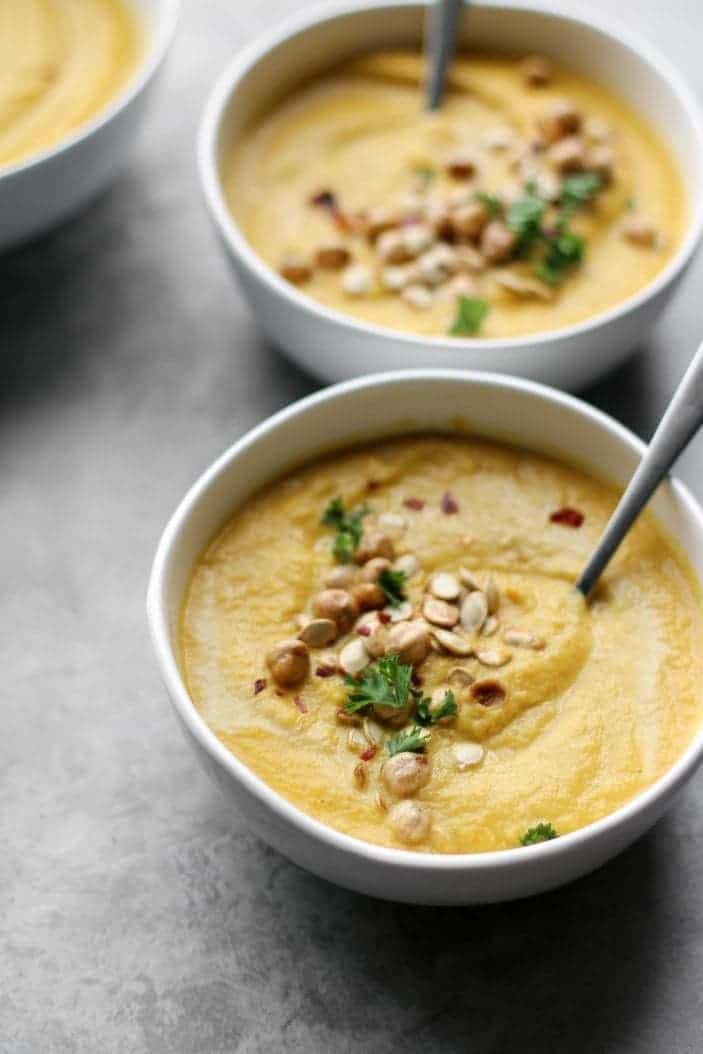 Curried Roasted Carrot & Cauliflower Soup
This cozy and creamy soup is filled with roasted vegetables and curry flavor. It also hides some red lentils for added protein and fiber. Top with roasted pumpkin seeds or chickpeas for a nutritious crunch!
Ingredients
3

cups

carrots

4

cups

cauliflower florets

(half of one medium)

2

tablespoons

avocado oil (or oil of choice)

1

yellow onion,

diced

3

large

garlic cloves,

minced

1

tablespoon

fresh ginger,

minced

1

tablespoon

curry powder

1

teaspoon

cumin

4

cups

vegetable broth,

no added salt

1/2

cup

red lentils

1/2

teaspoon

fine grain sea salt,

plus more to taste

1

cup

canned coconut milk,

low-fat

Pepper to taste
Instructions
Preheat oven to 400F.

Chop your carrots and cauliflower into bite-sized pieces and place on a baking sheet. Drizzle with 1 tablespoon of oil and sprinkle with salt. Roast for 25 minutes or until fork-tender.

Meanwhile, heat 1 tablespoon of oil in a medium saucepan over medium heat. Place the onions, garlic and ginger and cook for 5 minutes or until fragrant.

Add the curry, cumin and salt and cook for an additional minute, then add the broth and lentils.

Bring to a boil, then reduce heat to low and simmer for 15 minutes, covered.

When the vegetables are done roasting, transfer to a blender, along with the content of the saucepan and 1 cup of coconut milk. Blend until smooth. Alternatively, transfer the vegetables to the saucepan along with the other ingredients and coconut milk. Bend everything together using an immersion blender.

Bring the mixture back to the saucepan (if using the blender). Cook a few more minutes until heated through.

Taste and add salt and pepper to taste.
Notes
Makes 5-6 servings (or 8 cups).
Top with roasted chickpeas or pumpkin seeds for added protein.
If you try this recipe, make sure to tag your photo #unsweetenedcaroline on Instagram, Facebook and Twitter! Don't forget to also tag me @unsweetened.caroline on Instagram so I can see your creations!