Meet my favorite veggie burger. The Crispy Chickpea Burger!
For those of you who don't know me, I should tell you, I'm a bit obsessed with veggie burgers. For that reason, I didn't want to post just any recipe. It had to be perfect (by my standards of course). First, it had to be full of flavor from herbs and spices. I don't like a patty that tastes like beef. Second, it had to have some texture and a crispy exterior since I don't like an overly soft burger. Finally, it had to hold together while cooking and eating. That last one is true, but like any burger, it will probably get messy while eating, especially if you put as many toppings as I do! I mean, is there a patty under all those toppings!?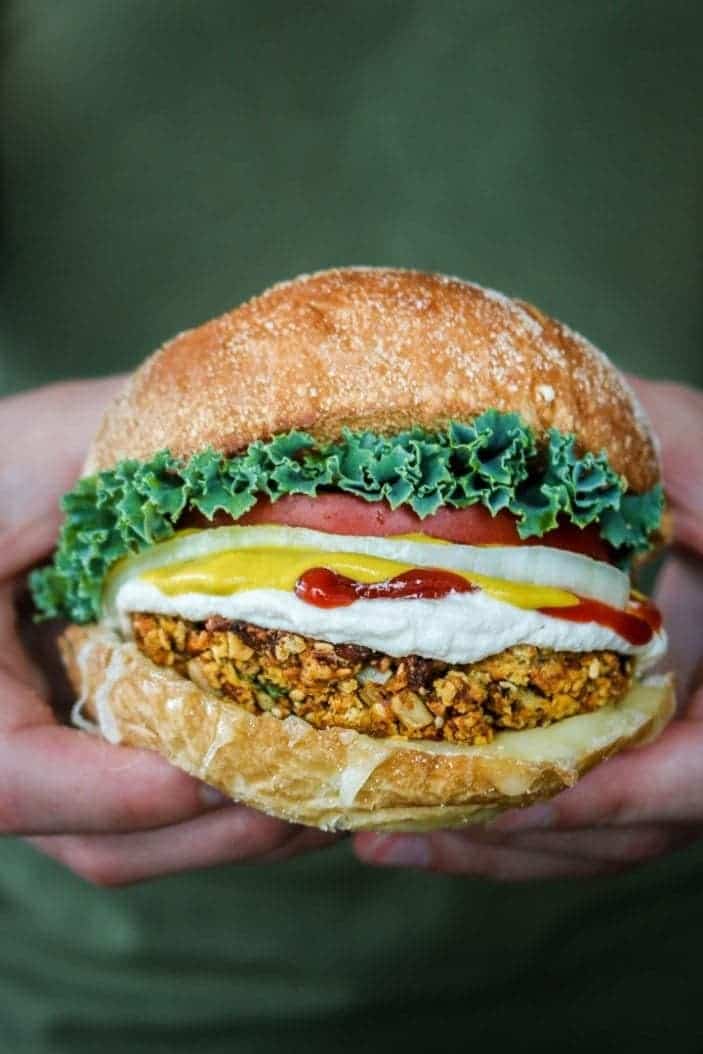 So, how did these burgers turn out?
They're perfectly flavored thanks to sauteed onions and garlic, tamari, cumin, oregano and coriander.
They hold together when baked and while eating. They even hold together while cooking on a frying pan! I love this method since it takes less time and you get an extra crispy finish!
They have a crispy exterior and a soft interior, while still having a bit of texture thanks to the seeds.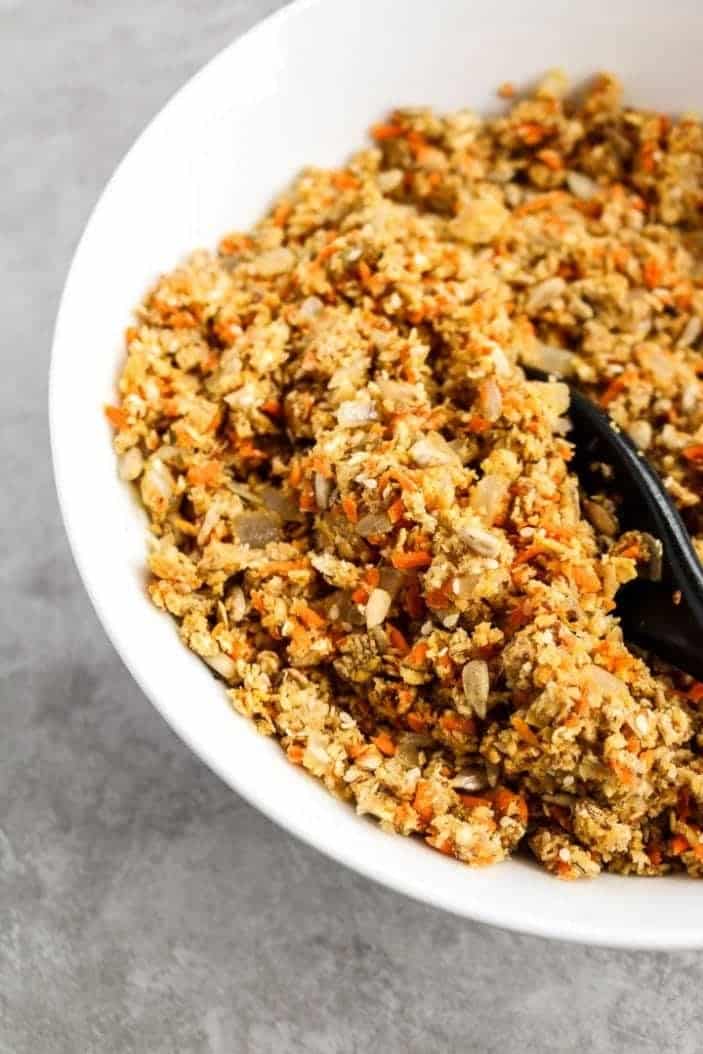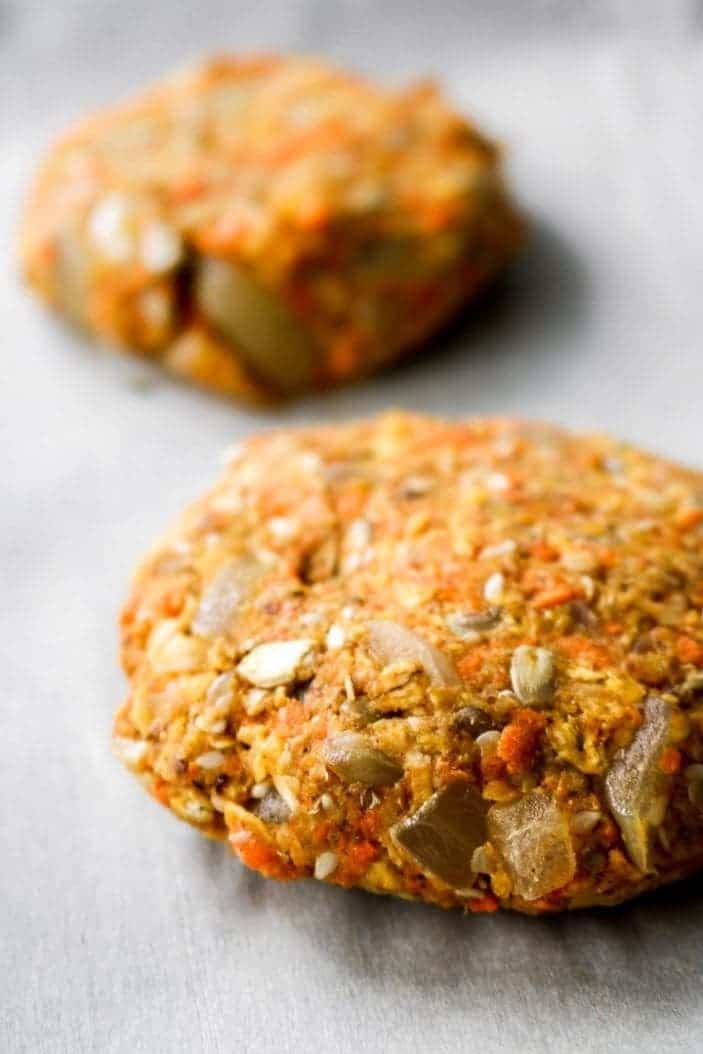 There you have it! My favorite veggie burger. I like to serve them with onions, tomatoes, leafy greens, mustard, ketchup and vegan mayonnaise like the one in my last post. For a fancy burger that will impress your guests, serve them with spiralized sweet potato fries! Use a spiralizer to make your fries, toss them with oil and bake them at 400°F for 20-25 minutes until crispy. I also like to add a lemon-tahini sauce using 2 tablespoons each of tahini and water and 1 tablespoon of lemon. Serve them with homemade fries, roasted vegetables or a fresh salad. The possibilities are endless!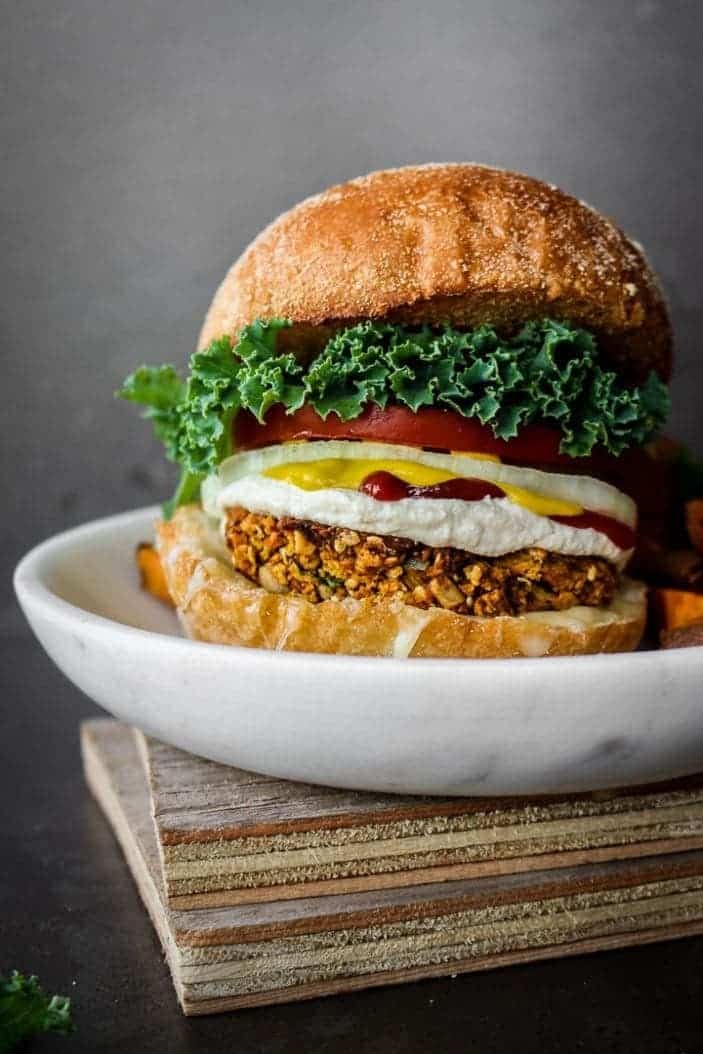 Now, let's see if my next veggie burger recipe will be as good as this one!
Crispy Chickpea Burger
A flavorful veggie burger that holds together perfectly.
Ingredients
1

cup

chickpeas

1

tablespoon

tahini

Flax egg (2 tablespoons ground flax seeds + 3 tablespoons water)

3/4

cup

yellow onion,

finely chopped

2

large

garlic cloves,

minced

1/2

cup

quick oats

1/2

cup

panko bread crumbs

1/2

cup

carrots,

finely grated

1/4

cup

sunflower seeds,

raw or roasted

1

tablespoon

sesame seeds

1

teaspoon

oregano,

dried

1

teaspoon

cumin,

ground

1/4

teaspoon

coriander,

ground

1/4

teaspoon

fine grain sea salt

(more to taste)

1

tablespoon

low sodium tamari or soy sauce

1

tablespoon

olive oil + 1 tablespoon for cooking
For Serving (as desired)
Hamburger buns

Vegan mayonnaise

(homemade or store-bought)

Lettuce

Tomatoes

Onions

Mustard

Ketchup

Cheese

Sweet potato fries
Instructions
Preheat oven to 400F.

Line a baking sheet with parchment paper.

Add your ground flax seeds in a small bowl with water. Set aside.

Chop your onions and garlic. Heat a skillet over medium heat. Cook them with 1 tablespoon of oil for 5 minutes, or until translucent and fragrant. Remove from heat and set aside.

In a food processor, add your chickpeas and tahini. Blend a few seconds until the chickpeas are almost smooth. Transfer to a medium mixing bowl.

Add your flax egg, oats, panko crumbs, carrots, sunflower seeds, sesame seeds and your cooked garlic and onions to your bowl.

Now add your oregano, cumin, coriander, salt, tamari and oil and mix thoroughly. Add water or oil if it's too dry or more panko bread crumbs if it's too wet.

With slightly wet hands, form patties using about 1/2 cup of the mixture. Place on the prepared baking sheet and bake 15 minutes at 400F. Remove from oven, flip the patties and bake for another 10 minutes until slightly crispy on the outside.

Assemble your burgers using your favorite toppings. Enjoy!
Notes
You can store the uncooked patties in an airtight container in the fridge for future use.
I like to form patties and store them in the freezer for a month for quick weeknight dinners. Line them on a baking sheet and put them in the freezer. Once they're completely frozen, put them in a freezer-safe bag. Keep them in the freezer for up to a month. Simply cook them as instructed above (you can defrost them the microwave). If they're dry, add a drizzle of oil before baking.
Another option is to cook them on a frying pan. Heat a frying pan over medium heat. Add oil and cook your patties about 5 minutes on one side. Flip them and cook another 5 minutes until golden and crispy.
For a gluten-free option, use gluten-free bread crumbs and hamburger buns.
If you make this recipe, don't forget to tag your photo #unsweetenedcaroline on Instagram, Facebook or Twitter!