Creamy Roasted Beet Hummus
Pink hummus is so much better than regular hummus. It just is.
There's something about eating pink food that makes it so much more exciting. It would probably be a good way to convince kids to try hummus… If they love this color of course.
When I was testing this recipe, I had to find creative ways to use up almost 3 cups of hummus in a week between Shaun and me. That's a lot of hummus for two people! So not only was I dipping vegetables in it, I was making beet hummus, avocado, cheese and lettuce sandwiches every day of the week. It was an easy lunch for work and it helped me use most of it. I also love seeing the look on people's face when they see me eating a pink sandwich. They're probably wondering what the heck I'm eating.
They don't know what they're missing.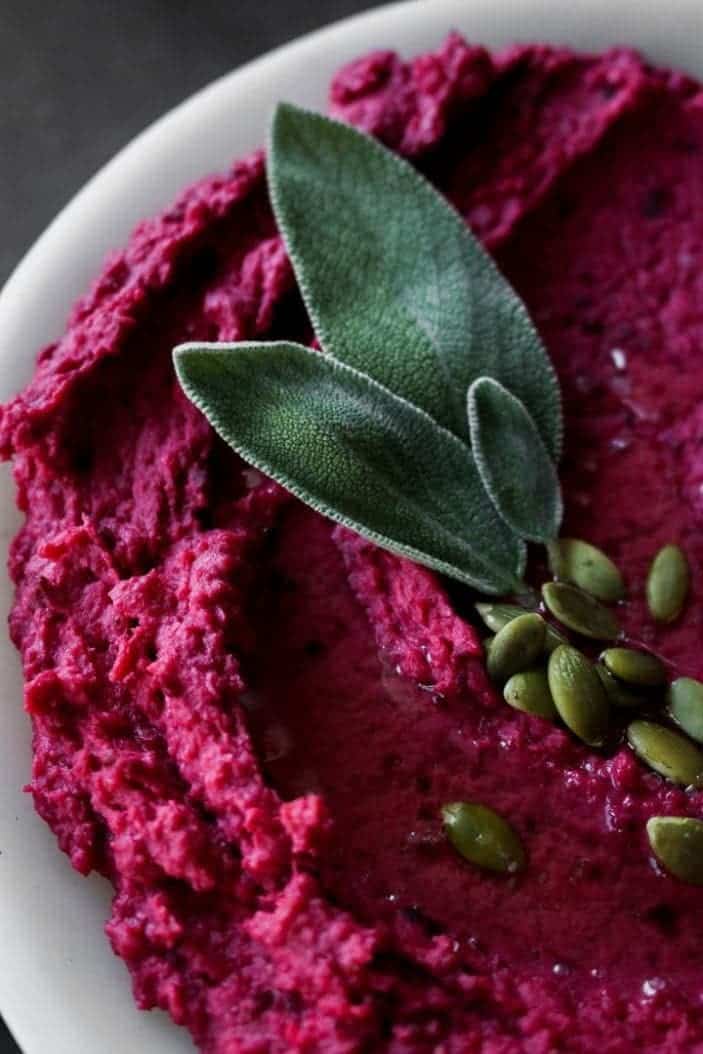 Not only does this hummus look pretty, but beets add a bunch of nutrients to an already healthy snack! It's another easy way to add veggies to your diet. I love vegetables, but I like them even better when they're hidden in my favorite recipes. Obviously.
My November goal is actually to drink a green smoothie every day. I know I'm a dietetic intern and I eat a mostly plant-based diet, but I don't always eat enough vegetables. Some days, it's just easier to eat peanut butter oatmeal for dinner instead of a big salad. Next thing I know, the only green I ate all day was the half avocado I had on my toasts at lunch. So you see, it's possible to eat grains all day instead of vegetables. That's why I'm trying to sneak in at least two portions of greens every day in my smoothies.
I love having short term goals like that to keep me motivated! Last month, my goal was to stay away from salty snacks… I only had chips once at Halloween, so I was close! It was only a couple of hours before November first, so good enough. 😉
Want to join me for a full month of green smoothies?! It would probably be a good goal for December too, when all the holiday treats come out. 🙂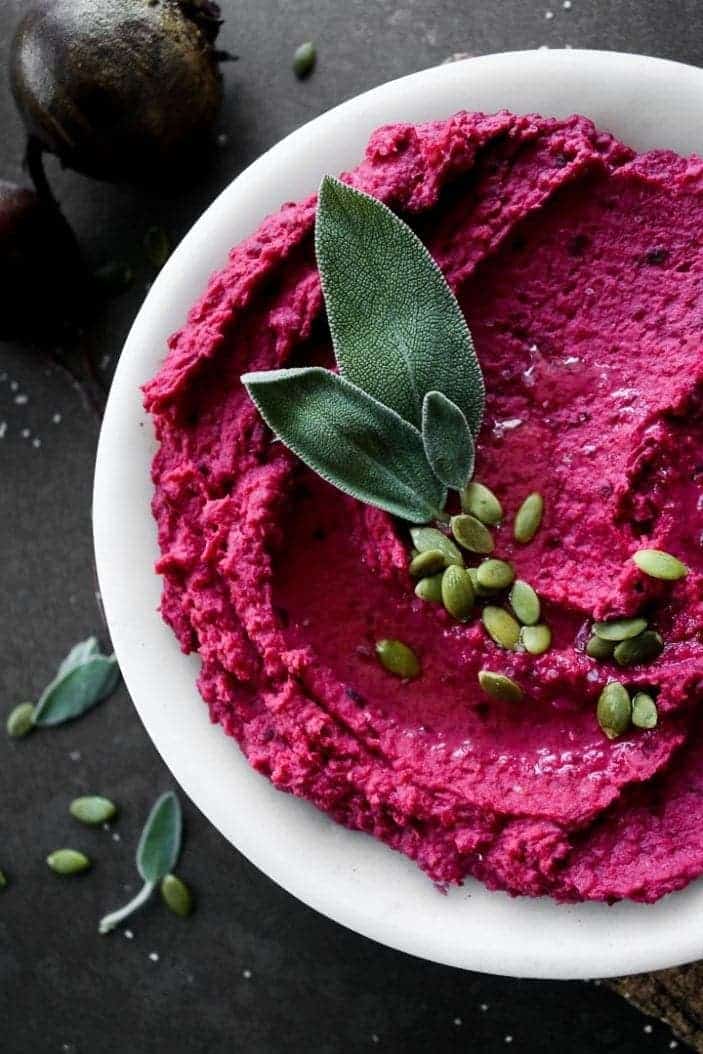 Anyway, I know that making homemade beet hummus seems scary, but I promise, it's very simple! You need less than 15 minutes of preparation and 30 minutes to roast your beets. There are only two steps and you get to save money and have a huge batch of hummus to last you all week. You could make half a batch if you don't want to eat 3 cups of hummus to yourself… That's probably what I should have done. Hah! 
Like I said, the beets will take 30 minutes, but I like to start preparing the other ingredients while they roast to save some time. And really, all you need to do is measure and dump all of your ingredients in a food processor. You add the beets when they're done roasting and you blend all the ingredients together until you get a smooth, bright pink hummus. It's all done in less than 45 minutes, but you only have about 15 minutes of work in there.
If you want to be extra efficient, make this hummus on a Sunday for healthy snacks throughout the week and while you're waiting for the beets to finish, cut and portion some vegetables to go along with it. Prepare little containers of carrot sticks, cucumbers, peppers, tomatoes or any of your favorite vegetables to dip in hummus. You can also dip in some crackers, pita or naan bread. Umm naan bread…
Then, if you're looking for different ways to use hummus, try adding it in a sandwich like I mentioned earlier or spread it on avocado toasts!
This recipe would also be a great appetizer during the holidays, served on a vegetable and cracker (and cheese!) platter.
It's simple, healthy and delicious!
Creamy Roasted Beet Hummus
Take your lunch to the next level with this creamy and colorful hummus! Use it as a dip for your favorite vegetables, crackers and pita or add it to sandwiches or avocado toasts.
Ingredients
1

cup

beets,

diced

2

cups

cooked chickpeas

1/4

cup

tahini

2

tablespoons

lemon juice

2

tablespoons

olive oil + 1 tablespoon for roasting

3

garlic cloves

1/4

teaspoon

fine grain sea salt

3

tablespoon

water + more as needed
Instructions
Preheat oven to 400F. Line a baking sheet with parchment paper.

Peel and dice your beets into small sized cubes. Spread them on your prepared sheet and coat them evenly with 1 teaspoon of olive oil. Sprinkle a pinch of sea salt. Roast for 30 minutes or until cooked through.

Meanwhile, add the remaining ingredients in a food processor.

When the beets are done roasting, transfer them to the food processor with the other ingredients. Blend until you get a smooth, bright pink hummus. Add more water if needed.
Notes
Store in an airtight container in the fridge for up to a week.
If you try this recipe, make sure to tag your photo #unsweetenedcaroline on Instagram, Facebook and Twitter! Don't forget to also tag me @unsweetened.caroline on Instagram so I can see your creations!