Creamy Mushroom and Dumpling Soup
I'm exhausted.
Who can relate? It probably doesn't help that we lost an hour of sleep last weekend, but to be honest, this internship is getting the best of me. With only a few months left, I feel obligated to give it all I have. It seems however that the more this internship goes on, the more tired I'm getting and the busier I get. I have so many recipes to share with you guys, yet so little time to write a post. I suppose there's something about working over 40 hours a week, spending a few hours every night studying, then taking some time to exercise and develop some recipes that can make a person exhausted. So instead of being the perfectionist that I've always been, I'm going to have to be okay with writing a shorter post every week and just leave you to the recipe. How would you feel about shorter blog posts over the next few months? Don't worry, I won't stop sharing recipes!
Enough about my busy life (we're all busy), let's move on to the recipe. I know we're all wishing for winter to be over by now, but the reality is that we're still experiencing temperatures of -20ºC to -30ºC around here. The last thing my body craves right now is a salad and all I can think about is the comfort of soup and hot oatmeal. Blame the winter storm that's coming today. I suppose spring recipes will have to wait another few weeks.
So this soup is the result of the cold temperatures we're currently experiencing. Think of it as a cross between creamy mushroom soup and french onion soup, topped with dumplings (my favorite part). It's filled with all the good stuff, yet prepared in under an hour. I made it healthier by using whole milk (or plain unsweetened almond milk) instead of cream and by using whole wheat flour for the dumplings. You simply start by lightly caramelizing your onions, then adding your garlic and mushrooms. When your vegetables are cooked, add your broth, thyme and bay leaves and simmer for 15 minutes. Meanwhile, you can make your dumplings using whole wheat flour, milk, baking powder and salt. When the 15 minutes are done, all you need to do is blend the soup in a blender or food processor and return it to the saucepan. Add your milk and dough and cook for an additional 5 minutes until your dumplings are done. To me, it's the perfect end of winter recipe!
I realize now that I said this was going to be a short post… Oh well! Here's to shorter posts and more healthy recipes to come!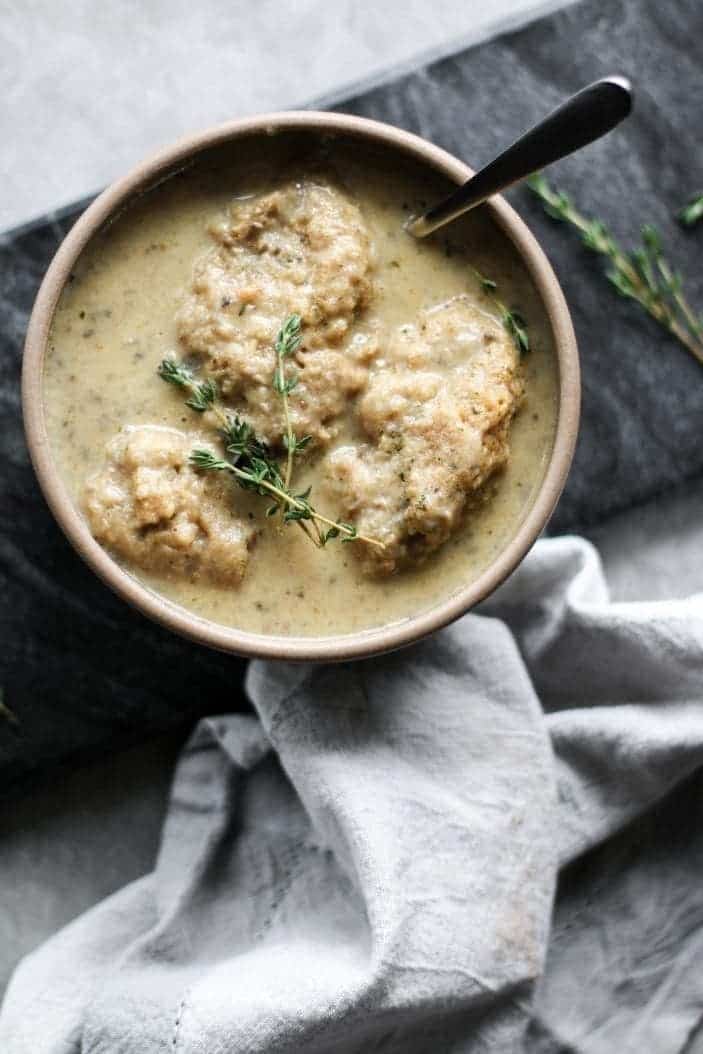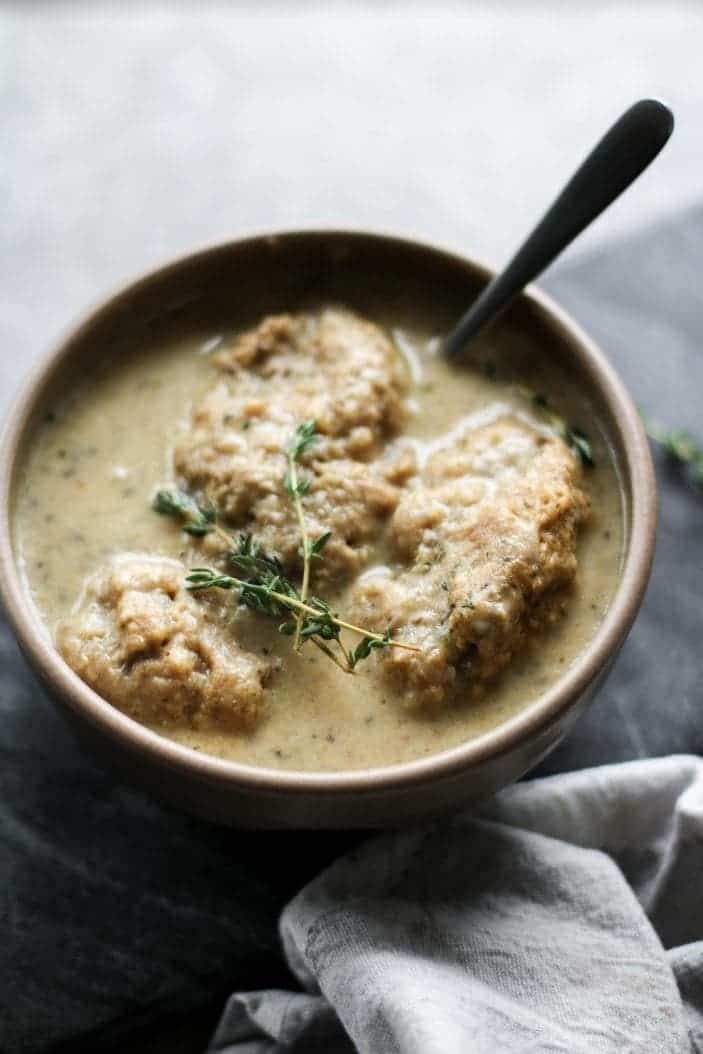 Creamy Mushroom and Dumpling Soup
Keep warm for the remaining of winter with this creamy, comforting and healthy soup. This mushroom soup is made with whole milk for a lighter alternative to cream and is topped with whole wheat dumplings. Try it with plain almond milk for an even lighter and vegan option.
Ingredients
2

tablespoons

margarine or butter

3

cups

yellow onions,

diced

3

cups

mushrooms (227g),

sliced

3

large

garlic cloves,

minced

1

teaspoon

fine grain sea salt

2

bay leaves

3

sprigs fresh thyme

1

teaspoon

Worcestershire sauce

5 1/2

cups

vegetable broth,

no added salt

3/4

cup

whole milk
Dumplings
1

cup

all-purpose whole wheat flour

3/4

cup

milk or plain unsweetened almond milk

Pinch

of salt

1/2

tablespoon

baking powder
Instructions
In a large saucepan, heat margarine over medium heat. Add your diced onions and cook 8 minutes until soft and fragrant. Meanwhile, prepare your mushrooms and garlic.

Add your sliced mushrooms and garlic and cook for 5 minutes until the water from your mushrooms has evaporated.

Stir in your salt, bay leaves and thyme.

Pour your Worcestershire sauce and vegetable broth and bring the soup to a boil, then reduce to medium heat and simmer for 15 minutes.

Meanwhile, prepare your dumplings: In a medium bowl, mix your flour with salt and baking powder. Add your milk and mix the ingredients together to make a sticky dough. Set aside.

Transfer the soup to a high-speed blender or food processor, making sure to discard the bay leaves and thyme. Blend until smooth. Transfer back to the saucepan, then stir in your milk. Top with little pieces of dumpling dough. Cover and cook over medium heat for 5 minutes or until the dumplings are lightly cooked through.
Notes
Store in an airtight container in the fridge or freezer.
If using low sodium vegetable broth, reduce the amount of added salt.
If you try this recipe, make sure to tag your photo #unsweetenedcaroline on Instagram, Facebook and Twitter! Don't forget to also tag me @unsweetened.caroline on Instagram so I can see your creations!