Chickpea-Nut Butter Ice Cream
Chickpea-Nut Butter Ice Cream: Ice cream that's made with chickpeas, plant-based milk, dates and peanut butter. So basically, a frozen dessert that's high in fiber, healthy fats, protein (depending on the milk you use) and sweetened with fruit.
To be honest, I kept this recipe from you guys since Christmas. I know, so selfish! In my defense, ice cream didn't feel like an appropriate recipe to share during winter. Especially not with the cold weather we had in December and January.
So why did I even make this recipe in December in the first place? Well, because it was supposed to be freezer fudge. Turns out, it had a texture similar to ice cream… I'm not mad about that at all.
The other reason I kept this recipe hidden for so long is because I wanted to share a video with it. I started learning how to make recipe videos in January and I shared my first video last month, so I waited until now to share this recipe and a video to go with it! Now I no some of you probably would have liked the recipe without really caring for a video, but that's where my reason number one comes in.
Now that it's (almost) summer, I'm ready to share my current favorite ice cream recipe!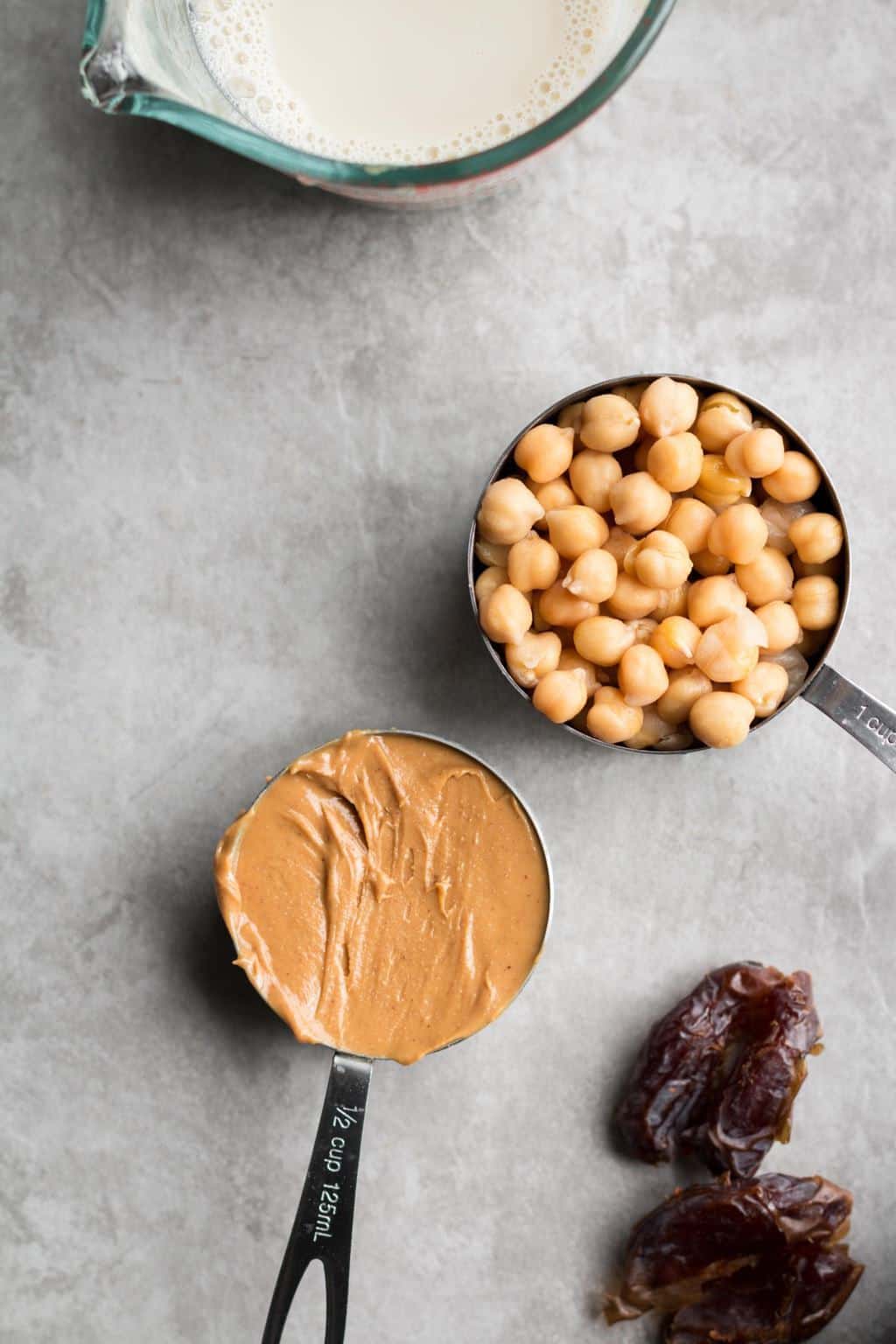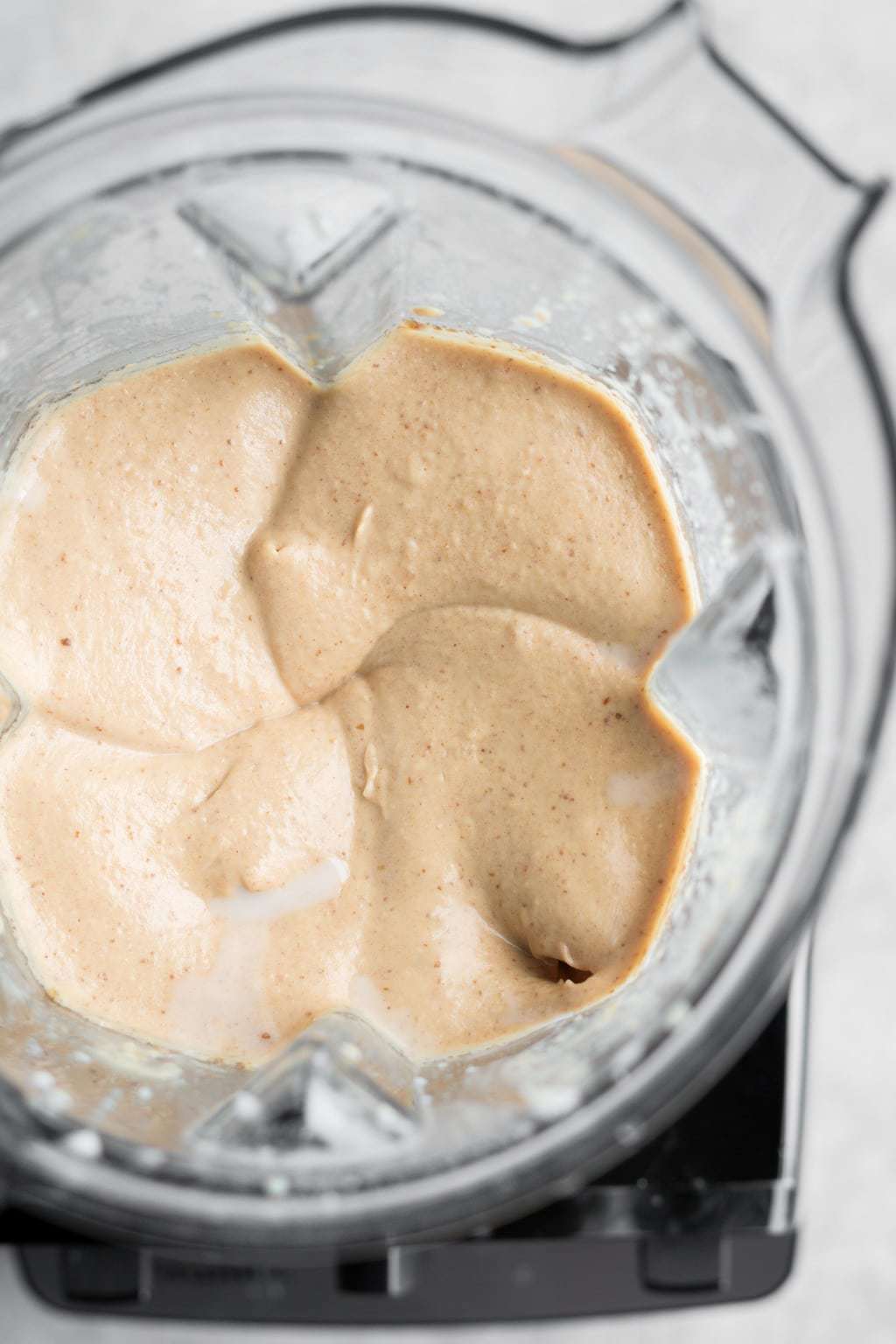 When I think back to the years I ate added sugar (now almost 4 years ago… I can't believe it!), I remember always ordering ice cream with peanut butter. I've never been one to like chocolate ice cream, but if it had peanut butter involved, then that would be another story. My all time favorite was vanilla ice cream with peanut butter and chocolate swirls and peanut butter cups. That's what I had every summer when we stopped for ice cream after a day at the beach. Good old days…
Since my sugary ice cream eating days are over, I decided to make my own peanut butter ice cream.
Now, this one doesn't have peanut butter cups added, but it's close enough. The whole ice cream is peanut butter flavored, plus I like to add more peanut butter on top and a sprinkle of cocoa nibs. You could definitely add chocolate chips or peanut butter cups if you want to go crazy… You probably should do that.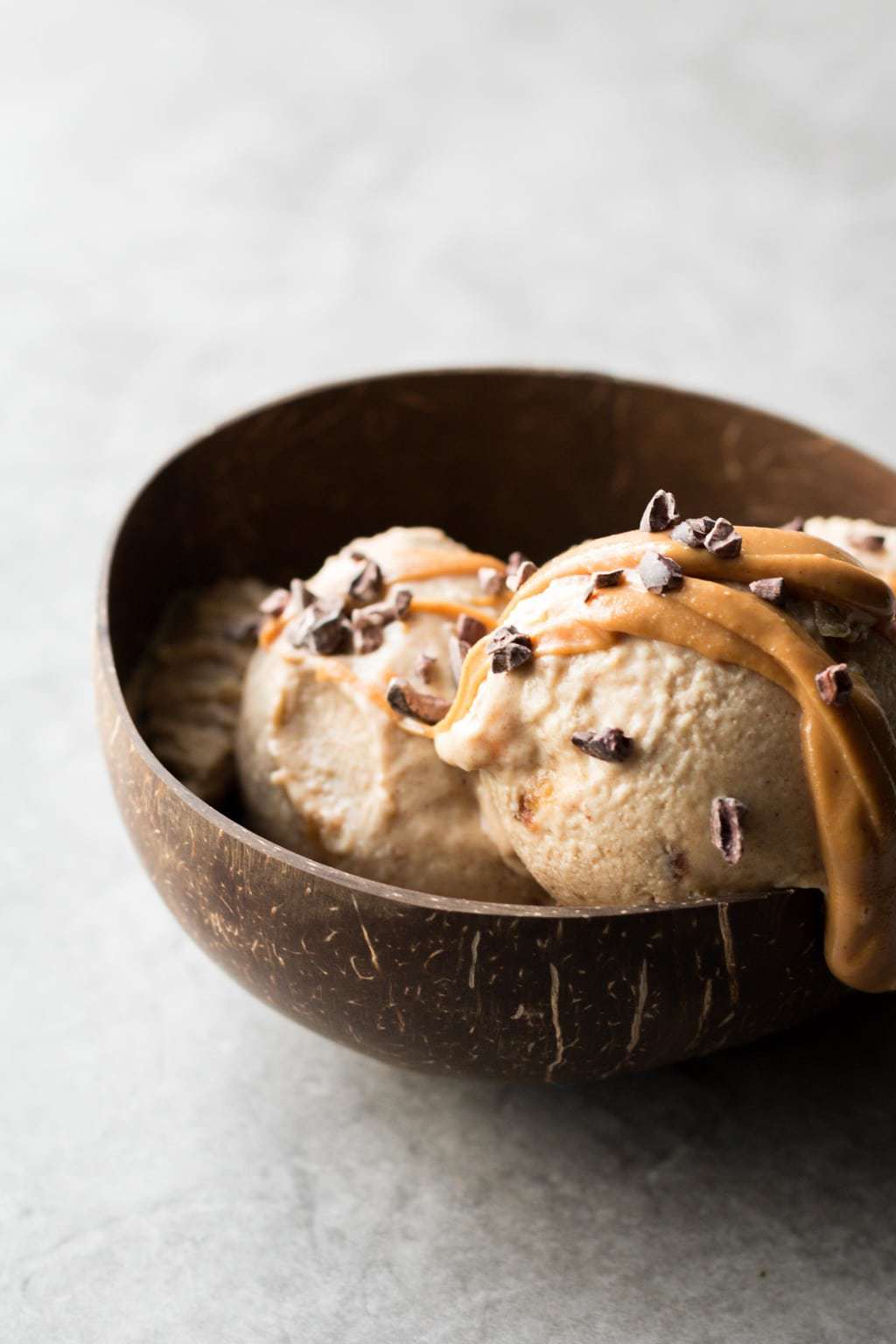 This recipe is not only healthy, but it's also as easy as homemade ice cream can get. There's no ice cream machine needed. Just a blender and a dish. All the ingredients are blended together until smooth, then added to a dish to freeze overnight or for at least 12 hours. Easy!
I find that the texture is best around 12-15 hours of freezing. It's creamy, easily scoopable and delicious. If frozen longer (depending on the temperature of your freezer), you may find that the ice cream gets a little harder and thus, harder to scoop. While it's still delicious and you can eat it this way (we always do), you may want to let it sit at room temperature for 5-10 minutes to make it easier to eat. Either way, it will be rich, perfectly sweetened and oh so delicious.
One of my favorite things about this recipe (other than the fact that it's healthy and easy), is that it doesn't melt as fast as regular ice cream. It could be at room temperature for a good 15 minutes without melting. It just softens. That means, you can take your time eating it and enjoy it without a mess. Great news for slow eaters like me!
I really hope you'll give this recipe a try and if you do, I would love to know what you think!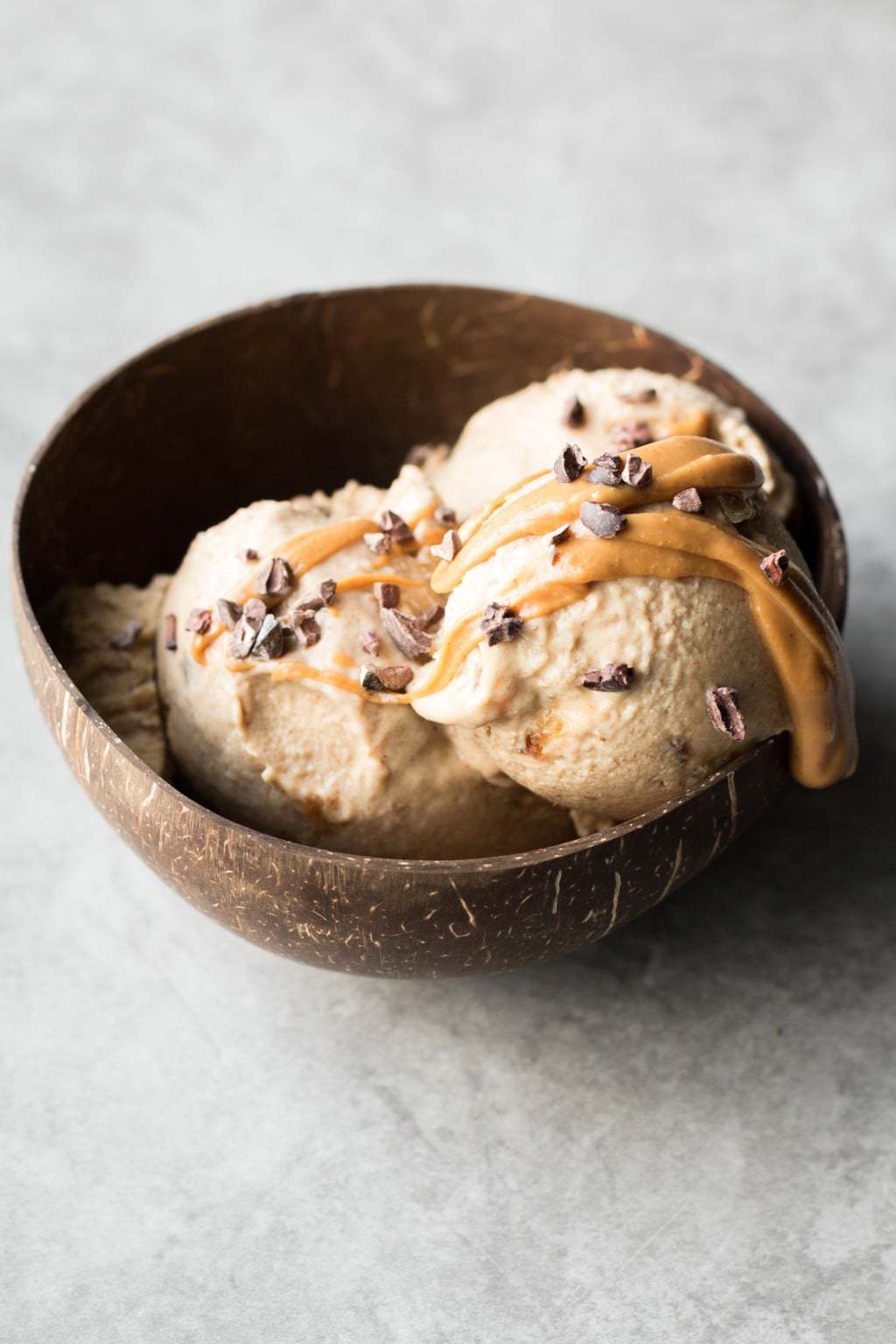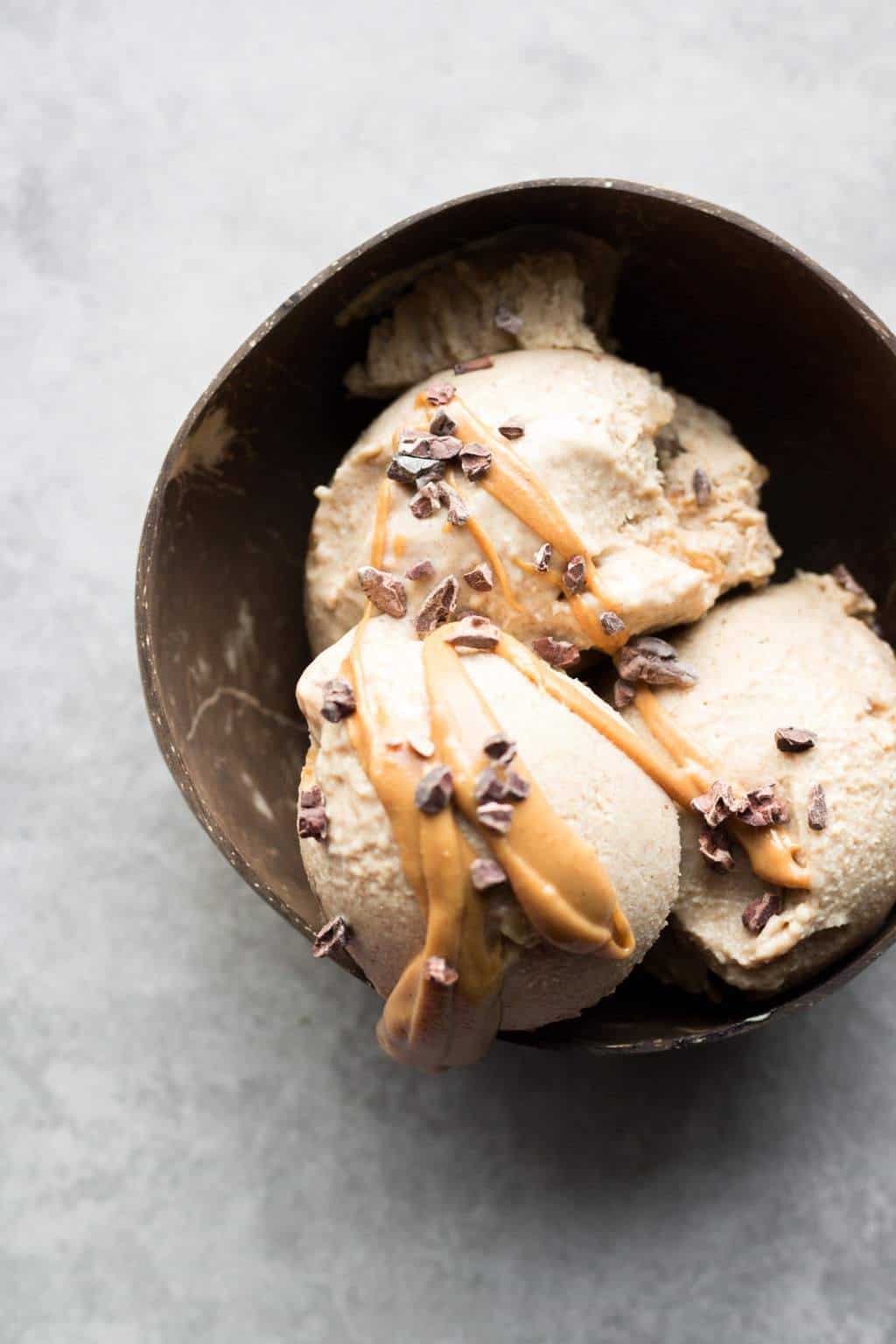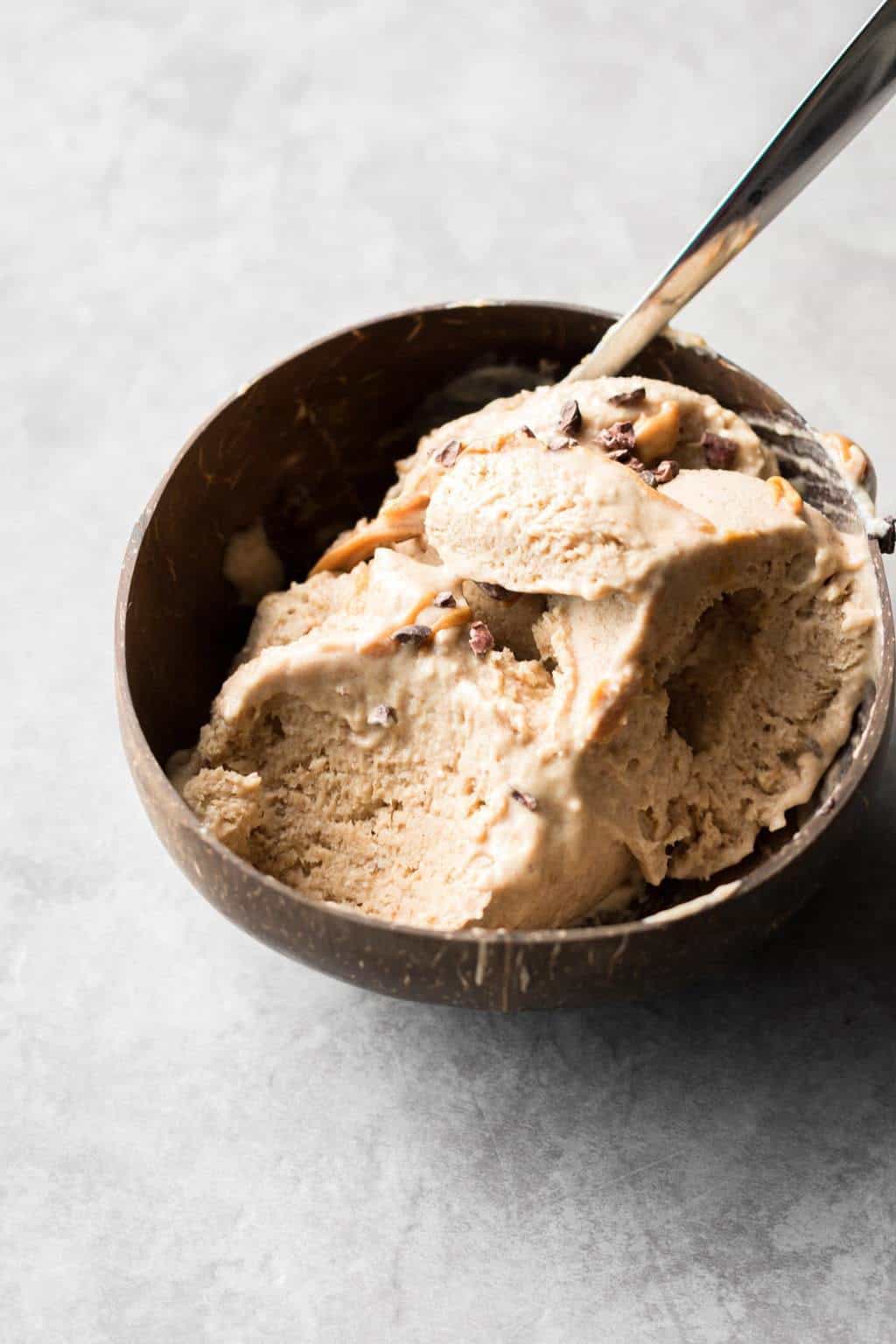 Chickpea-Nut Butter Ice Cream
This healthier ice cream is made with plant-based milk, dates, peanut butter and chickpeas. Yes, chickpeas. Don't worry, you won't taste them! This frozen dessert is a mix between ice cream and freezer fudge and has a rich peanut butter flavor, while being sweetened with dates only. It's ice cream with fiber, healthy fats and no added sugar! What could be better?
Ingredients
1

cup

canned chickpeas,

drained and rinsed

1

cup

Medjool dates,

pitted

1/2

cup

peanut butter

(I use natural salted)

1

teaspoon

vanilla extract

1

398 ml can (14 oz)

coconut milk,

low-fat (or about 1 1/2 cups plant-based milk of choice)

Chocolate chips or cocoa nibs for serving

(optional)

More peanut butter for serving

(optional)
Instructions
Add all the ingredients to a high-speed blender. Blend for 30 seconds or until smooth.

Transfer to a dish (I use a bread pan) and freeze overnight or for at least 12 hours. Serve with a drizzle of peanut butter and chocolate chips (or cocoa nibs) if desired. Enjoy!
Notes
This ice cream has the best consistency when eaten 12-15 hours after putting in the freezer. Longer than that, it can get a little harder (but still tastes great!). If this is the case, simply leave it at room temperature for a few minutes before serving.
I tried this recipe with almond milk, cashew milk, coconut milk and oat milk with success.
A strong blender is best for this recipe to get a smooth ice cream. 
If using unsalted peanut butter, you may want to add a small pinch of salt.
You can taste the mixture before freezing and add maple syrup to taste if you would like it sweeter.
If you try this recipe, make sure to tag your photo #unsweetenedcaroline on Instagram, Facebook and Twitter! Don't forget to also tag me @unsweetened.caroline on Instagram so I can see your creations!