Blueberry Banana Almond Flour Muffins
These blueberry banana almond flour muffins are sweetened with fruit and made with almond flour, making them a naturally gluten-free, lower carbohydrate and higher protein option. Perfect for a quick snack or breakfast on-the-go!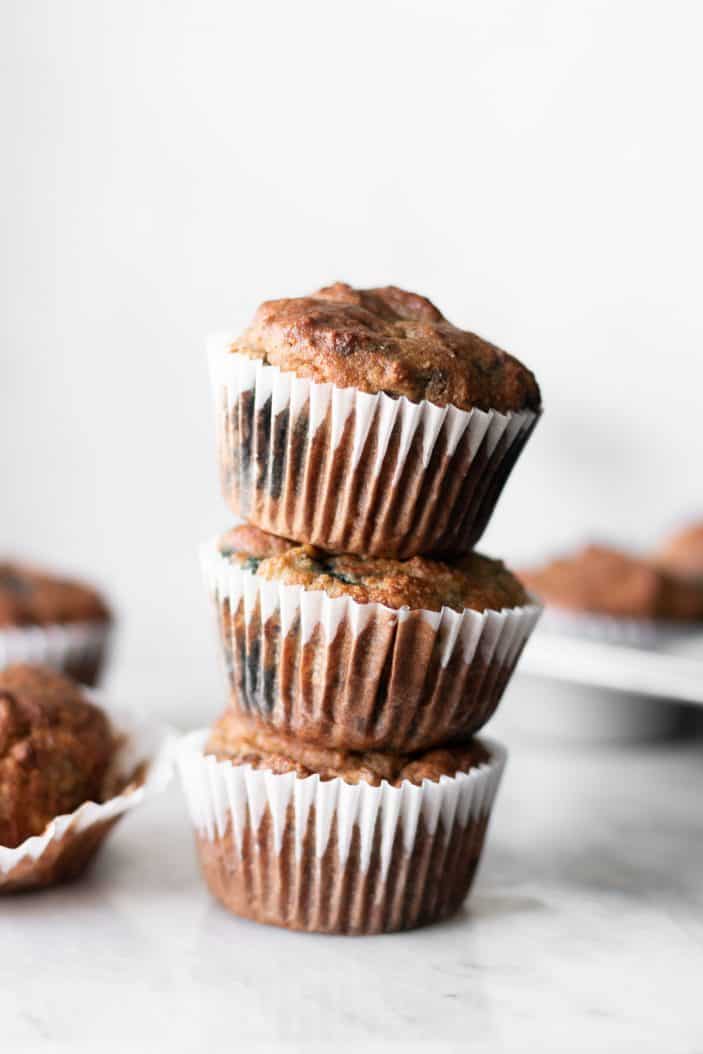 As I'm typing this, we're in a coffee shop, all cozy in Vancouver. We're drinking coffee, getting ready for a full day exploring the city.
We made the drive yesterday, taking the long way through Whistler and Squamish. We drove 7 hours in the beautiful mountains and it was worth the few extra hours in the car. We ate vegan pizza at Virtuous Pie and walked along the beach before heading to our little cottage for the evening. Basically all my favorite things in one day.
I meant to share these almond flour muffins with you yesterday, but we left early in the morning and it completely slipped my mind. Sorry for making you wait one extra day for these. But they're here now, just in time for your weekend baking plans.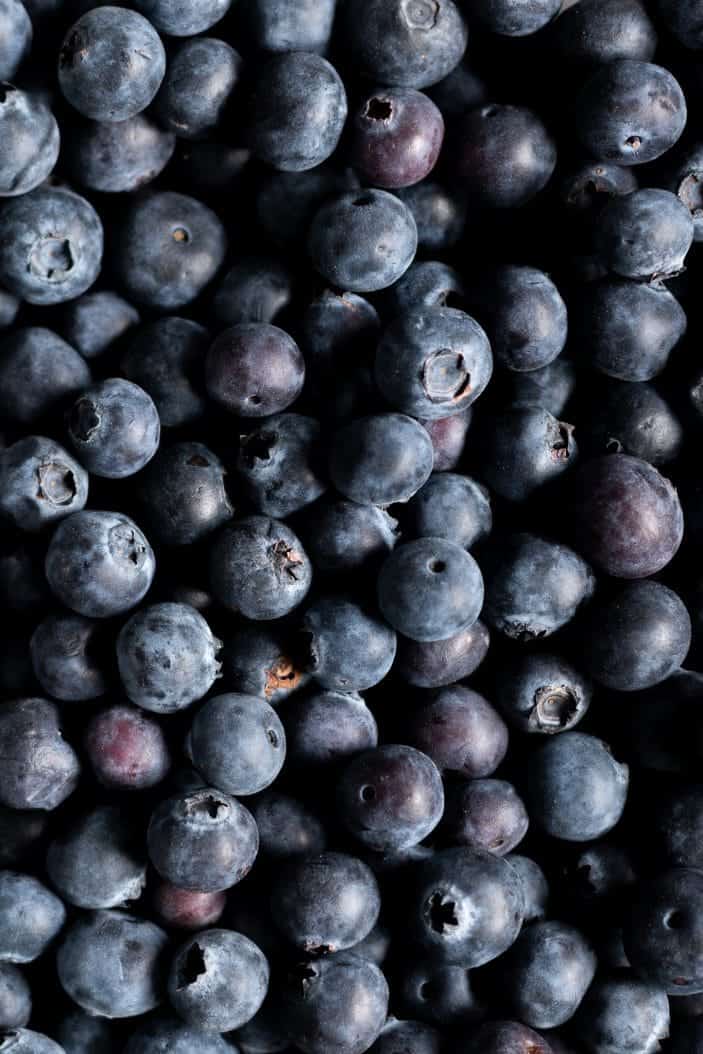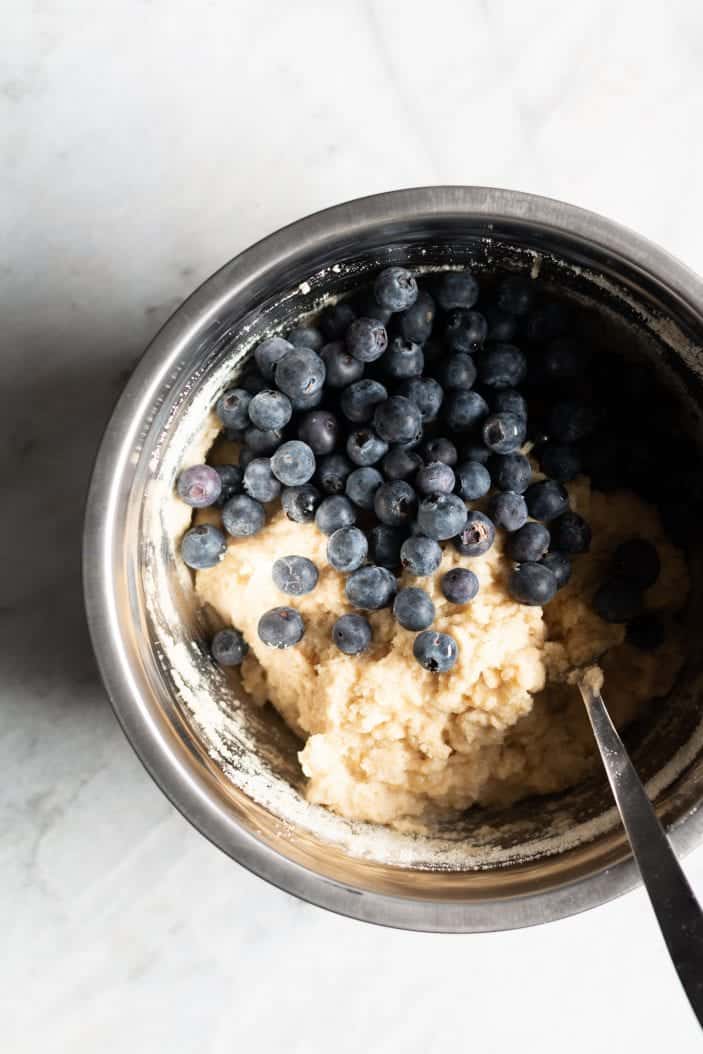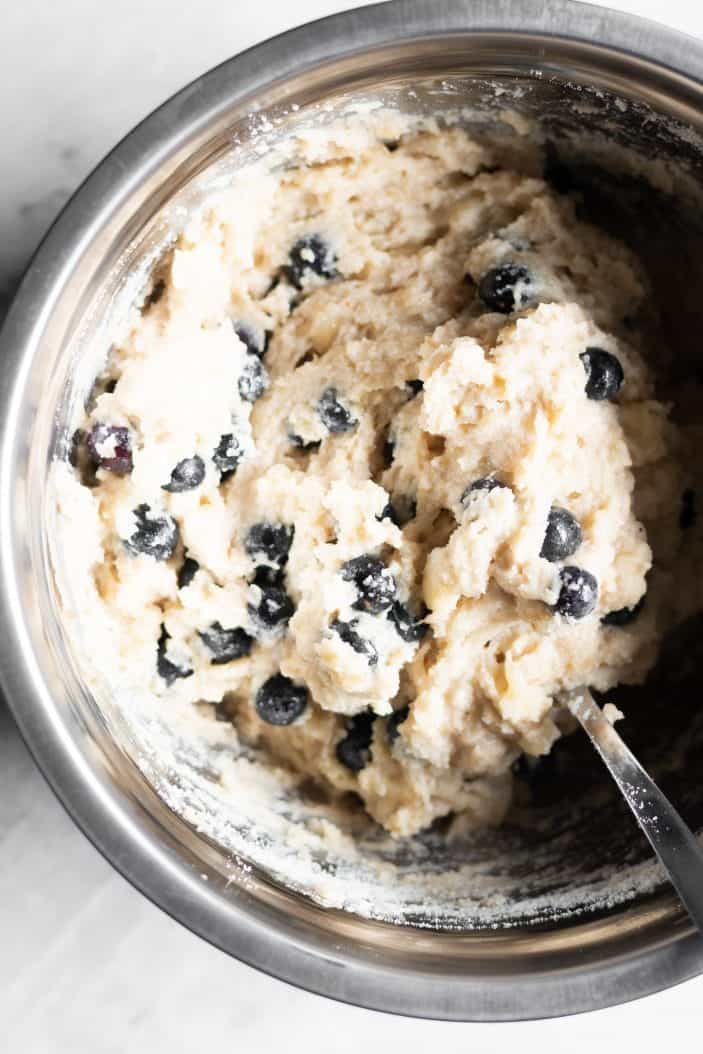 I've been getting so many requests for almond flour recipes and I'm happy to finally share one. Well, technically these ice cream sandwiches were made with almond flour too.
As I'm a bit new to the almond flour game, I used this recipe from ifoodreal for inspiration. I modified the recipe a bit using what I had and they turned out so moist and perfect.
It's as simple as mixing the dry ingredients together, the wet ingredients in a different bowl and then combining it all together. You can also use a blender if preferred. I don't like cleaning that thing, so I went for a bowl.
Finally, you can omit the blueberries in the recipe for simple banana muffins. Even better, you can substitute the blueberries for chocolate and/or raspberries. Follow your heart. My heart says chocolate and blueberries next time.
Update: I realised a few months after posting this recipe that I had forgotten to add the eggs in the written recipe and had salt written twice… I'm not sure what happened here, but I blame it on being on vacation when I wrote this recipe. Surprisingly, many of you had tried this recipe and said it was good? If you tried it and didn't like them, I'm sorry for my mistake! You might want to try them again. 😉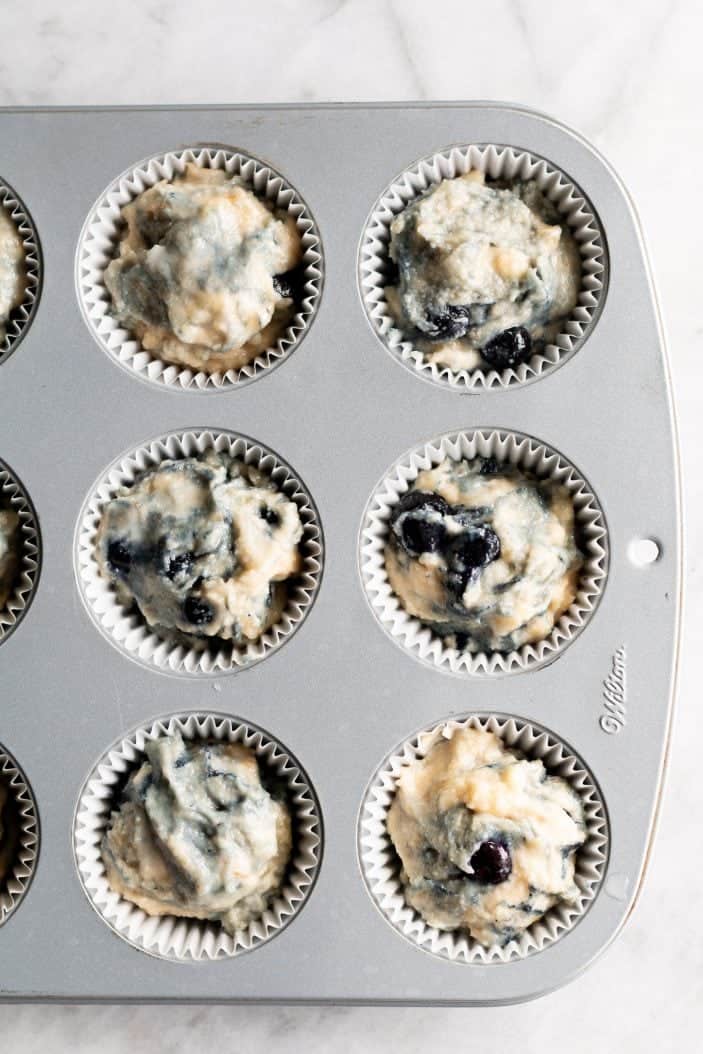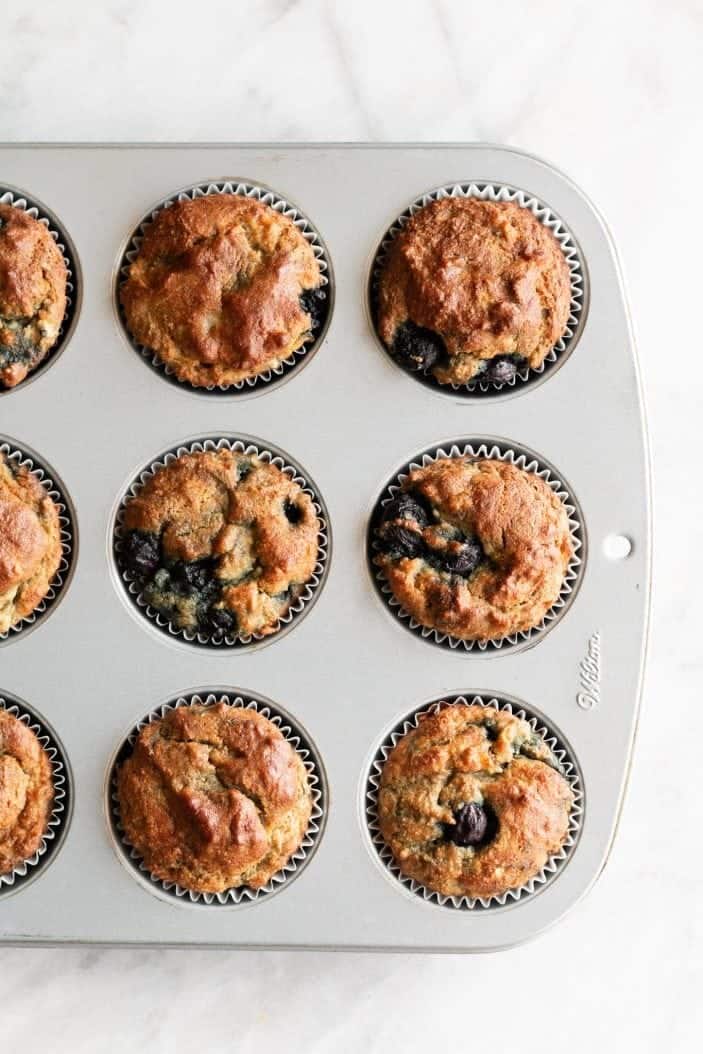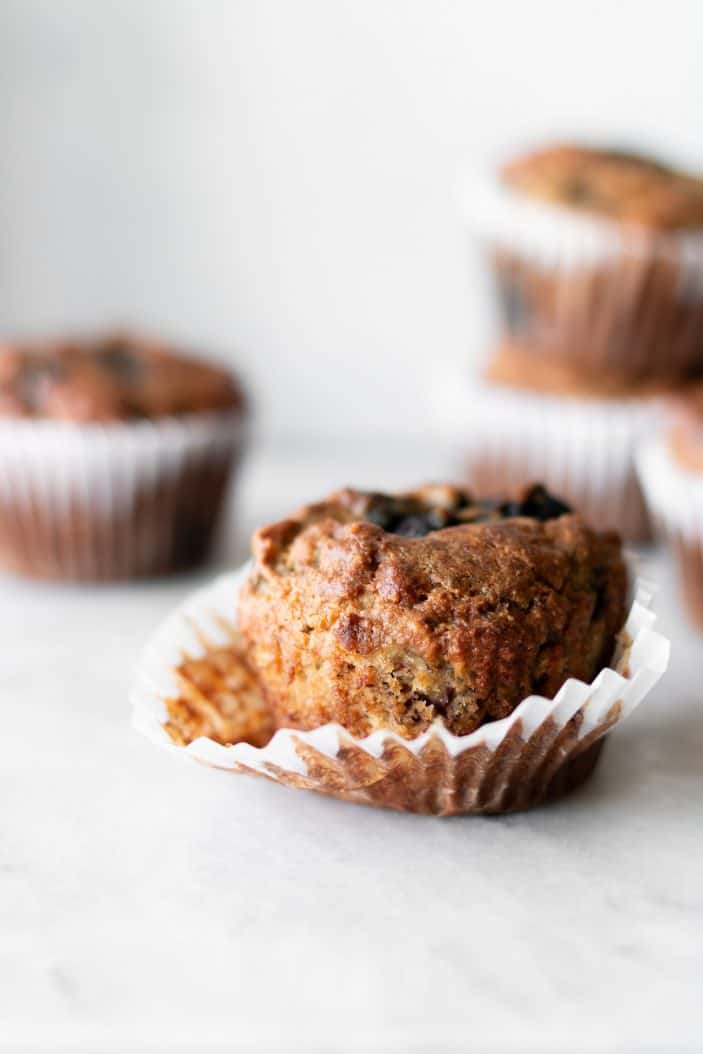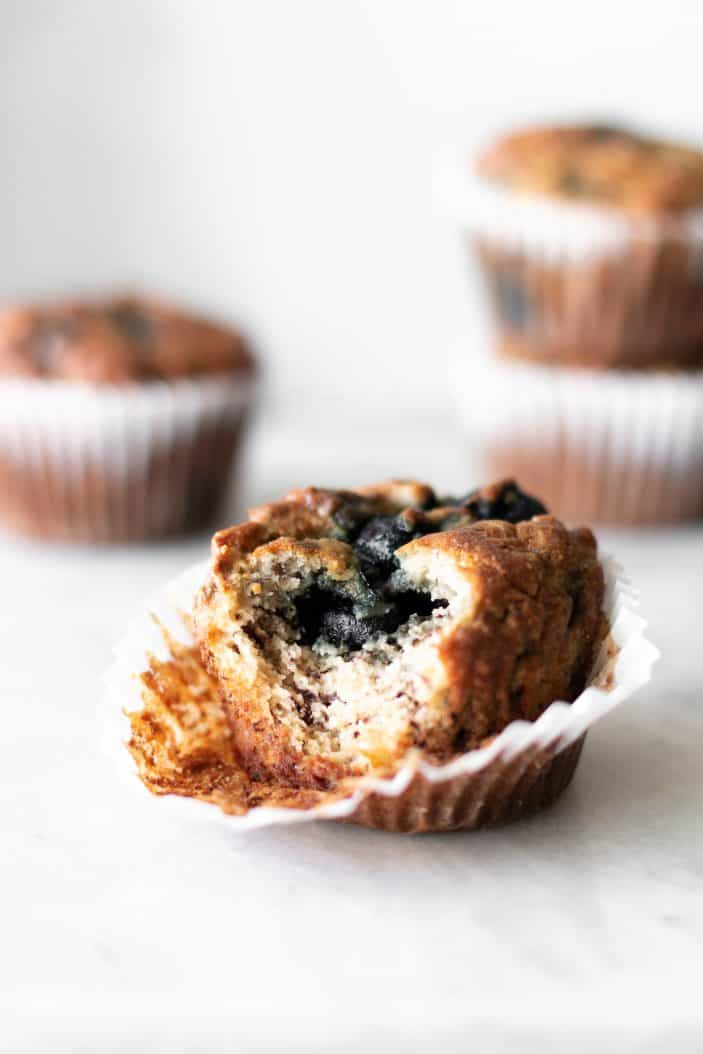 Blueberry Banana Almond Flour Muffins
These blueberry banana muffins are made with almond flour, making them a naturally gluten-free, lower carbohydrate option and higher protein option. They're sweetened with bananas and blueberries and are perfect for a filling, yet healthy snack!
Ingredients
Wet Ingredients
3

medium

overripe bananas

1

teaspoon

vanilla extract

2

large

eggs
Dry Ingredients
2 1/2

cups

fine almond flour

(spoon and leveled)

1/2

teaspoon

baking powder

1

teaspoon

baking soda

1/4

teaspoon

salt

1

cup

blueberries
Instructions
Preheat oven to 350F. Line a muffin pan with muffin liners or lightly grease.

In a medium bowl, whisk together all the wet ingredients. Set aside.

In a second bowl, mix together all the dry ingredients, except for the blueberries. Transfer to the wet ingredients and mix it all together until combined, without over mixing. Stir in the blueberries.

Transfer to the muffin pan, making 12. The mixture will be quite thick, so to have a smoother looking muffin top, smooth them with lightly wet hands. Alternatively, you can transfer the mixture using an ice cream scoop.

Bake for 30 minutes. The muffins will be dark on the outside, but shouldn't be burnt.

Let them cool completely and store them in an airtight container in the fridge or freezer.
Notes
You can omit the blueberries or try replacing them with raspberries or chocolate chips
Recipe inspired by ifoodreal.
You can also mix all the ingredients in a blender, which is how ifoodreal made them, but I opted for the old fashion bowl.
You can omit the eggs in this recipe and add a splash of plant-based milk to make them vegan. The egg version leads to a better looking muffin, but both are good tasting!
If you make these blueberry banana almond flour muffins, be sure to leave a comment and/or give this recipe a rating! I love to hear from you guys. And of course, if you try this recipe, don't forget to tag me on Instagram!