Blender Oat Milk Matcha Latte
A quick and easy blender oat milk matcha latte that's made with only 2 ingredients. No matcha whisk or frother needed! This matcha latte requires only 5 minutes of preparation and is much cheaper than the coffee shop version.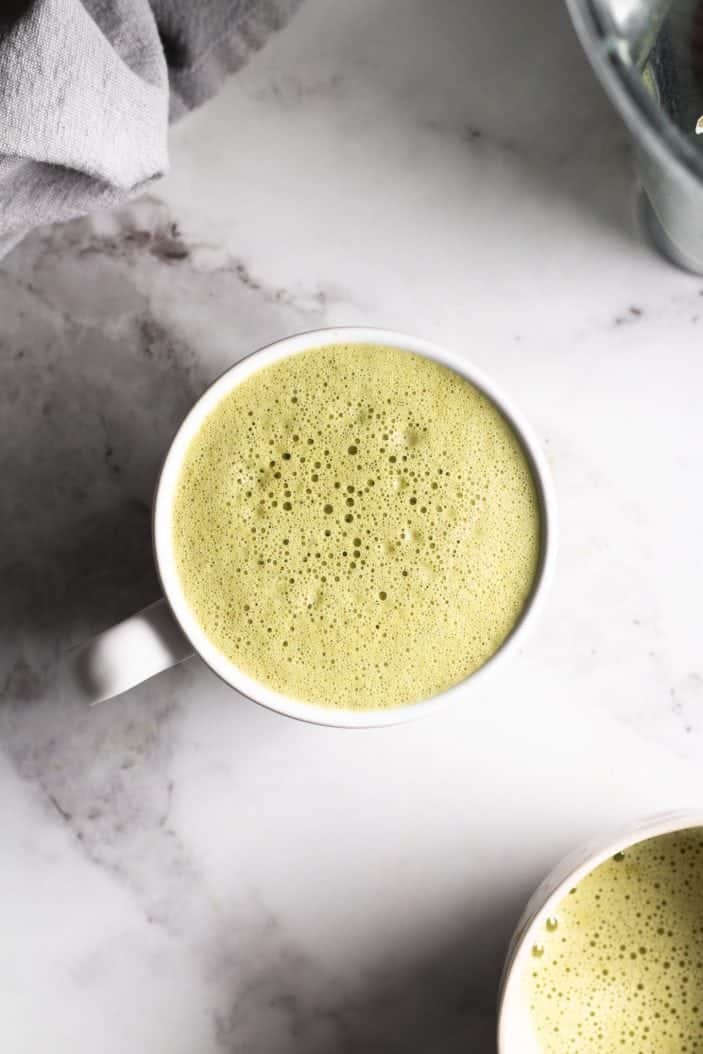 I fell in love with oat milk matcha lattes while in Europe over the past 3 months. I mean, I love my coconut blender matcha and I've been making it for a year now, but I now have another favorite matcha in my rotation.
As much as I love matcha lattes, they can be extremely expensive at restaurants or coffee shops. This is a quick and easy way to make an oat milk matcha latte at home, for a fraction of the price!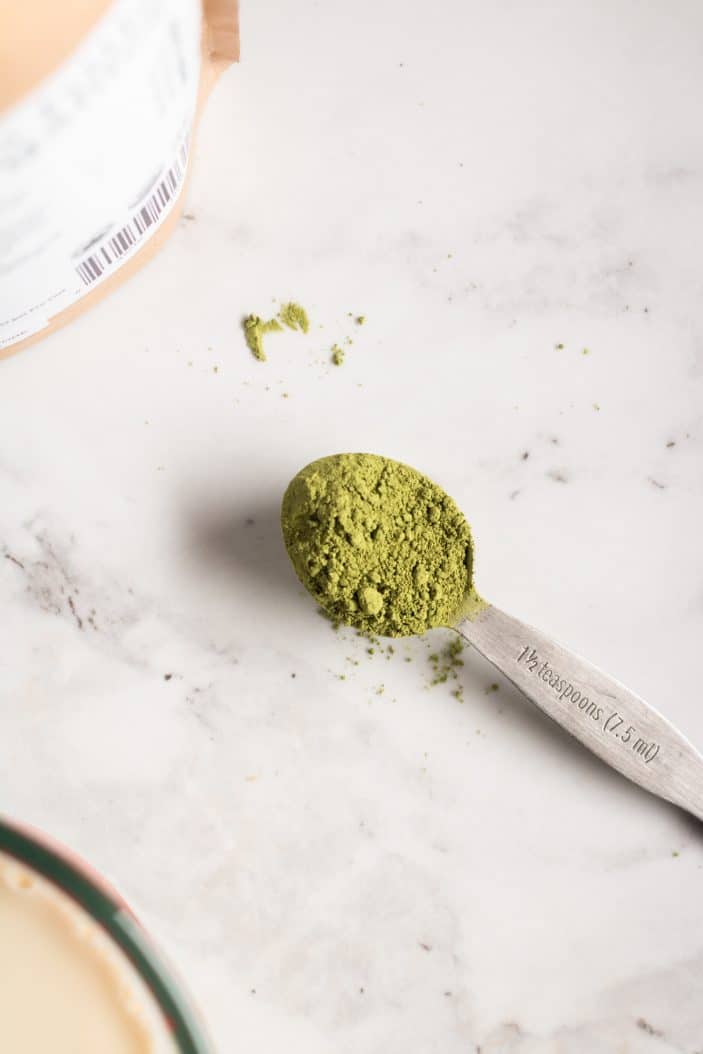 Oat Milk Matcha Latte FAQ:
Where Can I Find Oat Milk?
Oat milk can be found at most grocery stores nowadays. Several large plant-based beverage brands carry a kind of oat milk. If you can't find it at your regular grocery store, check health food stores in your region and you should find it.

Here in Canada, we don't have the amazing Oatly (in most stores) that could be found all over Europe. However, a few brands do carry oat milk over here. My personal favorite is the one by Earth's Own (you can also buy it online). A barista blend is also a great option for an extra frothy latte.

Thankfully, many coffee shops, including Starbucks, now offer an oat milk option as well.
Can I Use a Different Milk?
Yes! You can make a matcha latte with your favorite milk. Just make sure to use one that you enjoy in lattes. Of course this recipe is made with oat milk, which is my personal favorite milk for lattes.
What is the Best Matcha to Make a Latte?
The best matcha for making lattes is a ceremonial matcha. It's a better quality than culinary grade matcha and has a better flavor, plus a beautiful bright green color. However, ceremonial matcha can be significantly more expensive than culinary matcha. Choose a matcha that fits into your budget (make sure that it's 100% matcha and not a latte blend).

That being said, I do love using this DoMatcha ceremonial matcha when I want the beautiful bright green color and better quality. I've also heard good things about Encha matcha. Otherwise, I tend to use a more budget-friendly option. If you want to learn more about matcha, I love this guide by Veggiekins.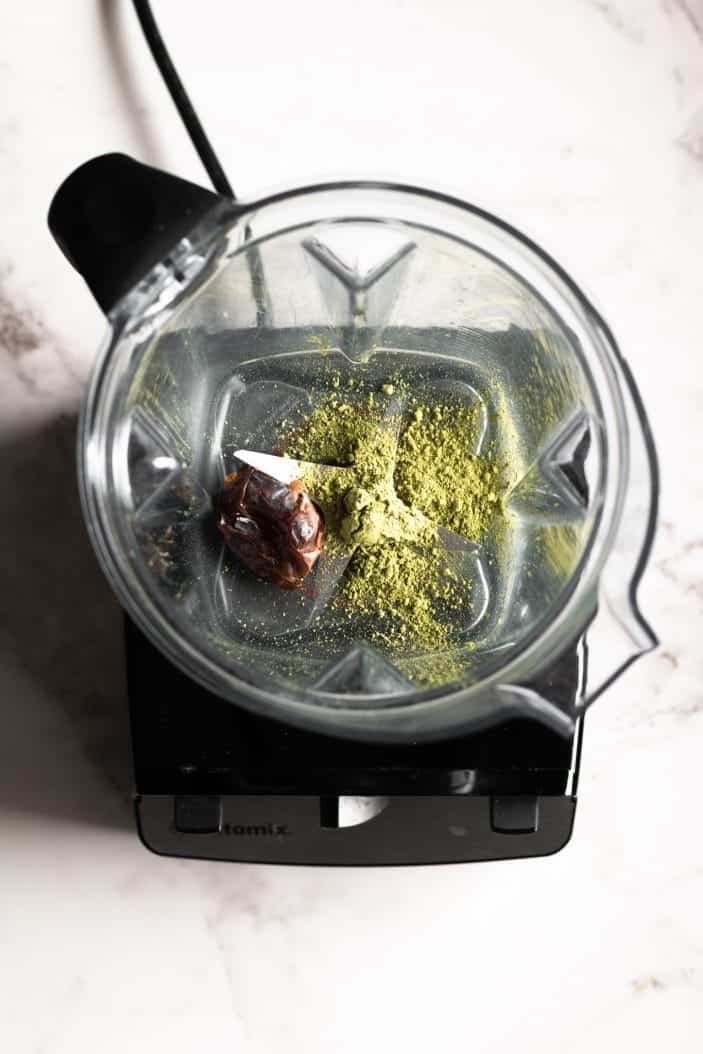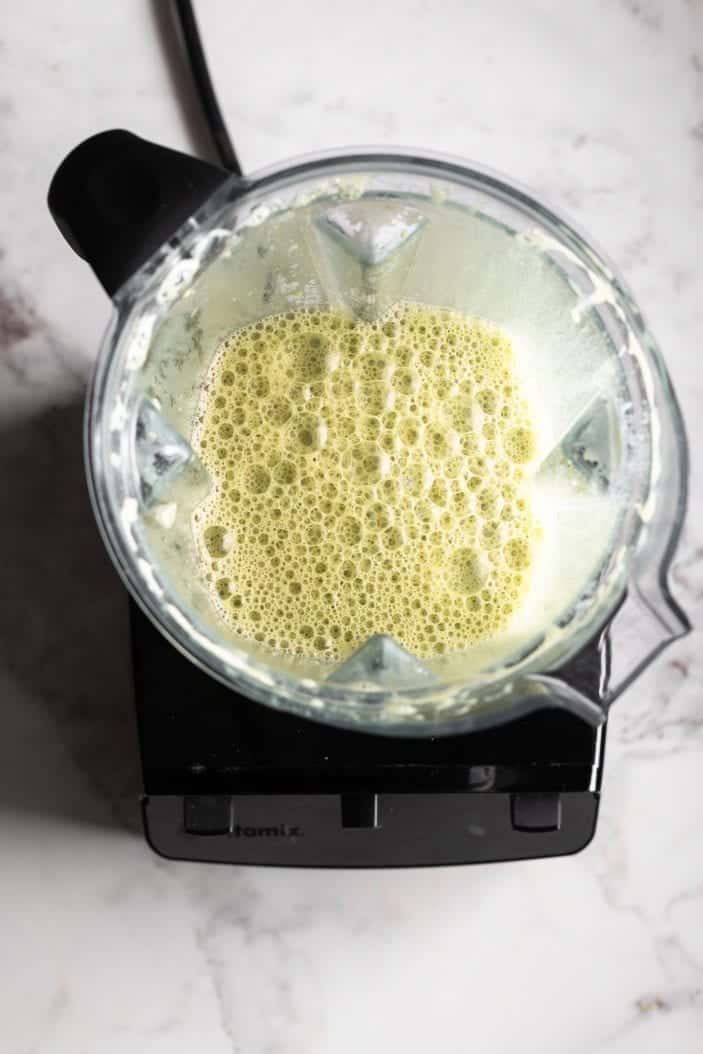 How to Prepare a Matcha Latte:
Matcha lattes are typically made using a matcha whisk and warm frothed milk. You add a small amount of warm water to your matcha and whisk with a matcha whisk before adding it to your frothed warm milk.
For those that don't own a matcha whisk or even a frother, there's another way! I personally love to use my blender to make my matcha lattes. It's simple and could save you from buying new kitchen equipment.
How to Make a Blender Oat Milk Matcha Latte:
All you need to do is warm your oat milk, either by using a microwave or a saucepan. You then add the warm milk with the matcha and sweetener (optional) to a blender and blend until frothy. That's it!
I hope you'll love this matcha latte as much as I do.
More Cozy lattes:
And if you want an iced matcha recipe, you can check out my iced matcha latte with oat milk.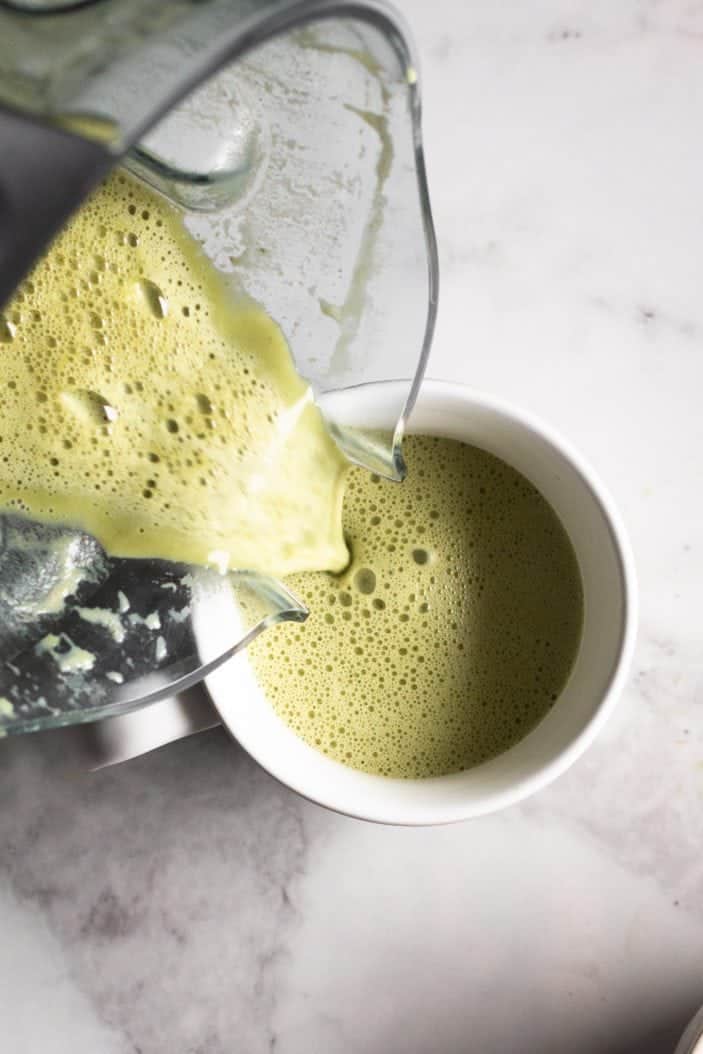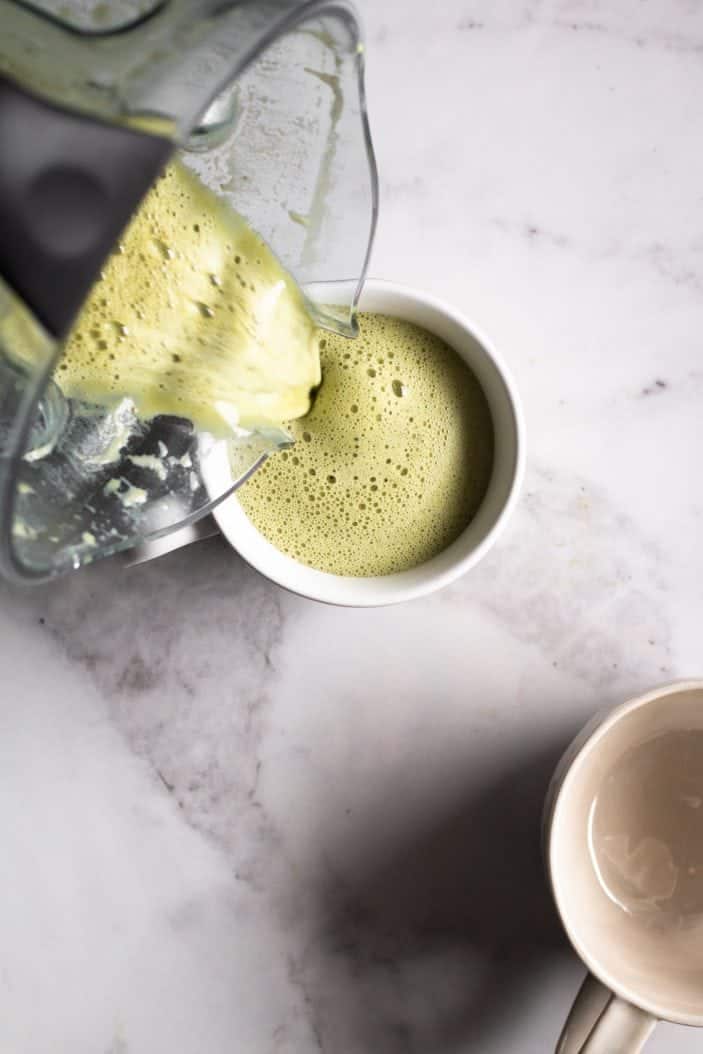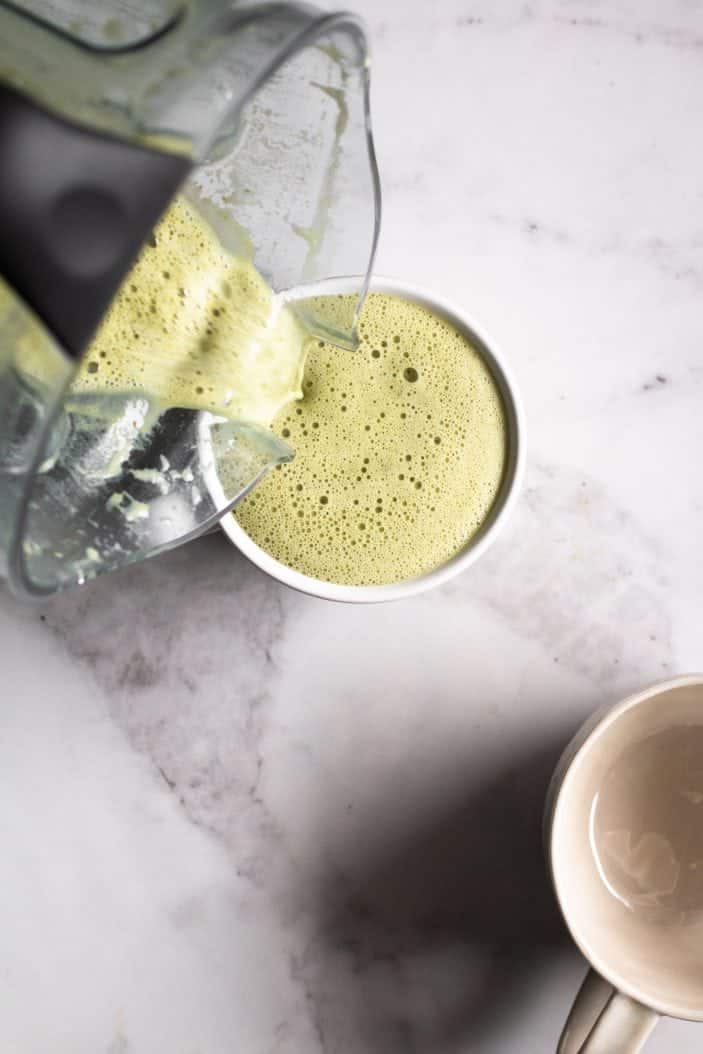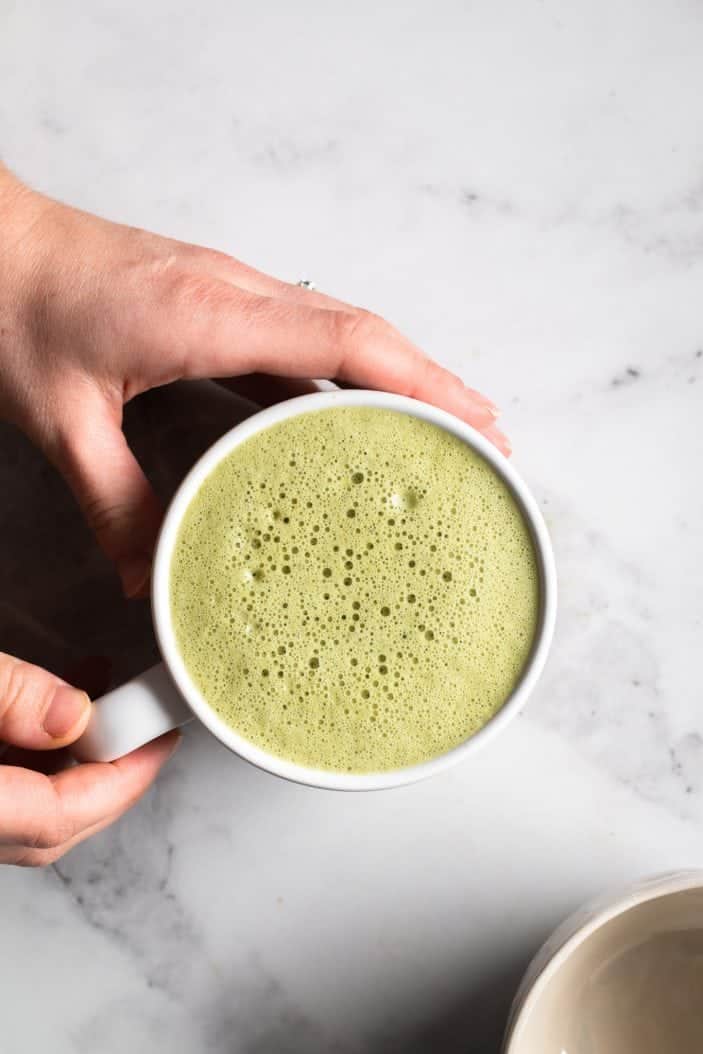 Watch How to Make an Oat Milk Matcha Latte:
Blender Oat Milk Matcha Latte
A quick and easy oat milk matcha latte that's made in the blender. No matcha whisk or frother required! This matcha latte is made with only 2 ingredients, plus a sweetener of choice.
Ingredients
1 1/2

teaspoon

matcha green tea powder

1 1/4

cup

unsweetened oat milk

Sweetener of choice,

see notes
Instructions
Heat your milk using a microwave or small saucepan. The milk should be warm, but not boiling hot. (see notes).

Add the matcha and sweetener (if using) to a blender. Add the warm milk and blend until frothy, about 10 seconds. Taste and adjust sweetness as needed. Serve warm.
Notes
I tried this recipe without a sweetener and I personally loved it. Oat milk is naturally a little sweet and compliments the matcha very well. However, this latte is also delicious with added sweetness, especially if you're new to matcha or not a fan of a stronger matcha flavor. I tried blending in 1 Medjool date, which was delicious and sweet (1/2 a date would be best for a light sweetness). I don't recommend using dates if you don't have a strong blender. You could also use maple syrup, honey or granulated sugar to taste if desired. To keep is simple, I like to heat the oat milk in the microwave with the cup I'm using to drink my matcha or a glass measuring cup (it saves on dishes). With my microwave, I find that 2 minutes is all I need to get warm oat milk. The time may differ with your microwave.  Another option is to heat the milk using a small saucepan. If doing this, slowly heat the milk over medium-high heat. Don't bring it to a boil (matcha is best with warm, not hot milk), but instead, let it heat until warmed to your liking.
If you make this oat milk matcha latte, be sure to leave a comment and/or give this recipe a rating! I love to hear from you guys. And of course, if you try this recipe, don't forget to tag me on Instagram!
---
Looking for More?
Check out my Cozy Vegan Drinks eBook. It's packed with a total of 22 warm beverage recipes, including vegan lattes, hot cocoas, matcha lattes, teas and more!
This post contains affiliate links. I only share products that I trust and recommend. Choosing to use these links helps to support me and this blog. Thank you!