15-Minute Peanut Ramen Noodles
15-minute peanut ramen noodles. A quick and easy weeknight dinner, made with only 8 ingredients! Just ramen noodles with carrots and a simple peanut sauce.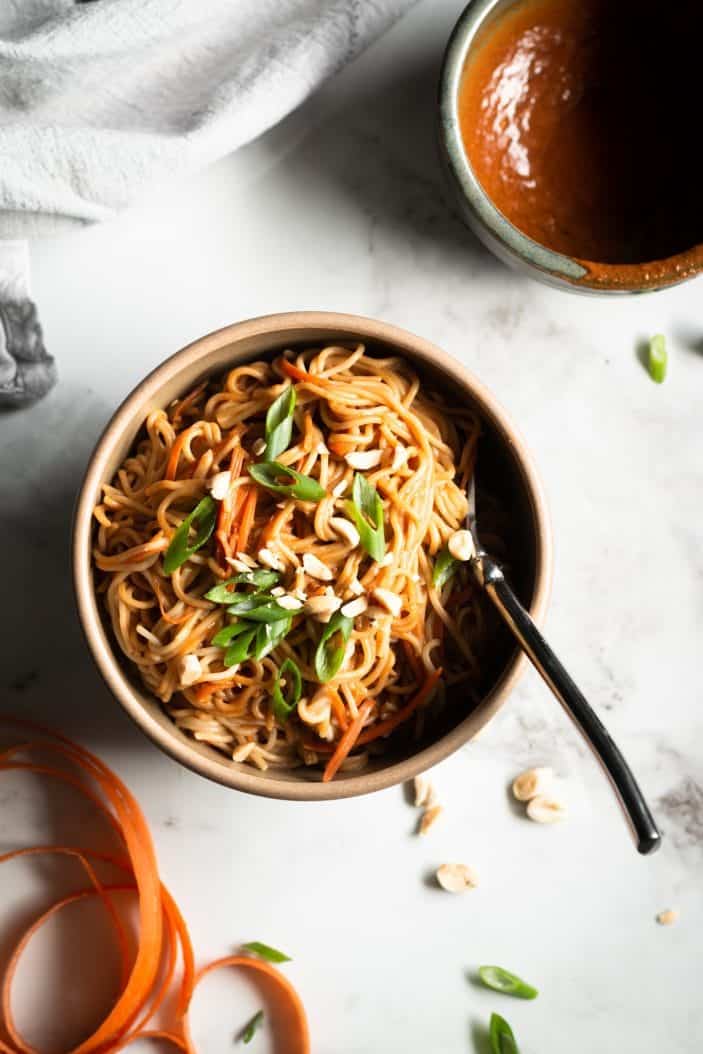 I found my new favorite quick and easy meal. The meal I turn to when my fridge is almost empty and I need something good, fast. 15-minute peanut ramen noodles.
All you need are 8 basic ingredients:
Ramen noodles (rice noodles would work too)
Carrots
Peanut butter
Soy sauce
rice vinegar (white vinegar would work too)
Garlic or garlic powder
Lime juice (or more vinegar)
Red curry paste (totally optional, but recommended)
See? If you don't have all of these ingredients in your pantry already, you likely have one of the alternatives. Personally, I don't always have ramen noodles on hand (I probably will now), but again, rice noodles would be great too!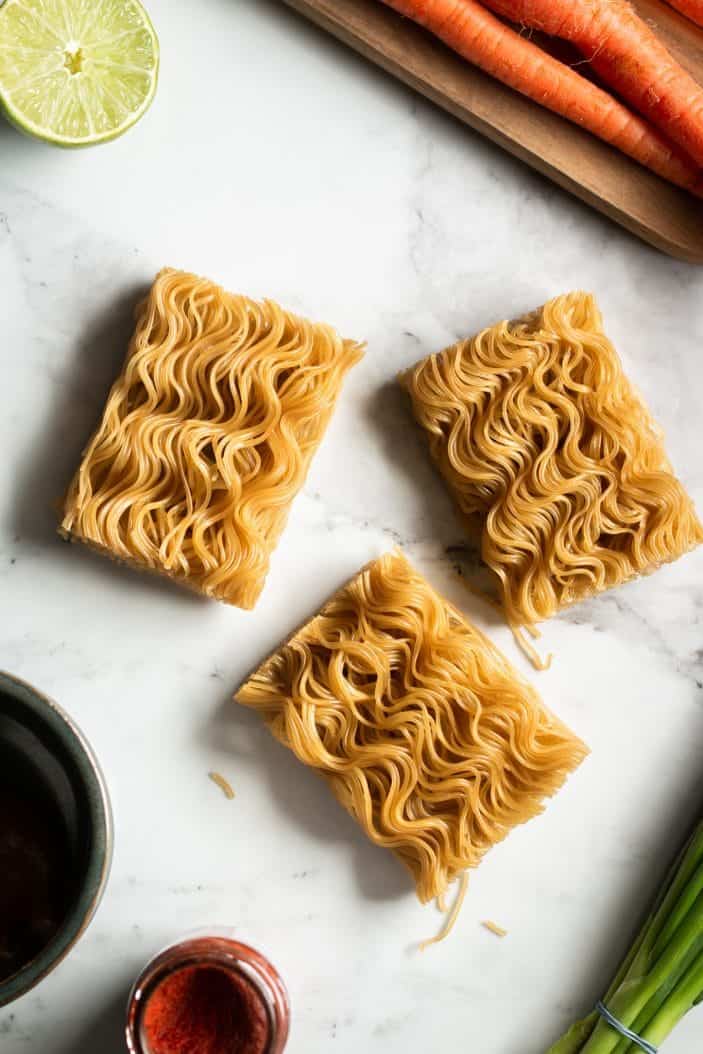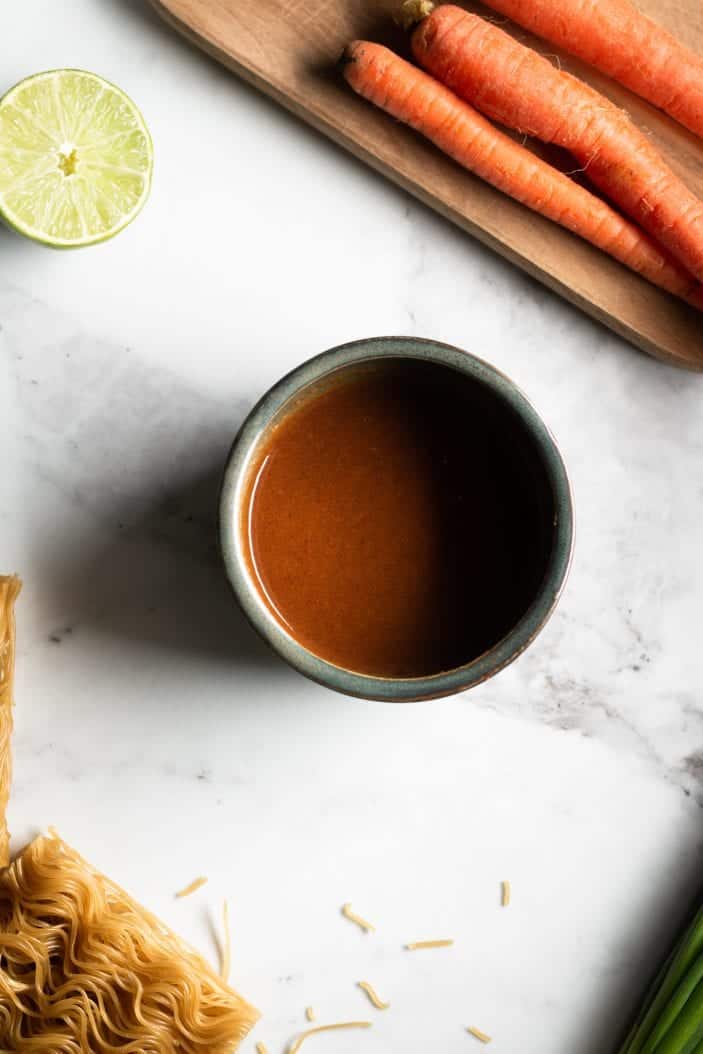 Now that we know how minimal the ingredients list really is, let's see how quick this recipe is to put together. It's done in 3 steps:
First, Boil the noodles. Add the carrots in the last minute of cooking.
Second, make the sauce while the noodles are cooking. Just whisk all the ingredients together.
Finally, stir the sauce into the noodles. Done!
A Few Notes on the Recipe
I love to top my bowl with chopped peanuts and green onions for a little extra, but it's not necessary.
This recipe makes about 2-3 servings. Feel free to double it if you're serving a bigger family.
I used these brown rice and millet ramen noodles. They have portions already made, so I just used 3 little portions. Alternatively, you could use other packaged noodles with flavors (just don't use the flavor pack).
The carrots are also technically optional. I decided to add them in for color and crunch.
And finally, the curry paste is something extra that I decided to use. If you don't usually buy it, just omit it. However, I do find it adds some good flavor and spice.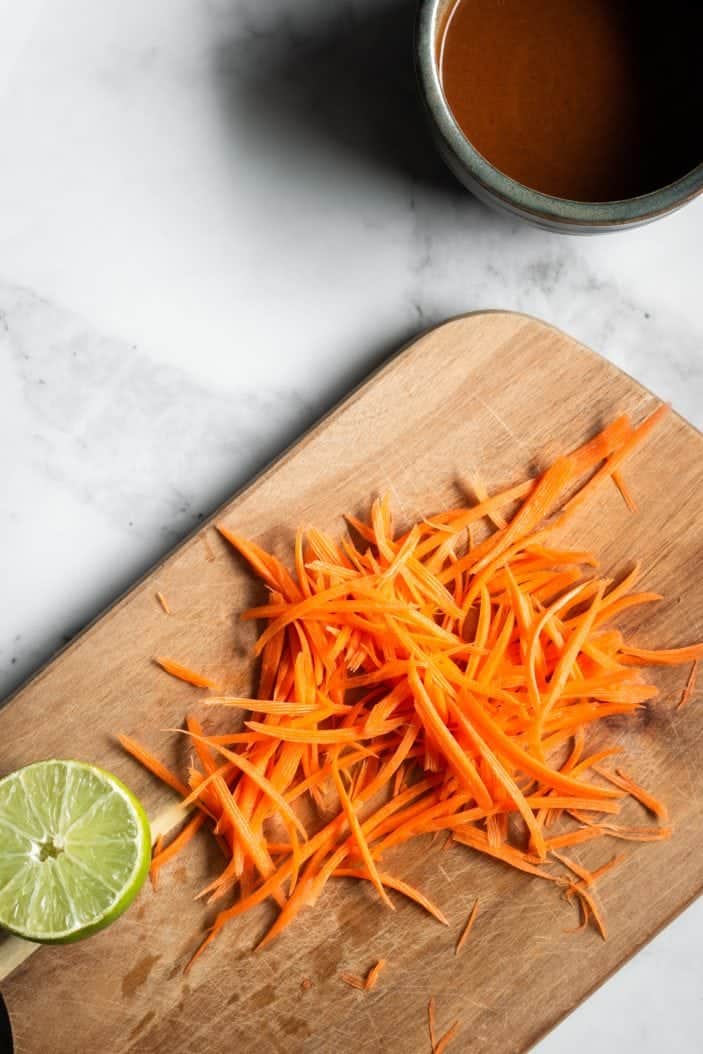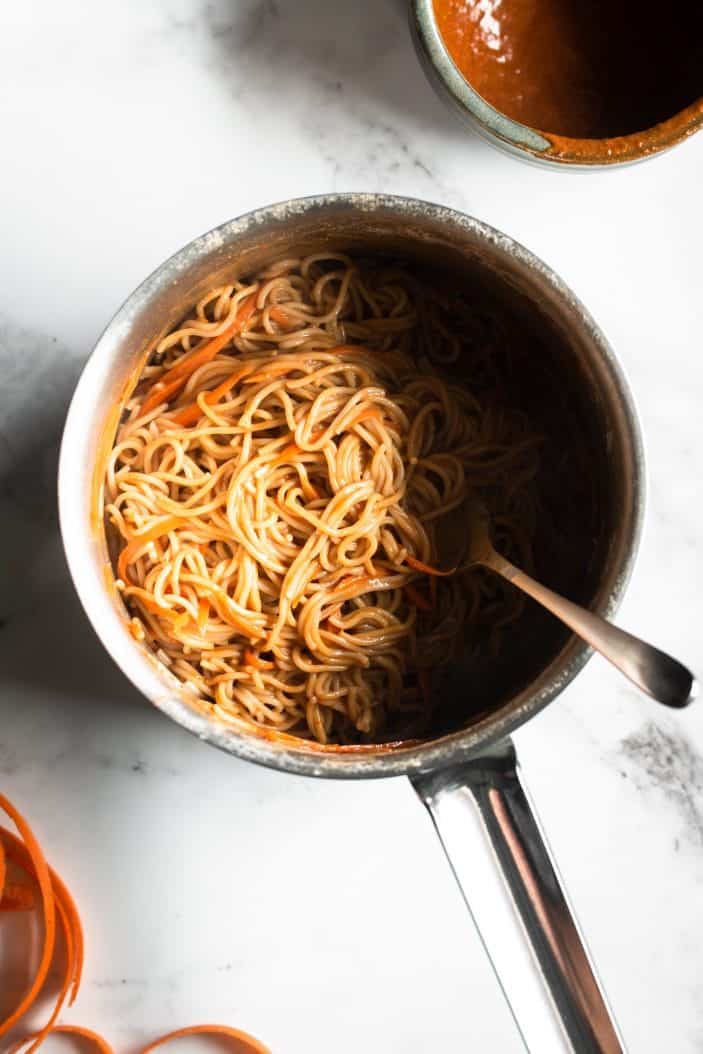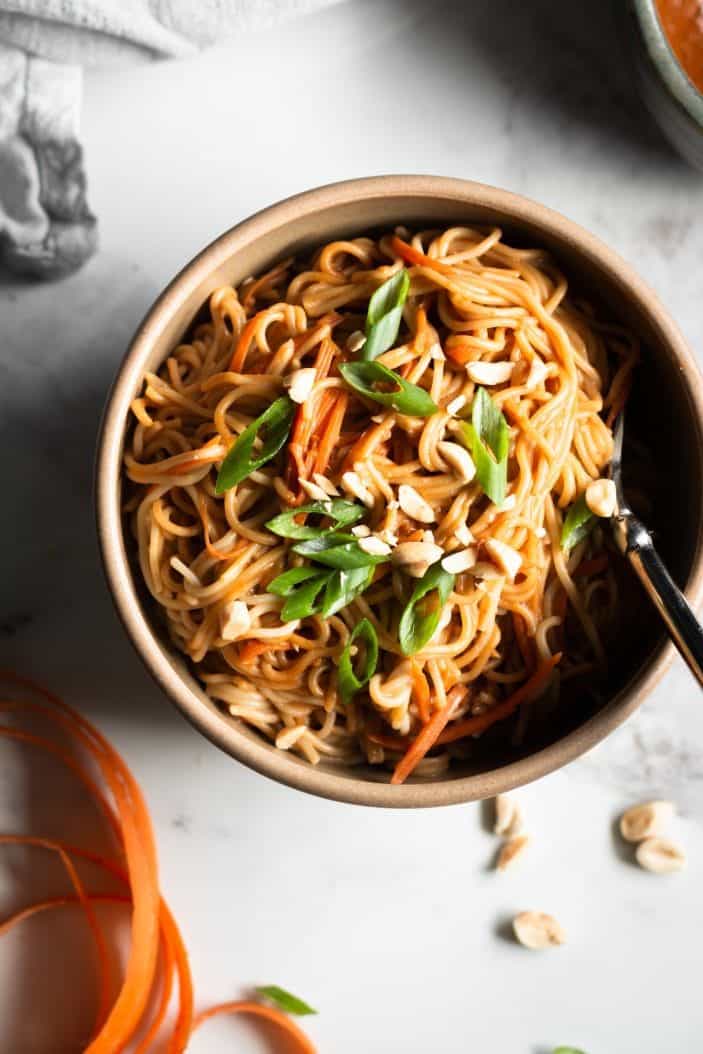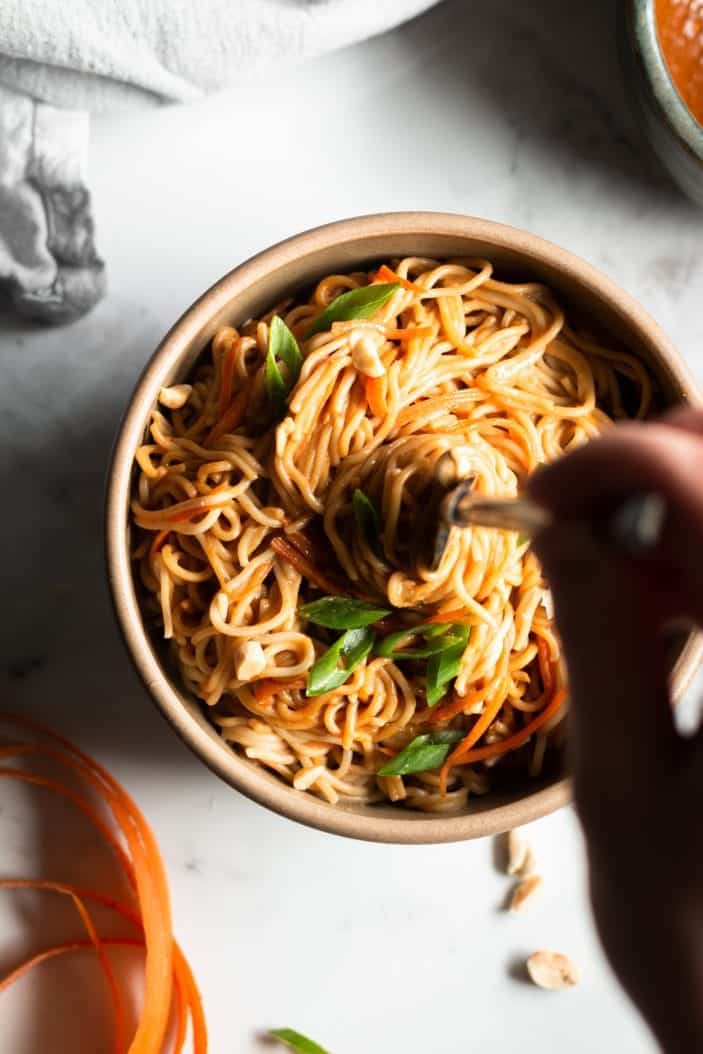 15-Minute Peanut Ramen Noodles
Vegan peanut ramen noodles, made in 15 minutes with only 8 ingredients! The perfect quick and easy weeknight meal.
Ingredients
3

packages

ramen noodles

(I used brown rice and millet noodles)

1

medium

carrot,

julienned

Green onions for serving

Chopped peanuts for serving
Peanut Sauce
2

tablespoons

peanut butter,

smooth, natural

1 1/2

tablespoon

soy sauce,

low-sodium

1

small

garlic clove,

finely grated (or 1/4 teaspoon garlic powder)

1/2

tablespoon

rice vinegar

1/2

tablespoon

lime juice

(or more vinegar)

1-2

tablespoons

water,

as needed to thin

1

teaspoon

spicy red curry paste

(optional)
Instructions
Bring water to a boil in a medium saucepan. Cook the ramen noodles according to package's instructions. I cooked mine for 4-5 minutes until just cooked. Do not overcook. Add the carrots in the last minute of cooking to soften.

While the noodles are cooking, prepare the peanut sauce: In a small bowl, whisk together all the ingredients, except for the water. Add water to thin, 1 tablespoon at a time until creamy.

Once the noodles and carrots are done cooking, strain using a fine mesh sieve and return to the saucepan, away from heat. Stir in the peanut sauce to coat.

Serve with chopped peanuts and green onions if desired.
Notes
I like to add a teaspoon of curry paste to the sauce, but this is optional. It adds some flavor and spice. 1 teaspoon was just enough for me as I'm not big on heat. Feel free to omit. If you like spicier food, you can add more to taste.
I used a julienne peeler for my carrots. Make sure they're sliced very thinly or use a grater. You don't want large pieces of carrots.
The packages of Ramen that I use are 70g each. Adjust the number of packages you use accordingly.
If you make these peanut ramen noodles, be sure to leave a comment and/or give this recipe a rating! I love to hear from you guys. And of course, if you try this recipe, don't forget to tag me on Instagram!