1 Week in Switzerland + Vegetarian Guide
I'm back with another travel post, this time, our 1 week in Switzerland. I'm sharing all the details on our time in Switzerland, including Zurich, Interlaken, Lauterbrunnen and Zermatt.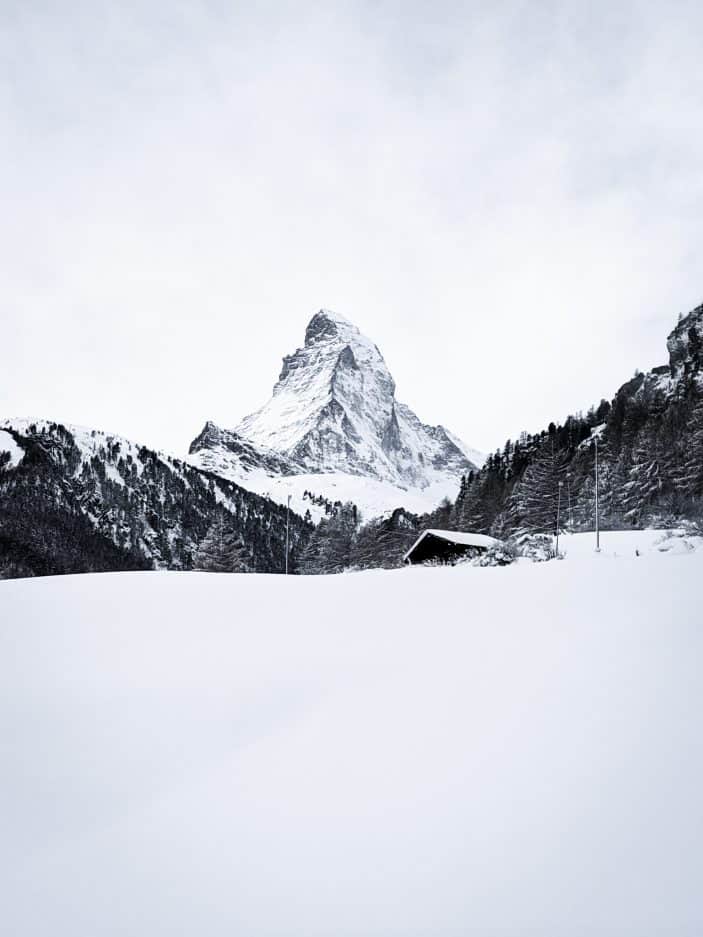 Along with Austria, Switzerland was one of my favorite stops in Europe. The cities are beautiful and modern (with older beautiful buildings and small towns) and the Swiss Alps are of course breathtaking. I definitely want to return one day and stay longer!
So today, I'm sharing what we did in our short time in Switzerland. There's so much to see and we didn't get to do it all of course, but I hope you'll get some inspiration.
Note that I'm not an expert on Switzerland and the areas we visited. I'm just sharing our experience, in hopes that it can help you plan your trip (or that you learn a little about this beautiful country).
Our Switzerland Itinerary
Day 1 + 2: Zurich
Day 3 : Zurich – Thun
Day 3 – 6: Thun + Interlaken and Lauterbrunnen
Day 6: Zermatt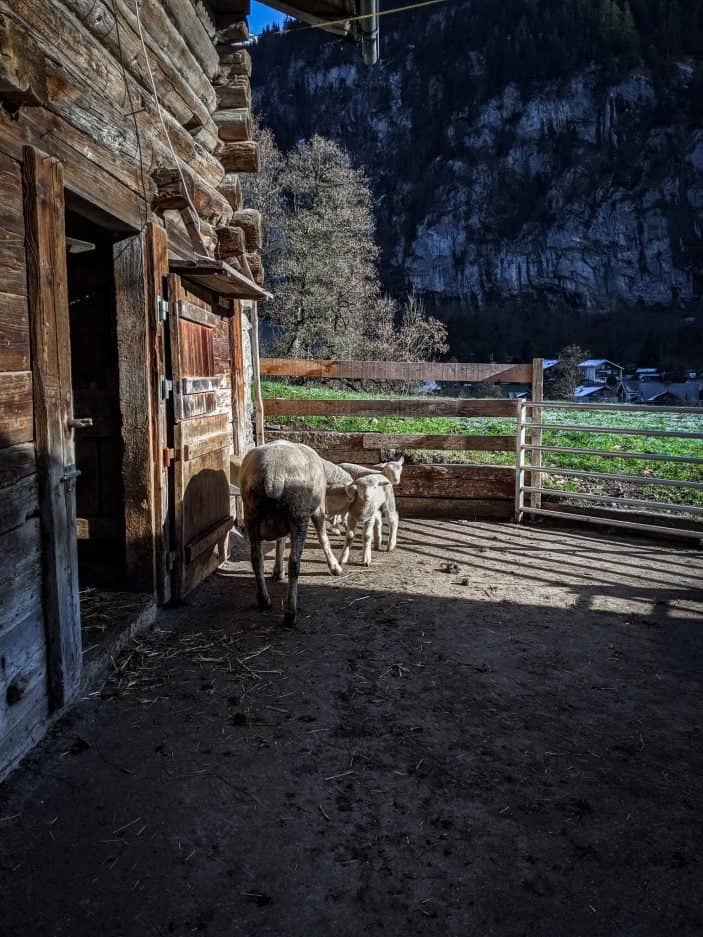 Zurich
Zurich was our first stop in Switzerland and we didn't have much time to visit. We stayed there two nights, which gave us one full day to see the city. Of course with limited time, we didn't get to do much. We could have spent our day doing tourist attractions and visiting museums, but instead, we mostly just walked around the city, seeing as much as we could.
Things to do in Zurich
Grossmünster: An iconic twin-towered cathedral. | Google Maps
Fraumünster Church: A beautiful church, close to the Grossmünster. | Google Maps
Lindenhof Hill: This was at the top of my list in Zurich. It's just a simple hill that gives you a good view of the city and the river. | Google Maps
Walk Around the City: This is basically what we did all day. We walked around the beautiful city, enjoyed the views and stopped at a few local shops. Also, make sure to stop at one of the many chocolate shops!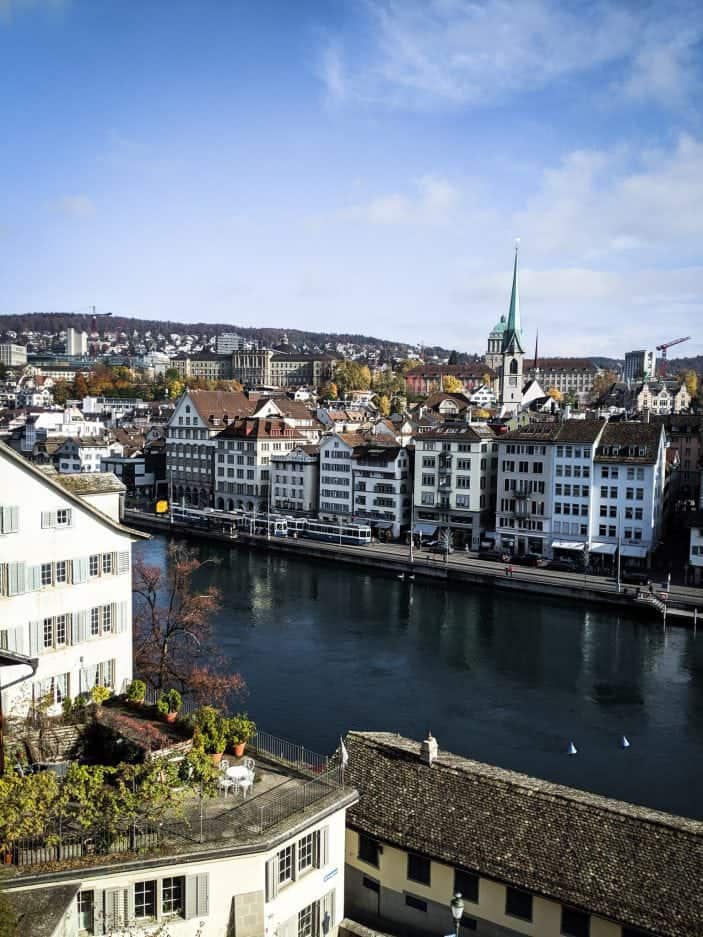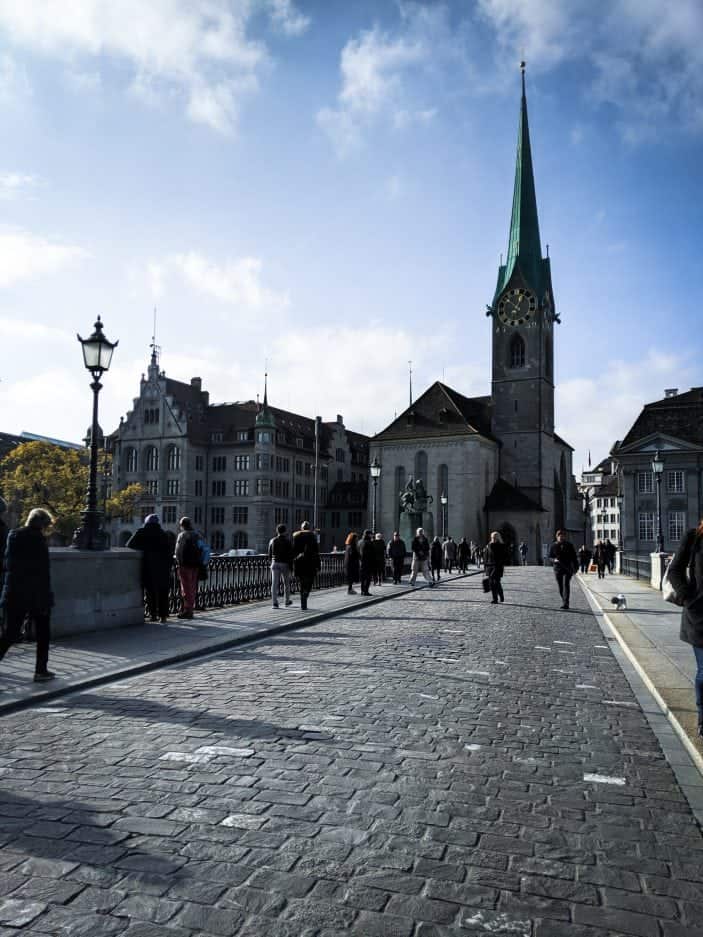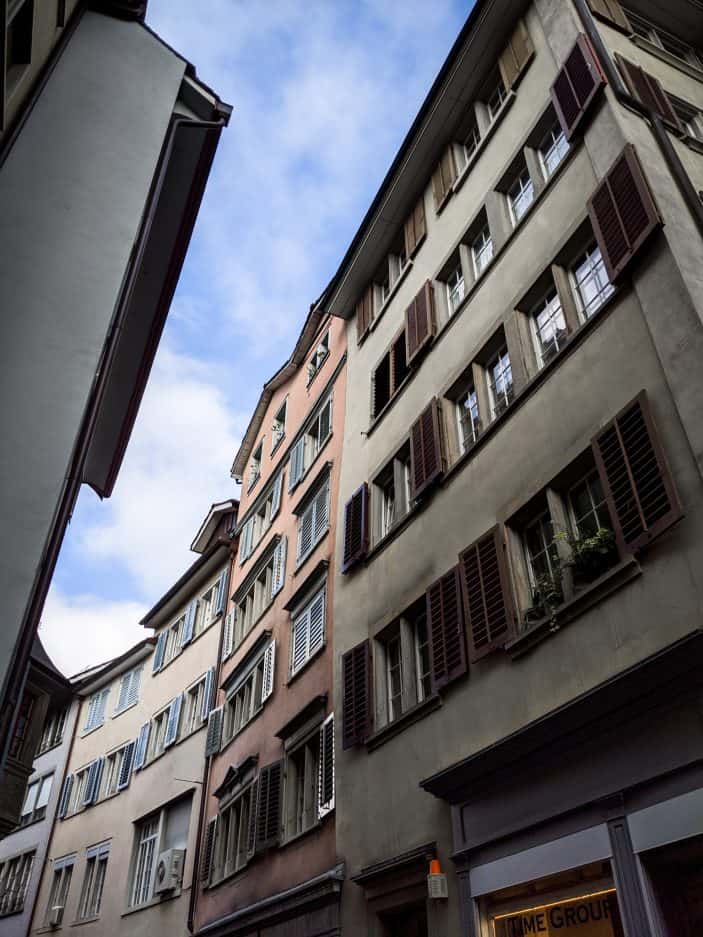 What we Ate in Zurich:
Haus Hiltl: This is the first vegetarian restaurant and is over 100 years old. It was on our list, but we didn't get the chance to go. I regret it now, so definitely check it out if you're in Zurich! We did stop at the Hiltl Vegimetzg, a vegetarian grocery store by the same company. It was small, but had many great options! We grabbed a quick tofu sandwich here. | Google Maps
Roots: We stopped at this vegan restaurant when we first arrived in Zurich. The food was great, but the portions are a bit small and it's very expensive (as is most of Switzerland). I had an avocado toast and Shaun had a vegan burrito. | Google Maps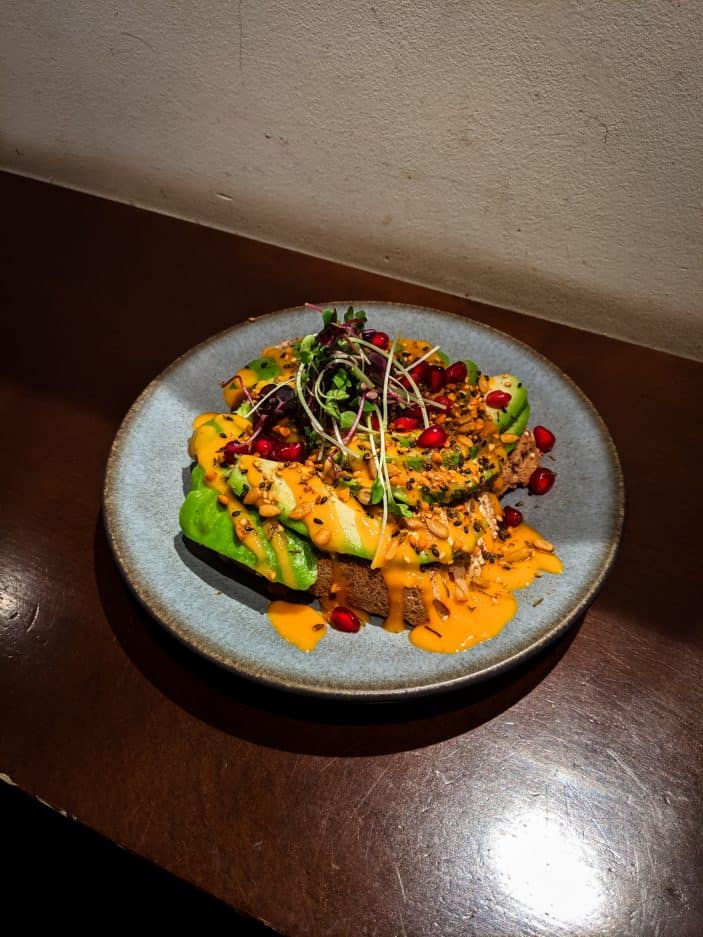 Interlaken
We found a little farm on Airbnb in Thun, less than 1 hour away from Interlaken and that was our base for the next 3 nights. It was another one of my best Airbnb experiences. It was quiet, surrounded by nature and with an amazing view of the mountains. Those few days may have been some of the best of our entire time in Europe. (Sorry, but I can't share the link due to an issue with Airbnb).
We spent one day on the farm relaxing in nature and hiking in the area. The other day was spent in the Interlaken area, just a short 1 hour train ride away.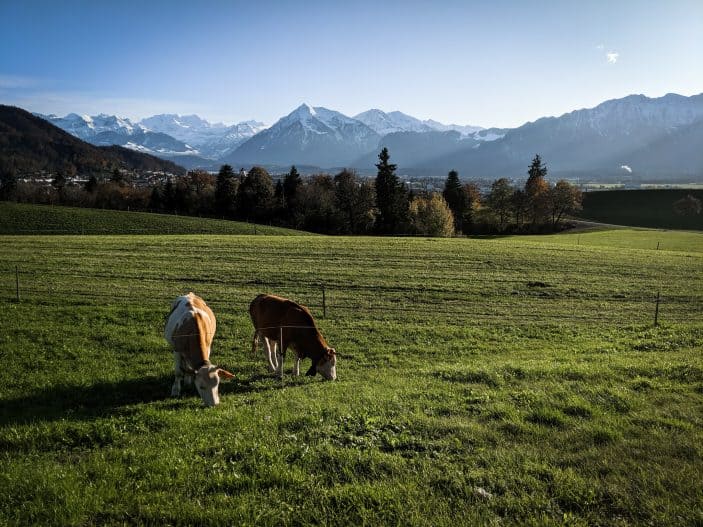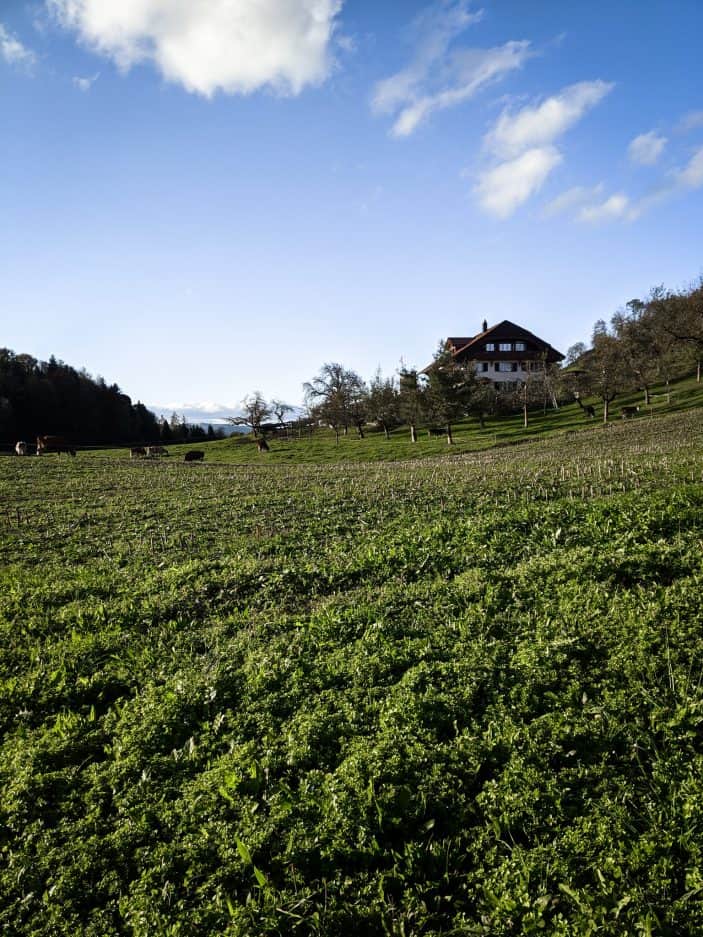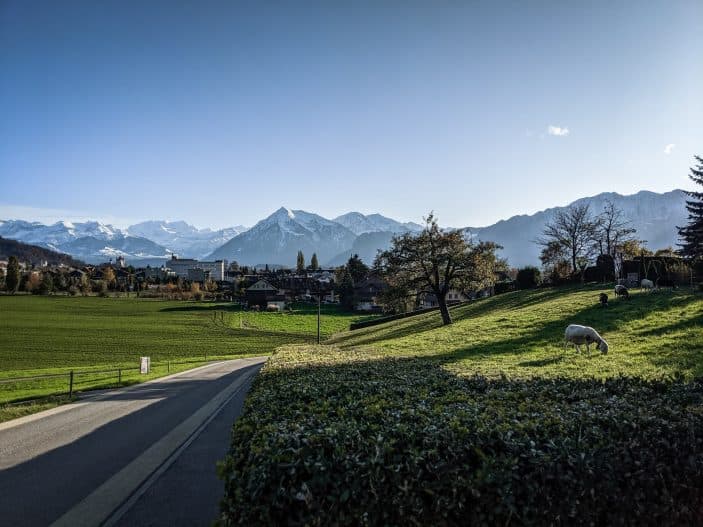 Things to do in Interlaken:
We just spent one day in Interlaken, so I don't have much to share, but there are two things I can recommend. First, check out the Schynige Platte Alpine Garden. We didn't get the chance to visit, but we heard great things and it's definitely on my list for our next visit. Second, try hiking up to Harder Kulm. This is what we did most of the day.
Harder Kulm is a mountain platform with beautiful views of the city and its surrounding lakes and mountains. There's also a restaurant at the top, where you can grab a bite or a drink.
We decided to hike to the top (and back down), which is a total of 3-4 hours. It's technically an easy hike, but it's uphill the entire time. So yes, it's a good workout! It was well worth it though. And if you're not up for the hike, you can pay to take the cable cart up and down the hill.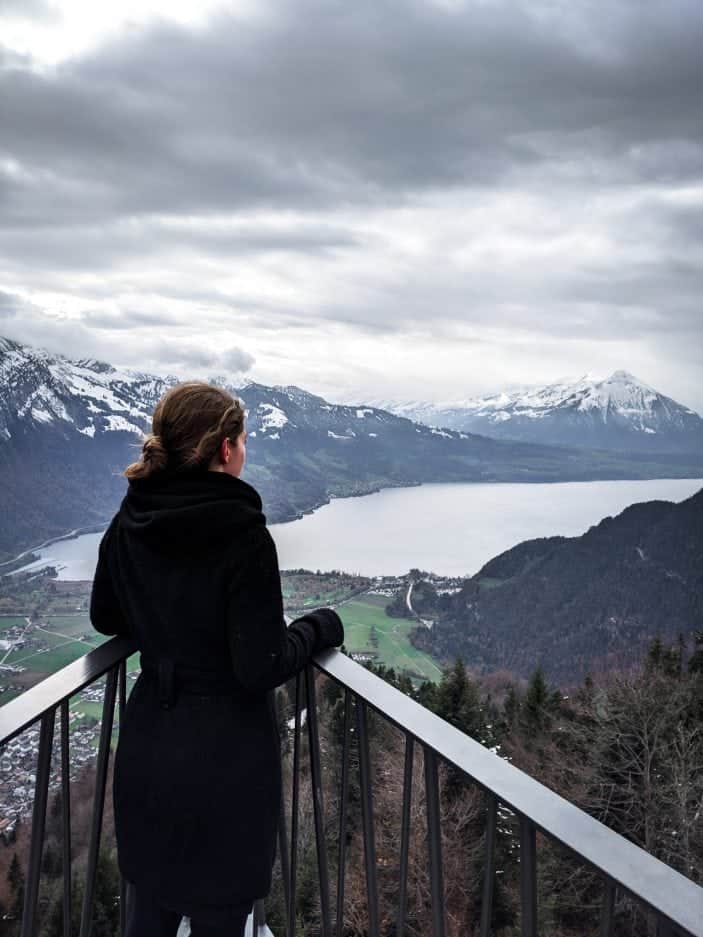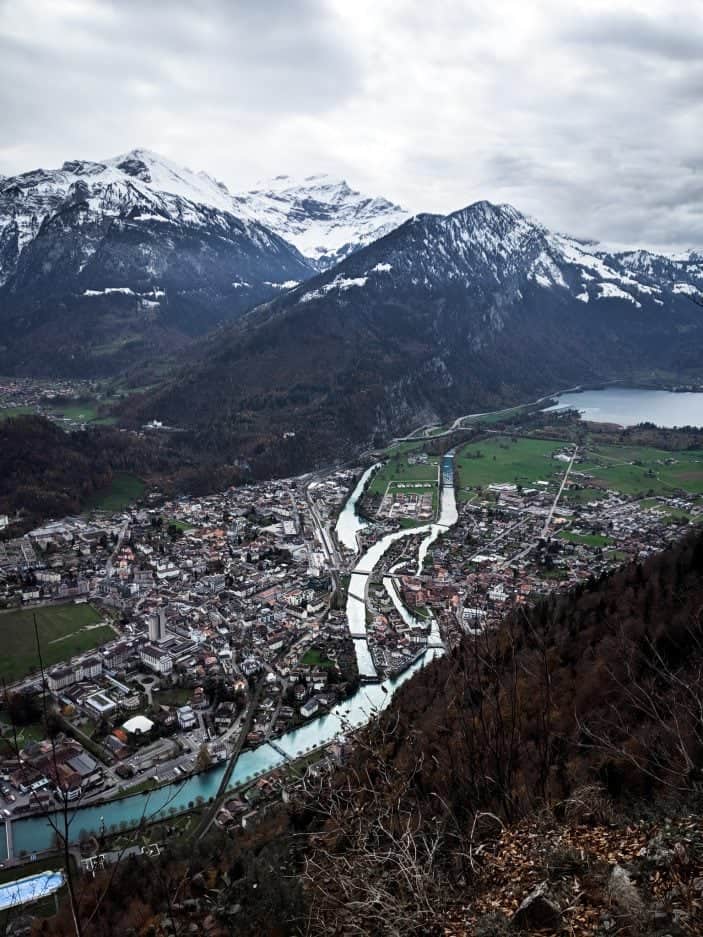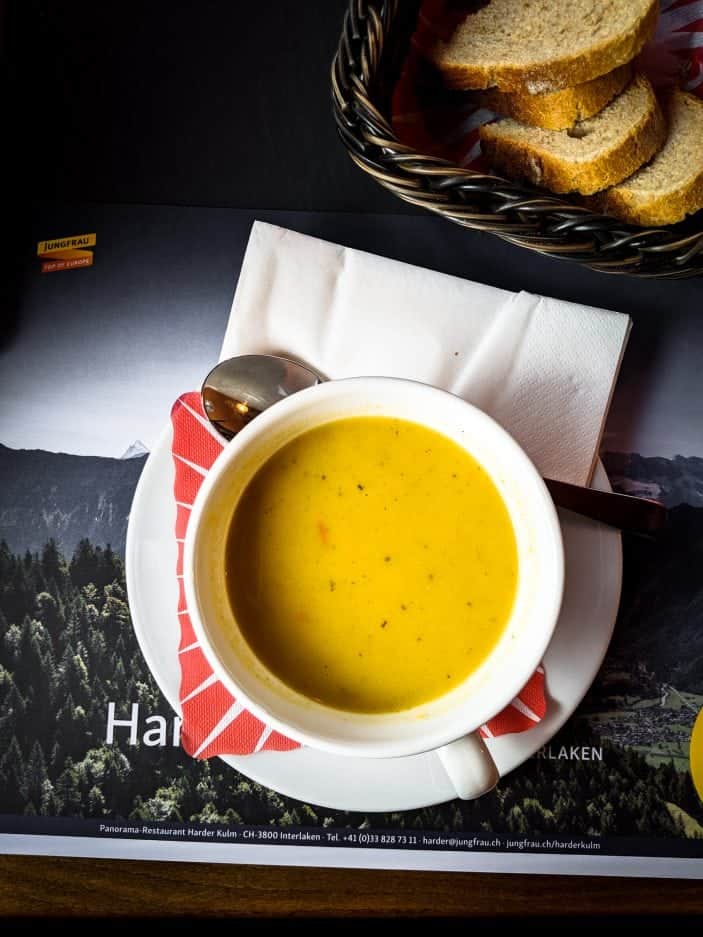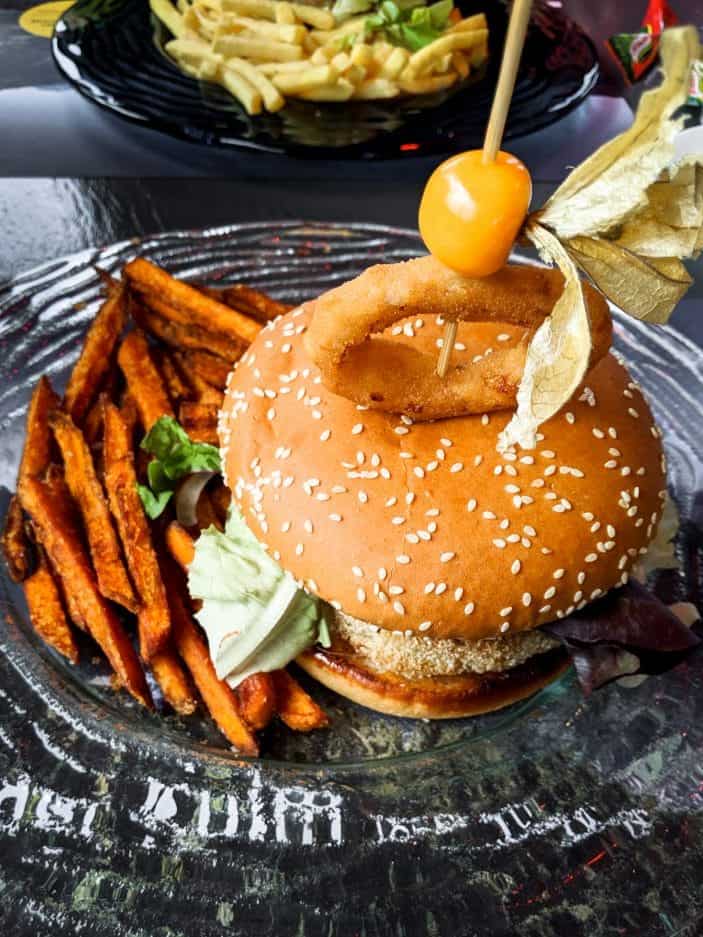 Lauterbrunnen
Lauterbrunnen is a small village in the Swiss Alps, less than 30 minutes by bus from Interlaken. It's most known for its waterfalls, which is of course the reason why we stopped here while in Interlaken.
In the small valley of Lauterbrunnen, there are actually 72 waterfalls. Crazy, right? The most well know is likely the Staubbach fall, which you can easily see from the village.
We only spent about 1-2 hours in Lauterbrunnen and it was enough to see what we wanted. That alone was one of the most impressive things we've seen on our trip.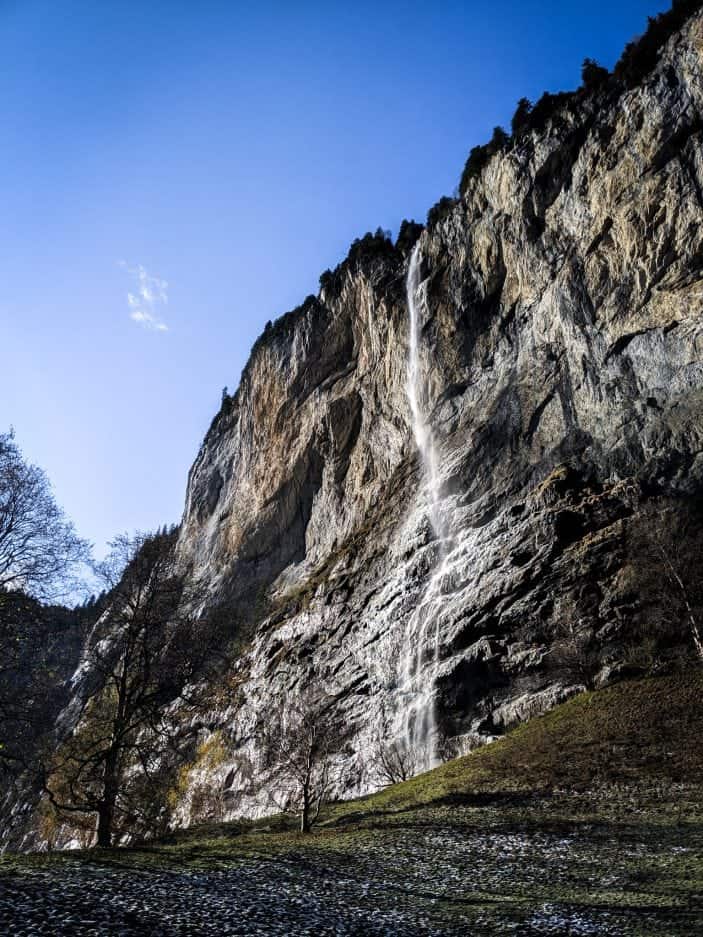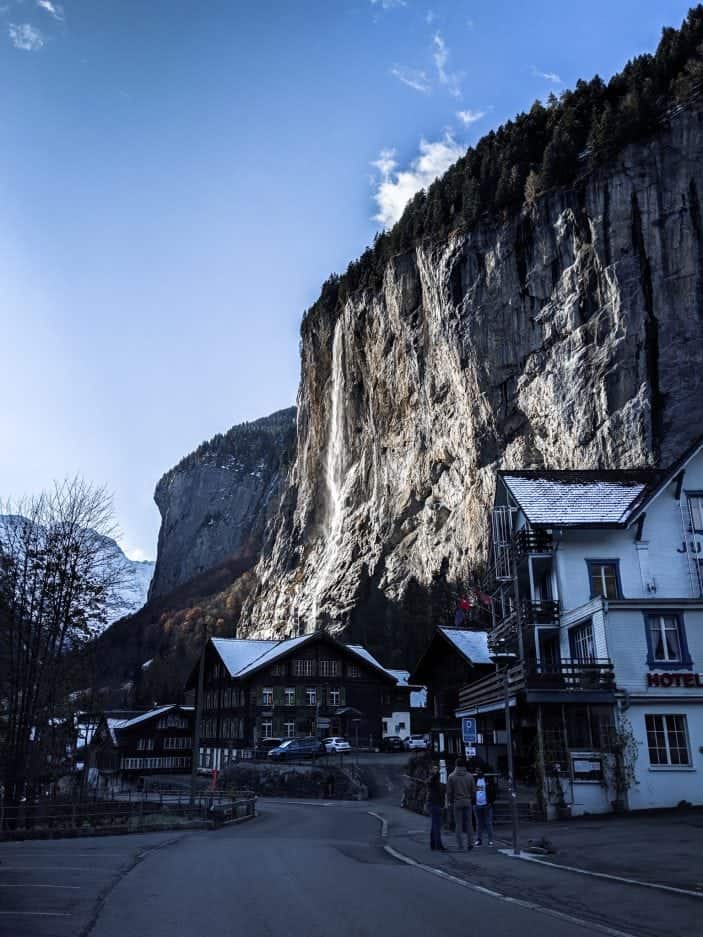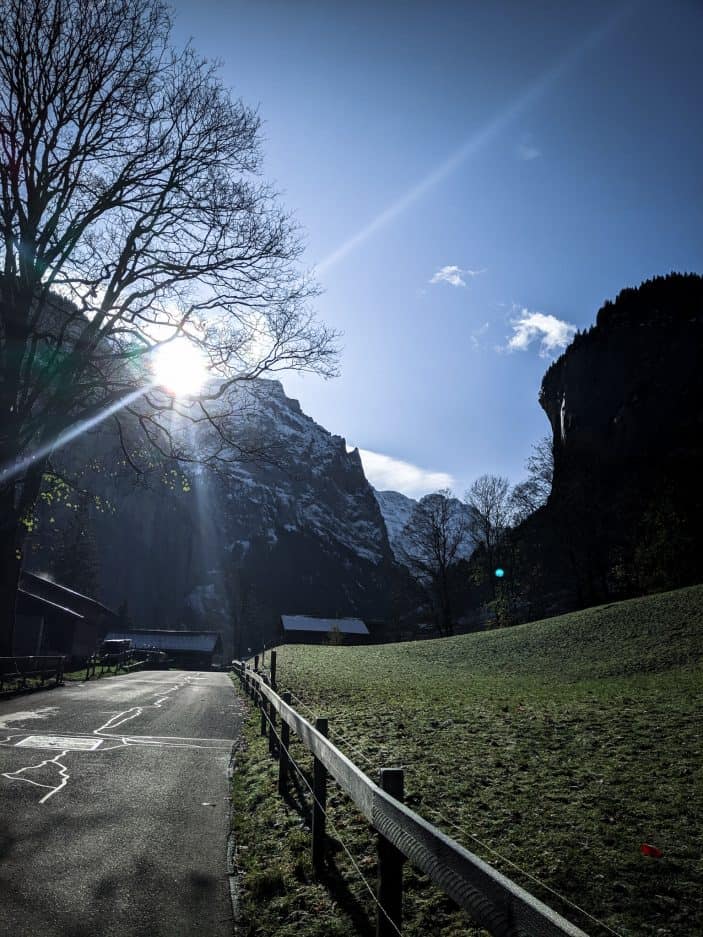 Zermatt
Zermatt was possibly my favorite town we visited in Europe (next to Hallstatt in Austria). We visited the morning after a snowstorm, making it look like a winter wonderland. It was so perfect.
Unfortunately, as we didn't pack for much snow, we weren't able to do many outdoor activities. However, if you do plan in advance, Zermatt is a paradise for winter activities, including skiing and snowshoeing.
If you're willing to pay, you can also ride the train up to Rotenboden, which apparently gives you great views of the Matterhorn. You can then hike to Riffelsee, an alpine lake. On a clear day, you may be able to get photos of the Matterhorn reflected on the lake. It's worth a look!
As we weren't equipped for a hike in the snow, we simply walked around the town and found some great views of the Matterhorn down there.
We also stopped at Petit Royale, a coffee shop, for coffee and a treat in the morning. For lunch, we stopped at the Brown Cow Pub for a veggie burger and nachos.
We only spent one day in Zermatt and it was enough to enjoy the beauty of this town. The train ride in the snow up to Zermatt was an activity in and of itself. Walking around the small town and enjoying a cozy drink at a cafe is all you need. It's a must if you ever find yourself in Switzerland. Also, make sure to get yourself a Toblerone chocolate, which is from Switzerland and has the Matterhorn as its logo.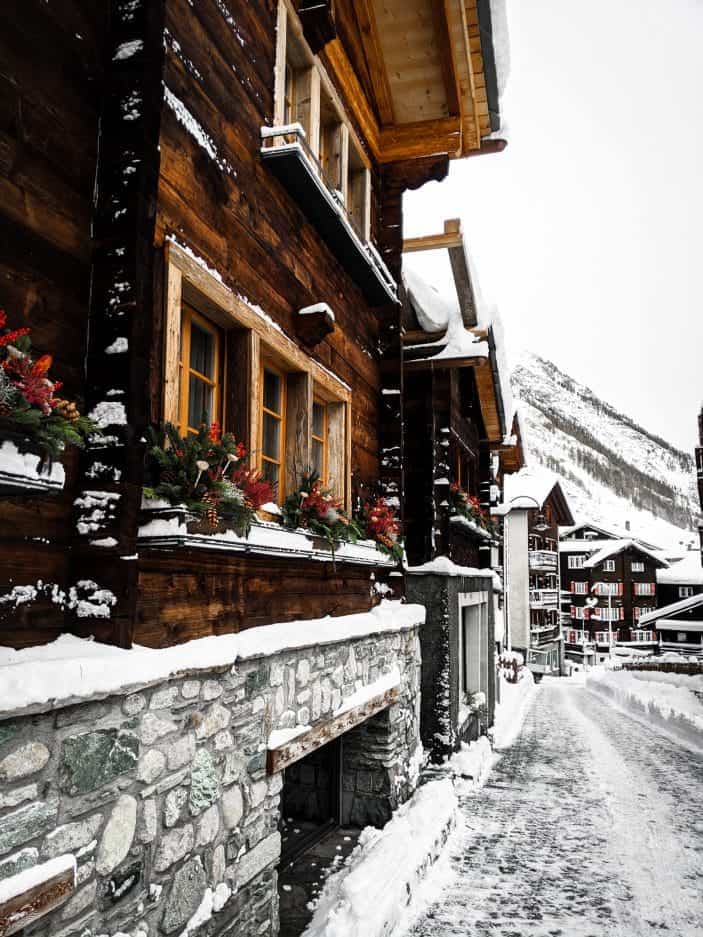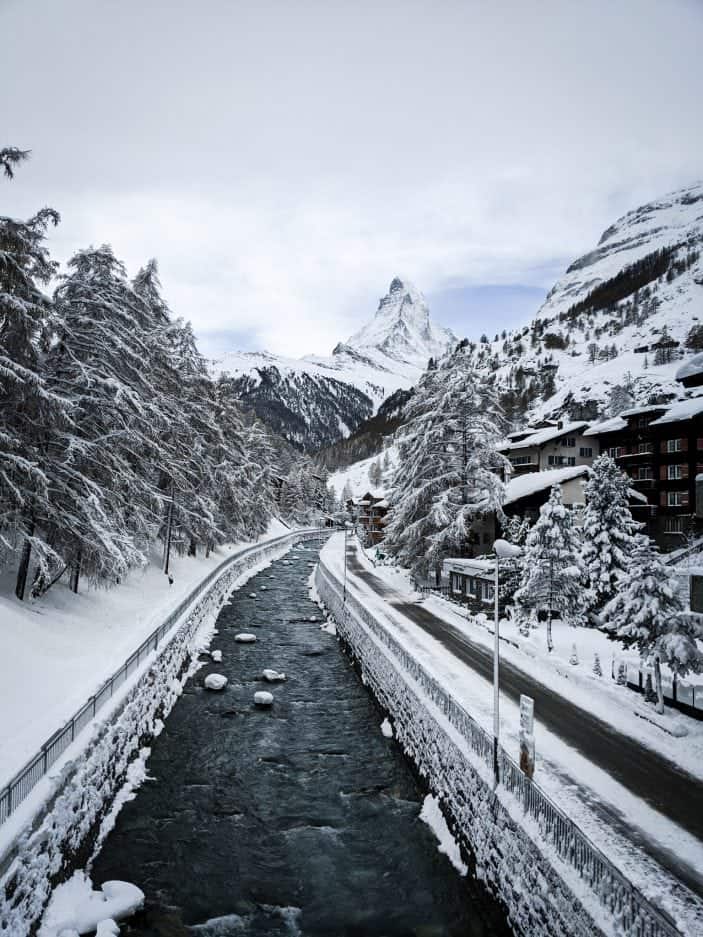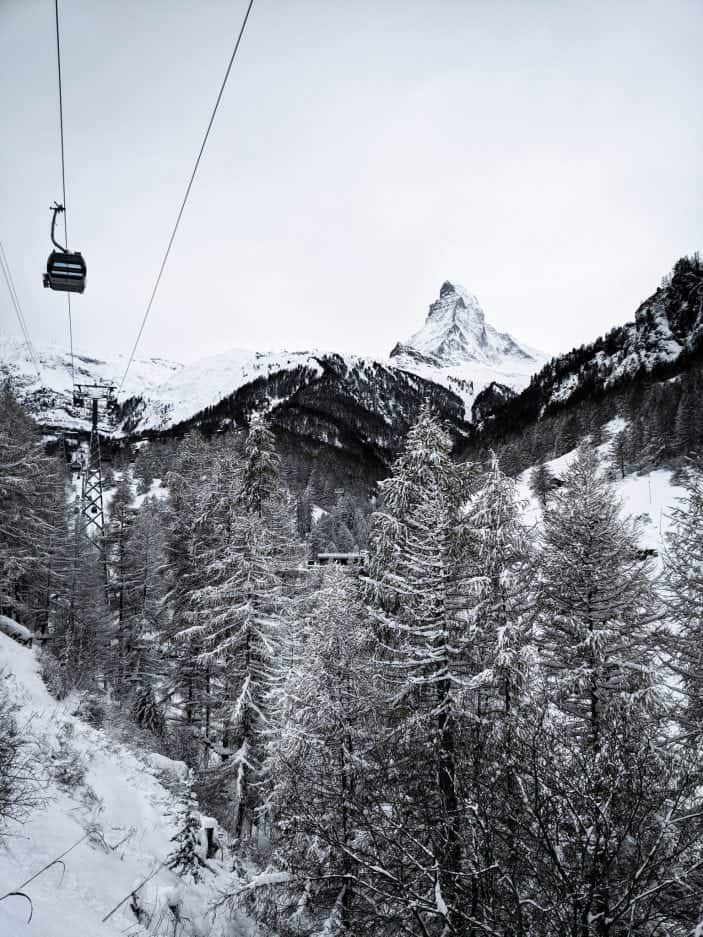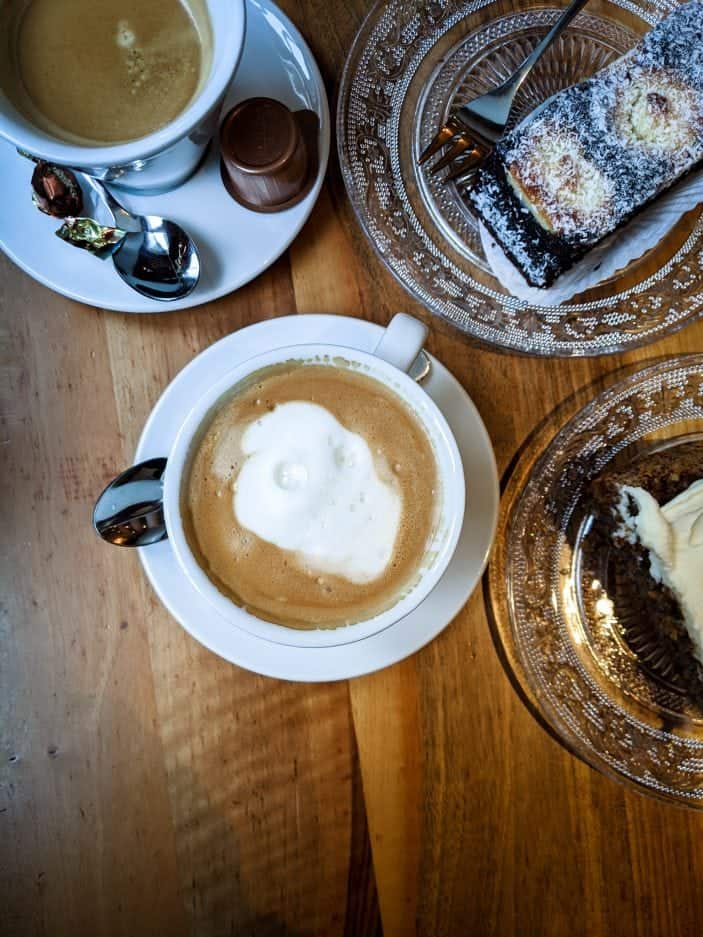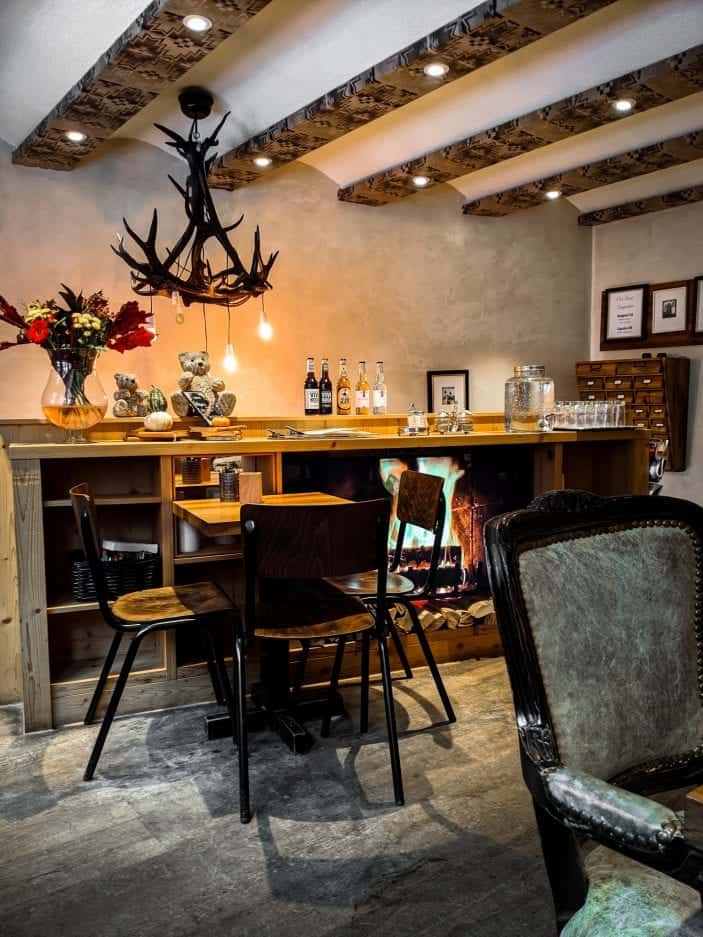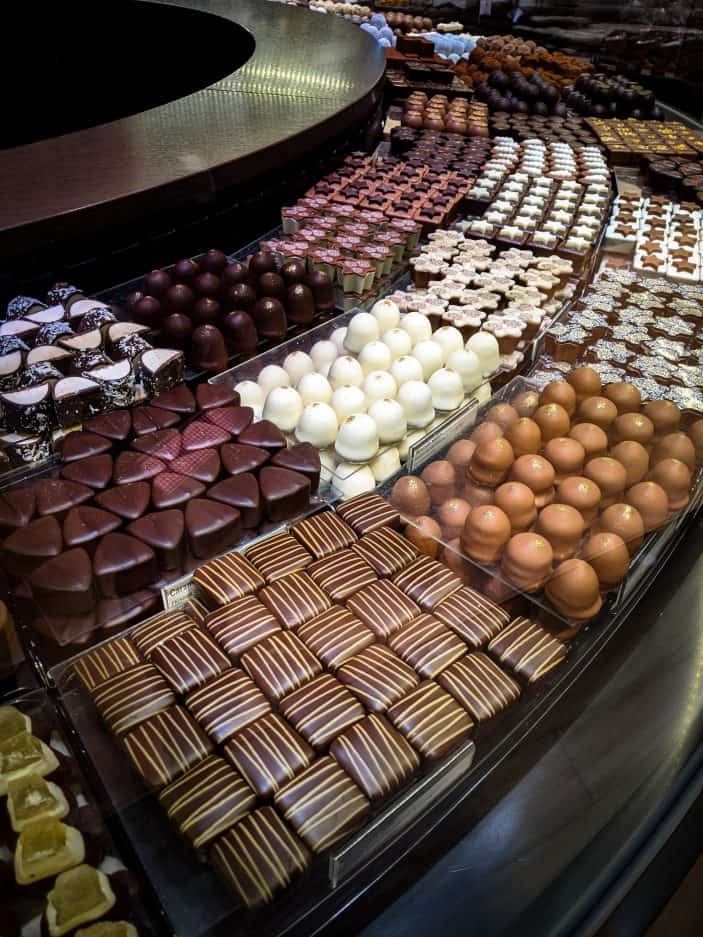 Our Switzerland Map
Looking for more details on our travels? Check out my Europe guide here.