Visiting London in December + Vegetarian Guide
Here's our London travel guide for those visiting London in December (or any time of the year!). I included all of our favorite vegetarian restaurants and things to do!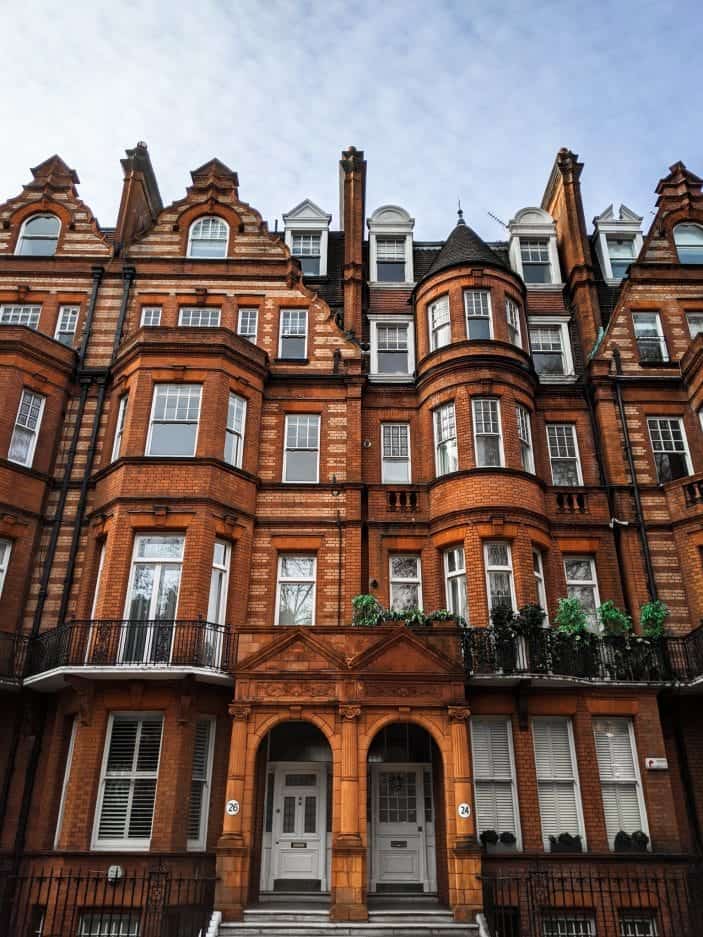 We're back home from our 3 months in Europe and writing this post is not the easiest. While I loved every place we visited, I miss London the most.
That being said, looking through our photos brings back the best memories and I hope you'll love looking through them too. So today, I'm sharing all of our favorite restaurants and things to do in London.
As with all of my other travel posts, I want to stress that I'm not an expert on the city and I don't personally live in London. However, we did stay in London for an entire month and got to explore a lot of this wonderful city. Here, I'm just sharing our personal experience, including places we enjoyed and the restaurants we loved! I hope you'll find it helpful in one way or another, especially if you're visiting London in December!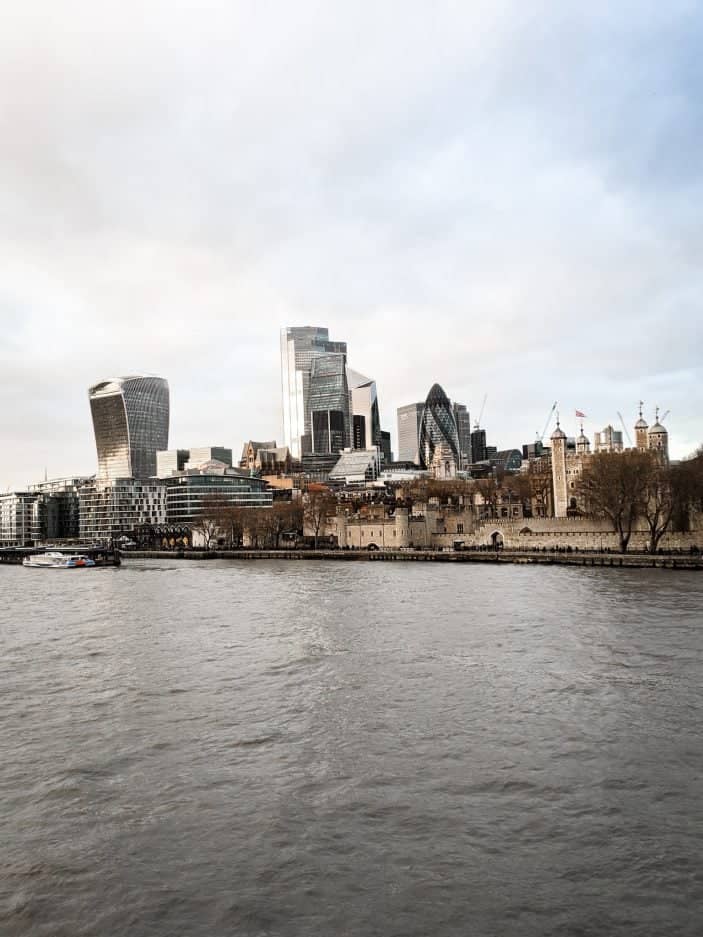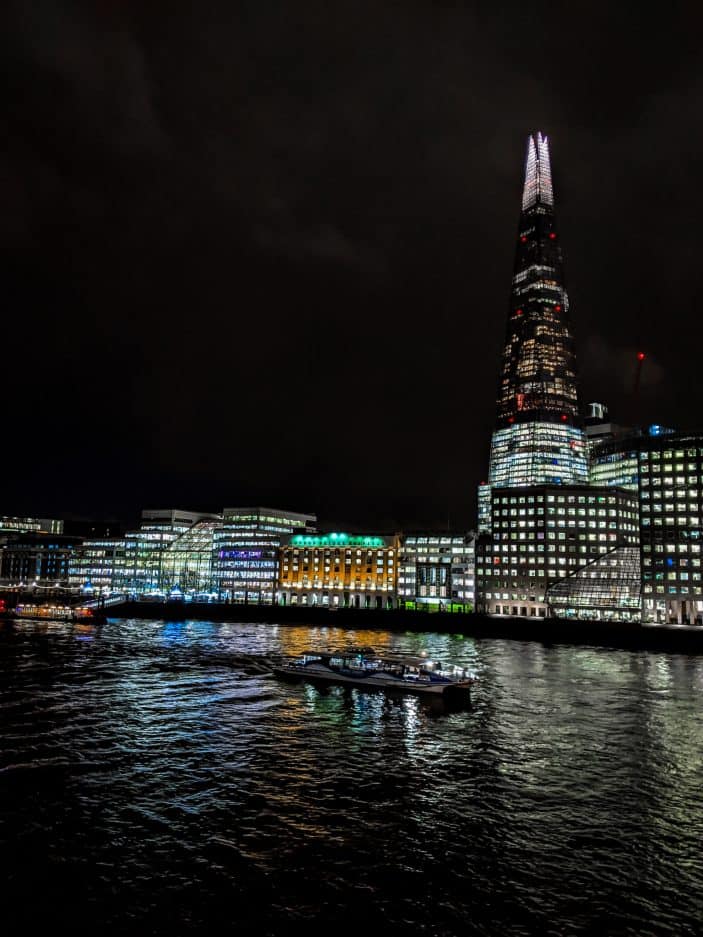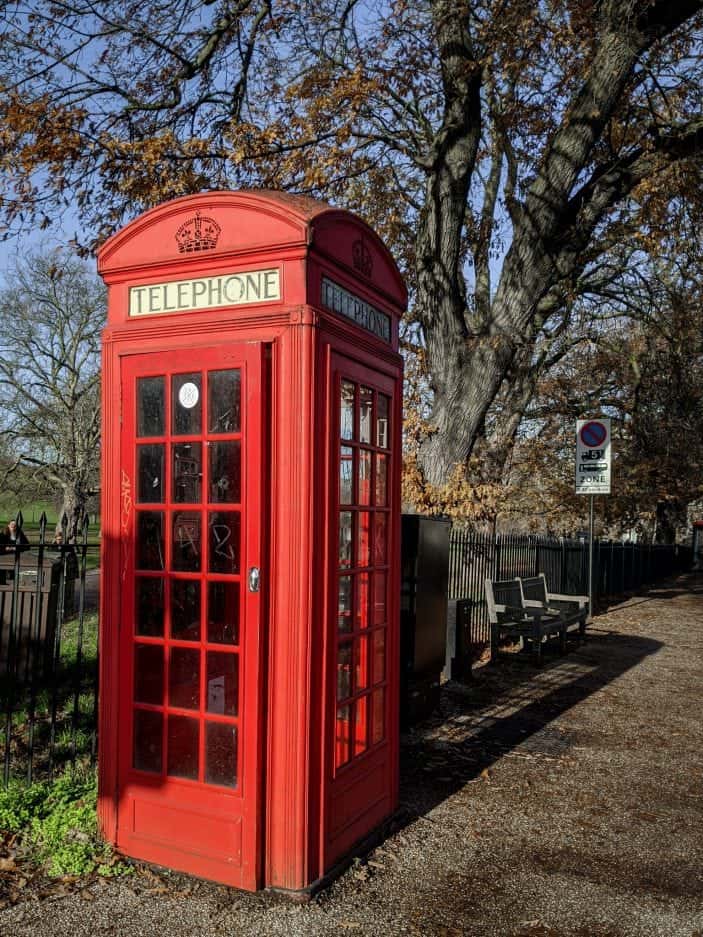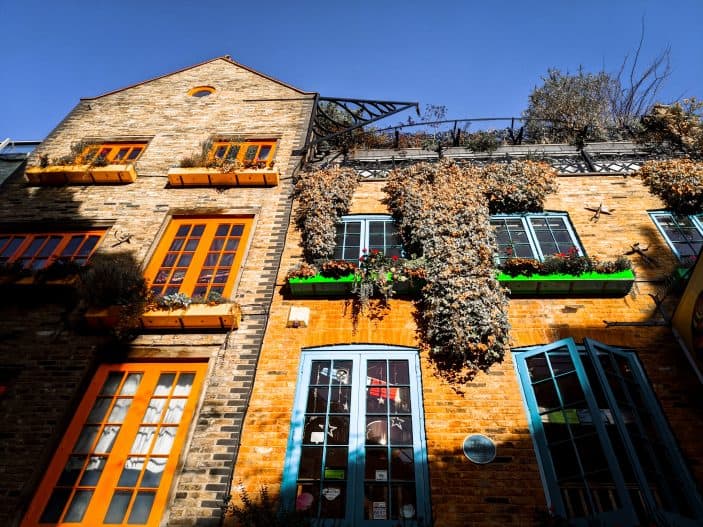 Where We Stayed
For our entire month in London, we stayed in a small town called Sawbridgeworth, just a 40 minute train ride from Central London. While I don't regret our decision to stay outside of the city, I have to say that this may not be a good idea for everyone.
As we were staying in England for 1 month and we planned on visiting many other cities and towns nearby, it made sense for us to pay for a monthly train pass. The pass was quite expensive, but definitely worth it for the type of traveling we had planned. With that pass, we were able to get a cheaper Airbnb and travel into London everyday at no extra cost. We also had the freedom to travel all across England (and all the way to Edinburgh) for no extra cost (we bought our passes through BritRail). It's just a matter of doing the math and seeing what makes more sense to you. If you plan on staying inside London the entire time, then it's definitely cheaper to get an Airbnb in London and only pay for the underground.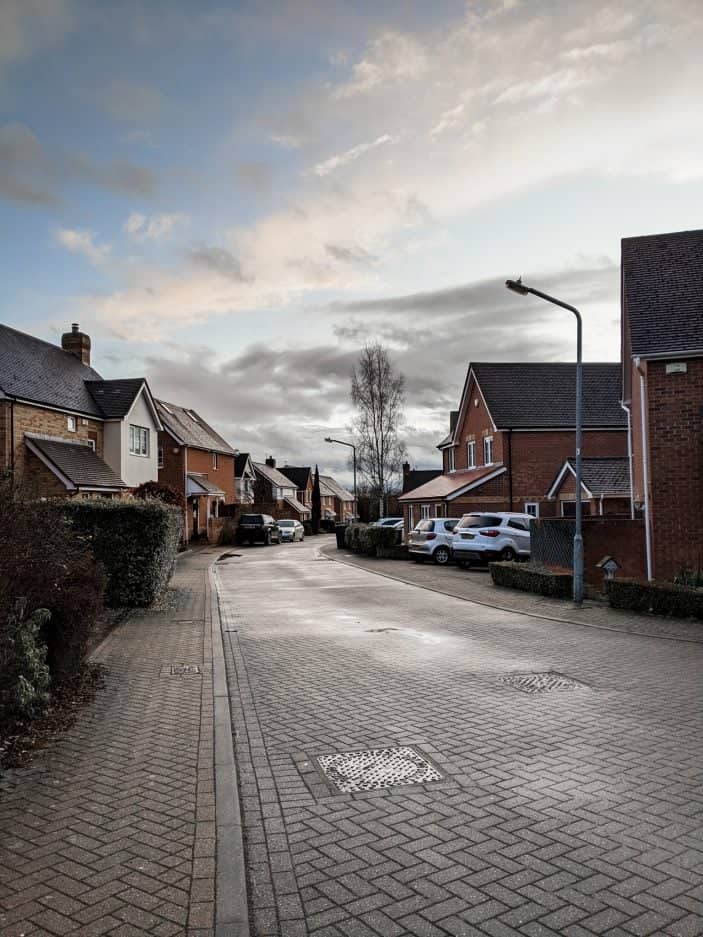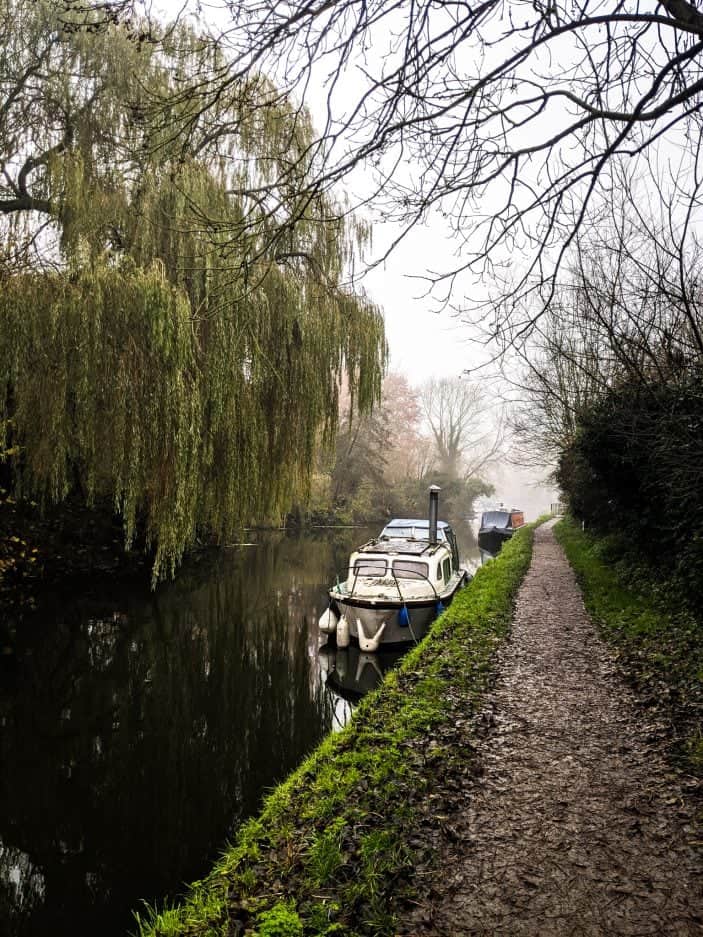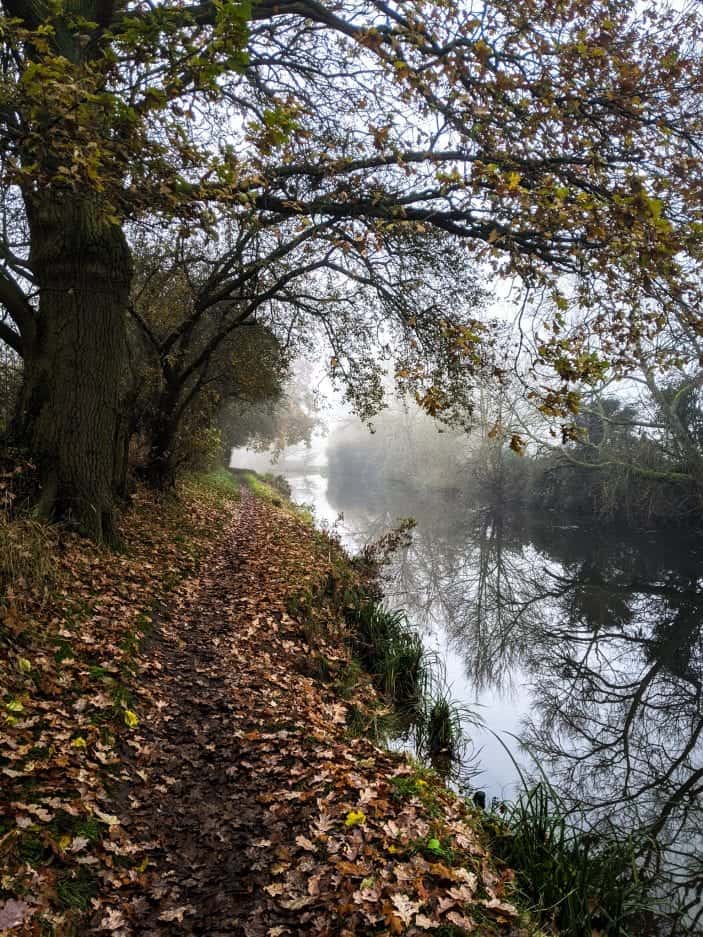 Things to do in London
That being said, here's what we did in London in December.
Big Ben: One of the obvious things to see in London. It was being renovated when we visited, but it should be done by 2021 or so. It's worth a quick stop and it's close to many other must-see places in London, such as the Westminster Palace and Westminster Abbey. | Google Maps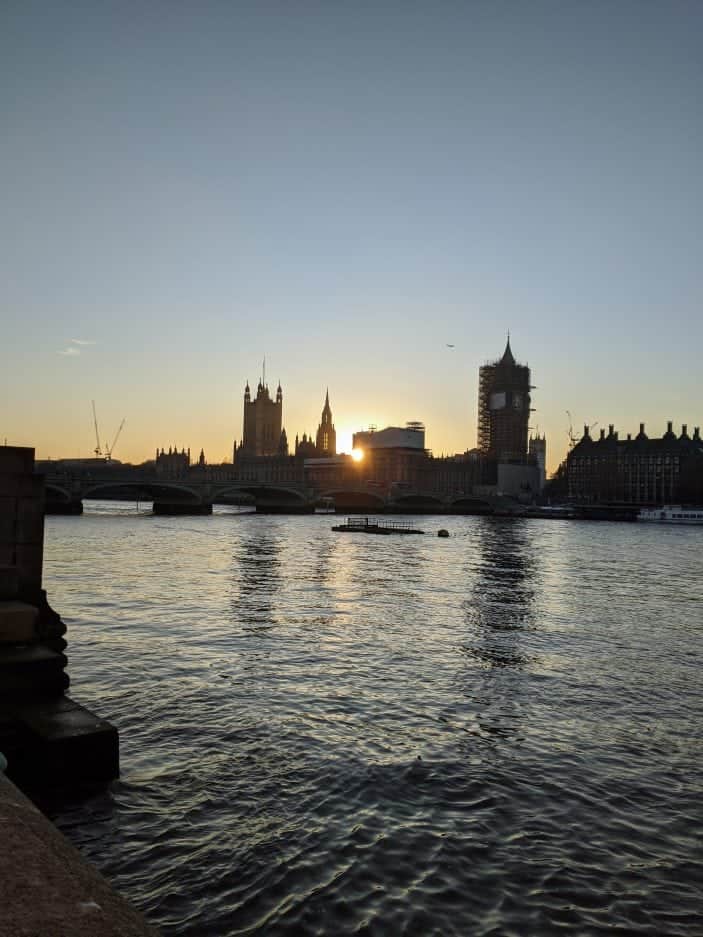 London Eye: The iconic Ferris wheel. | Google Maps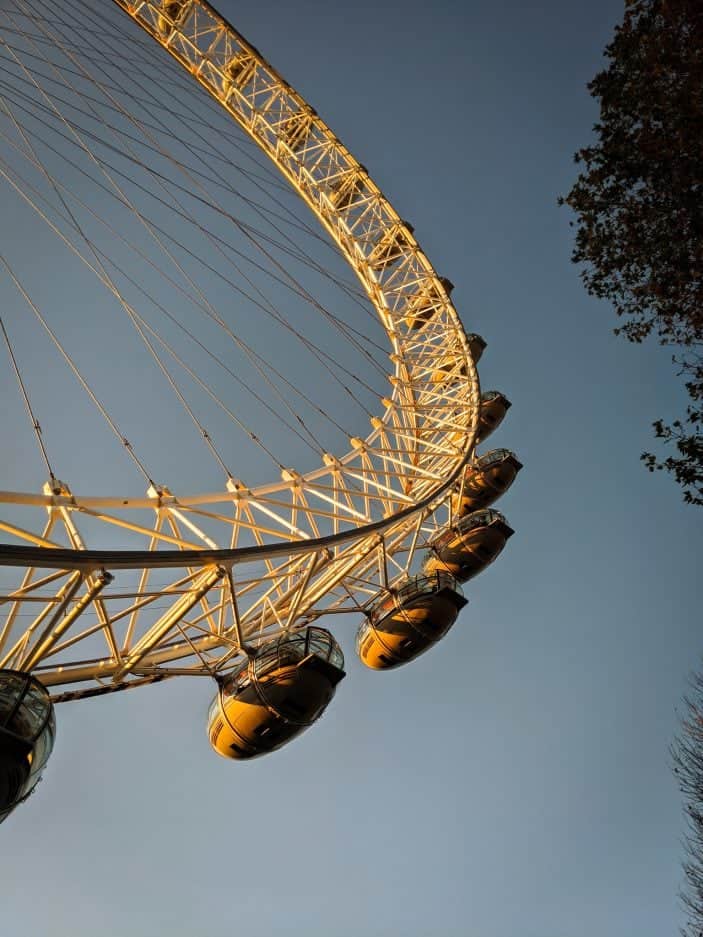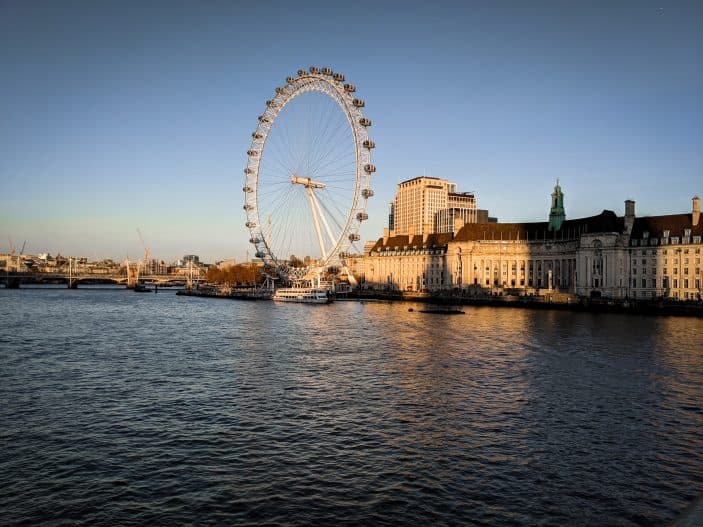 Westminster Palace: A beautiful Neo-Gothic building and the seat of the UK government. | Google Maps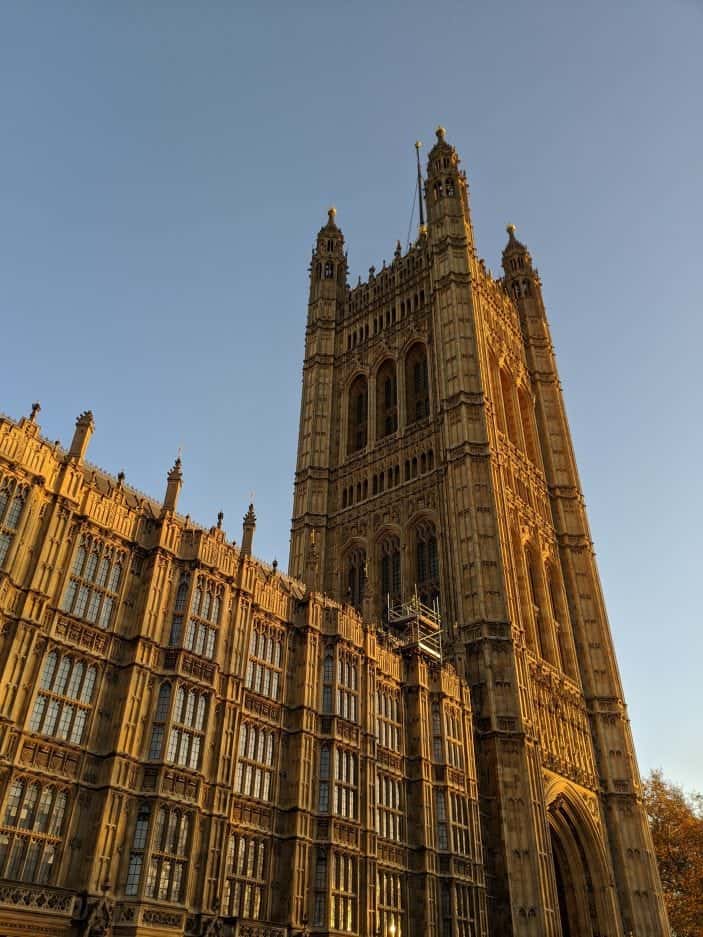 Westminster Abbey: The well-known abbey that hosted every English and British coronation since 1066 (yes, I had to Google that). They offer guided tours on Saturdays and in the summer, which we did not do. The outside is worth seeing though, whether you enter or not. | Google Maps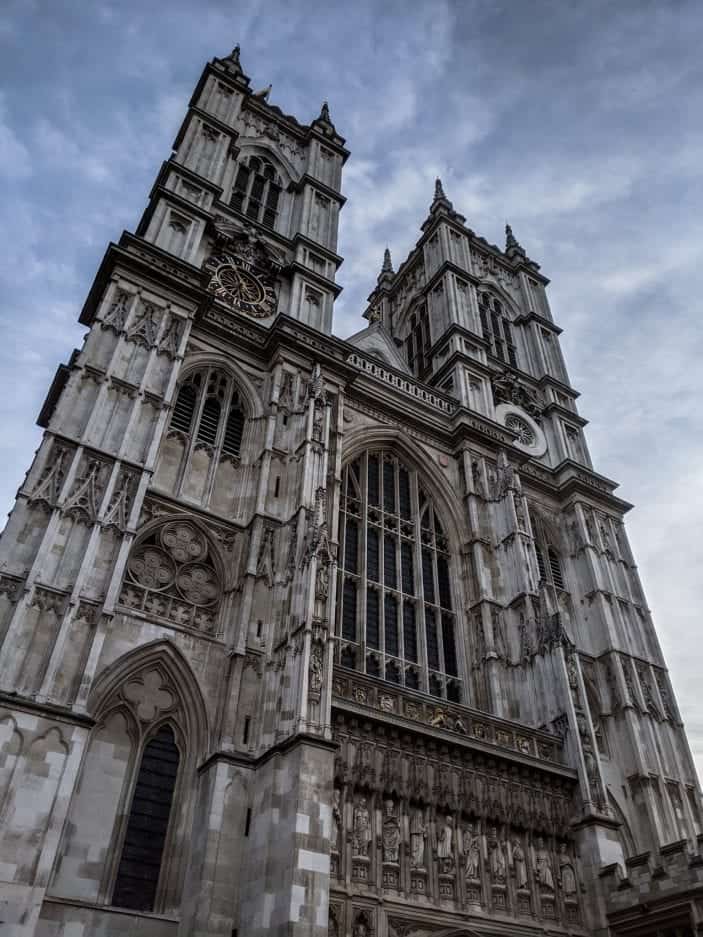 Buckingham Palace: The Queen's London residence. | Google Maps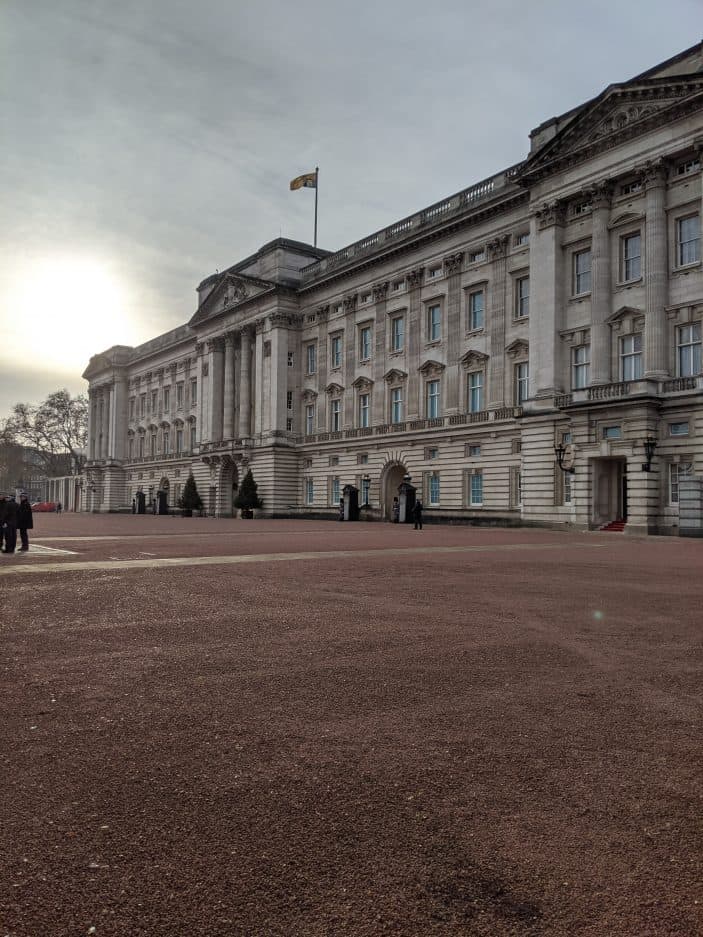 Kensington Palace: A royal residence in the Kensington gardens. We also loved walking around the gardens.| Google Maps
Museums: I've said it before and I'll say it again: I'm not much of a museum person. However, London has several free museums (with optional donations) and we did visit a few, including the Natural History Museum. I actually loved it and it's a great way to spend a rainy afternoon. Here are some museums worth checking out (there are many more if you love museums!):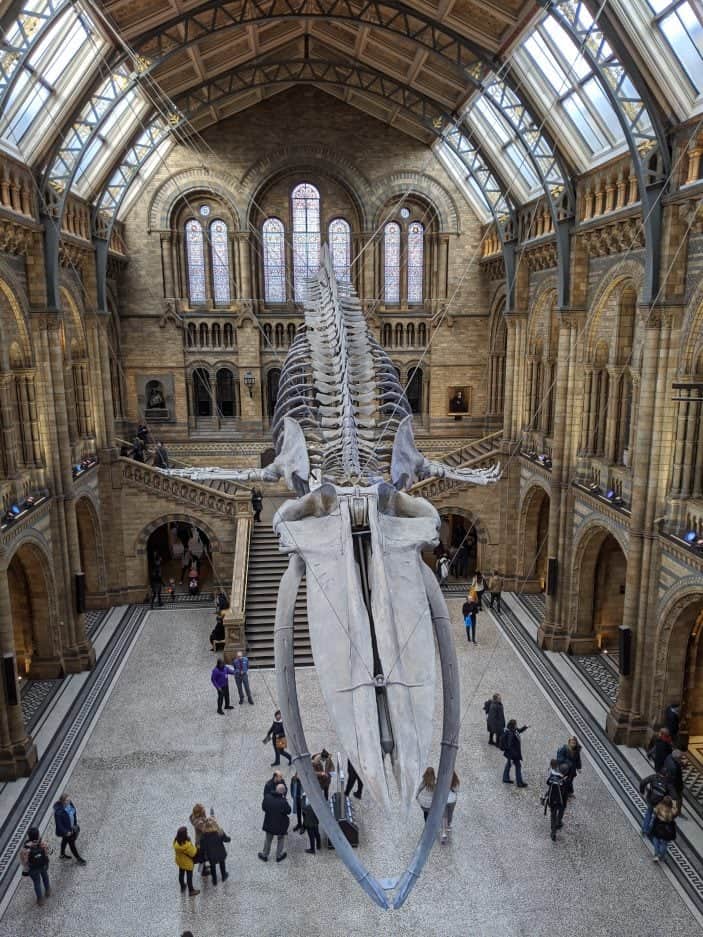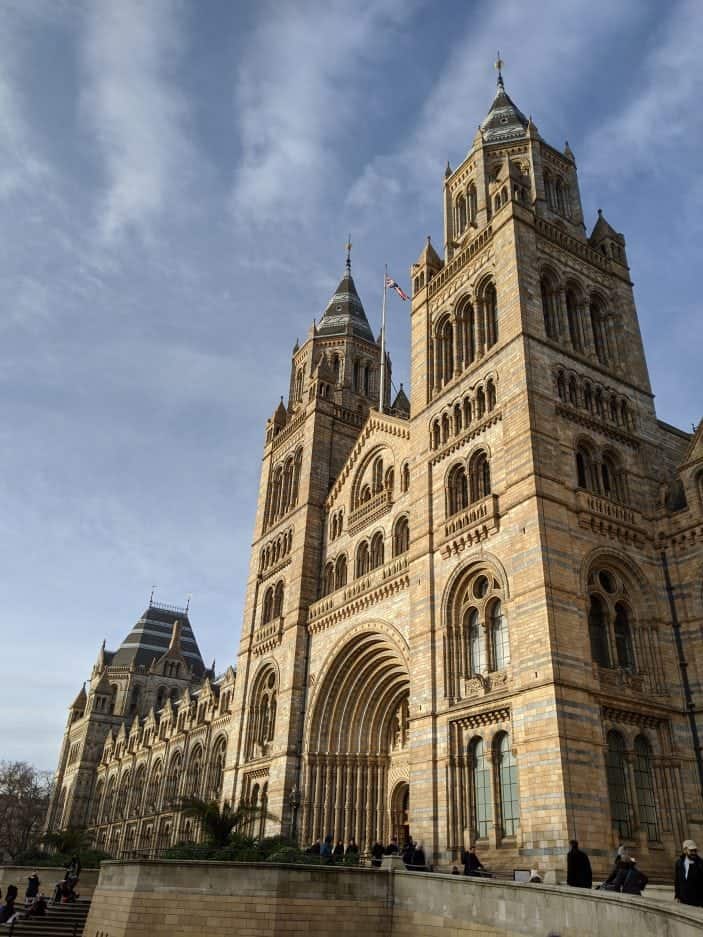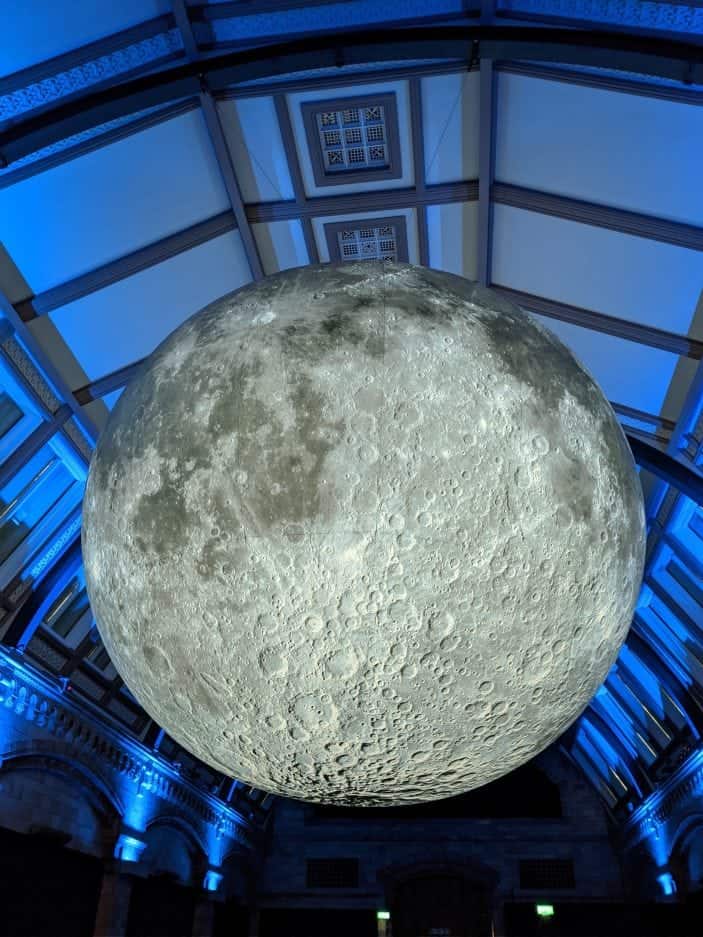 St. Paul's Cathedral: A beautiful Anglican Cathedral. We simply admired it from the Millennium bridge. | Google Maps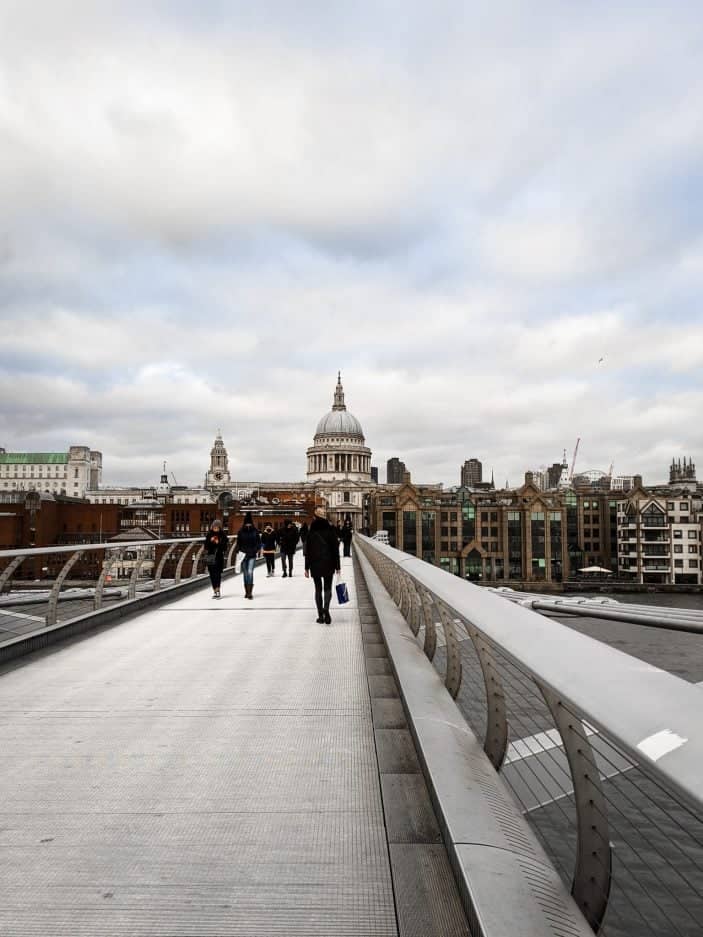 Millennium Bridge: In all honesty, we visited this bridge because it's featured in one of the Harry Potter movies. You'll recognize it from one of the first scenes in the Half Blood Prince Movie. (You can see the bridge in the photo above). | Google Maps
Warner Bros. Studio Tour: Speaking of Harry Potter, if you love the books and movies, you NEED to see the studio tour, just outside of London. We booked our place a few months in advance and it was honestly one of the biggest highlights of our trip. We spent an entire evening there (from 4 to 9pm). There's an amazing gift shop and food to pass the time before or after the tour as well. | Google Maps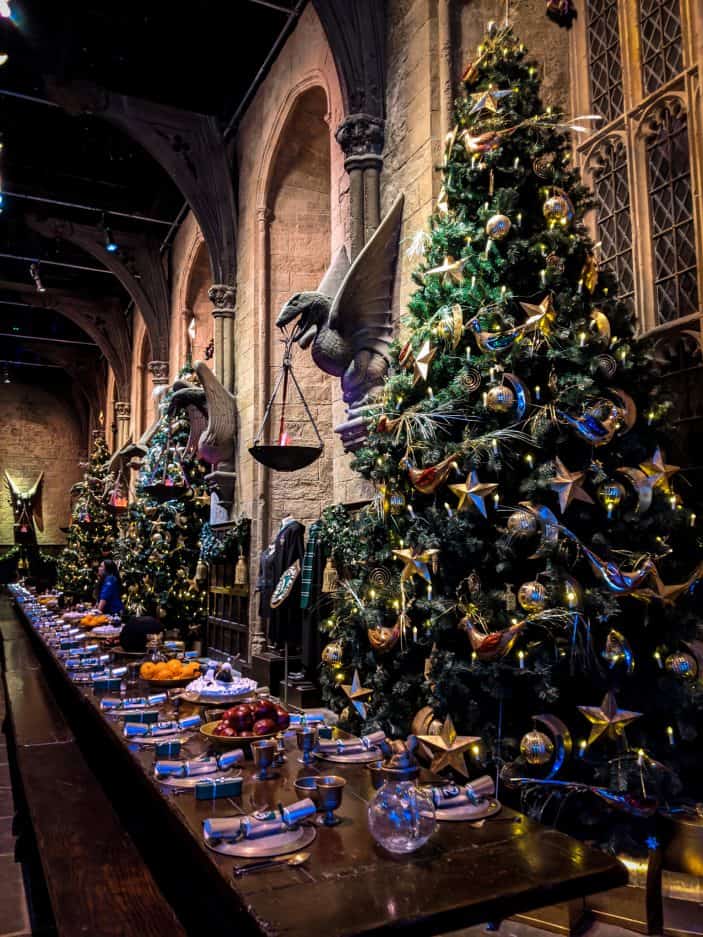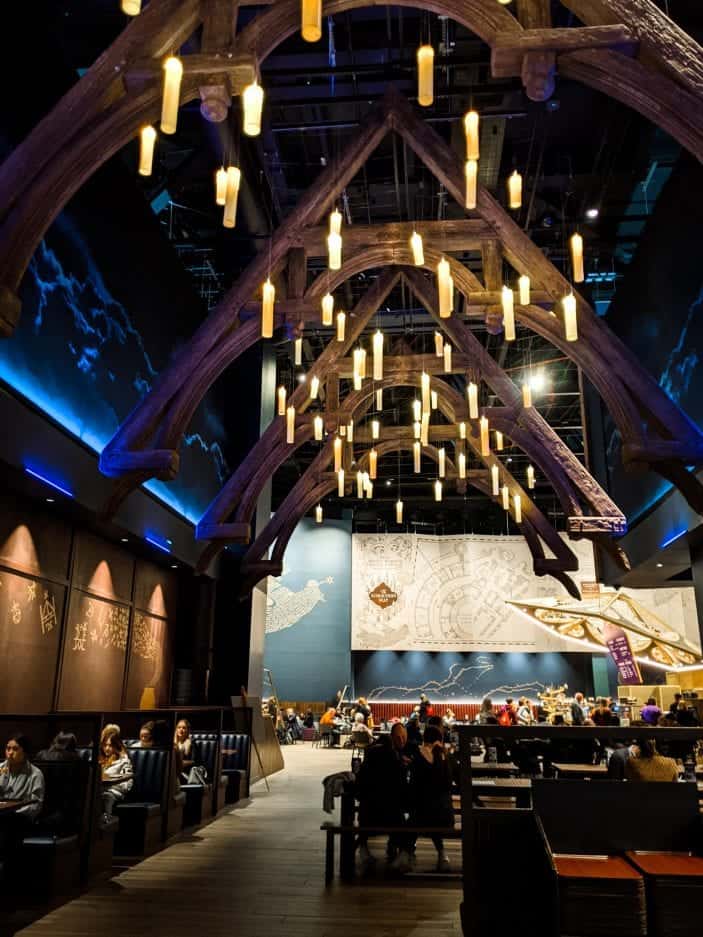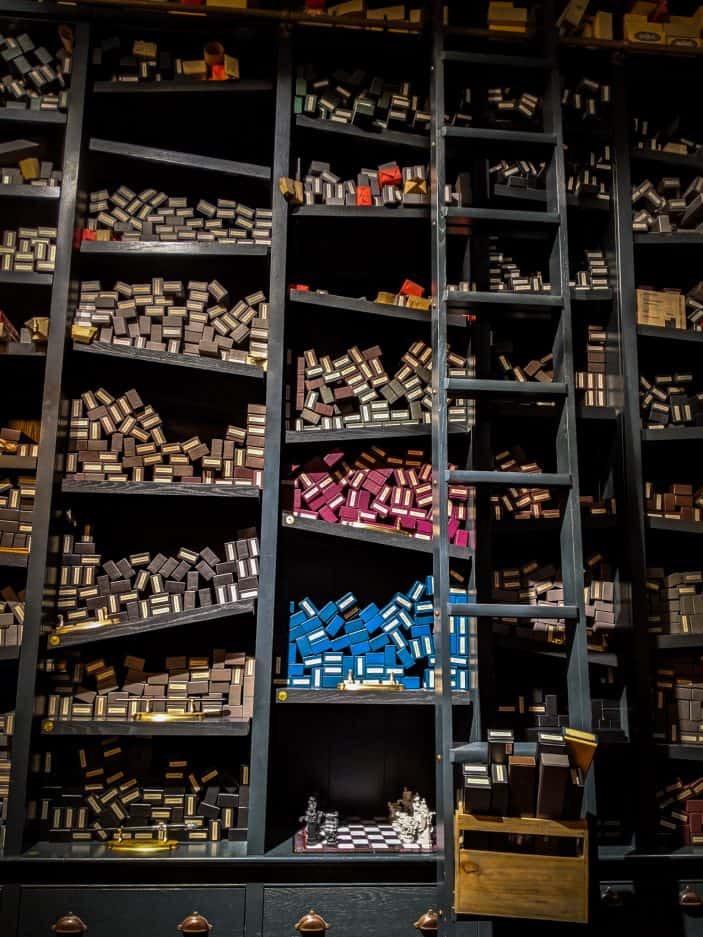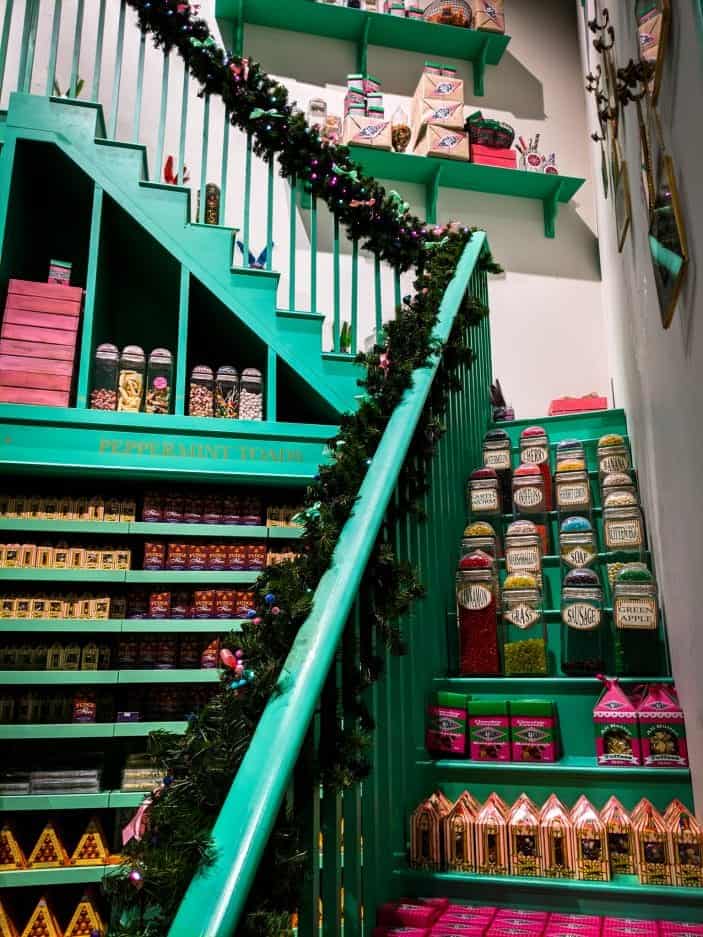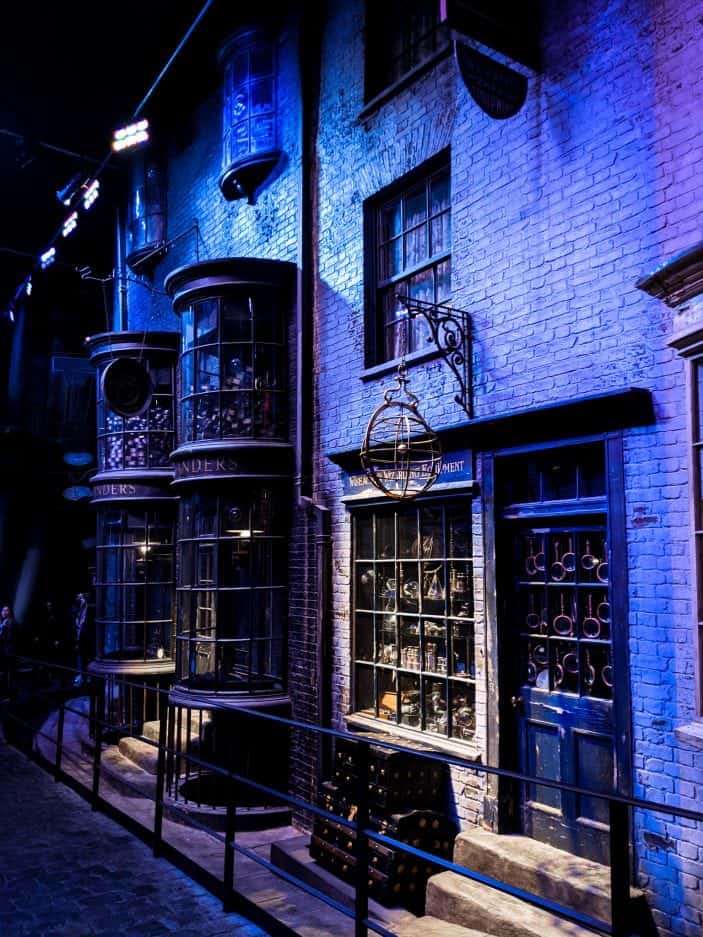 See A Play: One last mention of Harry Potter. If you're a fan, definitely check out the Harry Potter and the Cursed Child play. This was another highlight of our time in London. Another play that's worth seeing: Hamilton. I personally didn't see it, but Shaun did and he's obsessed with it. London offers many plays, so you can definitely find one you'd like!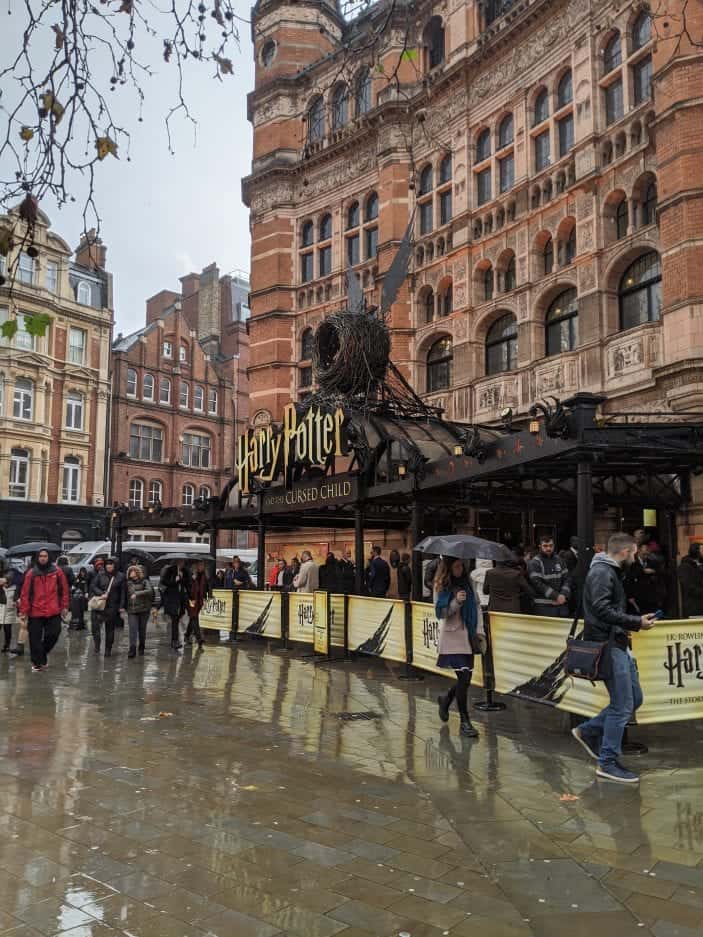 Notting Hill: A vibrant and trendy district in West London. It's well known for it's pastel colored houses. It also offers many high-end stores and restaurants, including one of our favorites – Farmacy. It's definitely worth taking a walk along the charming streets. | Google Maps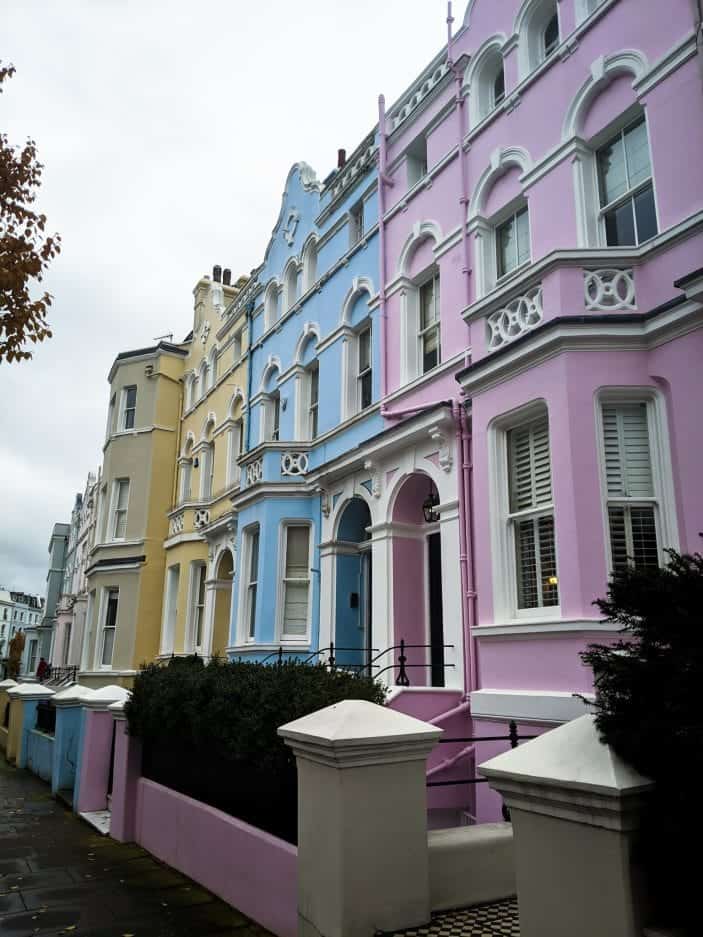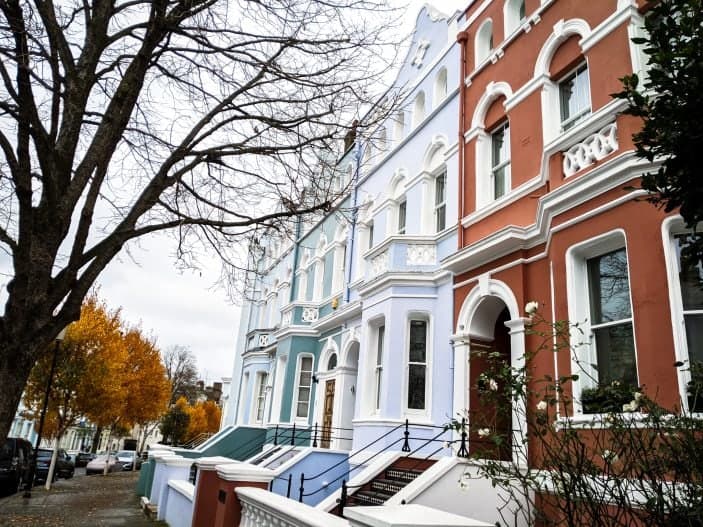 Covent Garden: This shopping and entertainment hub was recommended to us by many, including our Airbnb host. We loved walking along the busy streets of Covent Garden. It's filled with different stores and restaurants and also has a market. This is one of the areas in the center of London that I would recommend the most! | Google Maps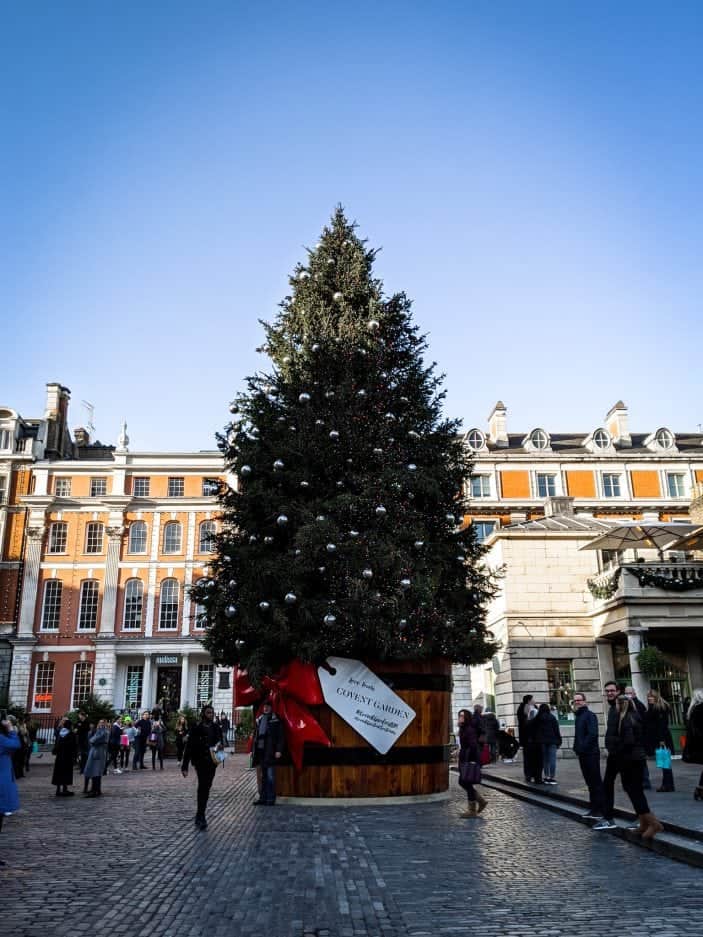 Tower Bridge & Tower of London: An iconic bridge in London, next to the Tower of London. It's a combined bascule and susension bridge with two beautiful towers. It's definitely a must-see when in London. | Google Maps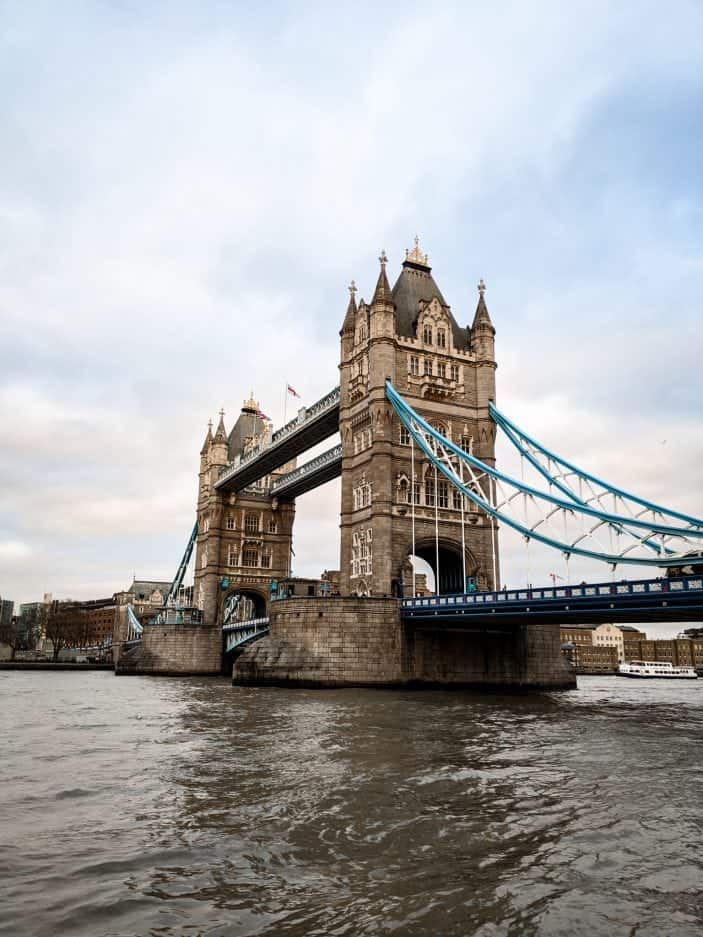 Trafalgar Square: A public square in the center of London. It also had a lovely Christmas market when we visited in December. | Google Maps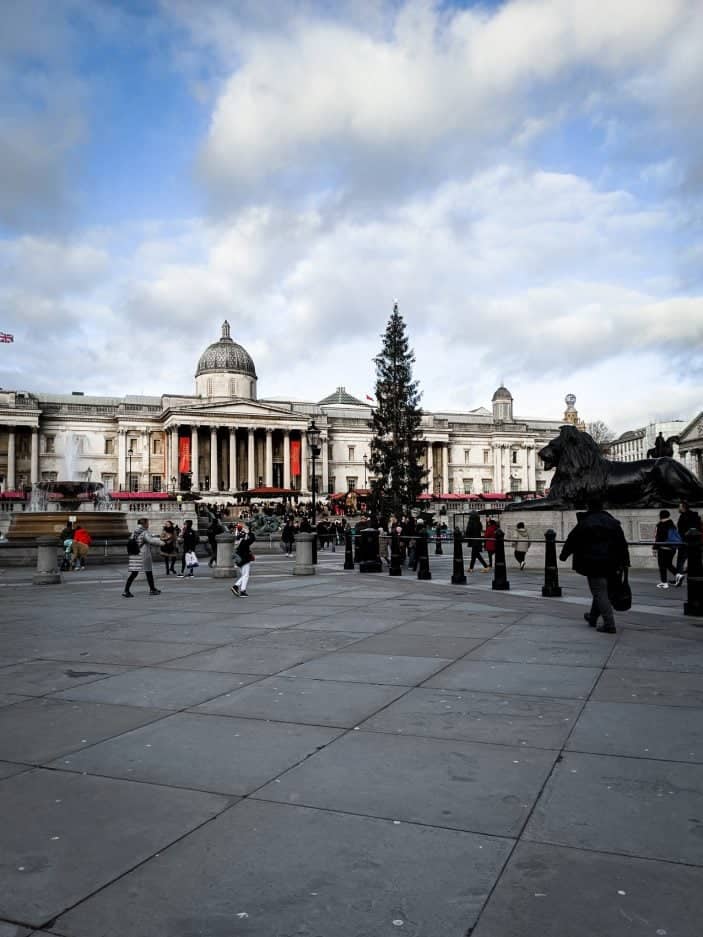 Regent Street: A busy street filled with shops and restaurants. Also, if you're visiting in December, you'll find it beautifully decorated for Christmas. Carnaby street nearby is also beautiful. | Google Maps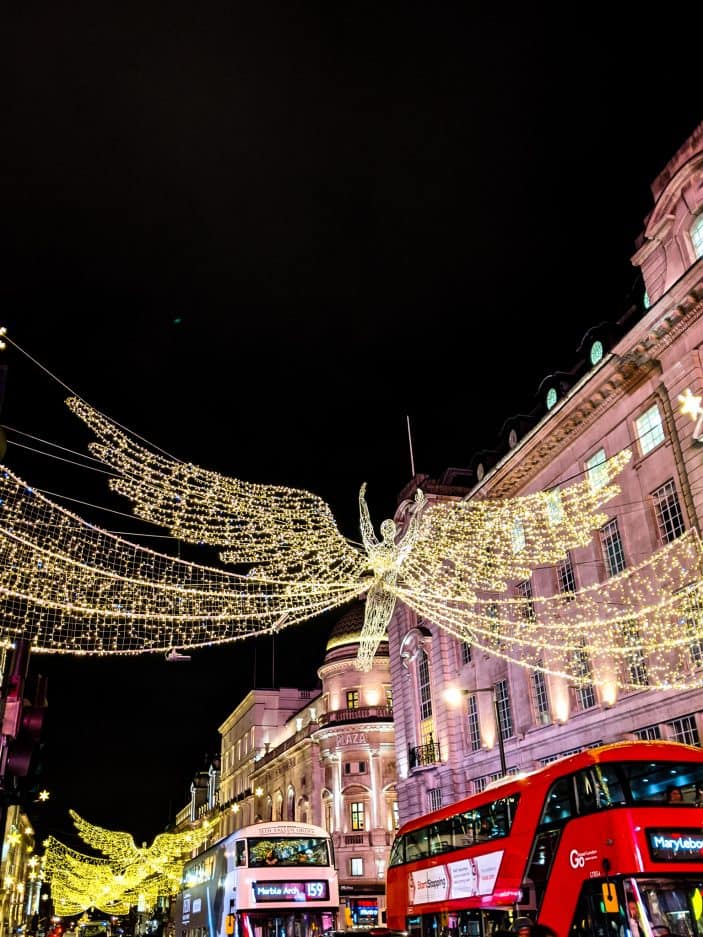 The British Library: This is the biggest library in the world and it's definitely worth a quick stop. Many parts of the library are closed off to visitors, but they do have areas where you can read or work. Plus, close to the entrance, you'll find the King's Library, an impressive 6 story glass tower with all of King George III's books and manuscripts. | Google Maps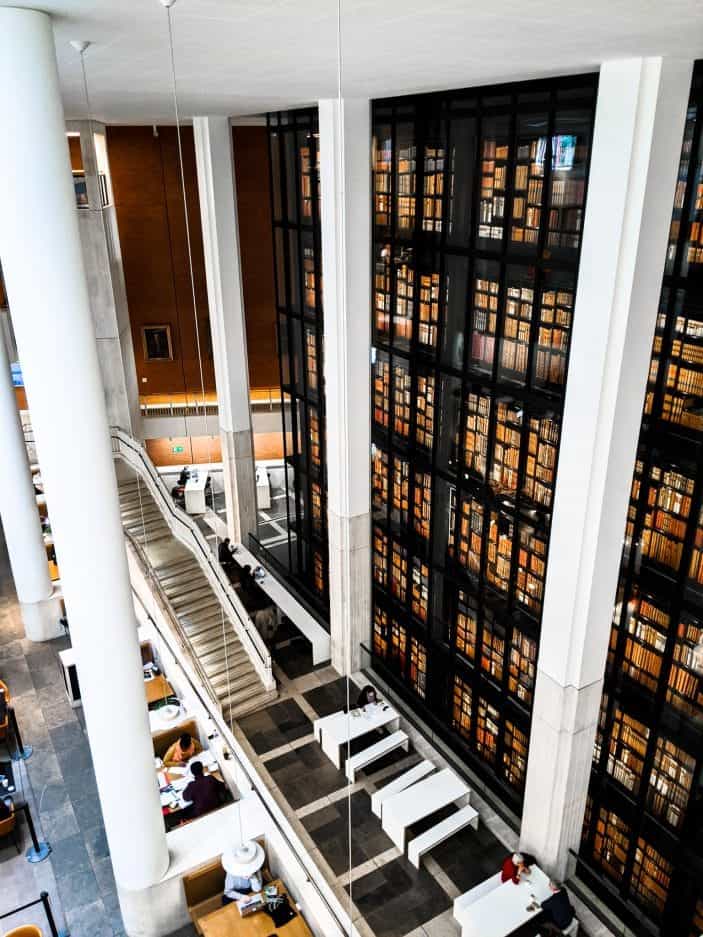 Parks
London is filled with beautiful parks and green space. Here are some of our favorite places for a walk in nature: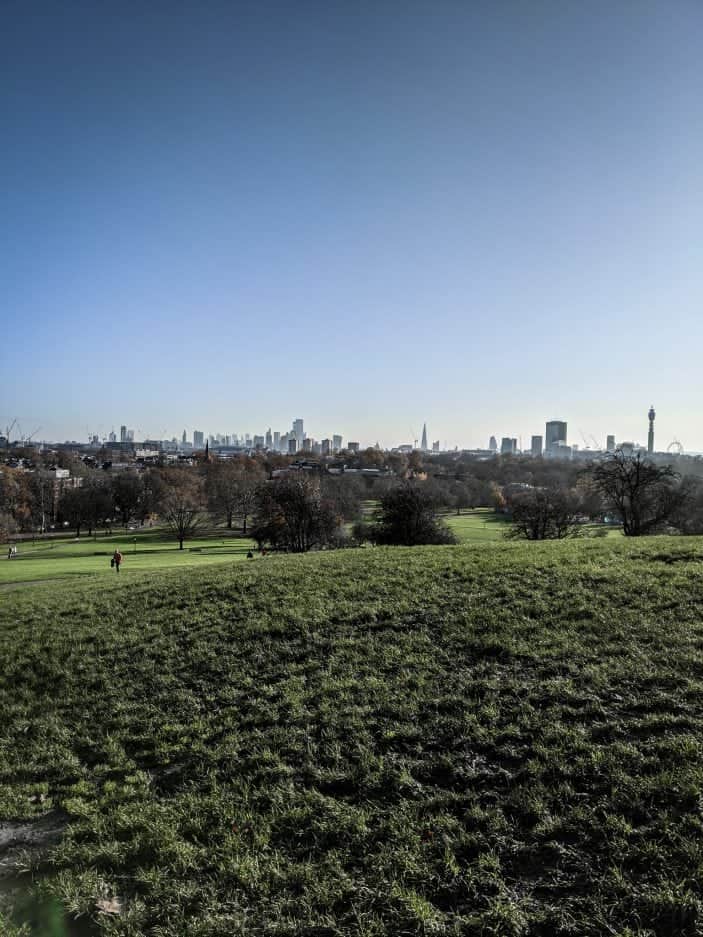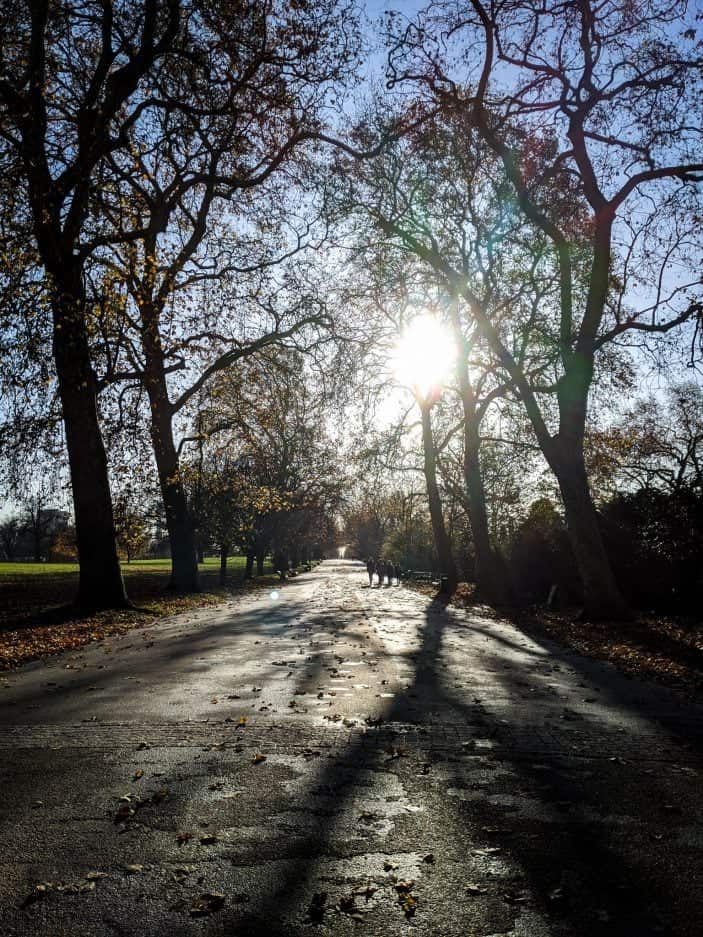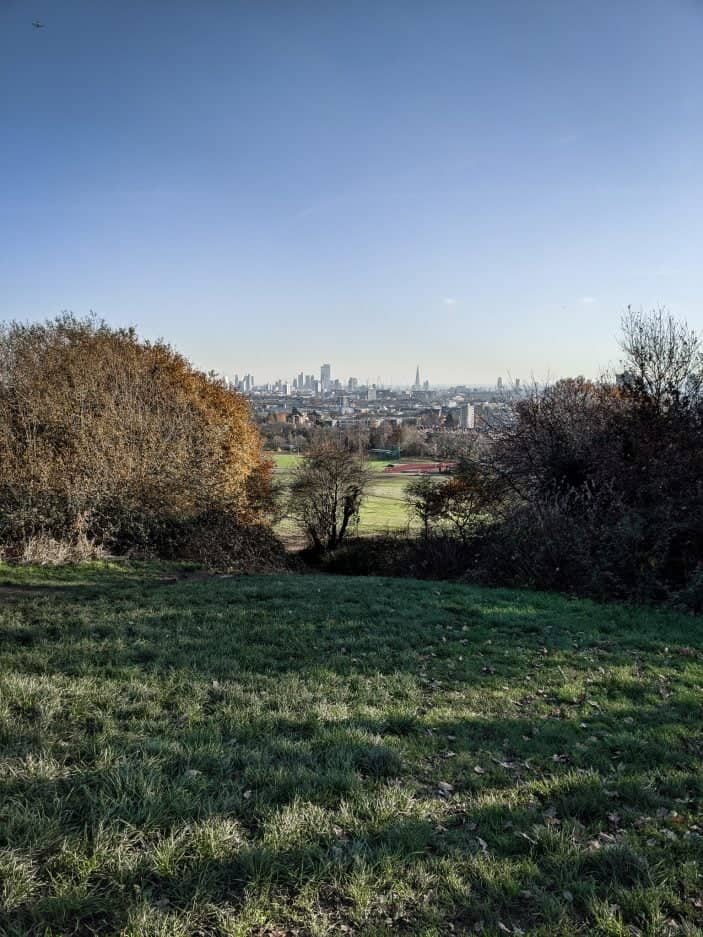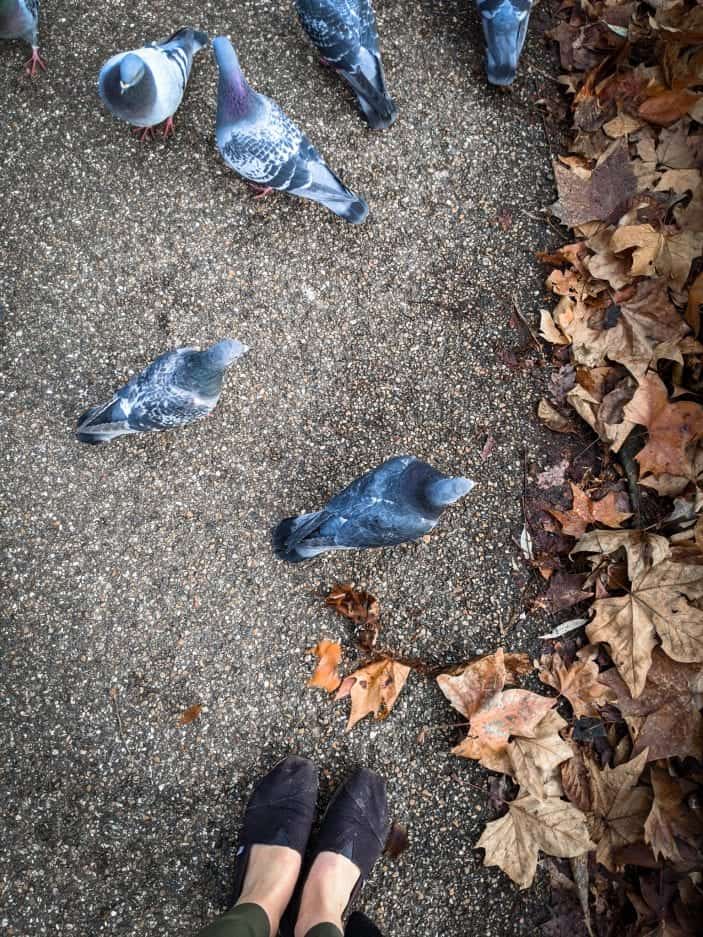 Vegetarian Restaurant Guide
Wulf & Lamb
One of our favorite vegan restaurants in London (and from the ones we tried in Europe). We actually went twice and debated going a third time, just for their vegan mac and cheese. | Google Maps
What we Tried: We shared their vegan mac and cheese both times and it's the best mac and cheese we've ever tried (vegan or not!). Other things we've tried: The Wulf burger, creamy linguine and smoked tofu Caesar. The Caesar wasn't my favorite, but otherwise, everything was delicious! Also, take one of their desserts to go! We had their brownie and a muffin.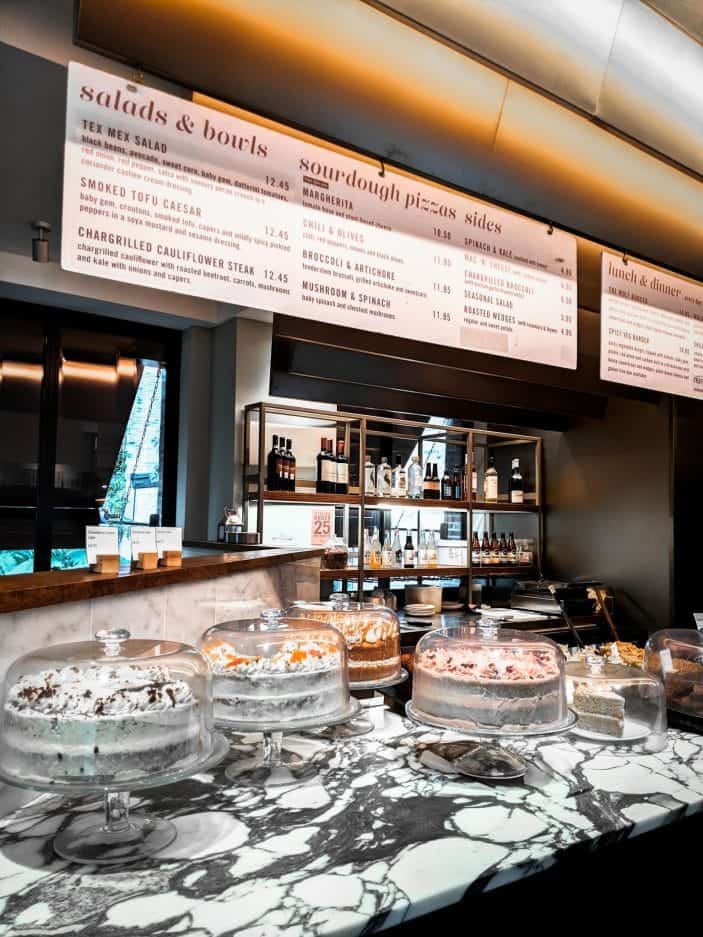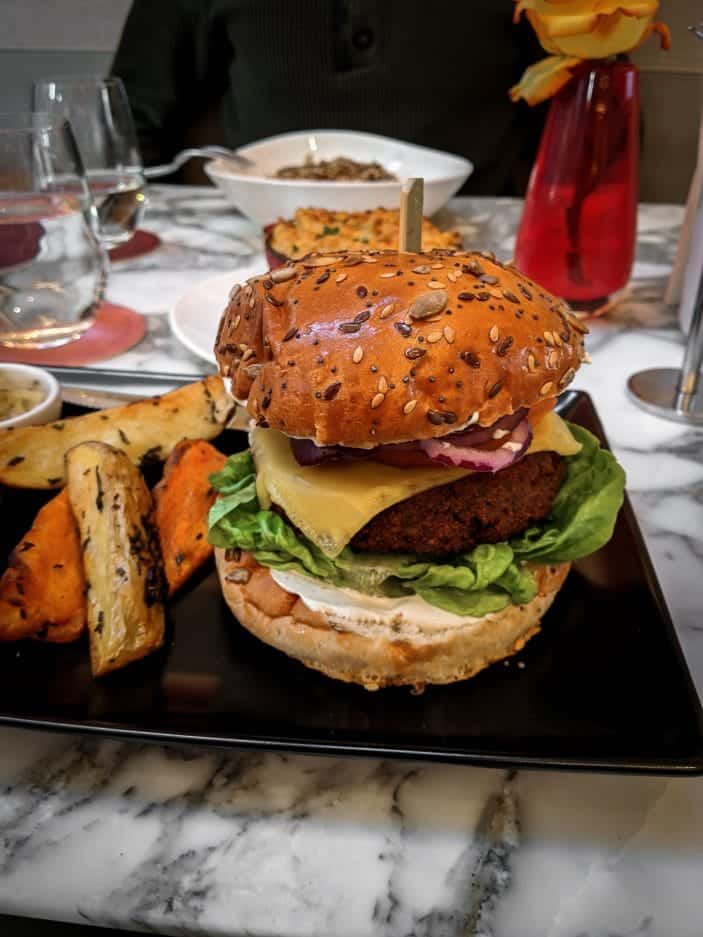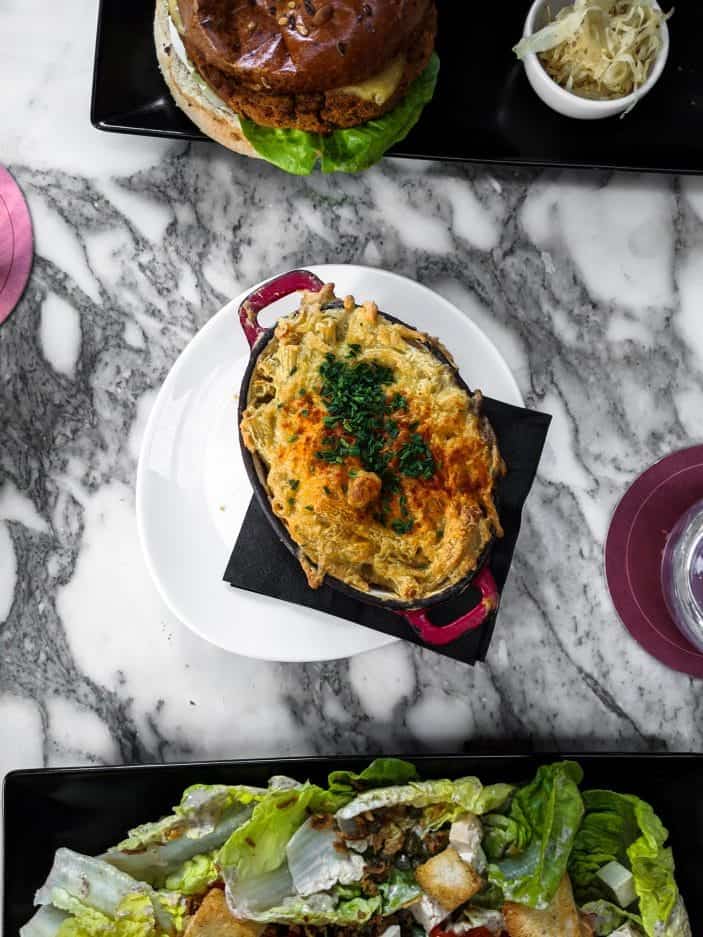 By CHLOE.
More of a fast-food vegan place. They have several locations across London. We actually ended up there three times for quick meals over the course of one month! | Google Maps
What we Tried: The classic burger, pesto meatball sub, kale Caesar (the only decent Caesar salad I've tried in Europe), spicy thai salad and the most amazing chocolate chip cookie.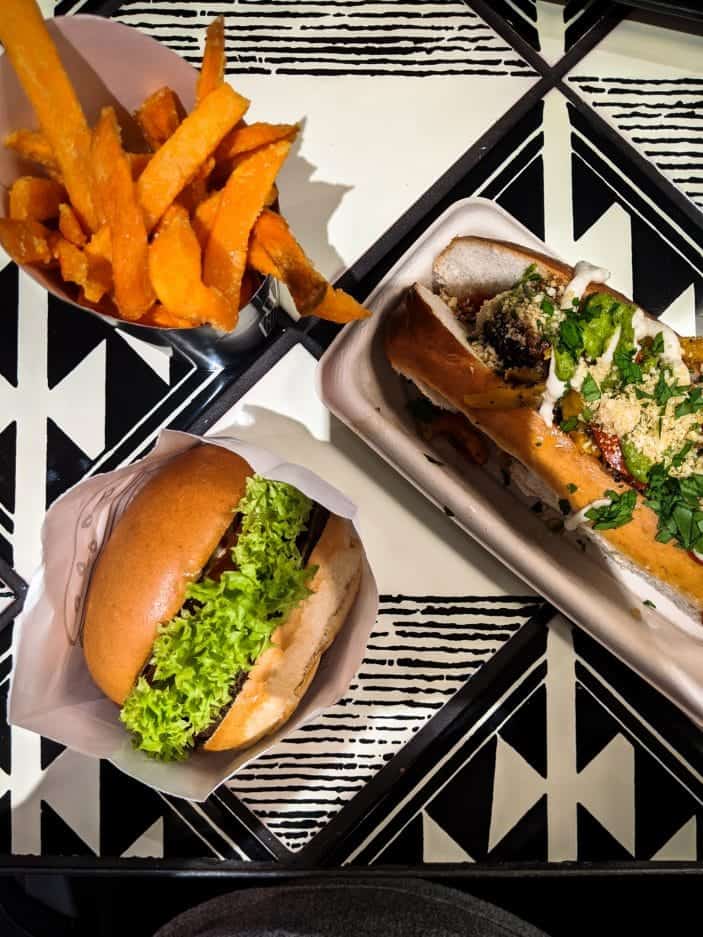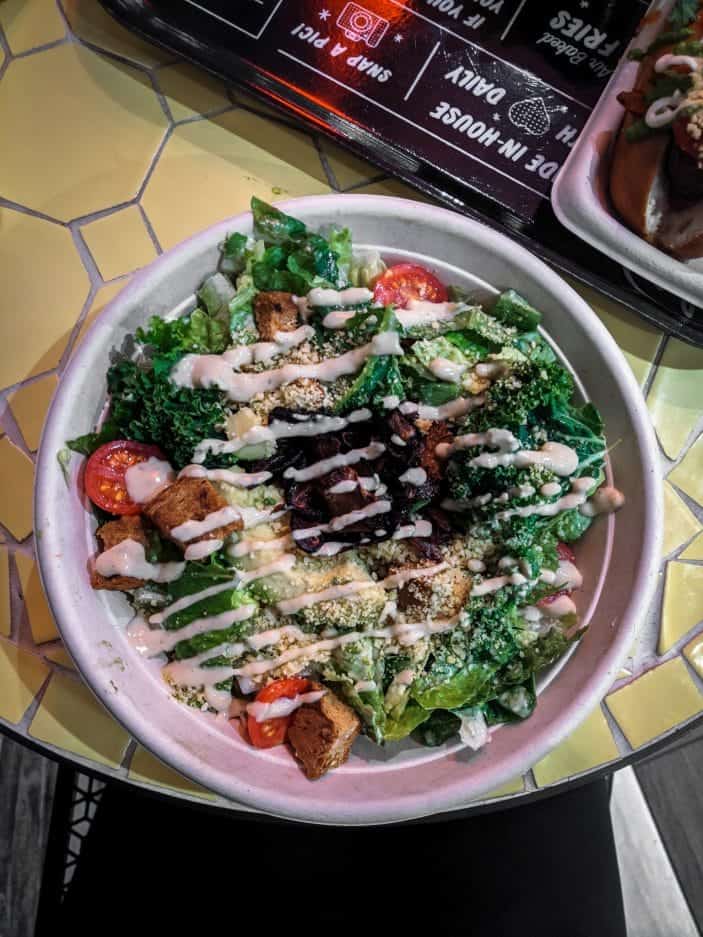 Farmacy
This one was recommended by many and we enjoyed it! The only downfall: It's on the expensive side (possibly since it's in Notting Hill). | Google Maps
What we Tried: Vegan mac and cheese (not as good as the one at Wulf and Lamb, but still so amazing!), Caesar salad (it was okay), Farmacy burger (very good). We also tried a matcha mint smoothie and a scoop of nice cream, which both weren't worth the money.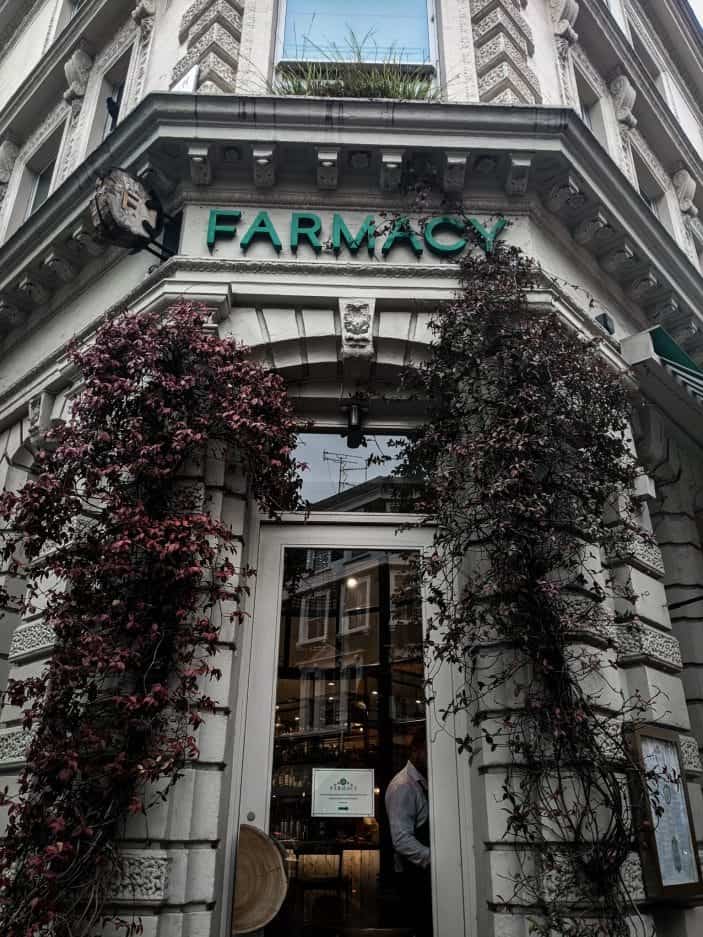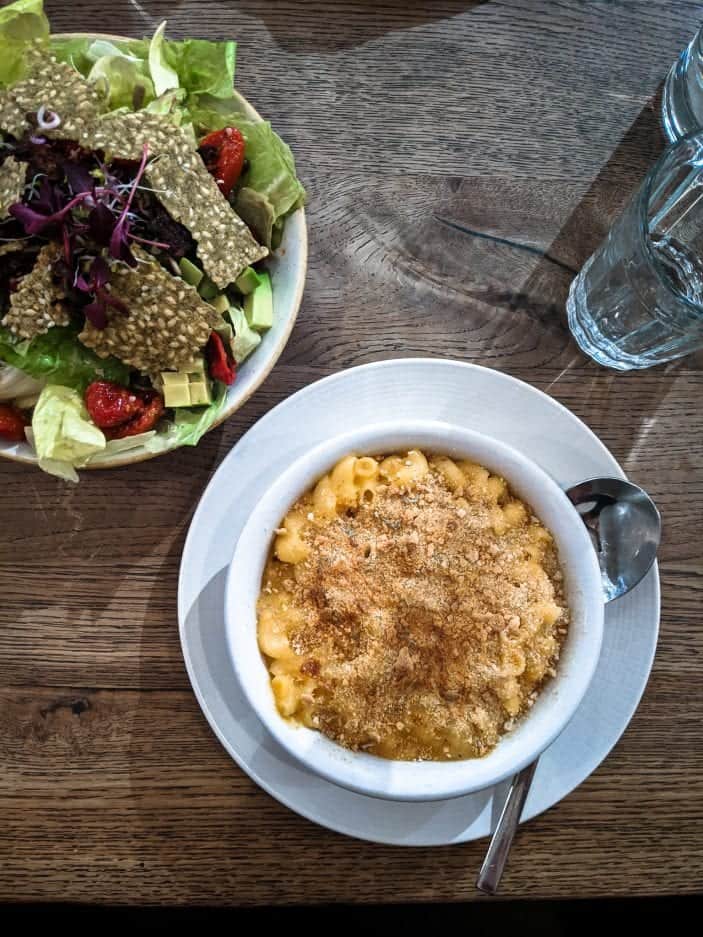 Dishoom
I think this was our favorite restaurant from our entire 3 months in Europe. It's a restaurant serving Indian food and you can find several locations across the UK. We personally tried the Carnaby Dishoom. I would encourage you to make reservations far in advance! We decided to make reservations and ended up only having a spot on our last day in London (2 weeks later). They accept walk-ins, but it's risky.| Google Maps
What we Tried: We started with the vegetable samosas and the oka fries to share. I then had their house black daal with naan bread and Shaun had their vegetable biryani. I also had their house chai with oat milk. Everything was absolutely amazing.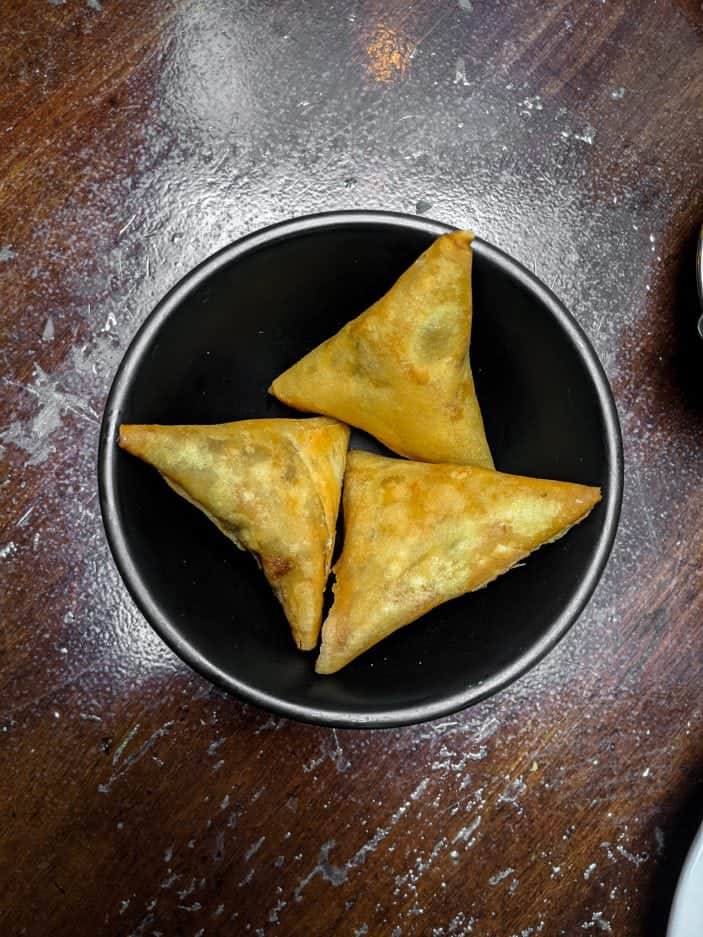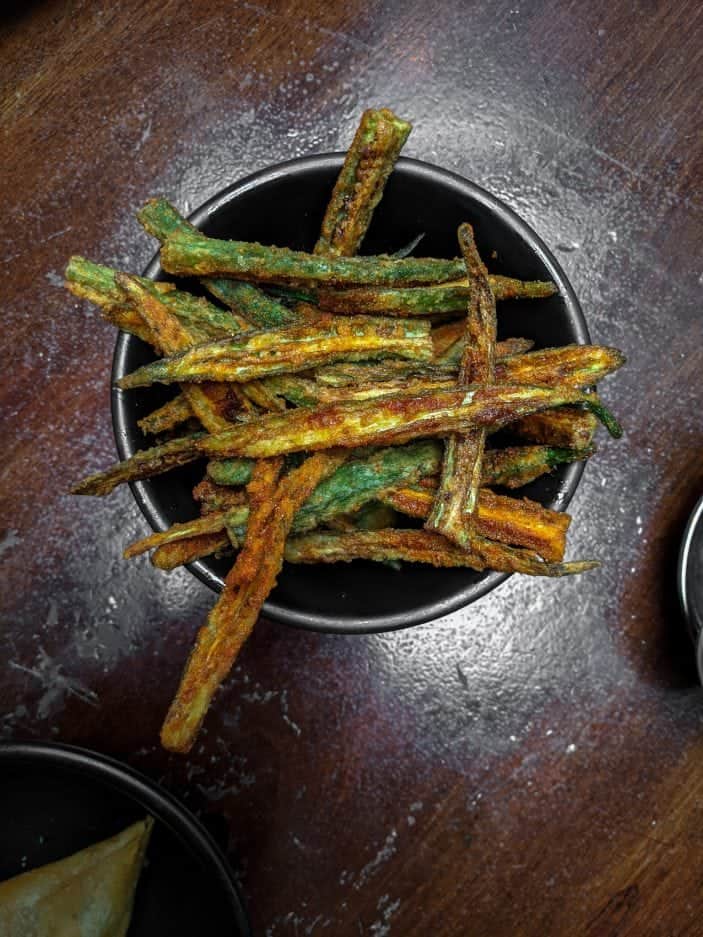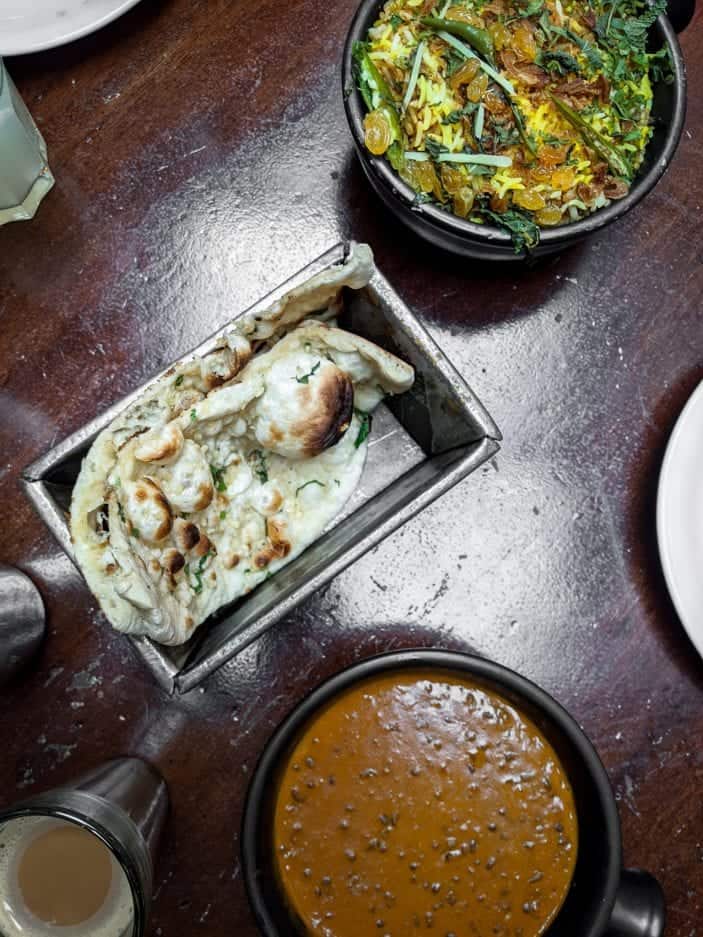 Ottolenghi (Spitafields)
We were recommended to try one of the Ottolenghi restaurants and we ended up at the Spitafields location. They offer dishes with flavors from the Middle East and North Africa. They also had many vegan/vegetarian options. | Google Maps
What we Tried: We shared a plate of 4 different salads. They were all good!
Redemption Bar Covent Garden
We stopped here for lunch one day and really enjoyed it. | Google Maps
What we Tried: I had their soup of the day (a minestrone) and their Winter Caesar (I was starting a cold and craving vegetables). Shaun had their Korean spicy BBQ jack bap.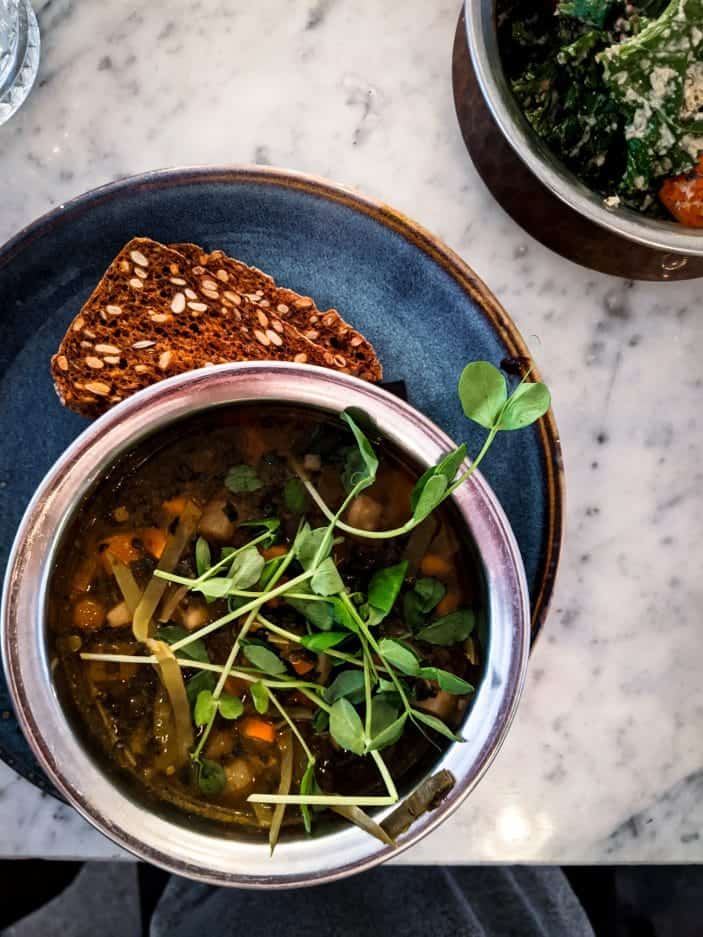 Deliciously Ella Deli
I had to try Ella's deli when in London after following her on Instagram for years. I have to say, it wasn't the best experience. The food was good enough, but not amazing. To me, the food would be easy to make at home, so not worth the price for the small portions. However, I think it's a great deli if you want nourishing food on the go! | Google Maps
What we Tried: I had the sweet corn fritters and Shaun had their pancakes. I also tried their matcha latte which wasn't great. We also had a brownie to go, which was delicious! While we didn't particularly enjoy the deli, I should say that we LOVED their energy bites, caramel cups and granola, which you can get at the deli or at many grocery stores around the UK.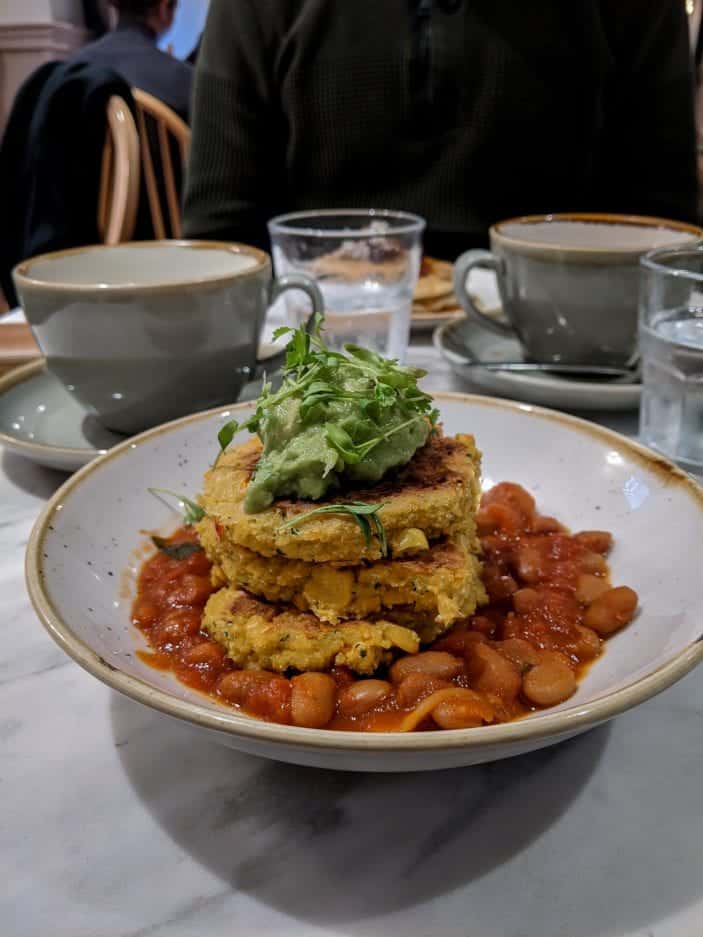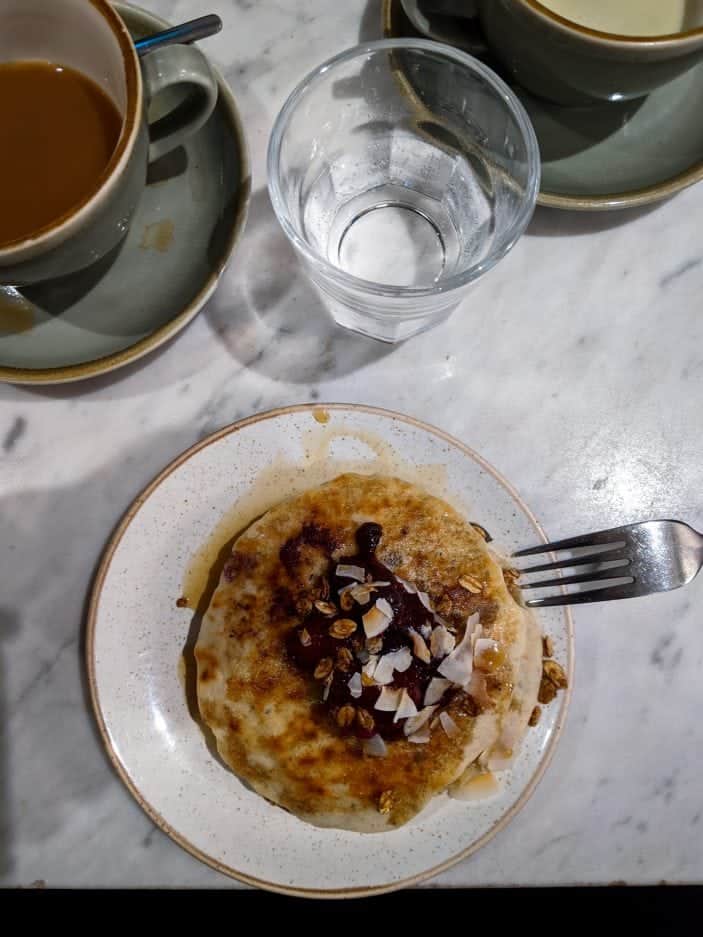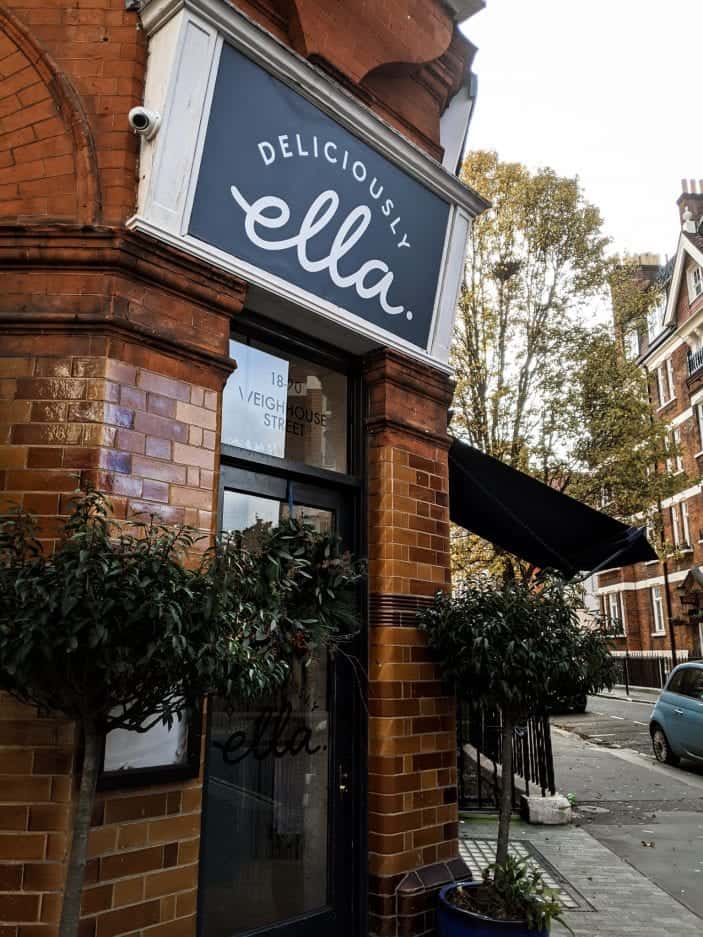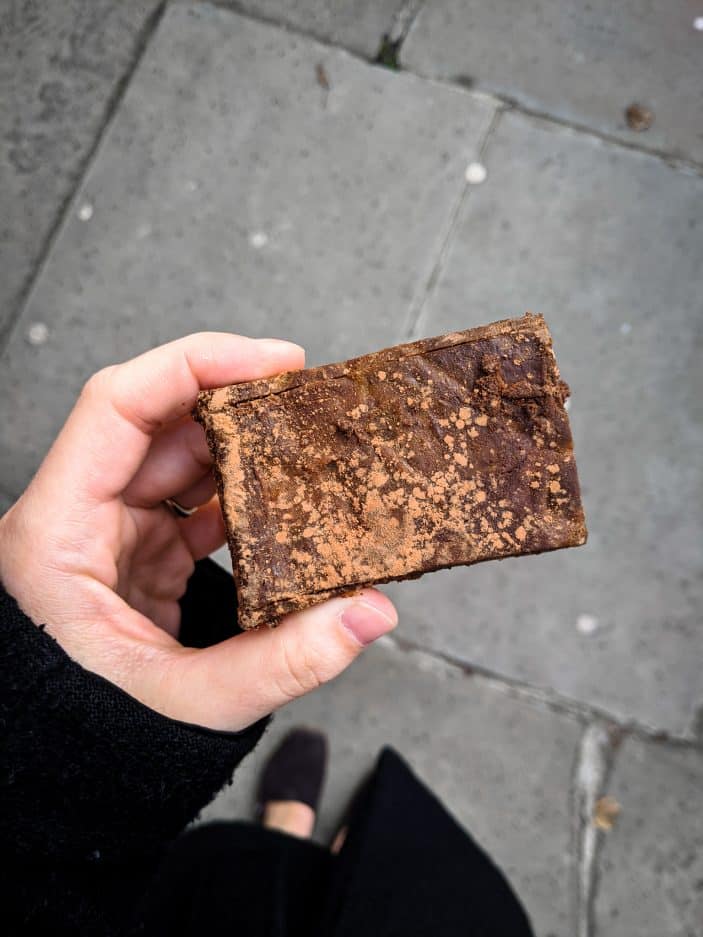 Mildred's Soho
Another delicious vegetarian restaurant! We ate here between parts 1 and 2 of the Harry Potter play one night. It was busy, but we were able to get a spot without reservations. | Google Maps
What we Tried: I had their halloumi burger and Shaun had their Teriyaki Chick'n burger. We also had the dumplings to share. Everything was delicious!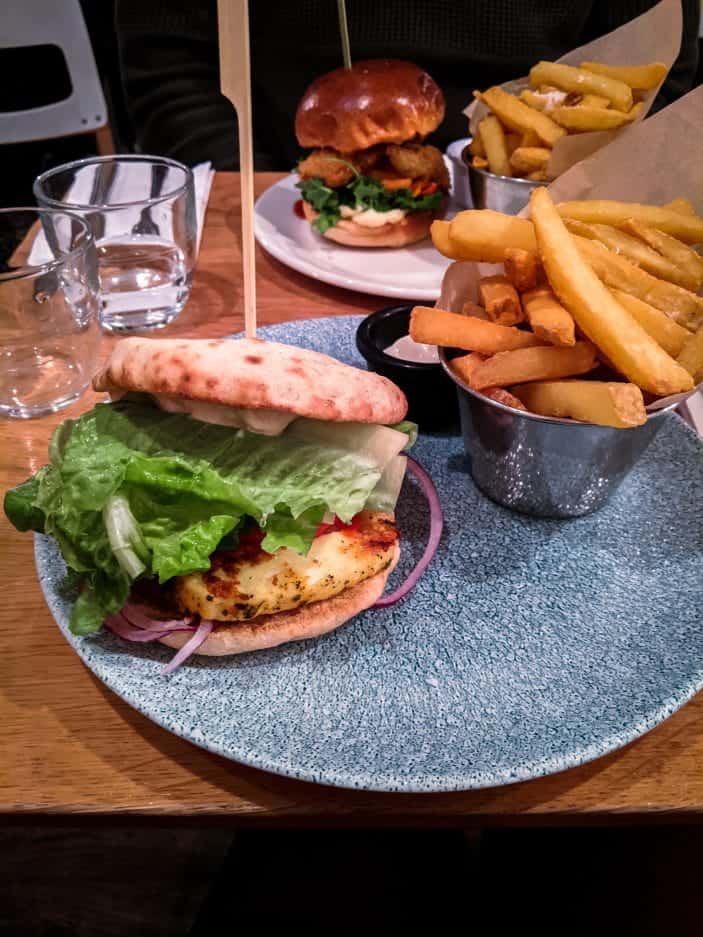 Markets
Borough Market: A large market under the railway lines. They offer a good variety of ingredients and prepared foods. | Google Maps
Camden Market: An eclectic market with many food stalls. The vibe wasn't our favorite and it was overcrowded, but we did find the best vegan hot dogs! | Google Maps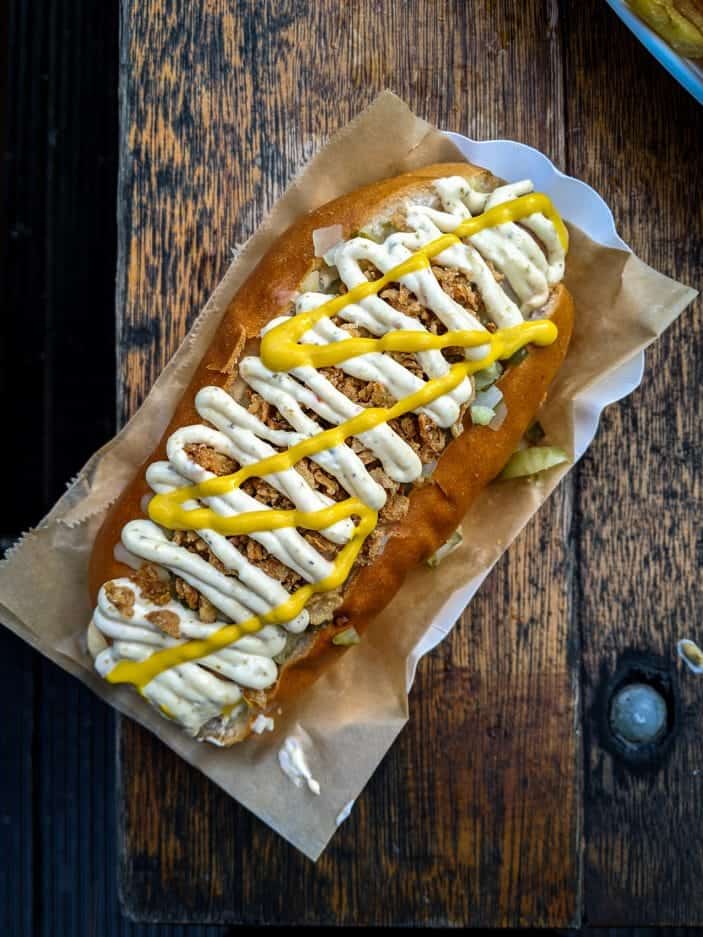 We also loved the many Christmas markets available across London in December! We visited the one in Leicester Square, Trafalgar Square and near the London Eye.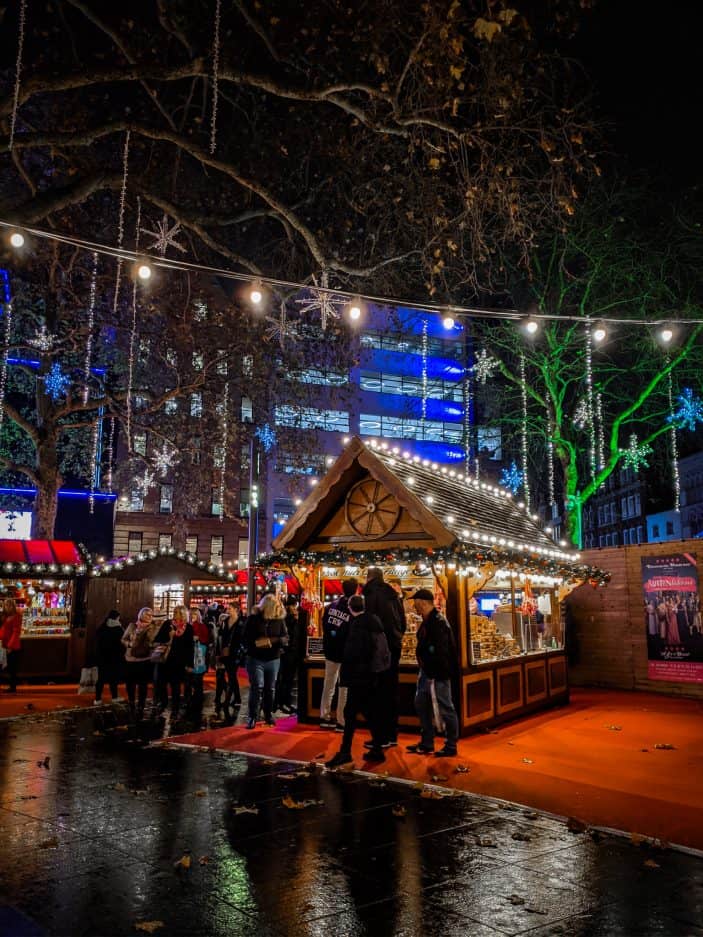 Our London Map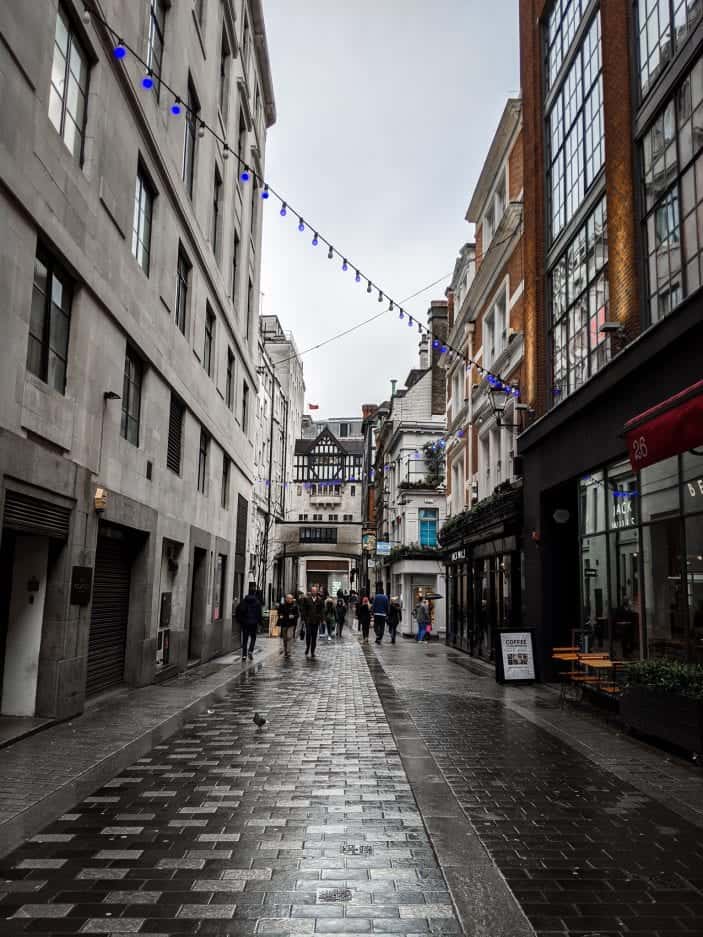 Looking for more details on our travels in Europe? Check out my Europe guide here and my post on 5 day trips from London.