The Best Fruit-Sweetened Apple Crisp
October is almost over and if you're like me, you're probably searching for ways to use up all the apples you picked this fall. Apple crisp is always my go-to.
I hesitated to call this recipe "the best" apple crisp because first of all, I'm not that confident in myself and second of all, it's based on my opinion. However, when I tried to find a version without added sugar, I wasn't surprised to find that every recipe contained either artificial sweeteners or maple syrup/honey.
Also, I don't like using the term sugar-free because technically, there's still sugar (carbohydrates) in dates, apples, oats and flour. I usually prefer the terms "no added sugar" or "sweetened with fruits". This dessert still has a lot of carbs, but it doesn't have any "added sugar". Does that make sense? So instead, I used the term fruit-sweetened.
Alright, I'm done. I just wanted to clarify the way I see things. 😉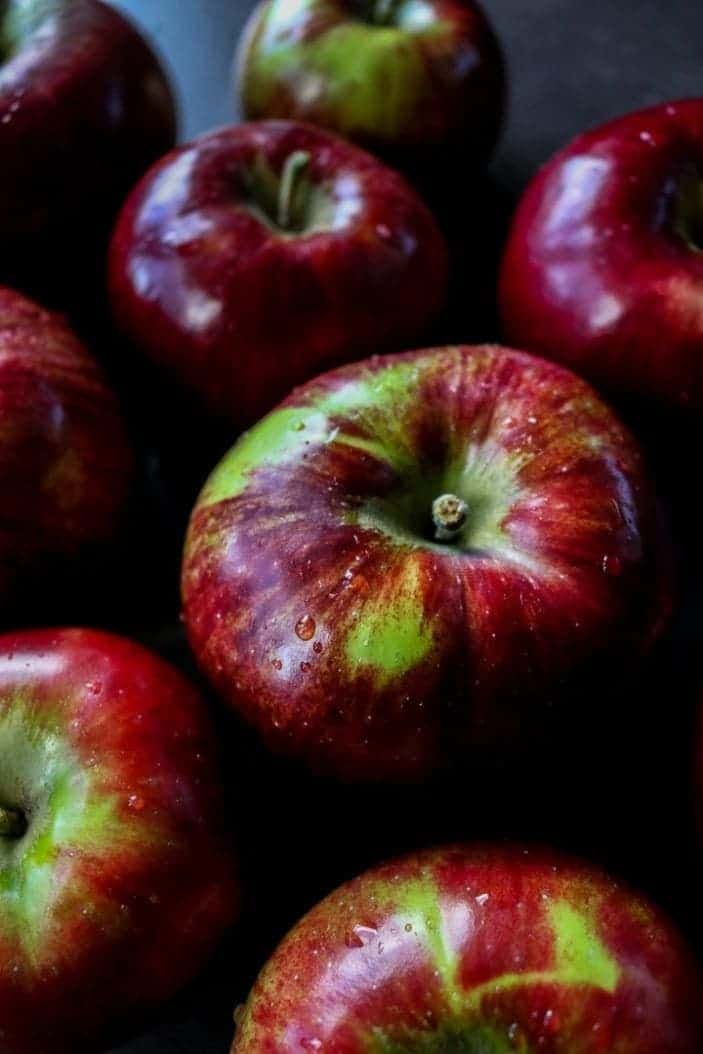 This recipe would make a great healthy Halloween dessert! Or breakfast. I've done that before. Honestly, this recipe is probably healthier than most baked oatmeal.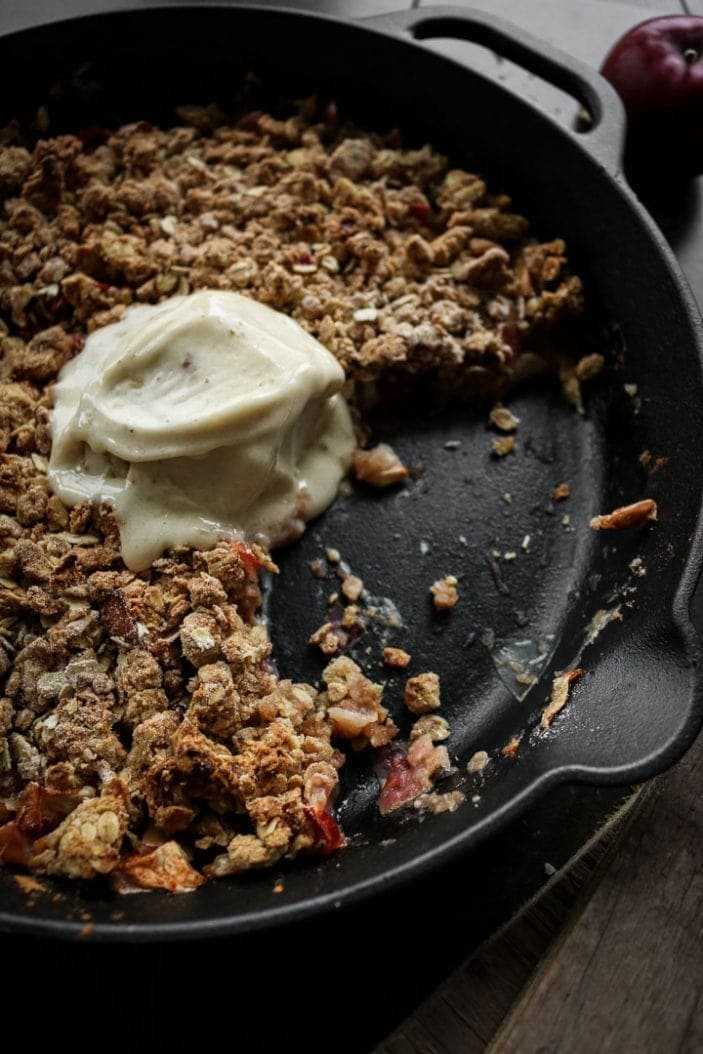 I guess I should get back to the recipe.
I used Cortland apples since that's what I had, but feel free to use your favorite apples for baking. I also left the skin for added nutrients (and out of pure laziness), but once again, feel free to peel them! If it's baked long enough, I find that the skin becomes soft enough, but it probably depends on the apples you're using. I combined the diced apples with a bit of cinnamon and lemon juice for added flavor and layered them at the bottom of a 12″ cast iron skillet (I used one from Victoria Cookware). It makes a thin, gooey yet crispy apple crisp. My favorite!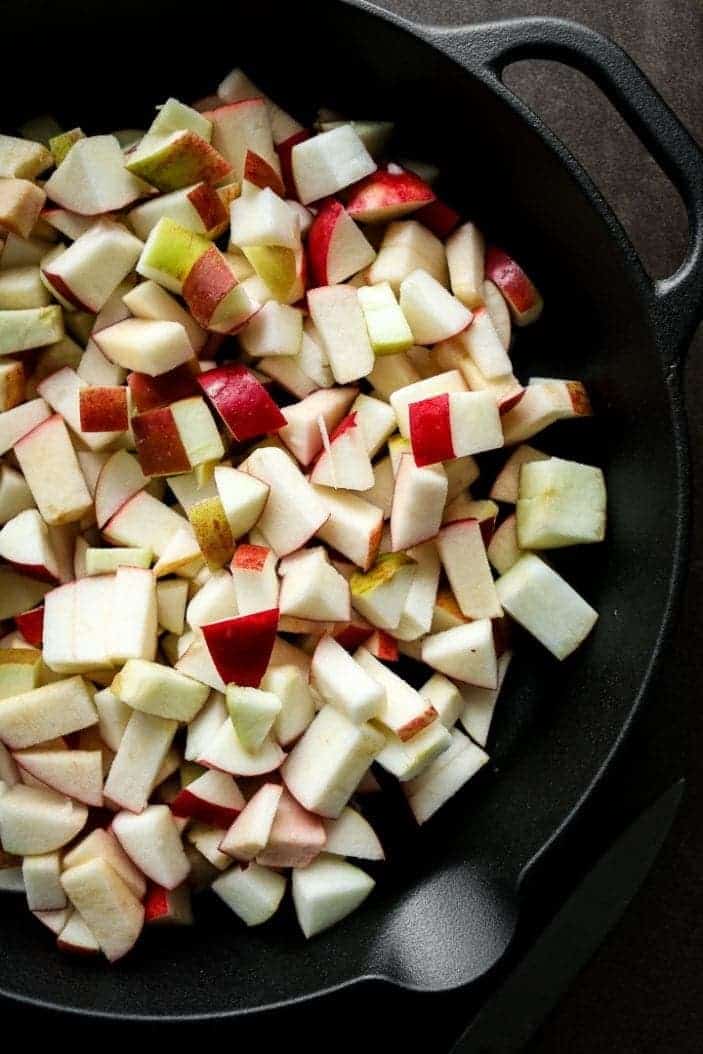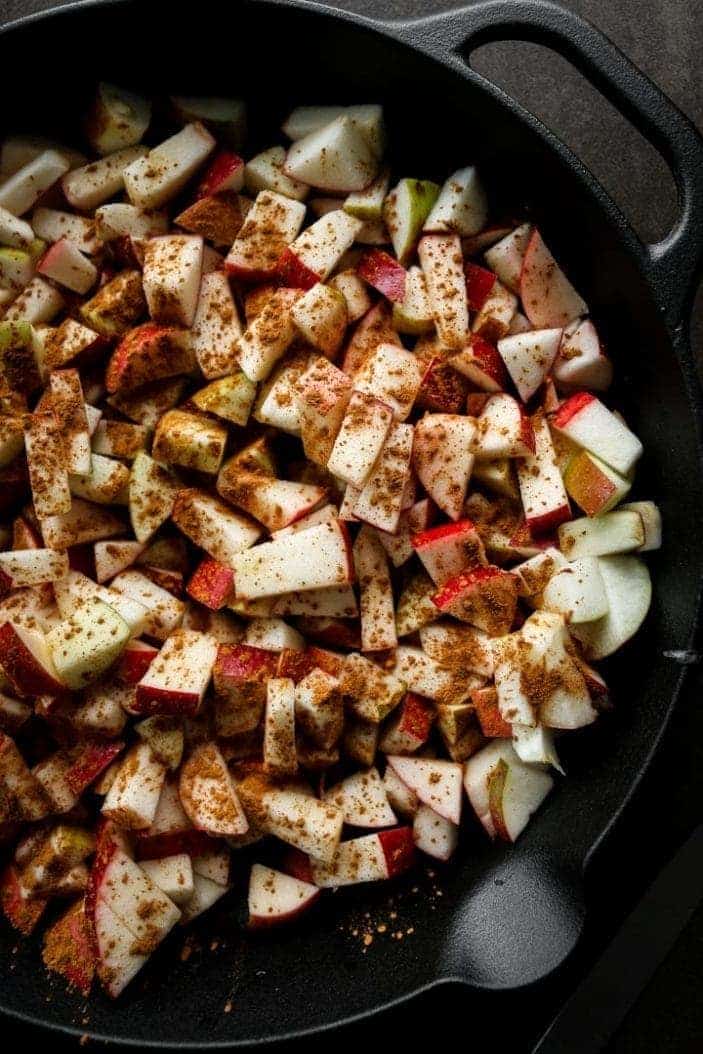 Then, you move on to the best part: the topping.
The apples add a bit of sweetness in this recipe, but I felt like it needed a bit more. I only added 1/4 cup of dates which is really not a lot, but in my opinion, that's all it needed. I must say though, if you're used to eating rich desserts, you might not find it sweet enough. In this case, feel free to add a few tablespoons of maple syrup. The texture of the topping might change a little, but I'm sure it would still be delicious! Like I said earlier, this recipe is healthy enough for breakfast. You could drink a glass of milk (or soy milk) for added protein. YUM!
For the topping, I used a combination of oats and spelt flour. I tried a version with whole wheat flour which was also good! I haven't tried a gluten-free version, but you could try using a gluten-free flour mix if needed. I started by cutting in cold margarine into the flour and then added mashed/pureed Medjool dates, oats and salt. Once it's all mixed together, you crumble it on top of the apples and bake it for 45-50 minutes until the apples are tender and the topping is golden brown.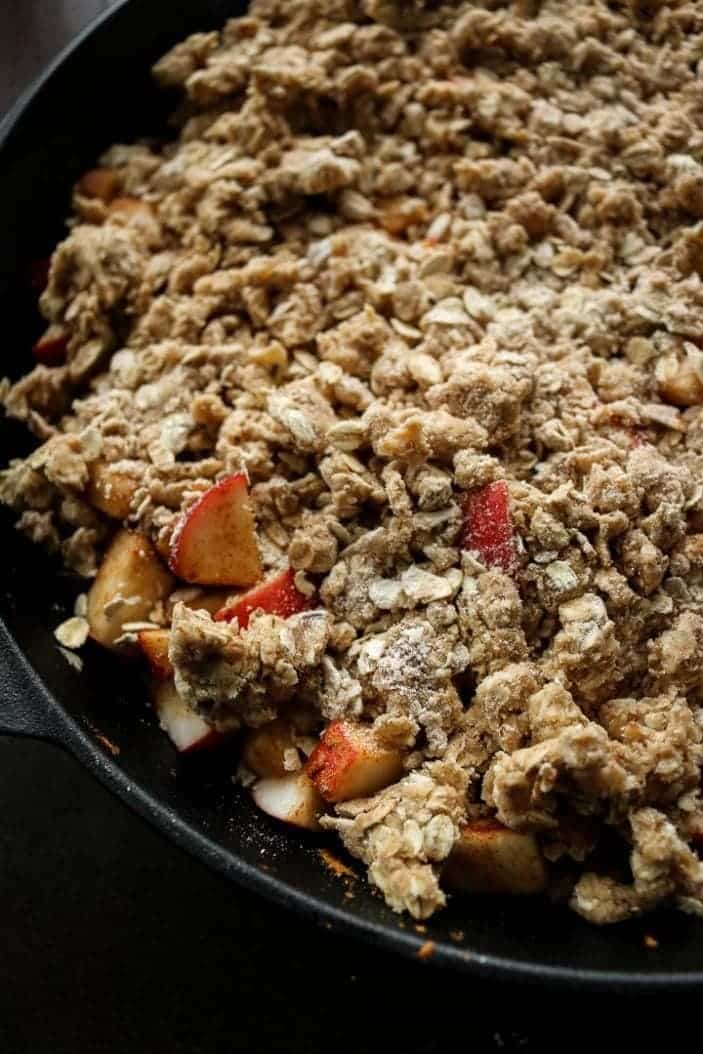 Finish it off with a big scoop of plain nice cream! Yup, that's what I'm eating this Halloween. Hope you try it too! 
The Best Fruit-Sweetened Apple Crisp
A gooey yet crispy apple crisp sweetened with fruits only! Healthy enough for breakfast and tasty enough for dessert. By far the best way to use all the apples you accumulated this season.
Ingredients
6

cups

Cortland apples

2

tablespoons

lemon juice

1

teaspoon

cinnamon
Topping
1 1/2

cups

spelt flour

1/2

cup

margarine

(use vegan if desired)

1

cup

rolled oats

1/4

cup

Medjool dates + 2 tablespoons warm water

1/4

teaspoon

fine grain sea salt
Instructions
Preheat oven to 375F.

Dice apples and place them in a 12" cast iron skillet. Sprinkle with cinnamon and lemon juice. Stir to combine.
Make the Topping
Add the flour and margarine in a medium bowl. Make sure the margarine is cold (right out of the fridge). Cut the margarine in the flour until the mixture is crumbly, either using a pastry cutter or food processor. I just used a fork.

In a high-speed blender, blend your Medjool dates and water. If your blender is not strong enough, you can get messy and mash your dates with the water using your hands. Transfer to your medium bowl.

Add your oats and salt. Mix all the ingredients together. Crumble the mixture on top of your apples.

Bake for 45-50 minutes until the apples are tender and the topping is golden brown. Let it sit a few minutes before serving.
Notes
You can keep the skin on the apples if preferred.
Feel free to use your favorite apples for baking.
You can also use butter instead of margarine.
This recipe also works with whole wheat flour. To make it gluten-free, you can use brown rice flour or oat flour.
If you try this recipe, make sure to tag your photo #unsweetenedcaroline on Instagram, Facebook and Twitter! Don't forget to also tag me @unsweetened.caroline on Instagram so I can see your creations!