Seriously Addictive No-Bake Seedy Granola Bars
If I could eat only one thing for the rest of my life, I would choose these seriously addictive no-bake seedy granola bars.
I can honestly make a batch of these bars and eat almost half of it throughout the day. One for a morning snack, one with lunch, one as an afternoon snack and one or two in the evening… Half of the batch, gone. Oups. I could also make a batch and eat 2 or 3 bars before I even add on the chocolate. Like I said, they're addictive! Probably not a good thing for someone with a sugar addiction. They may not have any added sugar, but that doesn't stop them from being addictive.
It doesn't help that I've had a hard time with the photography for this post. I think I made them 5 times for the sole purpose of photography. That doesn't count the other 5+ times I made them just because I was craving them. I honestly shot them over 5 times before getting a few shots that I could live with. And even now, I'm not really fully satisfied. Yes, I am picky, but on my defense, I wanted the bars to look as good as they taste! I came to the conclusion that this will never happen. I believe they fall under the category of "tastes better than it looks". It's unfortunate.
If my rambling doesn't convince you that these bars are worth trying, then know that they even got Shaun's friends' approval. Last weekend, Shaun went for a hike with some friends and brought some along for everyone. I had some very good feedback!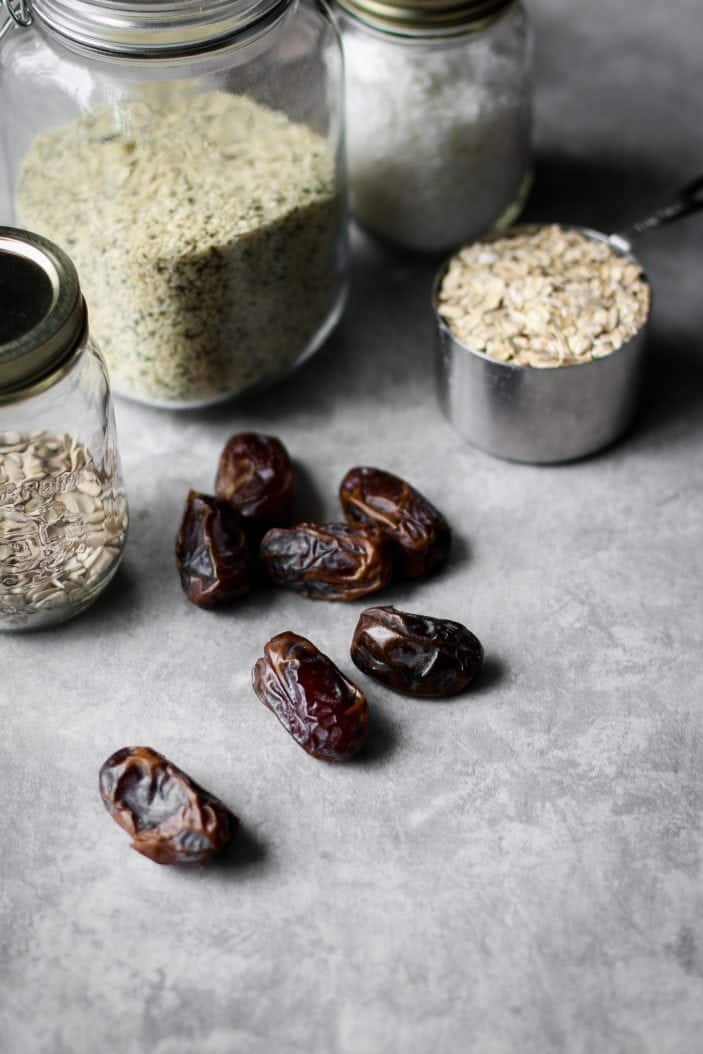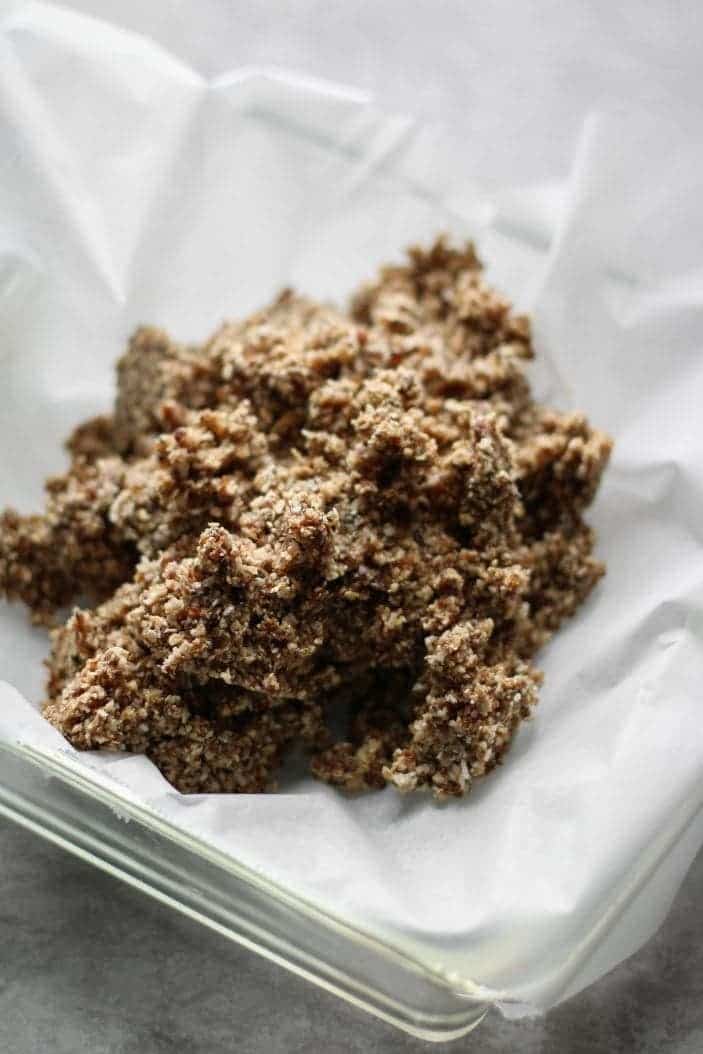 Life is a bit crazy currently. We have so much going on and so many changes in our lives. I won't get into it right now, but I promise I'll update you all soon. I have some exciting news and also some exciting blog posts coming up in the next few weeks. I have something new coming up to the blog next week (a new blog series), so keep your eyes peeled!
With our current crazy schedule though, I'm turning to easy recipes more than ever.
These granola bars are definitely easy enough to be in my life right now. They're done in under 15 minutes, from start to finish. Just dump all the ingredients in the food processor, process them for less than a minute and press the mixture to the bottom of a glass dish. Drizzle with melted chocolate and pop it in the freezer until the chocolate has hardened. I honestly like to store them in the freezer. They can be eaten straight from the freezer as the dates keep them chewy. It's my favorite! And no, that doesn't stop me from eating 2 or 3 in a row… Nothing can stop me.
These seedy granola bars are inspired by the Monster Bars on the Oh She Glows app. I first made them last spring and I've been hooked ever since. These have been adjusted to my style and liking, but the concept is the same. They're refined sugar-free, require no baking and they're nut-free! Making them perfect for a quick, back-to-school snack. I hope you'll like them as much as we do!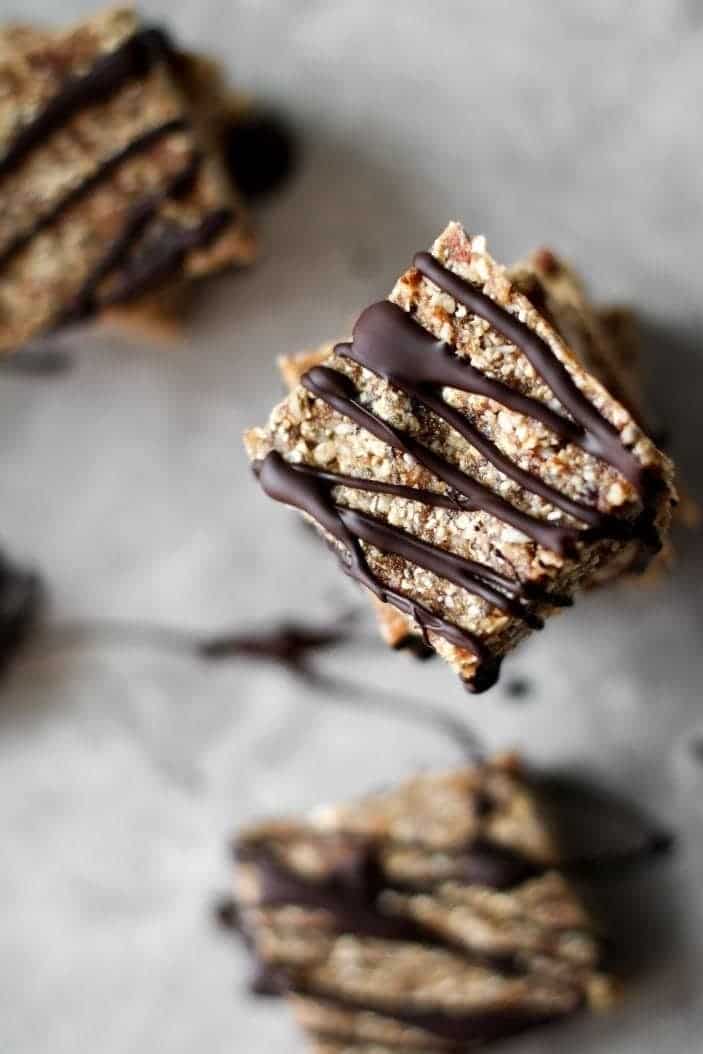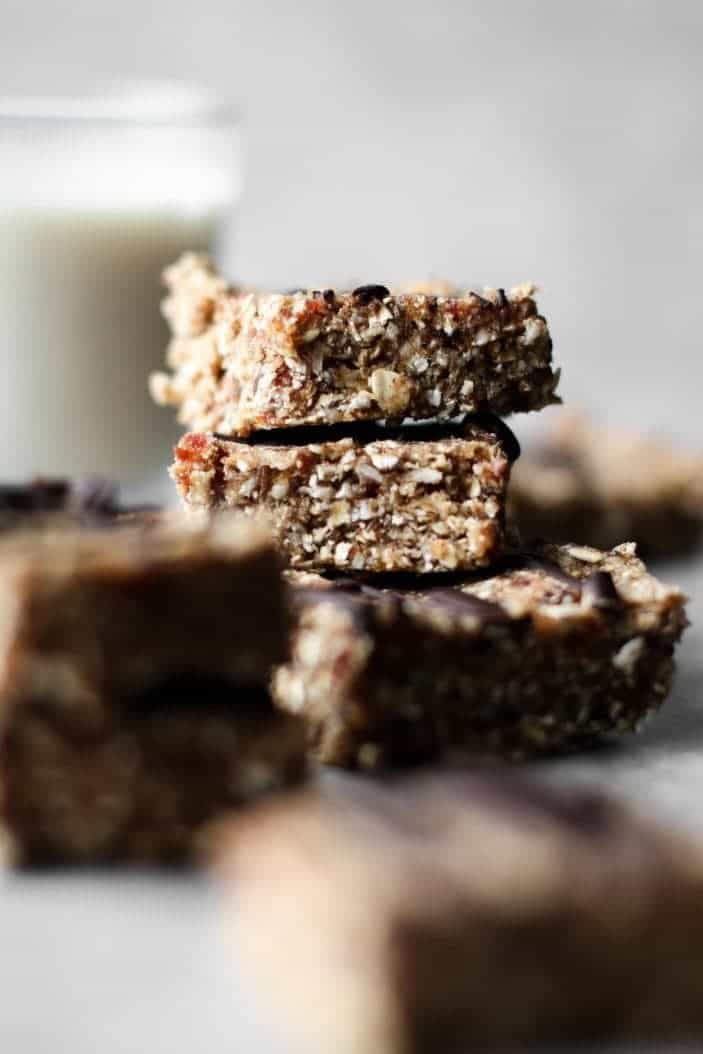 Also, if you missed it, I shared some pictures from our road trip to Gaspésie last week. 🙂
Seriously Addictive No-Bake Seedy Granola Bars
These bars are refined sugar-free, nut free and done in under 15 minutes, making them perfect for back to school! Beware, they are addictive!
Ingredients
1

cup

Medjool dates,

pitted

1 1/2

cups

rolled oats

3/4

cup

unsweetened shredded coconut

1/4

cup

hemp seeds

1/4

cup

ground flax seeds or chia seeds

1/4

cup

sunflower seeds, raw

1/2

teaspoon

cinnamon,

ground

1

teaspoon

vanilla extract

1/4

teaspoon

fine grain sea salt

1/4

cup

water, as needed

Unsweetened or dark chocolate for drizzling

(optional)
Instructions
Line a square 9" glass dish with parchment paper.

In a food processor, process the dates a few seconds to chop them up.

Add all the remaining ingredients, except the chocolate and water. Process until you get a crumbly mixture. Add the water and continue to process until the mixture sticks together when pressed. It may form a ball in the food processor.

Transfer to the prepared glass dish. Press evenly to the bottom of the dish.

Drizzle with melted unsweetened or dark chocolate.

Place in the refrigerator or freezer until the chocolate hardens. Cut into 8 bars. Enjoy!
Notes
I like to keep these in the freezer. They stay soft and can be eaten straight from the freezer.
If you try this recipe, make sure to tag your photo #unsweetenedcaroline on Instagram, Facebook and Twitter! Don't forget to also tag me @unsweetened.caroline on Instagram so I can see your creations!