Savory Sweet Potato Casserole with Rosemary Pecan Parmesan
This holiday season, I decided to make us a savory sweet potato casserole with rosemary pecan parmesan.
I can't really compare it to the traditional sweet version, but guys, this casserole is incredible! Believe it or not, but even Shaun, who dislikes sweet potatoes, loves this recipe. I know, it's a Christmas miracle.
I tested this recipe over the weekend, along with a few other holiday recipes for the blog. While we had our first snow of the season, I stayed cozy inside, testing new recipes, listening to Christmas music, wrapping presents, binge watching This is Us on Netflix and doing some cleaning. Not to mention going on a hike the day after the snow. There's nothing better than a walk in nature after having some fresh snow on the ground. Why do weekends go by so fast?!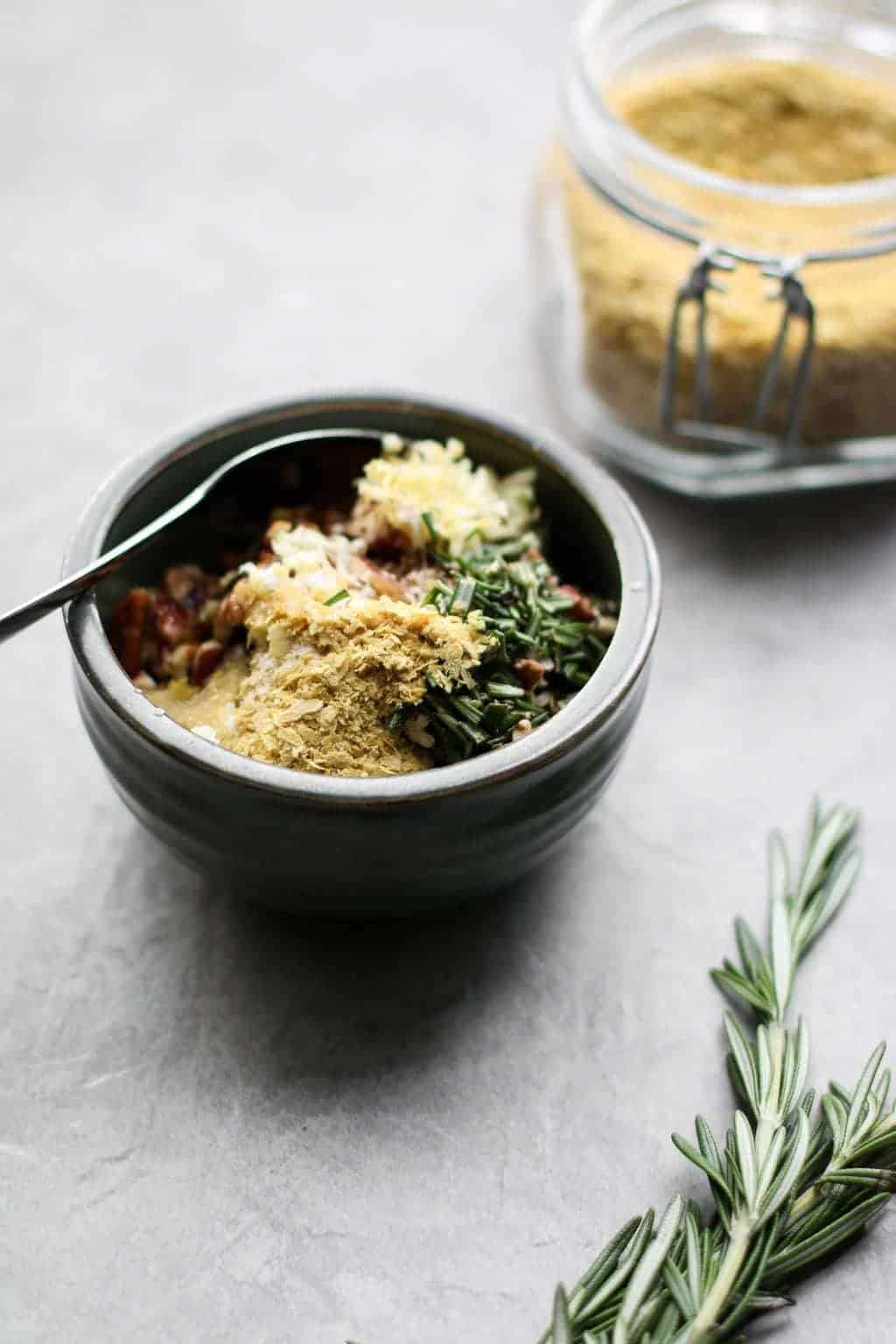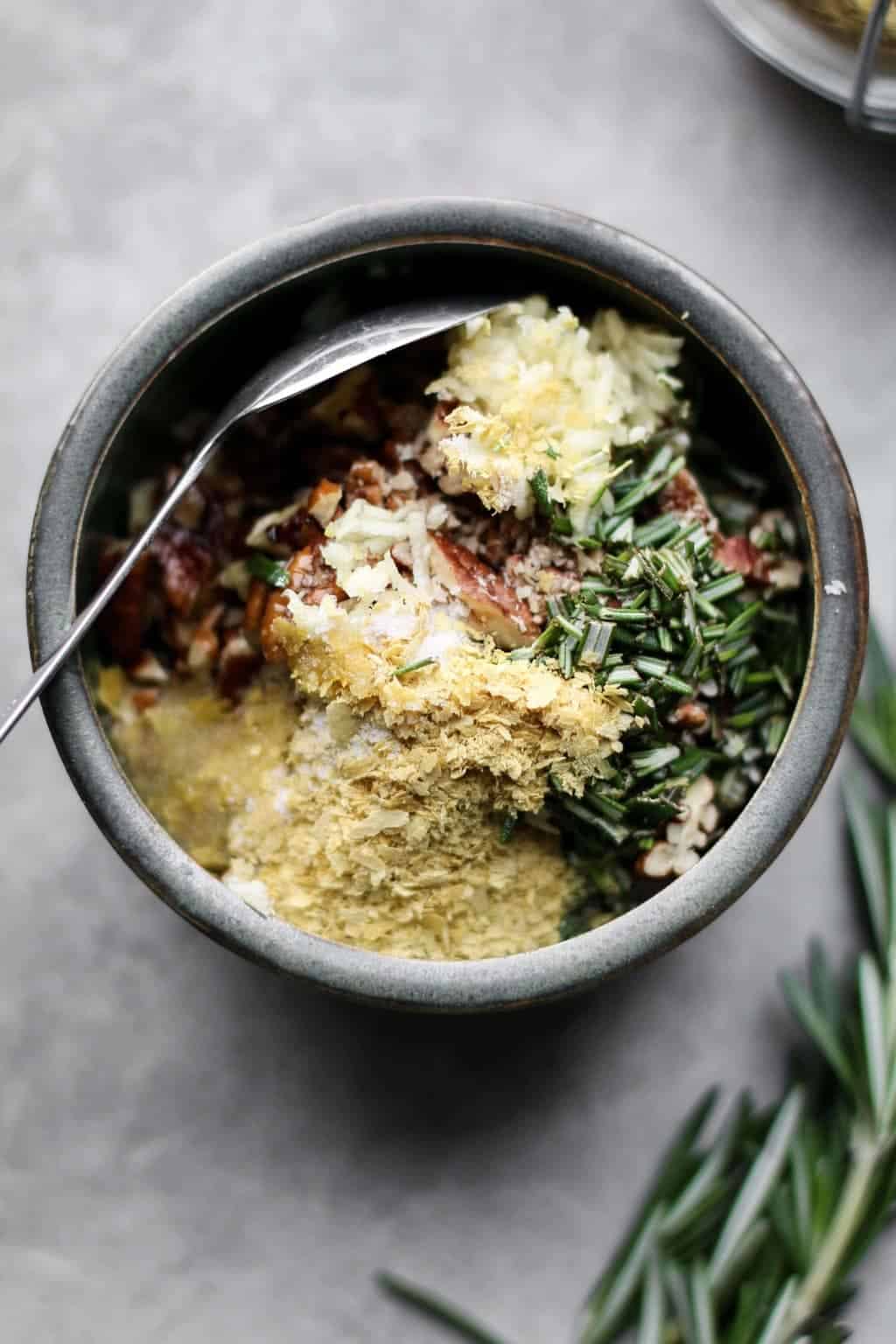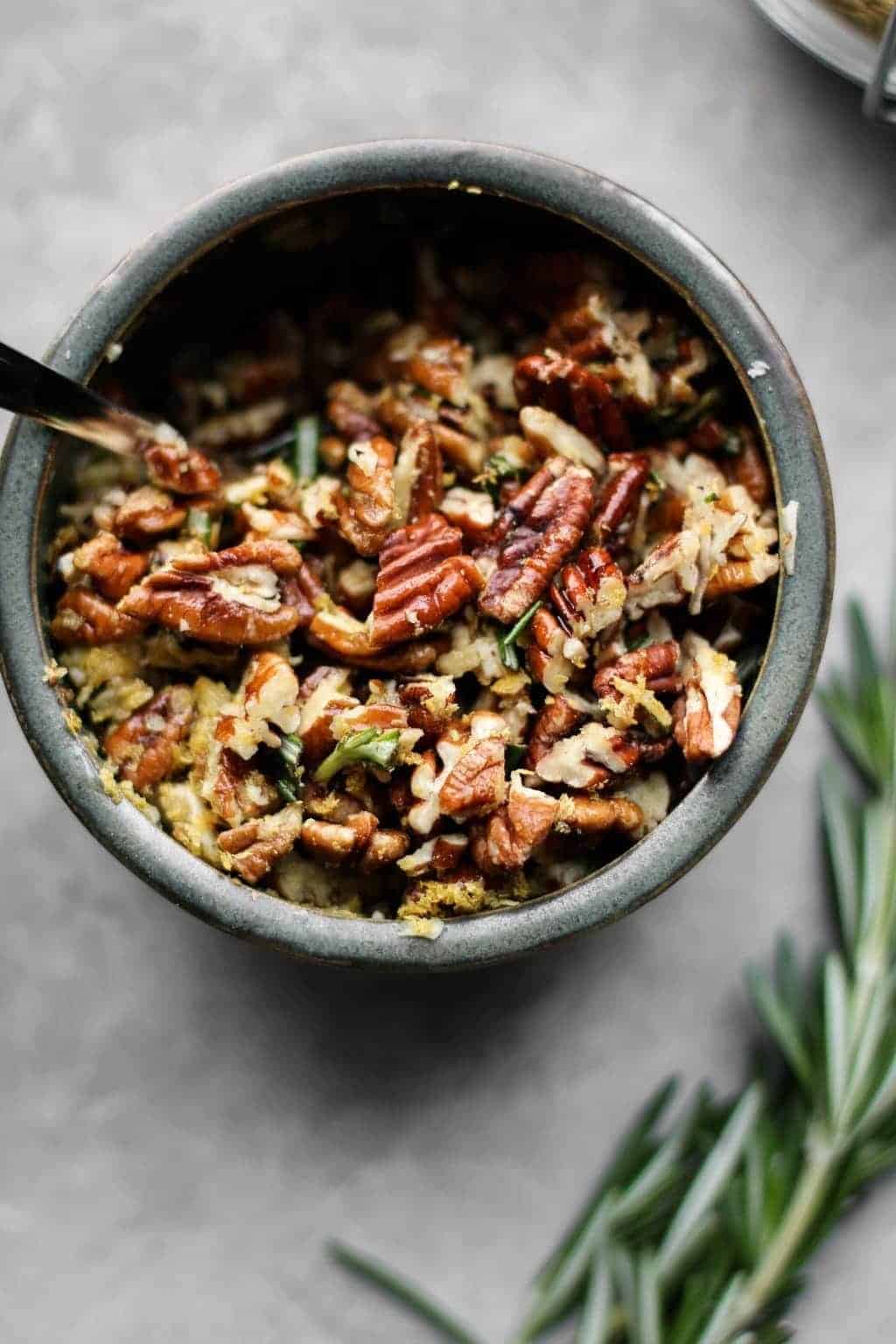 Getting back to this recipe.
I'm guessing most of you are familiar with the traditional sweet potato casserole? It's a classic holiday dish that consists of mashed sweet potatoes, a buttery pecan topping and (a lot) of sugar. Some also have marshmallow on top. I'm not sure in what world that fits into dinner, but it apparently does. My family wasn't exactly into sweet potatoes when growing up, so it's never something we had at Thanksgiving or Christmas.
Since I couldn't make the traditional sweet version of this casserole, I decided to give it a savory twist. Instead of topping it with a sweet, buttery pecan mixture, I made a rosemary pecan parmesan.
Before we go any further, no, there is no parmesan in this recipe and no, it doesn't exactly taste like parmesan. It's simply a mixture of chopped pecans, garlic, fresh rosemary, salt, oil and nutritional yeast to give it a slight cheesy taste. Similar to other vegan parmesan recipes out there, although I made it a little chunkier. Plus I added rosemary, because why not? It's more of a very flavorful pecan topping.
As for the mashed sweet potatoes, they're mixed with butter or margarine, a splash of milk and a touch of salt.
This sweet potato casserole can be made completely vegan by using vegan butter and plant-based milk. I used unsweetened soy milk since I had some on hand, but any other unsweetened milk would work. This recipe is also naturally gluten-free!
It's the most flavorful, savory casserole I've ever had. Plus, I think it's the first side dish I've shared on the blog. Unless you count soup or salad as a side dish, but I don't. I tend to have them as an entrée… In large portions.
That being said, it would make a great Christmas dinner side dish. I'm all for a traditional Christmas dinner, but it's always fun to have a new option to try at the table, don't you think?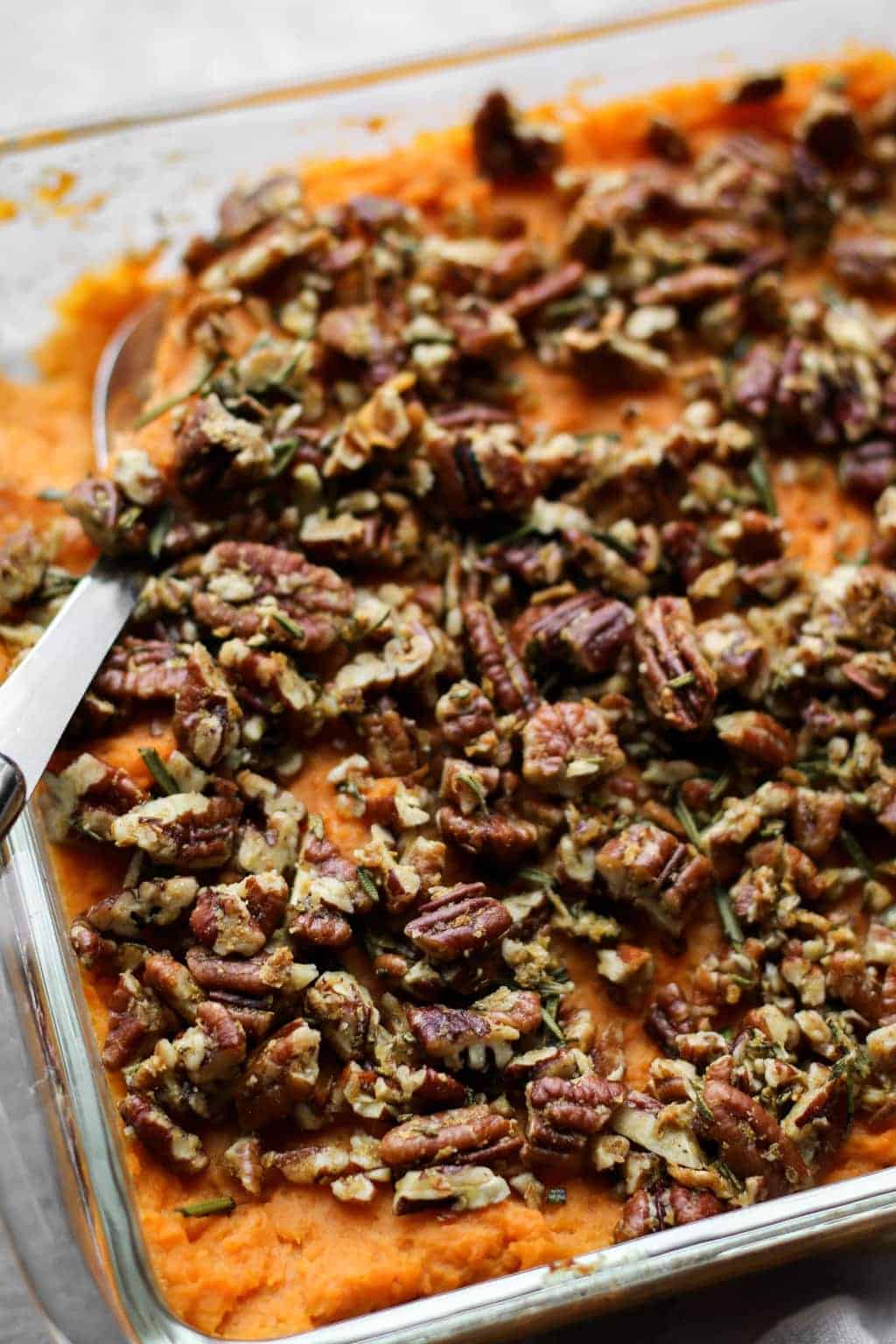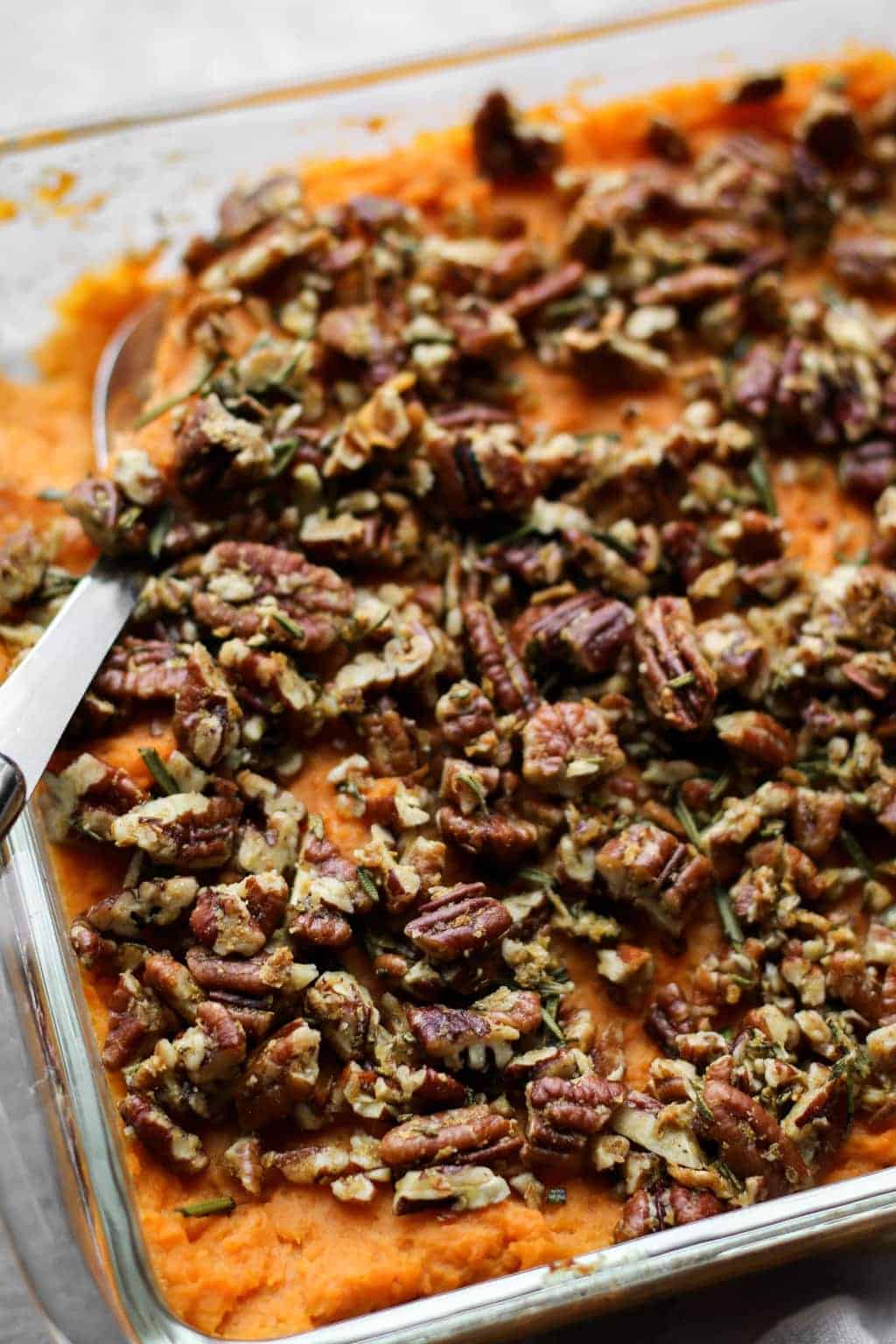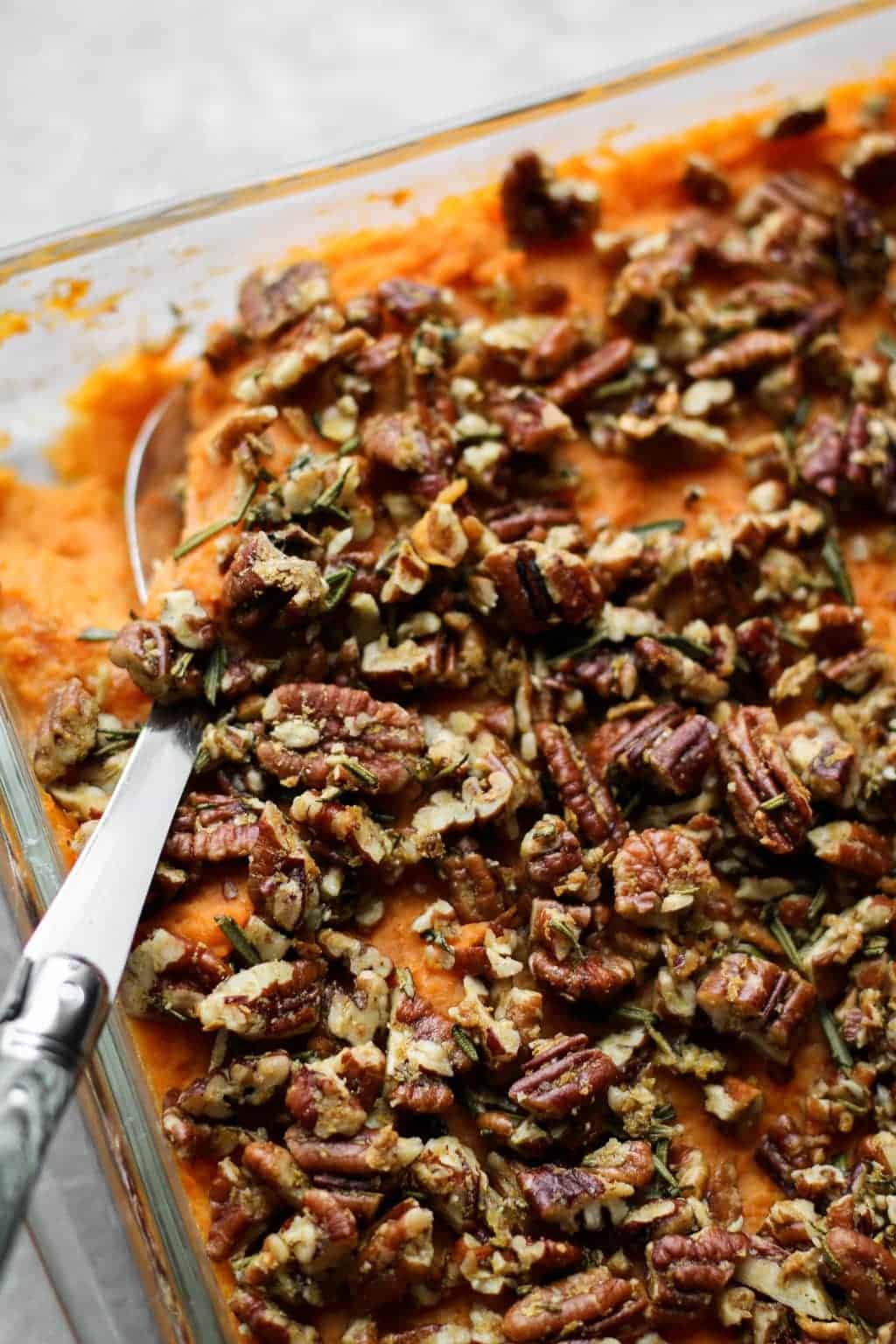 Savory Sweet Potato Casserole with Rosemary Pecan Parmesan
This is not your traditional sweet potato casserole. This one is topped with a vegan rosemary pecan parmesan. While the topping may not taste much like parmesan, it's bursting with flavor from garlic, rosemary, toasted pecans and nutritional yeast. It makes a great sugar-free vegan Christmas dinner side dish.
Ingredients
For the Sweet Potato Mash
3

large

sweet potatoes (about 8 cups),

peeled and chopped into 1-inch chunks

1/4

cup

soft margarine or butter

1/4

cup

milk of choice

1/4

teaspoon

fine grain sea salt
For the Pecan Parmesan
1

cup

pecan halves,

roughly chopped

1

large

garlic clove,

minced

1

tablespoon

fresh rosemary,

chopped

1

tablespoon

nutritional yeast

1

tablespoon

olive oil

1/4

teaspoon

fine grain sea salt
Instructions
Preheat oven to 375F. Lightly grease a 9x9' dish with soft margarine or butter.

Place the sweet potatoes in a large pot and cover with water. Bring to a boil over high heat, then reduce to medium-high. Cook until fork-tender, approximately 15 minutes. Drain and transfer back to the pot.

Add the butter or margarine, the milk and salt to the sweet potatoes. Mash until smooth. Transfer to the prepared dish.

Prepare the pecan parmesan: In a small bowl, stir together your chopped pecans, garlic, rosemary, salt, oil and nutritional yeast.

Spread evenly on top of the sweet potatoes. Bake uncovered for 15 minutes or until the dish is heated throughout. Serve immediately or keep wrapped in the fridge for up to 4-5 days.
Notes
This recipe makes 6-8 servings as a side dish.
To make this recipe vegan, use vegan butter and unsweetened plant-based milk.
If you try this recipe, make sure to tag your photo #unsweetenedcaroline on Instagram, Facebook and Twitter! Don't forget to also tag me @unsweetened.caroline on Instagram so I can see your creations!