Roasted Potato & Chickpea Salad with Tahini Dressing
Meet my new favorite salad: Roasted Potato & Chickpea Salad with Tahini Dressing.
I say that for pretty much every salad I eat. Then I eat that salad on repeat until I find a new favorite. First it was Angela's vegan Caesar salad, then it was my everyday salad with tahini dressing and chickpea crouton, after that it was my sweet potato and toasted bread winter salad and now this one. I go from one salad to another, but I always make one of my old favorites once in a while. I honestly wouldn't be able to pick a real favorite. It changes every day.
So this one is new to my list of favorite salads. I first made it a few weeks ago when I was low in ingredients (pretty much the strategy behind all of my recipes lately). I don't think I've ever seen Shaun this excited about salad before. It's all about the potatoes clearly.
Like most of my recipes lately, this salad is very simple. The only thing that needs some time is cutting the potatoes and letting them roast for 30 minutes with the chickpeas. You can prepare the simple dressing while your potatoes and chickpeas are roasting.  All you need to do is mix tahini, white wine vinegar, water and garlic. When the potatoes and chickpeas are done roasting, just throw them in a bowl with your greens of choice and the dressing. You could add a sprinkle of nutritional yeast if you want as well. It's so simple!
On another note, tomorrow is my last day of internship! I'm so excited to start my career after studying for the last 5 years. I finally won't have to study all evening after working all day.
It's been especially busy in the last month. I was finishing a big therapeutic update on turmeric and working in Public Health as part of my internship. On top of that, we recently found our new apartment! We're moving in less than 3 weeks and I couldn't be more excited! I LOVE moving. I know, it's weird. We're actually moving in an apartment that's walking distance to the hospital where I'll be working. This means I can walk to work and save on parking. I'm in love with our new place – It's a new one-bedroom apartment. It's a little smaller than we're used to, but we have a beautiful kitchen with granite counter top, stainless steel appliances and I get a small walk-in closet for the first time in my life. I finally feel like an adult after living at my parents' place and then living 3 students in an apartment. Maybe we'll finally buy a dining table after eating at the coffee table all these years. Hah! Thankfully we have a kitchen island where we can add some chairs and use as a table.
Our new apartment is still less than 5 minutes away from a big, beautiful nature park and we will once again have a gym in our apartment. Over the last year, I stopped going to the gym. I decided to save money on my membership since we had an apartment gym and a beautiful park close by. I'm not sure I could ever go back to a gym. I love being able to workout whenever I want without having to drive in traffic or wait for gym classes. Anyways, enough rambling. I just thought I'd share a little life update. I shared other big news on my last post as well if you didn't check it out.
I hope you enjoy reading these life updates and that you'll enjoy this simple salad!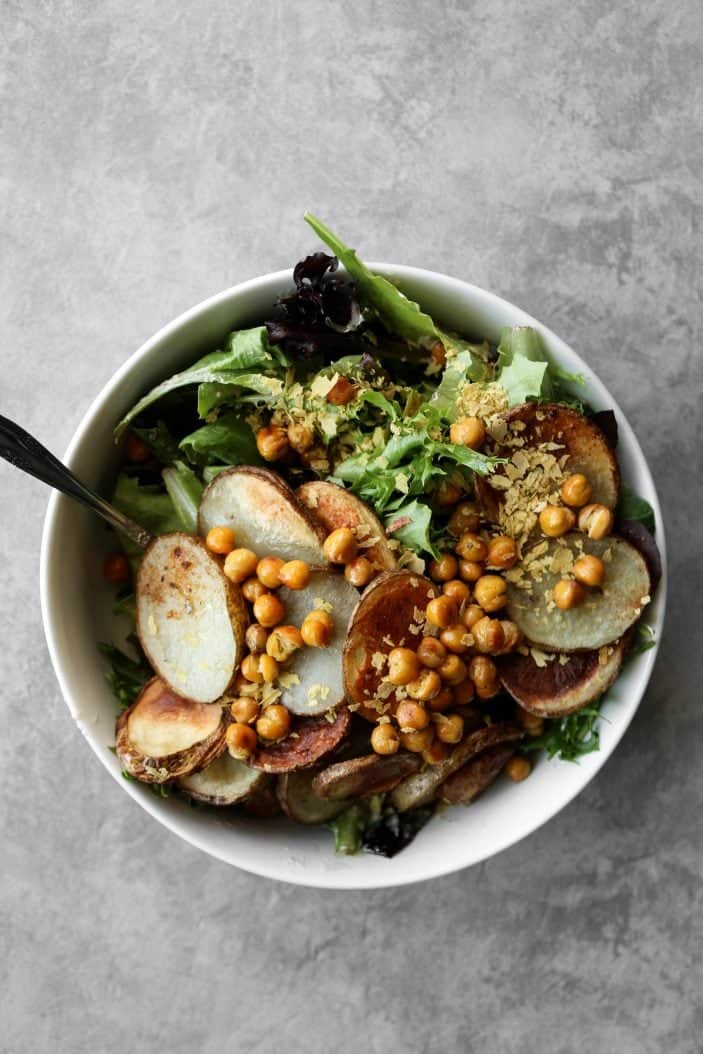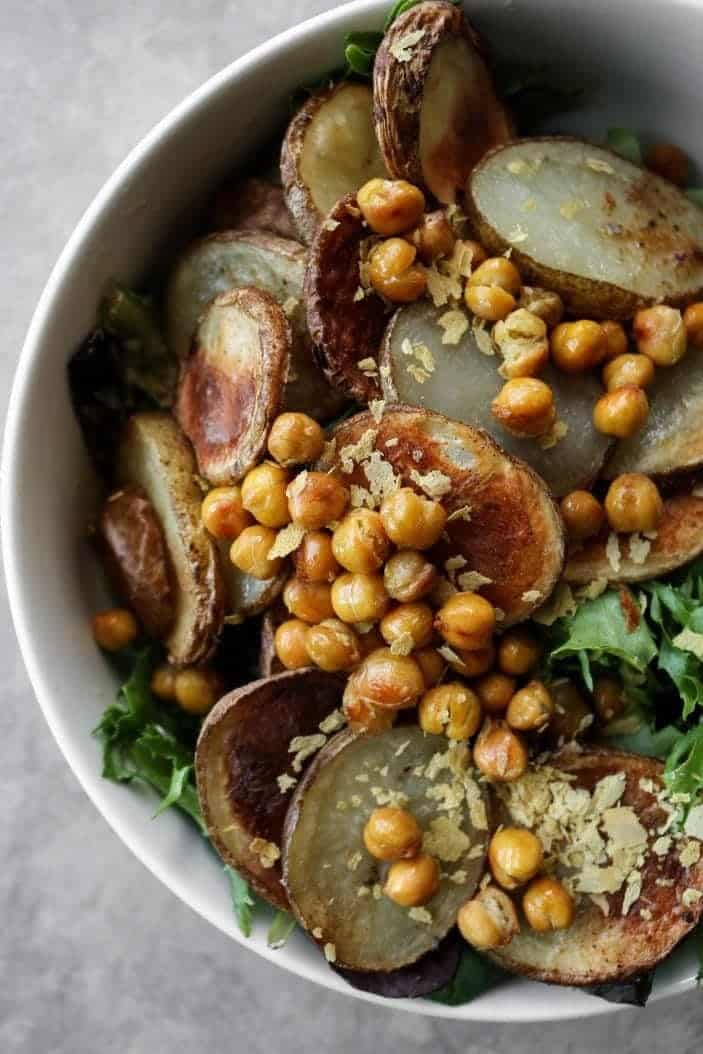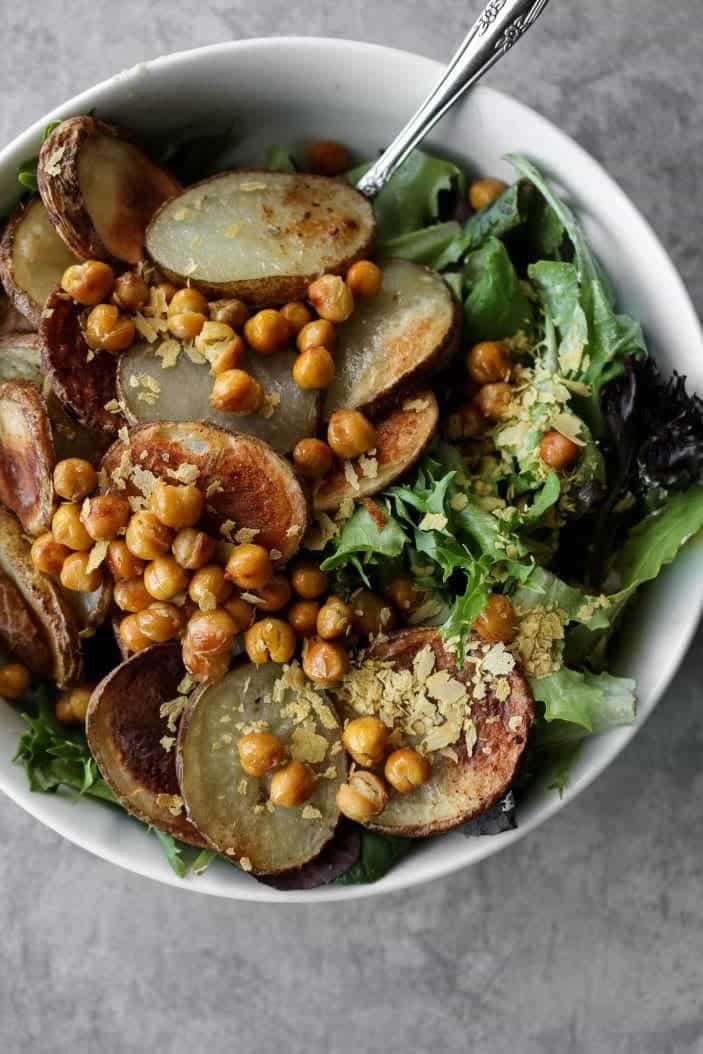 Roasted Potato & Chickpea Salad with Tahini Dressing
This simple salad requires little time and little ingredients. Simply roast your potatoes and chickpeas and while they're roasting, prepare the 4-ingredient tahini dressing. Throw the ingredients together with greens and sprinkle with nutritional yeast for a quick and nutritious meal!
Ingredients
2

medium or 4 small

potatoes,

thinly sliced

1

cup

chickpeas

1

tablespoon

olive oil

1/4

teaspoon

fine grain sea salt

6

cups

greens of choice

(Spring mix, spinach, kale, romaine)

Nutritional yeast for topping

(optional)
Dressing
2

tablespoons

tahini

1

tablespoon

white wine vinegar

2

tablespoons

water + more as needed

1

garlic clove,

grated
Instructions
Preheat oven to 400F.

Slice potatoes and spread in a single layer on a baking sheet. Place chickpeas on the same baking sheet and toss everything with oil.

Roast for 30 minutes or until golden and crispy.

Meanwhile, place your greens in a large bowl.

Prepare the tahini dressing: In a small bowl or jar, mix tahini and white wine vinegar to form a paste. Add water and garlic. Mix together and add more water as needed.

When the potatoes and chickpeas are done, add them to your greens, along with the dressing and nutritional yeast (if using). Toss ingredients together and serve immediately.
If you try this recipe, make sure to tag your photo #unsweetenedcaroline on Instagram, Facebook and Twitter! Don't forget to also tag me @unsweetened.caroline on Instagram so I can see your creations!