New Year Tropical Green Smoothie
It's back to reality this week. Well at least it is for me and probably most students, so I thought I'd share a healthy green smoothie to start the week off right.
Is it cold where you live? As I'm writing this, we just had a big snowstorm. Now, I know that drinking a cold smoothie isn't ideal in this kind of weather, but if you drink it inside, covered in blankets, then it's not as bad. Right? Also, this smoothie is filled with tropical flavors, so if you close your eyes, you could imagine yourself on a beach somewhere warm… Last year, at this time exactly, I was flying back from Mexico with Shaun. Yeah, that's not the case this year and it probably won't be the next either. Thankfully, I don't mind the snow! I know, I'm crazy. What I love most about snow is staying cozy inside, maybe after a short hike. Today, the snow had stopped falling and the sky cleared, so I decided to go for a hike in a park 5 minutes from our apartment. I don't own snowshoes, so as I was walking, the snow was almost reaching my knees. In case you didn't know, walking in the snow is a great workout! So yes, I was tired and freezing, but you have no idea how beautiful it was! The sun was shining and the trees were covered in snow. It was truly magical. I did bring my camera and attempted to take pictures, but I'm not much of a nature photographer… I'm still learning! I did manage to take a few shots to share with you guys. 🙂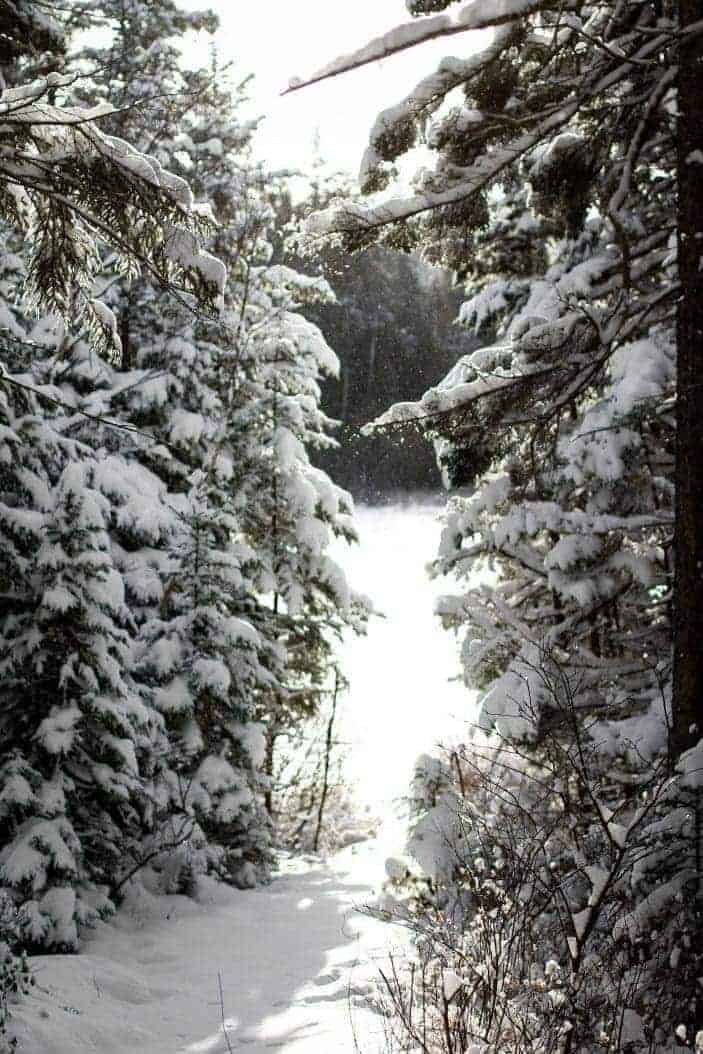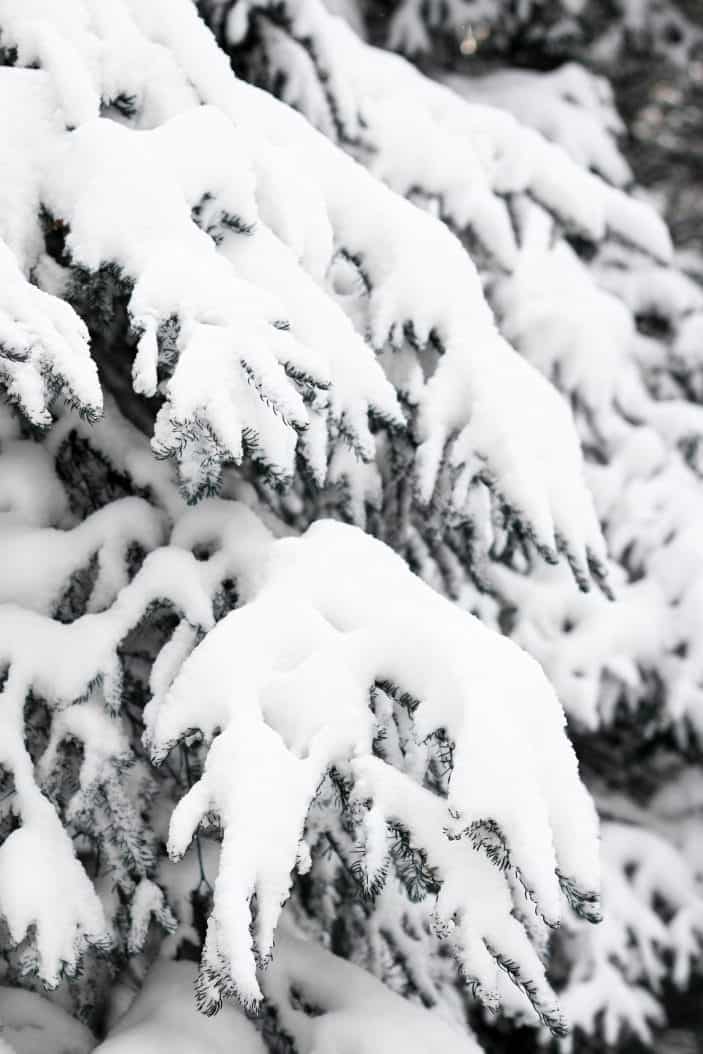 Walking in the forest after a snowstorm has to be one of my favorite things ever. The cold is SO worth it. I might change my mind in March though… We'll see. 😉
I'm getting through this year, knowing that after this, I'm done with university. DONE. On June 23rd, I'll be finished with my internship and I'm going to be a dietitian. That motivates me to get up in the morning, despite the fact that it's -30ºC outside. Another thing that motivates me to get up in the morning? Breakfast, obviously.
Especially a healthy breakfast like this one. Okay, to be honest, I rarely drink a smoothie for breakfast. I usually stick with something hearty, like oatmeal or nut butter toasts, but I often drink smoothies as a second breakfast (or you could call it a big morning snack). This smoothie has been my favorite lately. I made it many times and it always satisfies my fruit cravings. It's filled with tropical fruits, such as mangoes, pineapple, bananas, lime and coconut water. I then added some ginger, hemp seeds, parsley and greens for a nutrient boost. Trust me, the flavor is intense and so refreshing!
If it's warm where you live, then this smoothie is perfect for you! If not, you can drink it under a blanket while wishing you were on a tropical island. That's what I'll be doing!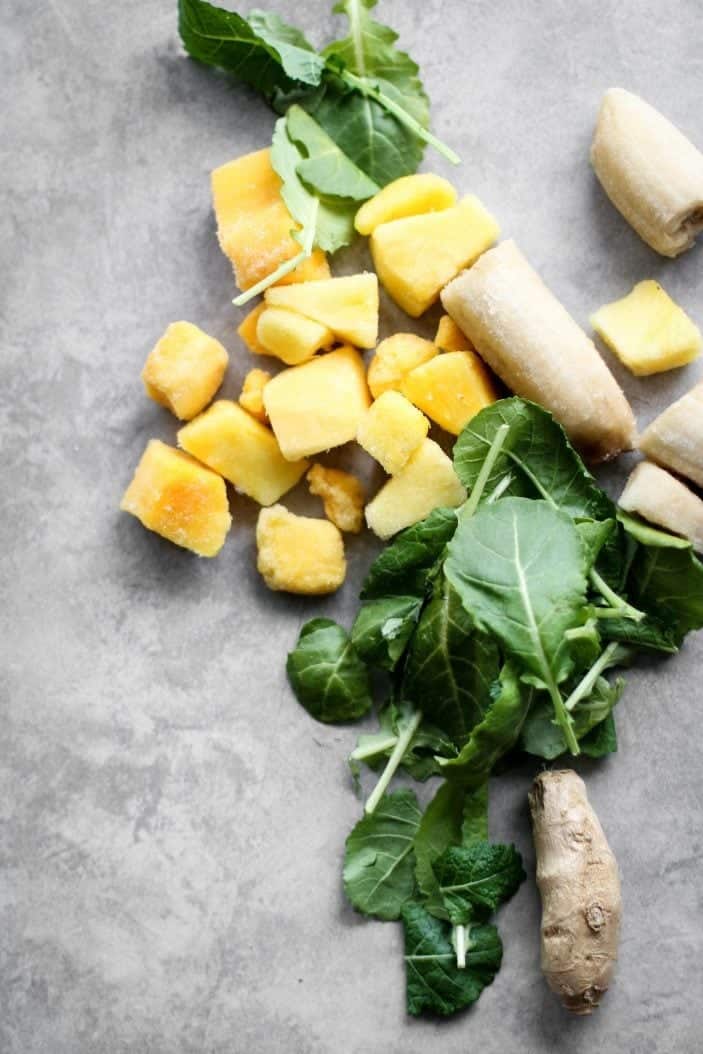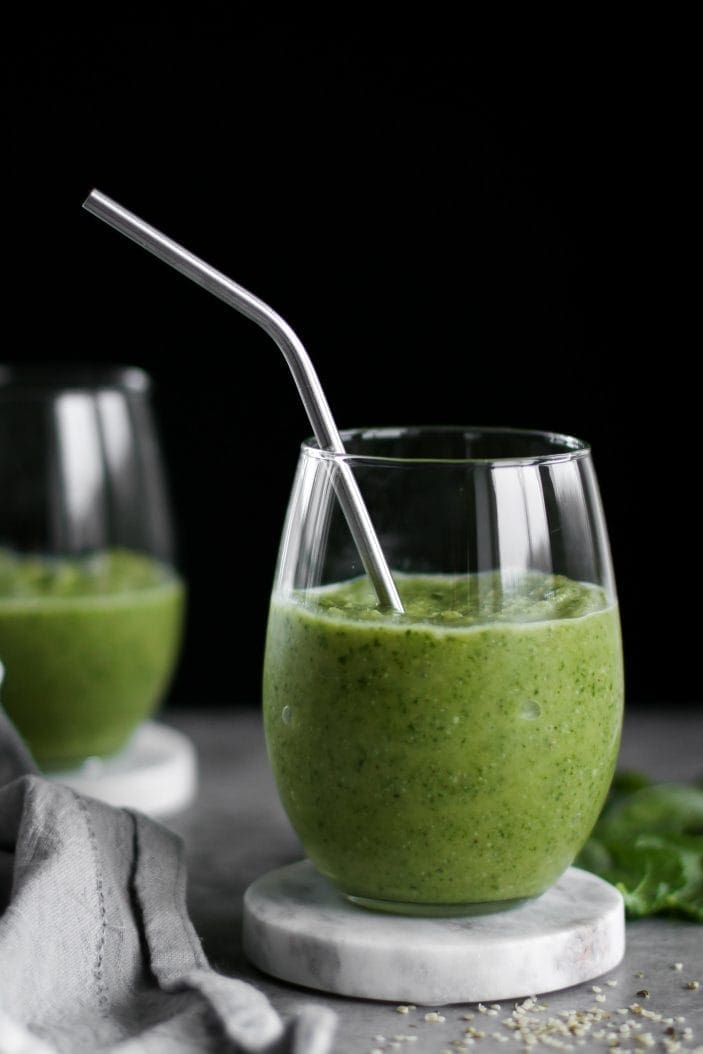 New Year Tropical Green Smoothie
This green smoothie is full of nutrients and full of tropical flavor thanks to coconut water, pineapple, mango, banana, ginger, lime, parsley, spinach and hemp seeds. You can have a refreshing drink in under 5 minutes!
Ingredients
1

banana,

frozen

1/2

cup

mango,

frozen

1/2

cup

pineapple,

fresh or frozen

1

cup

spinach

1/4

cup

parsley

1

teaspoon

fresh ginger,

minced

1

tablespoon

hemp seeds

1/2

tablespoon

lime juice

1

teapsoon

lime zest

1 1/2

cup

coconut water
Instructions
Add all the ingredients to a blender. Blend until smooth.
If you try this recipe, make sure to tag your photo #unsweetenedcaroline on Instagram, Facebook and Twitter! Don't forget to also tag me @unsweetened.caroline on Instagram so I can see your creations!