Late Summer Vegetarian Tex-Mex Casserole
Late summer vegetarian tex-mex casserole. The best way to use all your fresh end of summer vegetables, including corn, tomatoes, zucchini, peppers and eggplants.
First of all, how are we at the end of August already?! The past month has flown by and it doesn't help that we spent it mostly indoors, away from the wildfire smoke.  You have no idea how excited I was on Sunday morning when we woke up to fresh, smoke-free air. The smoke has finally cleared from the Okanagan (I'm hoping it doesn't come back as bad as it was), and we can now enjoy every last bit of summer. The smoke over the last month had us cooped up in our apartment, doing nothing outdoors, so now that the skies are clear, we finally get to explore our beautiful new city!
Last night we found some hiking trails and the past weekend we drove to Penticton to visit the rest of the Okanagan.
I'm even more excited for this coming weekend as we're driving to Seattle to visit the city for the first time. If you're familiar with the area, is there anything we absolutely need to see or anywhere we need to eat?! There are so many vegetarian restaurants to choose from. It's the best! I'm also hoping to visit Olympic National Park for some much needed time in nature.
The cooler temperatures are also making me excited for fall. We get to experience it for the first time out west, in the mountains. Plus the cozy, cooler weather that's coming will be perfect for hiking and cooking comforting recipes. It's the best season of the year – In my opinion of course.
For now though, we're enjoying the last few weeks of summer, which includes a lot of delicious fresh veggies.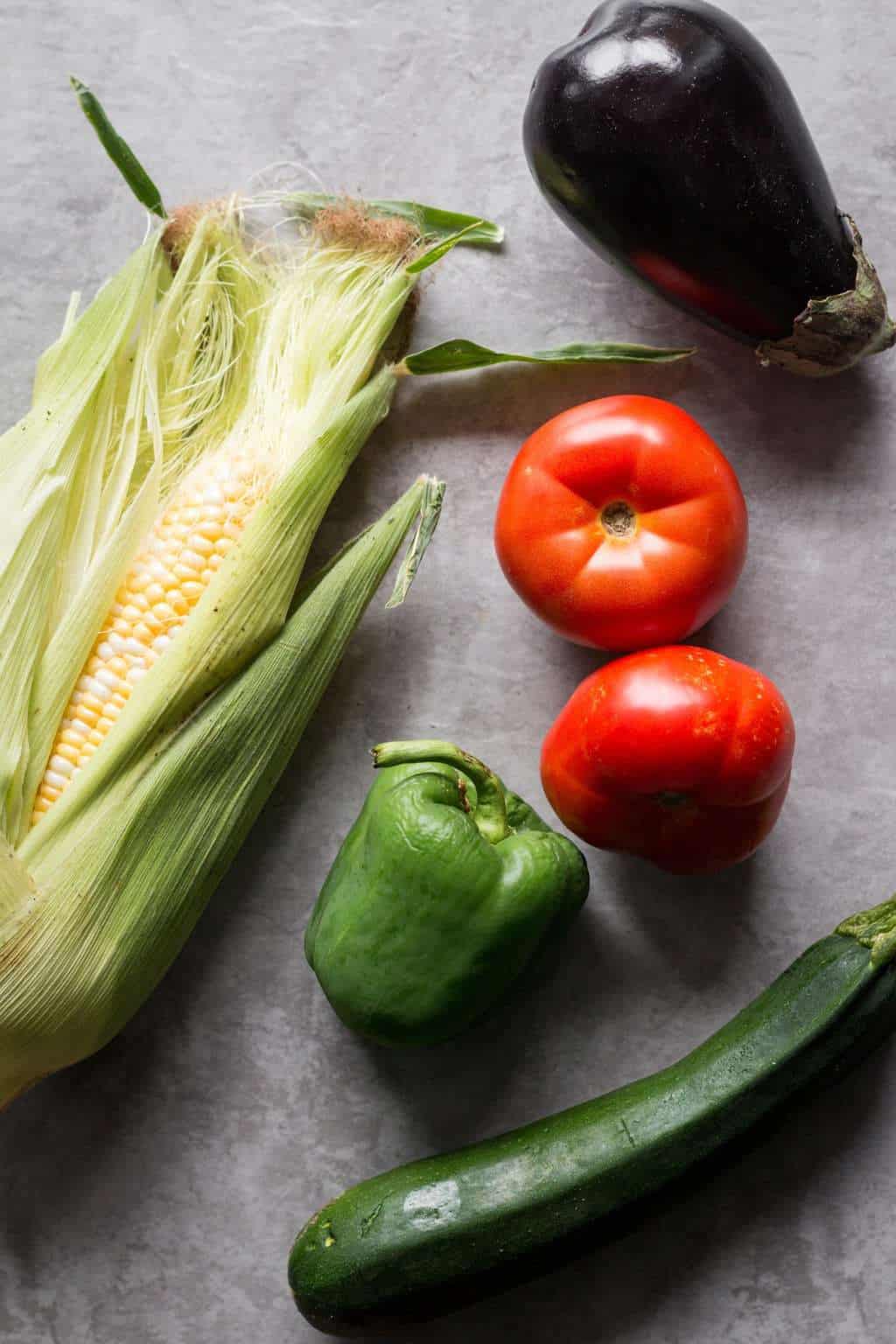 This easy casserole is inspired by the late summer vegetables, as well as a dish at my favorite restaurants back home in Moncton – Calactus Café. They serve a delicious Mexican casserole named Oaxaca deep dish and this is my version of it. Yes, it's different in many ways, but it's just as delicious and just as filled with vegetables.
Here's how it goes:
Summer vegetables, including zucchini, corn, peppers, tomatoes and eggplant are sautéed in a skillet with onions, garlic and black beans. Meanwhile, cook some rice, which will be added to the vegetables, along with spices and tomato paste. Everything is then baked with some cheese on top (vegan if preferred). That's all.
It's easy, it uses up a lot of in-season produce and it makes a great dish for meal prep or for potlucks. Plus, it's the best healthy comfort food.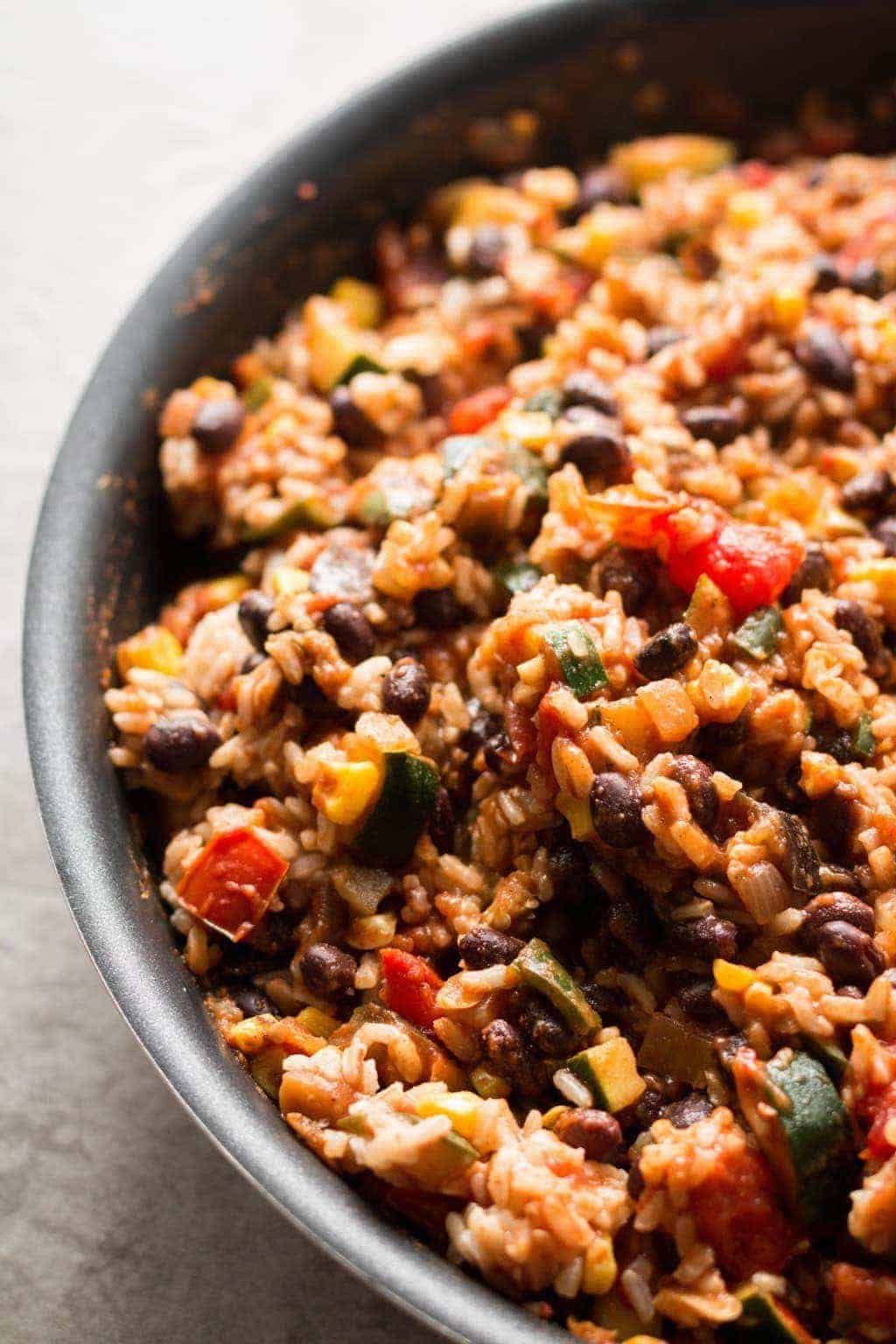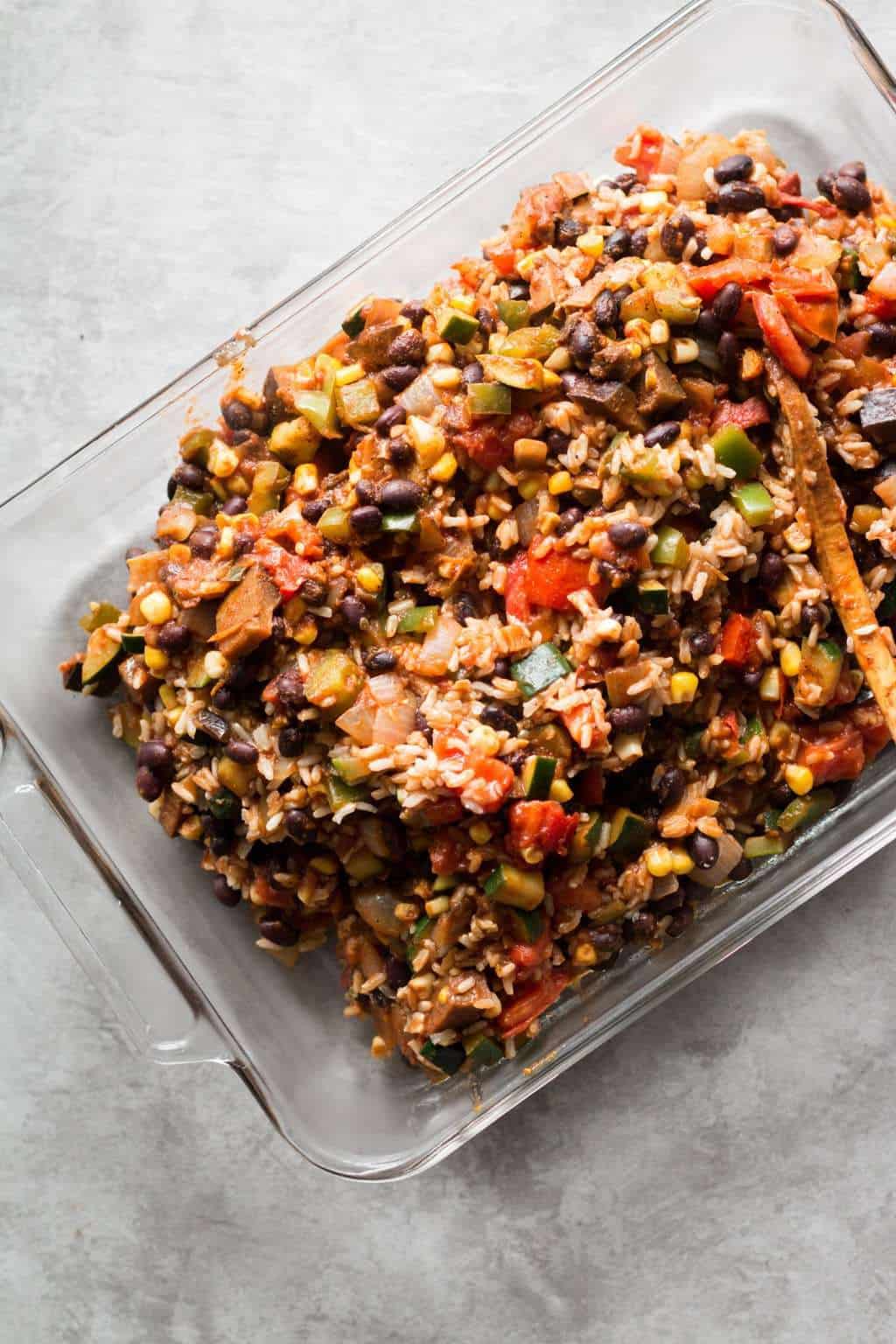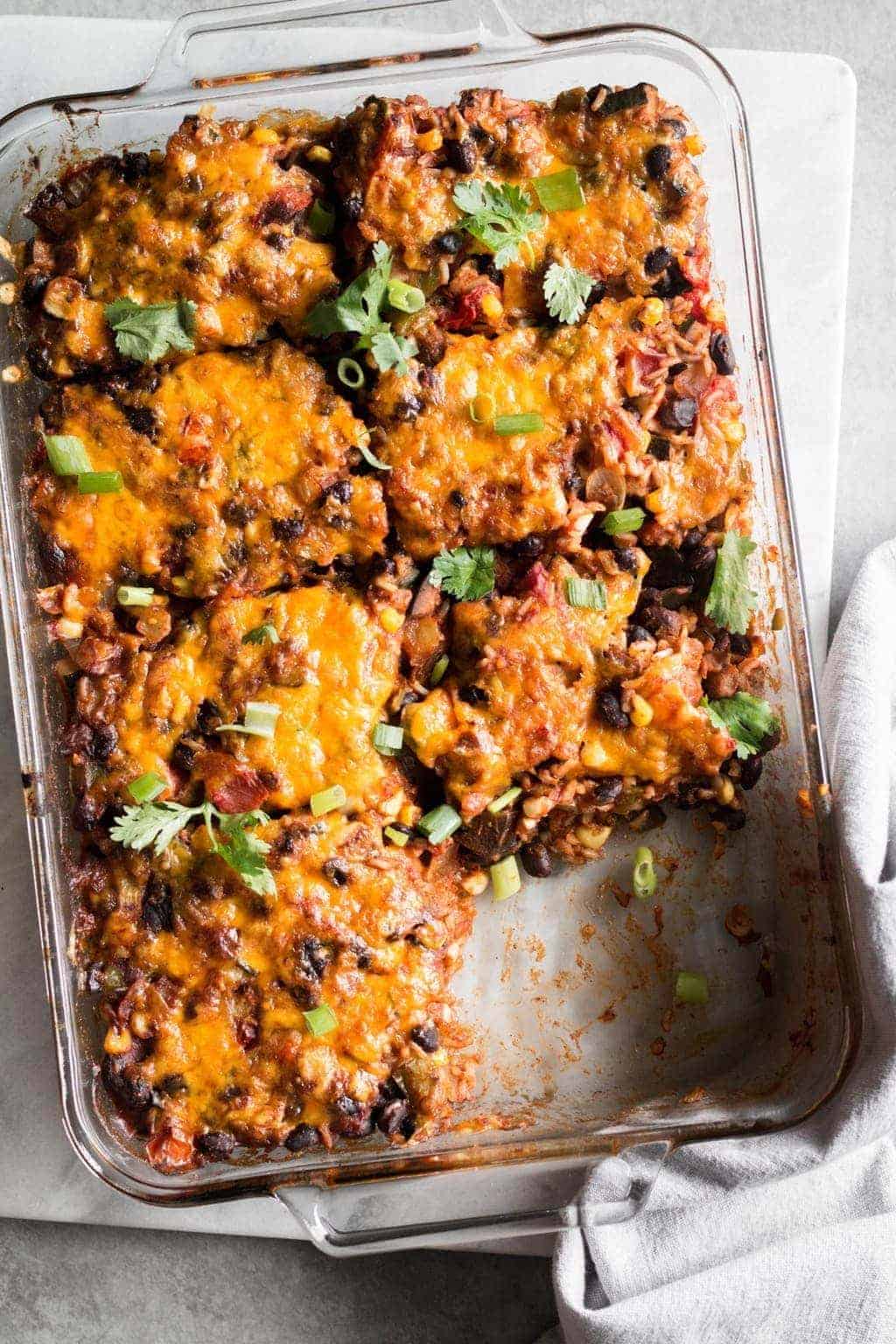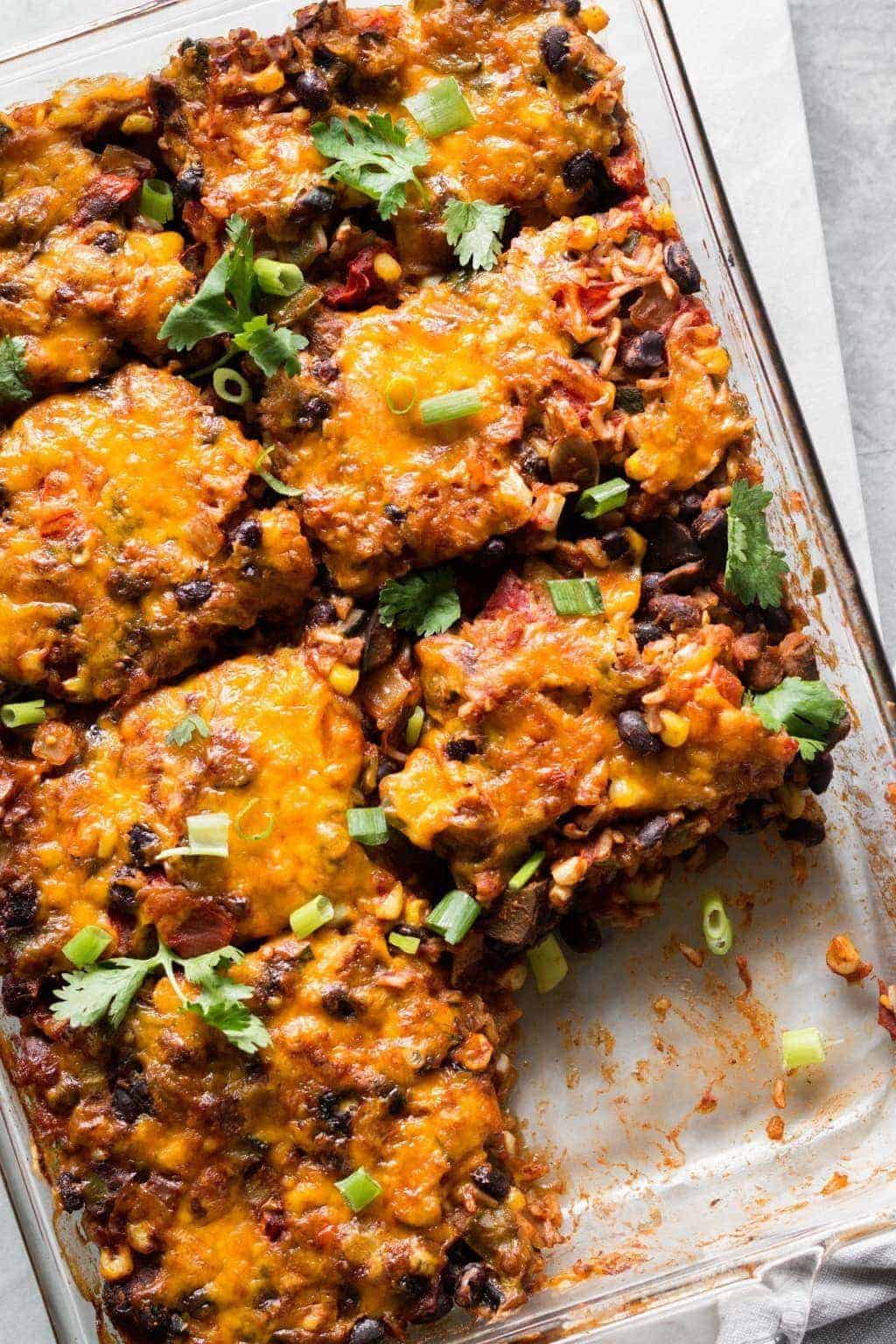 Late Summer Vegetarian Tex-Mex Casserole
A healthy vegetarian tex-mex casserole loaded with vegetables and legumes. Packed with flavor, it is perfect for the whole family.
Ingredients
3/4

cup

brown rice,

dry

1

tablespoon

olive oil

1

medium

yellow onion,

diced

4

cloves

garlic,

minced

1

medium

zucchini,

diced

1

baby eggplant,

diced

1

poblano pepper (or bell pepper),

seeded and diced

1

small

jalapeno pepper,

seeded and diced (optional)

2

large

tomatoes,

diced

1

cup

corn,

frozen or fresh

1

can (540ml)

black beans,

drained and rinsed

1

can (156ml)

tomato paste

1

tablespoon

chili powder + 1 teaspoon

1

tablespoon

cumin,

ground

1 1/2

teaspoon

smoked paprika

3/4

teaspoon

fine grain sea salt

1 1/2

cups

cheddar cheese (or vegan cheese)
For serving
Avocado

Green onion,

sliced

Cilantro,

chopped
Instructions
Cook rice according to package instruction.

In a large skillet, heat oil over medium heat. Add onion and garlic and cook until fragrant, about 5 minutes. Stir in paprika, cumin, chili powder and salt and cook for one more minute.

Add the zucchini, eggplant, poblano and jalapeno pepper. Cook for 15 minutes, stirring a few times.

Add the corn, black beans, tomatoes and tomato paste. Cook for another 5 minutes. Stir in the cooked rice.

Transfer to a 9x13 inch casserole dish. Sprinkle with cheese. Cover with aluminum foil and cook for 15 minutes. Remove cover and cook another 5 minutes. Leave a few minutes under broil if desired until lightly golden. Serve with desired toppings.
Notes
This recipe can be made in advance and baked later if desired. 
If you try this recipe, make sure to tag your photo #unsweetenedcaroline on Instagram, Facebook and Twitter! Don't forget to also tag me @unsweetened.caroline on Instagram so I can see your creations!