Instant Pot Butter Chickpea
I have a delicious Instant Pot butter chickpea for you guys today.
I'm excited to share my first Instant Pot recipe after spending a few months trying to figure out how it works. Yes, a few months. It's not like I used it every day, but the few times I did, I had no idea how to use it. I promise I read the instructions manual, but something just didn't click. My visual brain needed videos from YouTube to figure this thing out. So here I am, a few months later, confident enough to share my very own Instant Pot recipe. And it's a good one!
Don't worry, if you don't have an Instant Pot, you can still make this recipe. I included a stove top version just for you guys! I must say, the stove top version is almost just as easy and I find it tastes a little better. There's something about sauteing onions and garlic that brings out the flavors to a whole new level. Despite the little bit of extra flavor that comes from cooking it on the stove top, I will forever prefer the Instant Pot version for its easiness. There's just nothing like dumping a bunch of ingredients in a pot and forgetting about it for 30 minutes, while still getting a delicious and flavorful meal. It's so convenient on a weeknight!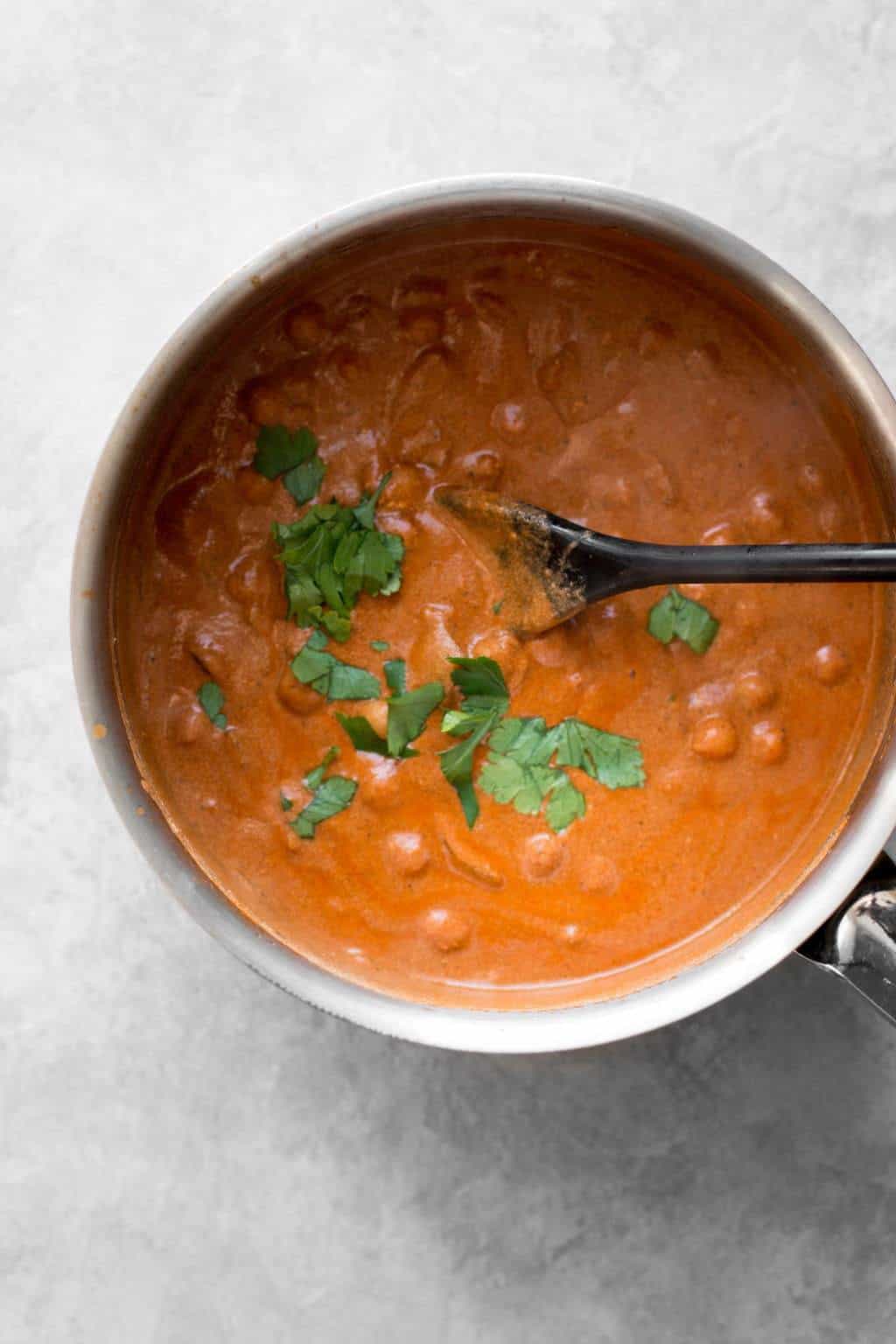 This is how it goes: Dump all the ingredients in the Instant Pot, cover and turn on the soup setting for 20 minutes. It ends up taking closer to 30 minutes as it takes a few minutes for the steam to build up and for the time to then start. It doesn't matter though, because there's no stirring and no standing up next to the stove to check that it doesn't stick or burn. It's SO easy! When it's over, use the quick release to let out the steam. It takes a few minutes for all the steam to come out, it's normal (My first time using it, it took about 5 minutes before I realized I forgot to turn off the Instant Pot, so of course the steam just kept coming). Don't make the same mistake, turn it off, THEN release the steam. Not my brightest moment.
If you're making the butter chickpea on the stove, you start by cooking the onions, garlic and ginger in the butter. Add the spices and the remaining ingredients and cook covered for 20-25 minutes. With this method, you do need to stir occasionally, but trust me, it will be worth it. It's similar to making soup.
If it still feels like winter where you live (it does here), I hope this recipe brings you some comfort until the warm weather decides to finally come!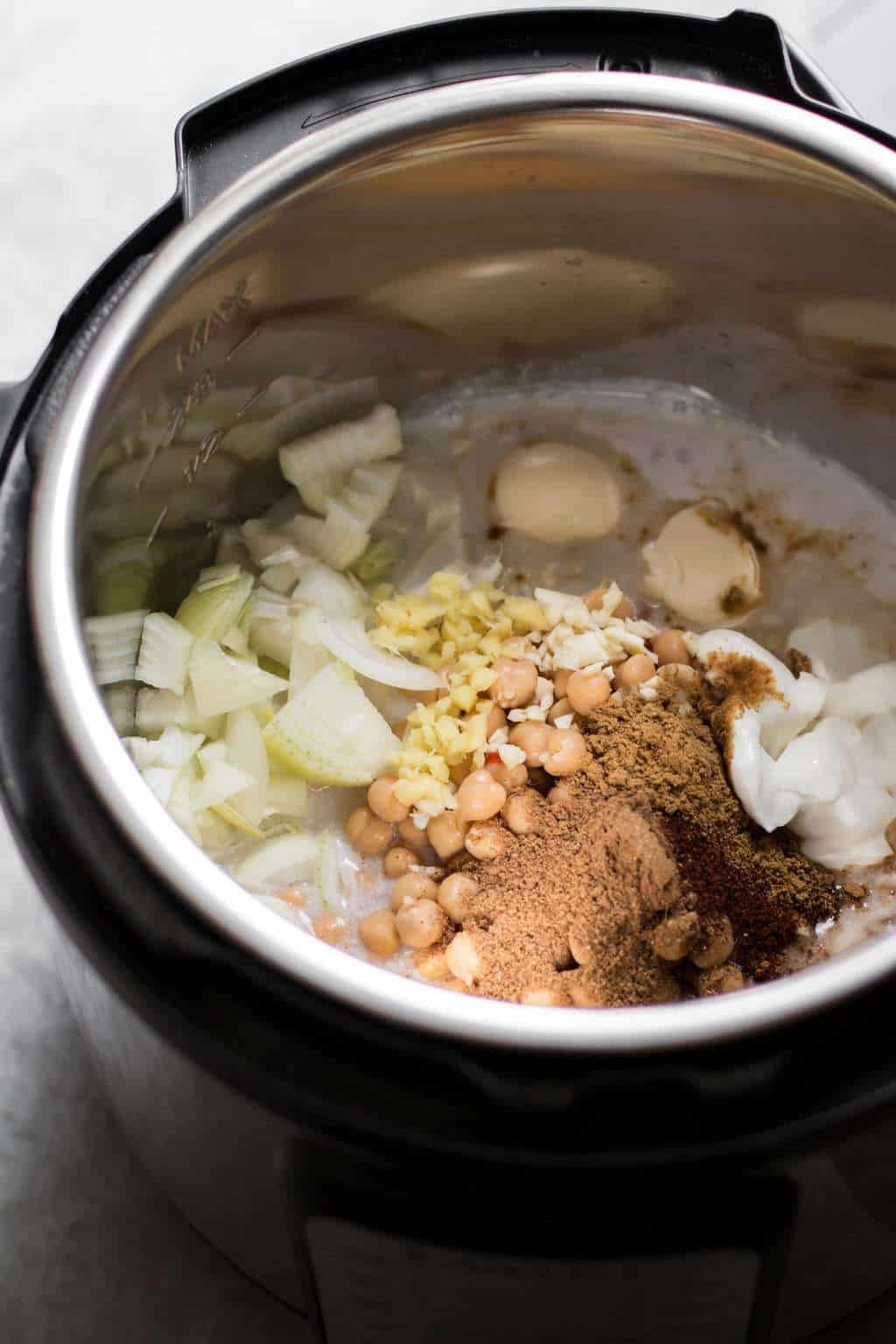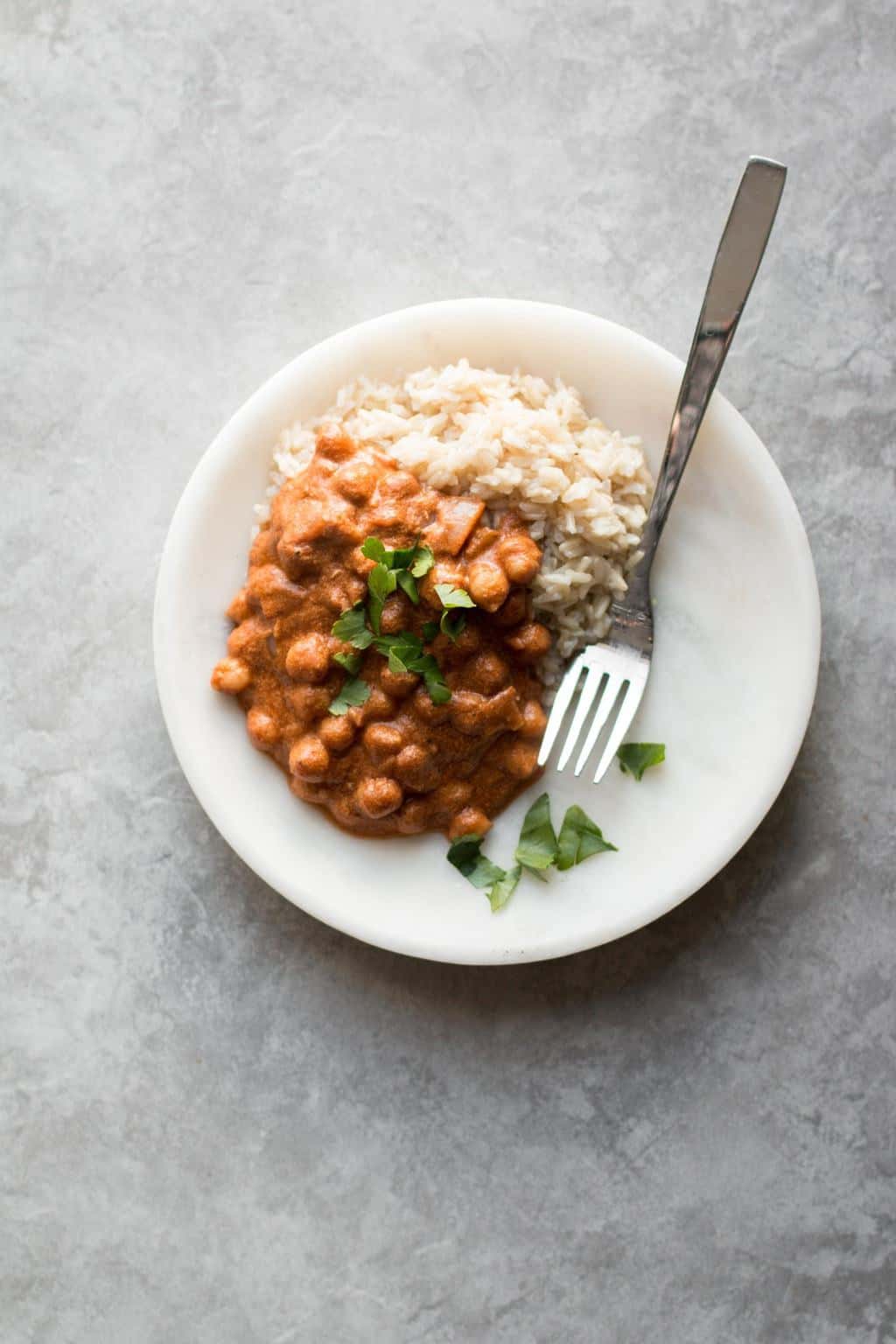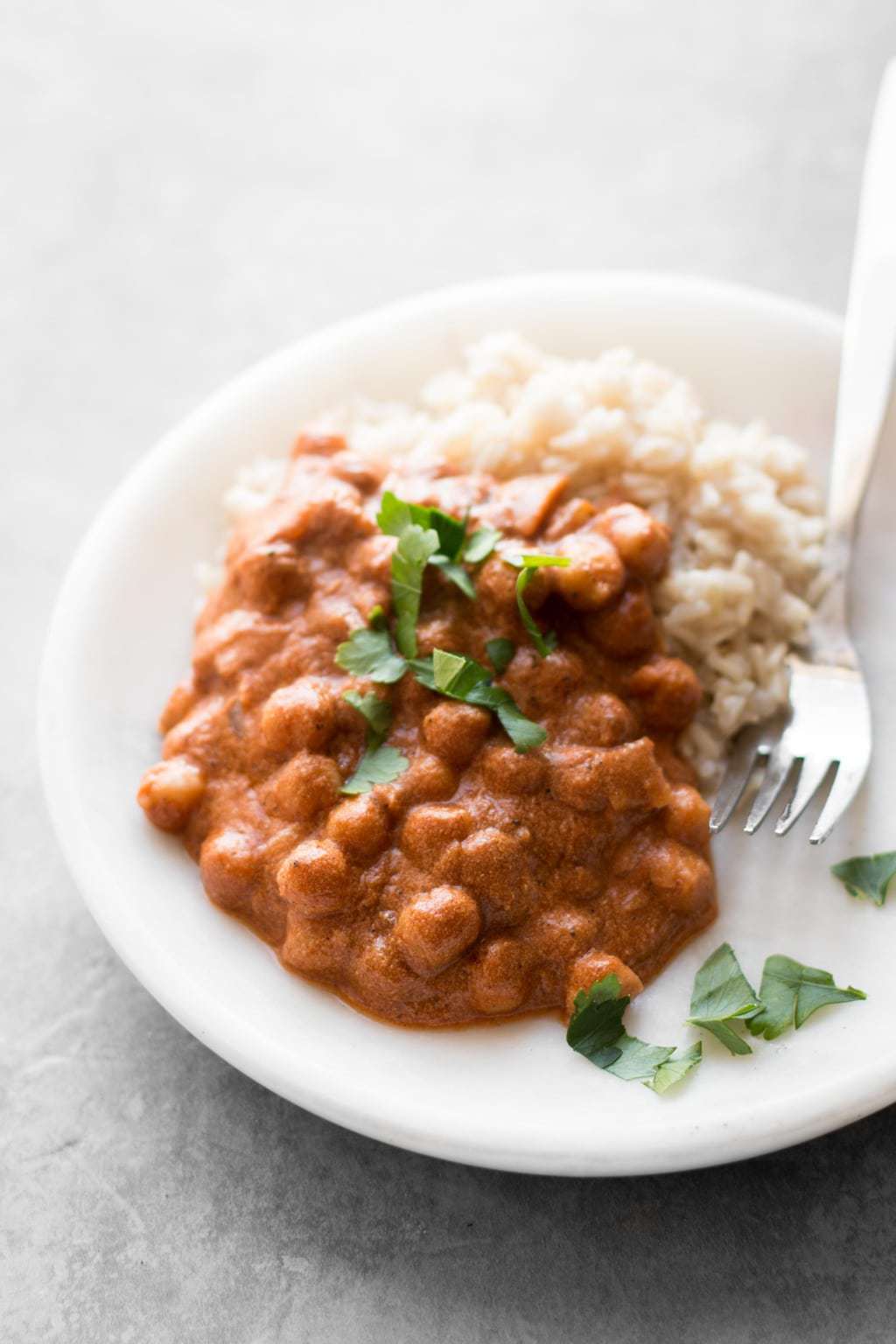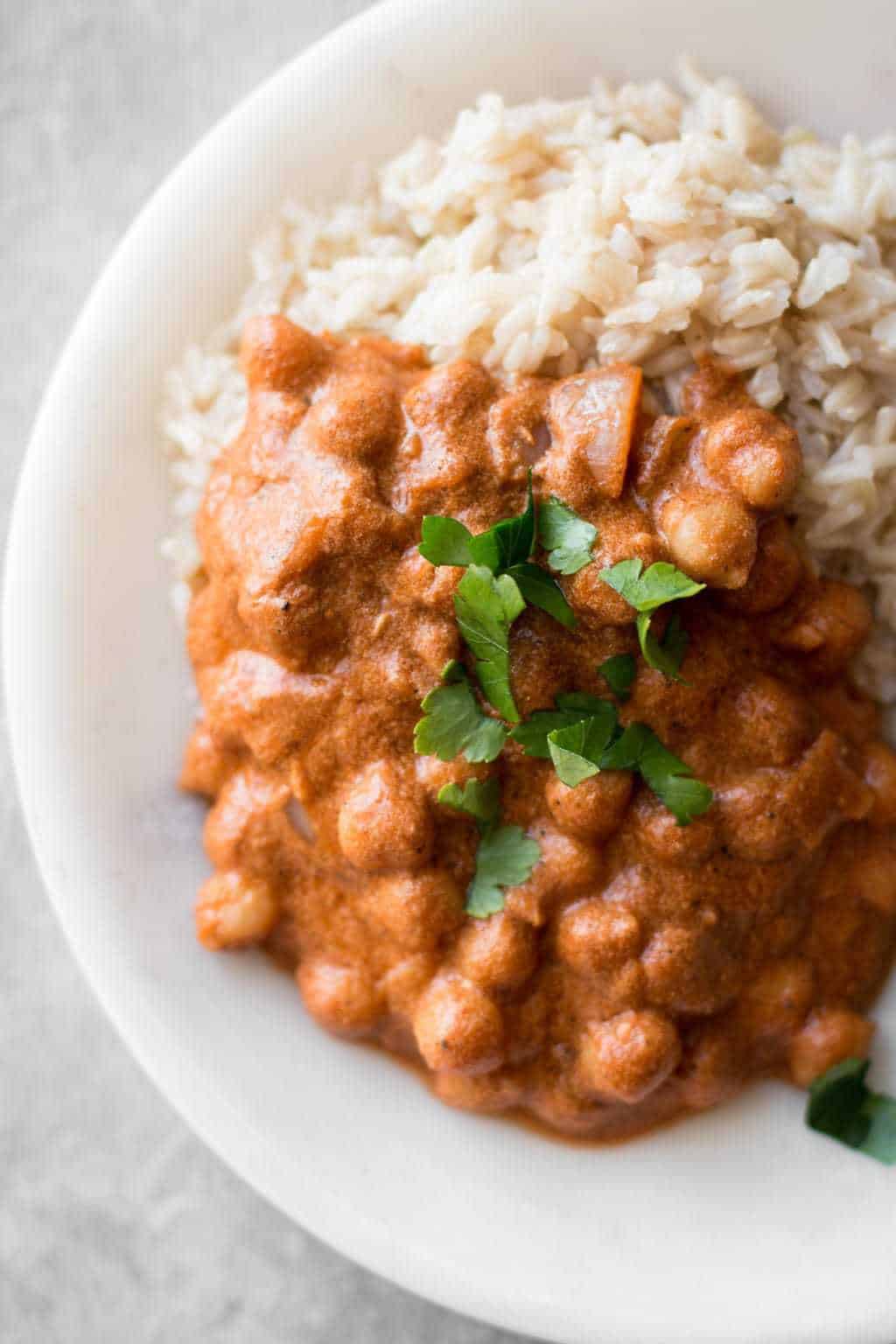 Instant Pot Butter Chickpea
Butter chicken made vegetarian using chickpeas. This easy recipe is made directly in the Instant Pot, which means it requires very little work. Simply dump all the ingredients in the Instant Pot, let it do its thing for about 30 minutes, then serve. You also have the option to make it on the stove top, which is almost equally easy. Choose which method works best for you and either way, you'll end up with a flavorful butter chickpea that's great served with rice and naan bread.
Ingredients
1

medium

yellow onion,

diced

2

large

garlic cloves,

minced

2

teaspoons

fresh ginger,

minced

1

tablespoon

garam masala

1/2

tablespoon

ground cumin

1

teaspoon

chili powder

1

19 oz can (540mL)

chickpeas,

drained

1/2

cup

plain Greek yogurt

(I use 0% MF, but high-fat also works)

1

14 oz can (400mL)

low-fat coconut milk

1

5.5 oz can (156mL)

tomato paste

2

tablespoons

butter or soft margarine

1/2

teaspoon

fine grain sea salt
For serving
1

cup

brown rice

(optional)

Naan bread or whole wheat pita bread

Fresh cilantro

Lemon juice
Instructions
If using the rice, cook according to package instruction. You can cook it in advance to save time.
For the Instant Pot
Add all the ingredients to the Instant Pot and stir it all together. Turn on the soup setting (20 minutes) and let cook.

When it's done cooking, release the steam using the quick release (it takes a few minutes). Serve with rice and naan bread and top with cilantro and a drizzle of lemon juice if desired.
For the Stove Top
Heat butter in a medium saucepan over medium heat.

Add onions, garlic and ginger and cook 5 minutes until onions are translucent and fragrant. Add garam masala, cumin, chili powder and salt and cook for another minute.

Stir in the coconut milk, tomato paste, yogurt and chickpeas. Bring to a low boil, then reduce heat to low and simmer covered for 20-25 minutes, stirring occasionally. Serve with rice and naan bread and top with cilantro and a drizzle of lemon juice if desired.
If you try this recipe, make sure to tag your photo #unsweetenedcaroline on Instagram, Facebook and Twitter! Don't forget to also tag me @unsweetened.caroline on Instagram so I can see your creations!