Some of you may have guessed by now, but yes, we're engaged!
It happened last Saturday. I shared some photos and videos on Instagram stories throughout the day and some of you did question me about it. Now I'm finally sharing the news. Yes, Shaun proposed!
We've been together for four years. Although it feels like we've been together forever, it also feels like I met him just yesterday. Time goes by so fast and I can't believe we're here already. Planning our wedding!
I'm stepping out of my comfort zone a bit, but here's the story of how he proposed.
It was a bit of a surprise, but it was something I had on my mind for a few weeks. He gave me a few accidental clues that made me think about it more than I ever did. We've been together for a while and of course we talked about it before, but it was never anything serious or specific. However, a few weeks ago he said to me "I can't wait to call you something more than my girlfriend". That was my first clue. Since then, it was on my mind.
Then, last week he went for a hike with some friends at our favorite hiking spot: Walten Glen Gorge. It's a hidden wonder in New Brunswick and we have so many adventures involving this place. One of my favorite memories is the time we camped on top of that canyon, drank some wine and watched the meteor showers. The drive there is not the easiest. It's 45 minutes in dirt roads and that time, we got lost. We spent hours trying to find the trail and it was getting dark. I drove too quickly on the rough roads, getting impatient. We saw bats flying in front of our car, followed a moose on the dark roads and finally found the trail at 10 pm. It was pitch black and we had to hike 20 minutes to get to the top of the canyon. I should also mention that we were running low on gas and the next morning, we woke up to a flat tire. It was one of those days where everything went wrong, but it turned out to be a memorable adventure.
To get back to the proposal. Shaun went to Walten Glen with his friends the other week, leaving me alone at home to do my studying. He said he would make it up to me (and that he did!). That next week, he planned a surprise for me. He said that he would like to go for a hike and that he would like if I could take the day off from working that Saturday. Being as busy as I am at the moment, I almost said I couldn't! But he kept insisting and I figured that it was important to him and we could both use a day off together. We've both been incredibly busy with work and school and that was exactly what we needed. At first I thought he just wanted to bring me for a hike to make me happy, but the way he kept insisting made me curious. He wanted me for the whole day Saturday until early Sunday morning. He promised that I could study and work on Sunday.
When I said to one of my coworkers that Shaun had a surprise for me on Saturday and I had no idea what it was, she asked if I thought he would propose. Part of me was wondering the same thing, but I didn't want to read too much into it. All I knew for sure was that we were going for a hike and then going to Moncton to eat at our favorite restaurant.
That Saturday morning, I woke up with a cold (of course). Once again, I almost ruined it for him. I was feeling tired and for a moment, I begged him to reschedule the surprise. After he reassured me that we would be relaxing all day and that I would feel better after a short hike, I agreed to follow through with his plans (thankfully).
We drove to Walten Glen around noon. It was a beautiful drive and the leaves were changing color. It's my absolute favorite time of the year and he knows it. We arrived to Walten Glen without getting lost this time and started hiking. During the hike, he was talking about our future together, which once again had me thinking that maybe it would happen. We've been dreaming about moving away over next few years and when we arrived to the canyon, we admired the view, thinking that it may be the last time we would stand there. That's when he got down on one knee and asked me to marry him. It was all a blur. I think I left out a giggle, then kissed him. After a while, I stopped and told him I didn't actually say yes yet. He laughed and said "I took that as a yes, but now that you mention it, I kind of need to hear it". Then I laughed and said yes.
He then gave me the cutest thing: A penny that was pressed and that says "I love you". I'm not sure if that makes sense, it's a little hard to describe. He said he got it when he was about 10 years old in Colorado. He kept it in his wallet all these years and told himself that one day, he would give it to the person he would marry.
We sat down and admired the view for a while. I couldn't stop looking at the ring on my hand. I still can't.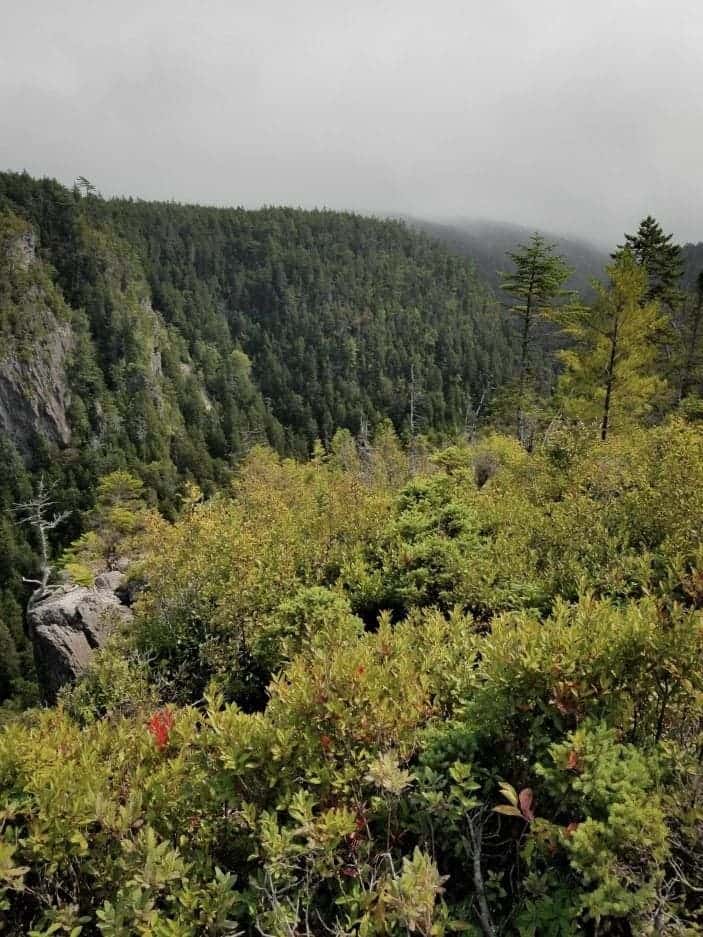 We walked back to the car and made our way to Moncton, to my parents' place. They weren't there, but we went for a walk with my dog, waiting to go to the restaurant for supper. He made reservations at my favorite restaurant, Calactus. A little vegetarian restaurant in Moncton and also the first restaurant we ever went to together.
After supper, we made our way to Shediac, our favorite town (also the place where Shaun grew up). He made reservations at the most beautiful hotel: Hotel Shediac. The suite was stunning. We had a kitchen, a small living room and a beautiful bathroom and bedroom. I made my way to the bedroom to find a bouquet of Lilies with a note that said "always". A reference to Harry Potter (yes, we are big Harry Potter fans). We then went for a walk on the beach, then came back to our suite and enjoyed some champagne and relaxed.
He planned my perfect day. He brought me to my favorite hiking spot, to my favorite restaurant and my favorite town. He made sure we had the whole day just the two of us as he knows I'm not one for big gatherings and attention. It was just the two of us in nature and it was perfect.