Healthy lunchbox recipes. Because soon, it will be back to school (some of you may have already started!).
This time of year is a little bittersweet for me. This is my second year not going back to school and I miss it! I know, I'm weird. But seriously, I would much rather study for the rest of my life than work. Considering I could get paid to study of course. Hah!
Part of it is that I miss the freedom of university. I miss having a few classes and being free the rest of the time. While I was in university, I could choose when to study, when to go to the gym and when to relax. I had so much time, even if a good part of it was spent studying. You don't get that freedom when you're at work from 8-4 each day. No flexibility in your schedule. That's what I miss most.
Does that make sense? Or am I the only one feeling this way?
I may not be going back to school this year, but I thought I'd share my favorite lunchbox recipes and snack ideas for those of you who are (or for those who have kids). And for those who, like me, need to pack a lunch every day for work, this post can also be for you. You'll find a mix of kid-friendly recipes and some more adult-appropriate recipes (most of us need lunches at work too!).
I included a good variety of lunch box meals and snacks, all of which are healthy, sugar-free, vegetarian and most importantly, nut-free!
That being said, here are my favorite lunch box friendly recipes.
Main Meal: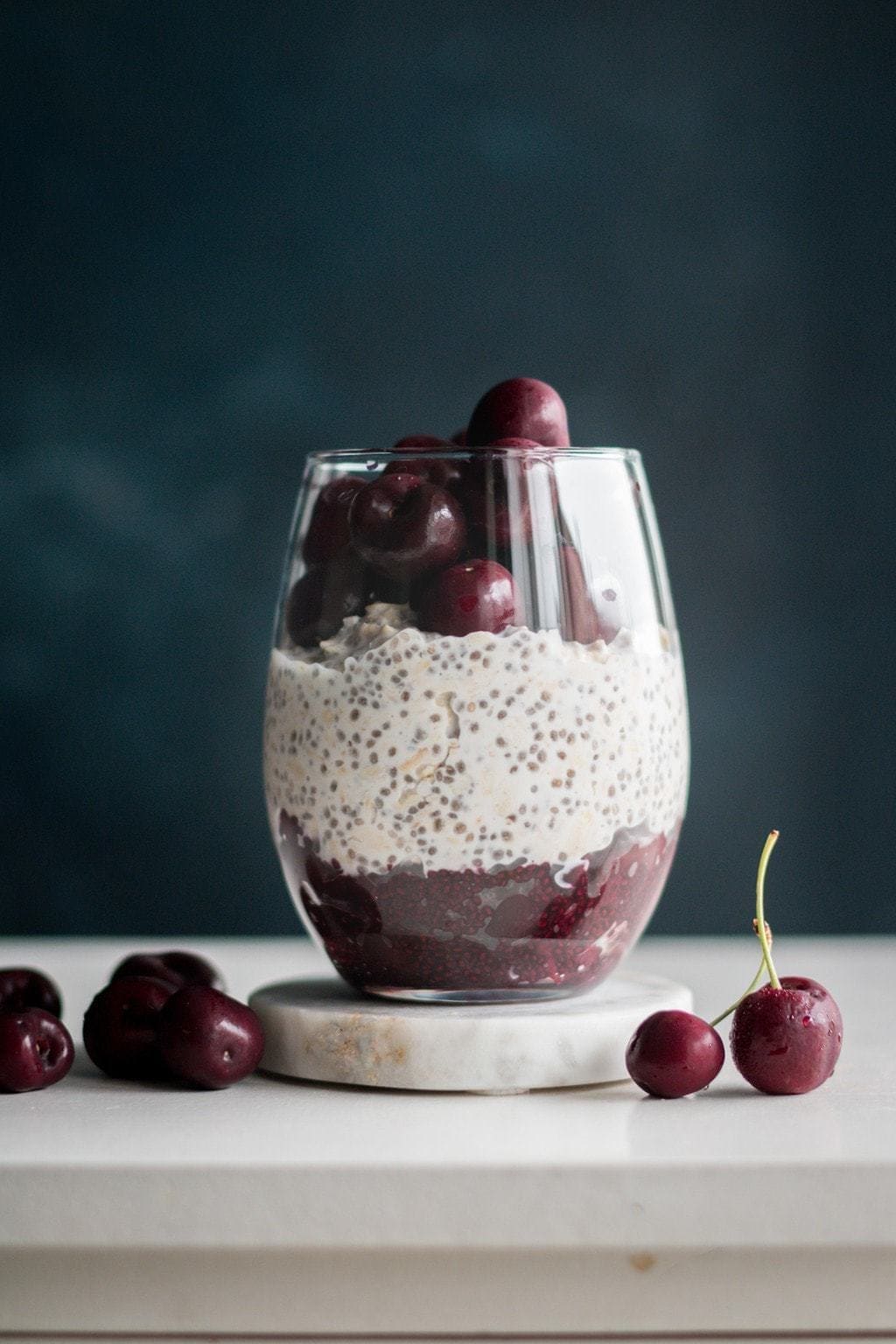 Cherry Coconut Overnight Oats
Overnight oats in a lunch box? Why not? It's filling, healthy and can easily be made nut-free. If you're not into the whole breakfast for lunch thing, then this recipe also makes for an easy breakfast on busy school days. You can never go wrong with overnight oats.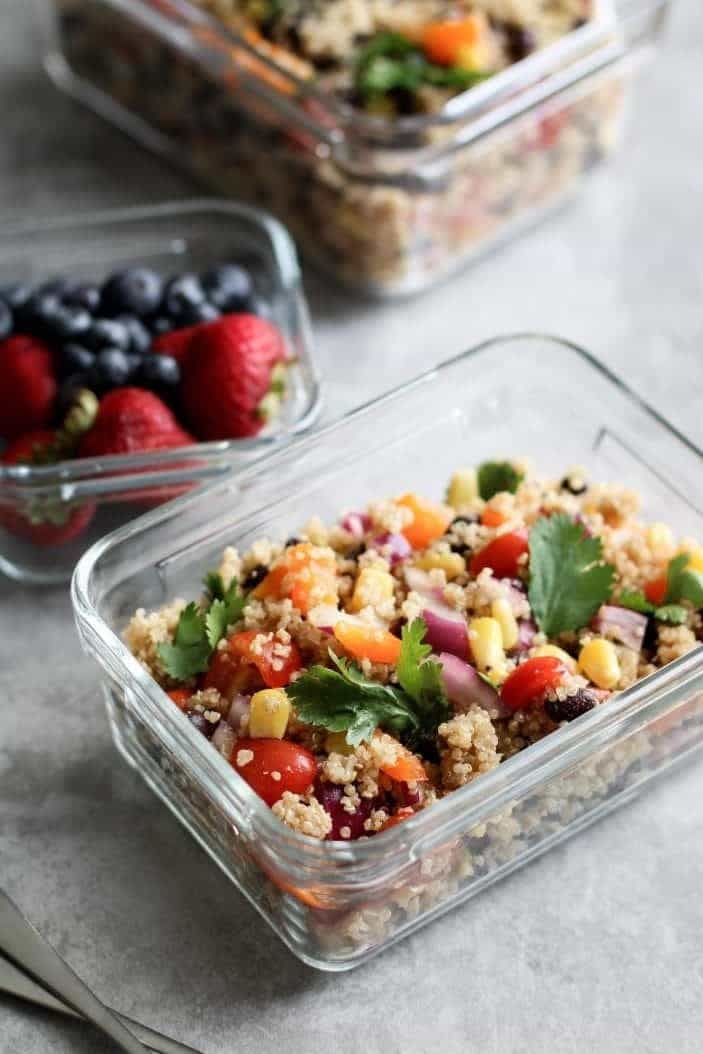 Quick lunchbox Southwestern quinoa salad
Quinoa salads are one of my favorite meals to pack for work. It can easily be made days in advance and you won't be left with soggy lettuce. It's filled with fiber and protein and it's sure to keep you full for hours. This salad is easy and packed with flavors.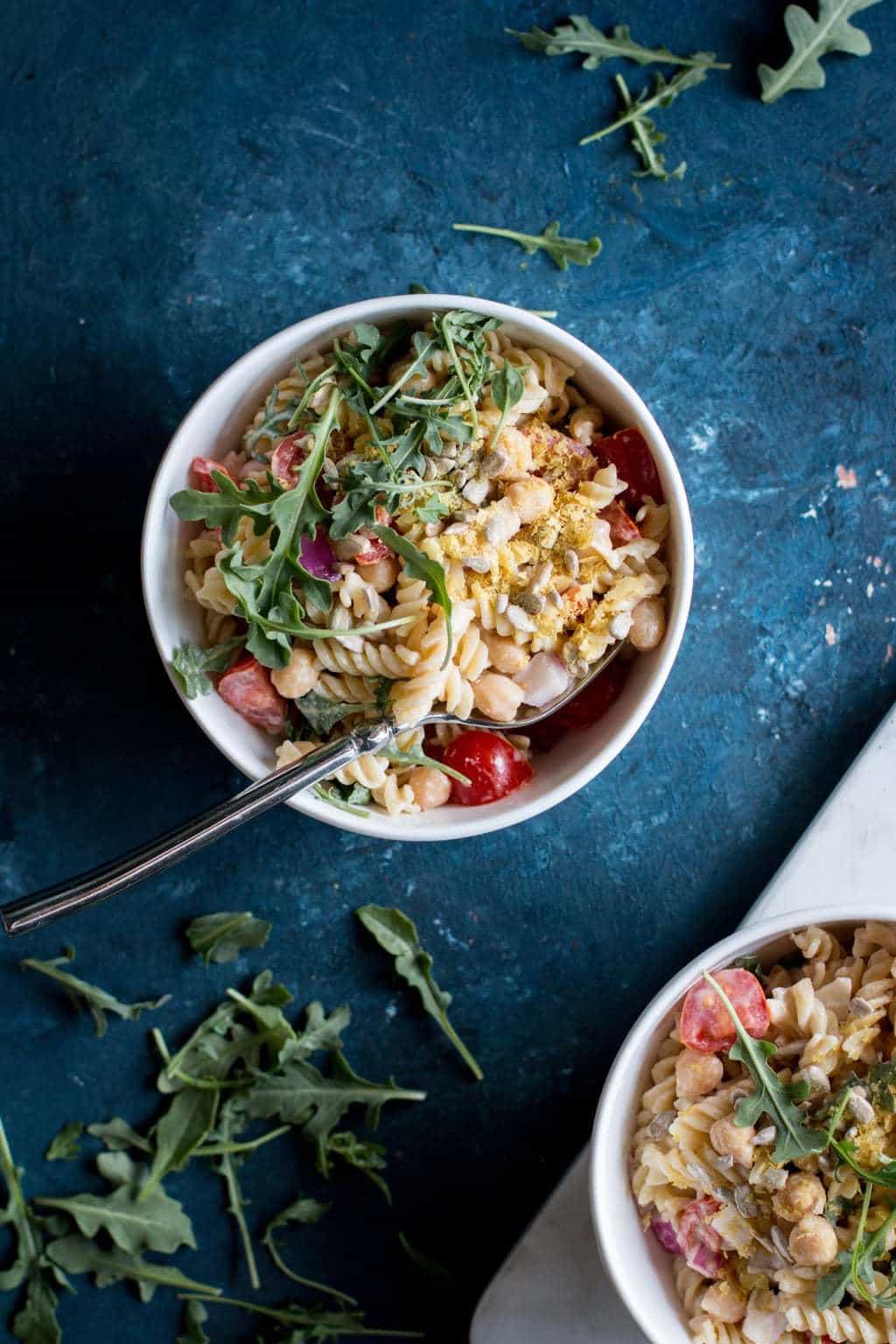 Vegan chickpea pasta salad with tahini dressing
It doesn't need to be reheated and can be made days in advance. What could be better? This pasta salad is filled with vegetables and plant protein. Bonus? It's mayo-free. The dressing is made from tahini and it's the best.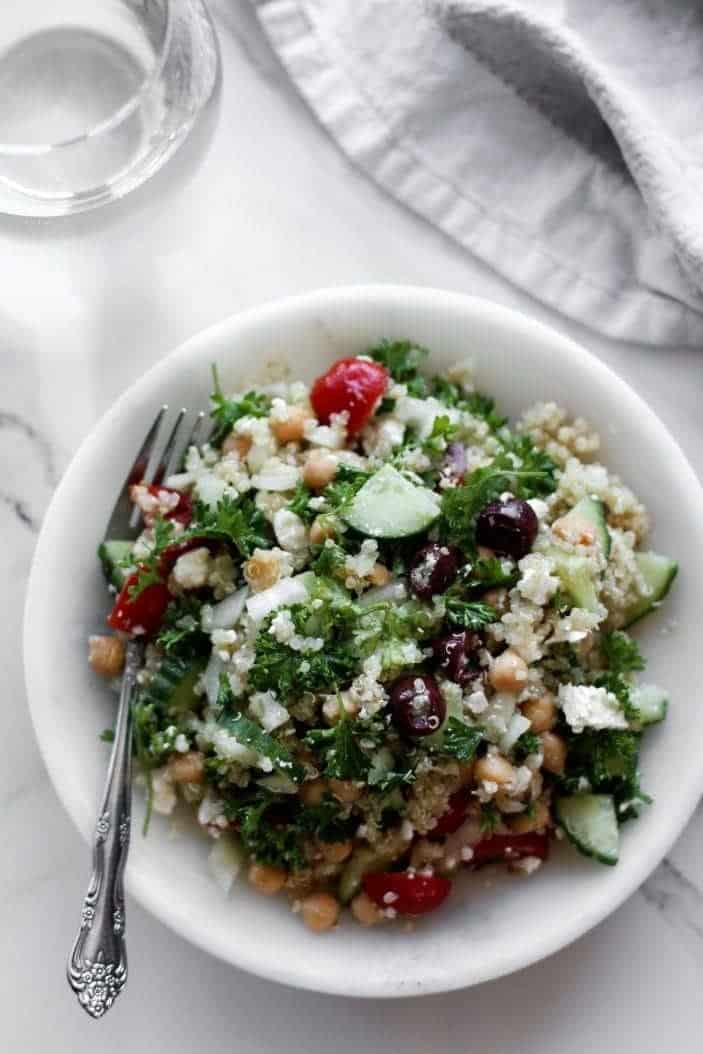 Greek quinoa & chickpea salad
Another quinoa salad. I told you I love them for lunches! This one is a Greek quinoa salad filled with feta, cucumbers, tomatoes and olives. Chickpeas are added for protein and the salad is tossed with lemon and olive oil for an easy and healthy salad.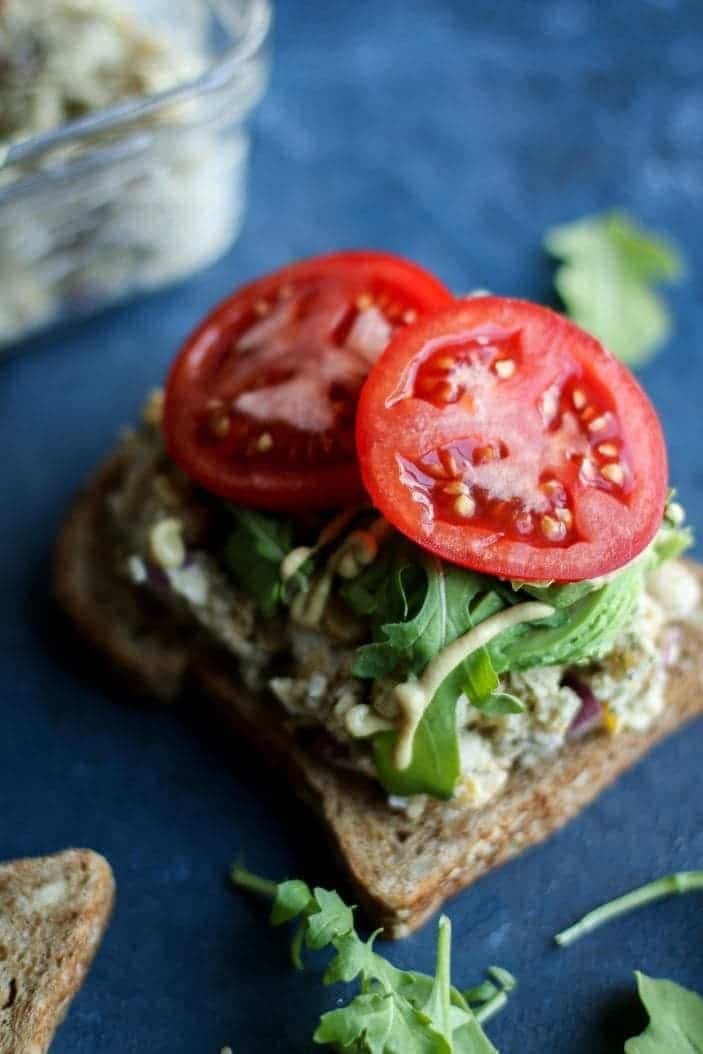 Quick and easy chickpea salad sandwich
After a plain nut or seed butter sandwich, this is my go-to last minute lunch. The chickpea filling can be done directly in a glass storage container and kept in the fridge for a few days, to be assembled in the morning before eating. It's packed with plant protein and can be filled with all the veggies your heart desires.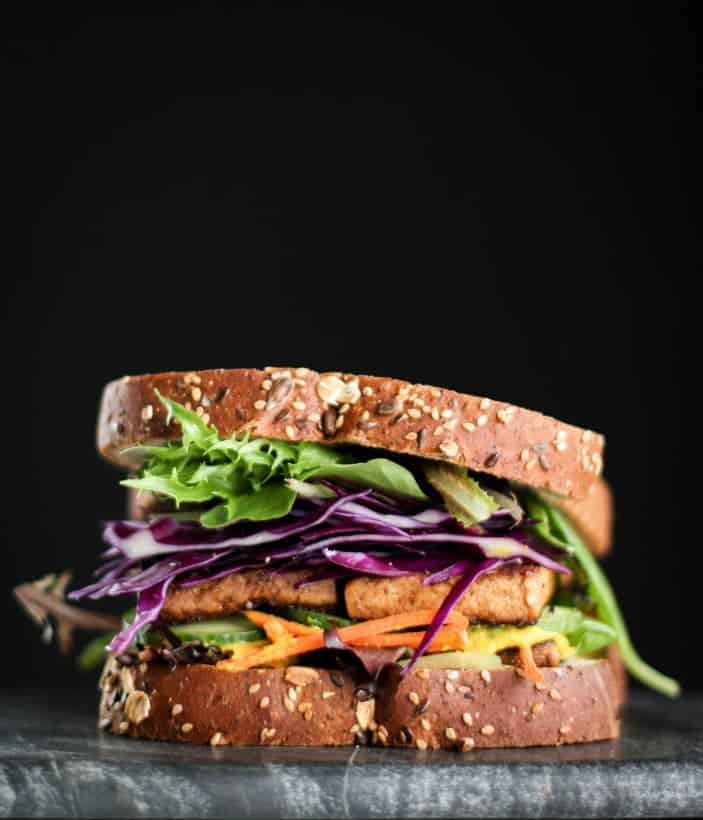 Marinated tofu sandwich
Another simple plant-based sandwich. The tofu in this sandwich can be left to marinate until ready to be served. The morning before work or school, simply add the tofu and veggies to your sandwich and it's ready to go!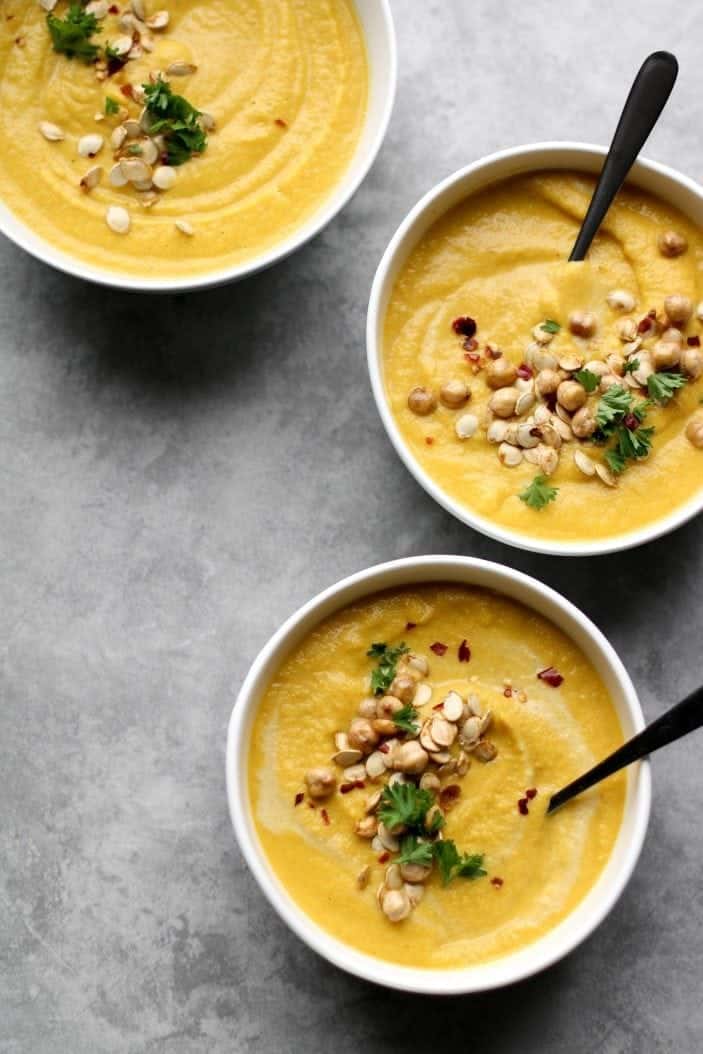 Curried roasted carrot & cauliflower soup
This is for the colder months, when all you want is a thermos full of homemade soup. Make a large batch of soup over the weekend, store in mason jars and reheat in the microwave before eating (or heat it in the morning and bring it in a thermos). This soup can also be kept in the freezer for weeks when meal-prep is not an option.
Savory Snacks: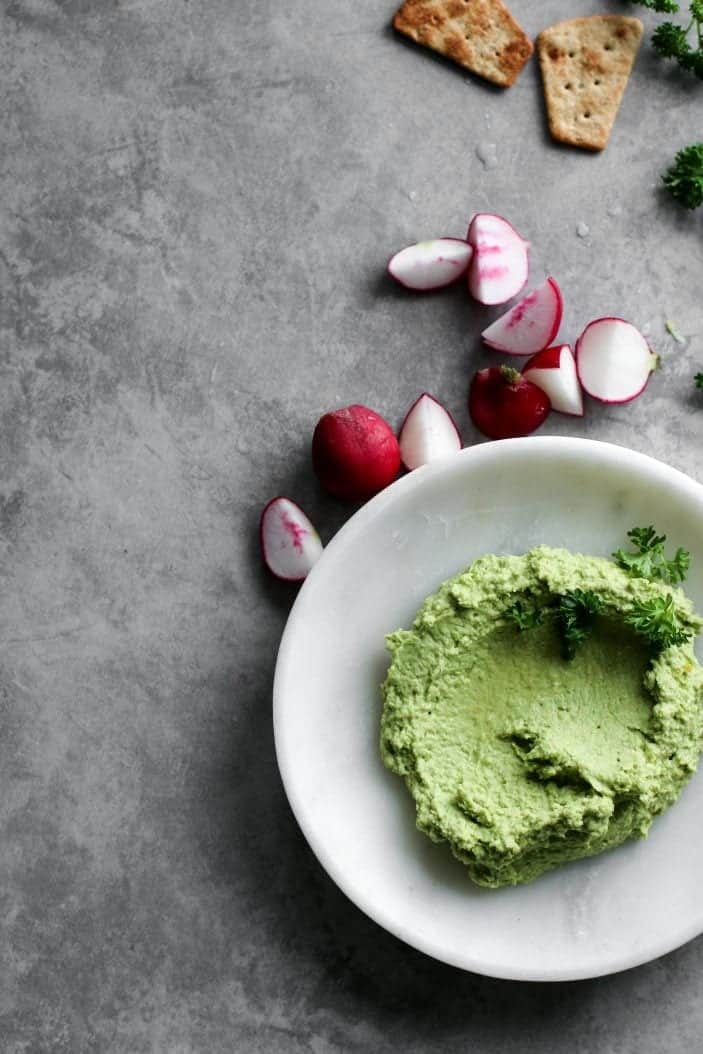 Lemon and sweet pea hummus
A simple hummus with a twist. This dip is great served with crackers or cut-up vegetables. Or better, make a hummus and vegetable sandwich! Make the hummus on Sundays and enjoy this dip all week.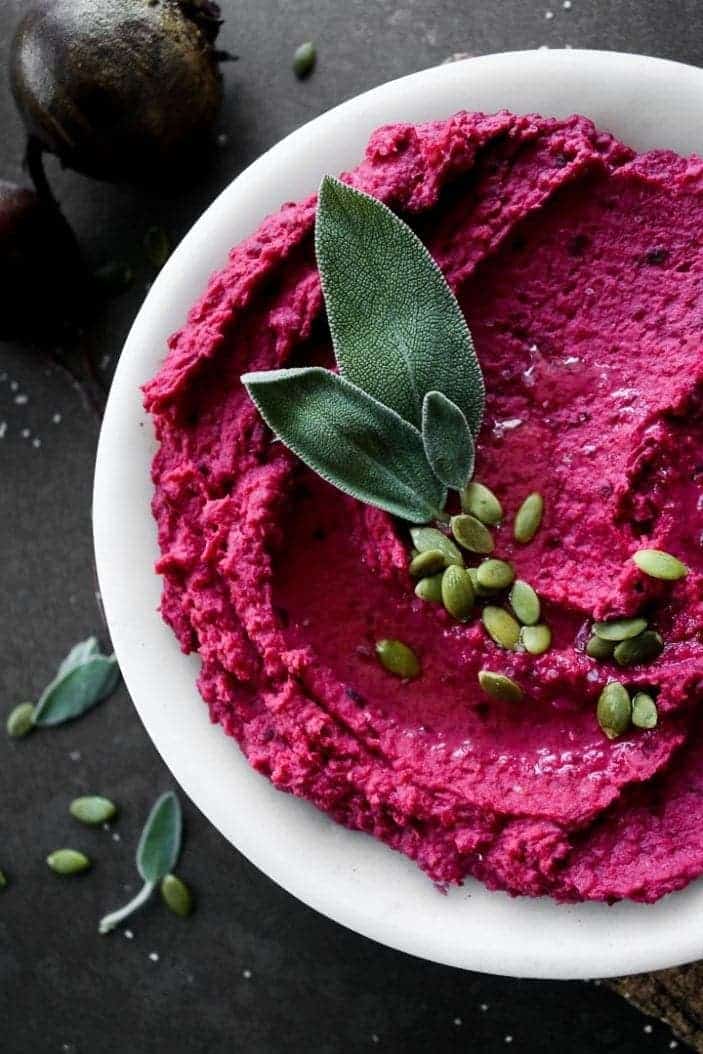 Creamy roasted beet hummus
Another hummus recipe because, why not? Hummus makes such a great healthy snack! This version includes beets for a real pop of color. Maybe that's all it takes to have your kids try hummus?
Some of my favorite non-recipe savory snacks include: Seeds, trail mix, cheese and crackers, cut-up vegetables, seed butter and crackers.
Sweet Snacks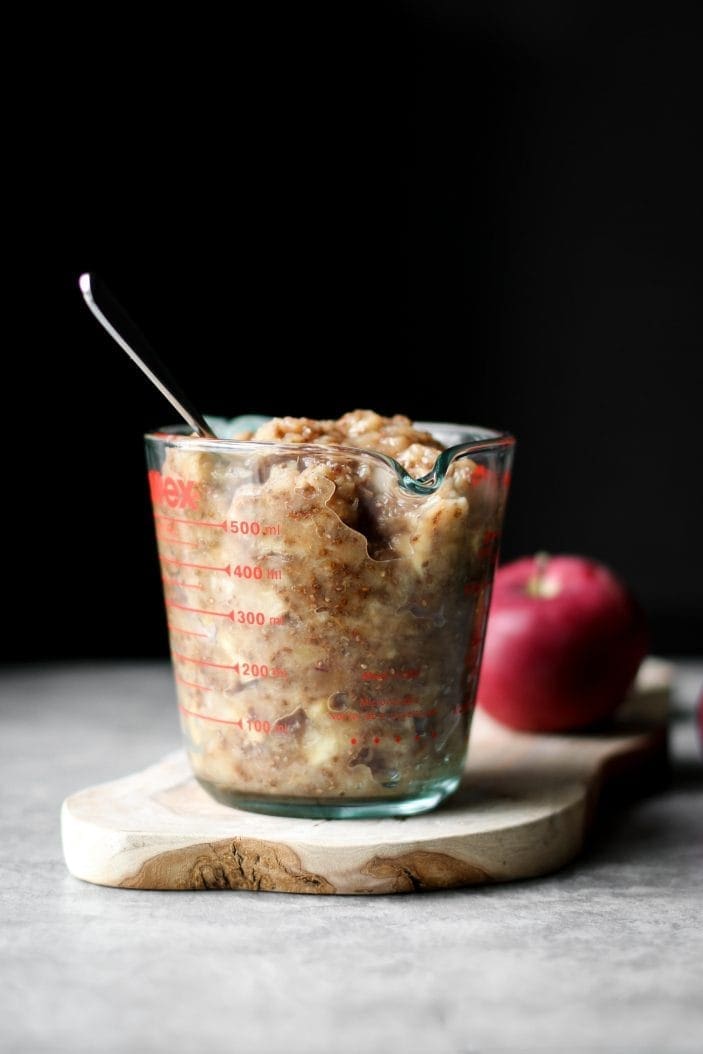 Spiced chia applesauce
Don't know what to make with all the fresh apples you'll pick this fall? This applesauce makes a great lunchbox snack! Fall spices are added for added flavor, along with chia seeds for a good dose of healthy fats and protein. Feeling ambitious? Make these nut-free apple crumble bars, which are filled with this delicious applesauce.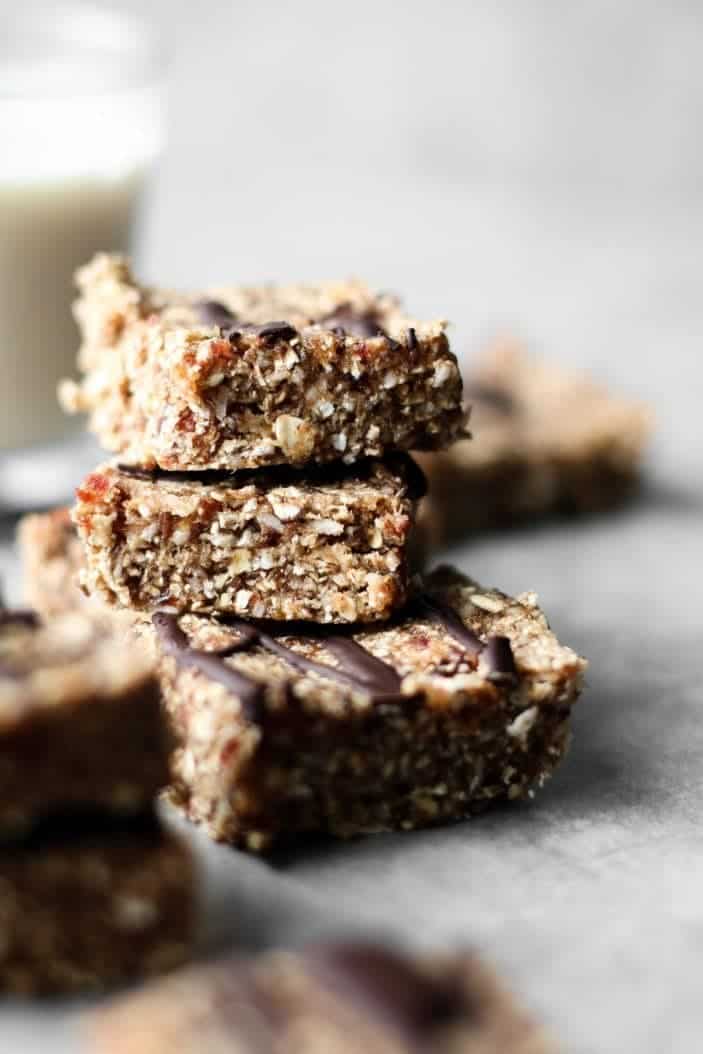 Seriously addictive no-bake seedy granola bars
My all time favorite granola bars. These are made in the food processor and can be kept in the freezer for weeks. They make the perfect sweet snack and are filled with fiber from dates, seeds and oats with a flavor that resembles that of a macaroon. Without the added sugar!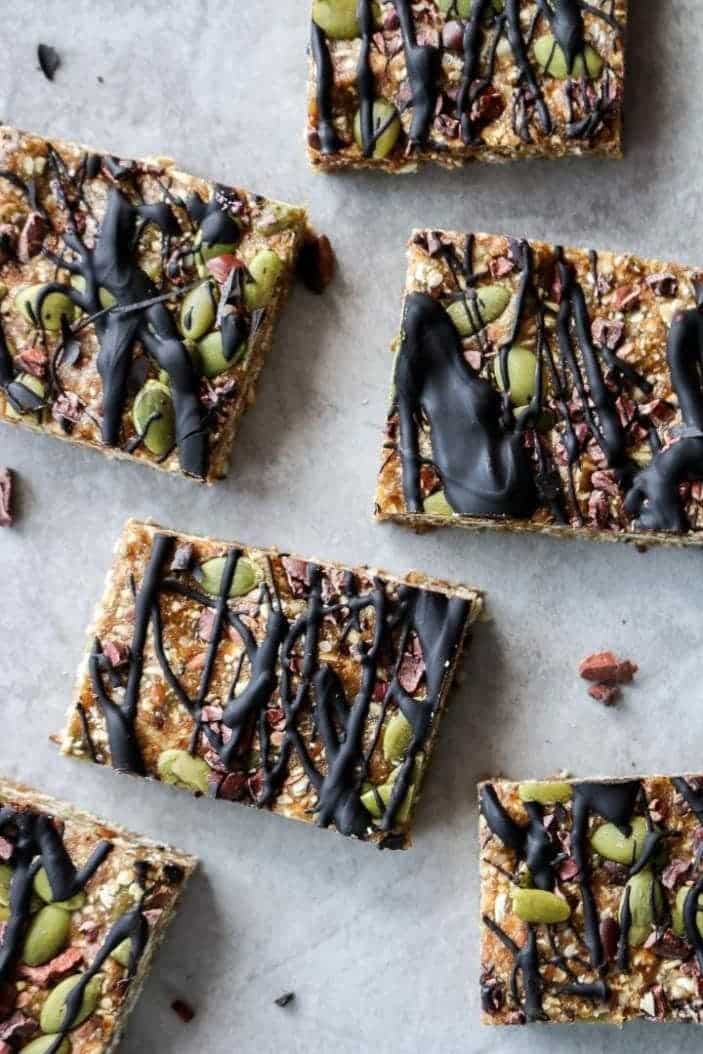 No-bake chewy granola bars
Throwback to my first few months of blogging. This recipe remains one of my most popular recipes on the blog and for good reason. It's easy, delicious and nut-free, which makes it perfect for back-to-school.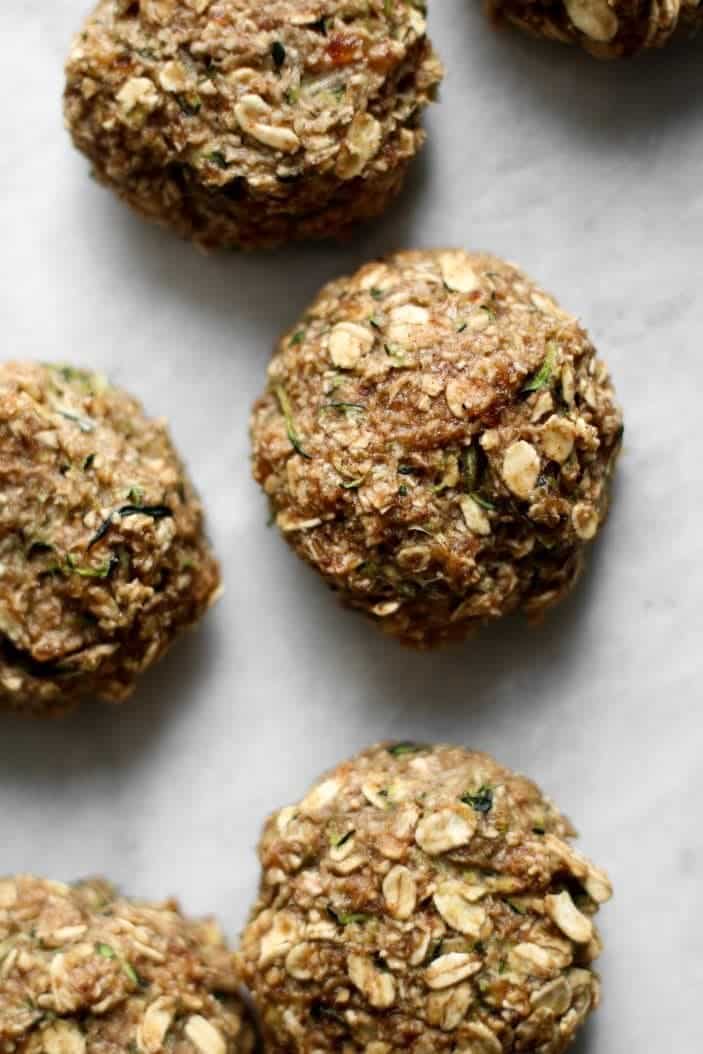 Chewy oatmeal zucchini cookies
Another popular recipe from the blog, especially this time of year (zucchini season!). These cookies are nut-free, kid friendly and oh so delicious. Fun fact: A co-worker made theses with her young kids and they said they were the best cookies they ever had. True story.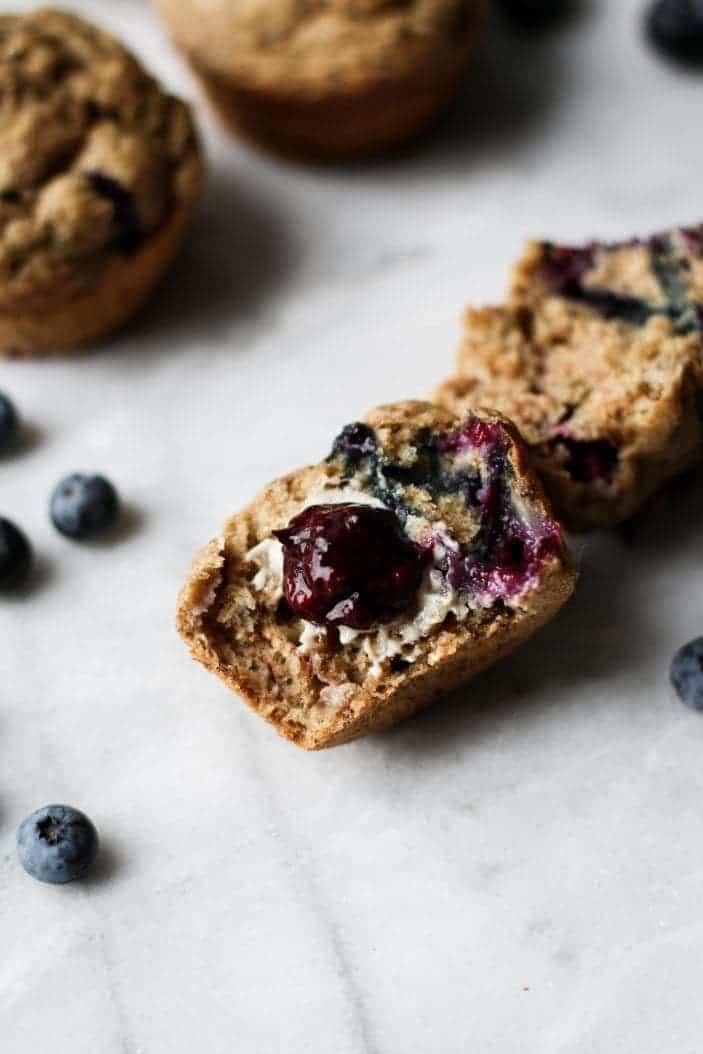 Sugar-free cardamom blueberry muffins
Muffins sweetened with bananas only. Yes, that's right. Sugar-free muffins! They're perfect for kids and are great served with sunflower seed butter.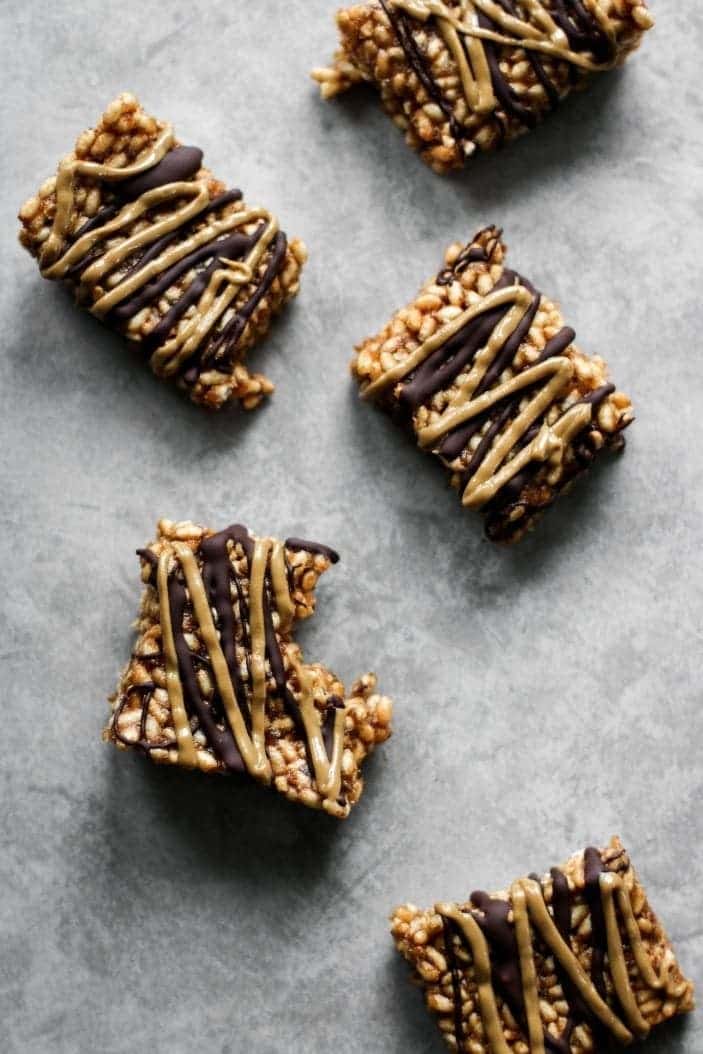 Nut-Free Caramel Rice Crispy Squares
A kid's favorite, made healthy. These rice crispy squares are made with dates instead of marshmallows, which offers a caramel-like taste and a similar binding effect. Drizzle with chocolate and sunflower seed butter for a nut-free sweet treat.
Finally, some of my favorite non-recipe sweet snacks include fruits and yogurt (I love plain Greek yogurt with berries).
And with that, have a great start to the school year!