Healthy Digestion Smoothie
I have the most refreshing drink for you to enjoy this summer!
I created this recipe when I was at the end of the low FODMAP diet a few weeks ago and I've been enjoying it ever since!
For those of you who don't know, the low FODMAP diet is a "diet" recommended for those who have irritable bowel syndrome. You simply avoid or limit certain foods high in FODMAPs (sugars that may not be digested or absorbed well and could be fermented by bacteria in the intestines when eaten in excess.) You follow this for a few weeks and then reintroduce them one at a time to determine if they worsen your symptoms or not. It's not a long term diet, but rather a method to identify what triggers your symptoms. You should be guided by a dietitian if you attempt this diet.
I was in the reintroduction phase when I realized that I don't tolerate a lot of fructose very well, so I was determined to make a smoothie that I could drink on a daily basis, without triggering my IBS symptoms. What did I come up with? A healthy digestion smoothie!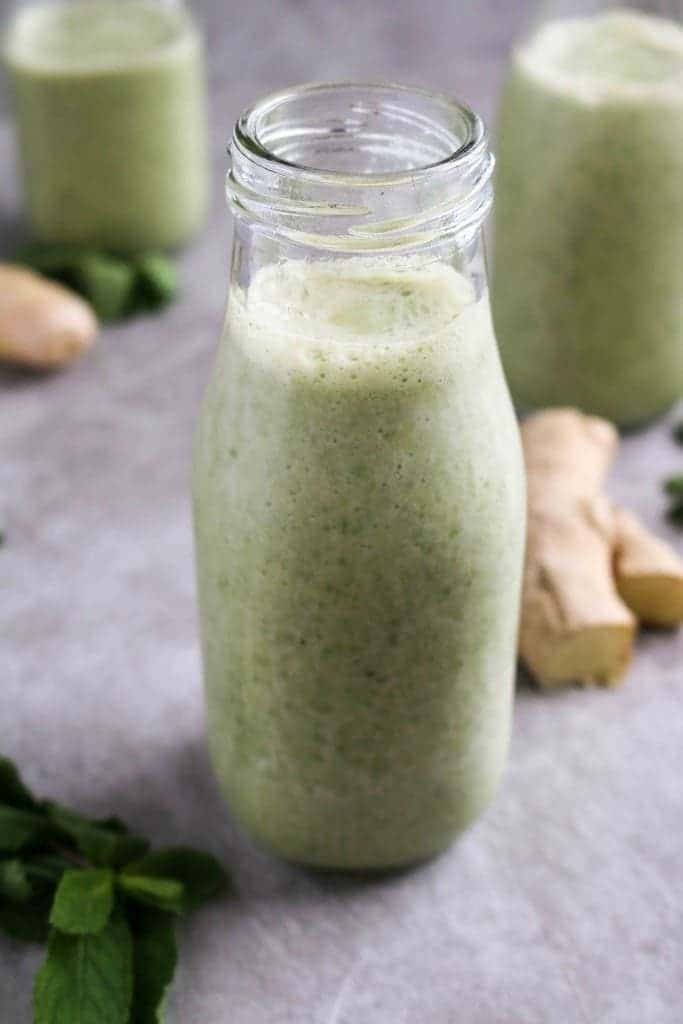 Let's talk about the ingredients.
Bananas: I chose frozen bananas because I wanted something sweet and creamy without adding too much fructose. You only need to remember to freeze bananas and you won't have to add any other frozen fruits to achieve the sweet frozen smoothie you crave! It's easy to overdo it on the fruits when you make a smoothie, but I'm trying to be careful now.
Kale: I recently decided that I want to incorporate more veggies to my diet. Yes, I am a student dietitian, but no, I am not perfect, so I don't always eat my 7-8 recommended portions. I figured that the easiest way to reach my goal would be to drink a green smoothie every morning (almost every morning). That's why I added a whole cup of greens in this smoothie. Don't worry, you really can't taste it. If you're new to green smoothies, you can always add spinach instead. Enjoy your extra portion of greens!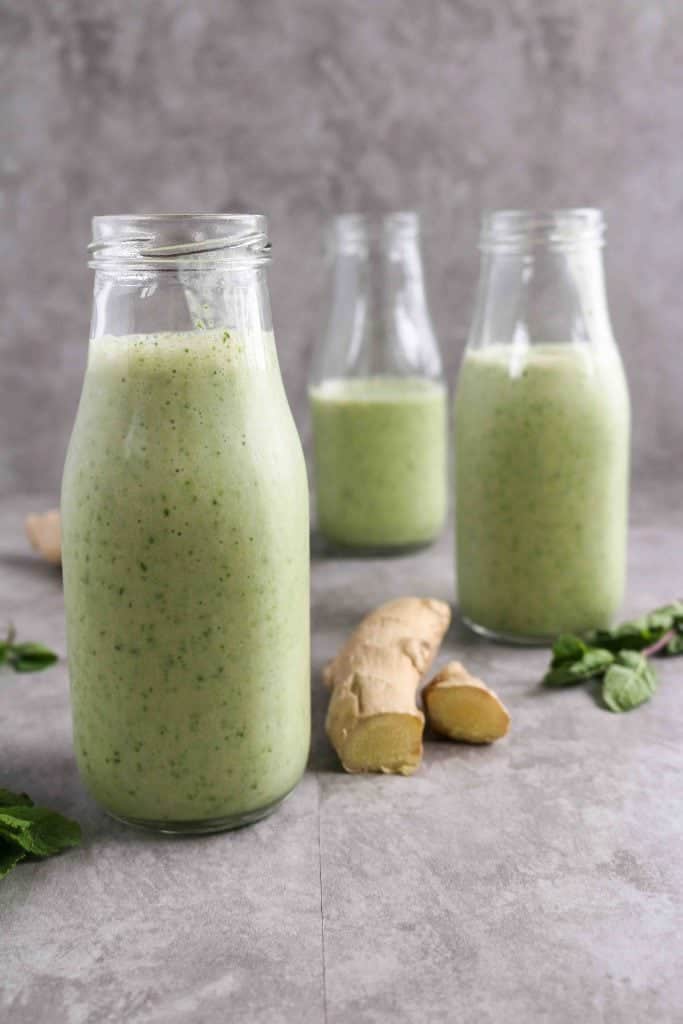 Fresh mint and ginger: I added fresh mint and ginger to soothe an upset stomach. Peppermint oil may reduce abdominal pain related to IBS and ginger is often used to help with nausea. It may work for me or it may not, but either way, they make a VERY refreshing combination.
Plant-based milk: As a liquid, I chose almond milk since I always have some on hand, but feel free to use any other milk you like. Rice milk would be a great choice if you want something even easier to digest and soya milk would be perfect is you're looking for more protein (perfect after workout snack!) If you tolerate cow's milk, go ahead. I actually found out on the FODMAP diet that lactose is not a problem for me (after drinking a huge glass of milk and feeling fine.) However, I prefer to drink plant-based milk and I truly prefer the taste of almond, soya or cashew milk.
Probiotic powder: Last but not least, I added probiotic powder for good measure. It's totally optional, but I added some because it's known to help reduce IBS symptoms. I try to take a daily supplement, but I forgot for what? The last 200 days? I'm hoping putting it in a recipe will help me remember. We'll see if it works!
There you have it! A smoothie that's easy to digest, full of nutritious ingredients and low in fructose for those who are lucky like me and can't tolerate too much of it. I have a feeling that this smoothie would also be great during a cold! Hope you'll love it too!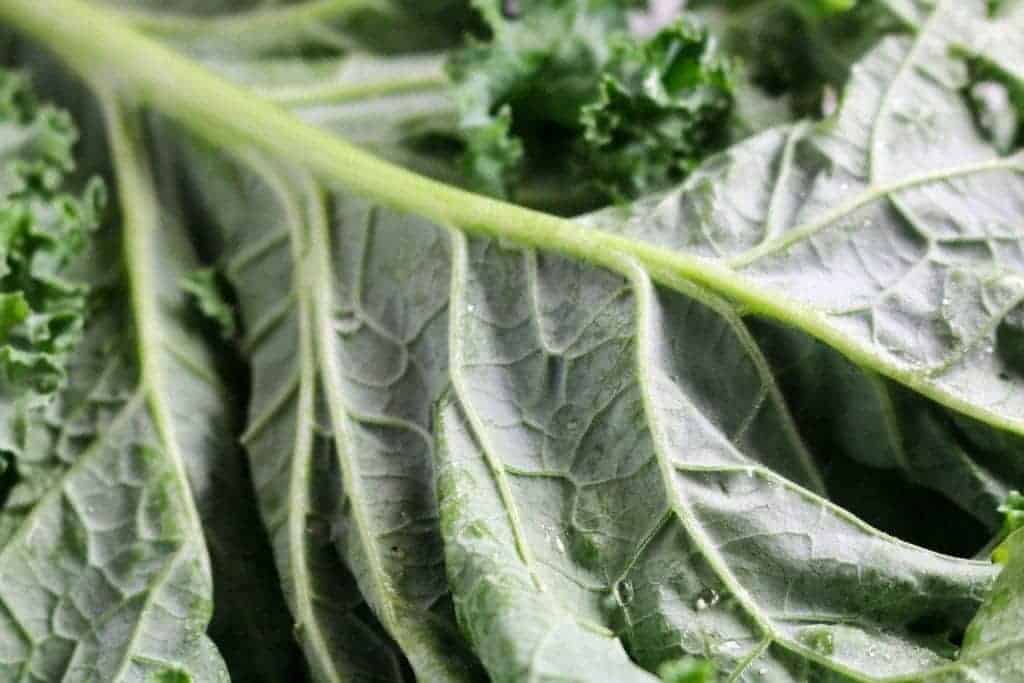 Healthy Digestion Smoothie
This smoothie is filled with ginger, mint and probiotics for a healthy digestion. Bananas add sweetness and kale adds extra nutrients.
Ingredients
2

medium

bananas,

frozen

1

teaspoon

fresh ginger,

grated

1

tablespoon

mint leaves,

packed

1

cup

kale

2

cups

vanilla almond milk,

unsweetened

1/4

teaspoon

probiotic powder
Instructions
Slice two medium bananas into a few pieces and place in an airtight container or a plastic bag. Freeze overnight or for at least 12 hours.

Blend all ingredients together in a high speed blender until smooth.

Store leftovers in an airtight container in the fridge for up to 24 hours. I like to drink half of the recipe in the morning and the other half later in the day. Enjoy!
Notes
I use the probiotic powder from one capsule.
If you make this recipe, be sure to tag your photo #unsweetenedcaroline