Fruit-Sweetened Chocolate Bark
Fruit-sweetened chocolate bark. One last simple recipe before Christmas.
One of the things I miss the most since I stopped eating added sugar over 4 years ago is chocolate. I can make most of my favorite desserts using fruit, but chocolate isn't one of them. My only option is bitter, unsweetened chocolate.
Over the years though, I've become used to the bitterness of unsweetened chocolate and I've actually come to enjoy a small piece once in a while. However, there's really nothing like a good piece of milk, dark or even white chocolate.
This fruit-sweetened chocolate bark is the closest thing to a chocolate bar I've had in years and while it's far from being as sweet, it's surprisingly good.
Since most people cringe at the thought of eating unsweetened chocolate (I don't blame you!), I included a few options in this recipe to make it sweeter. This recipe is definitely not for everyone and I want to be clear about that! So if you're not up for eating unsweetened chocolate, you can still make this recipe, with some modifications.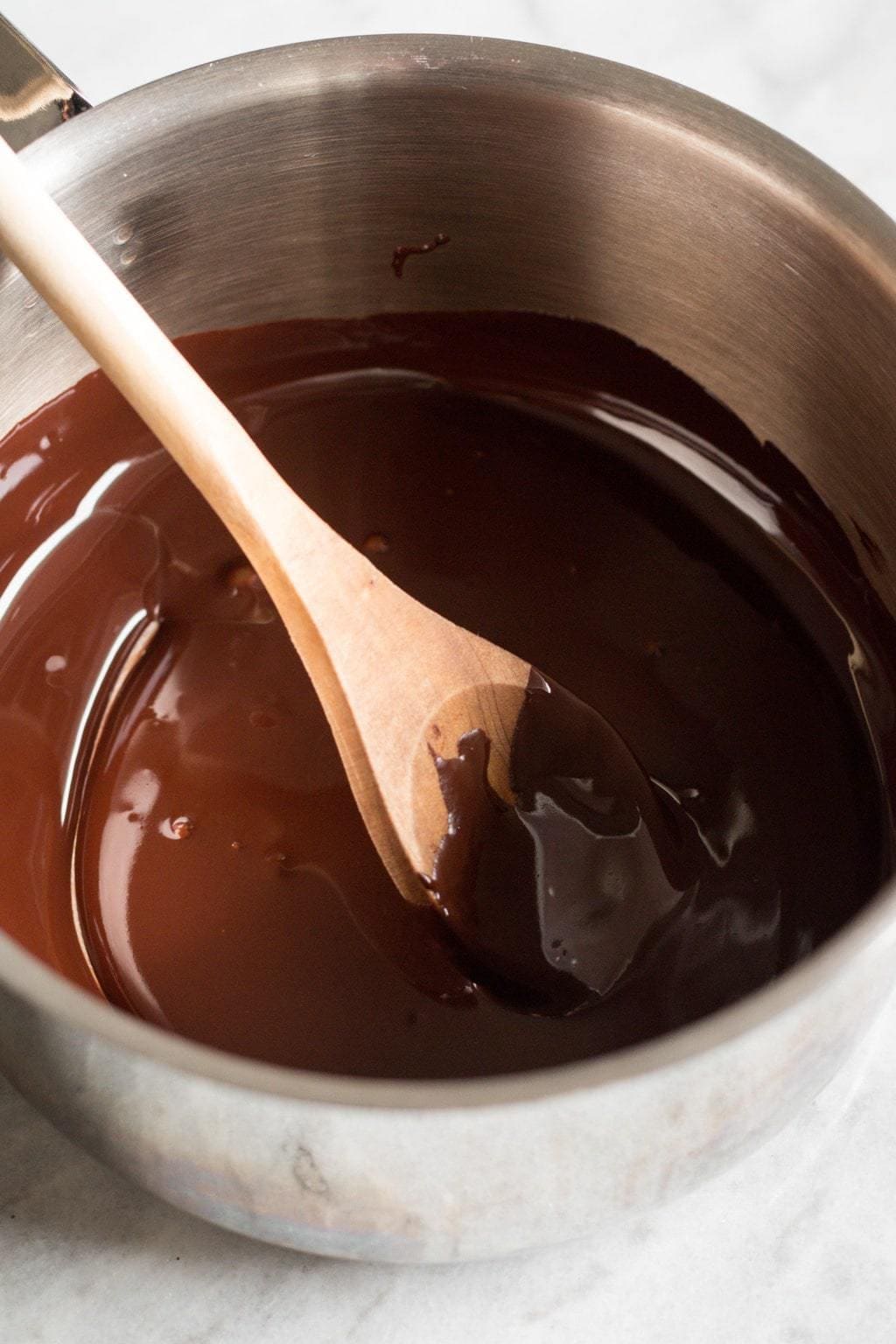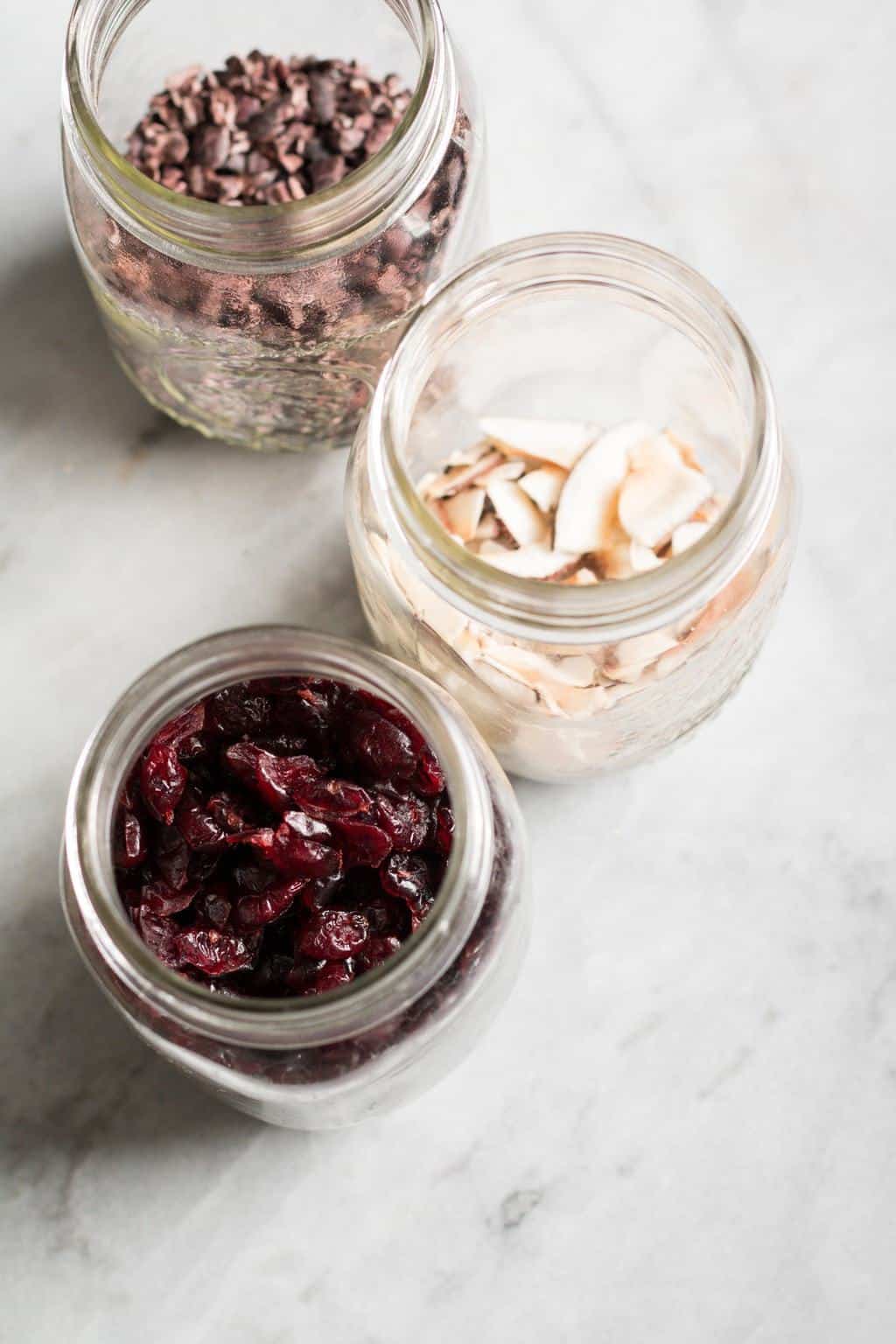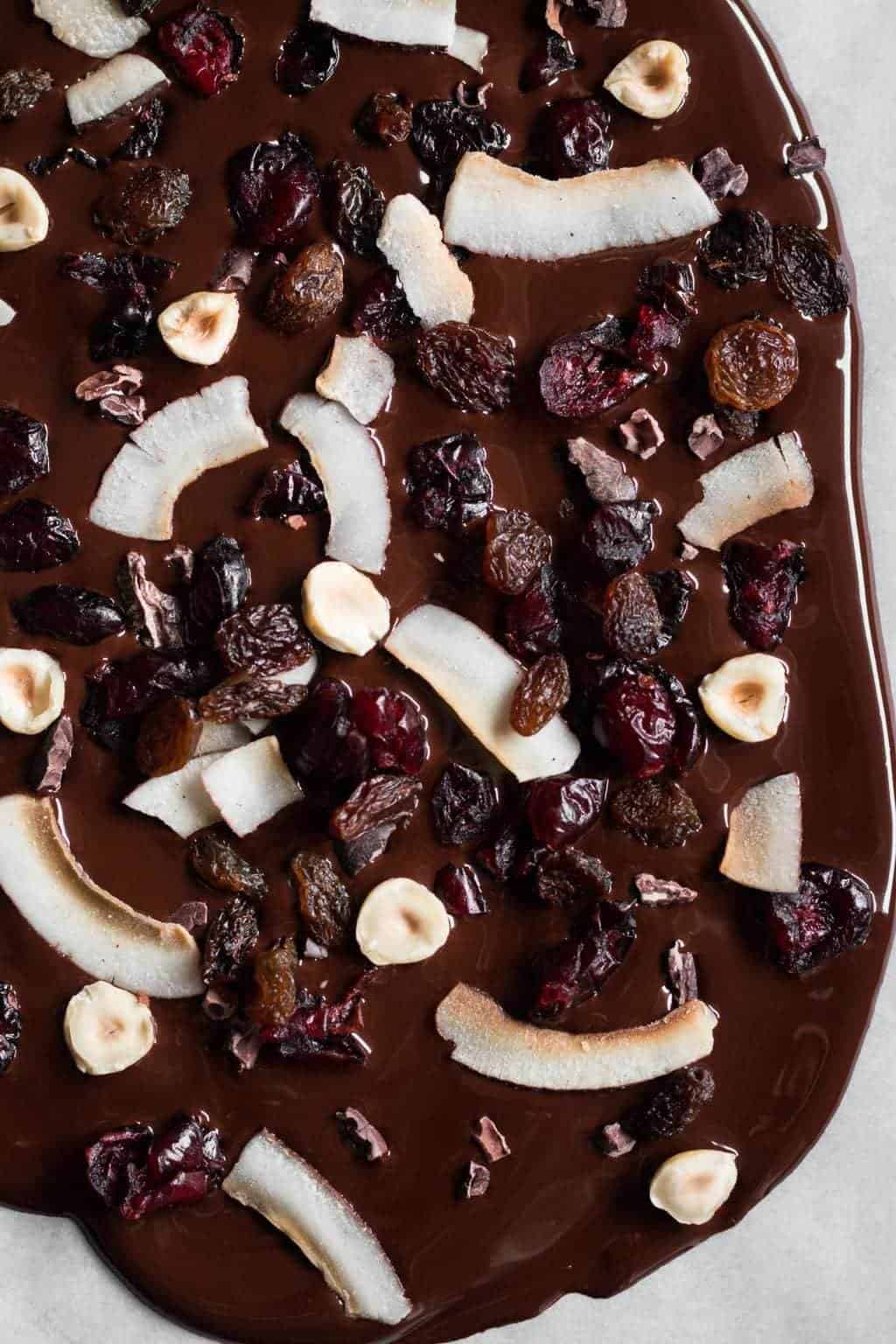 For the original recipe, I use unsweetened baker's chocolate and I pack it with dried fruits, nuts and coconut. Trust me, it's SO much better than it sounds. The dried fruits add sweetness to the otherwise bitter chocolate and the nuts and coconut add a nice crunch and flavor.
For the sweeter option, you can use a good dark chocolate instead of unsweetened chocolate OR you can add a touch of liquid sweetener to the melted chocolate. Of course I haven't tried those things, but it's an easy switch to get a sweeter treat.
In 10 minutes, you could have a delicious healthy(ish) chocolate bark. It's the perfect last-minute Christmas treat!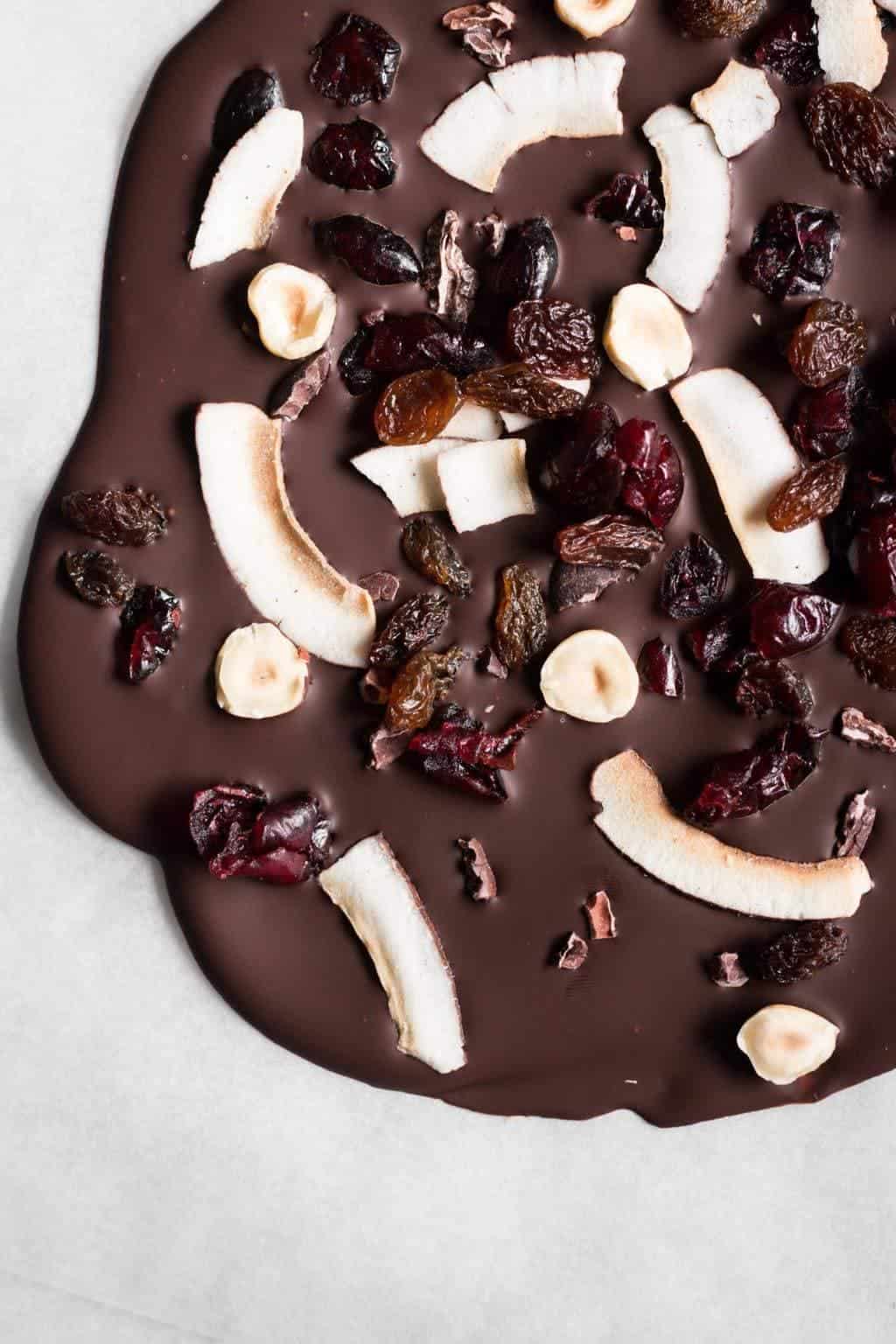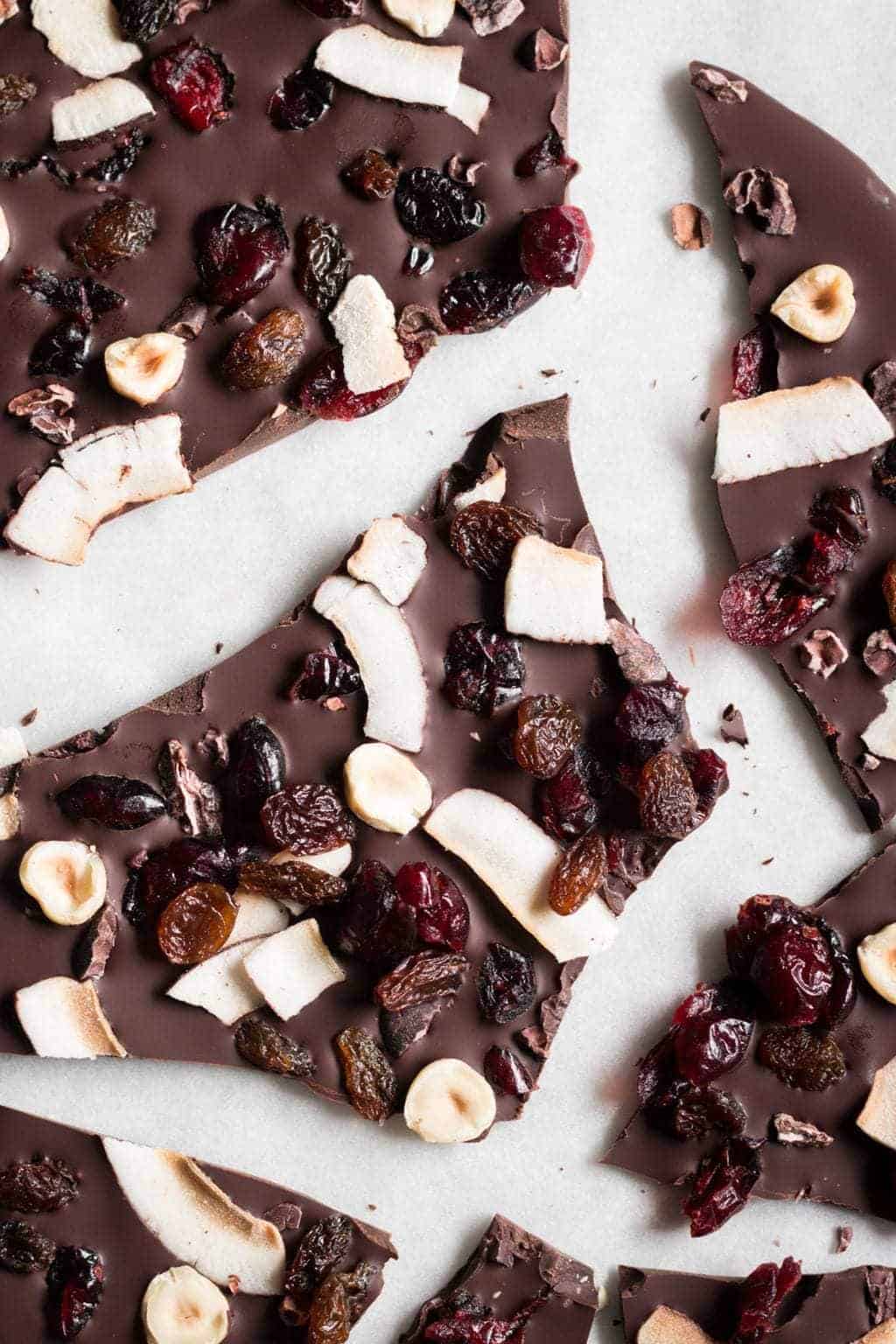 Happy holidays!
Fruit-Sweetened Chocolate Bark
A simple chocolate treat, sweetened with fruits. This chocolate bark is not your typical sweet dessert. It's made with unsweetened chocolate, then lightly sweet with dried fruits, coconut and other toppings of choice. For a sweeter bark, use dark chocolate or add a touch of liquid sweetener.
Ingredients
1 x

225g (8 oz)

chocolate bar,

unsweetened or dark (chopped)
Suggested Toppings
Dried cranberries

Raisins

Chopped dates

Goji berries

Unsweetened shredded coconut or coconut chips

Cocoa nibs

Nuts
Instructions
Line a baking sheet with parchment paper. Set aside.

In a small saucepan or double boiler, melt chocolate slowly over low heat, about 15 minutes. Stir often to avoid burning.

Pour the chocolate on the prepared sheet. Spread until about 1/4 inch thick. It doesn't have to be a perfect shape or fill the baking sheet.

Add toppings of choice. Here I used a generous amount of dried cranberries, raisins, coconut chips and roasted hazelnuts with a small sprinkle of cocoa nibs.

Refrigerate until firm, about 30 minutes. You can also place it in the freezer until firm, about 10 minutes. Store in an airtight container in the refrigerator.
Notes
This chocolate bark is not overly sweet! If using unsweetened chocolate, make sure to add a generous amount of dried fruits to sweeten it. Coconut, cocoa nibs and nuts are great for a crunch. In the end, each bite should be packed with fruits.
I find that a small portion goes a long way, especially if using rich, unsweetened chocolate.
For a sweeter chocolate bark, use dark or bittersweet chocolate. You could also add a touch of maple syrup to the unsweetened melted chocolate.
If you try this recipe, make sure to tag your photo #unsweetenedcaroline on Instagram, Facebook and Twitter! Don't forget to also tag me @unsweetened.caroline on Instagram so I can see your creations!