Meet my new favorite kitchen staple – This simple Lentil Taco Meat.
Ever since I made this recipe for the first time a month ago, I've been making a batch weekly to keep in
the fridge. I've been adding it to salads, burrito bowls, burritos and just about everything. The only thing
I haven't tried yet are tacos. Hah! But really, I can't see how that wouldn't be delicious.
This lentil taco meat + guacamole + salsa + vegetables + wrap or rice = the healthy meal of my dreams.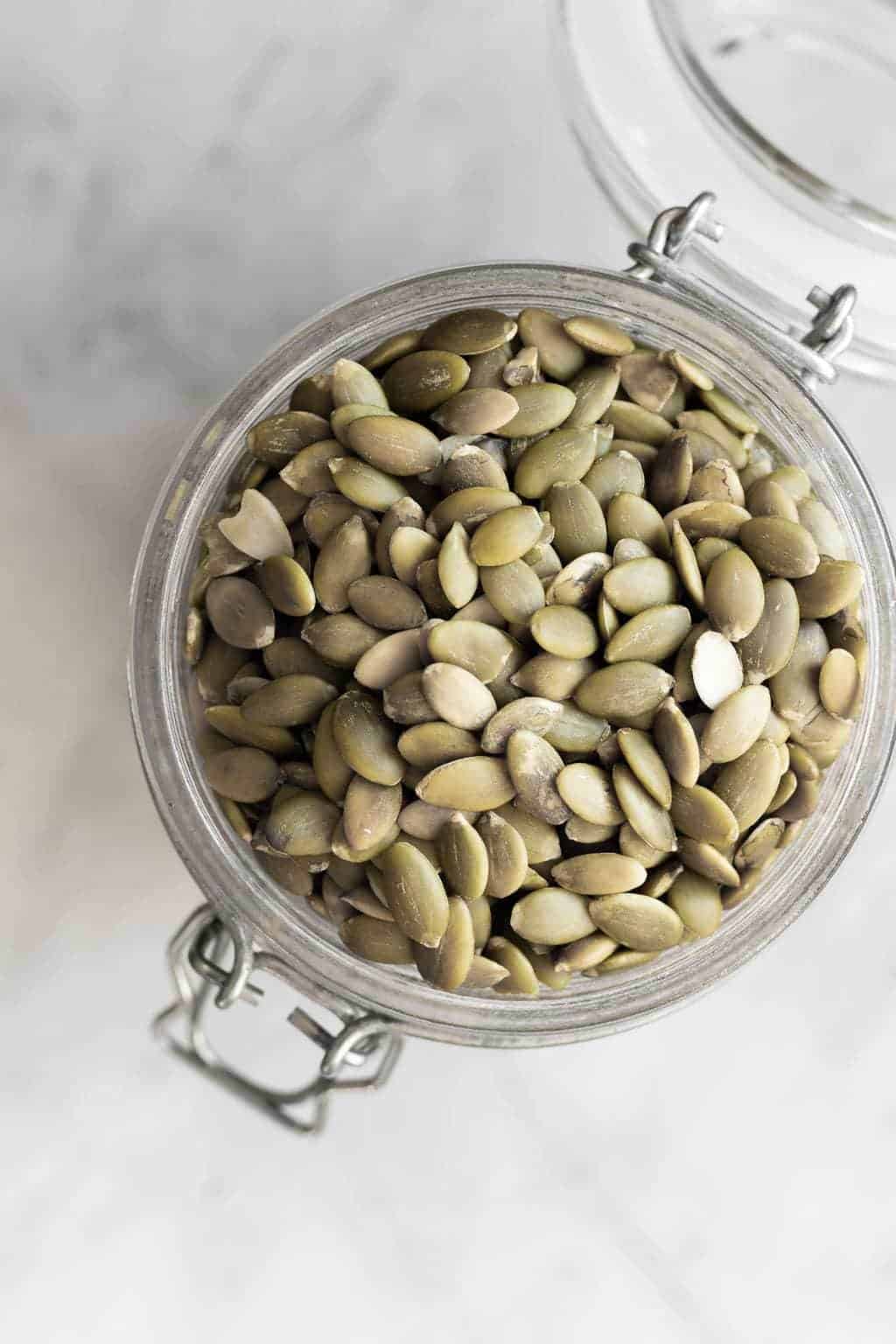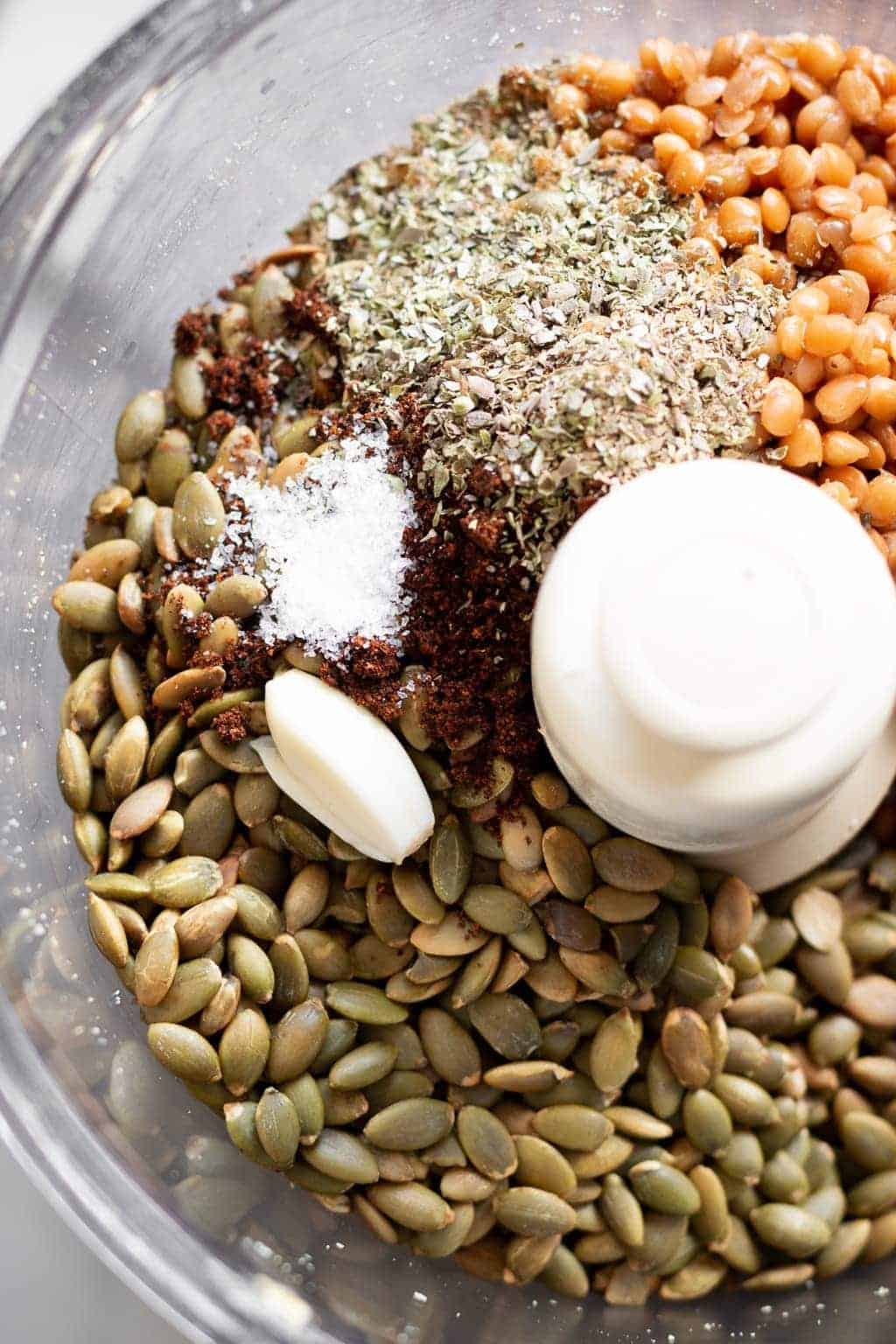 Trust me, you'll want to add this lentil taco meat to everything. It's incredibly easy, the
texture resembles ground meat (a bit) and it's packed with flavor thanks to chili powder, cumin, oregano and
garlic. If that's not convincing enough, this "meat" is also packed with protein, fiber and healthy fats.
Plant protein for the win!
All you need to make this recipe is a food processor (a blender may work as well). You start by roasting
your pepitas in the oven for 15 minutes. Then, add all the ingredients together in the food processor
and pulse it until it all comes together and looks like ground meat (ish).
You can use the meat just like that, or you can heat/cook it before serving. If you use the pepitas straight
from the oven, the meat will already be lightly warm, but you can certainly heat it up a bit more. Either
way is fine and delicious. To heat it up, I'd recommend using a skillet with a light drizzle of oil to keep it
moist. Toss it around for a few minutes and you're done!
Also, If you're looking for a quicker option, the microwave works to heat it up. Whichever way you decide to use this recipe, I hope it becomes your new favorite vegan protein.
Finally, a make-your-own taco tray with this lentil meat would make a good Super Bowl meal!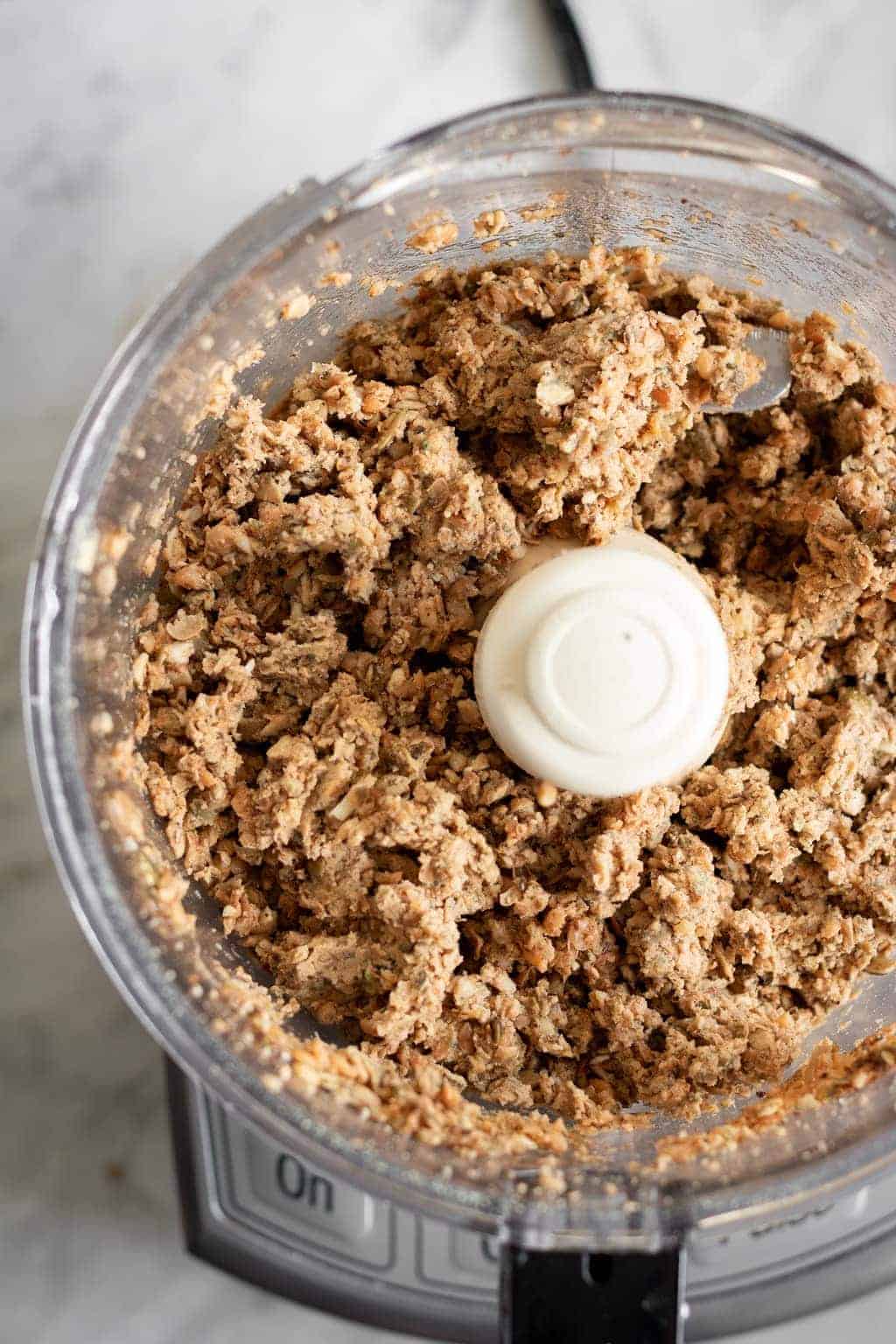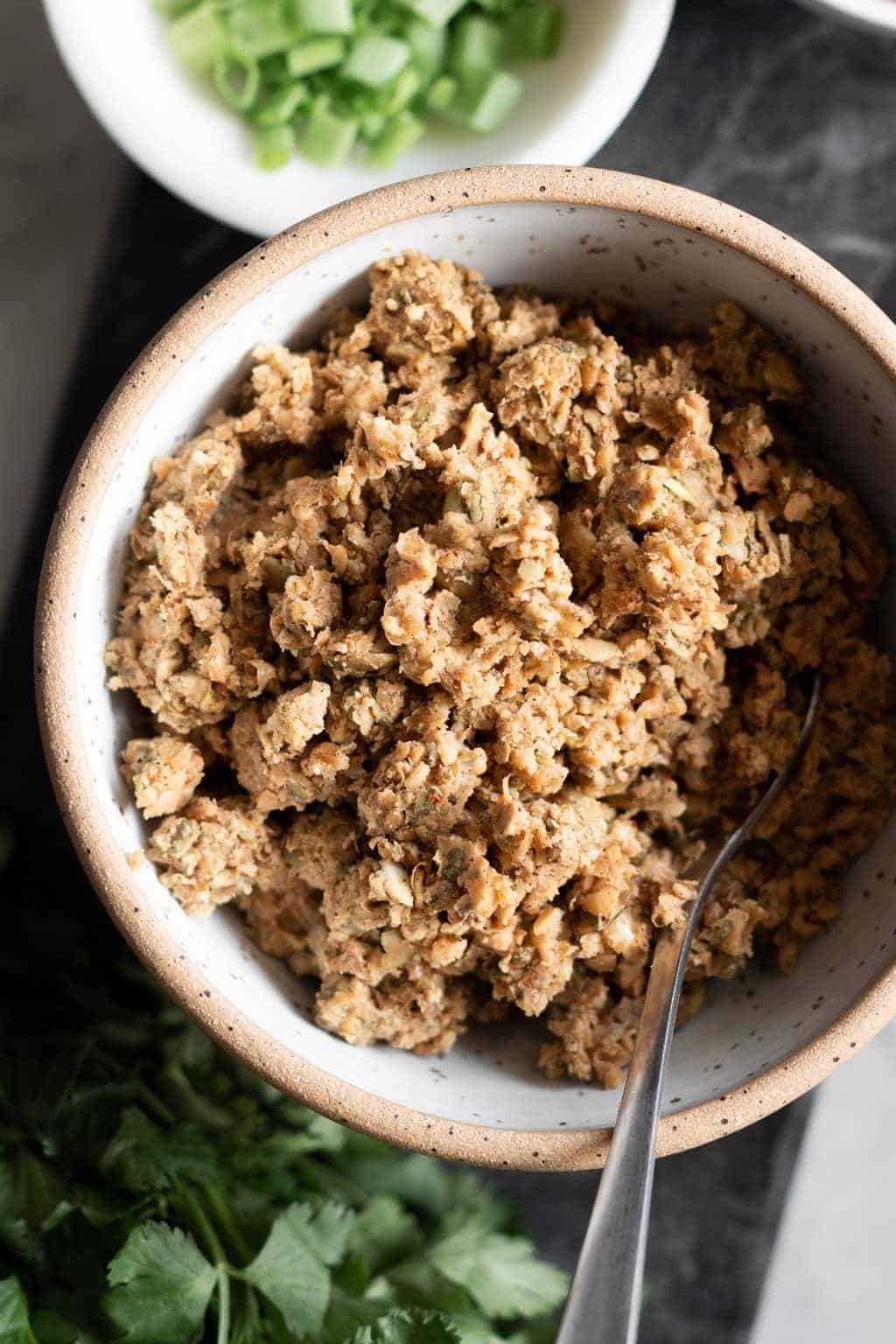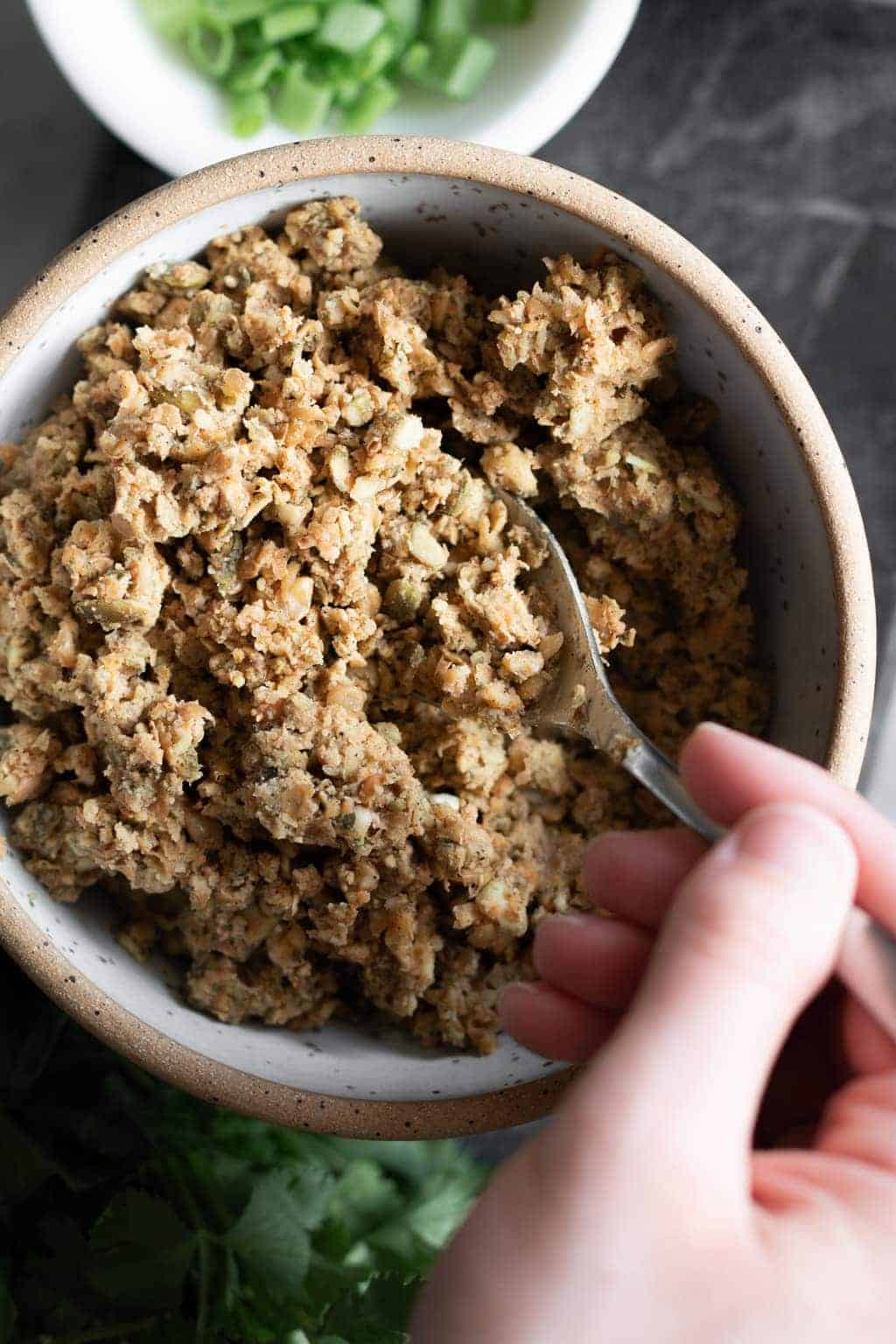 Simple Lentil Taco Meat
This lentil taco meat is made from lentils and roasted pepitas. It requires less than 15 minutes of preparation and can be used in many recipes, including burritos, bowls, tacos, salads and more!
Ingredients
1

540ml can (19oz)

lentils

1

cup

raw pepitas (pumpkin seeds)

1

garlic clove

2

teaspoons

chili powder

1 1/2

teaspoon

cumin,

ground

1

teaspoon

oregano

1/4

teaspoon

fine grain sea salt

1

tablespoon

olive oil
Instructions
Preheat oven to 300F. Spread the pepitas on a baking sheet in a single layer. Roast for 15 minutes or until lightly golden. Watch carefully in the last minutes to avoid burning.

Meanwhile, add the remaining ingredients to a food processor. Once the roasted pepitas are ready, add them to the food processor as well. Pulse until combined, about 30 seconds. Don't over process as you want to keep some texture from the seeds and lentils.

Serve as is in a burrito, burrito bowl, salad, taco or other recipe. You can also saute it in a skillet with a bit of oil before serving if desired.
If you try this recipe, make sure to tag your photo #unsweetenedcaroline on Instagram, Facebook and Twitter! Don't forget to also tag me @unsweetened.caroline on Instagram so I can see your creations!