Dark Chocolate Mint Truffles
Happy Friday!
Yes, I'm sharing a second recipe this week! I honestly don't know how I managed to do so, but I'm happy to be sharing these healthy dark chocolate mint truffles with you today. 🙂
My goal is to share two recipes every week until Christmas, so lets see how that goes! Every minute of free time I have from my internship is spent either on this blog or on my workouts. Okay my workouts aren't that long lately, but they still feel like a chore, which isn't usually the case. It's been like this since I started my internship and I don't know how I'm able to do it. I admit that I try to take about one hour each day to do something I like (the only thing keeping me sane right now!), such as watching my favorite show on Netflix. Hello Gilmore Girls! I finished the series (including the new mini series), so I'm not sure what I'll be doing next… I could read a book I suppose?
It seems that my brain doesn't want to read lately though. I was reading a book (Before I go to Sleep by S.J Watson) in September, but I never finished it. I gave up after renewing the book from the library for the third time… I was too ashamed to renew it a fourth time just to finish it. I blame this on my internship! Now I'm trying to read a second book (All the Light We Cannot See by Anthony Doerr) and I was smart enough to buy it this time so I have all the time I want to finish it. I'm curious how long that will take… Hah!
Don't get me wrong, I love reading! But since I started this blog and my internship, all I want to do on my limited free time is lay in bed and watch Netflix. I think I read for my internship enough as it is. Christmas break is in two weeks, so I'll make sure to schedule some down time to read on the couch with a steaming cup of coffee. All that's missing now is snow (seriously Saint John, where's the snow?!).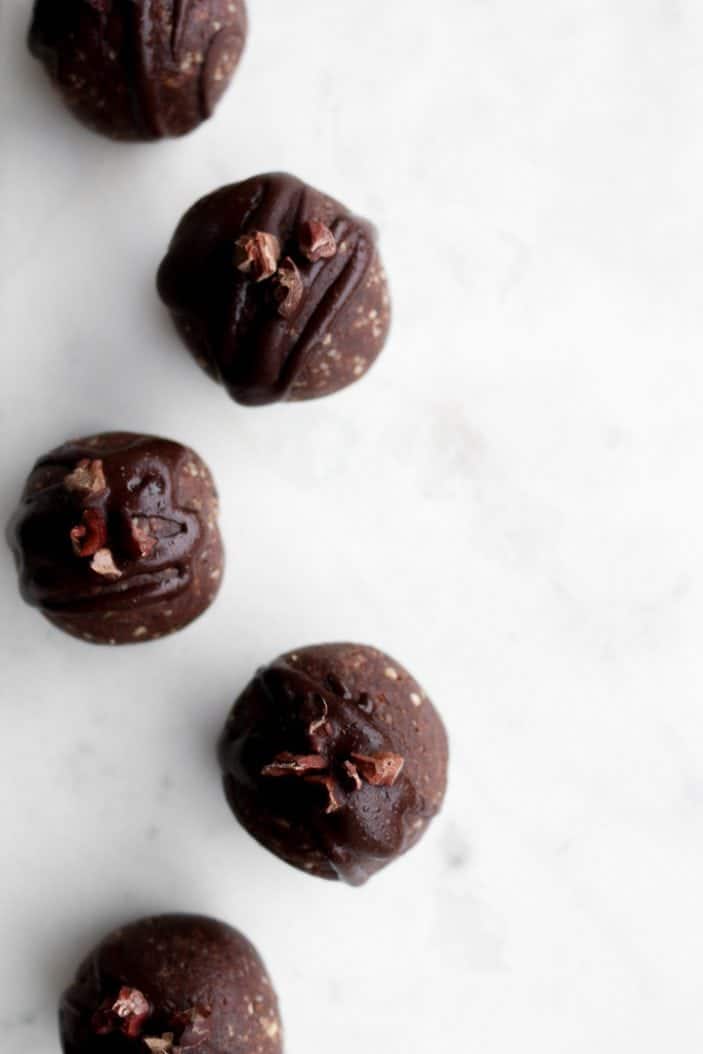 During my Christmas break, I'm also planning on eating all the healthy holiday treats. I have a possible cookie and hot chocolate recipe coming soon to the blog, which is why I'll be posting twice a week before Christmas. I'm sure you don't mind? 😉
Now let's talk about these truffles. I think they're Shaun's favorite. I know this because he specifically asked for a mint truffle after every meal until they were all gone (which was about 2 days after I made them). I won't laugh because I did the same thing.
It's a little dangerous because they're so easy to make. You just have to throw all the ingredients into a food processor, roll the mixture into little balls, drizzle them with chocolate (optional) and call it a day. See how dangerous that could be? I could satisfy a chocolate craving in less than 20 minutes and I'm not sure I would stop at just one. Oh well, I'm making them for Christmas, whether I gain 10 pounds or not.
I'm just kidding! They're just 92 calories each and quite rich, so one goes a long way. Yet another thing I love about these truffles!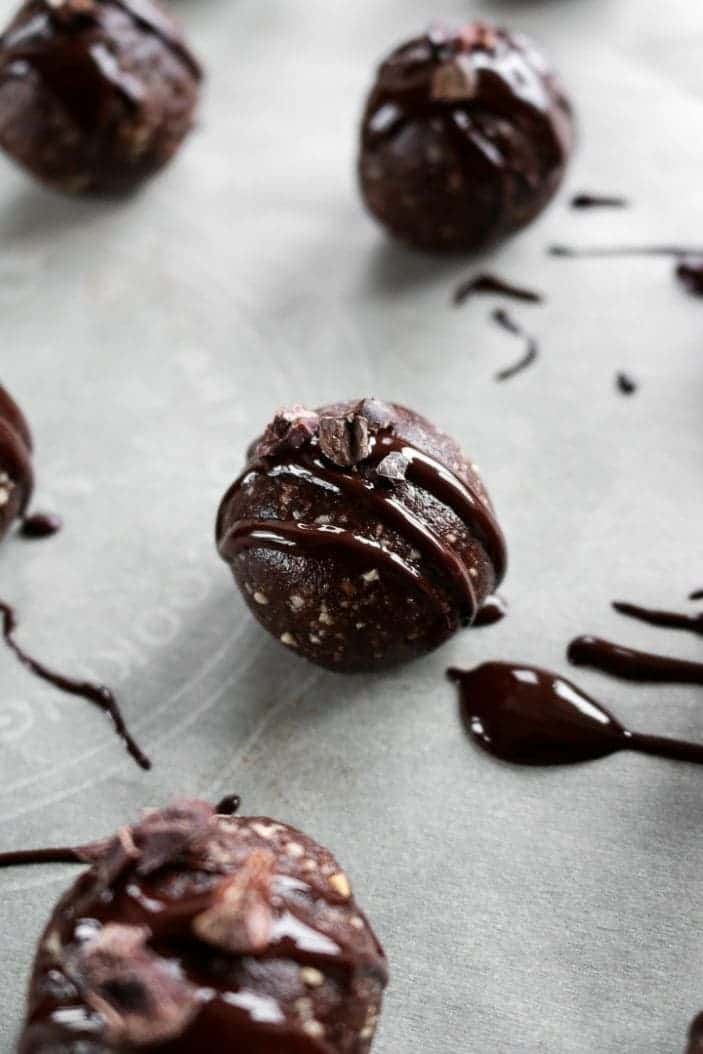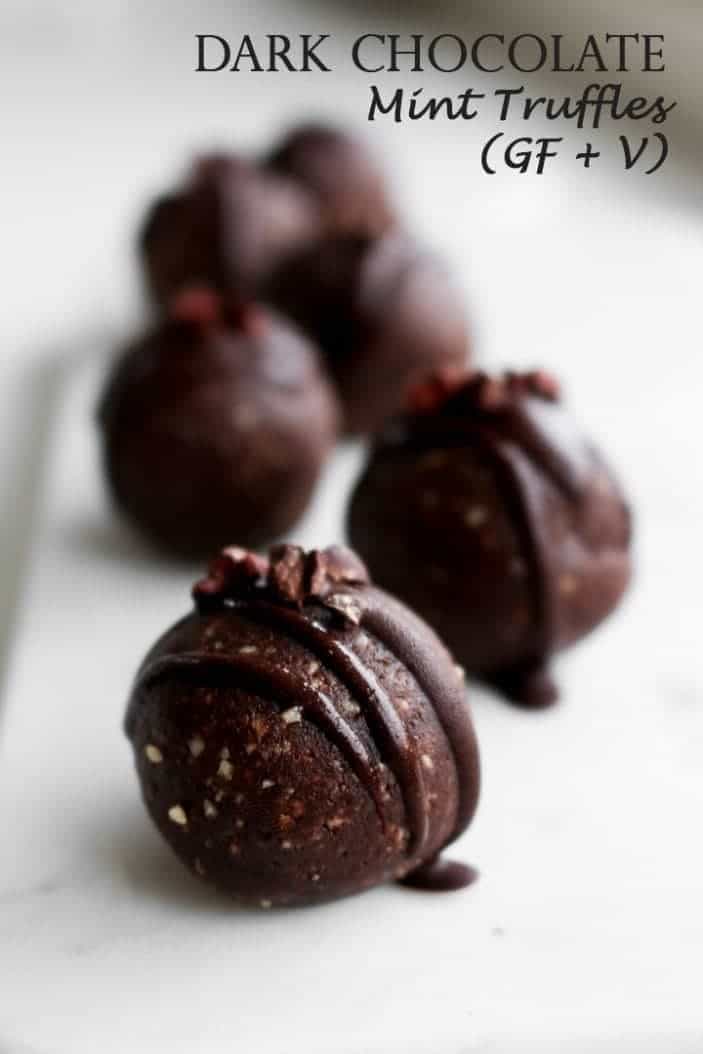 Anyway, I'll be bringing these truffles to every Christmas party I go to… which means one… at my parents' place. My life is so exciting, it's crazy.
I love it though. There's nothing like a quiet Christmas with the family. 🙂
Dark Chocolate Mint Truffles
20 minutes, one bowl and 5 ingredients. That's all it takes to have a batch of rich chocolate mint truffles. Plus they're vegan, gluten-free, sweetened with dates and utterly addicting!
Ingredients
1

cup

cashews,

raw

1/2

cup

Medjool dates,

pitted

2 1/2

tablespoons

unsweetened cocoa powder

1/4-1/2

teaspoon

peppermint extract

2

tablespoons

unsweetened chocolate

(or dark chocolate)

Cocoa nibs for toppings

(optional)
Instructions
Line a cookie sheet with parchment paper. Set aside.

Add your cashews, dates, cocoa powder and mint extract in a food processor. Blend for 2-3 minutes until the mixture forms a ball or until the mixture holds together when pressed between your fingers.

Form 12 little balls by rolling the mixture between your palms. Place them on the prepared cookie sheet.

Melt your unsweetened chocolate (I used the microwave) and drizzle over the truffles. Top with a few cocoa nibs if desired.

Let them set in the freezer until the chocolate hardens.
Notes
Store in an airtight container in the freezer or in the fridge.
Start with 1/4 teaspoon of mint extract, taste the mixture, then add another 1/4 teaspoon if you like a stronger mint flavor. I know I do!
If you try this recipe, make sure to tag your photo #unsweetenedcaroline on Instagram, Facebook and Twitter! Don't forget to also tag me @unsweetened.caroline on Instagram so I can see your creations!