Creamy Carrot Top Avocado Sauce
Do NOT throw away your carrot tops! Save them and make this creamy carrot top avocado sauce as soon as possible.
Did you even know that carrot tops are edible? I never thought about it before this year. When you think about it, we're throwing away perfectly good food…
My old roommate Catherine and I bought a plot in our local community garden this year, so I've got a few things growing. I planted a few herbs, lettuce and then 3 rows of carrots. Clearly I had to find a way to use up all those carrots and their greens. Not only that, but my parents also have a large garden where I regularly stock up on fresh produce. They've got parsley, basil, cucumbers, tomatoes, bell peppers, Swiss chard, beets, lettuce, kale, green beans, green onions, raspberries, rhubarb and of course carrots… It's the best! Free produce all summer!
However, I always end up getting a little overexcited and bringing home way more than I can eat. This results in me, stressing over food waste and adding vegetables to everything – basically how I ended up with this sauce. If there's one thing I absolutely can't stand, it's food waste. I feel like crying every time I throw away food… I may or may not be exaggerating. For that reason, I make sure it (almost) never happens.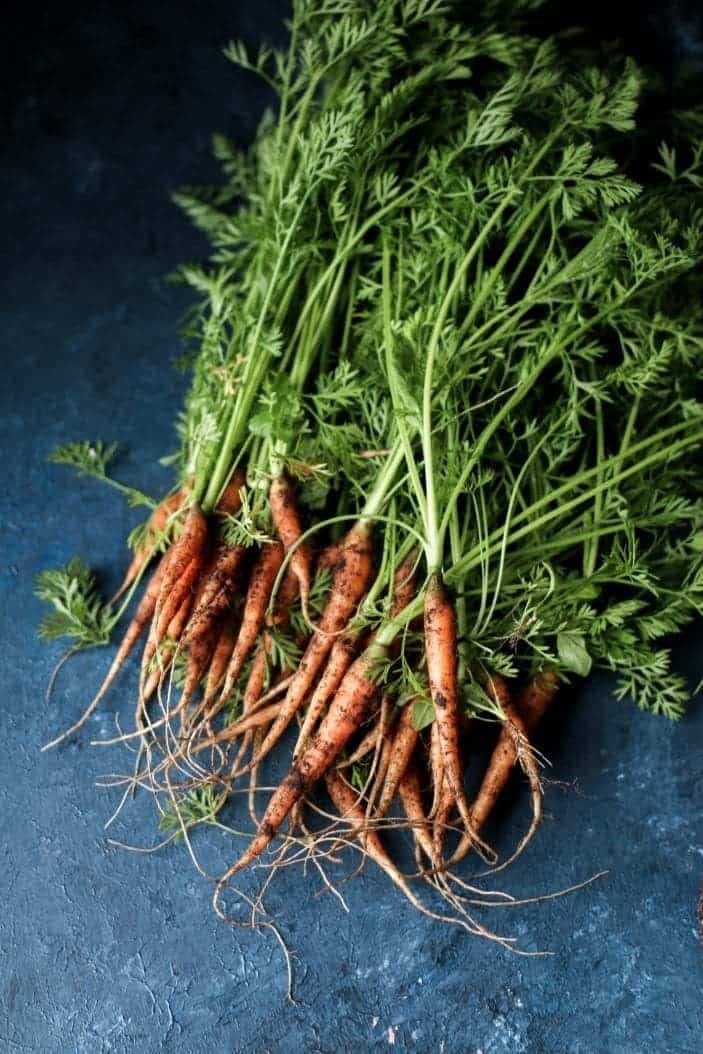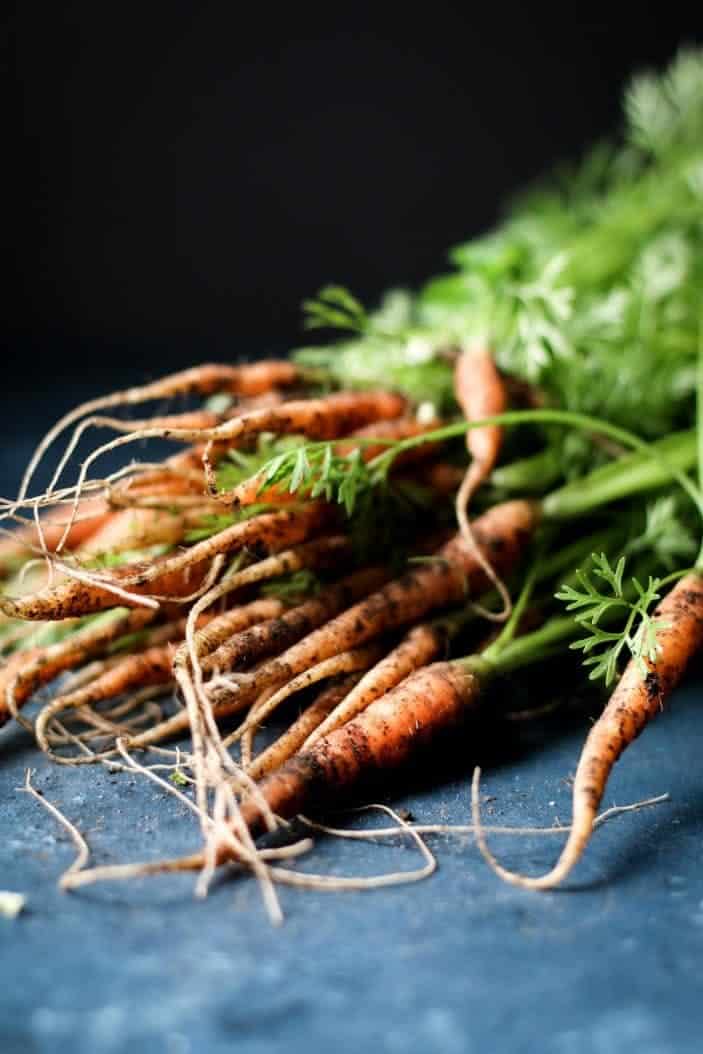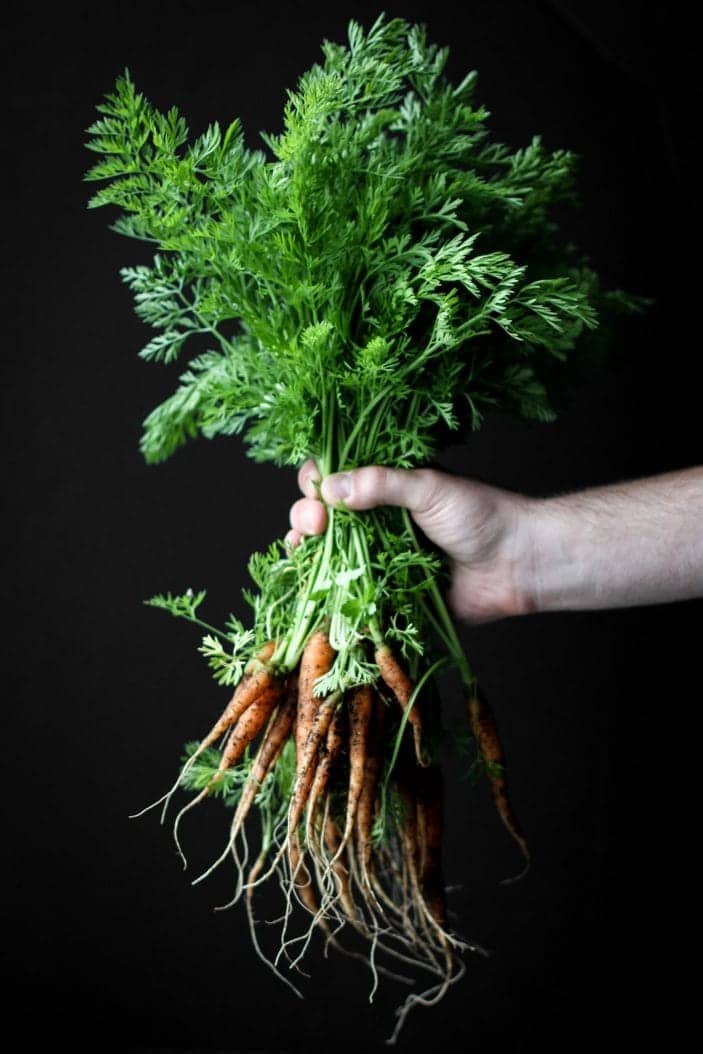 Last Saturday, I went for a hike first thing in the morning and stopped by our garden to pick up some carrots for a soup I'm making this week. After photographing the carrots (see the pictures above), I washed the carrots and saved them for the soup. I then cut off the tops and made a few batches of this creamy carrot top avocado sauce. Absolutely no waste!
Up to this point, I enjoyed the sauce as a salad dressing, a sandwich spread and a pasta sauce. I'm planning to use it as a pizza sauce, a veggie burger topping and more in the near future. If you try it in other recipes, please let me know! I would love to know how you use this creamy carrot top avocado sauce.
If you have a garden, I really hope you give this a try using your fresh carrot greens! If not, I highly encourage you to buy some at the market this week. It's truly life changing.
I'm not kidding when I say that this sauce is the best sauce I've ever had in my life. Better than pesto (in my opinion). Not only is it delicious, but it's packed with healthy ingredients. Carrot tops, avocado, olive oil, pumpkin seeds, garlic, lime juice, fresh herbs… The sauce is filled with vitamins, minerals and healthy fats.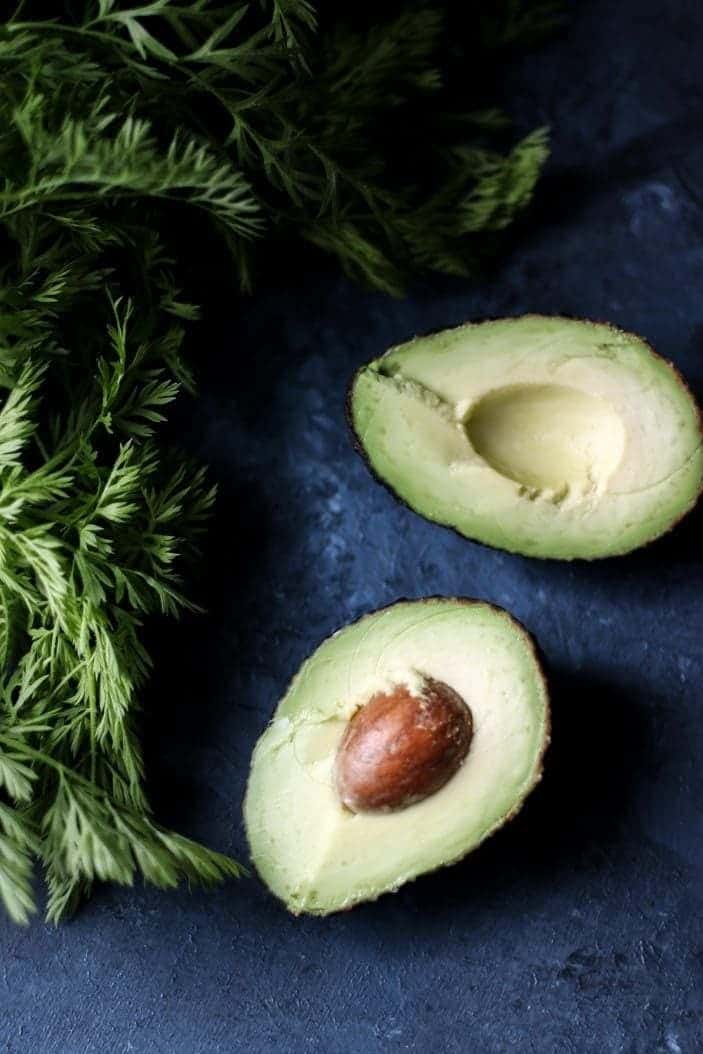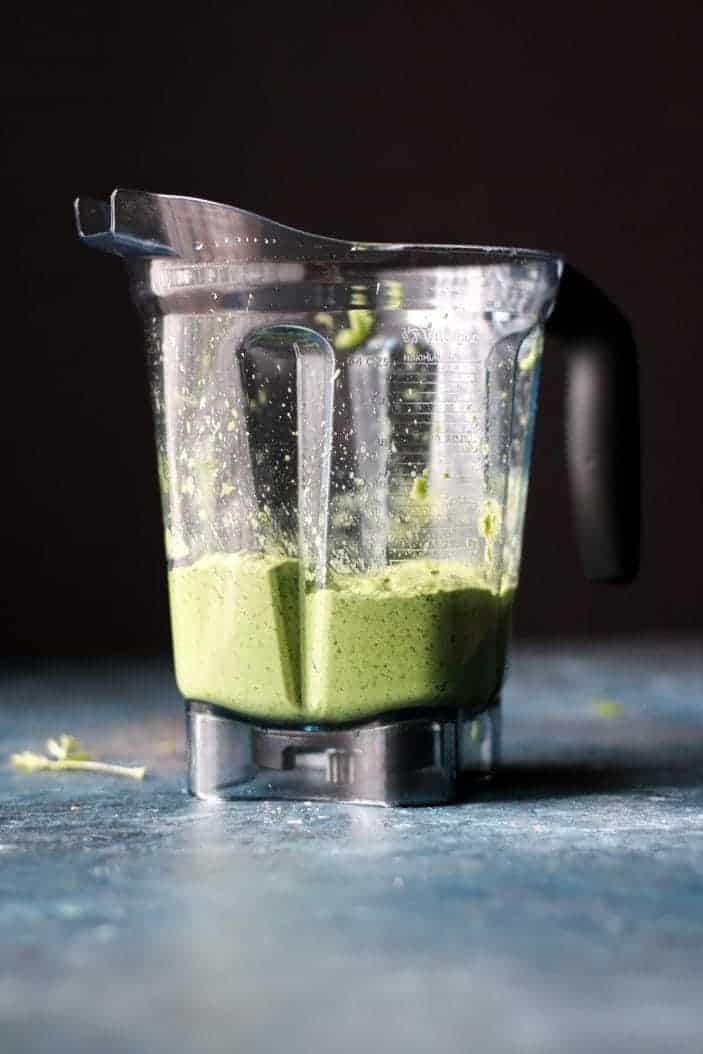 The best part about this recipe? It's quick and easy to whip up! To make the sauce, all you need to do is roast the pepita seeds, then throw all the ingredients in a high-speed blender. I use a vitamix, so if you don't have a strong blender, you may need to add a bit more water… Or maybe try a food processor if your blender is too small! It should result in a thick, creamy sauce. No big chunks or seeds! To use it as a salad dressing, you can add a few tablespoons of water to make it thinner. For a pasta or pizza sauce, I find that 1 tablespoon works well. You get a thick, yet creamy sauce that spreads well and coats pasta perfectly. Similar to a creamy pesto! With a bit of a guacamole taste because of the cilantro, avocado and lime.
Funny thing, initially, I wanted to make a pesto with my carrot tops. It seems that pesto is the only thing people use carrot tops for… I wanted to give it a try, but I didn't have Parmesan or basil on hand… Basically the two main ingredients in pesto. Instead, I just threw random ingredients in the blender and came up with this, which honestly, I love even more! And it doesn't even have Parmesan cheese. It's VEGAN and perfectly delicious. Have I convinced you yet? I sure hope you'll give this a chance and maybe take advantage of carrot season!
This sauce can be kept in the fridge for about a week – I keep it in a mason jar. It turns a little darker with time, but it still stays green and won't turn brown like other avocado recipes. Or at least it doesn't for me. Just make sure it's in an airtight container. Make a batch and enjoy it in several recipes all week long!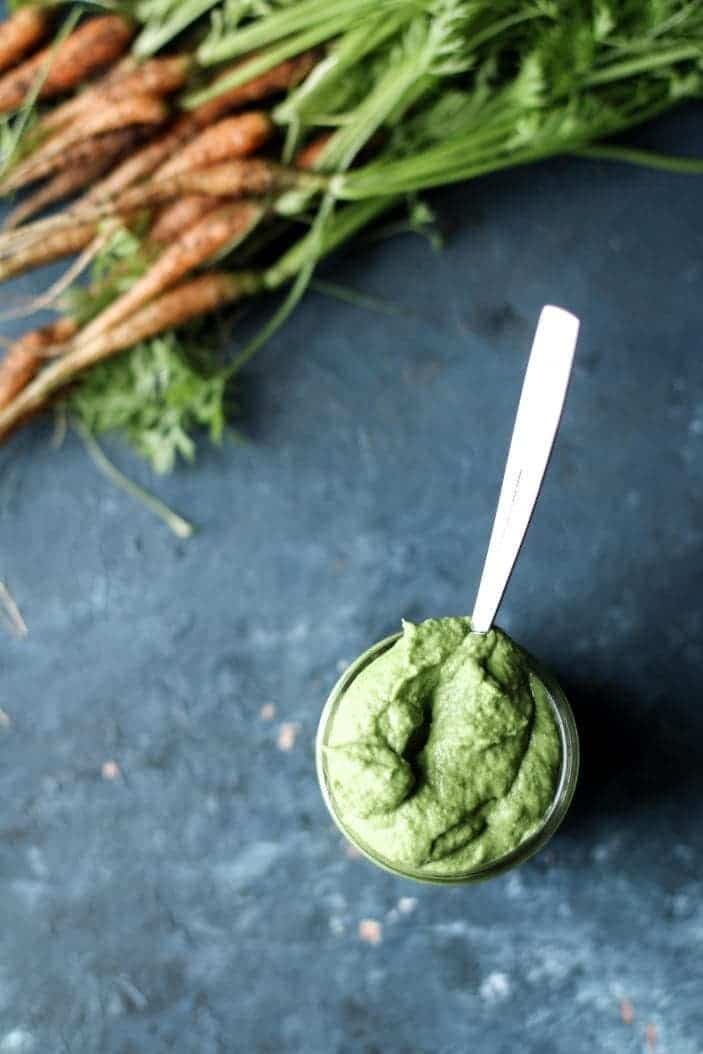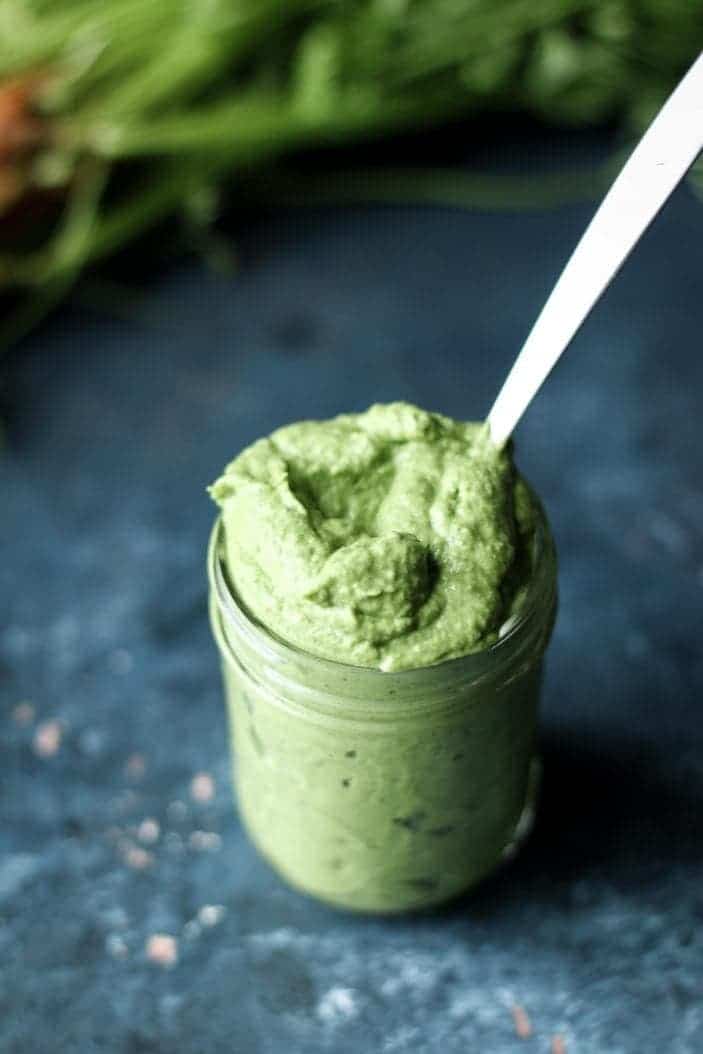 Creamy Carrot Top Avocado Sauce
This creamy carrot top sauce is packed with nutrients and flavor. You'll want to add it to everything! Think pasta sauce, pizza sauce, sandwich spread, salad dressing and more! Instead of wasting your carrot tops, why not use it to make this versatile and delicious sauce?!
Ingredients
1/4

cup

raw pepita seeds (pumpkin seeds)

2

cups

carrot top (greens),

lightly packed

1/2

cup

fresh cilantro,

lightly packed

1

large

avocado or 2 small (about 1 cup),

pitted

1/2

cup

olive oil

1/4

cup

lime juice

2

large

garlic cloves

1/2

teaspoon

fine grain sea salt

Water as needed
Instructions
Preheat oven at 350F.

Roast pepita seeds on a baking sheet for 8 minutes, making sure they don't burn.

Meanwhile, add the carrot tops, cilantro, parsley, avocado, olive oil, lime juice, garlic and salt in a high-speed blender.

When the pepita seeds are done roasting, transfer to the blender with the other ingredients. Blend on high speed until smooth. Add water as needed to reach your desired thickness.
Notes
To use as a salad dressing, you may want to add a few tablespoons of water. For a pasta or pizza sauce, 1 tablespoon may be sufficient.
Keep in an airtight container in the refrigerator for up to a week.
If you try this recipe, make sure to tag your photo #unsweetenedcaroline on Instagram, Facebook and Twitter! Don't forget to also tag me @unsweetened.caroline on Instagram so I can see your creations!
PS: We're planning a road trip to Gaspésie this weekend, so if you're familiar with the area, I would appreciate your suggestions on places to visit and eat! Thank you!