My new favorite breakfast? Carrot cake oatmeal.
If you love carrot cake or if you're trying to incorporate more vegetables into your diet, you need to try this recipe! Actually, even if you're just looking for a new breakfast idea, you need this recipe in your life. One bowl holds one whole carrot or half a cup of shredded carrots. See? You can add one serving of vegetables to your day by eating a delicious bowl of oatmeal for breakfast. Take that, green smoothie! Another thing I like about this recipe? Carrots add volume, which means more goodness without much more calories… I always have a big appetite in the morning, so the more, the better!
On another note, how was your second week of 2017? Mine was very busy. I started the second clinical rotation of my internship which is in pediatrics, obstetrics/gynecology and palliative care. Basically, I spent all week working with babies and young type 1 diabetics. I learned about insulin pumps and I wore one for a day (it was such an interesting experience). I also saw mothers with their babies about breastfeeding, introducing solids, allergies and poor growth. I'm a little excited to see what this new week has to offer! Not that I ever wanted the weekend to be over…
Seriously, where has the weekend gone? I feel like I haven't had the time to relax. Saturday I spent the morning reading about diabetes, I did the groceries and then spent the afternoon testing granola bar recipes for the blog. I did watch a movie with Shaun in the evening to relax a bit. Sunday, I once again spent the morning reading for my internship (this time about diabetes and weaning). In the afternoon, I did some meal prep for the week, including a quinoa salad, some hummus and veggies, homemade sunflower seed butter (a success!) and a big homemade soup that used up all the leftover ingredients I had in my fridge. Don't you just love when you can make a soup that uses up all the ingredients that are about to go bad? I hate wasting food, so I love finding ways to use older ingredients.
I did take some time Sunday to go for a walk with Shaun. The park 5 minutes from our apartment has many lakes and the one we walked around was completely frozen. People were skating on it, so we decided to walk on the ice for a while. I've never walked on a frozen lake like this one before, it was so much fun! The closest thing we had to a big lake at our old apartment was a pond… Hah. If I stay in Saint John next year as well, I might have to get myself some skates instead of sliding around in my boots. Ah I love winter! Especially when it involves healthy comfort food like this oatmeal.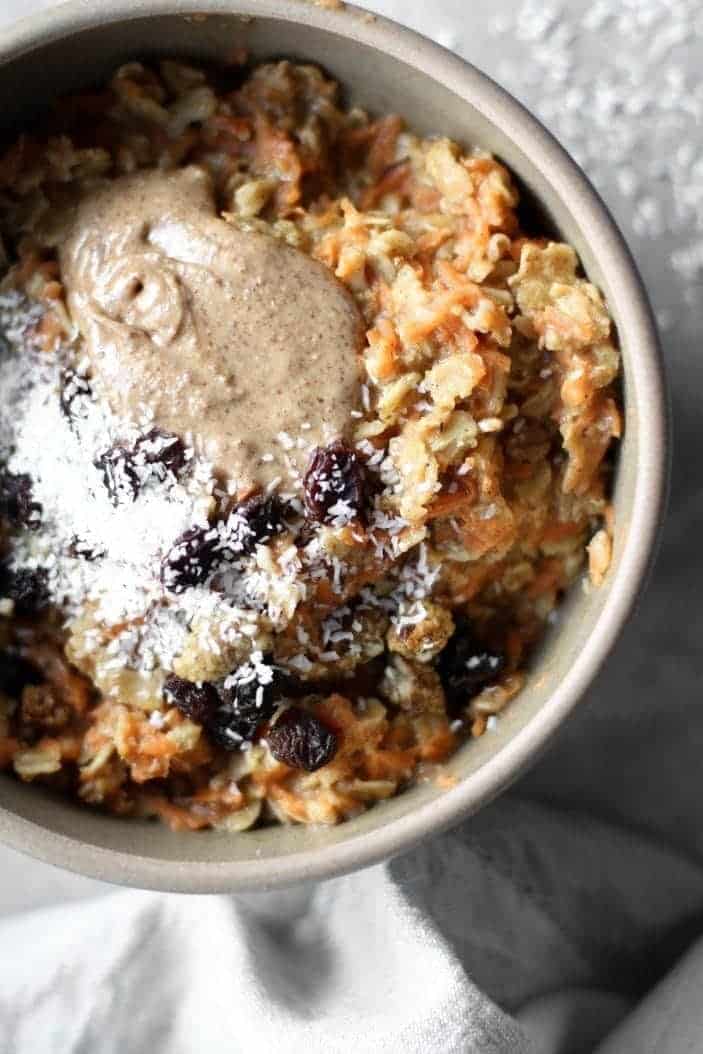 About this oatmeal.
The most important thing to keep in mind when making this recipe is to shred the carrots very finely! Don't use the large cheese grater for this one. This way, your carrots will blend and cook beautifully with the oats without giving an unpleasant texture. You'll get a delicious bowl of creamy oats AND a full serving of vegetables.
All you need to do is add your shredded carrots along with your oats, milk, dates, vanilla extract, ground ginger, nutmeg and cinnamon in a small pot. You bring everything to a boil, then let it simmer until the liquid is absorbed. It's as easy as any regular oatmeal! There's only one extra step, which is shredding the carrots.
Enjoy this comforting bowl of oatmeal! It's like a warm hug on a cold day. 🙂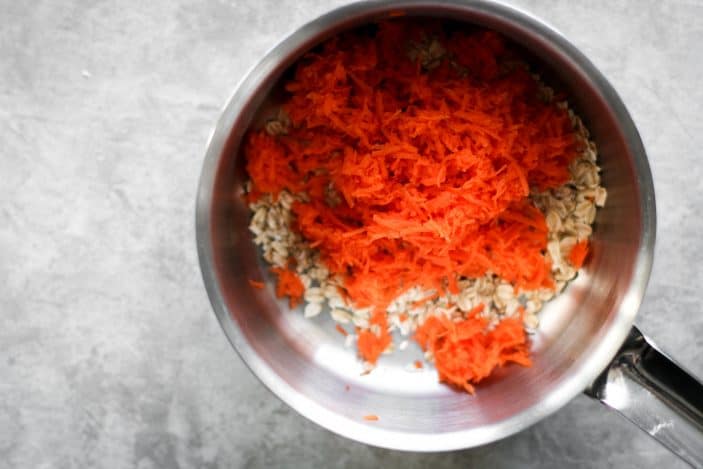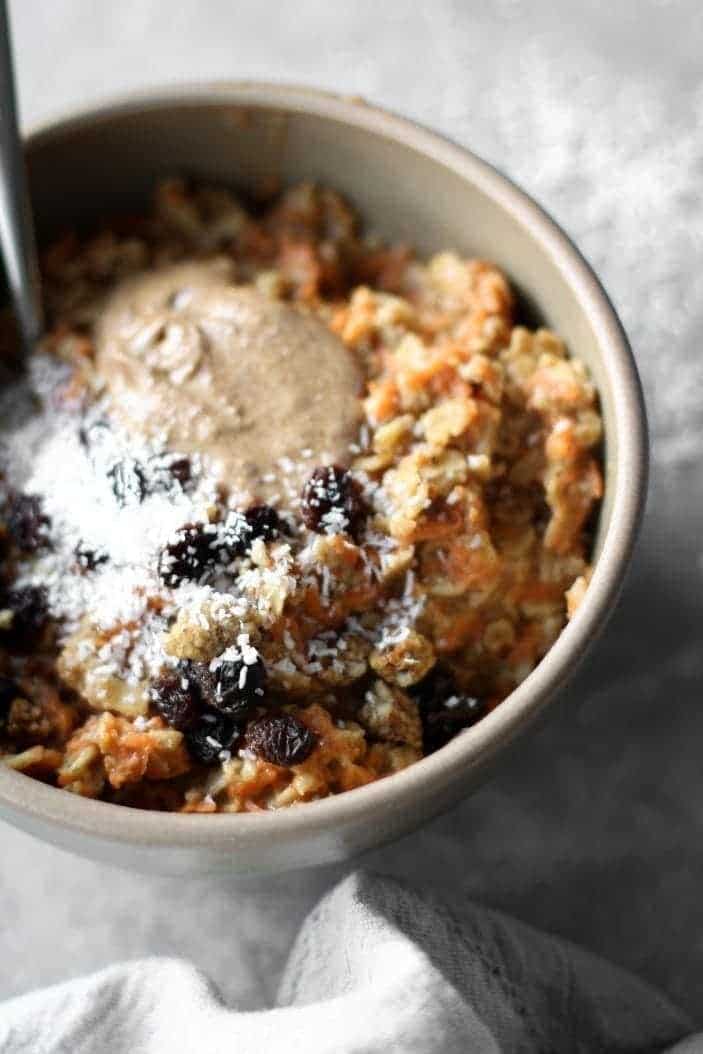 Cozy Carrot Cake Oatmeal
Oatmeal that tastes like carrot cake? Yes please! Not only is it delicious and comforting, but this oatmeal also contains one serving of vegetables. I'd say it's a great way to start the day! Perfectly spiced with ginger, nutmeg and cinnamon, these oats are sweetened with dates only.
Ingredients
1

cup

rolled oats

1

cup

light coconut milk,

canned

1

cup

unsweetened almond milk

1

cup

carrot,

finely grated (about 2 medium)

4

Medjool dates,

pitted

1/2

teaspoon

vanilla extract

1/4

teaspoon

ginger,

ground

1/2

teaspoon

cinnamon,

ground

Pinch of nutmeg
Suggested Toppings
Sunflower seed butter or almond butter

Raisins

Dried mulberries

shredded coconut

chopped walnuts

coconut whipped cream
Instructions
Add oats, milk, grated carrots, vanilla, ginger, cinnamon and nutmeg in a small saucepan. Chop the dates finely and add them to the other ingredients.

Bring to a boil, then let simmer over medium heat for 5 minutes or until the liquid is absorbed. Stir the oats a few times while cooking to avoid sticking to the pan.

Add desired toppings and enjoy!
Notes
You can use maple syrup to taste instead of dates if preferred.
Make sure to shred the carrots very finely! Don't use a large cheese grater for this one.
If you try this recipe, make sure to tag your photo #unsweetenedcaroline on Instagram, Facebook and Twitter! Don't forget to also tag me @unsweetened.caroline on Instagram so I can see your creations!