Cinnamon Butterbeer Latte
This is how I intend to celebrate Halloween this year: Watching Harry Potter and drinking a cinnamon butterbeer latte.
If it wasn't obvious before, it is now. I love everything Harry Potter.
Proof: I have Harry Potter wands in my bedroom that Shaun and I got as a gift from his father. I have two Harry potter decorations on my walls (one with the deathly hallows symbol and the other is a papier-mâché on a canvas using pages of an old Harry Potter book). And of course I read the books and watched the movies countless times.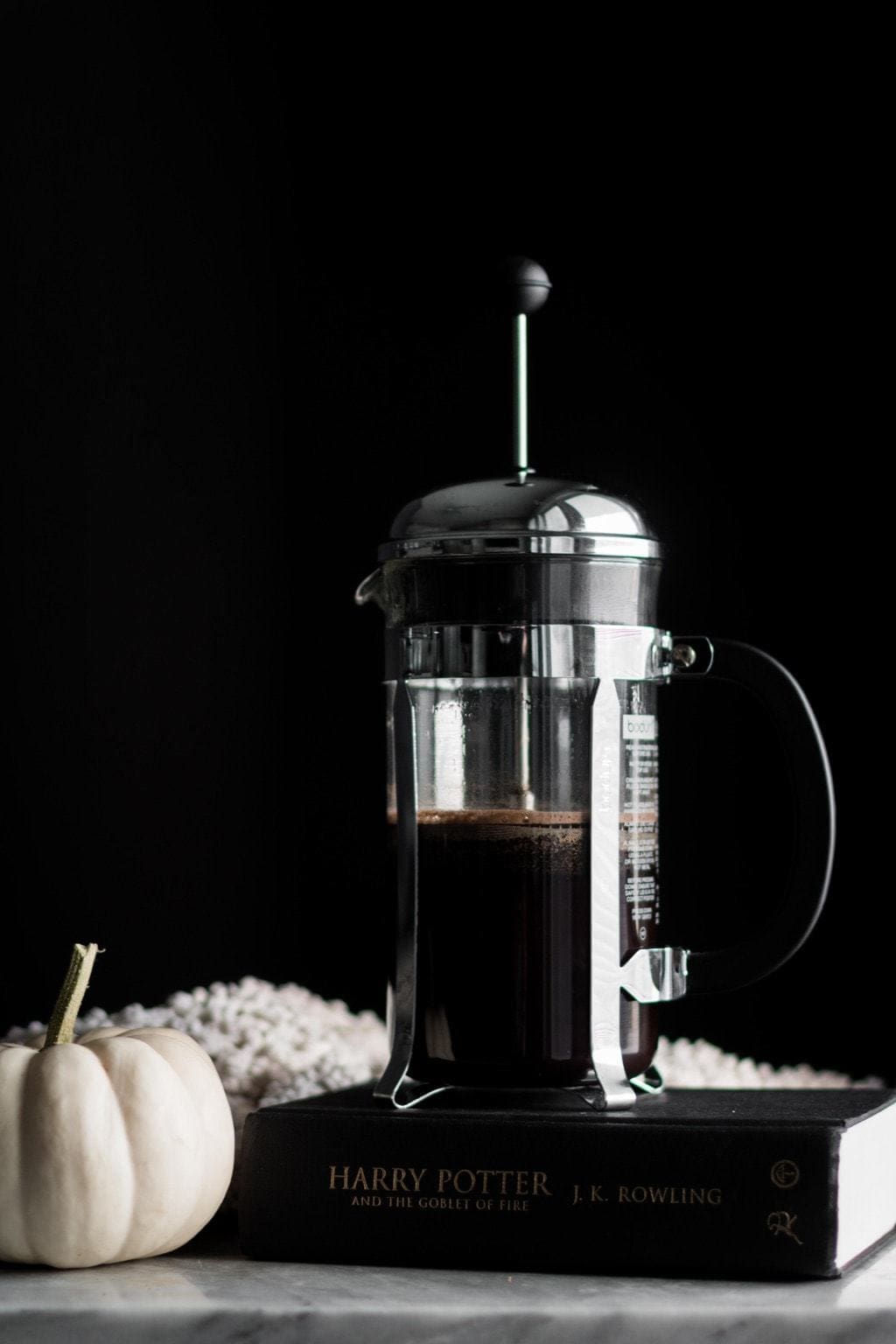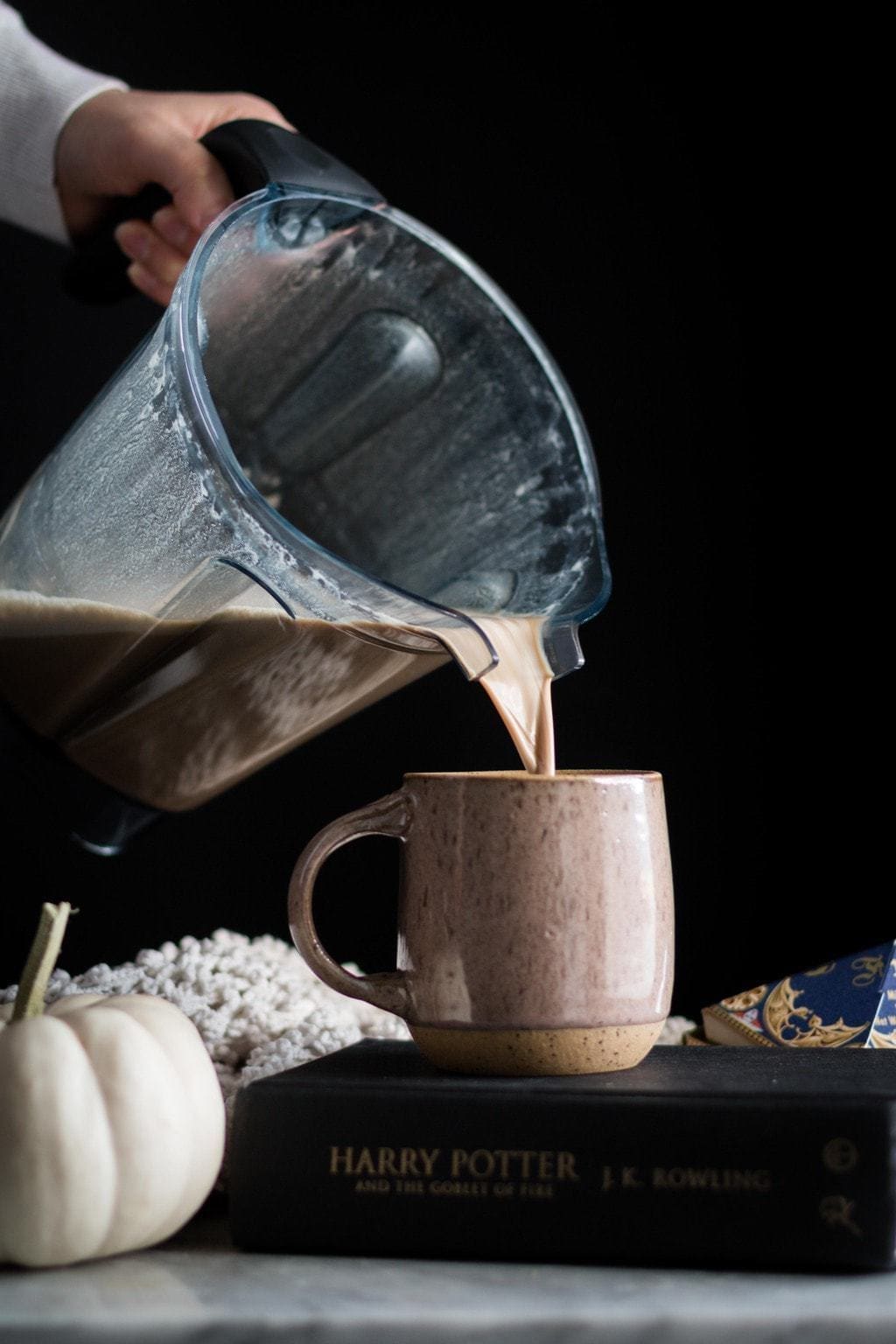 So yes, I love the series and I love it even more this time of year. I'm not sure why, but there's something about the cozy months that makes me crave those books.
Whether or not you like Harry Potter, I encourage you to try this latte. It's perfectly sweetened with dates (or maple syrup) with a hint of butter flavor. Also, it's creamy, frothy and of course healthy(ish)! It's everything I love in a latte.
While it may be weird to add butter to a drink, I'm here to tell you that it's delicious and it makes for a great treat. Also, this recipe makes 2 servings, so the amount you're drinking is minimal and used only for the taste. If you're not set on adding butter, then feel free to skip it for a simple cinnamon latte or use butter extract. I can't guarantee that the latter will be good as it's not something I've ever used myself, but apparently it exists and it has been used in other butterbeer recipes out there. So I don't know. If it's something you have at home, you could try it?
Also, yes there is such a thing as a bullet proof coffee, which is basically coffee with butter or coconut oil. I've never made it and I never will. I'm not adding the butter for some kind of inexistent health benefit; it's just here for the butter flavor in butterbeer. It's a delicious Harry Potter treat and that is all.
Finally, this recipe is similar to my other favorite latte recipes (see my pumpkin spice latte, my peppermint mocha, my chai latte and matcha latte). It's made in a blender with cashews, dates and flavor boosters – In this case, cinnamon, butter and vanilla. Everything, along with hot coffee, is blended together for a delicious frothy drink.
If you haven't tried the deliciousness that is a cashew latte, you need to try it now. Trust me, its life changing.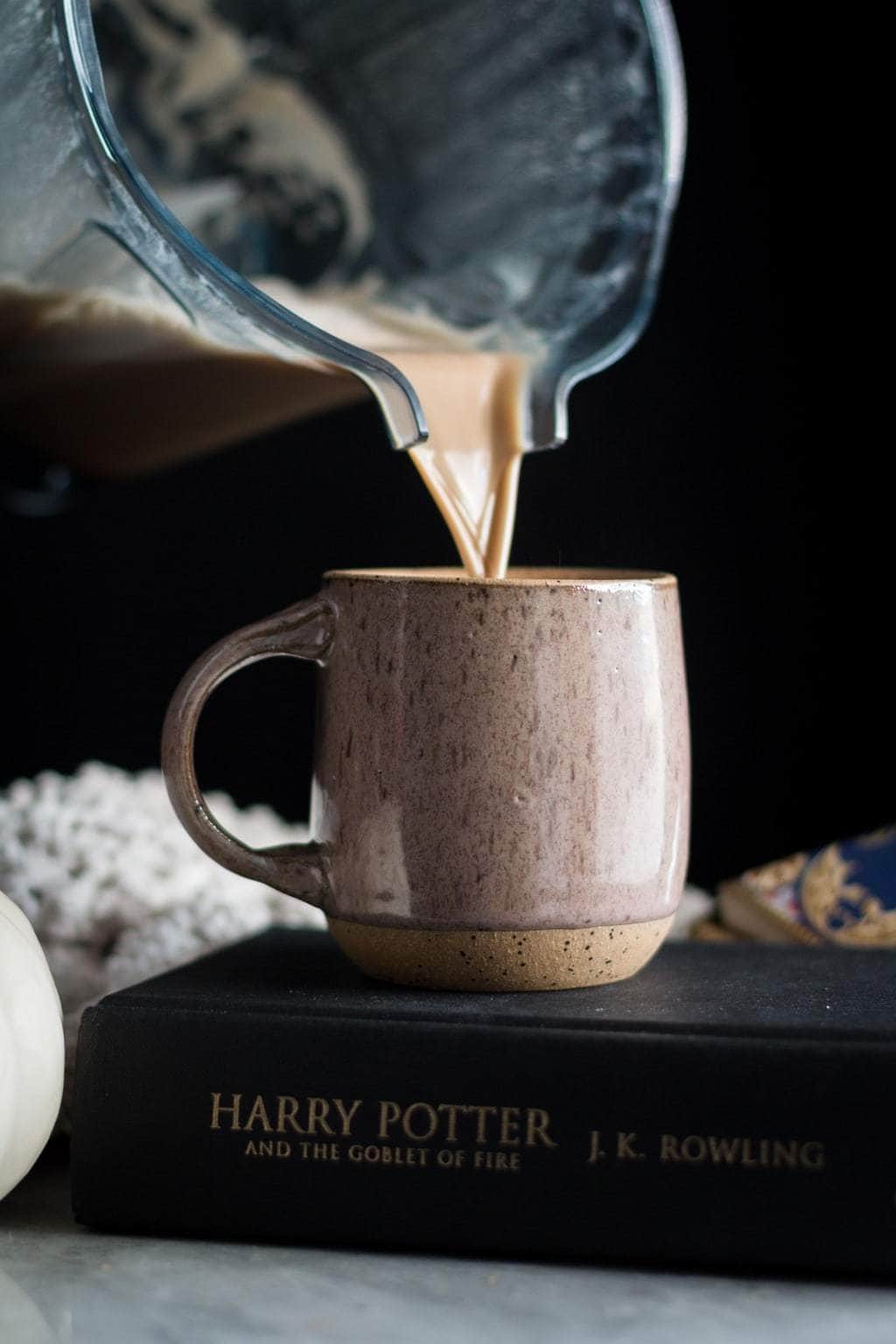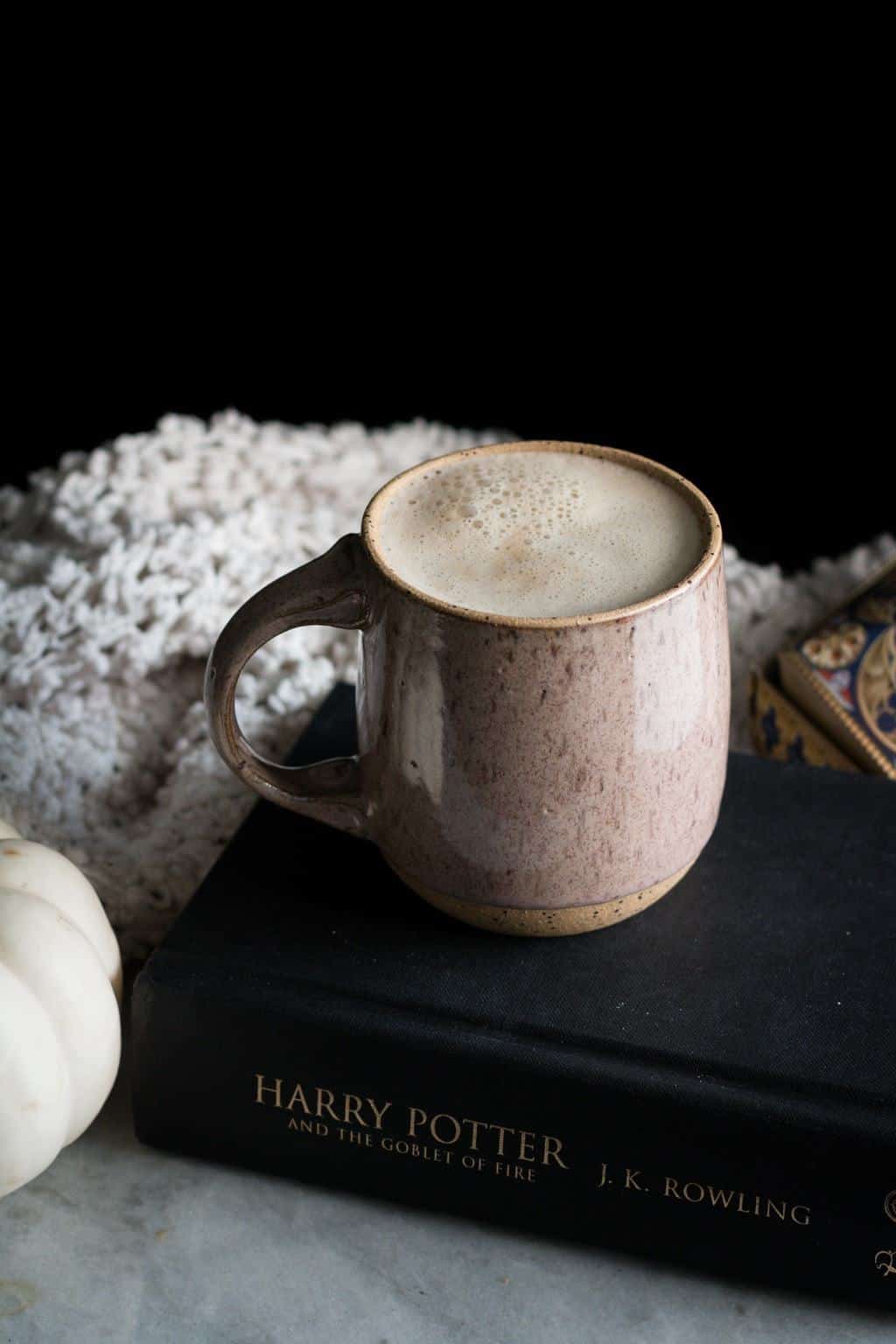 Just close your eyes, take a sip and imagine you're in Hogsmeade.
Cinnamon Butterbeer Latte
A healthy(ish) latte inspired by Harry Potter. This butterbeer latte is made from coffee, cashews, dates, vanilla, cinnamon and a touch of butter. All the ingredients are blended together to make a frothy, comforting drink.
Ingredients
2 1/2

cups

prepared coffee

1/4

cup

raw or dry roasted, unsalted cashews

2

Medjool dates

(or maple syrup to taste)

1/2

teaspoon

salted butter

(or margarine)

1/4

teaspoon

vanilla extract

1/4

teaspoon

cinnamon,

ground

Pinch of

salt
Instructions
Prepare your coffee using your prefered method. I used a french press.

Add all the ingredients, including the prepared coffee to a high-speed blender. Blend for 30 seconds or until smooth and frothy.
Notes
If using a good high-speed blender, you shouldn't have any pieces of cashews or dates in your drink. If you have a weaker blender, you may need to strain the drink using a fine mesh sieve.
For a vegan option, use vegan butter. I use this vegan margarine.
Feel free to omit the butter for a simple cinnamon latte.
If you try this recipe, make sure to tag your photo #unsweetenedcaroline on Instagram, Facebook and Twitter! Don't forget to also tag me @unsweetened.caroline on Instagram so I can see your creations!