Blender Mocha Cashew Latte
Blender mocha cashew latte. A simple latte made in the blender. This mocha is made creamy thanks to cashews and is sweetened with dates! It makes for a perfect cozy, yet nutritious drink during the colder months.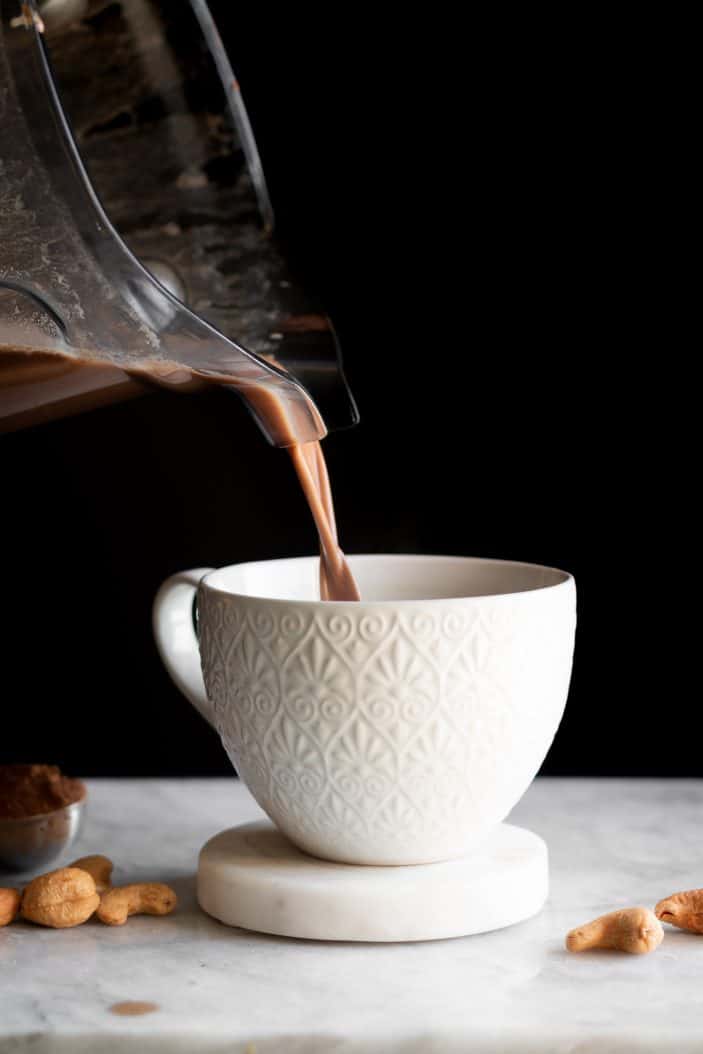 It's official. We're married!
We got married this past Saturday and I can honestly say that it was the best day of my life. Everything went perfectly (or at least almost perfectly) and I can't stop smiling. We spent last night on the plane and we officially landed in Barcelona. Our adventure begins!
As we're waiting for our bus at the airport, I'm just stopping by to share this cozy drink I created this summer for you guys.
If you've been following the blog for a while, you may know by now how much I love my cozy drinks. Coffee, matcha, lattes, anything. This latte is a simple blender drink that takes less than 5 minutes to prepare.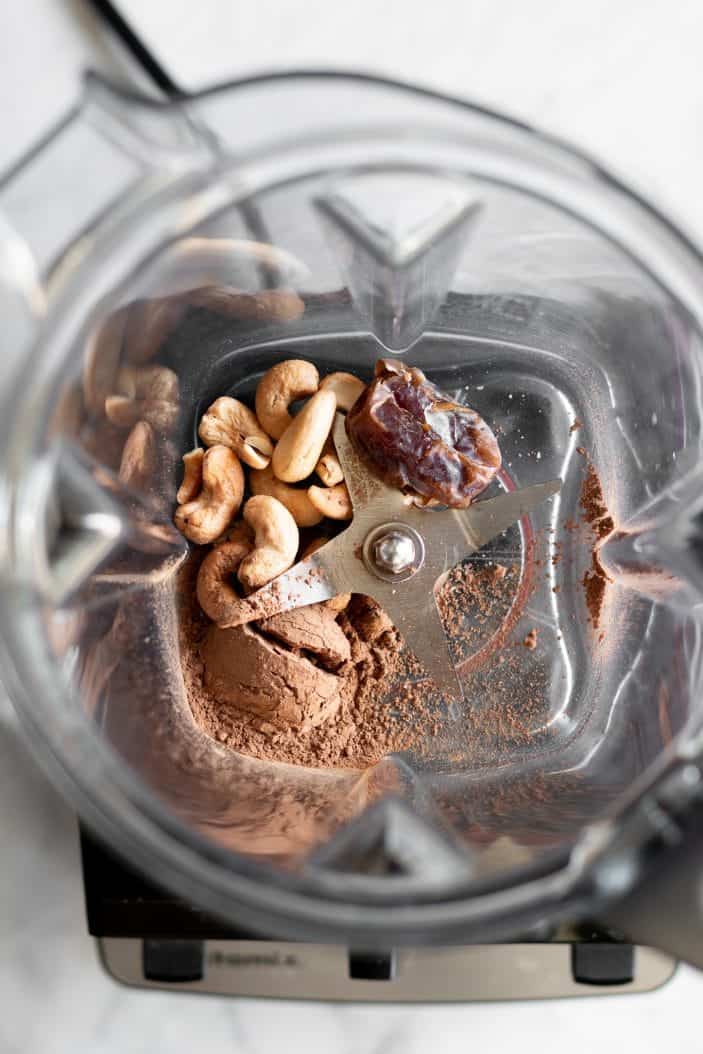 A Few Notes on the Recipe:
First, as with all my cashew latte recipes, you do need a good blender to get the creamy finish. If your blender is on the weaker side, you may have some small date and cashew pieces floating in your drink. You don't want that. Your options: You can try soaking your cashews overnight and letting your dates soak in boiling water for 5 minutes. You can also strain the latte using a fine mesh sieve before drinking.
Second, if you're not a fan of dates, you can easily use maple syrup or honey instead, to taste.
Finally, feel free to adjust the flavours to taste. Add more or less cocoa or sweetener as needed. This recipe is written how I like it, but can easily be adjusted!
For more cozy blender drinks, you can check out my peppermint mocha, chai latte or peanut butter hot chocolate!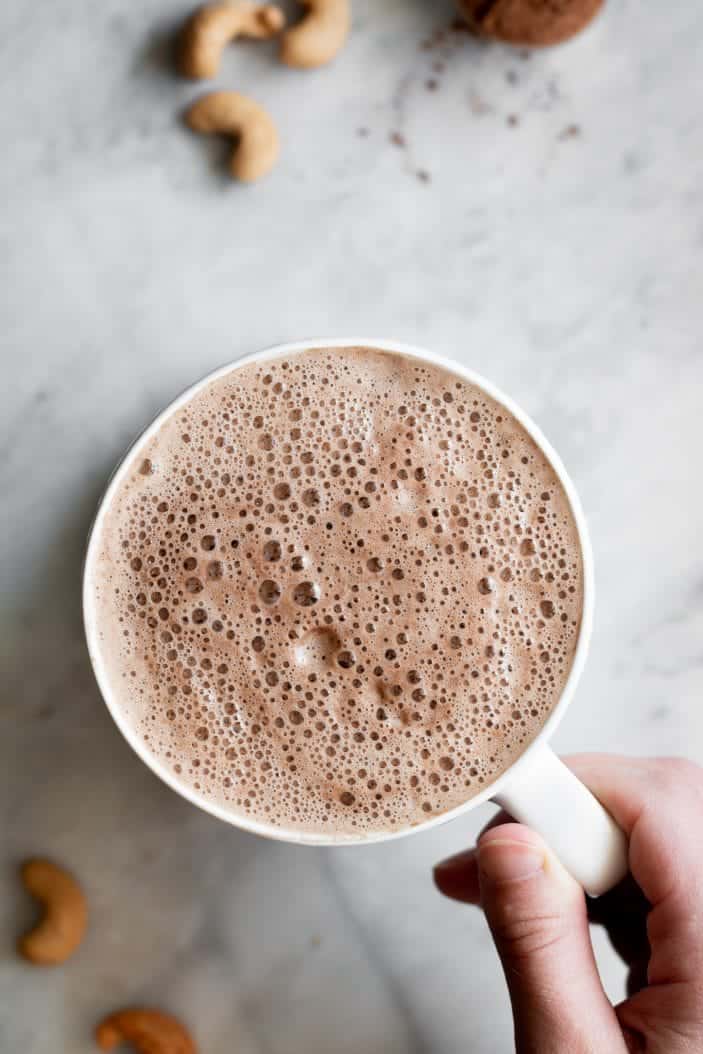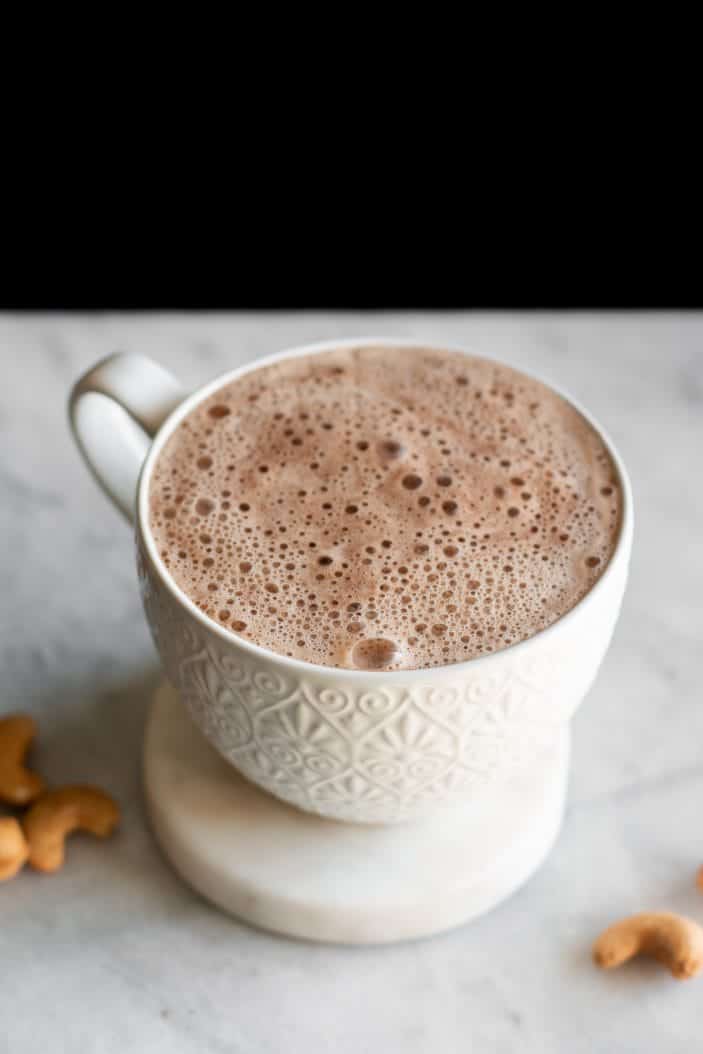 Watch How to Make It:
If you try this recipe, make sure to tag your photo #unsweetenedcaroline on Instagram, Facebook and Twitter! Don't forget to also tag me @unsweetened.caroline on Instagram so I can see your creations!