4-Ingredient Chocolate Nice Cream Smoothie
This smoothie.
I know that not everyone has a food processor or a Yonanas, so I wanted to make a blender version of my Chocolate Peanut Butter Soft Serve (Nice Cream). You get the same great taste as nice cream, but in the form of a smoothie. Okay, I should maybe call this recipe a shake because it tastes nothing close to a healthy and fruity smoothie… Nope, this recipe tastes exactly like a chocolate milkshake. I should mention that even though it doesn't taste healthy, this shake/smoothie is as healthy as it gets.
It's made with only four ingredients (FOUR)! I used frozen bananas as a base (just like in my nice cream), which gives you a sweet, creamy ice cream-like shake. I then added some cocoa powder and nut butter to give it an indulgent flavor. Finally, the ingredient that takes it from ice cream to a shake: Almond milk! Or coconut milk, or cashew milk, or soy milk. You choose! Yes, it's as easy as that. You simply need to blend all of the ingredients in a blender until smooth and you get a rich, chocolate shake.
So like I said, not everyone has a food processor or a Yonanas, so I felt bad for those of you who couldn't try nice cream. Now you can at least know what it tastes like, even if the consistency isn't exactly the same.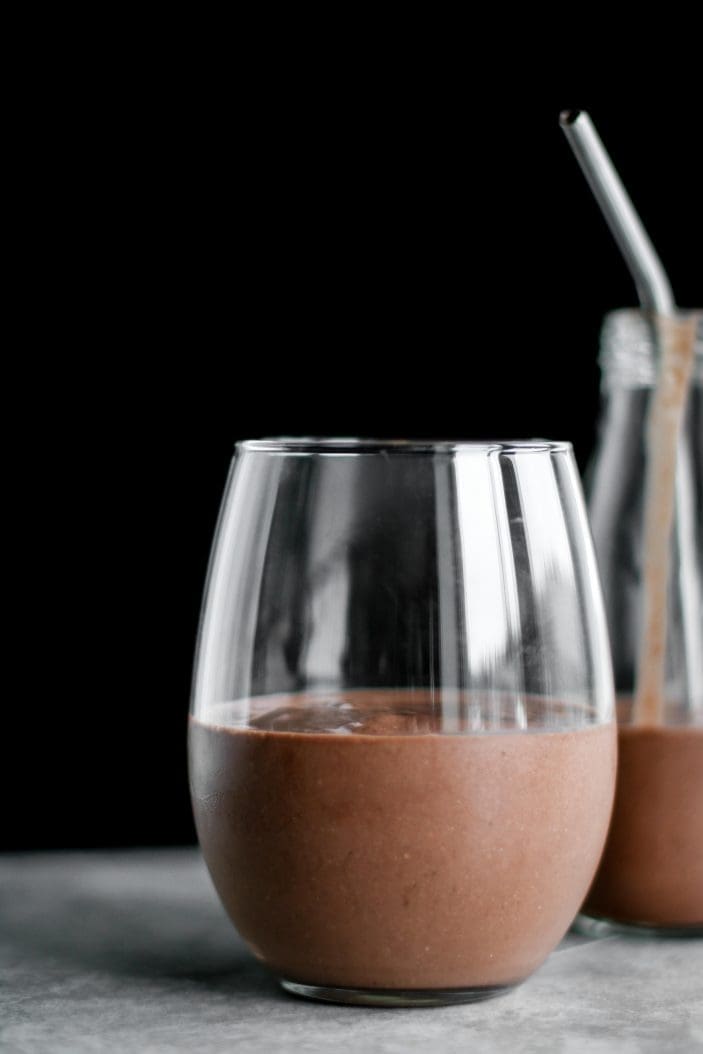 Funny story: I'm currently in pediatrics for my internship and I'm working with a lot of type 1 diabetics. One thing I do is I talk to patients and their parents about healthy balanced snack and meal ideas… Some of the many recommendations I give are: Peanut butter banana oatmeal, peanut butter toasts, peanut butter nice cream, peanut butter chocolate smoothie, peanut butter and crackers… It's then that I realized how obsessed I am with peanut butter. HAH! Seriously, my mentor laughs at me every time I mention peanut butter, because I clearly add it to EVERYTHING. I can't help it, it's a great source of protein and fat, it helps keep me full longer and it adds a delicious flavor to a lot of my recipes. I also think it's a great option for diabetics who are searching for healthy snacks that include carbs and protein… I mean, apples dipped in peanut butter, half a banana with peanut butter… I can think of so many healthy snacks that include peanut butter! I'm clearly obsessed.
I should mention that I'm currently replacing peanut butter with sunflower seed butter because my roommate is allergic. Yup, sunflower seed butter is my new obsession. If you haven't tried it yet, it's an incredible alternative! The other day at work, we had a family that had a peanut allergy and the baby had failure to thrive, but was unfortunately not able to include peanut butter (a good source of fat) to her diet. They were thrilled with the idea of trying sunflower seed butter.
A side note: I tried making homemade sunflower seed butter last week and it turned out great! I think I'll be making a batch every two weeks to save some money and to avoid using the ones that have a little bit of added sugar. All I did was process roasted sunflower seeds and a pinch of salt in the food processor until it got to a butter consistency. I might share a simple tutorial with you guys. Would that be something you'd like?
Anyway, I've shared this smoothie recipe with many patients, but I thought it was time that I shared it with you guys as well. I hope you enjoy it as much as I do!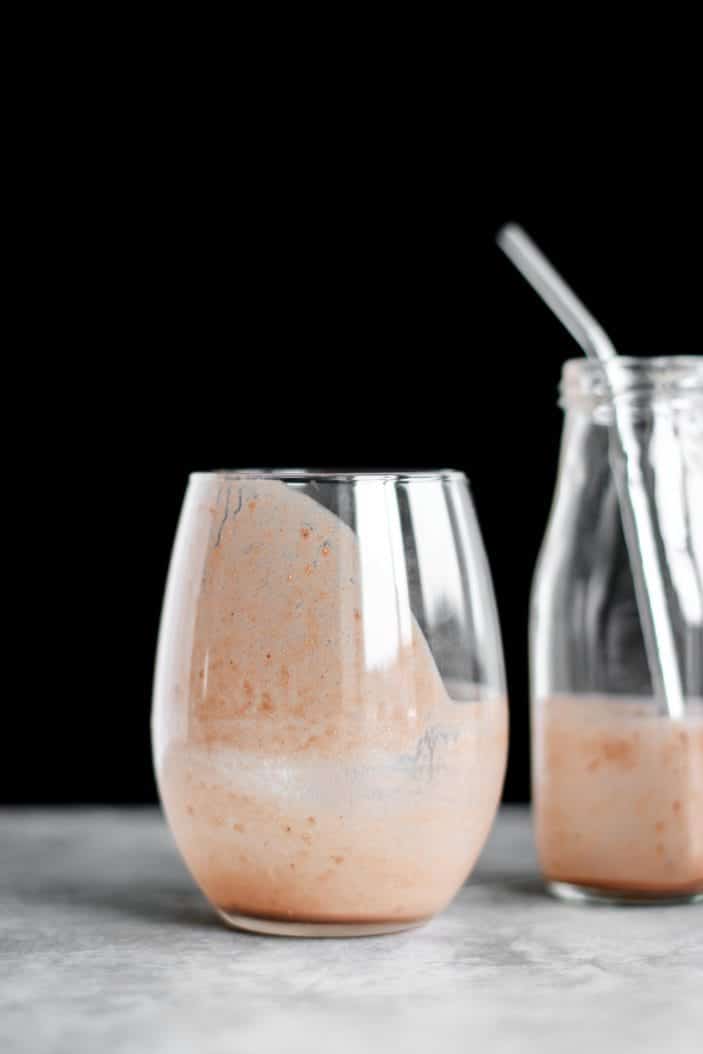 4-
4-Ingredient Chocolate Nice Cream Smoothie
This delicious nice cream smoothie is made with 4 ingredients and done in under 5 minutes. It's like drinking a healthy milkshake.
Ingredients
2

bananas,

frozen

1

cup

unsweetened almond milk

2

tablespoons

unsweetened cocoa powder

1

tablespoon

peanut butter

(or almond or sunflower seed butter)
Instructions
Blend all the ingredients in a blender until smooth.
Notes
You can use low-fat coconut milk or unsweetened cashew milk if preferred. I like to use unsweetened soy milk for a protein boost.
If you try this recipe, make sure to tag your photo #unsweetenedcaroline on Instagram, Facebook and Twitter! Don't forget to also tag me @unsweetened.caroline on Instagram so I can see your creations!